Greenland, Tasiilaq. Endless snowfields, snow-covered mountains, icy lakes and bays. The east of Greenland is a paradise for those who love winter and seek silence and adventure at the same time. On foot, with snowshoes, by boat or in Greenlandic style with the traditional dog sled, which is still used for hunting today. And with a little luck you can even see auroras in the sky. Read here what you can expect in East Greenland in winter and why you should plan a bit more time.
---
Unresponsible, unpaid advertising, since names and book titles are mentioned.
---
Table of Contents and Quick Navigation
Flight cancellations are not uncommon
The Red House in Tasiilaq
Schneeschuhwandern
With the dog sled from Tasiilaq to Tiniteqilaaq
Polar lights and polar bears
Photo gallery - Greenland in winter
Flight cancellations are not uncommon
""I'll come back from my vacation later. But I don't know when. I'll get back to you in three days. Maybe I'll know more then." -My conversation partner at the other end of the telephone line giggled a bit in disbelief. It was the secretary of my boss. My boss has probably never heard anything like this before. Especially when it's the first holiday after the probationary period.
"Your Flight is cancelled due to whether conditions".

Air Iceland
We felt like we were in the comedy "And daily greets the groundhog". Because every morning we got the same SMS message from Air Iceland. At the end of February 2015 a storm low over Greenland and Iceland led to flight cancellations. At first nothing unusual for the Arctic. Only the duration was unusual. For two weeks no aircraft flew between Rejkjavik and Kulusuk in East Greenland. In the supermarket the fresh supplies became scarce, there was no more butter, eggs or potatoes. Fruit and vegetables also not, but that was anyway little in demand. In Iceland travel groups waited for their onward flight, group trips were cancelled and the hotels in Rejkjavik were fully booked. But we were happy about an extended vacation in Greenland.
By the way: Also the flight from Reykjavik to Kulusuk needed several approaches: First it was a storm, which kept the airplane on the ground. On the second day we took off. Due to a technical defect the plane had to turn around and return to Reykjavik.
Tip:Don't plan your flights too tightly when travelling in arctic regions. With a buffer day for the outward and return flight or even before the start of an expensive tour you avoid unnecessary stress.
The Red House in Tasiilaq
In the Red House in Tasiilaq, Robert Peroni provided us with Italian-Greenland cuisine and stories about the country and its people. The season hadn't really started yet and we were only six guests in the Red House, which created a homely atmosphere.
The Red House is at your side all year round with a professional team and organises one-day and multi-day tours for groups or individually. But it is also a place where you can get in touch with locals and encounter the Inuit culture. Here you can feel the love and passion that the founder Robert Peroni brought to the construction of this place. This love and passion is contagious.
While snowstorms made our stay in East Greenland a little longer, we had a lot to do. The Red House was so snowed in that we regularly had to dig our room window out of the snow. Afterwards, however, it was blown over again in shortest time.
---
Schneeschuhwandern
Direkt hinter dem Roten Haus zieht sich eine Landzunge etwa zwei Kilometer in Richtung Südosten. Dieses Gebiet ist bestens für Schneeschuhwanderungen geeignet. Nach zehn Minuten ist der Ort Tasiilaq nicht mehr sichtbar und ihr fühlt euch wie in der Wildnis. Von der Landspitze aus habt ihr im Winder einen tollen Blick auf den vereisten Polarstrom mit einzelnen eingefrorenen Eisbergen.
Another beautiful and extensive hiking area lies northwest of Tasiilaq, behind the cemetery. There are mountains that can be easily climbed with snowshoes and from here you have a great view over Tasiilaq and the fjord with the ice-fishers.
You can rent snowshoes and poles in various sizes at the Red House.
---
With the dog sled from Tasiilaq to Tiniteqilaaq
Cold, wind and freedom. This is what the title of a book by Robert Peroni says. His book about East Greenland. And these three words describe quite exactly our trip with the dog sled from Tasiilaq to Tiniteqilaaq. A ride that was the absolute highlight of our trip to Greenland in winter already after the first three minutes. Read the whole story here.
---
Polar lights and polar bears
There's hardly anyone who doesn't dream of seeing the northern lights. It is an indescribable moment when you experience them for the first time. Because it's like magic, immersing the sky in green and violet color. An unparalleled natural spectacle that makes you forget everything around you - even that there are polar bears here.
We were reminded of the polar bears, however, soon after we were fascinated by the polar lights. A large footprint of a polar bear - directly in front of the Red House - of our accommodation. And so perhaps 150 metres from the vantage point from which we observed the northern lights. What a shock! We wouldn't have noticed if a polar bear had approached. We have learnt from this and since then we have always looked for polar bears and aurora borealis alternately.
In the following days we also got a rifle from Robert on our hikes. So we could have fired a warning shot when meeting a bear, which hopefully would have driven him away. We now knew that there was a polar bear nearby. It was a queasy feeling and my eyes always searched the area with extreme vigilance. Fortunately we didn't see one.
---
Photo gallery - Greenland in winter
Here you can see my favourite photos from our trip to Greenland in winter 2015.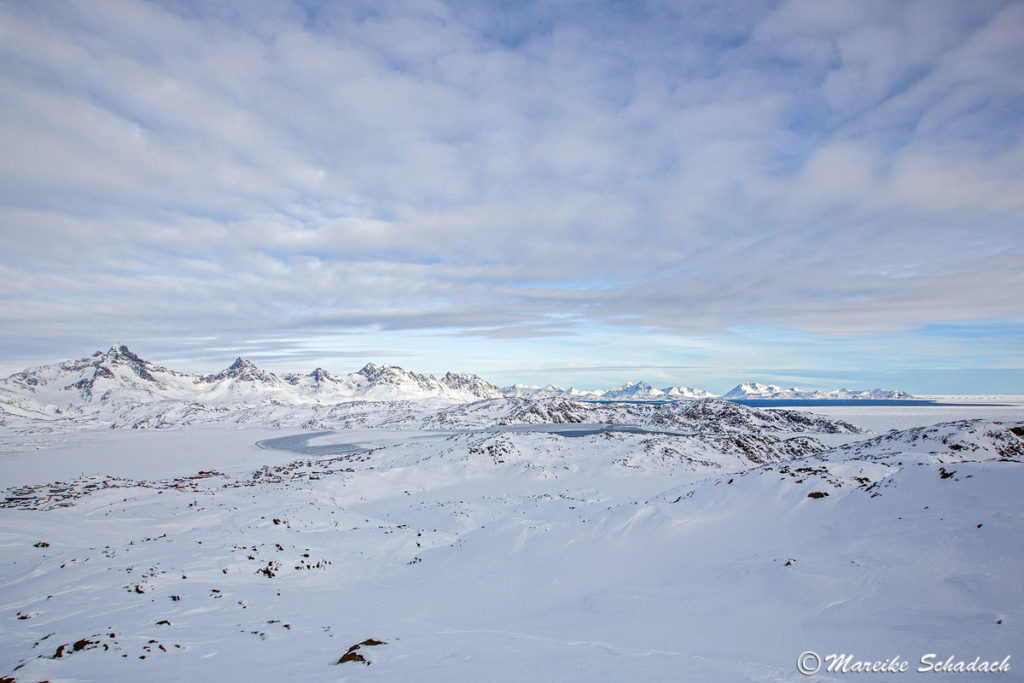 ---
Have you ever been to Greenland yourself and how did you like it? Do you have any questions about my article? If so, please write me a comment!
---