"Arwak" - this is the name of one of the horses that pulls the wagon of the sun goddess Sol along the arch of heaven.
What could be more suitable for a motorhome?
Unassigned, unpaid advertising. The article contains affiliate links.

Our Arwak has also carried us over many a sky. In our home regions, in the Baltic States and on the Balkans we have got to know and love the freedom of road trips with campers. Here you can find out how we got to our Iveco 40.10 World Championship and why Arwak is a great motorhome.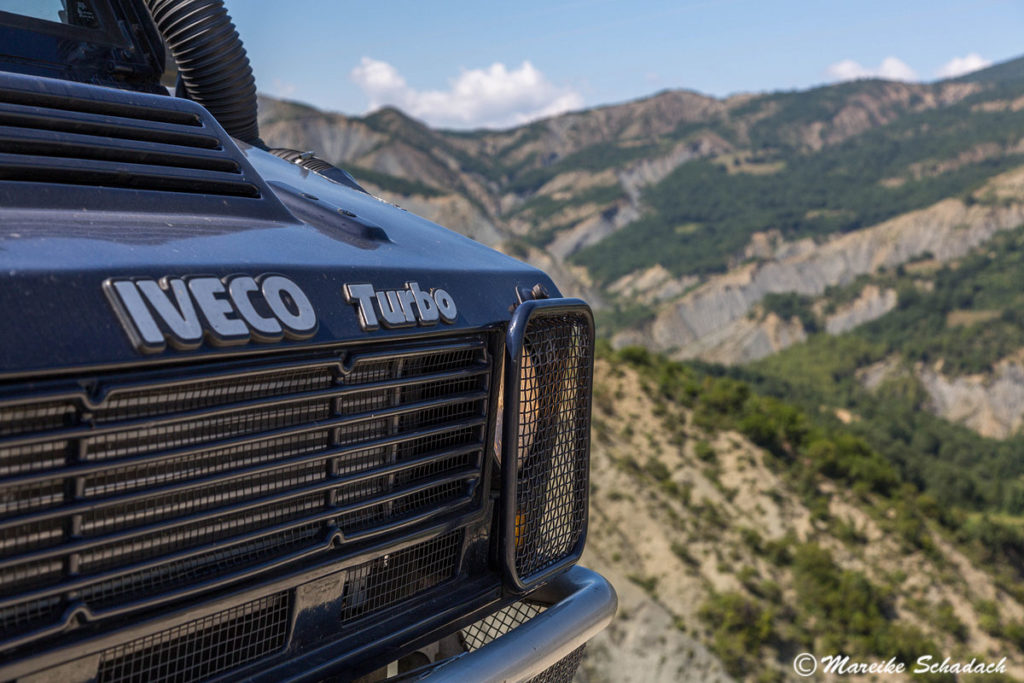 ---
The Dream of a Motor Home...
...it's been growing inside of us for quite some time. But what kind of one should it be? A small VW bus? Or rather a Mercedes round hood? Everything has its advantages and disadvantages. We test-drove both vehicle classes, but were not really convinced of either one. So something in between. But what? We kept searching on mobile.de. Our search settings were "RV" and "4x4". And suddenly there was something new on offer: an Iveco 40.10 WM.
Me: "It looks a bit sterile inside.
But on the outside it's really cute!
Shit, it's in Malaga.
But let's show it to Ingmar..."
Ingmar, a good friend, was deeply impressed by the Iveco. We weighed up whether we could / would like to buy a motorhome for three of us. That would mean only one third of the costs and the time for tinkering for each of us. Well, and with the use of the motorhome we will get that settled. At least then it won't stand around unused. The following weekend we flew to Malaga to see and test drive the Iveco. And before we knew it, we had signed the sales contract! Welcome Arwak!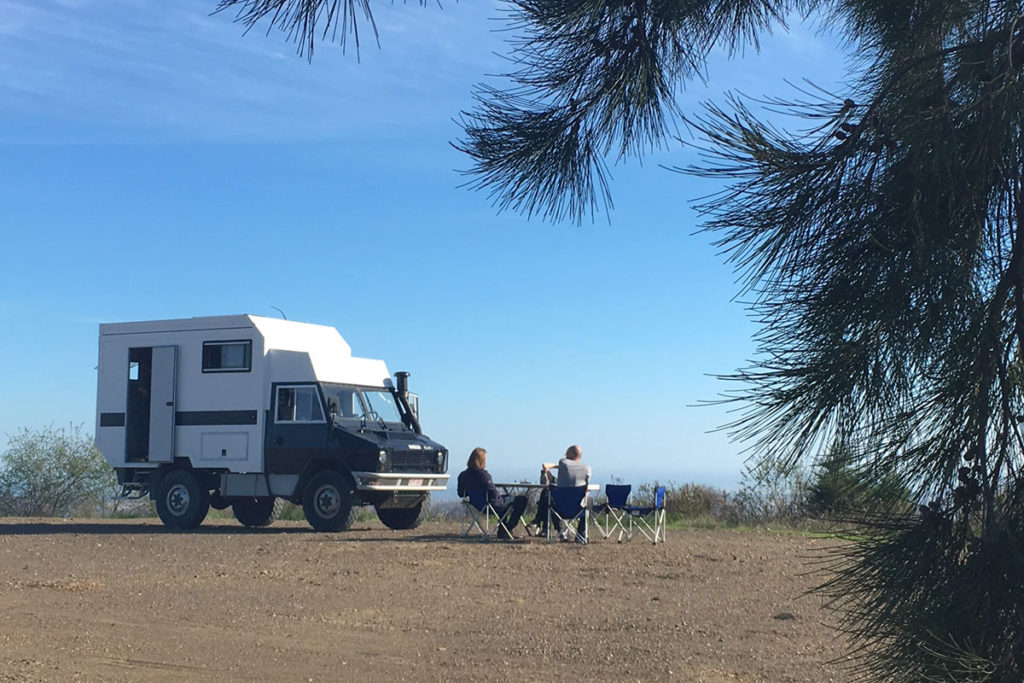 Our Wish List for our Motorhome:
- 4-wheel drive and at least one differential lock
- It should already be converted into a motorhome
- Headroom in the living cabin
- Neither too big nor too small
- Not too loud
- Fuel consumption is to be moderate
- Spare parts should be available and not too expensive
- No electronics
- Power steering and synchronized transmission
- The most important thing: it should look friendly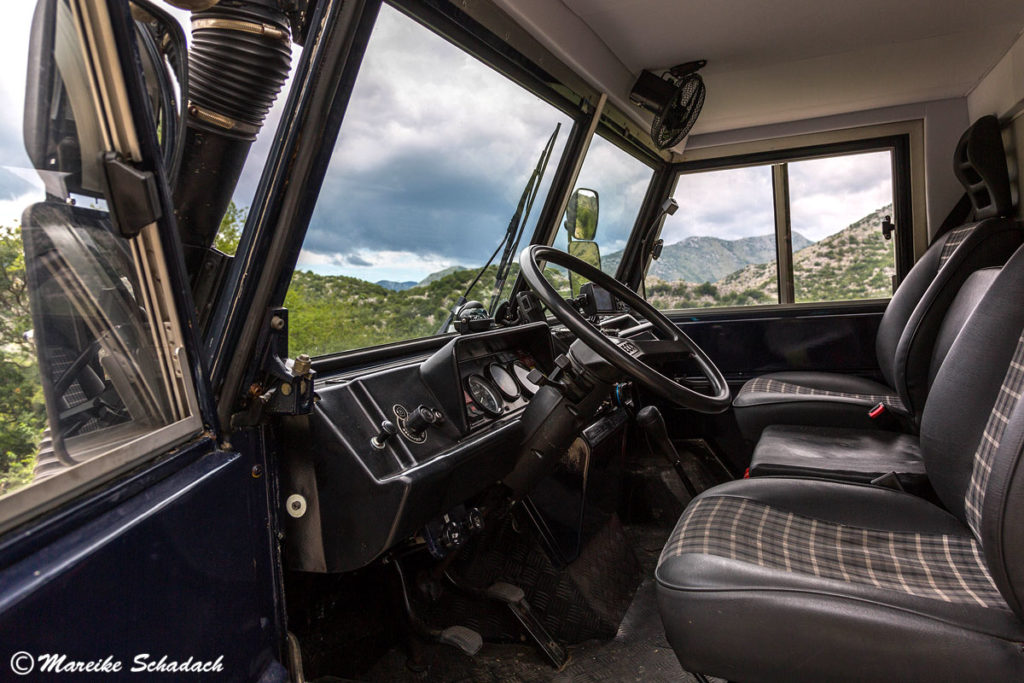 ---
First the Work then the Travel... than Work again...and Travel again....
In the beginning there was a lot to do. The car was well maintained, but you always find something you can optimize. That's just the way it is with a motorhome BJ 1989. Now, when the car moves from dry Spain to wet Central Europe, the first thing that had to be done was a proper rust protection including cavity sealing with Sanders grease. Step by step other work was added: a new timing chain, overhaul of the brakes and the steering gear, installation of an intercooler, perfecting the noise insulation, replacement of the table top, the wiring, the water pump, changes to the seats, curtains for more comfort, a fan and, and, and. An advantage was that my two co-owners know so much about the technology! Most of it we could do ourselves.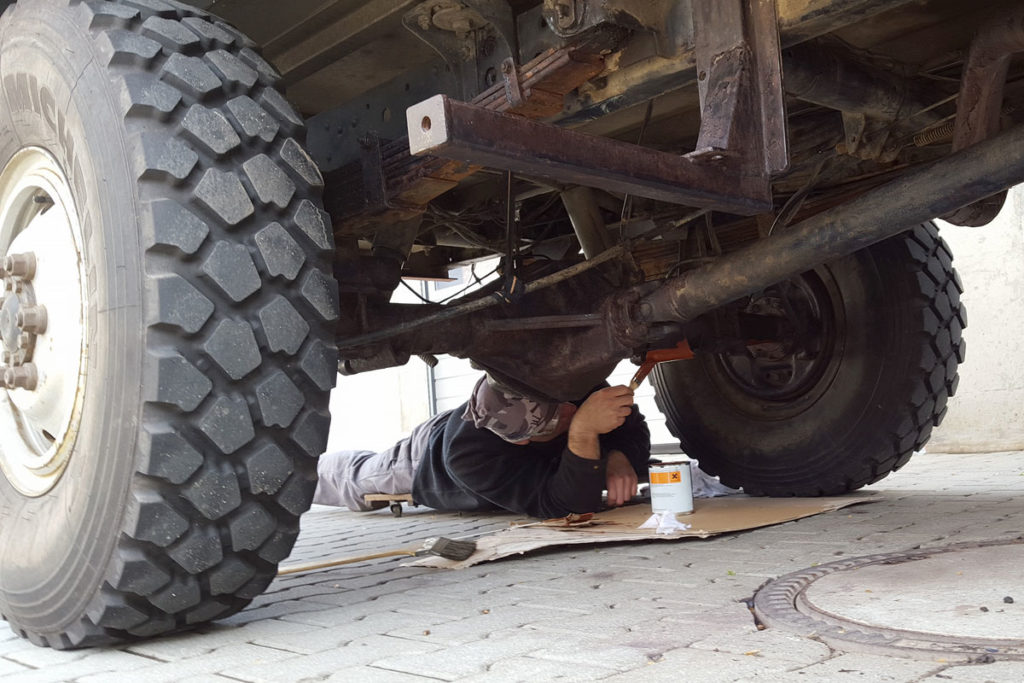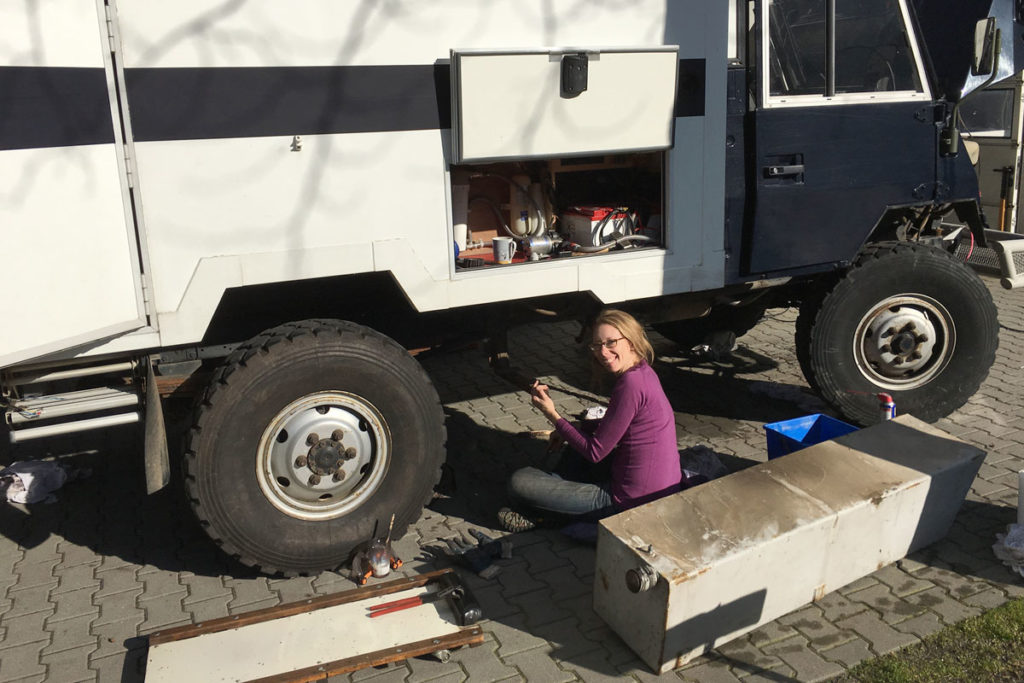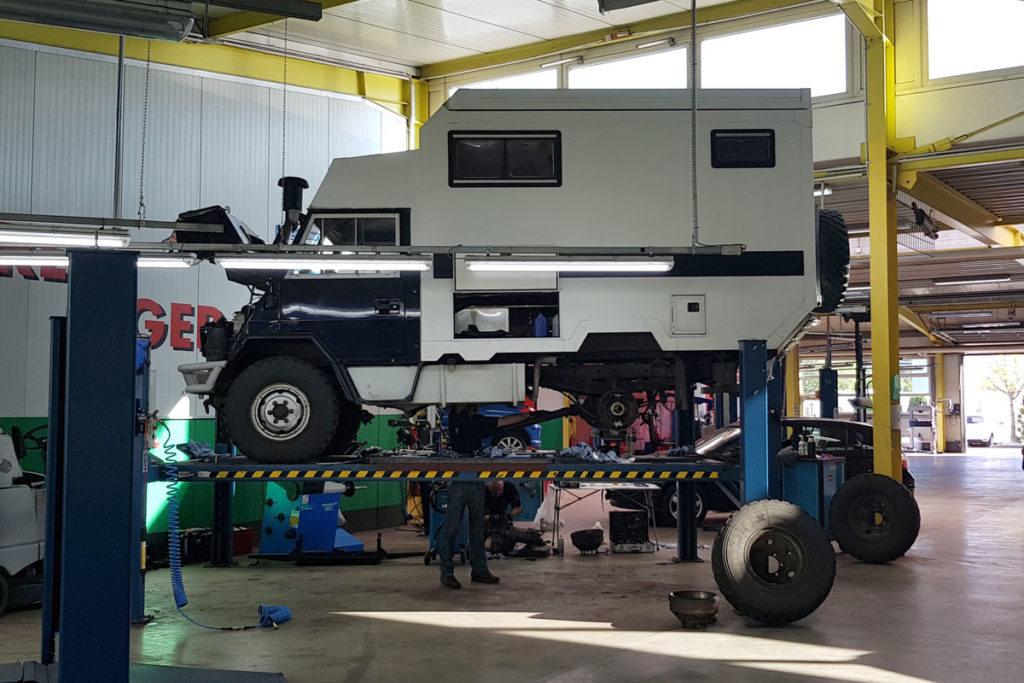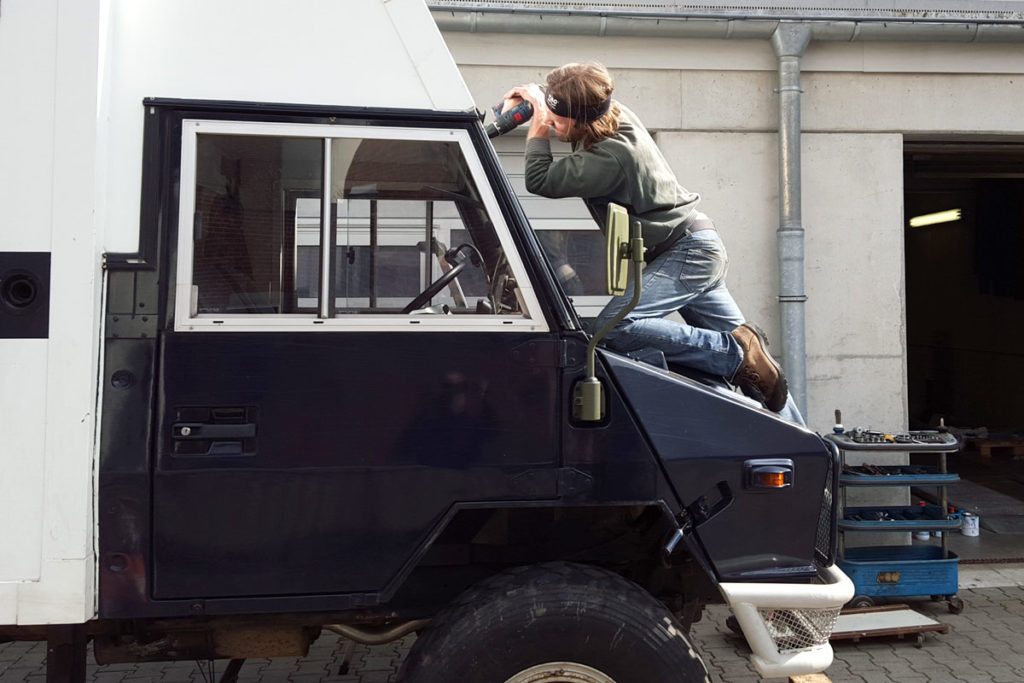 We have also taken the noise insulation very seriously: We have therefore lined the engine compartment and inside the footwell with sound-absorbing bitumen panels. Under the roof, we have also glued sound-absorbing foam on the inside. For the sound insulation we used the following: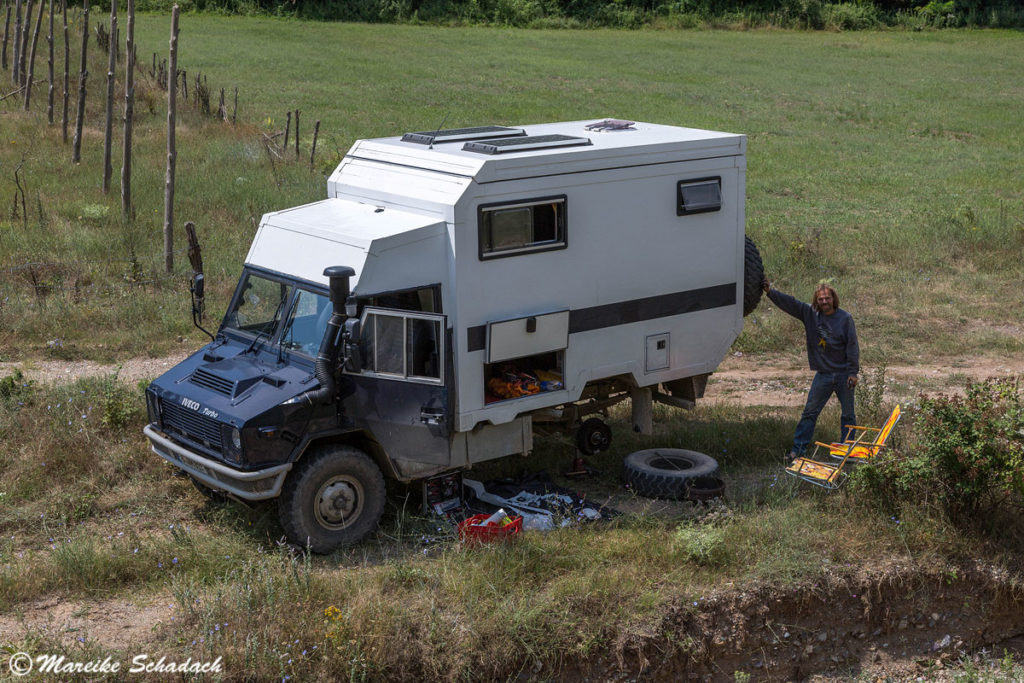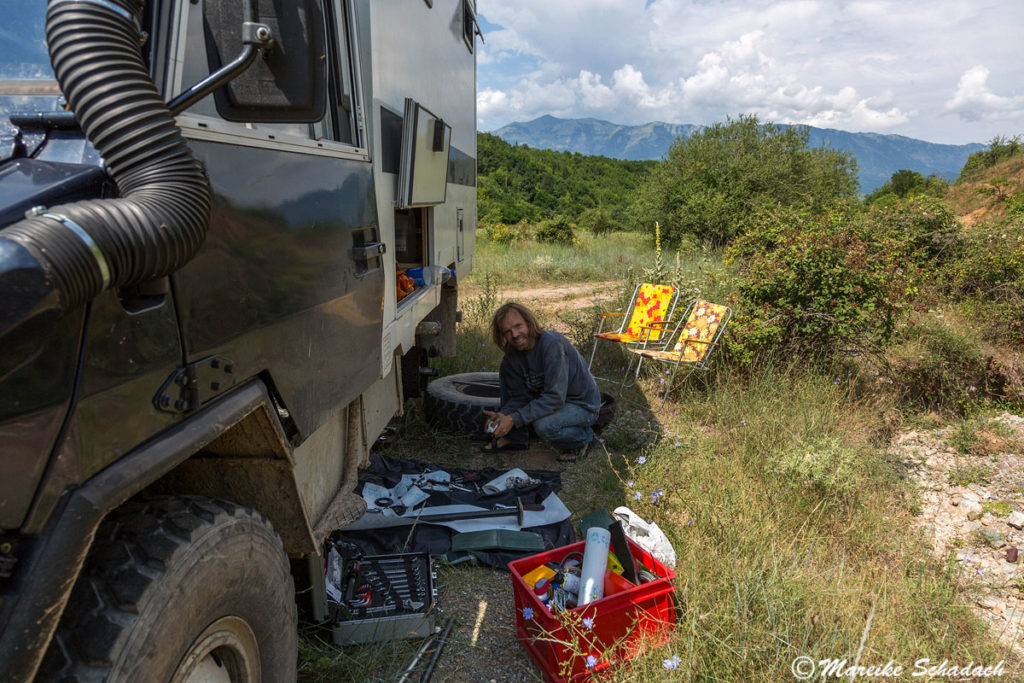 ---
Travel Guide Book – Georgia – Caucasus*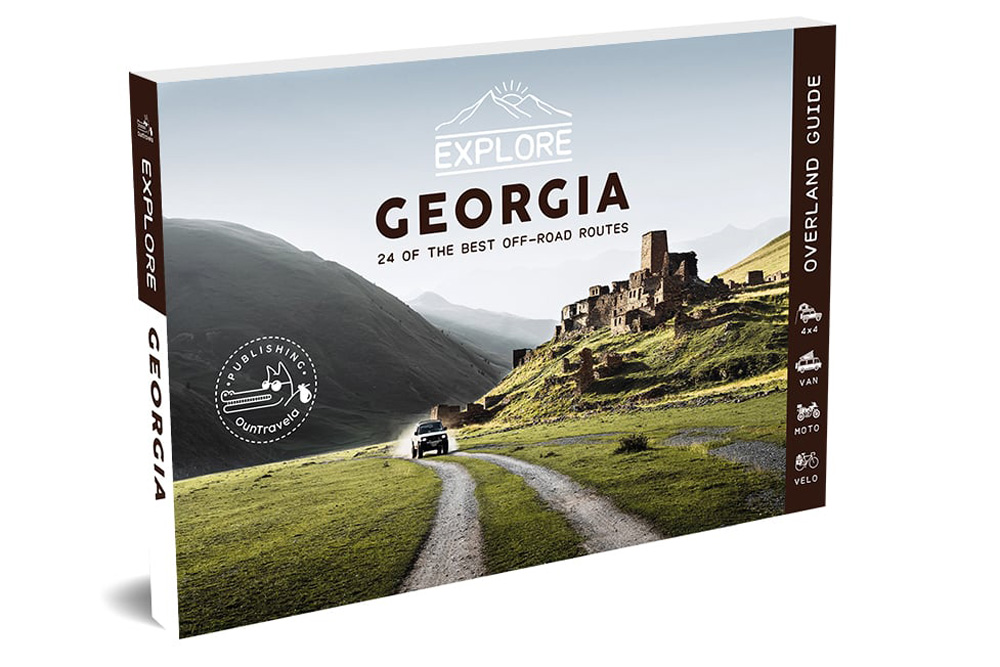 This book by OunTravela invites you to explore the wildest corners of Georgia. Along 24 routes you will discover picturesque landscapes, rugged mountains, monasteries, fortresses, and centuries-old fortified towers. In addition to detailed descriptions of the 4x4 routes, you will find a wealth of additional information about the country and its people as well as tips for your planning. The latter range from suggestions for overnight campsites to rental companies of expedition-ready 4x4 vehicles and worthwhile photo spots. You can also purchase a map and GPS tracks for navigation.
---
A few Facts about Arwak
The Iveco 40.10 WM is the military version of the Iveco Daily. Ours is a former police car from Belgium. There and also in Italy it is still used as an emergency vehicle. There are also numerous replicas driving around in China.
Meanwhile Arwak (born 1989) is over 30 years old and already has his registration as an oldtimer. This makes many things easier and cheaper, for example with the tax or in some countries on toll roads. Nevertheless he is still registered as a motorhome with more than 3.5 tons. This means that you are officially regarded as a truck and must therefore also follow the traffic rules for trucks. Fortunately, this does not apply to the driving ban on Sundays. It took some getting used to the weight of our vehicle. So we had to be very careful that we didn't accidentally drive onto a bridge that was too weak.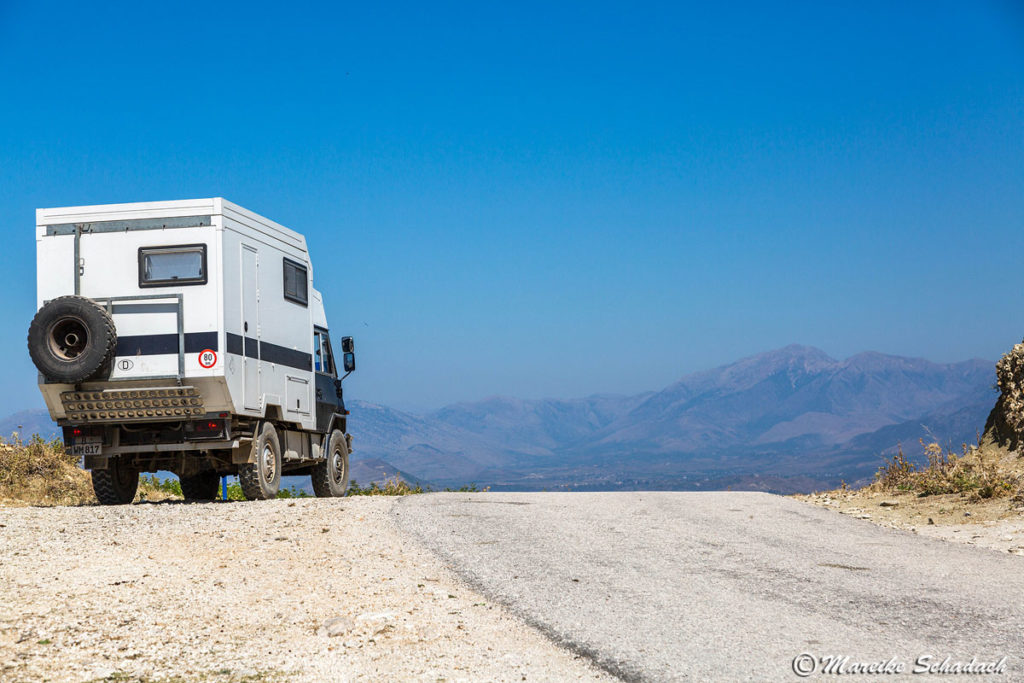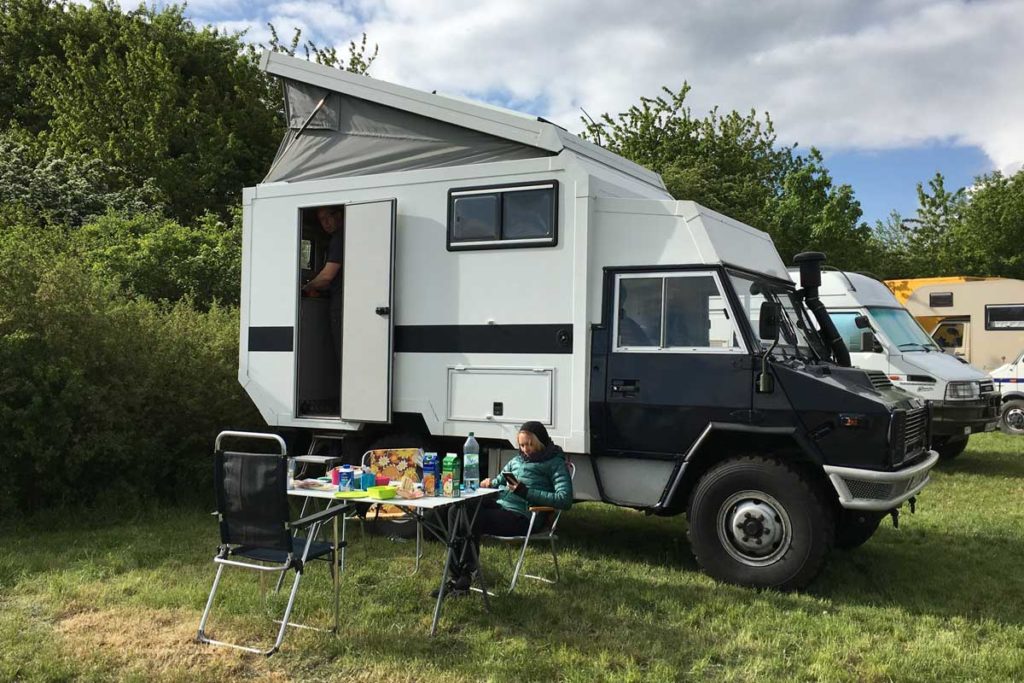 Dimensions
Our Iveco 40.10 WM is - apart from its proud height - small and compact. It fits into a normal car parking space, is manoeuvrable on narrow gravel roads and can be easily manoeuvred with its small turning circle. If necessary, it can even reverse the track to let an oncoming vehicle pass by.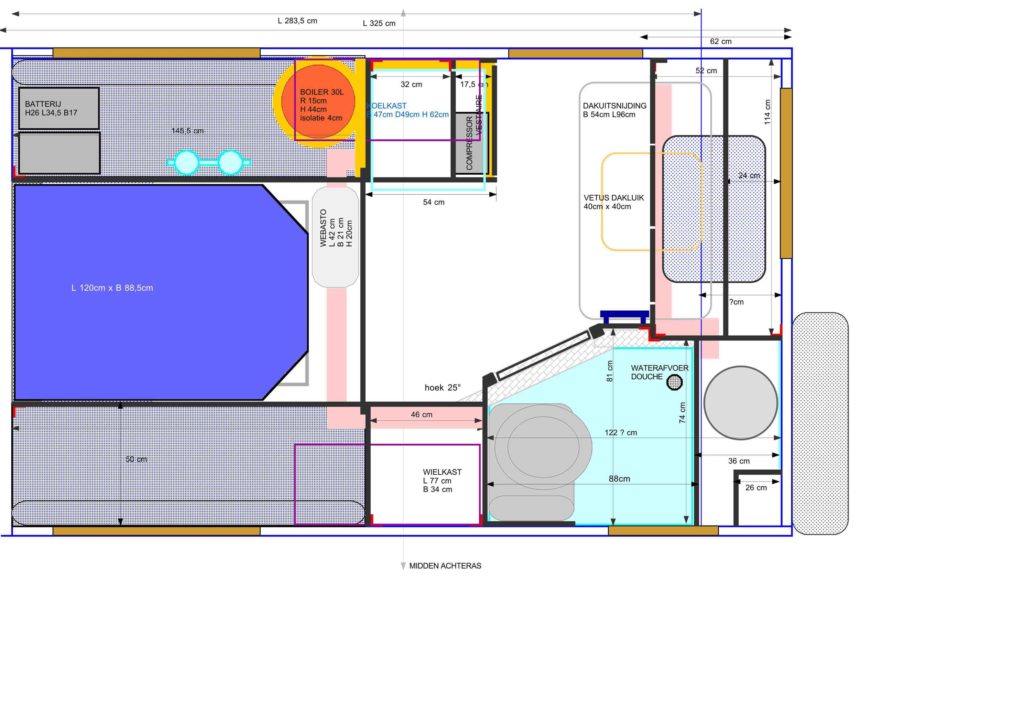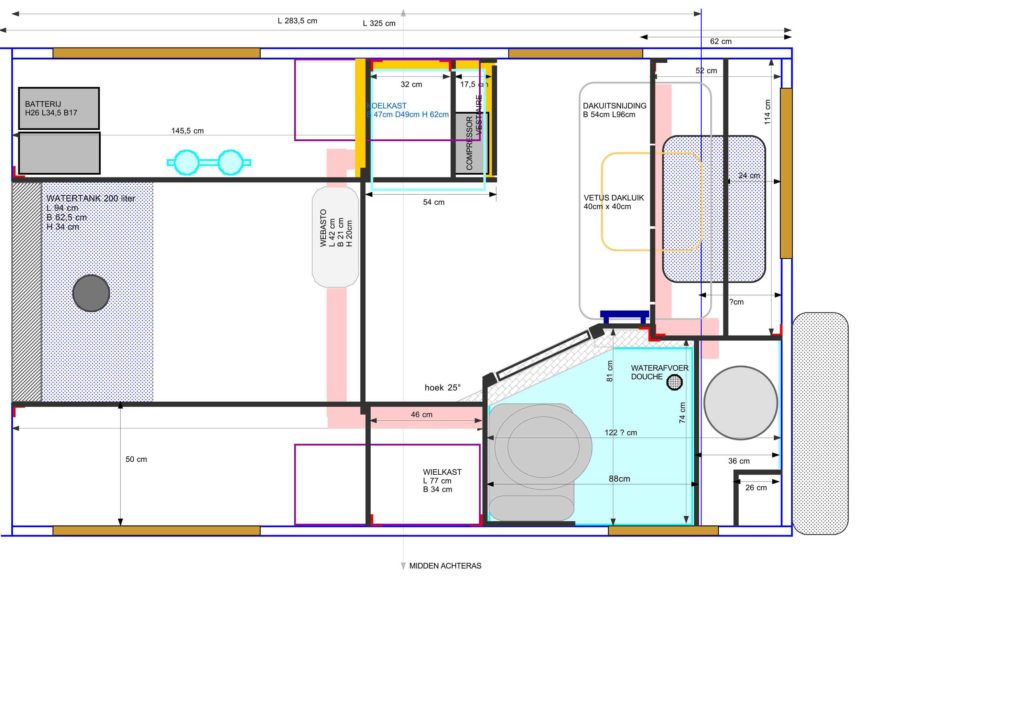 Here you can see two more plans of the interior design. Arwak's previous owner, Hans, planned everything to be super space efficient. Sure, he was often and long on the road with his wife and three children. A lot had to fit in.
Length: 5,7 m
Width: 2,0 m
Height: 3,15 m
Permissible total weight: 4,450 kg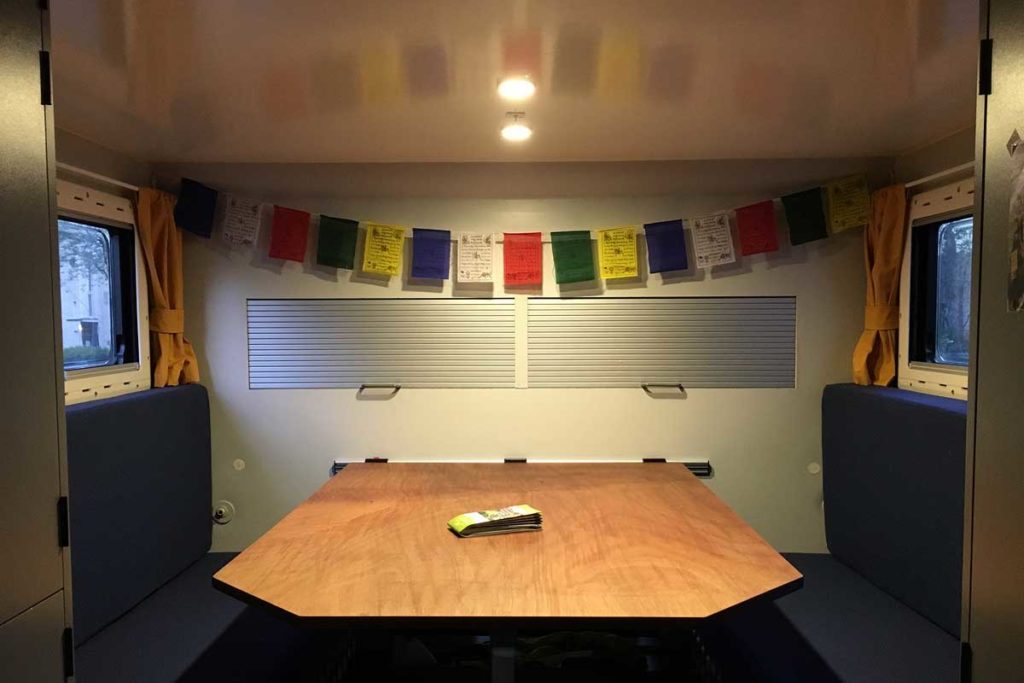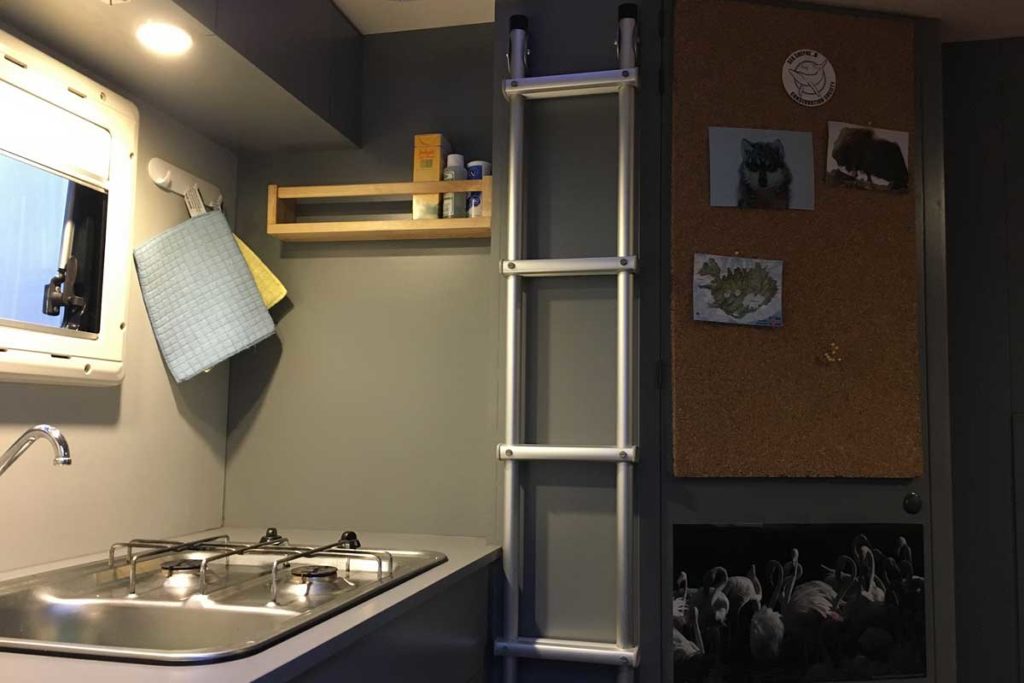 ---
Ideas for your next Road Trip
Are you looking for ideas and inspiration for your next road trip or for your camping stove? Then I can recommend these books*.
You can order the books at Amazon by clicking on the pictures. If you buy a product via an affiliate link, I get a small commission and you help me to keep filling Fernweh-Motive with interesting articles. The product will not be more expensive for you and you do me a huge favor.
---
Technical Data & Installations and Conversions in our Iveco 40.10 WM:
3 front seats
Ormocar cab (sandwich panels: 2mm GRP +49mm insulation +2mm GRP) with small passage to the driver's cab and pop-up roof
2 beds (conversion of the seating area 1.9×1.45m or under the pop-up roof 2.1×1.7m), kitchen, toilet
Differential locks: rear and front
200 liter water tank
300 litre diesel tank
mobile waste water tank (10 litre canister is stored underneath)
24 V Electrical system
2 solar panels 60W
24V-12 V Converter
24V-230 V Converter
Webasto HL32 heating 3,2KW
24V air compressor
2 Därr aluminium sand sheets
Gas bottle
Waeco fridge 80l
Katadyn drinking water filters
Radio
Gas detector (Trigas Warner)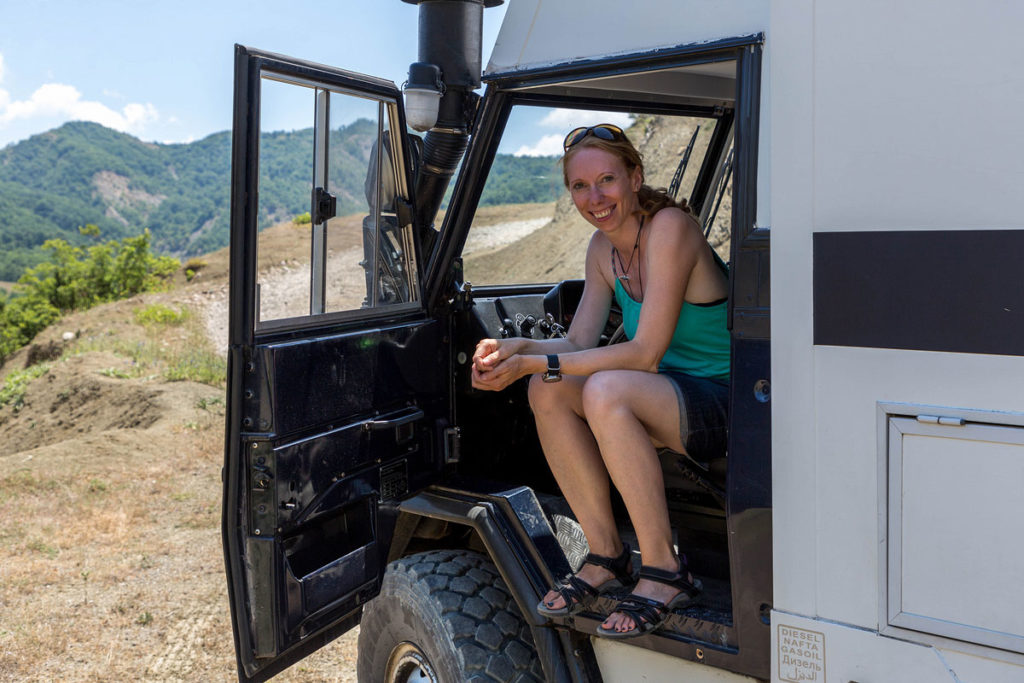 ---
Do you love the Vanlife as much as I do? Do you have your own expedition vehicle or are you perhaps even travelling the world with one? Or do you have more questions about Arwak? If so, then write me a comment!
---
---
Recommendations for further Reading - Arwak-Stories