Berlin. You want to discover the street art of Berlin on your own? Walk through the city at your own pace? Then you are right here. Because I have compiled for you a street art map for Berlin Friedrichshain-Kreuzberg. You will see a total of 32 murals on a route of about 14 kilometers. Some of them belong to the most famous of all Berlin, such as the Astronaut / Cosmonaut by Victor Ash or The Pink Man by the artist BLU.
Unassigned, unpaid advertising. The article contains affiliate links.
---
Street Art Map for Berlin Friedrichshain-Kreuzberg with 32 Murals
Length of the tour: about 14 kilometers
Duration: on foot about 4-5 hours
Start: Ostkreuz S-Bahn station
End: Underground station Gleisdreieck
Practical: In the Street Art Map you can see not only where the mural is located in Berlin. You can also see a small preview image and the exact address by clicking on it with the mouse. The tour starts on the far right. The tour ends at the bottom left.
Tip: The street art tour with the map through Berlin Friedrichshain-Kreuzberg can be perfectly combined with a visit to the RAW area and / or the East Side Gallery. And if you want to see more street art, you can continue from the end point at the subway station Gleisdreieck to the URBAN NATION Museum in Schöneberg.
Take a look from time to time. Because there are always new murals in Berlin, which I will then add to my street art map and here on the blog. Have fun with your tour, browsing and discovering.
---
Michelle Tombolini: Butterfly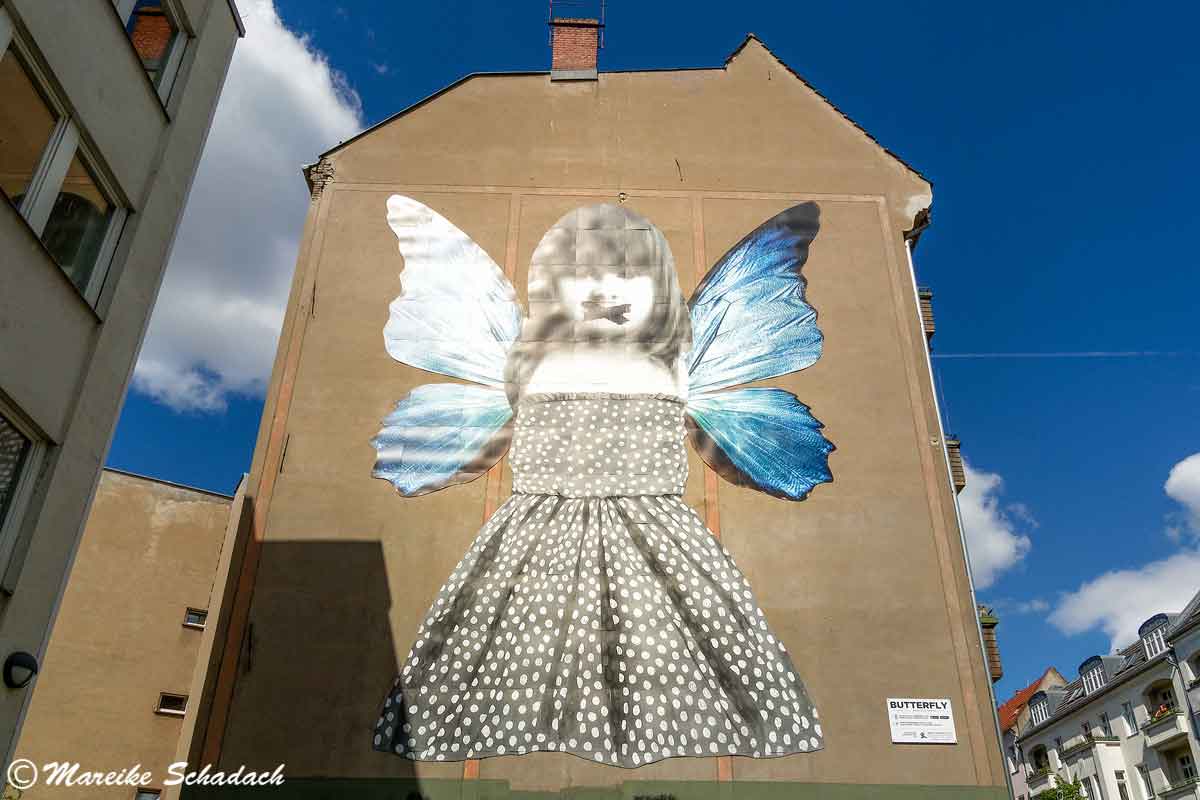 The first mural in my Street Art Map Berlin is by Michelle Tombolini. The Venetian has pasted a butterfly child with big light blue wings as a paste-up on the wall. The girl's mouth is closed with a black cross. In a state of no self-expression, it triggers strong emotions in the viewer. The mural should be seen as a memorial against child pornography and human trafficking.
Butterfly is part of Tombolini's Indelible Marks project, which is dedicated to abused children. In his project, he combines art and technology to create a work of art that is both physical and virtual. On the sign at the bottom right there is also a reference to the free app "EXPERENTI". This allows you to interact directly with the artwork and the artist, the artwork transforms and there are also video messages on the subject. I haven't tried the app myself, so I can't tell you more at this point.
The silent cry of the butterfly girl is meant to challenge the indifference of adults. Child abuse calls for strong prevention and everyone should therefore feel responsible. The Italian branch of the international network ECPACT International has been working with Tombini since 2014. ECPACT works to protect children from exploitation.
Address: Krossener Strasse 36
---
Community Project – unknown Artist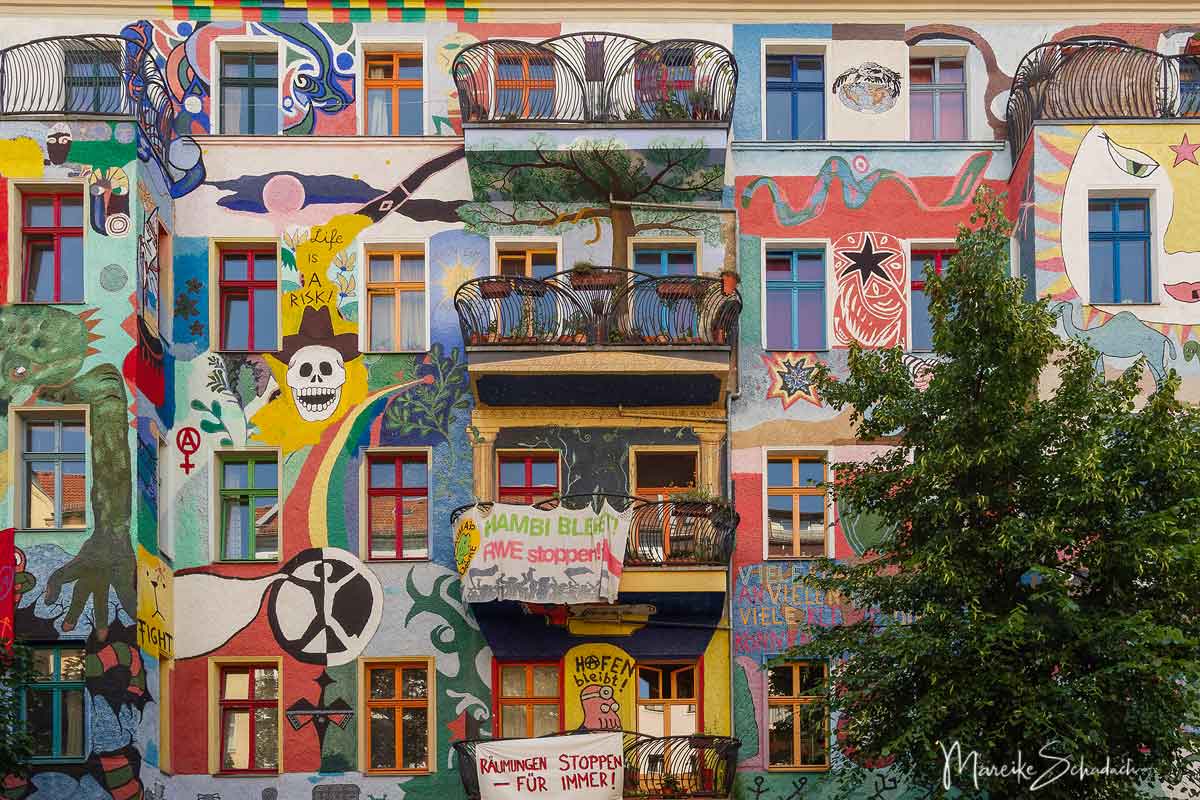 The building in Kreutzigerstraße is one of the most colorful I have seen during my street art tour. It was created as a community project by the people who live here. That is, the pictures are not painted by a famous artist at all, but by the residents themselves.
Address: Kreutzigerstraße 19
---
Hall of Fame at the cinema Intimes
Small but nice. This applies both to the "Intimes" neighborhood cinema and to the Hall of Fame on the façade in Niederbarnimstraße. The artists use paste-ups, stickers and stencils to spread their political and socially critical messages. Some of them are very up-to-date, such as a red heart with a gold-colored mouth guard or a Corona Virus to cuddle with.
Address: Boxhagener Str. 107 / corner Niederbarnimstraße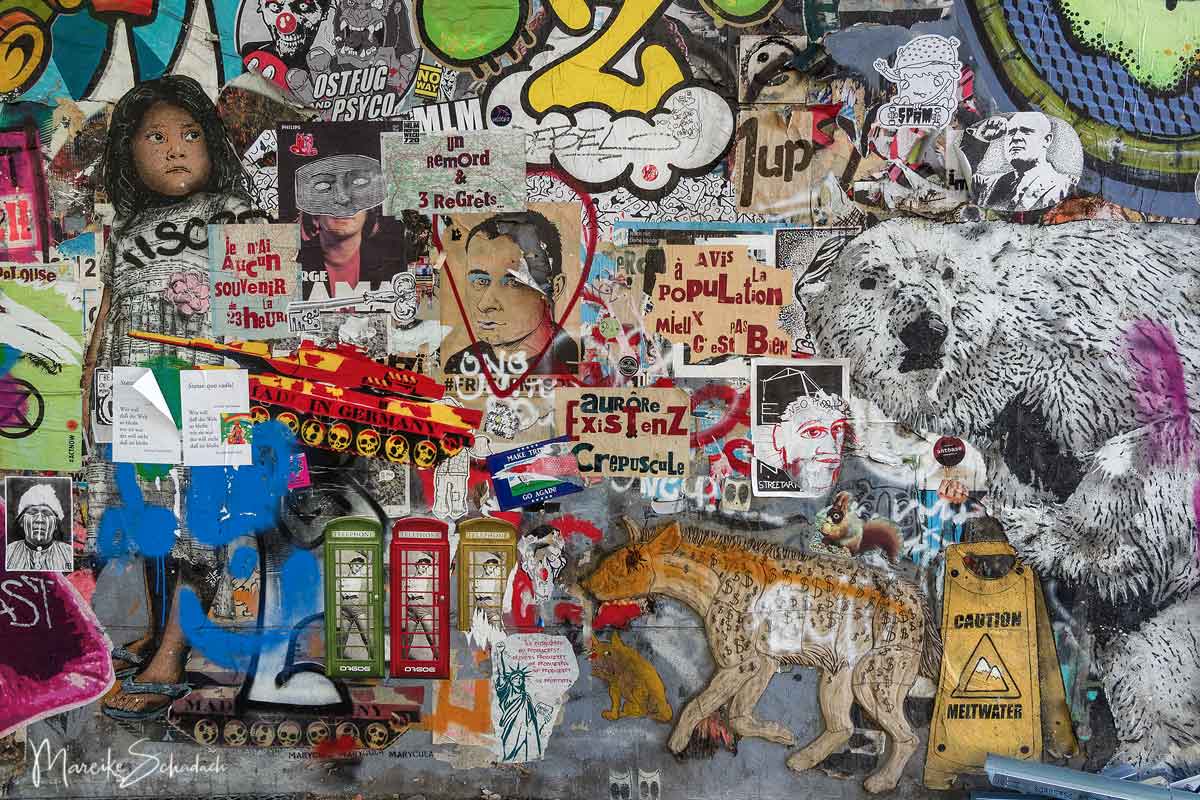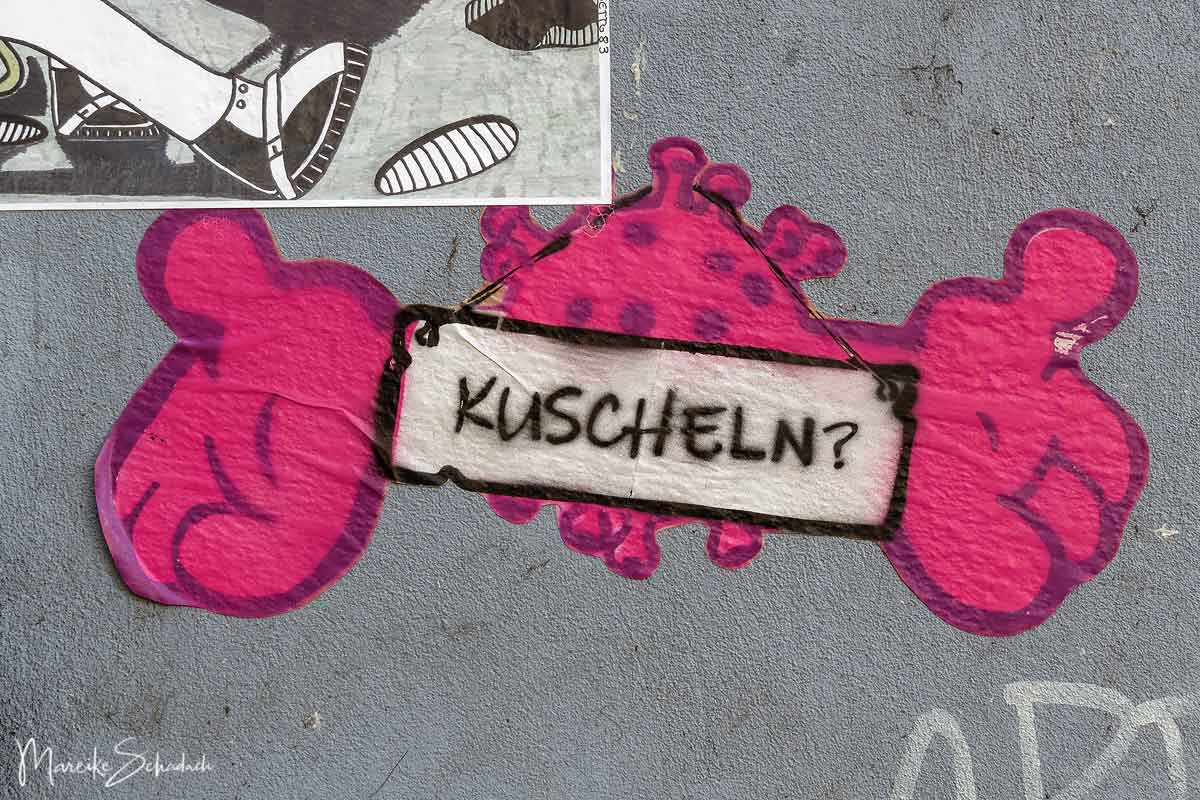 By the way: The small cinema, founded in 1909, is the oldest continuously screened cinema in Berlin. It presents arthouse films and documentaries. The cinema was rebuilt in 2019/20 and reopened under a new operator after the lockdown in spring 2021.
---
Arsek Erase, HRVB the Weird: The Berlin Bomber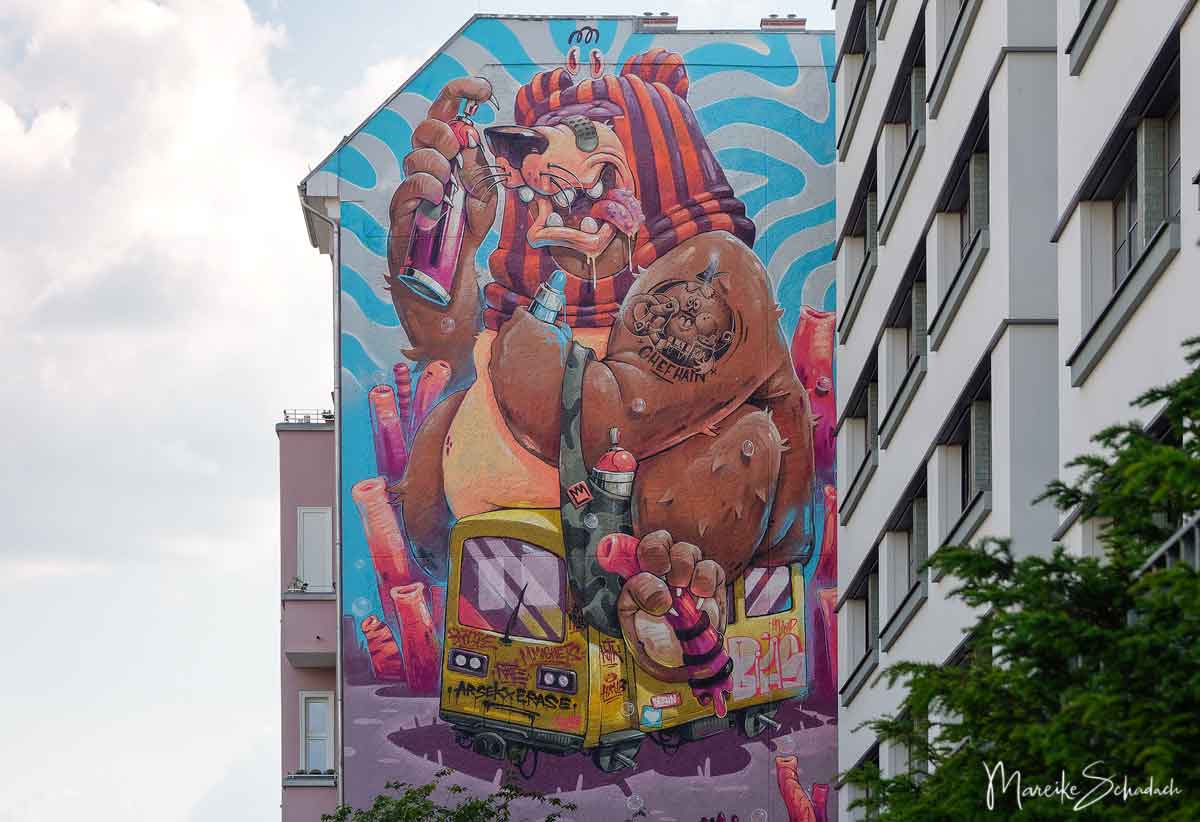 Since the beginning of 2000, Arsek and Erase have been on the road as a graffiti artist duo. Their works are mostly illustrative and surreal in nature. Typical for their murals are bright colors, fun as well as comic-like scenes influenced by nature and their surroundings. The Bulgarian artists realized "The Berlin Bomber" during the Berlin Mural Fest 2018. The bear riding on a yellow Berlin subway was additionally tattooed on the arm by the artist HRVB the Weird at the end.
Address: Warschauer Strasse 9
---
MTO: There's No Such Thing As Bad Publicity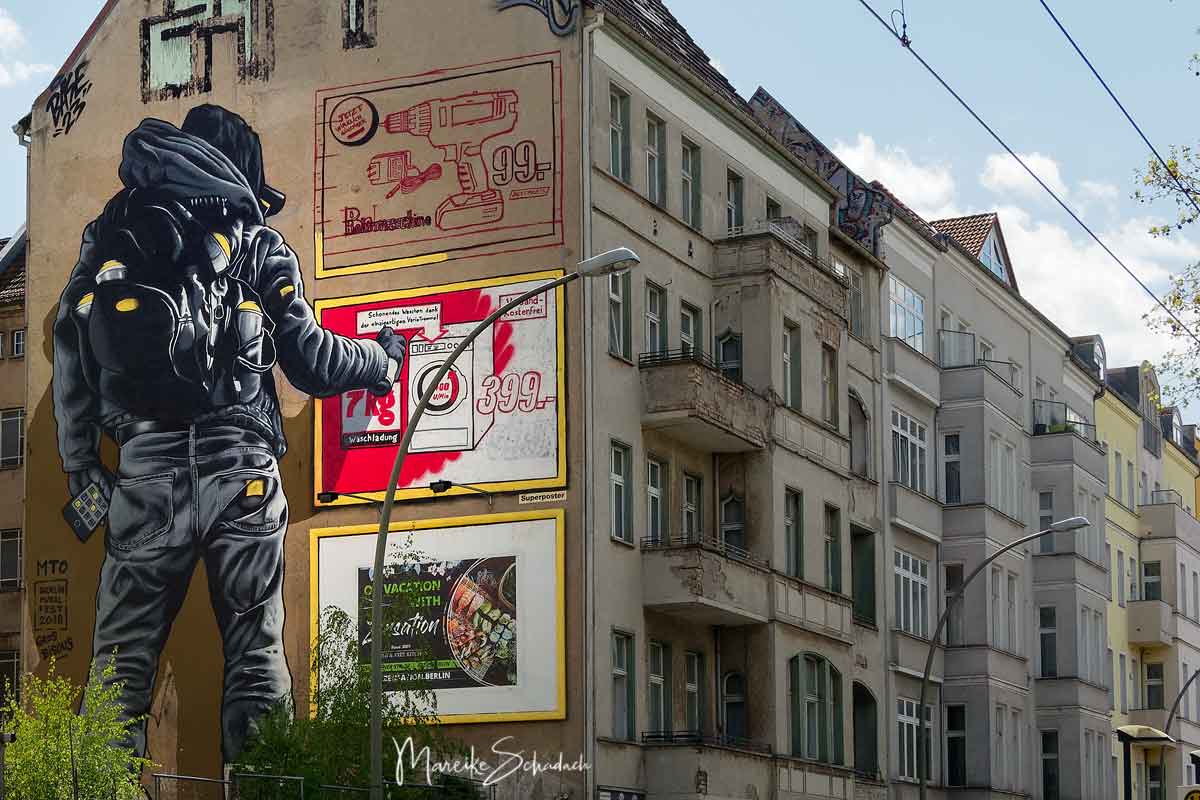 The French artist Mateo Lepeintre aka MTO thematizes with his mural the use of street art for commercial purposes. But first a story: until 2015 there was a very famous mural on the Cuvry wasteland in Kreuzberg. It was three huge white figures with masks and golden watch handcuffs. Maybe you still know it. Painted by the famous Italian artist BLU in 2007, the mural was an extremely popular photo motif as well as a landmark of the embattled Cuvry wasteland. Because from 2015 apartments were to be built here. It is said that BLU had his work painted over with black paint. He wanted to make sure the system couldn't use his mural to sell apartments.
When MTO got its wall during the 2018 Mural Fest, a large scoreboard was already in place here. It's almost hard to tell, but the lowest of the yellow-framed panels is "real" and even lit with two lamps. He finally took this opportunity to denounce the use of street art murals for commercial purposes. It is well known that large-scale murals are attracting increasing interest from city councils and investors. That's because city- or brand-sponsored facade murals make lower-cost residential areas more attractive. Rents go up, street art tourists come, galleries open, and so on. MTO refuses this process and wants to fight against it. For this he shows openly political and contextual content in his murals.
Address: Warschauer Str. 58
---
One Truth: Swiss Knife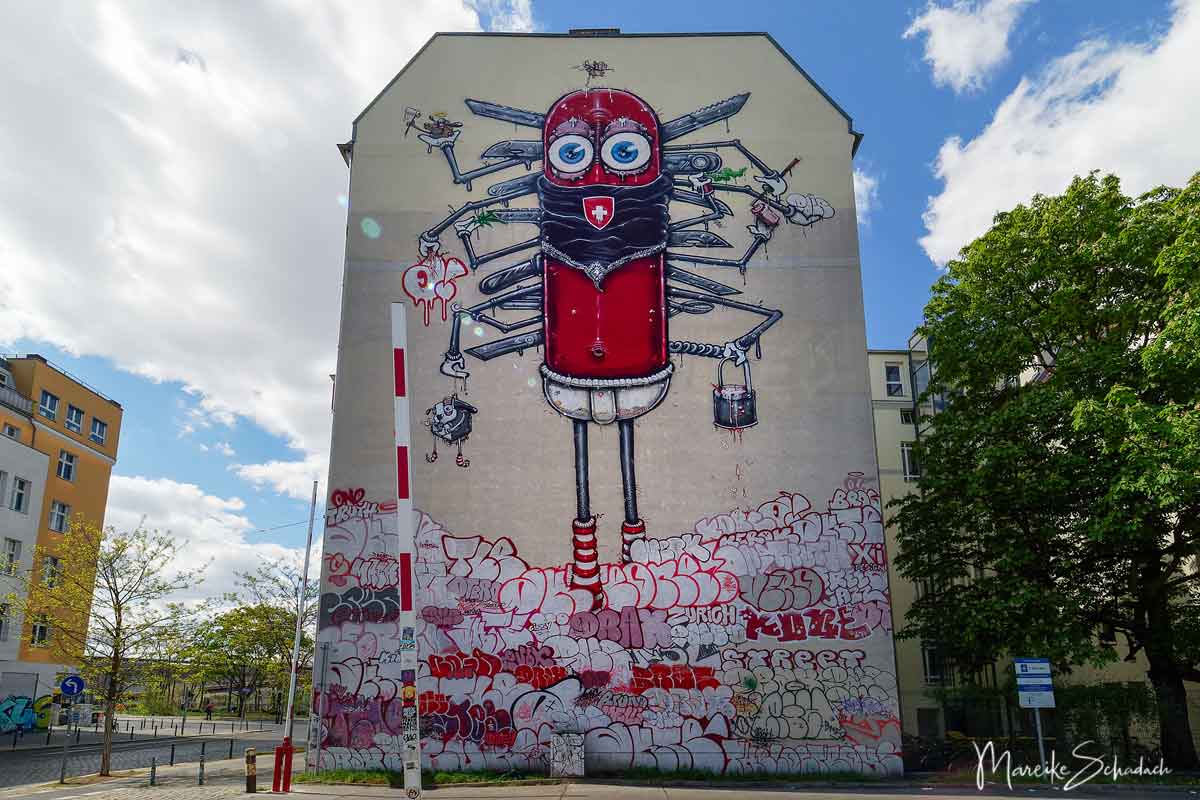 One Truth brothers Pase and Dr. Drax have painted a huge 25-meter-high wall near the East Side Gallery. The mural shows a large Swiss Army Knife with its feet covered in graffiti by local artists. One Truth plays on the stereotype of Switzerland in his painting.
Address: Revaler Street 1
---
Alice Pasquini: Suspended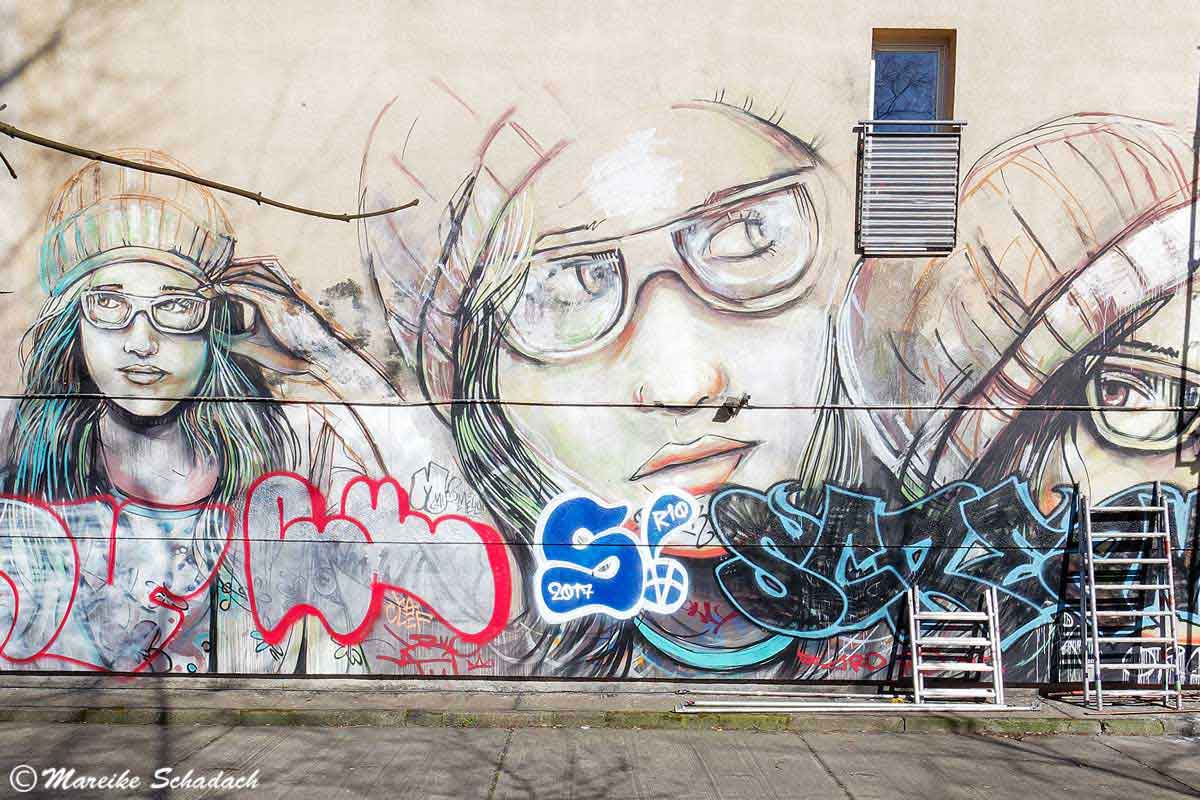 The mural "Suspended" is located in a backyard opposite the East Side Gallery. Italian artist Alice Pasquini painted six portraits of a young woman here in six days. Her style - the watercolor technique - is unmistakable. Also typical of Pasqiuni is that her art focuses on depicting people and relationships. Her six portraits show the same young woman in six different poses, each with a different facial expression. Her mural is meant to show the strength and independence of women.
Address: Warschauer Strasse 47
---
How do I tell my camera?
You are sometimes not sure how to get your camera to take the shots the way you want it to?
Karin and Markus from Fotonomaden explain it step by step in their online course* or in their 1:1 coaching* (sorry, only in German).
---
BLU: The Pink Man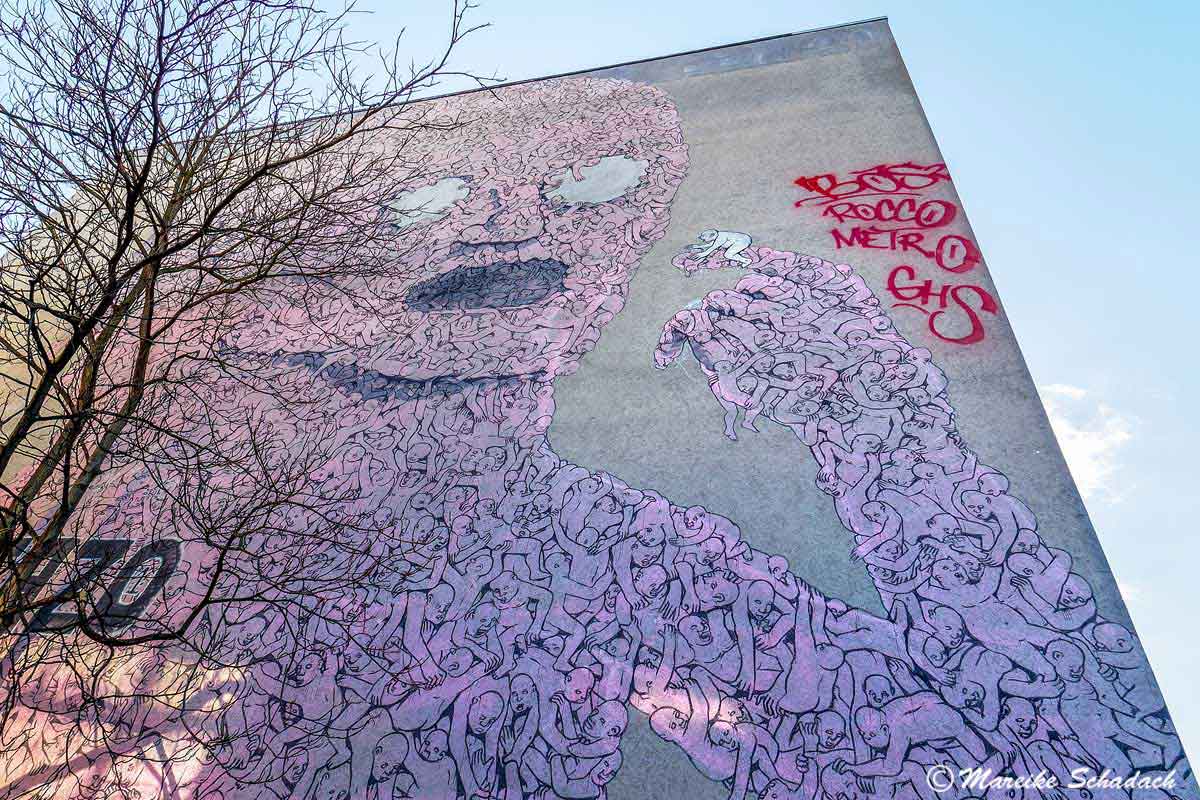 You can already see the artwork of BLU from the Oberbaumbrücke. It shows a pink human figure with big white eyes. On closer inspection, you will see that this figure consists of hundreds of small people. These cling to each other in fear and finally form an indefinable mass. Only one person is highlighted as an individual. He is stuck between the fingers of the monster and is probably about to be eaten by it. The artist BLU thematizes fascism with his mural.
Address: Falckensteinstraße 49
---
Fin Dac: Engeika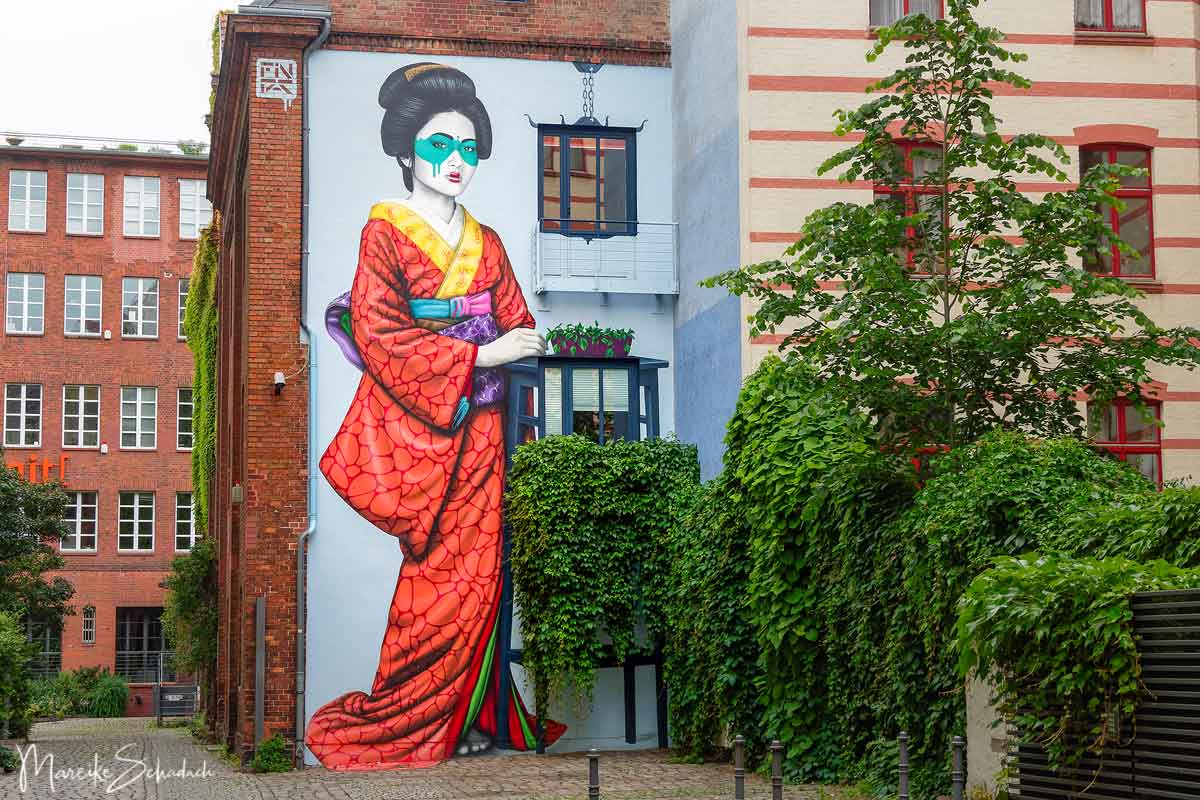 "Engeika" is the first mural by street art icon Fin Dac in Berlin. It is a beautiful example of how art can be integrated into a building - and vice versa. Because at first glance you can't see what is painted and what is part of the building. Fin Dac has perfectly integrated the two balconies into his painting. The geisha dressed in a red kimono leans against the lower balcony as if it were a small table. The mural in the Berlin backyard is part of Fin Dac's series "Hidden Beauty".
Address: Köpenicker Street 9
---
BLU: tear down this wall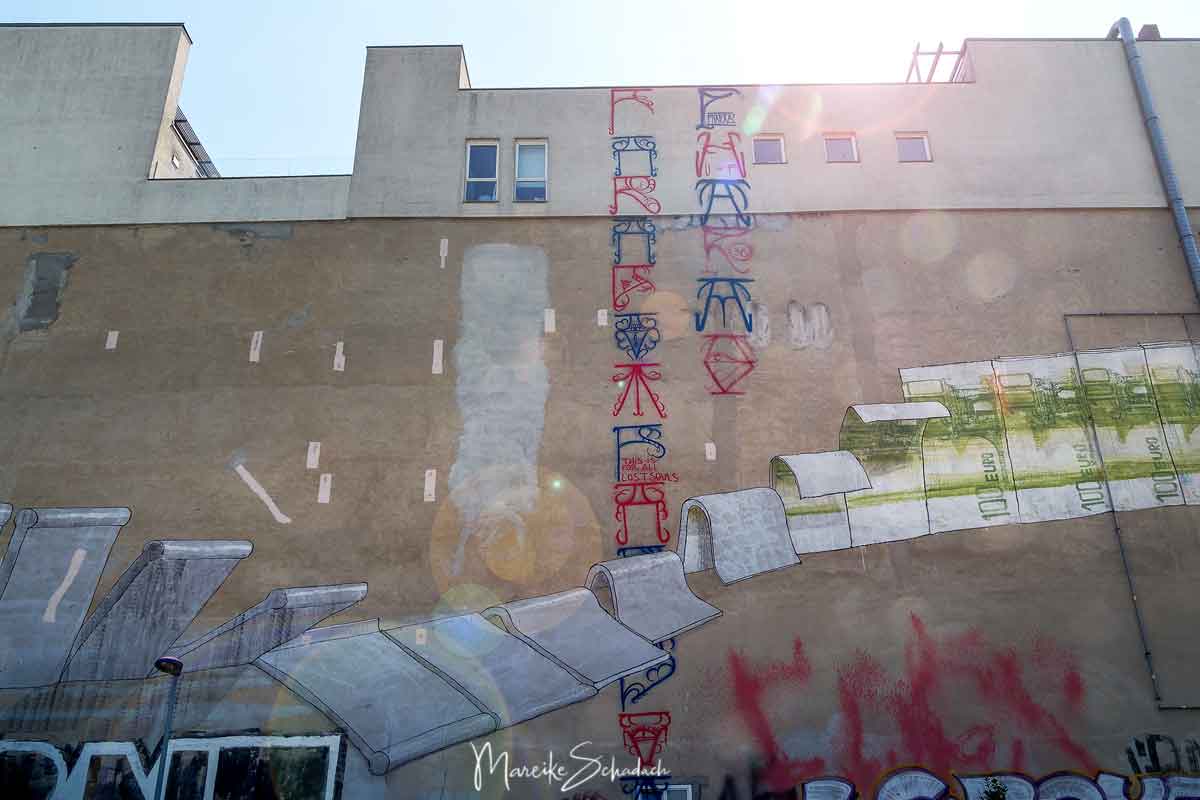 The wall of banknotes is one of few murals of the artist BLU, which have survived to this day. Like each of his works, this one carries a profound message to the viewer's eyes. The artwork shows on the left side a gray wall that falls to the ground piece by piece. But after it was already on the ground, a new wall is created - only this time from green 100 euro bills. The mural stands for Berlin. And it raises the question of what actually happened after the fall of the Berlin Wall.
Address: Köpenicker Street 10 A
---
Os Gêmeos: Yellow Man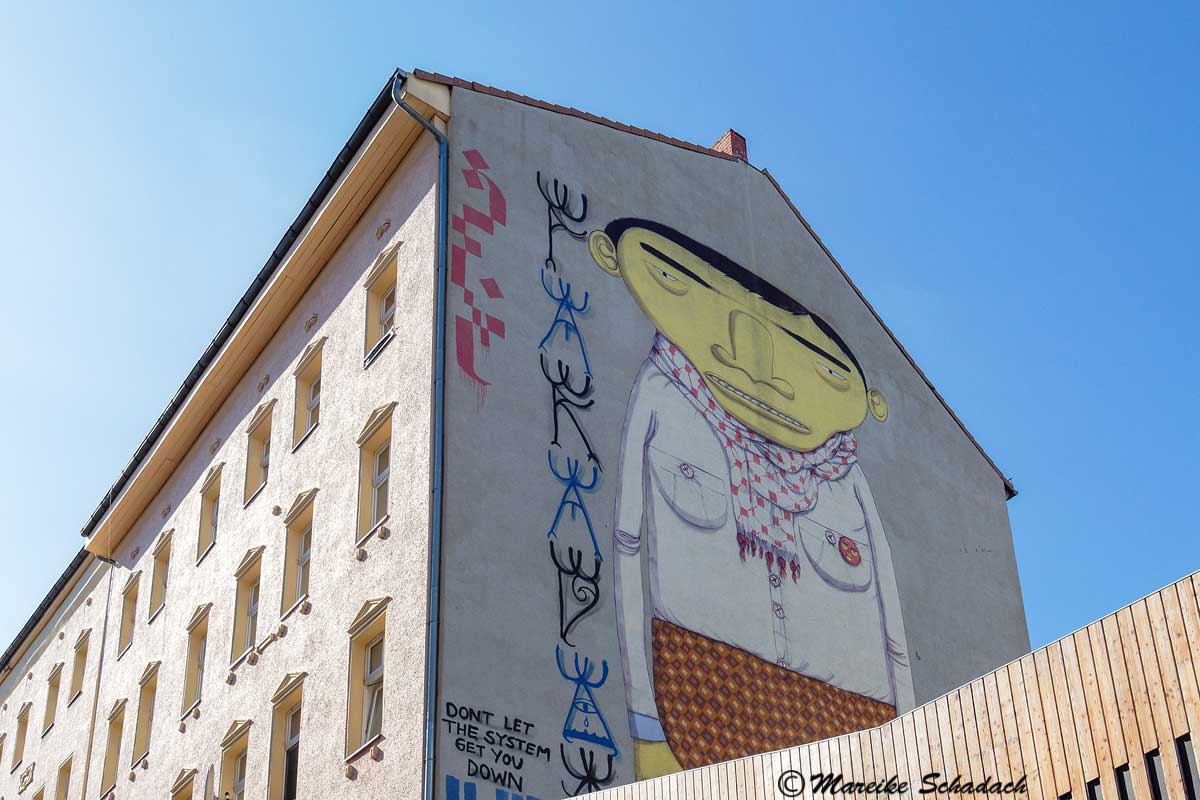 The mural "Yellow Man" by the Brazilian artist duo Os Gêmeos was created in 2007 as part of the graffiti festival Backjumps. The motto was "Turn the city into a magazine". The twins are among the most internationally known representatives in the street art scene. But despite their notoriety and high-paying commissions, their works are examples of socially critical street art, often with references to indigenous people. To the left of Yellow Man, the Berlin Kidz have also left their mark. The filigree, arabesque-looking tags are frequently seen in the Berlin cityscape. They are always in red, blue and black and stretch up the walls of the buildings like a sky ladder.
Address: Oppelner Strasse 3
---
Roa: Nature Morte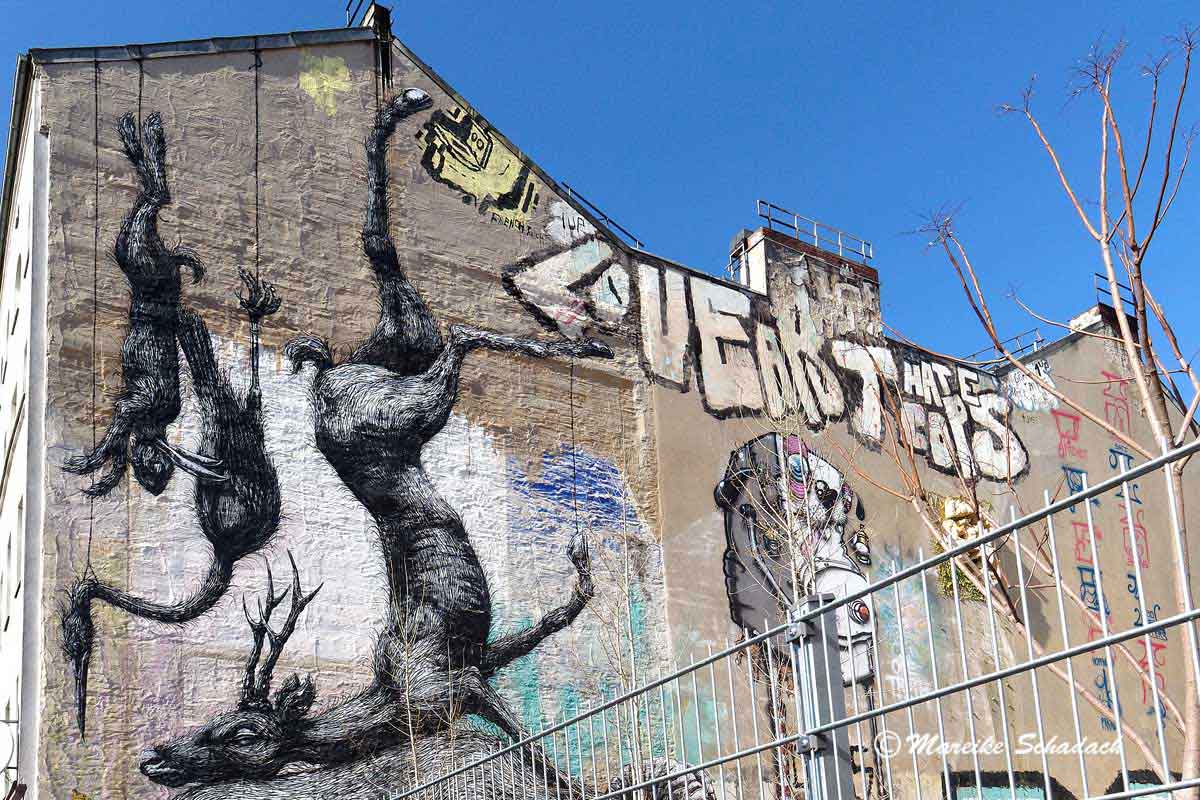 Admittedly, the mural does look a bit morbid: here a hare, a stork and a deer hang upside down on ropes from the roof. Among the hanging animals also lie a dead bull and a wild boar with severed head. The dead, injured or dismembered animals are a trademark of Belgian artist Roa. They are always sprayed in black and white and therefore have a high recognition value. You can see another of his paintings at Schönhauser Allee 116 in Prenzlauer-Berg.
Address: Oranienstrasse 2
---
Victor Ash: Astronaut/Cosmonaut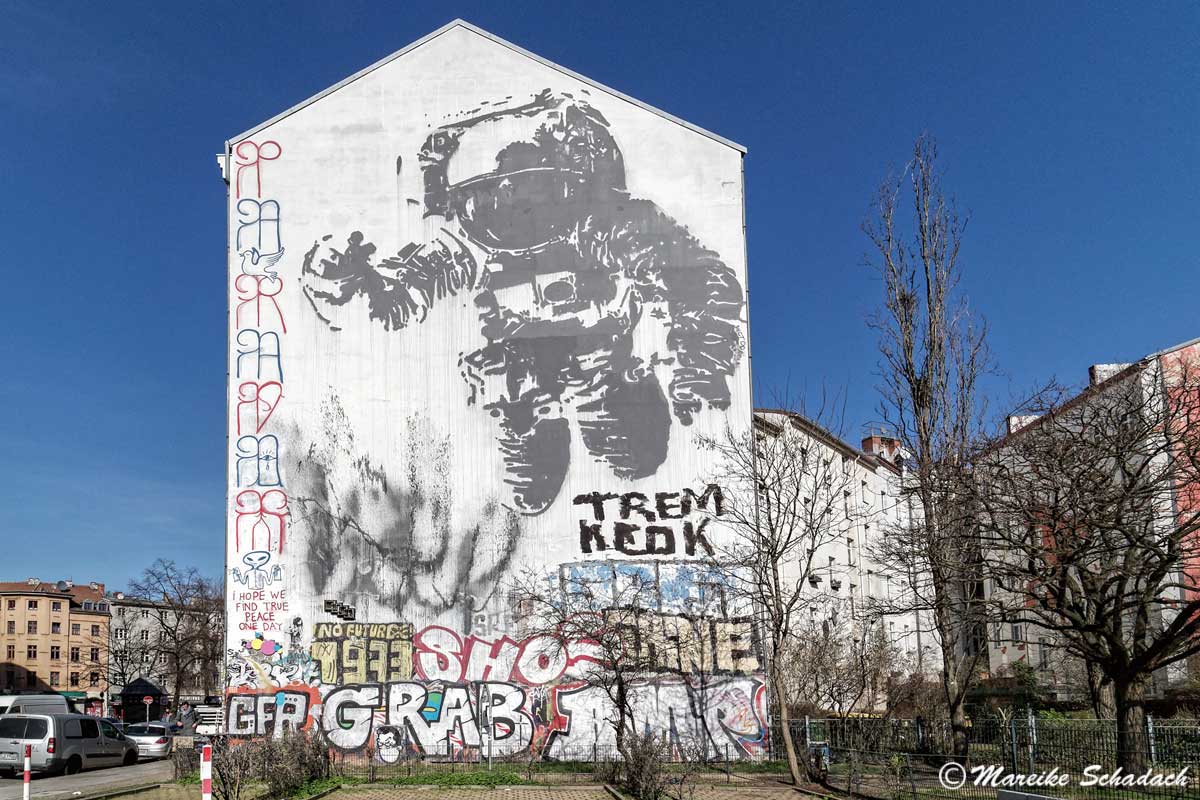 The mural in black and white stencil style shows a spaceman floating above the city or other graffiti. The Portuguese artist Victor Ash was inspired by the East-West conflict between the USA and the Soviet Union. For both states tried to be ahead in armament and space travel. However, Ash's spaceman is faceless and has no obvious nationality. Therefore, the mural also bears both the American and Russian designations for a spaceman in its title: "Astronaut/Cosmonaut." When Victor Ash created the mural in 2007 as part of the Backjump Festival, it was the largest stencil in the world, measuring 22 meters by 14 meters. And even today it is among the largest of its kind.
Address: Oranienstrasse 195
---
Millo: My Head is a Jungle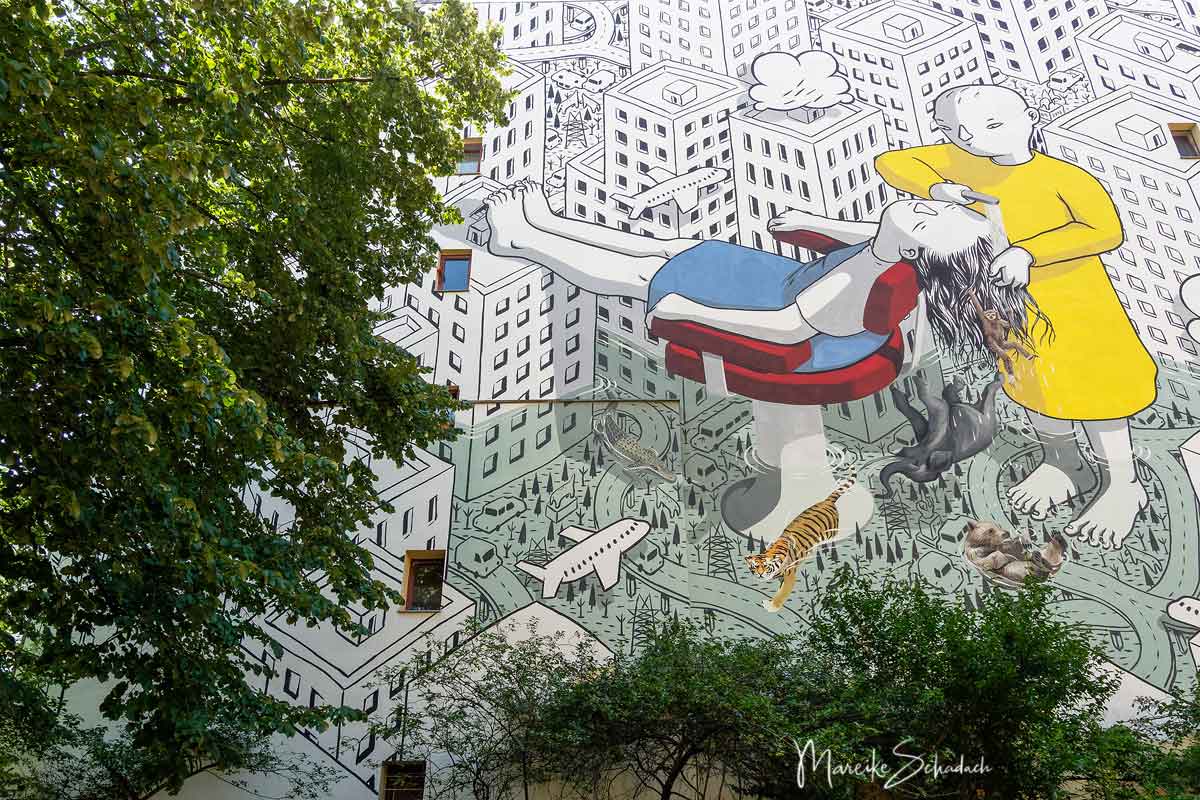 The Italian artist Millo has created a fire wall in Luckauer Straße as part of the Urban Nation Fest 2018. On display is a monotonous cityscape with skyscrapers and airplanes. But in the middle, a woman sits on a hairdresser's chair and has her hair washed. In the process, exotic animals fall out of her hair and the wash water slowly floods the city. Millo is known for his black and white line drawings, in which childlike figures, however, form a colorful contrast. His paintings represent childlike joy and playfulness.
Address: Luckauer Street 12
---
Herakut: My home might be no palace, but we can share it if you like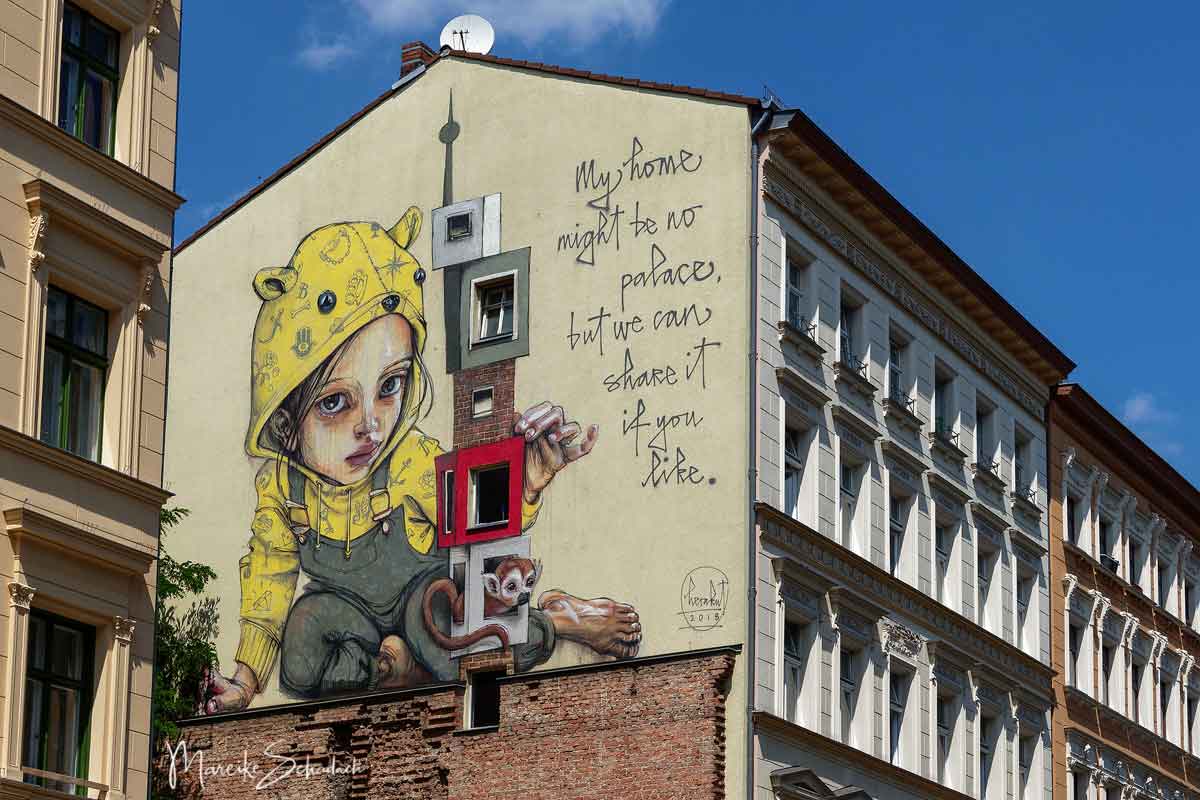 The Italian artist Millo has created a fire wall in Luckauer Straße as part of the Urban Nation Fest 2018. On display is a monotonous cityscape with skyscrapers and airplanes. But in the middle, a woman sits on a hairdresser's chair and has her hair washed. In the process, exotic animals fall out of her hair and the wash water slowly floods the city. Millo is known for his black and white line drawings, in which childlike figures, however, form a colorful contrast. His paintings represent childlike joy and playfulness.
Address: Luckauer Street 12
---
Cryptik: Graphics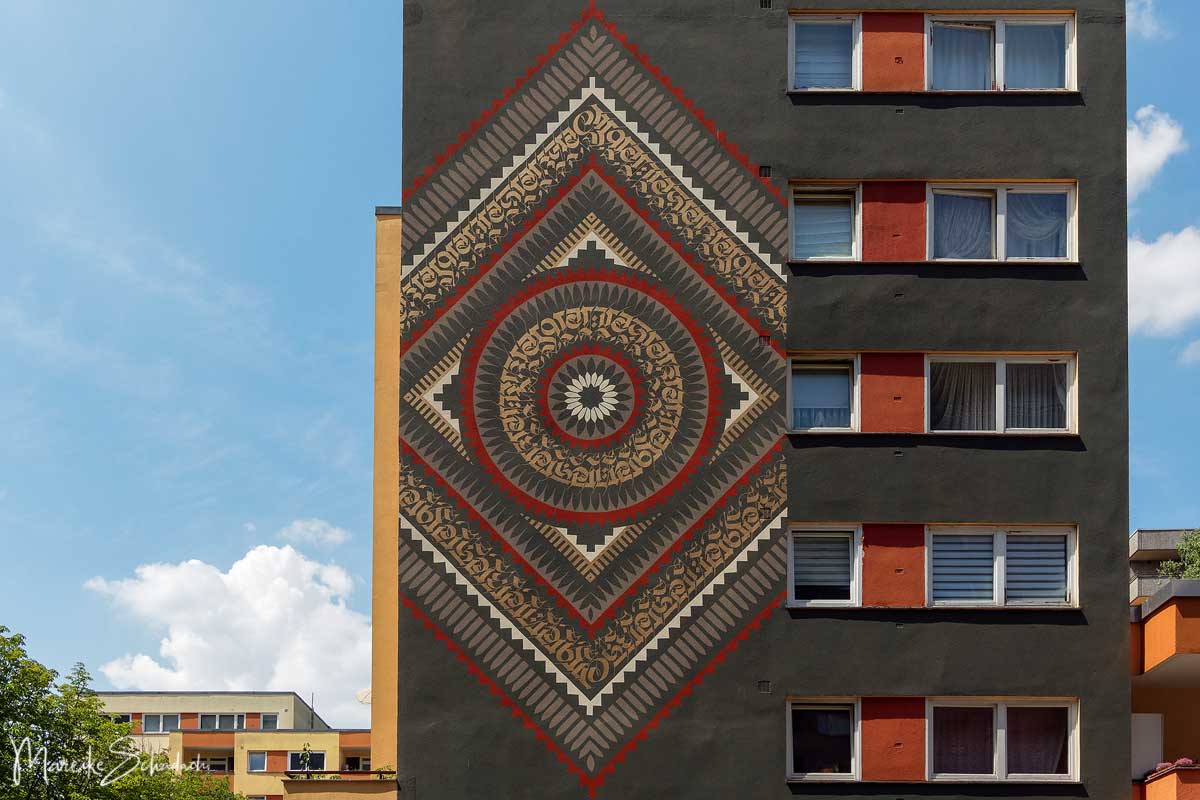 Just around the corner, on Bergfried Street, Southern California artist Cryptik created a graphic mural using the stencil technique. His works are an expression of spirituality and consciousness. Thus, this mural also features mandala-like patterns as representations of deities and spiritual guides. For Cryptik, his art is spiritual in nature. His "Mantradalas" are to be used for meditation, contemplation and also for trance. So it is about new perspectives, pausing in everyday life as well as positive karma.
Address: Bergfriedstraße 20
---
Emily Eldridge: The Thread that tied us together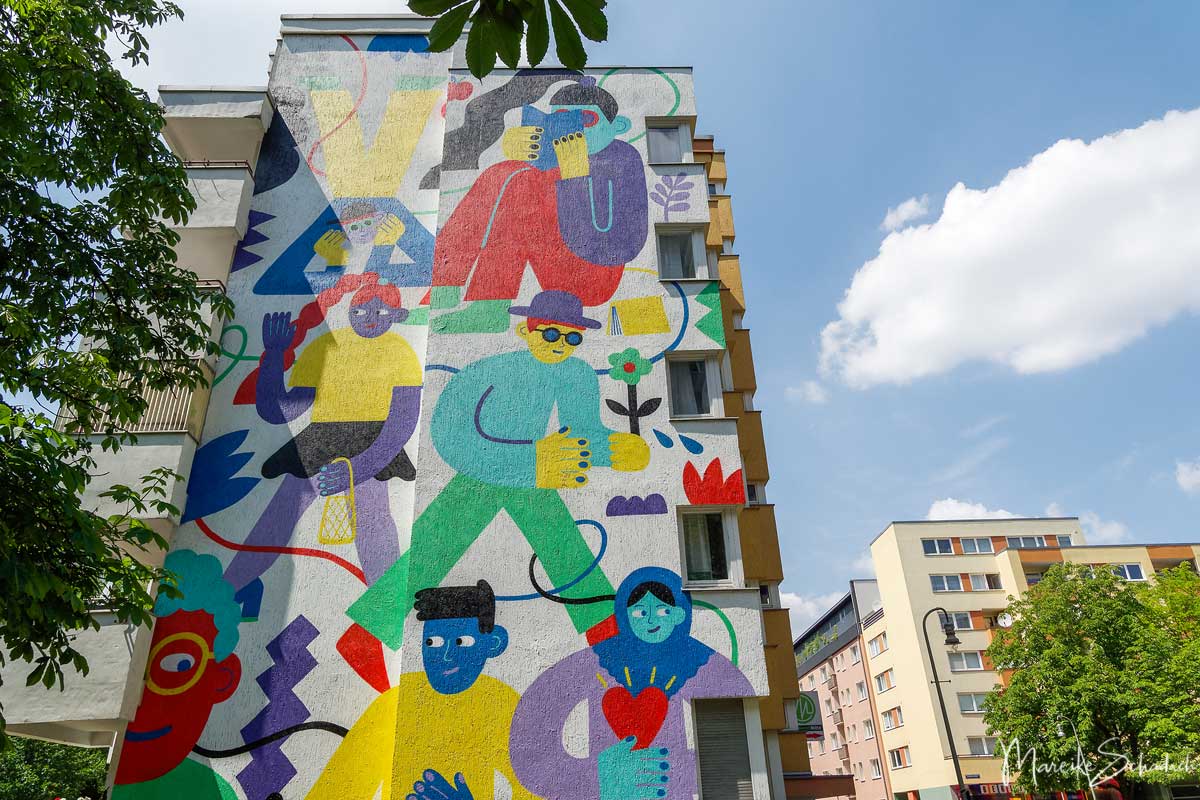 The colorful mural was painted on April 8, 2020 - when just the lockdown because of the Corona virus has paralyzed Berlin. It is probably the newest artwork in my street art map and is titled "The red thread that holds us together". But what exactly is it that holds us together? The artist explored this question: For Emily, it is the city, the neighborhood as well as the home that binds us together. All those who live here ultimately make Berlin what it is. No matter where the individual comes from.
Address: Wassertorstraße 64
---
Bosoletti, Young Jarus: Daphne and Apollo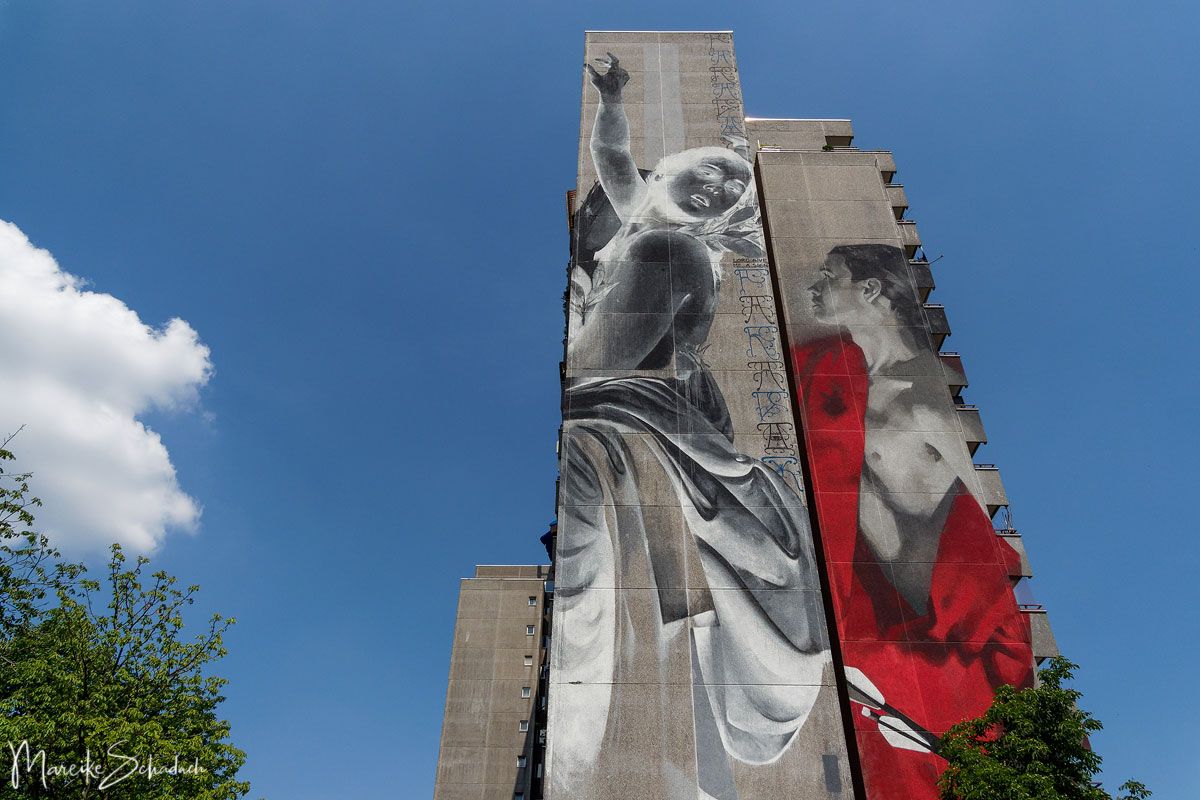 Argentine artist Francisco Bosoletti and Canadian artist Young Jarus have painted a joint mural here for Urban Nation 2018 under the motto "United". And it sets standards! Because it covers an area of 45 x 15 meters and shows the tragic love story of Daphne and Apollo. And it goes like this: Apollo has angered Eros. As a result, he shoots two arrows, one golden at Apollo and one made of lead at Daphne. With the effect that Apollo falls madly in love with Daphnie, but Daphnie feels rather the opposite. To escape Apollo, Daphne finally allows herself to be transformed into a laurel bush. As an expression of his grief over unrequited love, Apollo has worn a laurel wreath on his head ever since.
Address: Gitschiner Str. 65
---
---
Berlin Kidz - various graffiti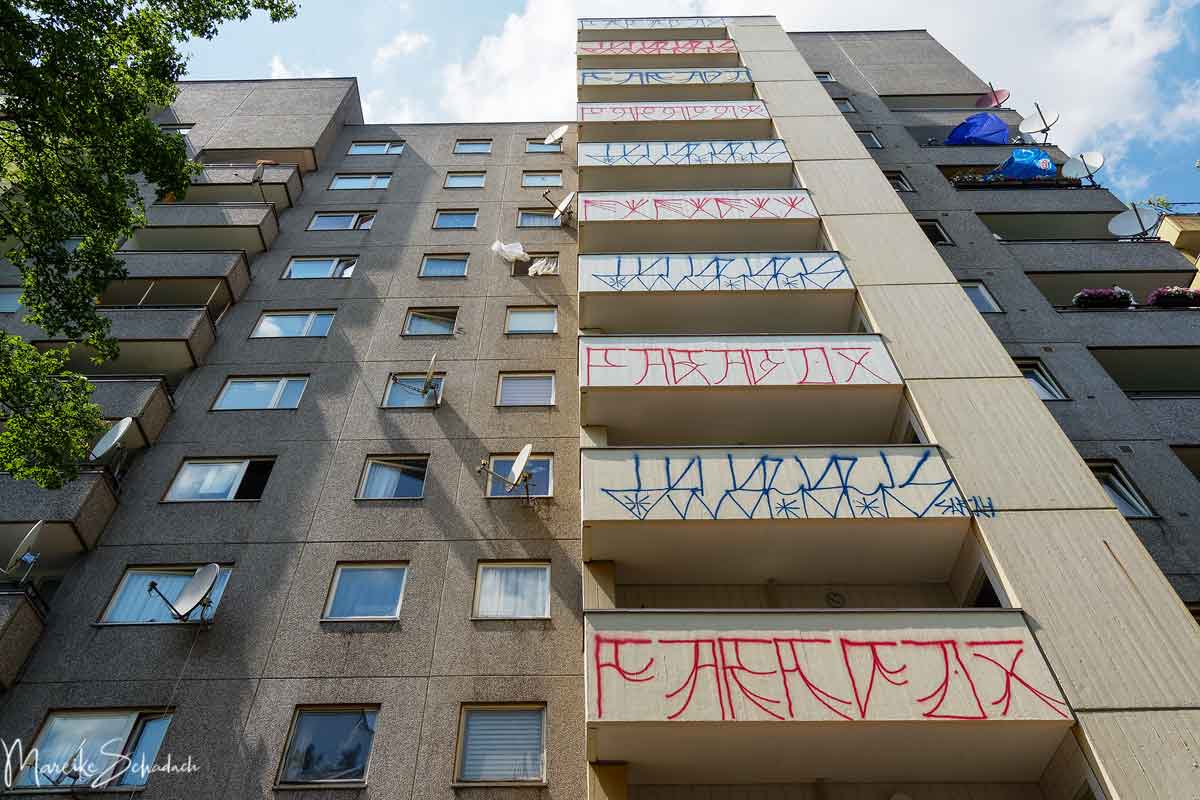 They are crazy, fearless and brazen. Nobody knows who they are, but their graffiti is unmistakable: filigree, arabesque-looking characters in the colors red, blue and black. There are also always little messages hidden between the tags. Their graffiti spans the facades of the highest buildings and the most inaccessible places. From the very top to the very bottom. To do this, the Berlin Kidz abseil down building roofs in spectacular actions and film themselves doing it. Tip: You can see many of their videos on You Tube.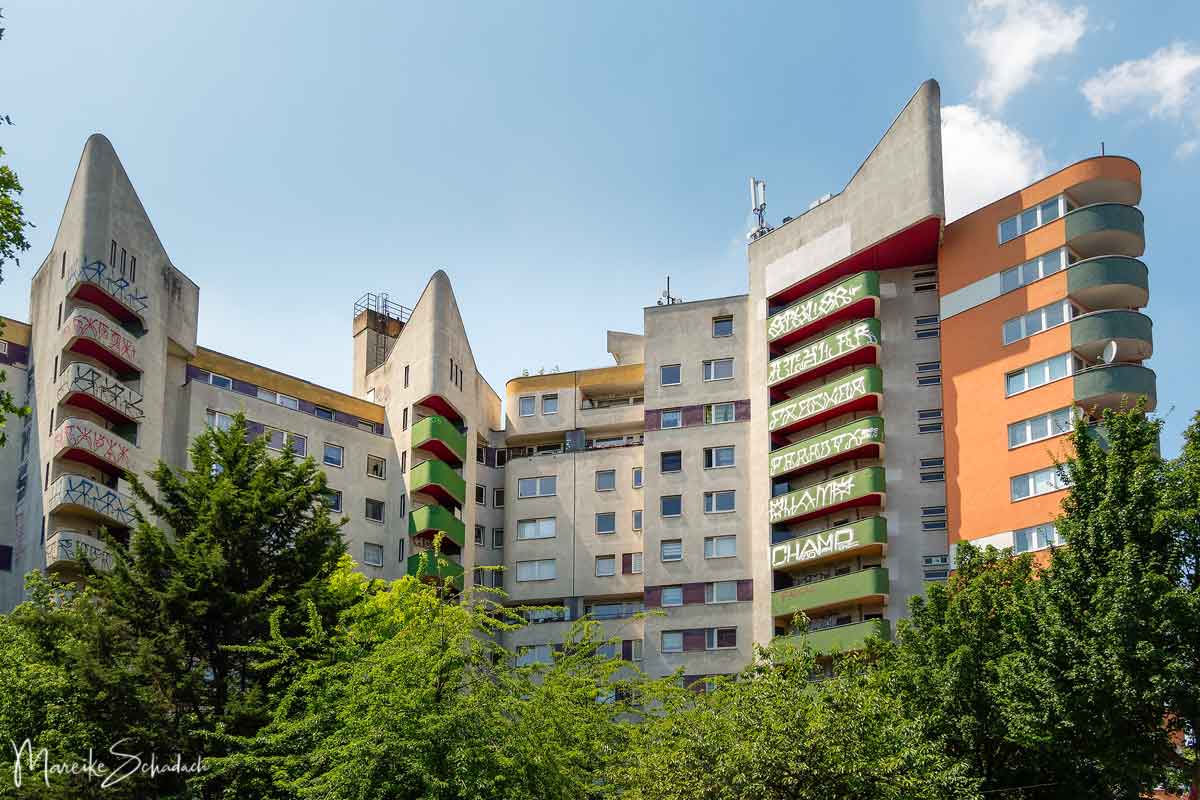 The style of the Berlin Kidz is influenced by the beginnings of US-American graffiti. Because in the past, graffiti spraying was also considered a kind of extreme sport, was political and rebellious. Without a lot of frills around it. Their graffiti is a fight for freedom, against gentrification and surveillance. Their goal? "Fuck the system." At least that's the title of the film Thomas von Wittich made about the Berlin Kidz. You can also watch it in full length on You Tube. Here you can see the video.
You can also see more graffiti of the Berlin Kidz on the following murals: BLU: tear down this wall; Os Gêmeos: Yellow Man; Roa: Nature Morte; Victor Ash: Astronaut/Cosmonaut
---
Axel Void: Man is a Wolf to Man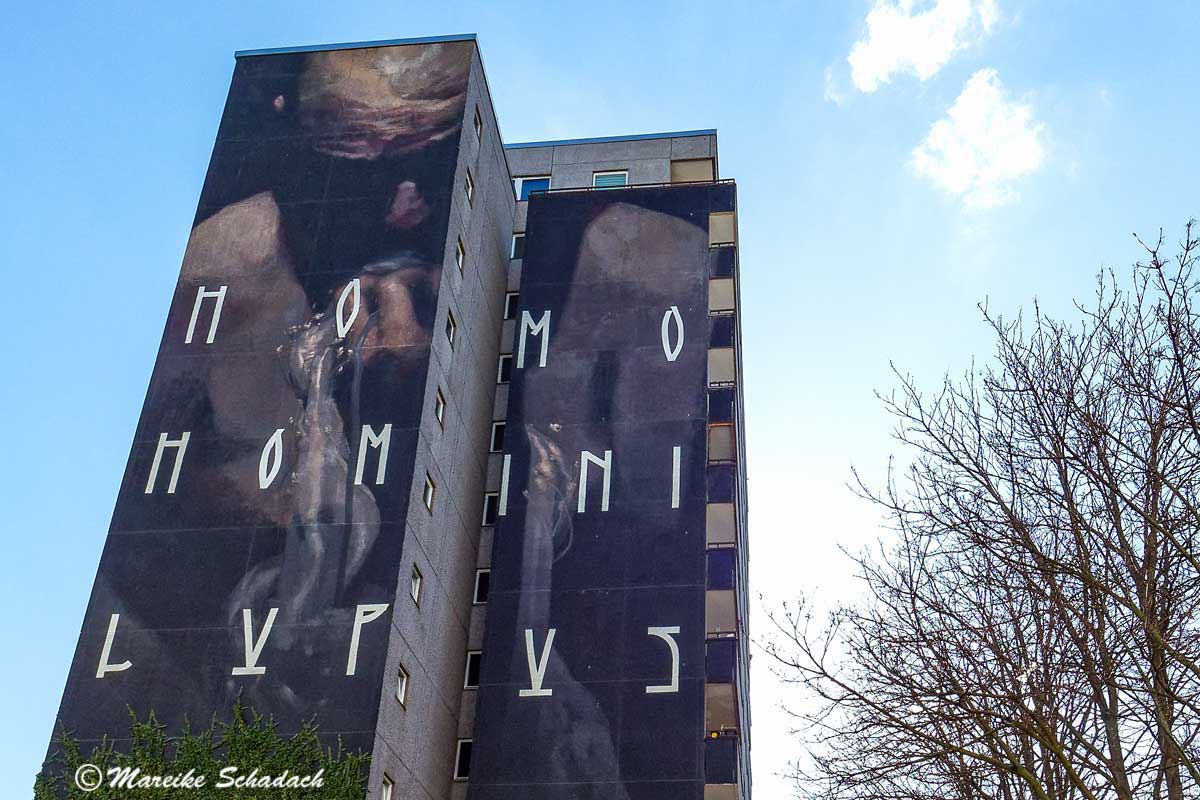 At first, you only see the bright white lettering on the dark background. But at second glance, you recognize structures in the black surface. Then, at the third glance, the structure becomes a human being. However, only his head, his upper body bent forward and his right hand, with which he holds something, can be seen. Above this is the Latin sentence: "Homo Homini Lupus", translated "Man is a wolf to man" from the comedy "Eseleien" by the Roman poet Titus Maccius Plautus. The English philosopher Hobbes later used this phrase in his philosophical work "Leviathan." He used it to describe the human quest for power and the phrase subsequently became famous.
Address: Bergfried Street 11
---
Do you want to discover the street art scene in Berlin together with like-minded people on a guided tour? Then I can recommend this three-hour Street Art Tour* or the half-day Tour through the Alternative Berlin* . Both tours are in English. Do you love lost places as much as street art? Then the Tour to the former Listening Station at Teufelsberg* (in German) is made for you.
---
Jadore Tong: No Comment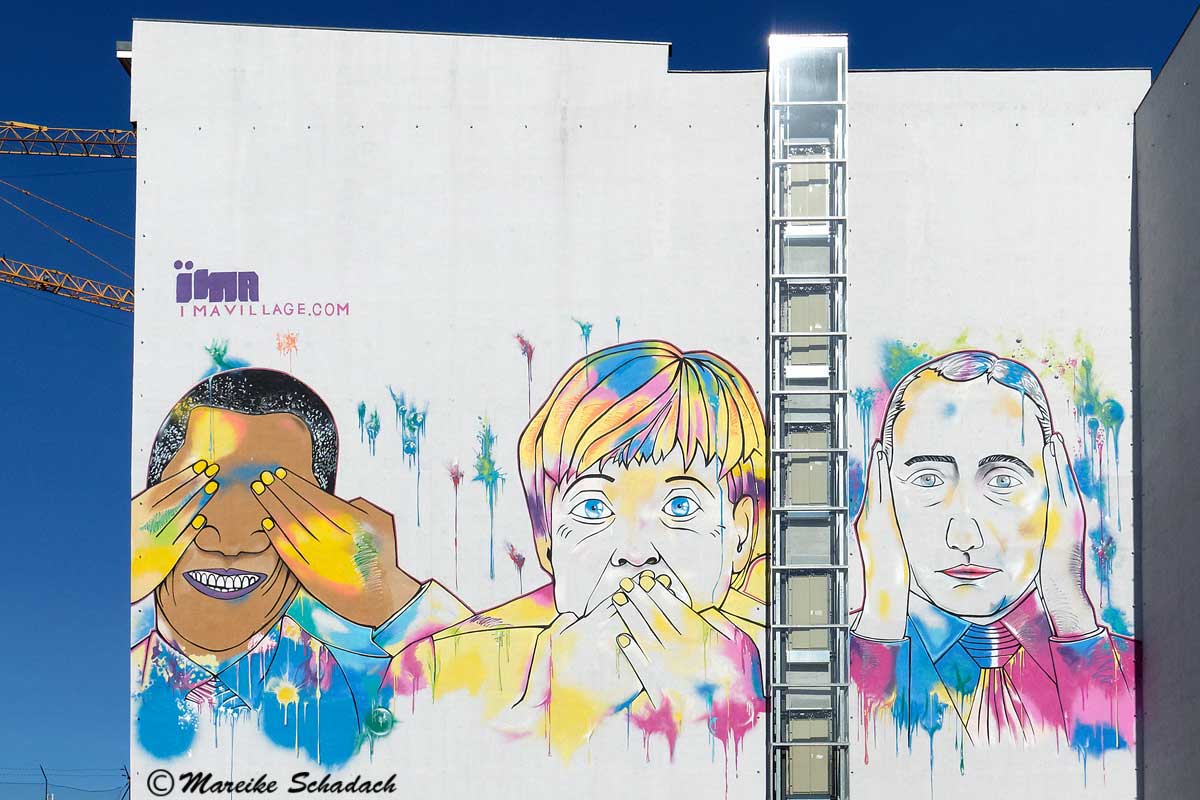 The mural by Jadore Tong shows the three (partly former) heads of state Barack Obama, Angela Merkel and Vladimir Putin. They hold their hands in front of their eyes, ears or mouths. With this, the artist alludes to the well-known Buddhist wisdom: "See nothing (evil), hear nothing (evil), say nothing (evil)."
Address: Knight Street 12
---
Shepard Fairey: Make Art Not War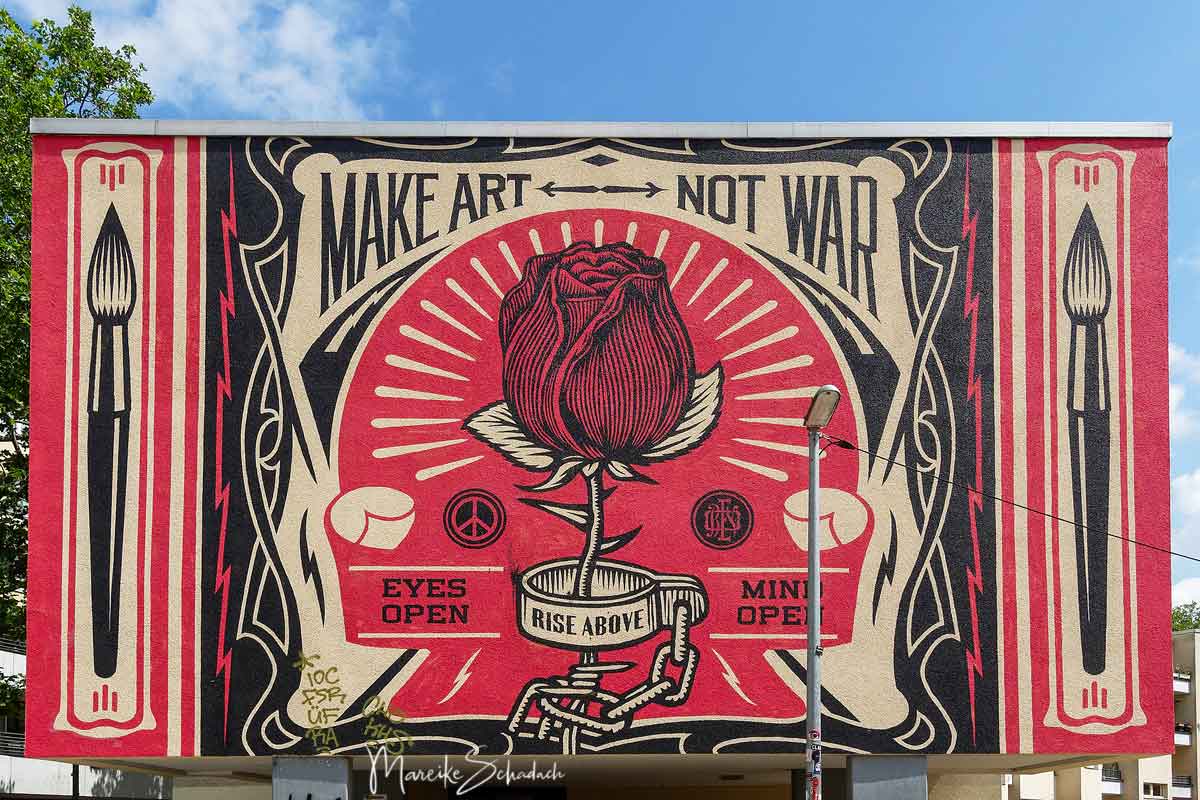 The mural "Make Art Not War" was created in 2014 as part of Urban Nation's "One Wall" project. Above the mural is the slogan "Make Art Not War", which is an allusion to "Make Love Not War". The latter slogan stood in the 1960s as a protest against the Cold War and the Vietnam War. Also, in the center of the painting is a rose. The stem first has rose thorns, but further down the thorns have turned into spikes of a barbed wire fence. Around the stem closes a handcuff with the inscription "Rise Above". To the left and right of the handcuff is "Eyes Open" and "Mind Open." The mural thus sends a message of peace and asks viewers to be open, tolerant as well as respectful. The handcuffed rose can be interpreted as a symbol that it is possible to rise above societal constraints.
Address: Mehringplatz 28
---
Don John: Hoodie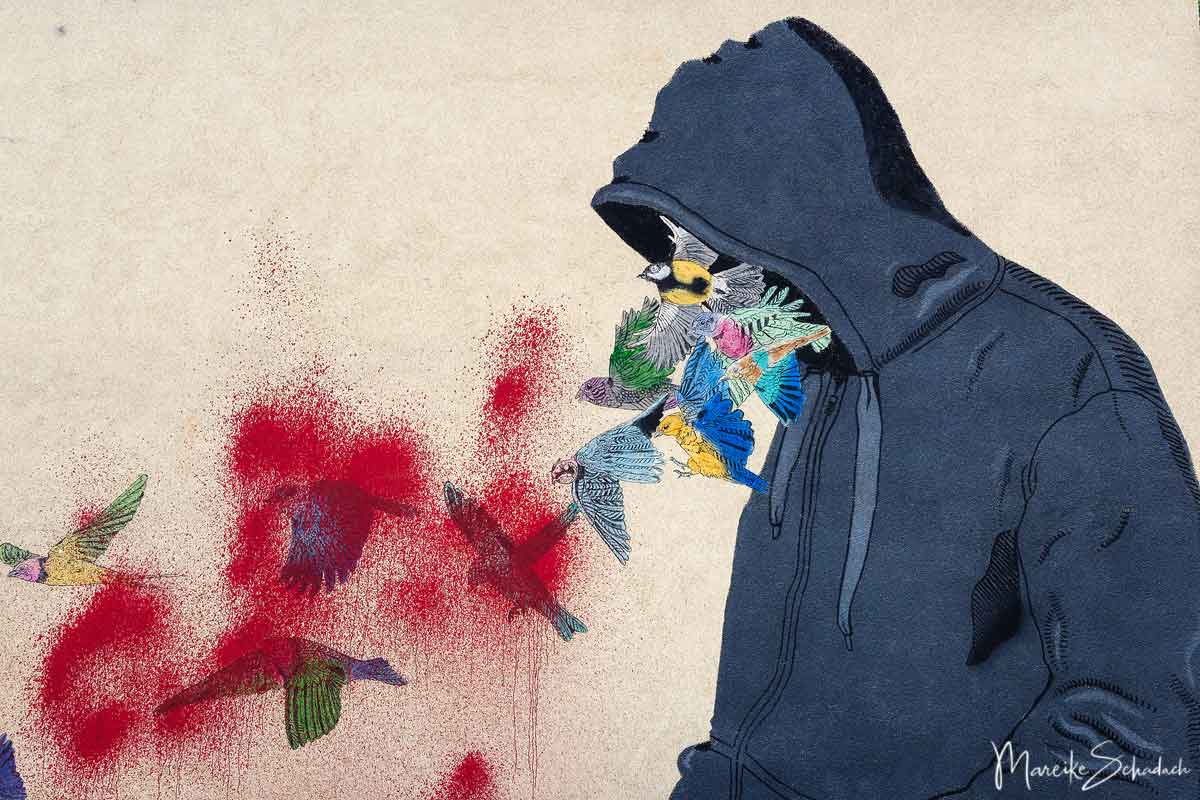 As part of Urban Nation's "One Wall" project, a mural by Danish street artist Don John was created on a house wall at Mehringplatz in 2014. The mural shows on the right side a torso in a black hoodie with his hands buried in his pockets. A head, however, does not appear to be present. A flock of colorful birds pours out of the empty hood. They fly away over the rest of the wall. Later, someone threw red paint bags at the birds, making it look as if they had been shot. However, Don John's original version had a different, friendlier character.
Address: Mehringplatz 12
---
Pichi Avo: Janus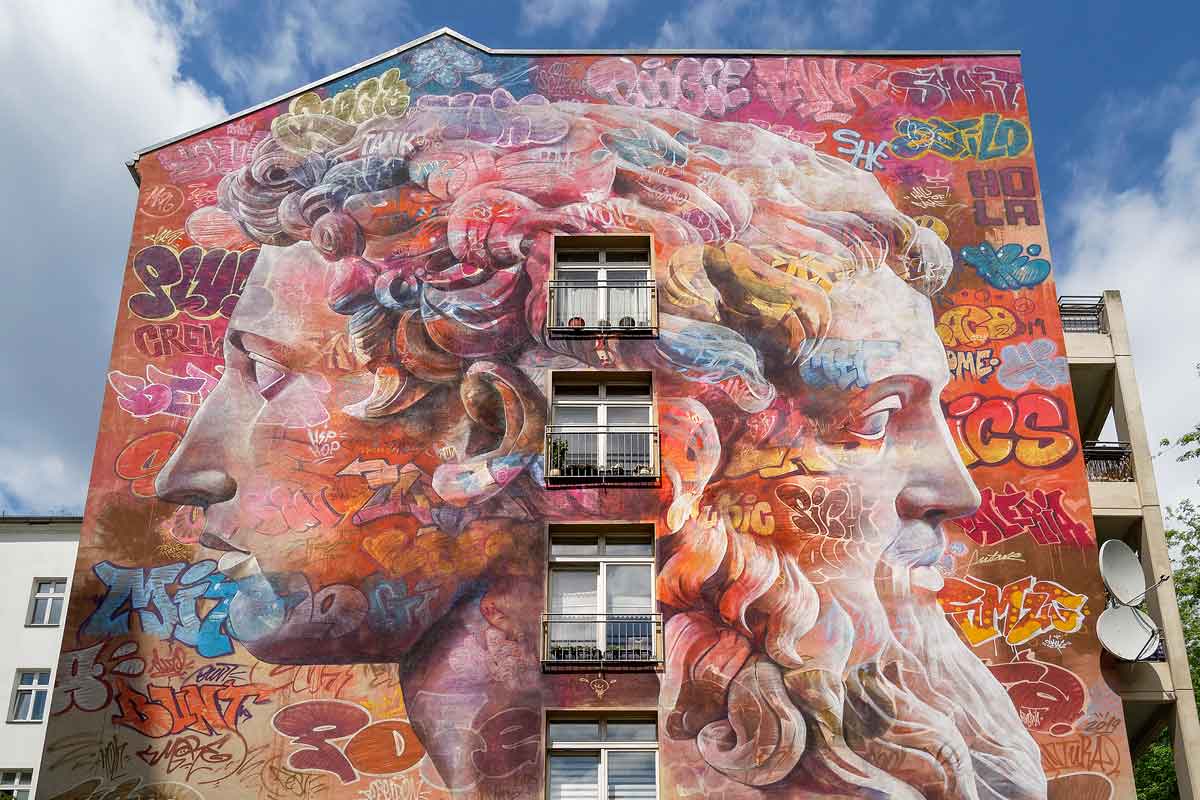 This mural by Pichi Avo was also created during the second Berlin Mural Fest in 2019. The French artist is known for urban mythology. Namely, in his murals he combines street art and Greek and Roman mythology. This mural in Friedrichstraße depicts the Roman two-faced god Janus, the god of beginnings, gates, transitions, time as well as duality. And what makes the painting so special is that Janus is covered in graffiti from top to bottom.
Address: Friedrichstraße 7
---
Mr. Aryz: Wrestlers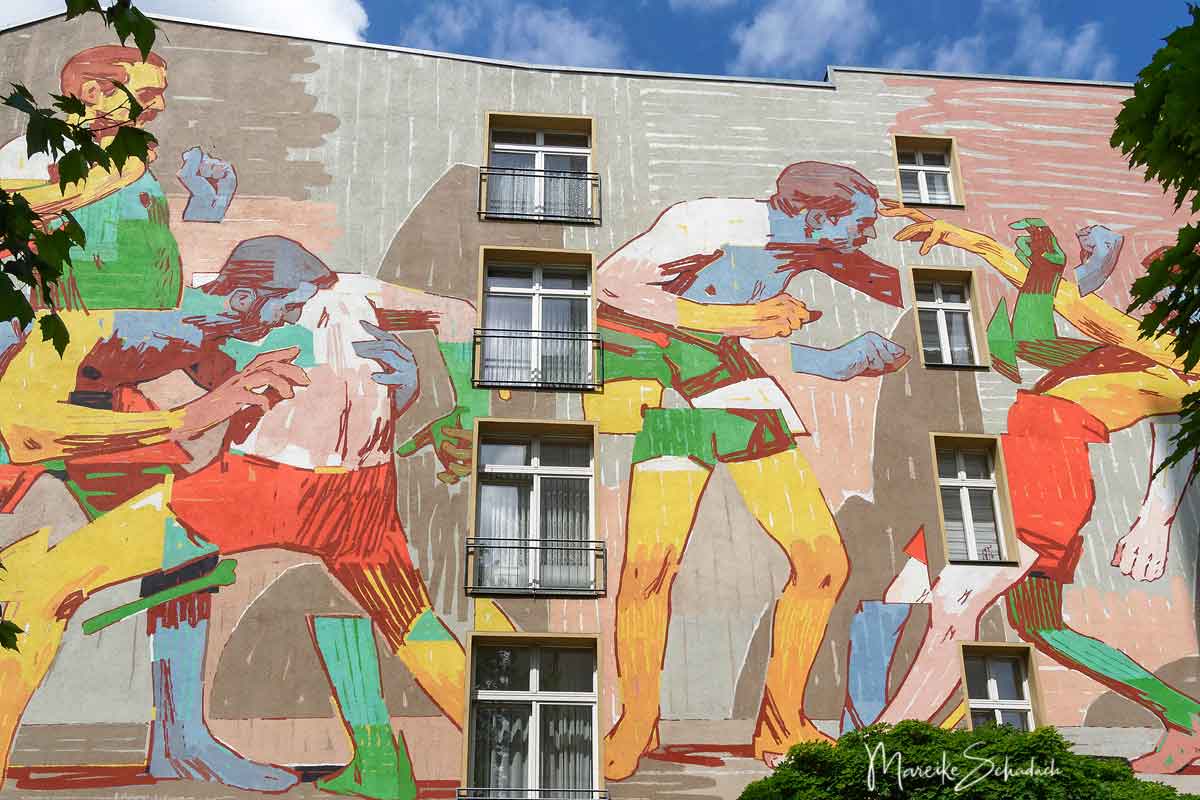 Spanish artist Mr. Aryz is known for his large-scale murals. He painted this mural with the fighting wrestlers during the second Berlin Mural Fest in 2019. He often paints dynamic scenes in bold colors, leaving the brushwork largely visible. He also filled the free areas with clearly visible brushstrokes. In his painting, the struggling people are representative of our society.
Address: Friedrichstraße 7
---
Jadore Tong: Peace Unity Love Wisdom
Next to the streetball court in Theodor-Wolff-Park an elephant plays with a balloon. He almost looks like he wants to play ball with the kids. However, the colorful elephant not only brings color to the gray wall. He also brings a message: "Peace - Unity - Love - Wisdom" is written at the bottom of the artwork. That makes it even more meaningful. Beautiful, isn't it?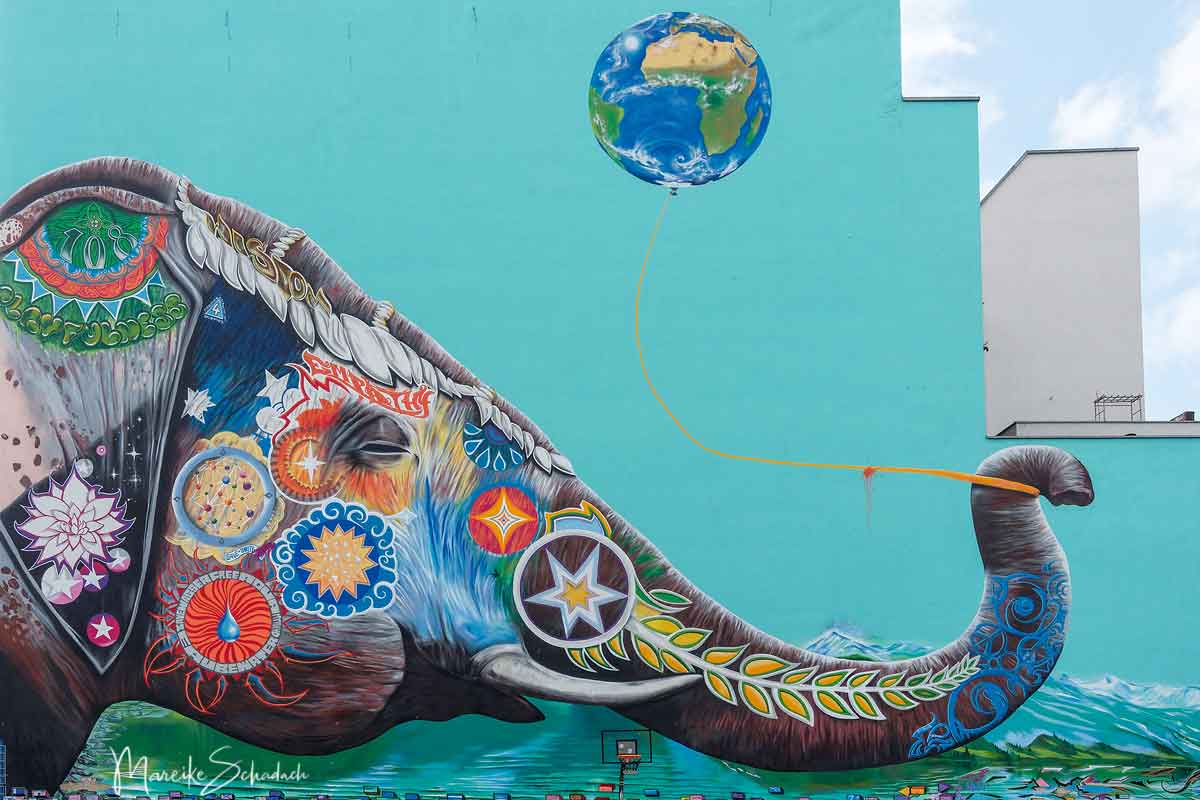 The huge painting is certainly one of the most photographed murals in Berlin. It was realized in 2016 by Jadore Tong aka S.Y.R.U.S. (Save Your Rich Intouchable Soul) as a privately organized project. It took a whole 4 weeks to complete the 750 square meter painting. It covers the entire back of a typical Berlin old building with six floors. First, the outlines were painted with a paint roller and spray cans, which were then filled with wall paint. In the end, the details were finally applied with spray cans.
Address: Franz-Klühs-Straße / corner building Wilhelmstraße 7
---
Book Recommendations for Street Art Fans
You like to browse through illustrated books for new murals or artists you don't know yet? You love to discover the street art scene of other cities? Then I can recommend these books. Click on the picture to get to Amazon, where you can order the books. If you buy something through one of these affiliate links, I get a small commission and you help me to keep filling Fernweh-Motive with interesting articles. The product will not be more expensive for you.
---
Jadore Tong: Mountain Ama Dablam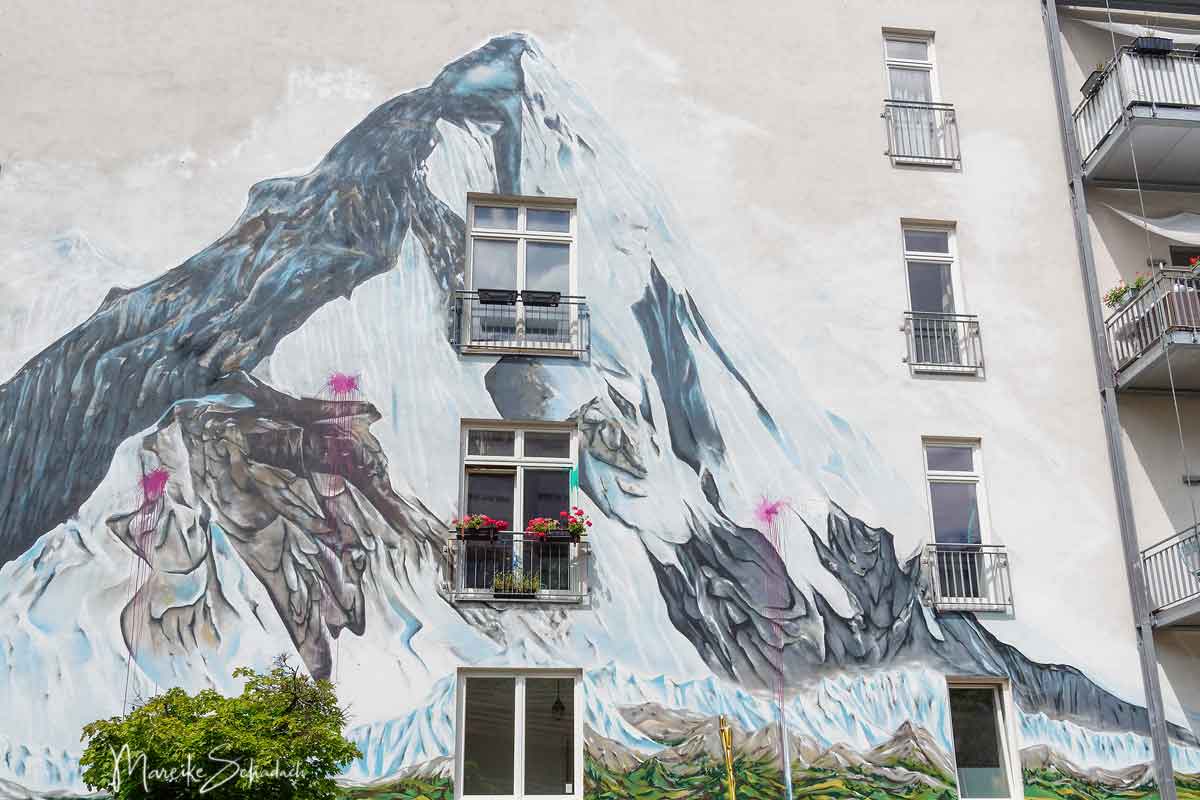 The sight gives one wanderlust. Especially as long as the borders are still closed because of the Corona Pandemic. The mural shows the mountain Ama Dablam in the Himalayan mountains in eastern Nepal. The main peak is 6,812 meters high, the lower west peak is 6,170 meters high. Ama Dablam means "necklace of the mother".
Address: Franz-Klühs-Straße / corner building Wilhelmstraße 7
---
Various artists: Tommy-Weisbecker-Haus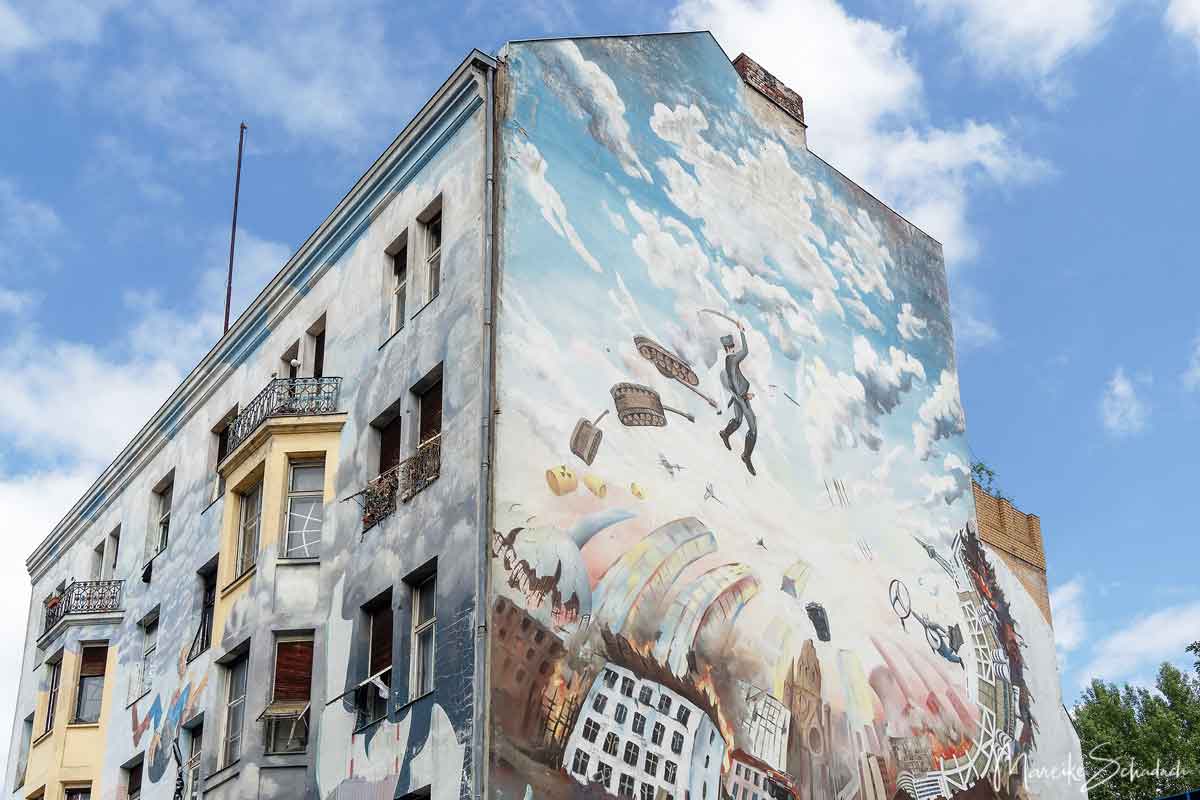 In 1971, the Thommy Weisbecker Haus was the first successful squat in West Berlin. In the early 1980s, it was finally recognized as a youth housing community. Today, it offers around 40 teenagers and young adults the opportunity for self-determined living and working. With its numerous projects and solo events, it is also an important meeting place for the left-wing youth scene. It is named after the anarchist Tommy Weisbecker, who was shot by the police in the 1970s.
The artist and former social worker Andreas Dornbusch was in charge of the facade paintings. Completed in 1989, the paintings are thoroughly political and also reminiscent of left-wing protest slogans and symbols. They take up the themes of war, nuclear power, capitalism, the dumbing down of people by the mass media, and liberation through a return to nature. The left side of the house is also open to various graffiti artists today as a Hall of Fame.
Address: Wilhelmstraße 9
---
James Bullough, Telmo Miel: unified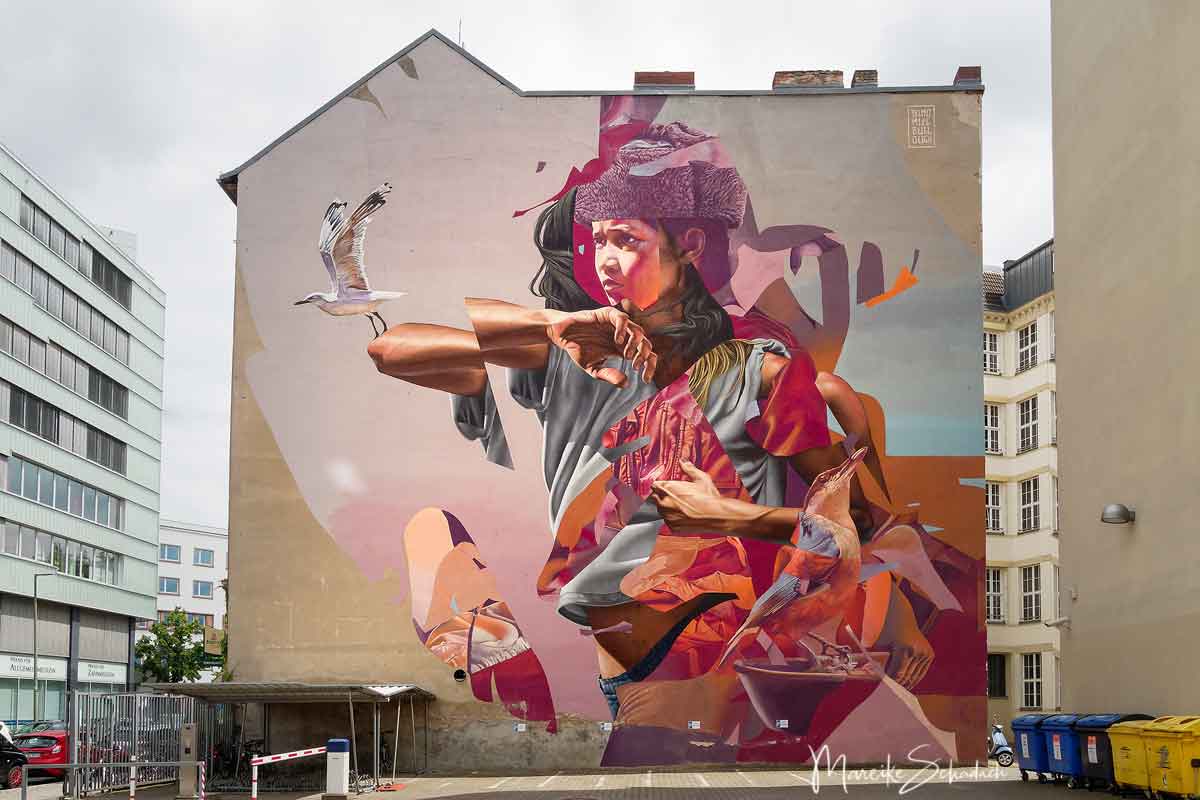 Berlin-based artist James Bullough and Dutch artist duo TelmoMiel completed their mural "unified" in May 2018 as part of Urban Nation's "One Wall" project. It shows one person, but composed of body parts of different people of different nationalities. James Bullough is known for large-scale works with strong contrasts. In this artwork, he combines realistic portraiture and stylized distortions.
Address: Bernburger Str. 35
---
CBS Crew and Kripoe: Yellow Fists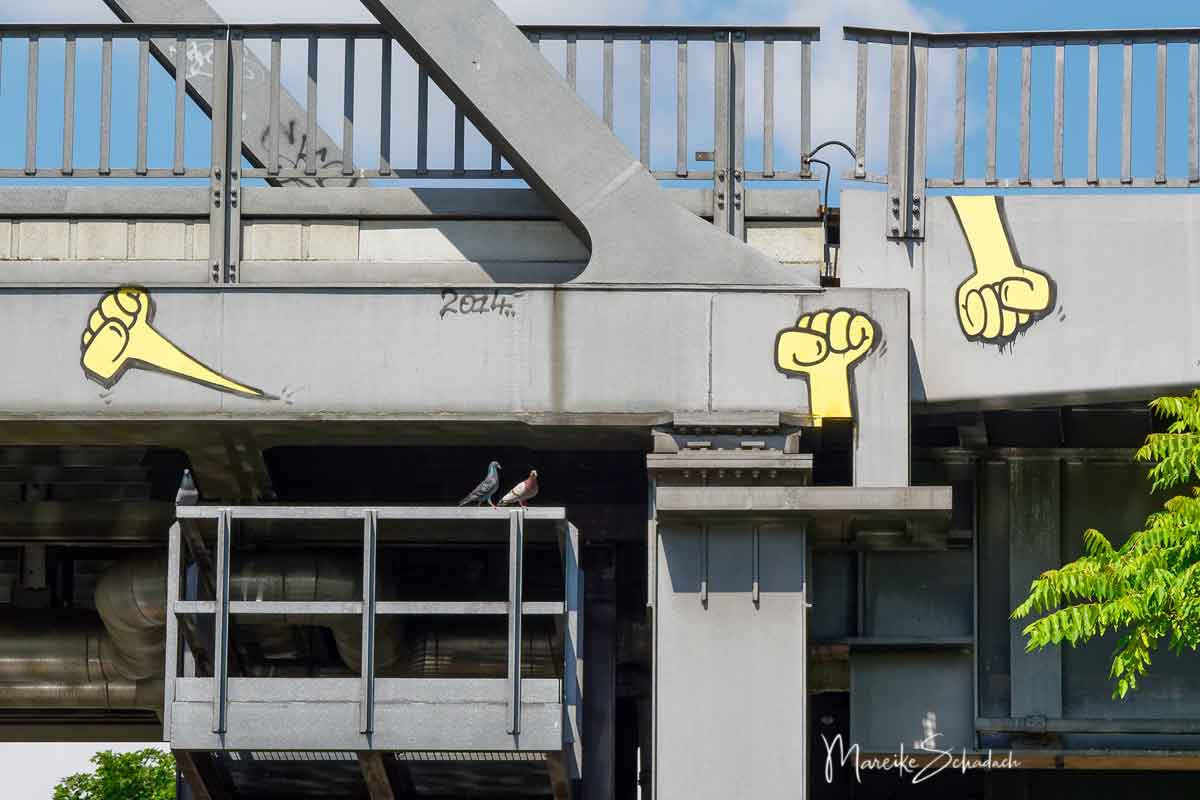 The CBS Crew (CBS stands for Cowboys) and the artist Kripoe have distributed their Yellow Fists in Berlin between 1995 and 2005. And they did so in the most impossible and inaccessible places in the city. Their bright yellow fists stand as a symbol of anarchy and rebellion. Even though the last of them were created in 2005, many of them are still well preserved.
Address: At the elevated railroad at Tempelhofer Ufer / corner of Anhalter Steg.
---
Interbrigadas e.V.: Revolt of the Colors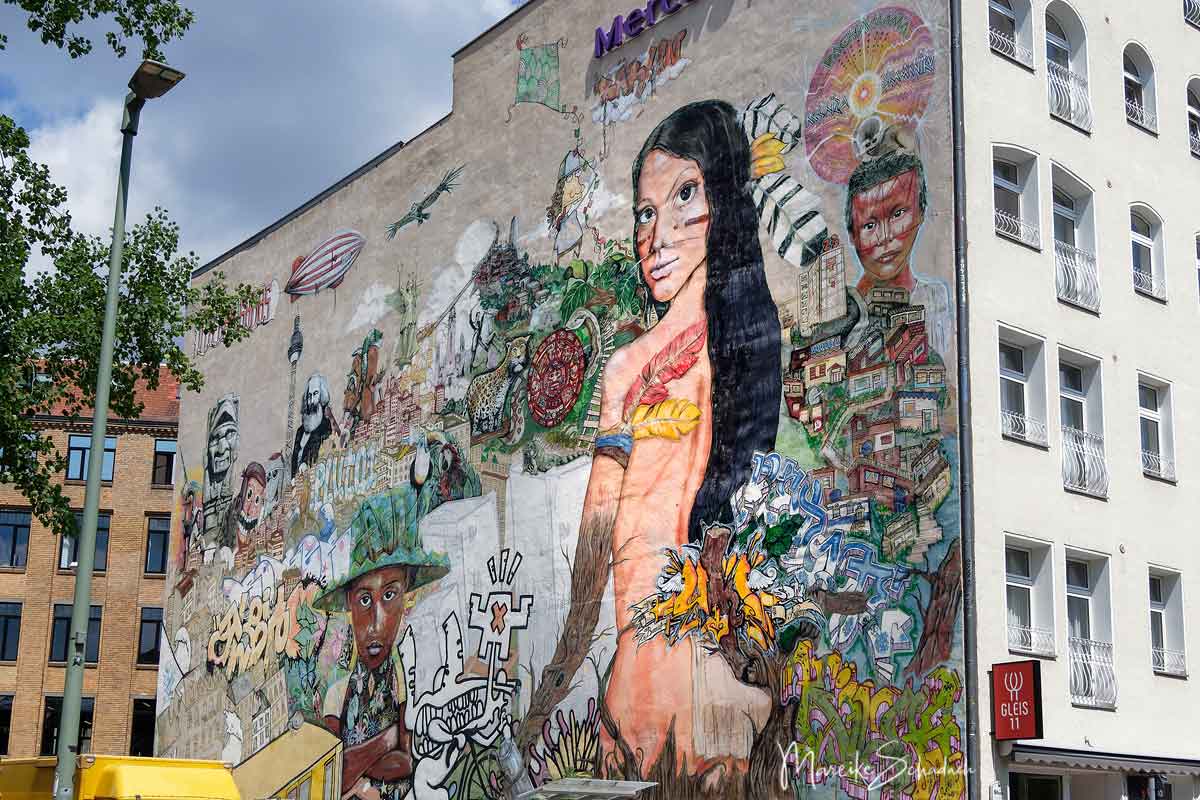 Now you have arrived at the last mural of my street art map. It was created as part of the project "Uprising of Colors" by Interbrigadas e.V. in the summer of 2009 and is one of the largest murals in Berlin. It measures 600 square meters and is located on the side of the Mercure Hotel in Berlin Mitte. A total of eight artists from South America and Berlin were involved. The picture is therefore also a colorful mix of motifs and connects the different cultures. You can see figures of different origins, for example Karl Marx or a sexy Indian woman. Her arm turns into a branch holding a spray can in her hand. Besides the jungle and exotic animals, a city with skyscrapers is also growing. On the other side there are charming little houses and a bodega. And of course, the Berlin TV tower can't be missing either. Finally, hovering above it all is a red-and-white striped zeppelin trailing a banner that reads "Interbrigadas."
Address: Luckenwalder Str. 11
---
Here your street art tour in Berlin continues:
So, here at Gleisdreieck is the last mural in my street art map for Berlin Friedrichshain-Kreuzberg. I hope you enjoyed the tour. Do you want to see more Berlin street art? Then continue here to the Graffiti Skyscrapers in Art Park Tegel and to another Street Art Walk in Berlin-Bülowstraße.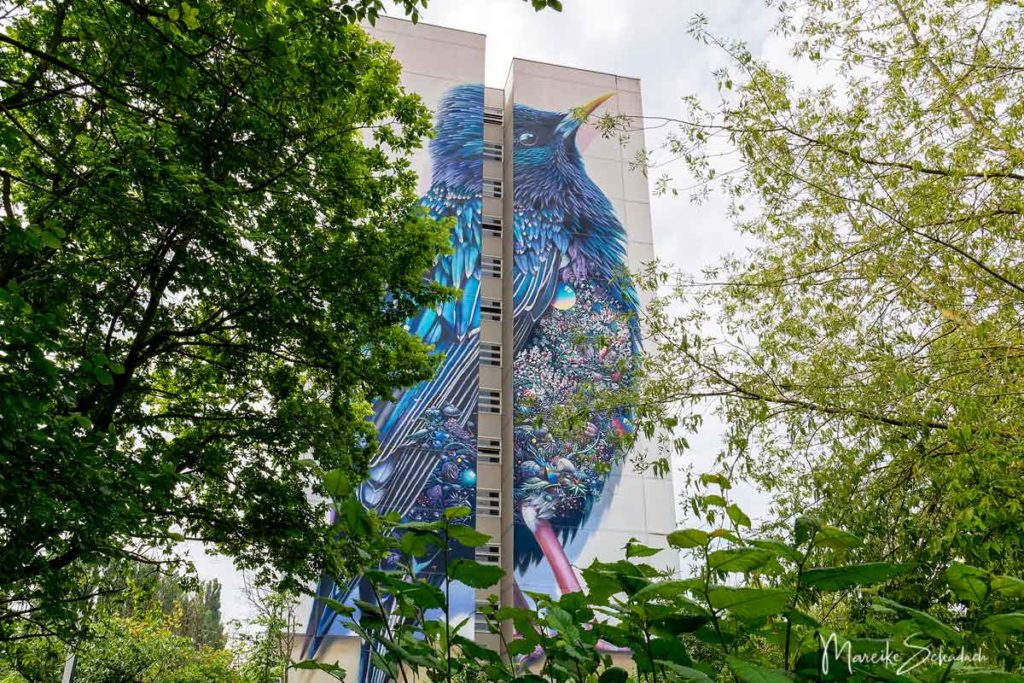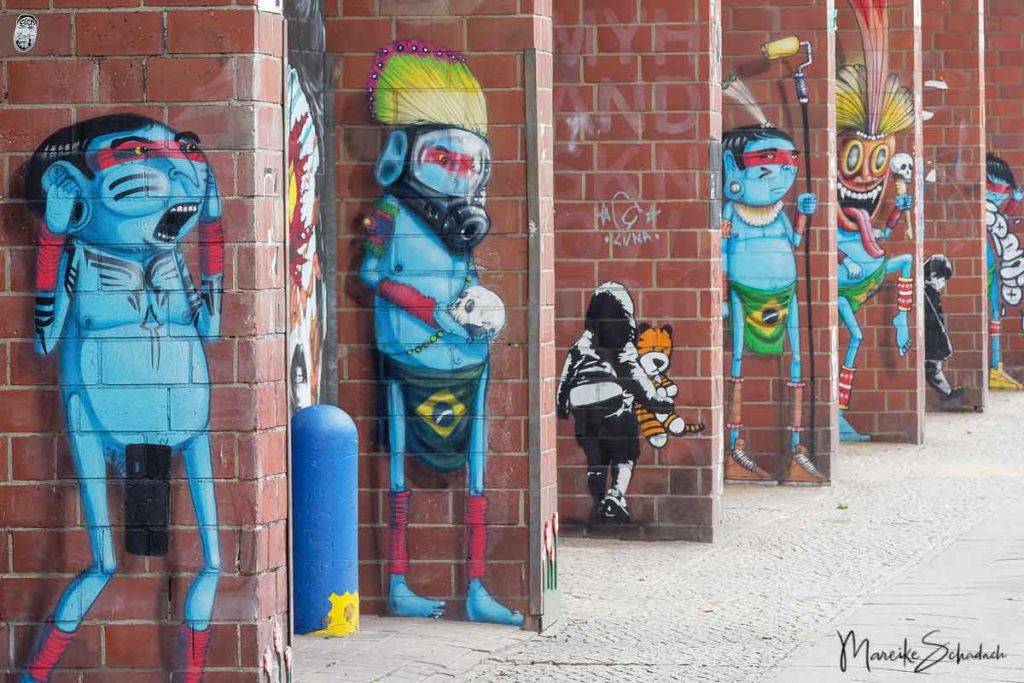 ---
Did you like the street art tour with the map through Berlin Friedrichshain-Kreuzberg? Then follow me on Facebook, Pinterest or Instagram. I would also be very happy if you share my article with your friends. Do you have any questions or suggestions? If so, please write me a comment!
---