Die einst grauen Plattenbauten im Süden von Tegel haben Farbe bekommen. Stolz überragen die Graffiti-Hochhäuser alle anderen Wohnblocks und Bäume der Umgebung. Bis über 17 Etagen reichen die größten Murals von Berlin. Sie sind zwar etwas abgelegen, aber dafür schon von weitem zu sehen. Und sie haben sich zum "Must See" für alle Street Art Fans in Berlin entwickelt. Hier erfahrt ihr alles für euren Besuch im Art Park Tegel und könnt schonmal einen Blick auf die Kunstwerke werfen.
---
Unassigned, unpaid advertising. The article contains affiliate links.
---
Concrete Slab Buildings become Art - the Art Park Tegel develops
Plattenbauten sind meist grau und alles andere als schön. Doch bei chronischer Wohnungsknappheit hat die "Platte" durchaus ihre Berechtigung. Denn sie bietet mit ihrem zweckoptimierten Baustil und effektivem Bauverfahren vielen Menschen einen günstigen Wohnraum. Außerdem bieten die großen Fassaden der Gebäude Raum für neue Ideen.
Das sahen auch die Wohnungsbaugesellschaft Gewobag und das Künstlernetzwerk URBAN NATION. Im Rahmen des "One Wall" Projekts lädt URBAN NATION regelmäßig internationale Street Art Künstler ein, um in Berlin Wand für Wand zu verschönern. Im Sommer 2016 waren sechs Wände der Plattenbauten in der Nehringer Straße an der Reihe. Der Art Park Tegel war geboren – eine der größten Außengalerien Berlins. Mittlerweile gibt es hier acht riesige Wandgemälde im Format 42 x 16 Metern. Das ist Street Art im Großformat!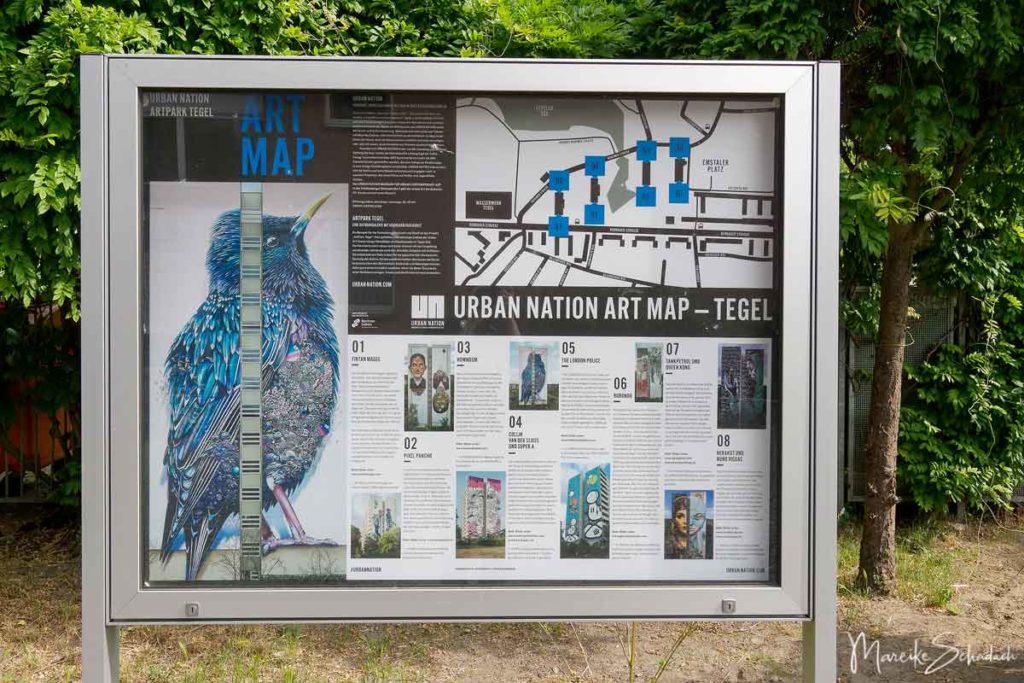 URBAN NATION ist ein Netzwerk für Künstler, Projekte und Nachbarschaft der Stiftung Berliner Leben. Motto: "Connect. Create. Care." Berliner Leben ist hingegen eine Stiftung der städtischen Wohnungsbaugesellschaft Gewobag und wurde 2013 gegründet. Ziel ist die kontinuierliche und nachhaltige Quartiersentwicklung in Berlin.
---
Tankpetrol und Queen Kong: 2268 miles & Luchadora Pachamama
Within seven days Tankpetrol and Queen Kong painted a significant statement on the wall at Neheimer Strasse 4: The Pilot Girl (left side, painted by Tankpetrol) watches over everything and fights for space and freedom. Later she returns transformed and shows her second face: Luchadora Pachamama (right side, painted by Queen Kong). She is now fighting for the preservation of nature, for justice, security and a home for all people. Regardless of their origin, gender or generation.
And what do the 2268 miles mean? Some people who live on Neheimer Strasse travelled 2268 miles to find a new home and peace. A big mural - not only in terms of its dimensions!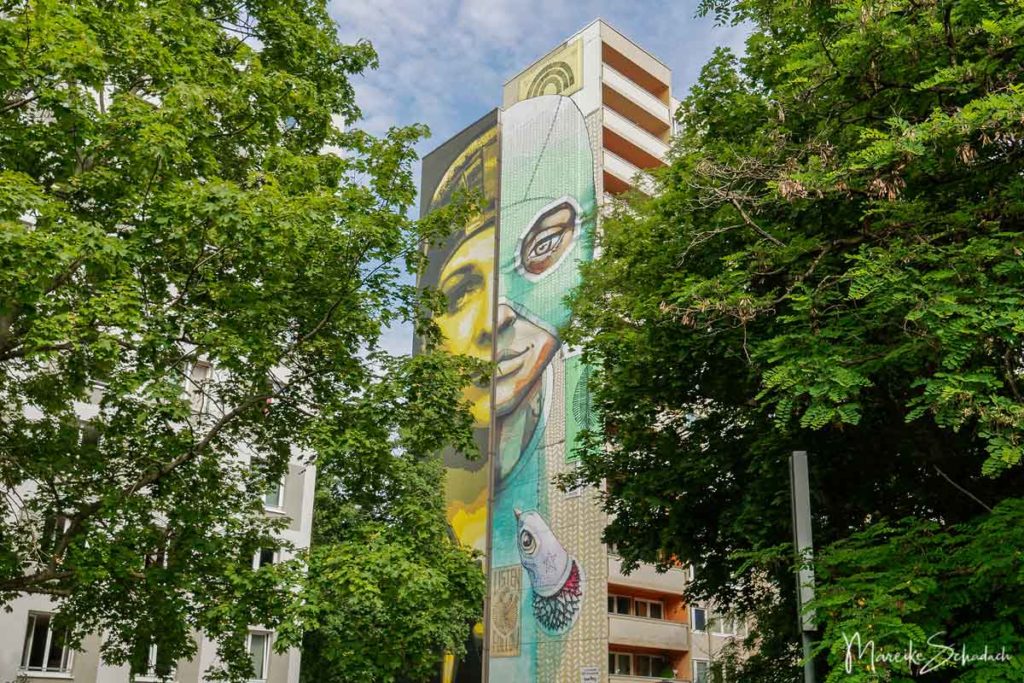 ---
Nuno Viegas, Hera & Akut: Real Recognize Real
Das Mural mit der Frau im Hoodie mit den gekrönten Tieren in der Hand ist mein Lieblingsbild im Art Park Tegel. "Ick lass Dir nicht hängen" steht auf Berlinerisch und Englisch flächendeckend im Hintergrund. Gemeint ist damit die Natur – repräsentiert durch den Bären, den Fuchs und das Reh.
The intention of the duo Herakut is to anchor positive signs of life and thinking in a city. With the mural, the artists want to remind Berliners what really makes Berlin special. Because it is not the clubs & Co., but the proximity to nature. The woman in the hoodie has recognized it and enjoys the beauty of nature.
The gigantic work of art with a surface area of 42×16 metres was created in the summer of 2019 over a period of two weeks.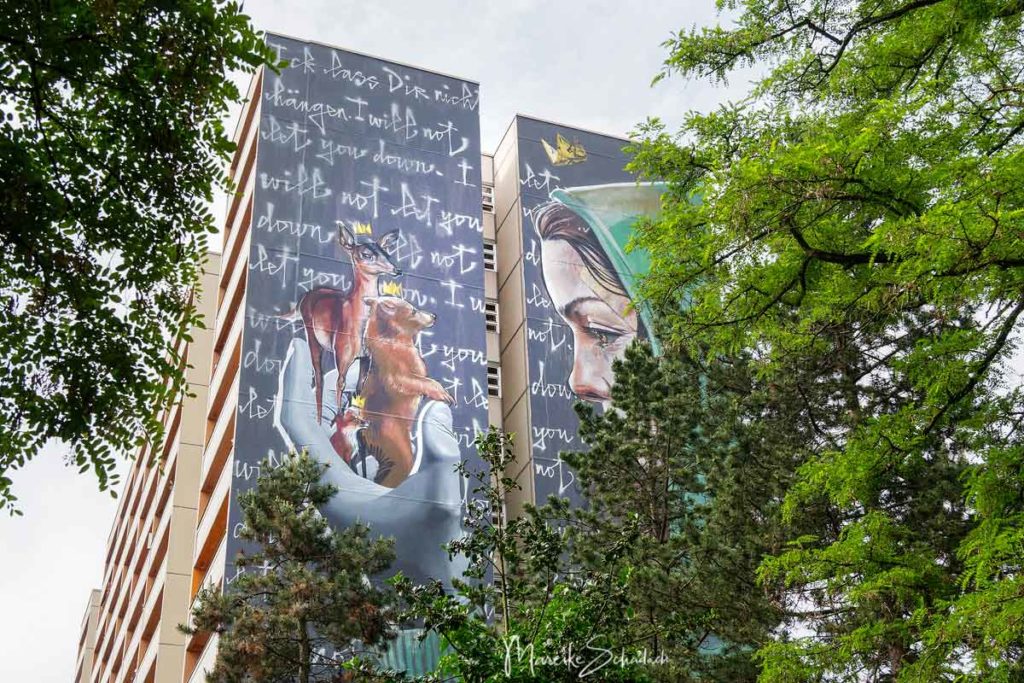 Tip: If you also want to enjoy the nature right away, I recommend a walk along the Tegeler See. If it is warm enough you can go swimming here. Otherwise you can watch ducks and swans, rent a rowing boat, take a trip on a sightseeing steamer or just chill with a coffee and a piece of cake on the shore.
---
London Police: Untitled
Bold Colours and Iconic Characters are the trademarks of the London Police team of artists. Their art is colourful and positive. With their works they want to make people laugh or cry and stimulate their own creativity. Their mural with the oversized smileys stands for teamwork and cohesion. In a world of individualism and social differences, it should make the viewer think.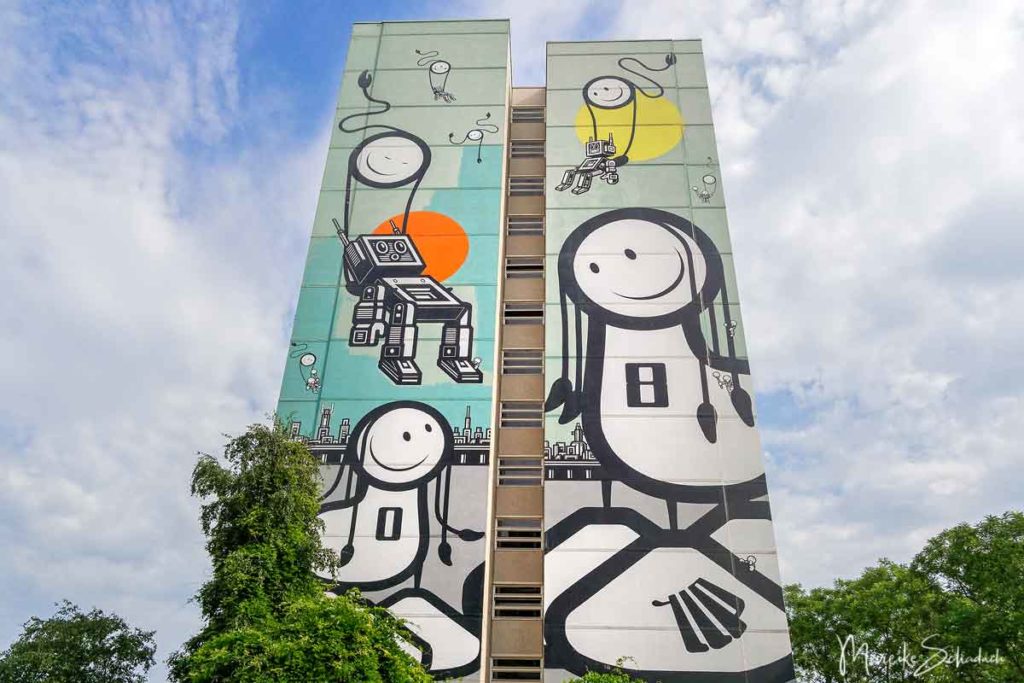 ---
Collin van der Sluijs & Super A: The Starling
Who doesn't know them? The fantastic formation flights of huge starling swarms in the sky. They gather by the thousands and then fly south like one large individual. They do not follow a leader but are united in a community that protects each other. Impressive, isn't it?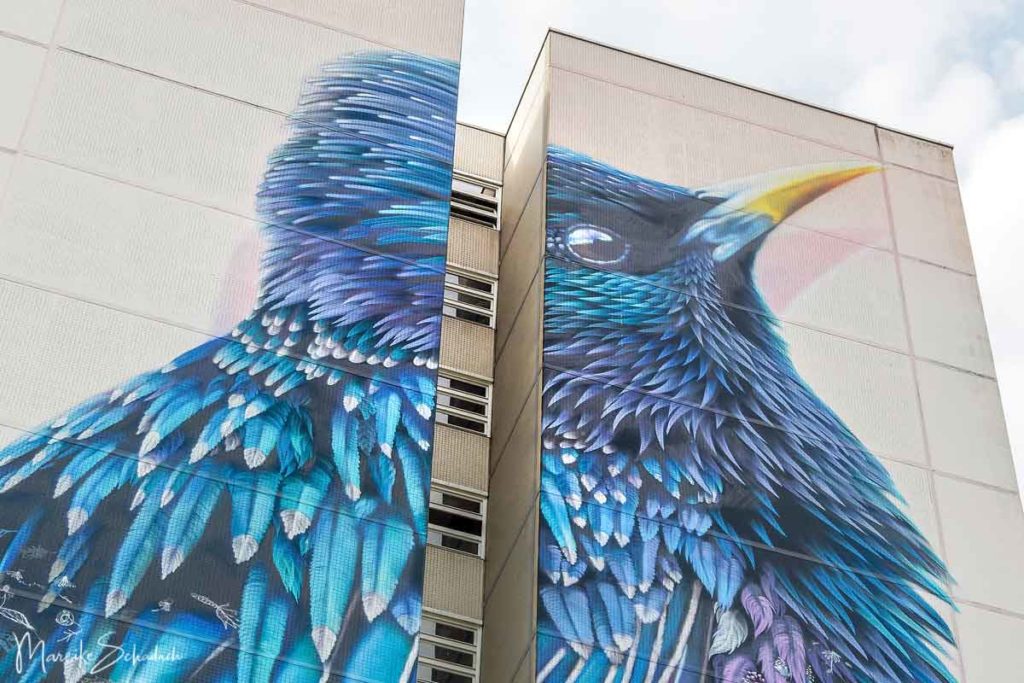 The starling in this mural stands as a symbol of community and migration. The plumage of the 30 meter high animal shimmers blue-violet. His chest is also fantasyfully covered with flower tendrils and precious stones. The starling with its typical behaviour is supposed to be a metaphor for the culture in Berlin.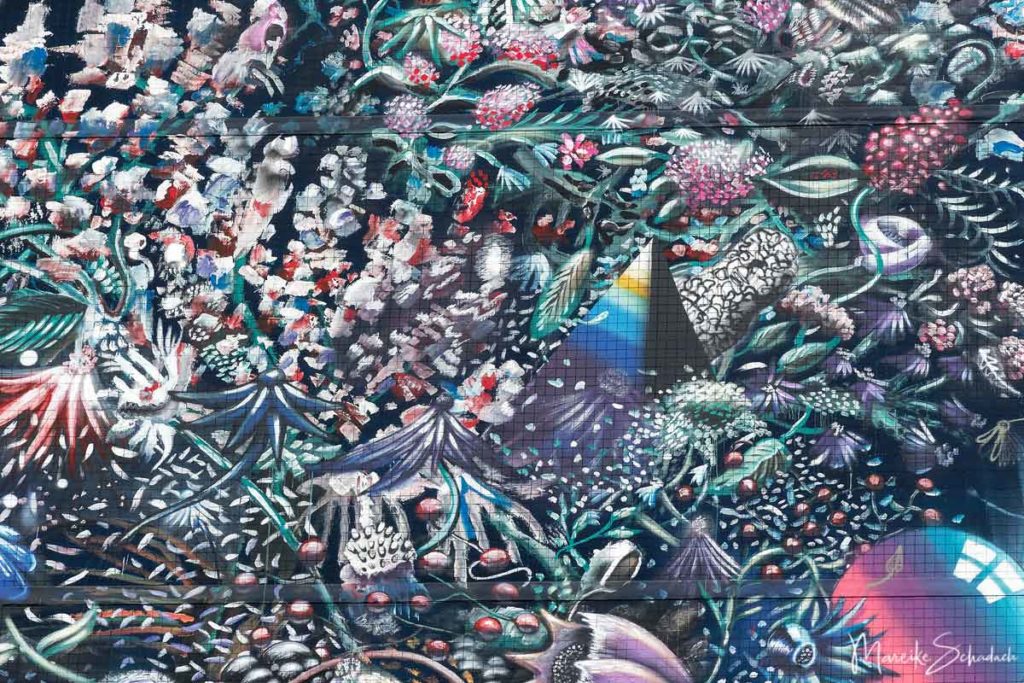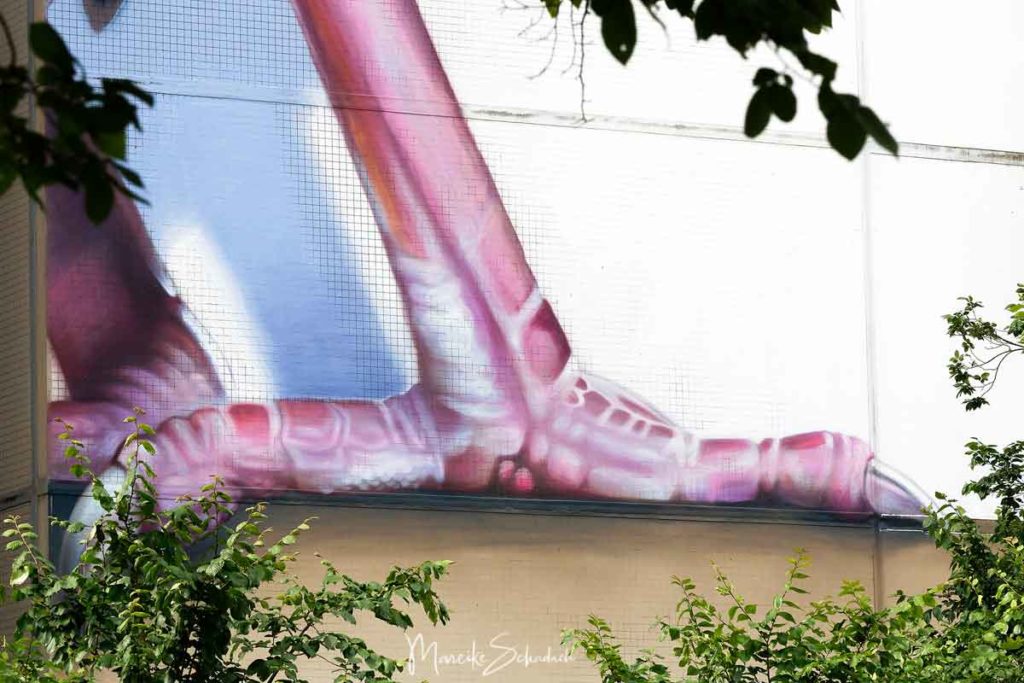 ---
Fintan Magee: Circle of Life
The 41.5 meter high mural by Fintan Magee is based on the children's book 'A Childs Garden' by Michael Foreman. The book is about the human spirit, its indestructibility and its ability to start again after a destruction. His painting shows a woman with a baby in her arms and a man. Both are standing on rubble and turned away from each other, looking and walking in different directions. I don't think that was a happy ending. Nevertheless, both look confidently into their future with their heads held high.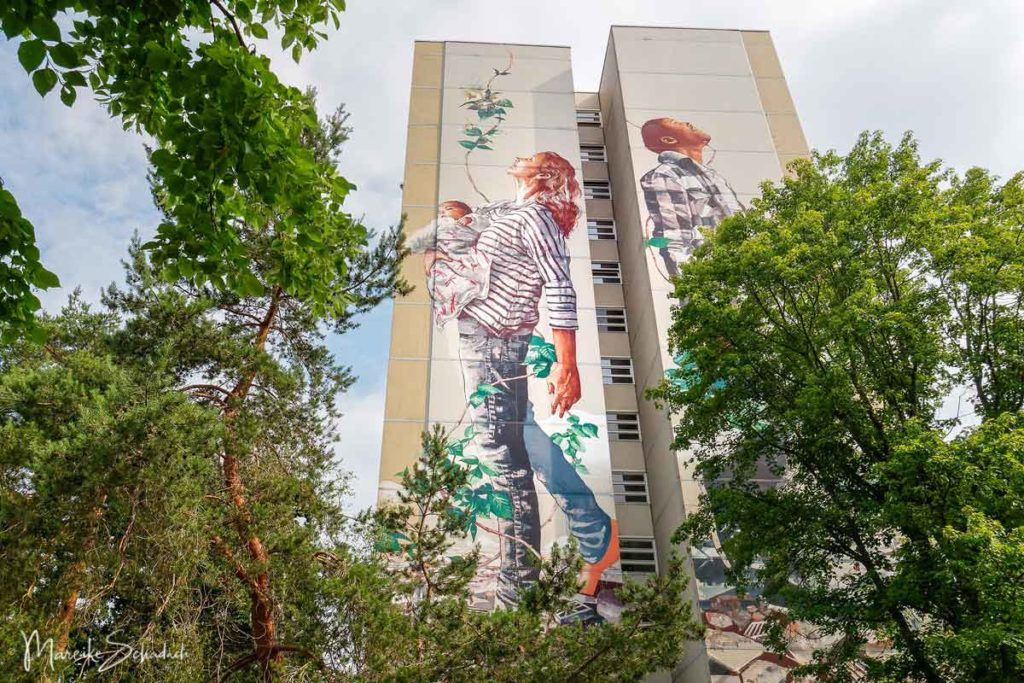 ---
Pixel Pancho: Playing Card
Pixel Pancho from Turin is known as the guy with the robots. Because robots are the perfect symbol for the human urge to be godlike and to control life. Pixel Pancho's pictures are about flowers, machines and nature. In the end, nature defeats the machine and blossoms. His pictures often stand for irritating themes of our society, among other things that everyone wears a mask and is no longer himself.
In seinen Gemälden verwendet Pixel Pancho stets erdige Farben. Damit möchte er einen Bezug zur Geschichte herstellen und zudem eine antike Atmosphäre schaffen. Sein 17 Stockwerke hohes Gemälde "Playing Card" zeigt das Porträt eines Roboter-Mannes, an den Wangen und am Hinterkopf tritt messingfarbenes Metall hervor. Auf seinem Hinterkopf und Rücken wachsen bunte Blumen. Ich würde sagen, das Bild ist eindeutig inspiriert von den Blumenrabatten, welche die Plattenbauten umgeben.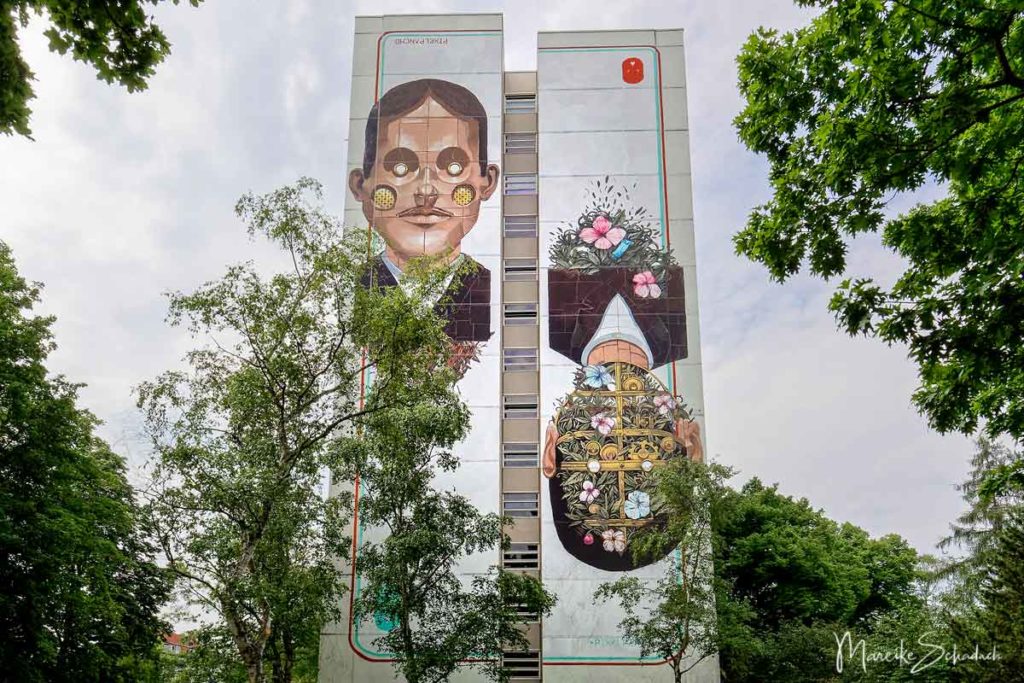 ---
Hownosm: Tiptoes
The trademark of the twins How and Nosm are huge murals with intertwined motifs in red, white and black. Their mural in Neheimer Straße shows a surreal being standing on his tiptoes and reaching for the stars.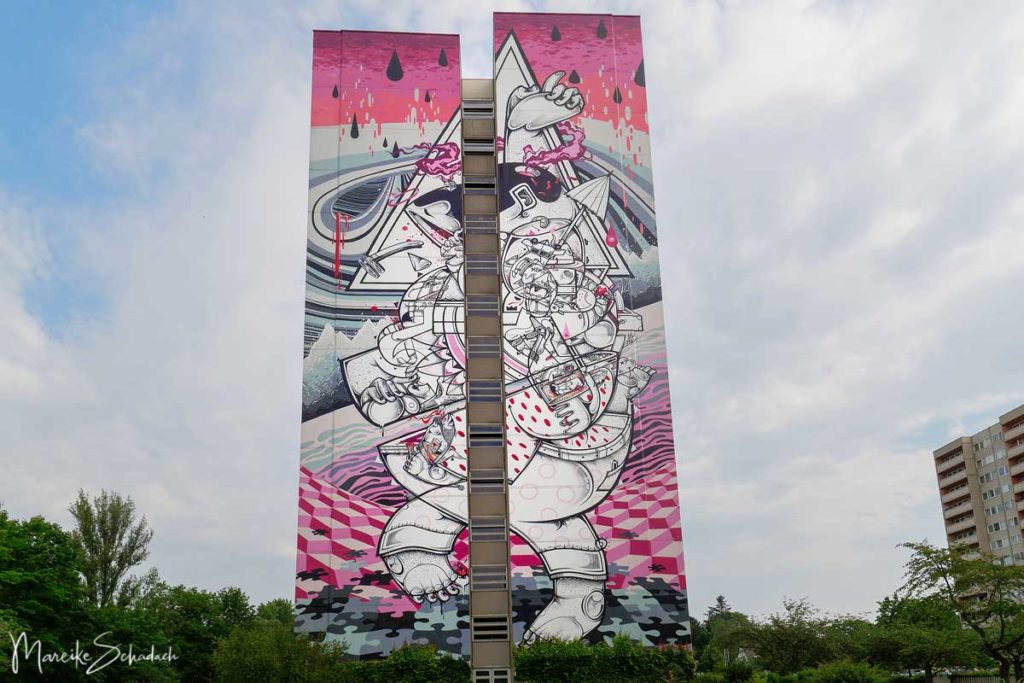 ---
Jim Avignon: Balloon
Hier entsteht etwas Neues. Der Street Art Künstler Jim Avignon gestaltet hier ein weiteres Mural im Rahmen des Programms "One Wall". Der Berliner ist bekannt für seine humorvollen Bilder. Die Weltkugel mit den großen Augen und den hübsch geschwungenen Lippen sieht jedenfalls schonmal sehr freundlich aus.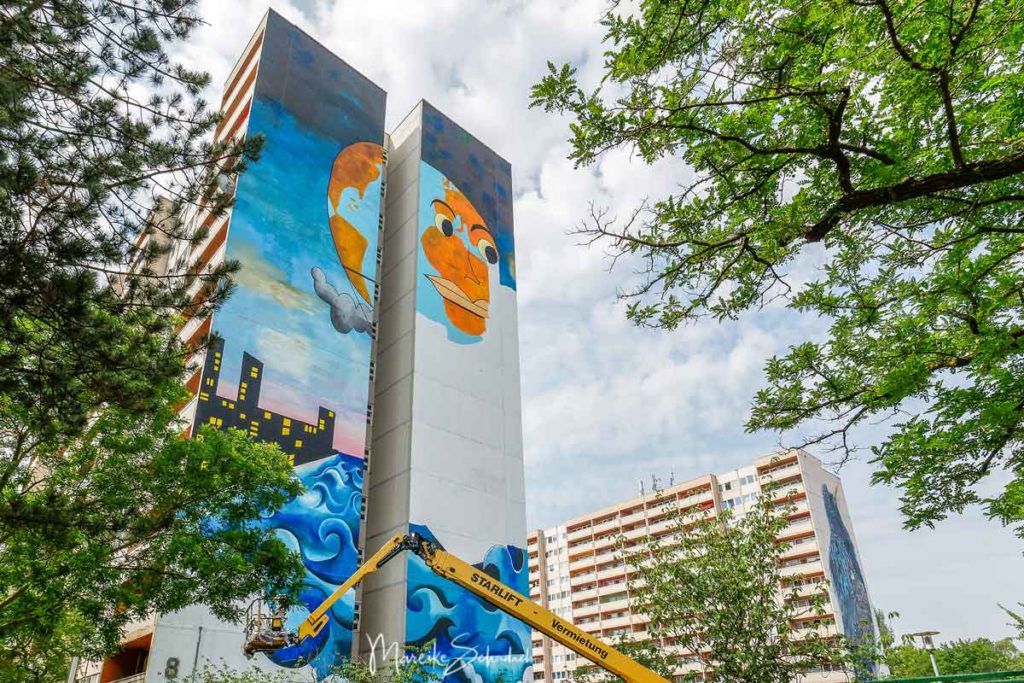 I am curious about the finished mural. Because it replaces another mural, which was very controversial after its completion. It was said to be too gloomy and depressing - the earlier painting stood for the refugee theme.
And this is how it looked: A refugee girl stood at a window in a white shirt covered with blood. She was looking at a forest. At the back of the forest a naked man was tied to a tree and pierced by arrows. What did the artist Borondo want to tell us with his painting? Something positive. The man was wounded but still he stood upright and was strong. In his painting the artist referred to the legend of Saint Sebastian, the most revered saint in the Catholic Church. St. Sebastian was supposed to be executed by archers. But he survived. So there is hope for the world. Borondo wanted to motivate us to look at the world like a child, with curiosity, open and unbiased. Too bad it didn't work and the picture is painted over. Well, maybe it wasn't the right place next to a kindergarten.
---
Fancy more street art in Berlin?
Then come along for a
Street Art Walk in Bülowstraße - Art for Everyone!
---
How to get to Art Park Tegel
The Art Park Tegel with its eight murals is located between Neheimer Straße, Bernauer Straße and Emstaler Platz. The best way to get there is to take the U6 underground line to Holzhauser Straße. From there you can walk for about 20 minutes or take the bus line 133 (direction U-Bahnhof Haselhorst).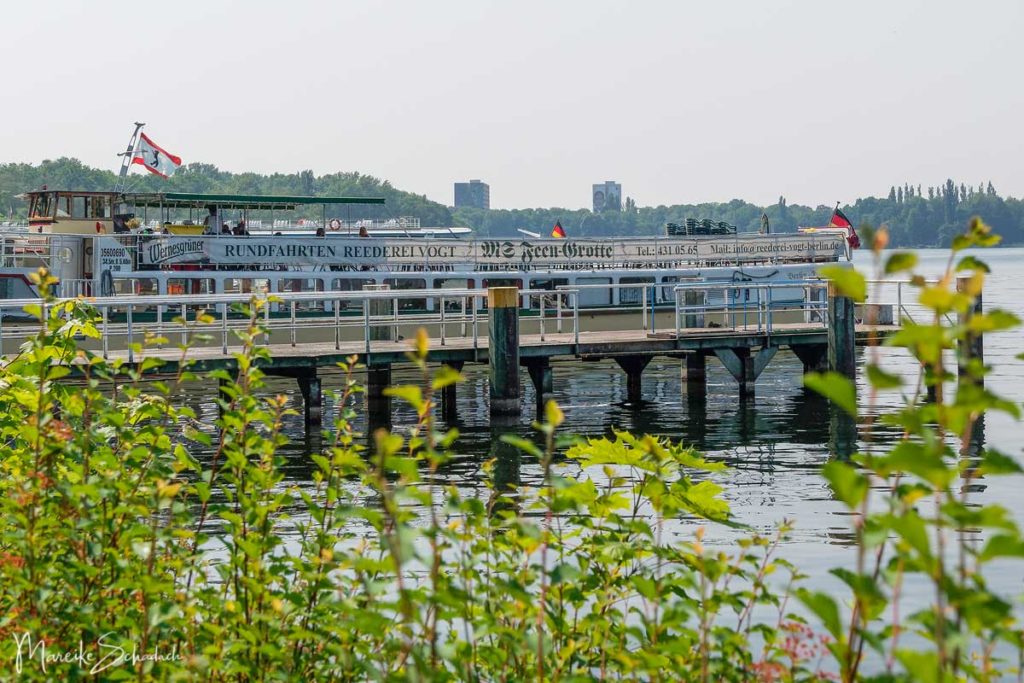 ---
Do you want to discover the street art scene in Berlin together with like-minded people on a guided tour? Then I can recommend this three-hour Street Art Tour* or the half-day Tour through the Alternative Berlin* . Both tours are in English. Do you love lost places as much as street art? Then the Tour to the former Listening Station at Teufelsberg* (in German) is made for you.
---
Book Recommendations for Street Art Fans
You like to browse through illustrated books for new murals or artists you don't know yet? You love to discover the street art scene of other cities? Then I can recommend these books. Click on the picture to get to Amazon, where you can order the books. If you buy something through one of these affiliate links, I get a small commission and you help me to keep filling Fernweh-Motive with interesting articles. The product will not be more expensive for you.
---
Did you like my article about the graffiti skyscrapers in Art Park Tegel? Then follow me on Facebook, Pinterest or Instagram. I would also be very happy if you share my article with your friends. Do you have any questions or suggestions? If so, please write me a comment!
---
Tips for further reading & viewing
You love street art? Then take a look at my articles about Street Art in Kiev and in La Paz. Both cities have very different murals - but both are equally impressive.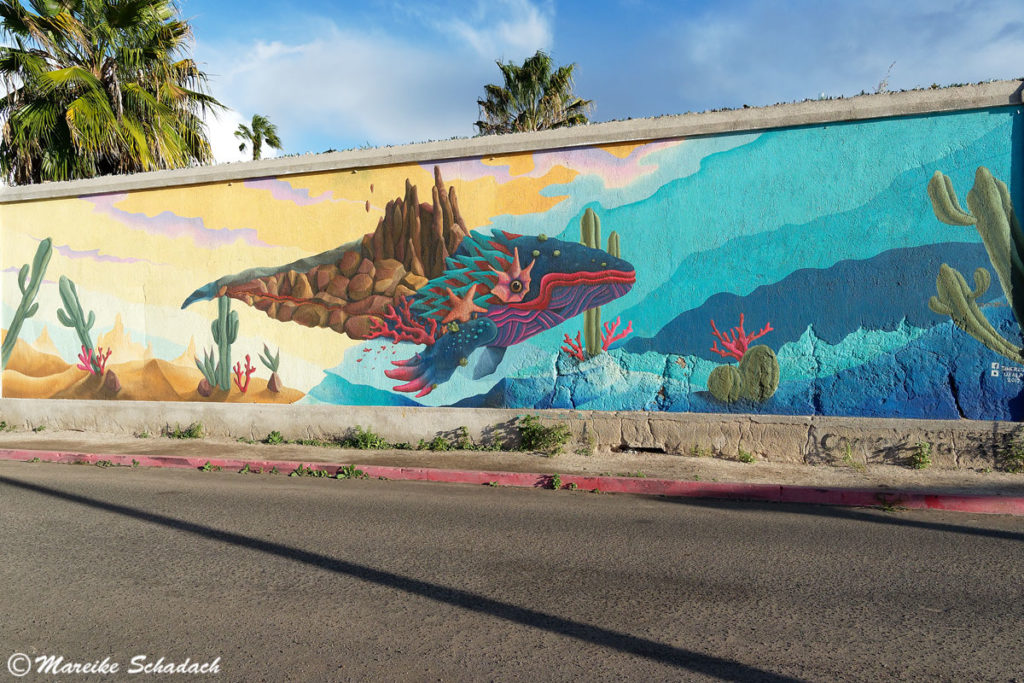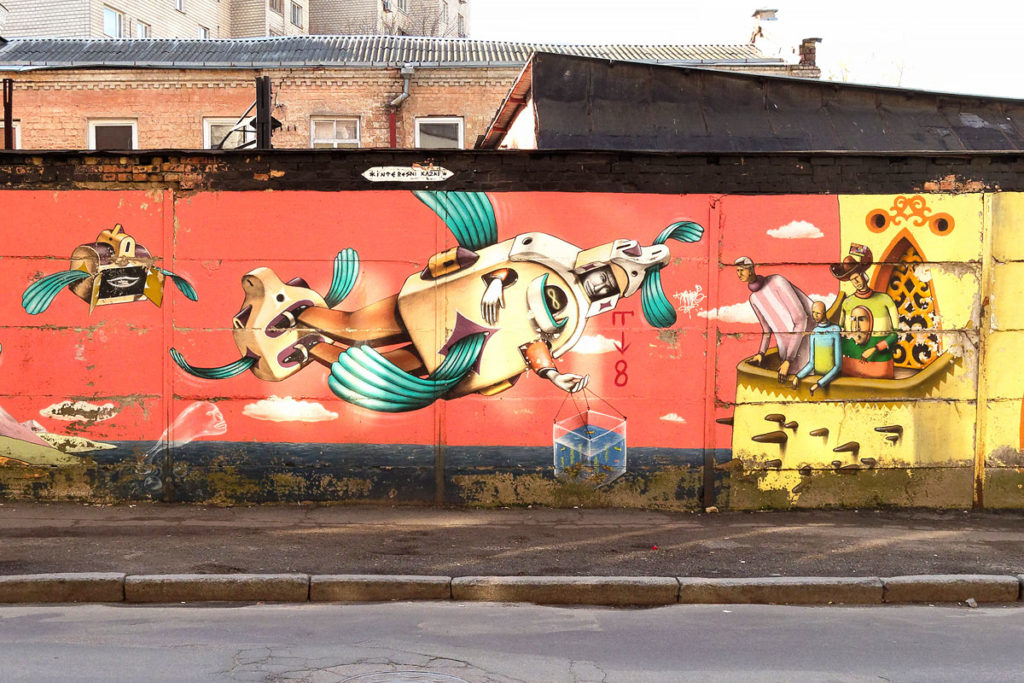 ---