Ukraine. Street Art in Kiev is huge, colourful and bold. In addition, it distorts grey walls and brings variety between the tenement blocks from the Soviet era. Some murals content themselves with the wall surface of one floor, others extend over 17 floors. But all of them set a sign for peace and are part of a deeply political process. Come with me on a walk through the city and discover the greatest street art works in Kiev.
---
Creative for peace with Street Art
Meanwhile, Kiev counts about 160 street art works by 35 artists. Many of the so-called Murals were created in cooperation with ArtUnitedUs. Since the year of Euromaidan 2014, the street art project supports local and international artists. It draws public attention to themes such as war, aggression and violence and wants to carry messages of peace to the world with the murals. Street Art will give Kiev a new face and a new identity. It is also a symbol of the process of detachment from the Soviet era.
---
Walking Tour - Street Art in Kiev
A Street Art Tour invites you to discover the less touristy districts of Kiev, side streets and backyards. Various agencies offer guided tours of a number of selected works of art. However, if you prefer to go on your own, you can use the map of Kyivmural put together your own tour. You can also combine your Street Art Tour with visits to other sights or museums in Kiev. Furthermore the website of streetartcities also offers a map with the exact location of the murals. You will also find additional information about each artwork.
But if you want to see all the paintings you have to bring time. Because the works are spread all over the city. Below I have compiled some of the more centrally located street art works that I was able to see in Kiev at Easter 2019.
---
Herald of Life by Alexander Brytsev (November 2015)
Address: Reitarska Street 9b
To find the "Crows" you have to go through a grey metal door into the backyard first. On the left you will see the painting, on the right you will find an aviary. Three crows have been living in this aviary for 20 years now. The brick wall opposite the aviary is completely covered with dark blue crows surrounding a single white bird. It is a symbol of good news and the birth of new life.
---
From Russia with love by MTO (2018)
Address: Mechnikova Street 18
The artwork was painted on an empty wall, all windows, all tiles are painted. The heart is a digital bomb sent from Moscow to Kiev. The mural stands for the hacker attack on Ukraine's power supply in recent years, for which Russian hackers are held responsible. Other interpretations, however, see the heart as an image for Ukraine, whose right side - eastern Ukraine - is torn apart by explosions.
---
Changing of the climate by Fintan Magee (2015)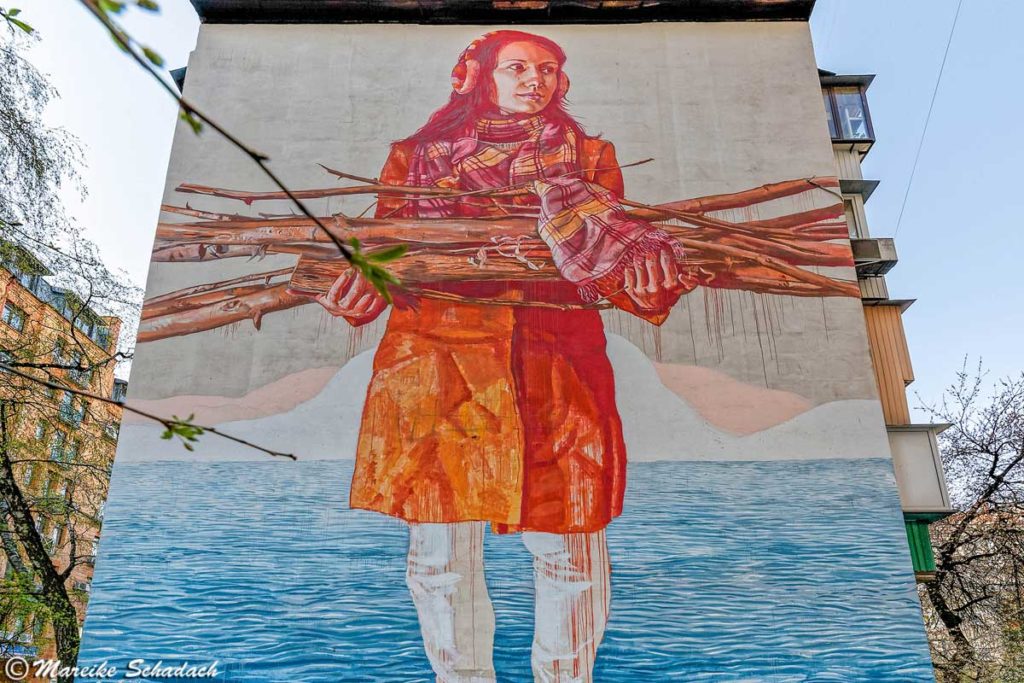 Address: Vulitsya Sergіya Gusovskogo 10/8
In his work, Fintan Magee often deals with environmental issues. He often uses personal stories to talk about broader issues such as climate change and the migration crisis.
---
Carousel of cars by M-City (December 2015)
Address: Striletska Street 20B
Der Künstler M-City verwendet in seinen Gemälden meistens industriemechanische Motive und "Karussell" ist eines davon: das mechanische Karussell aus Autos.
---
Lesya Ukrainka by Guido van Helten (July 2015)
Address: Striletska Street 28
Lesya Ukrainka (1871-1913) war eine ukrainische Schriftstellerin und zudem aktive politische und feministische Aktivistin. Ihr Gedicht "Maiglöckchen" inspirierte den Künstler zu diesem 7-stöckigen Wandgemälde. Die junge Frau blickt zum Horizont und wird im unteren Teil des Gemäldes von Blumen umrahmt.
---
Saint Yuri by AEC Interesni Kazki (UKR) (October 2014)
Address: Velyka Zhytomyrska Street 38
The painting was created under the influence of events such as the annexation of the Crimea and the war in Donbas. The double-headed snake represents a nation divided into two halves by Russia: On one side the Eastern bloc, on the other the Western NATO member states.
---
Yaroslav the Wise by Dmitry Fatum (November 2015)
Address: Striletska Street 6
In this colourful street art painting, the Ukrainian artist portrayed Prince Yaroslav the Wise from Kiev before his death, when he handed over a ball to his son Izyaslav. The ball is a symbol of power and strength.
---
Upside Down Girl by Fintan Magee (July 2015)
Address: Striletska Street 12
The picture is dedicated to the Ukrainian gymnast Anna Rizatdinova. She was born in Crimea and won a bronze medal at the Olympic Games in Rio de Janeiro. She is also a world champion in the practice with tires and a multiple prize winner of the World and European Championships.
Fintan Magee zeigte Anna im Moment eines Flip. Die Künstlerin kommentierte zu ihrem Bild: "Jede Frau kann alles erreichen, wovon sie träumt."
---
Time of Changes by Waone (November 2014)
Address: Striletska Street 6
Eine Wand voller Symbolik und Mythologie. Wenn man dieses große, detaillierte Wandbild betrachtet, fällt einem der sechsarmige Kosake auf. Dann die putin-ähnliche Schlange, die sich um die Erde schlängelt. Im Hintergrund sieht man einen marschierenden Affen mit einer Granate und einem Plakat mit der Aufschrift "Nach Kiew". Des weiteren stehen Reifen in Flammen. Was beschreibt der Autor? Ist es eine Allegorie des Kampfes zwischen Gut und Böse?
---
The man by Aryz (2018)
Address: Velyka Zhytomyrska Street 6a
The Spanish artist represented a person who courageously and proudly holds something like a flag, but a viewer cannot see the color, only the flagpole.
---
Swans of Tara's Arm (December 2016)
Address: Heorhiivskyi Street 9
Taras expresses his concept of leadership in his work of art. He shows a flock of birds following their leader during a long-distance flight. He also chose the colours of the picture according to the colours of the sky.
---
The Enterpeneur by INO (2016)
Address: Mechnikova Street, 18a
The picture shows a man reaching for a frighteningly large hand. A closer look reveals that the artist has created a faceless businessman holding the hand of a working class.
---
The boy and the sea by Rustam Qbic (2018)
Address: Moskovskaya Street 36
This is a painting about a boy sitting on the beach during sunset. He dreams of faraway lands beyond the seas and oceans.
---
The Black Sea by Jake Aikman (August 2017)
Address: Bulvarno Kudriavaska Street 35
Jake Aikman's works are characterized by the mystery and ambiguity of an isolated moment. Fascinating seascapes that suggest something hidden in the depths of the ocean.
---
Self-Made Man by Alexander Grebenyuk (October 2015)
Address: Olesia Honchara Street 24a
"Als Bild benutzte ich den Mann, der tippte und sich in diesen Prozess und ihre Idee so sehr vertiefte, dass er begann, sich in das zu verwandeln, was er tut", sagt der Künstler Alexander Grebenyuk. Der Self-Made Man von Alexander Grebenyuk ist dem Journalismus gewidmet.
---
Rise Up in the Dirt by bkfoxx (2017)
Address: Moskovskaya Street 30
The painting is a beautiful participant in a grey concrete landscape. Even if life gives you the cold shoulder, even if the world lies in ruins - hope remains. Like a stubborn, simple blade of grass, it breaks through the encrustations of resignation.
---
Revival by Alexey Kislovsky and Julien Mullan (2017)
Address: Borychiv Tik Street 33/6
Das Gemälde stellt die Wiedergeburt der Ukraine nach der Revolution im Jahr 2014 dar. Das Mädchen trägt eine Militärjacke, wie sie von den Protestanten des Euromaidans getragen wurde. Sie symbolisiert deswegen den neuen Spirit der Ukraine. Das Kind in ihrer Hand steht dabei für die wiederhergestellte Hoffnung. "Revival" ist zudem das berühmteste von allen Street Art Gemälden in Kiew.
---
Red Bicycle by Emmanuel Jarus (May 2016)
Address: Viacheslava Lypynskoho Street 13
The wall painting of a man wearing a baseball cap, a white T-shirt and a red bicycle is part of a collection of 200 works painted over two years as part of the Art United Us Festival. It is a story about the revival of the 100 year old cycle path in the city.
---
Portrait of Serhiy Nigoyan by Vhils (Summer 2015)
Address: Mykhailivska Street 22
The portrait shows Euromaidan activist Serhiy Nigoyan who was shot dead in 2014 during Hrushevskoho Street demonstrations. He was the first victim of the anti-government demonstrations. Soon he became the symbol of the Ukrainian Revolution.
A peculiarity is that this work of art is not painted on the wall like the others. The portrait is carved directly into the exposed bricks and plaster.
---
People Jumble by Zbiok (May 2011)
Address: Olesia Honchara Street 9
This somewhat cubistic-looking painting is one of the first street art works that appeared in Kiev in 2011. Slavomir Tchaikovsky, who works under the pseudonym Zbiok, uses it to depict the complex relationships between people.
---
Multiplex - About movie by Egle Zvirblyte (2018)
Address: Mykhailivska Street 7
Egle Zvirblyte was commissioned by the Multiplex Cinemas chain to decorate a billboard in the heart of Kiev with street art. It could not be direct advertising, but had to reflect the spirit of the multiplex cinemas.
---
Children by Konstantin Strikutsky (December 2010)
Address: Olesia Honchara Street 21
This mural was already created in 2010 and is thus one of the very early works. It is not a mural in the true sense of the word. Instead, the wall of the house is covered with a mosaic.
---
Children Playing by Konstantin Skrytutskyi (December 2015)
Address: Olesia Honchara Street 21
This work of art is not a painting but a mosaic. The idea behind it is that everyone should take responsibility for their city. In the dark you can read two psalms and the Ten Commandments.
---
Bright Abstract Design by Guillaume Albi (Spring 2015)
Address: Observatorna Street 3
Guillaume Alby aka Remed works on the combination of mathematics and calligraphy and strives for harmonious purity, combined with the flow and energy of the line. He searches for truth through simplicity and finds a universal language of form and colour.
---
Have you ever been to Kiev and seen the great street art here? Which works did you like best? Do you have any questions or further tips? If so, then write me a comment!
---
Recommendations for further Reading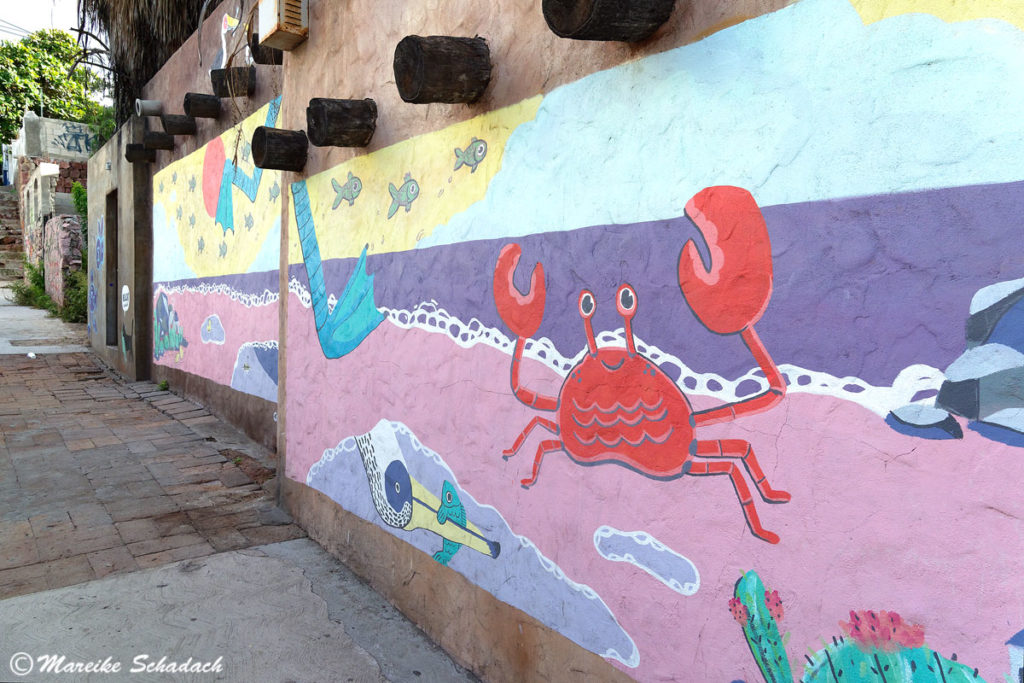 Do you love street art as much as I do? Then take a look at Street-Art in La Paz as well.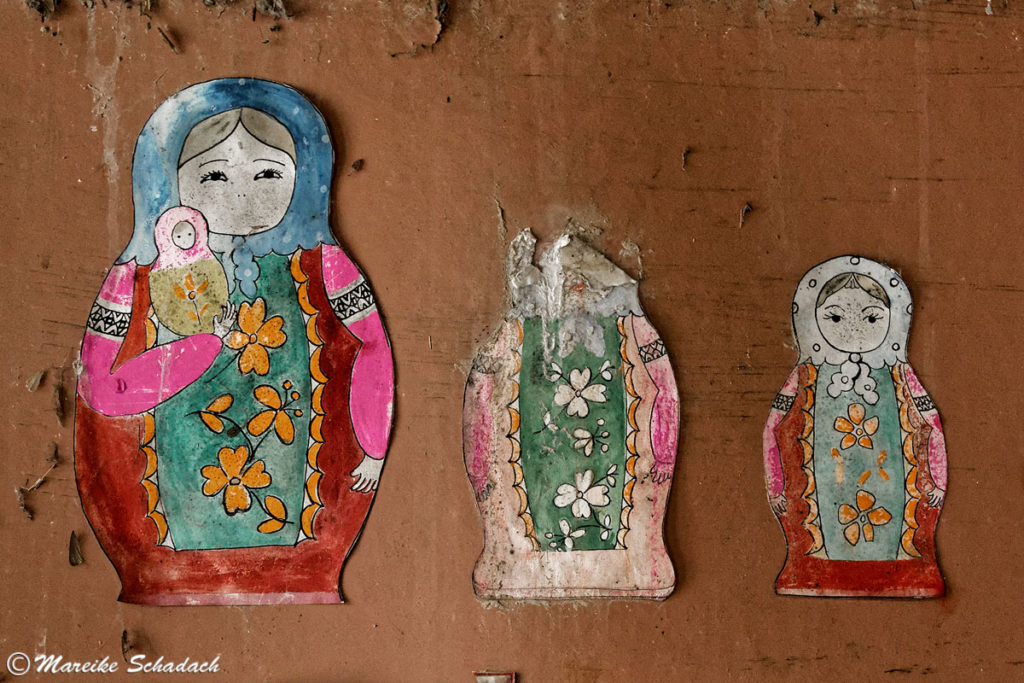 Are you planning a trip to Ukraine right now? Then you might also be interested in my article about Chernobyl - Photography against oblivion.