Berlin. Fancy a time travel to Berlin in the years after the fall of the Berlin Wall? At Hackescher Markt, between upscale boutiques and Star Bucks Café, there's a place that hasn't been affected by the mainstream and gentrification of the last decades - Haus Schwarzenberg. A place that stands for independent art and represents Berlin's subculture like no other. Like a magnet, it attracts street artists: Graffiti, stickers, paste-ups, cut-outs, stencils and even knitted works decorate the courtyard in several layers. The variety and sheer amount of artwork is hard to keep track of at this street art hotspot in the heart of Berlin. In the following article, I'll show you a few street art pieces that I particularly liked.
Unassigned, unpaid advertising. The article contains affiliate links.
---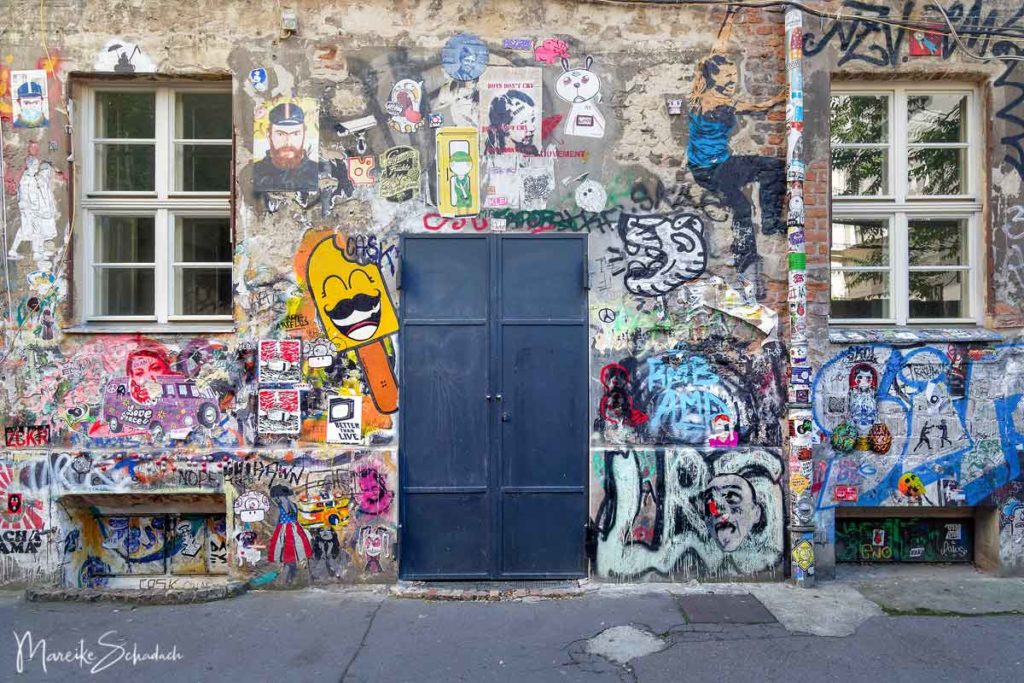 ---
Smallest and most popular Street Art Hotspot in Berlin - Haus Schwarzenberg.
The inconspicuous archway, right next to Café Cinema, is easy to miss. And as soon as you've taken three steps into the passageway, you'll only continue at a snail's pace. Because already here in the archway graffiti, paste-ups and stickers fight for your attention. After a few meters, a long courtyard opens up. To the left and right, the walls are painted or pasted up all over. You'll find artwork in all styles and sizes. New ones are added all the time, old ones are painted or pasted over. So the walls show you a different face with every visit. Take your time to explore the smallest and probably most popular street art hotspot in Berlin!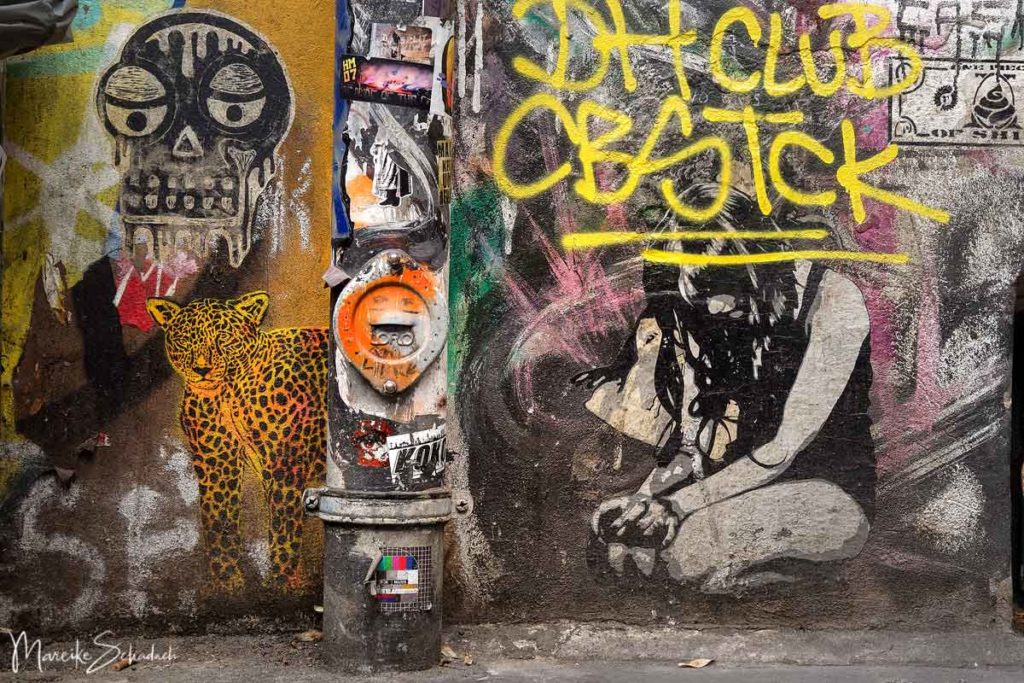 And when you're done with the passage and the inner courtyard, then continue in the legendary staircase of Haus Schwarzenberg: This is the door on the right in the first courtyard. I have never seen so many stickers! After that, there is a second courtyard to discover. This one is just like the first one painted all over with graffiti and co.
Haus Schwarzenberg is more than "just" Street Art
But Haus Schwarzenberg is more than "just" a street art hotspot. It is a unique microcosm in the middle of the "mainstream chic" of the Scheunenviertel at Hackescher Markt. The building, which has been a listed building since 1995, is a place for culture and independent art.It stands as a symbol for freedom, against mainstream and gentrification.And probably exactly because of that it is a tourist magnet and a pilgrimage site for all street art fans.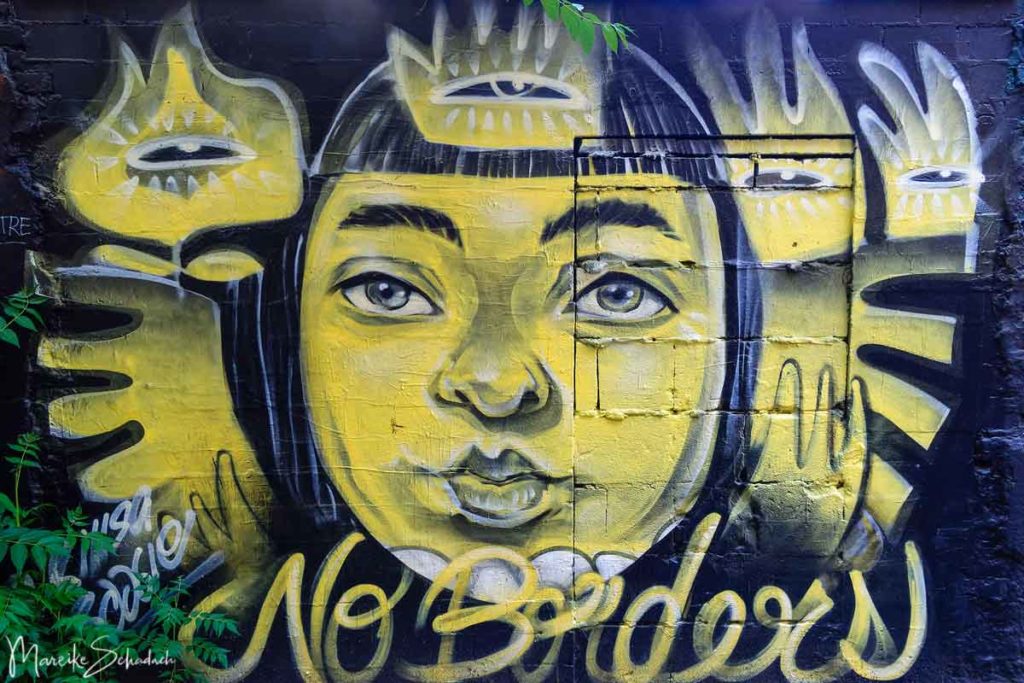 In the Schwarzenberg House there is the Neurotitan Gallery and Shop.Since 1996, the gallery has been organizing new exhibitions on a monthly basis. Here lovers of street art, illustration, urban art and comics get their money's worth. The Neurotitan Shop offers a wide selection of art, books, curios and gift ideas.
The portrait of Anne Frank by Jimmy C. in his distinctive drop style also invites you to visit the exhibition "All about Anne" in the Anne Frank Center. You can also get to it via the right staircase in the first courtyard.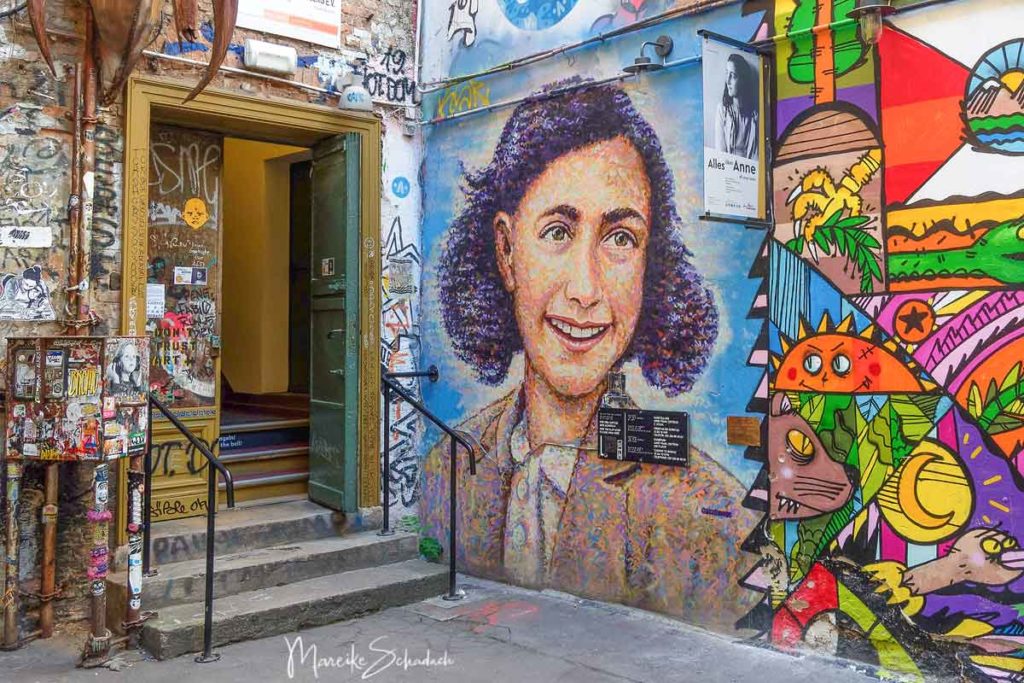 In the second backyard is the club Eschschloraque Rümschrümp.It is one of the last bastions of Berlin's underground and sees itself as a refuge for free (life) art and alternative club culture. Don't miss it!
Finally, another highlight is hidden in the basement of the building: the monster cabinet of the Berlin artist group Dead Chickens. It is a whimsical collection of mechanical and computer-controlled monster robots. The cabinet opened in 2010. Previously, the monsters lived in an old factory building in Berlin Schöneweide.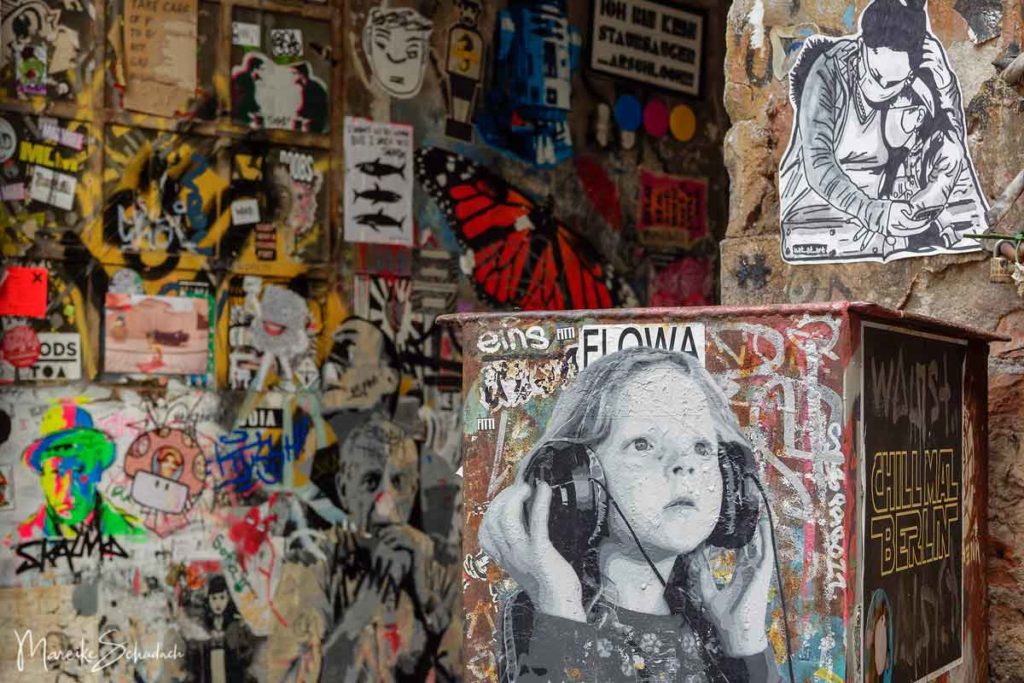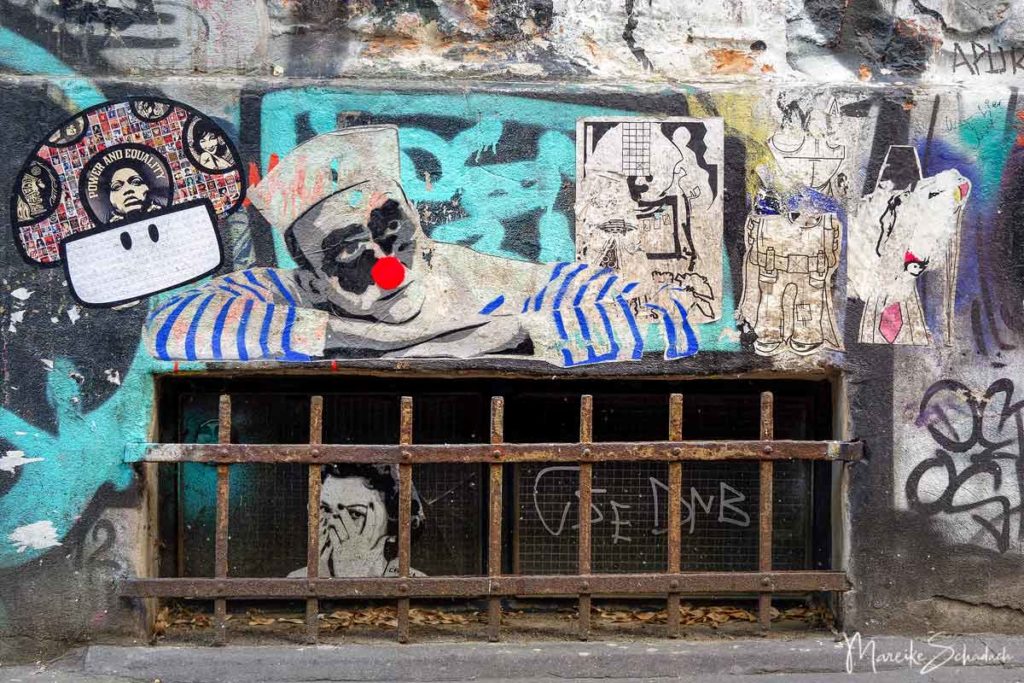 ---
What does the Name "Schwarzenberg" mean?
A bizarre story gave Schwarzenberg its name: In the Erzgebirge, there is a town and a district called Schwarzenberg. At the end of the Second World War, due to a misunderstanding, the Allies advanced from both directions only to the borders of Schwarzenberg. Schwarzenberg thus remained unoccupied for six weeks and called itself the "Free Republic of Schwarzenberg". But in the end it was occupied by Soviet troops. Can there be a more fitting name for this little microcosm at Hackescher Markt?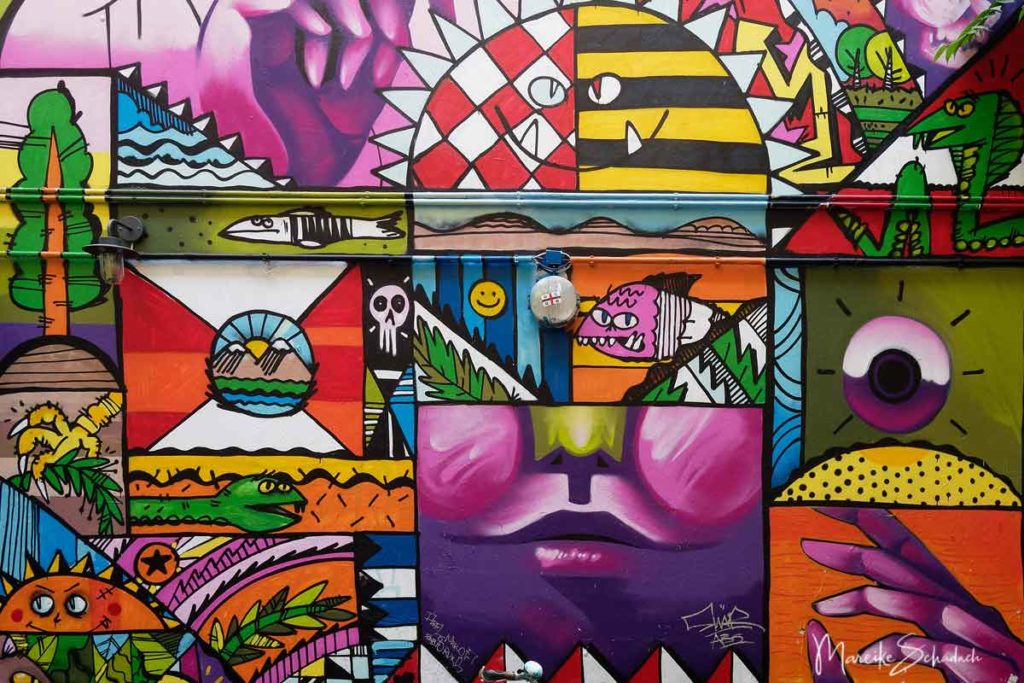 Tip: You need a break after all these impressions? Then I recommend the traditional Café Cinema in the front building. It was founded on October 2, 1990, a few hours before the German reunification. In summer it also has benches in the courtyard of Haus Schwarzenberg.
---
How to get there
Address: Rosenthaler Straße 39 in Berlin Mitte.
Directions to get there: S-Bahn station Hackescher Markt or U-Bahn station Weinmeister Straße. The Tram line 1 stops almost directly in front of the entrance.
Do you want to discover the street art scene in Berlin together with like-minded people on a guided tour? Then I can recommend this three-hour Street Art Tour* or the half-day Tour through the Alternative Berlin* . Both tours are in English. Do you love lost places as much as street art? Then the Tour to the former Listening Station at Teufelsberg* (in German) is made for you.
---
Book Recommendations for Street Art Fans
You like to browse through illustrated books for new murals or artists you don't know yet? You love to discover the street art scene of other cities? Then I can recommend these books. Click on the picture to get to Amazon, where you can order the books. If you buy something through one of these affiliate links, I get a small commission and you help me to keep filling Fernweh-Motive with interesting articles. The product will not be more expensive for you.
---
Did you like my article about the street art at Haus Schwarzenberg? Then follow me on Facebook, Pinterest or Instagram. I would also be very happy if you share my article with your friends. Do you have any questions or suggestions? If so, please write me a comment!
---
Tips for further reading & viewing
You love street art? Then take a look at my articles about Street Art in Kiev and in La Paz. Both cities have very different murals - but both are equally impressive.