Iceland. In Iceland it is mostly windy. And when there is no wind, then there is a storm. Cape Stórhöfði on the Vestmannaeyjar is considered the windiest place in Iceland. Here a wind speed of incredible 220 km/h has been recorded. I don't like to imagine this at all and instead I am happy about the good weather forecast: a little bit of sun, a few clouds, a shower every now and then. There was no mention of wind. So I could confidently set off to Cape Stórhöfði and the Puffin colony nesting there.
Unassigned, unpaid advertising. The article contains affiliate links.
---
Hike along the West Coast from Heimaey to Stórhöfði
Die Westmännerinseln in Island sind bekannt für ihre Papageientaucher – die "Puffins". Hier lebt mit biggest Puffin-colony of Iceland lives with 1,1 million brood-pairs.The cute animals have dug themselves thousands of nest-caves at the slopes in the south of the island Heimaey. From the puffin lookout you can observe the animals well protected from wind and rain. There are guided puffin tours but you can also go on your own to the observation hut. And why not hike to the puffins? Here you can read all about the hike to the puffin lookout in Stórhöfði on the Vestmannaeyjar - the windiest place in Iceland.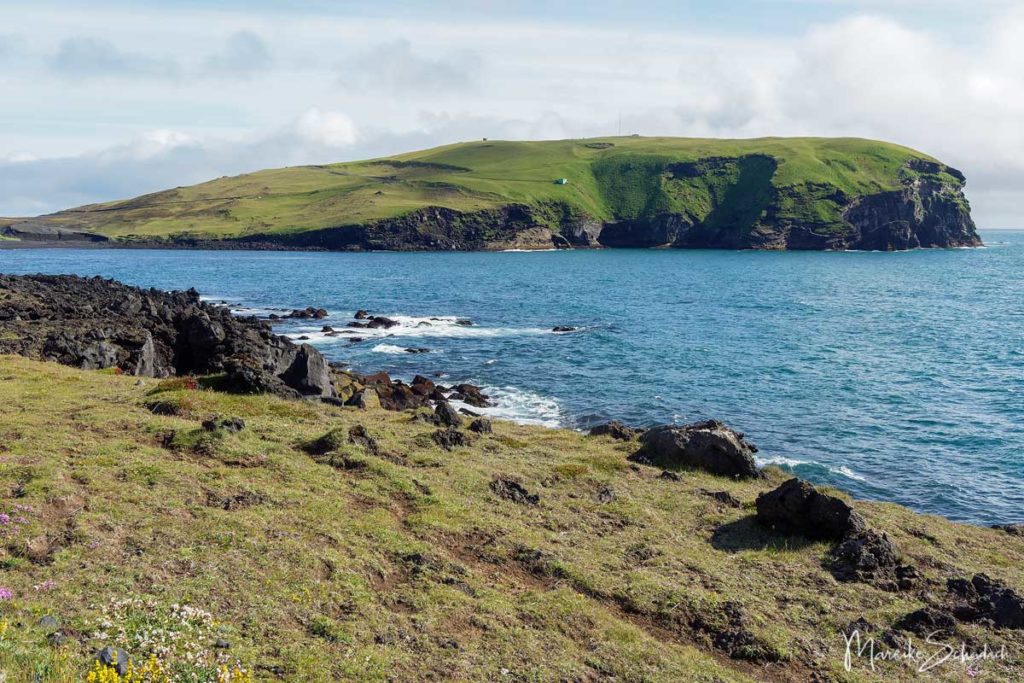 ---
The Hike to Cape Stórhöfði at a Glance
Length of the hike: From the campsite to the parking lot Stórhöfði on the west coast about 7.4 kilometers
Type of path: The trail on the west coast is marked with wooden stakes and is well trodden. The path on the east coast, on the other hand, is not marked and is more difficult to find. Here you should have a GPS capable smartphone with an offline map.
Duration: If you want to hike the way there and back, you should plan a whole day.
Clothing: Remember, Cape Stórhöfði on Vestmannaeyjar is the windiest place in Iceland. It is best to wear windproof softshell or rainwear.
Highlights: Puffins, loneliness on the path, steep coast, black beaches, view from Stórhöfði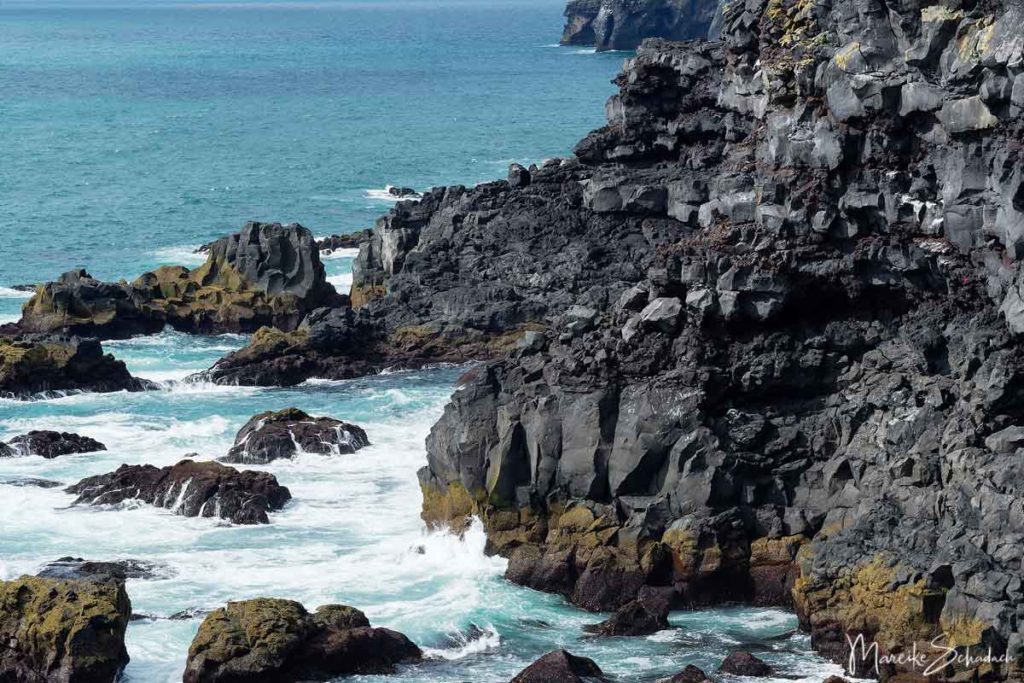 ---
The main stops on the hike to Stórhöfði
Herjólfsdalur - reconstructed longhouse
The hike starts at the campground in Herjólfsdalur. The valley is named after Herjólfur Barðarson, who according to Landnáhmabók was one of the first settlers in Iceland. Between 1971 and 1980 archaeological excavations in Herjólfsdalur found remains of eight houses and stone walls. The oldest remains were dated to the early 9th century. They are the oldest traces of human settlements on the Westman Islands. The farm of Herjólfsdalur was reconstructed in 2006 and can now be visited right next to the campsite. It is built in the typical style of that time as a longhouse made of stones and lawn. In the rear part of the building there was an area for the animals.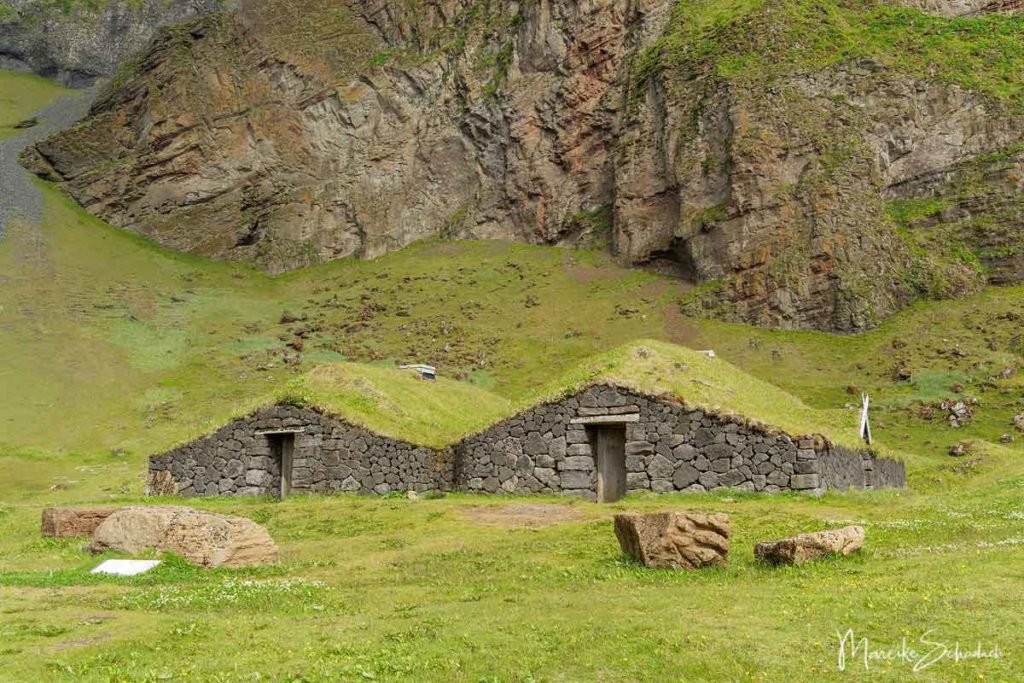 From here you follow the path to the coast and walk for a while between the golf course and the cliffs.
Kaplagjóta – die "Pferdeschlucht"
Die Anzahl der Pferde auf den Westmännerinseln war im 16. Jahrhundert begrenzt. Gab es mehr Pferde auf der Insel als erlaubt, so wurden die Tiere in die "Pferdeschlucht" gestoßen. Grausam. Und ehrlich gesagt, kann ich das kaum glauben, dass sie noch nicht einmal gegessen wurden.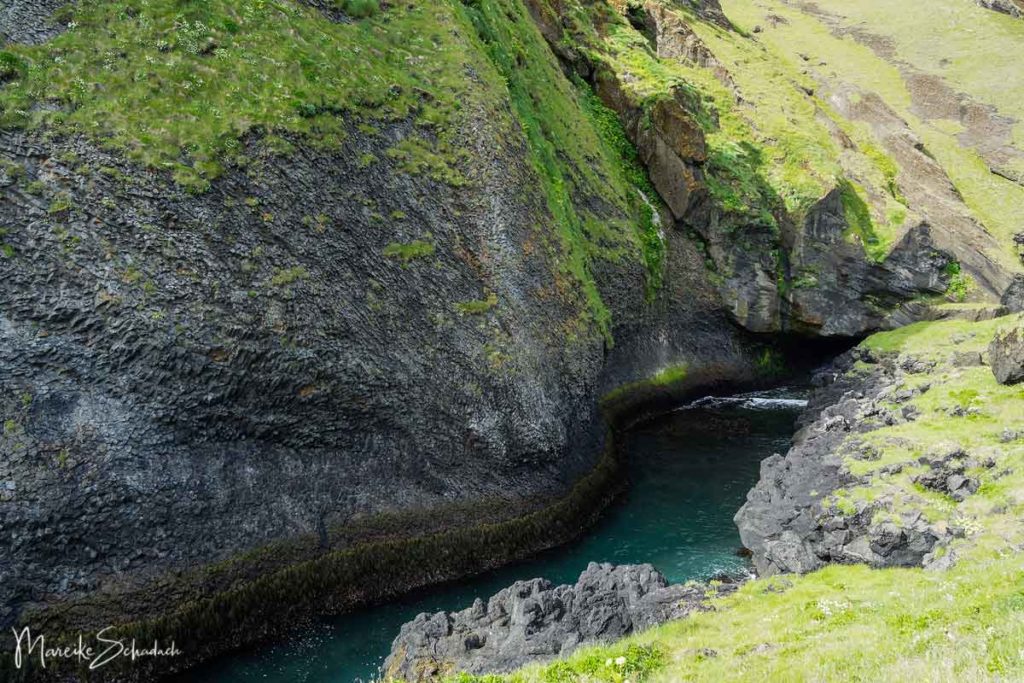 Rock Formation Elephant Rock
Right next to the horse gorge, a huge stone elephant's head can be seen in the rock. He dives his trunk into the sea to drink.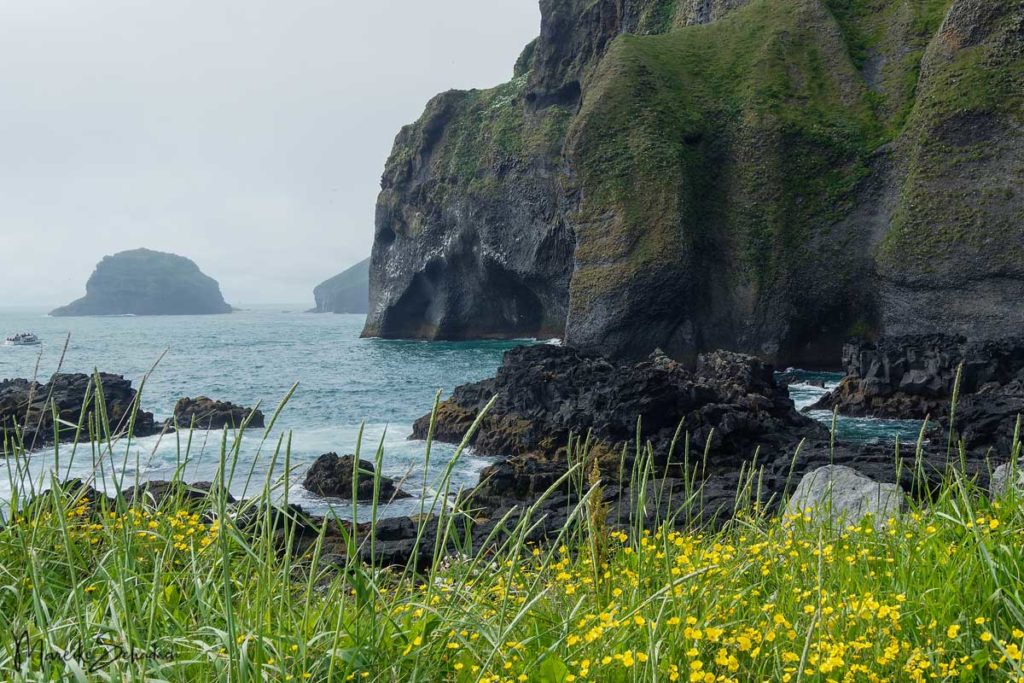 As soon as you leave the golf course you are alone in the most beautiful nature with black lava rocks, colorful flowers and wonderful views.
Monument Mormónapollur
Auch auf den Westmännerinseln in Island gab es Mormonen. Die ersten Isländer, die zum Mormonenglauben konvertiert sind, wurden hier im "Mormonenpool" getauft. Das war im Jahr 1851. Ein Denkmal erinnert hier an die nach Utah ausgewanderten Isländer.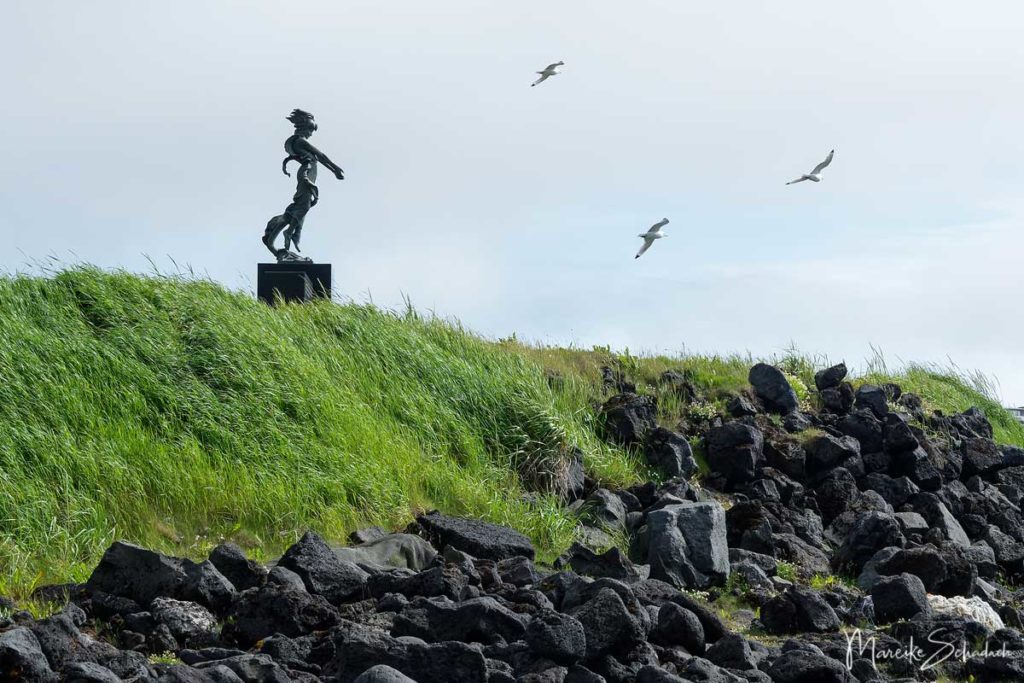 Cliffs Ofanleitishamar
At the cliff Ofanleitishamar I saw my first puffin on Vestmannaeyjar. Also fulmars breed here on the rocks. But there was one thing I found especially exciting here: a rusty tractor hangs at the top of the cliff. How did it get there?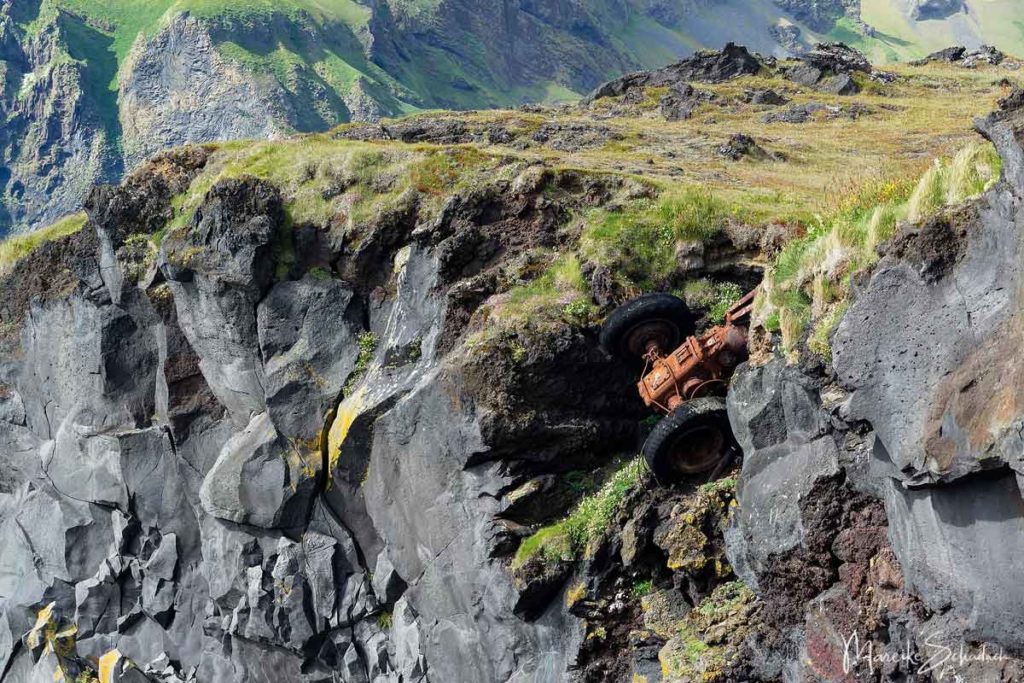 Shortly before the well-marked path leads down to the black sandy beach, an eider duck mother scurries along the path with her young. Quickly the chicks are called together. Motionless, the ducks squat close together. I am impressed how well behaved the little ones are. I walk past them in a wide arc.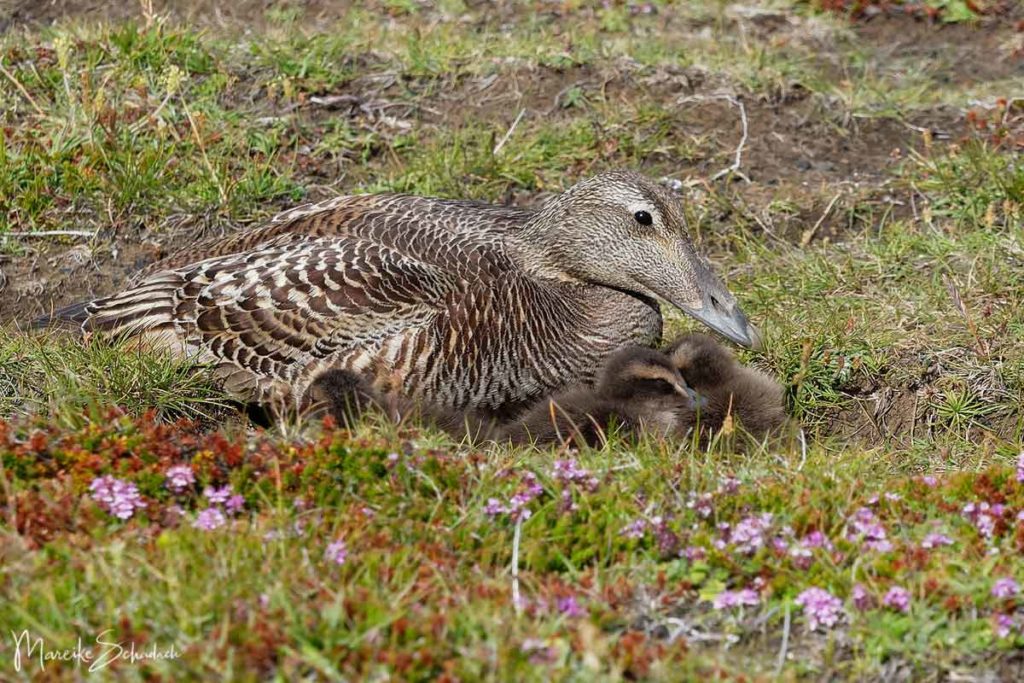 The Bay Vík
Arrived at the beach I can't believe my eyes: two bathing beauties come out of the water. Not in neoprene, but completely naked. It must be cold! I myself am warmly wrapped up in down and rain jacket. Maybe there is a hot spring here?
The black sand beach in the bay called Vík is framed by nicely layered tephra stones. The stones at the water's edge are covered with poisonous green algae and there is a lot of washed up seaweed on the beach. The sea must be beautiful under water here.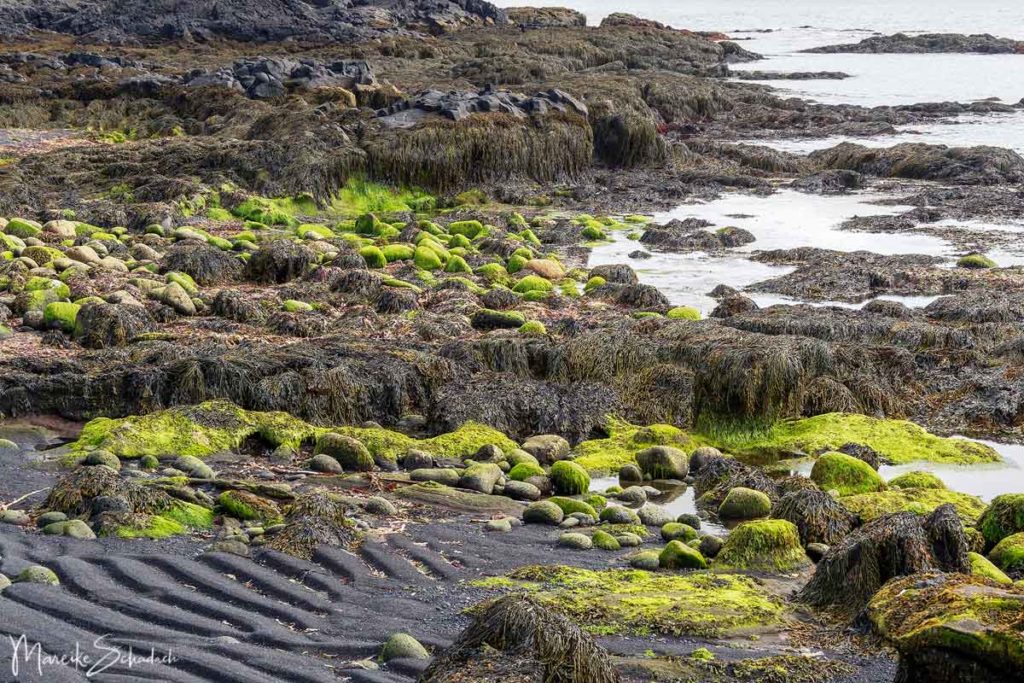 Pirate Bay
In July 1627 pirates from Algeria landed in the Pirate Bay. They killed 34 inhabitants and deported 242 Icelanders as slaves to North Africa.The Algerians were considered Turks at that time, so the attack is still called a Turkish attack today.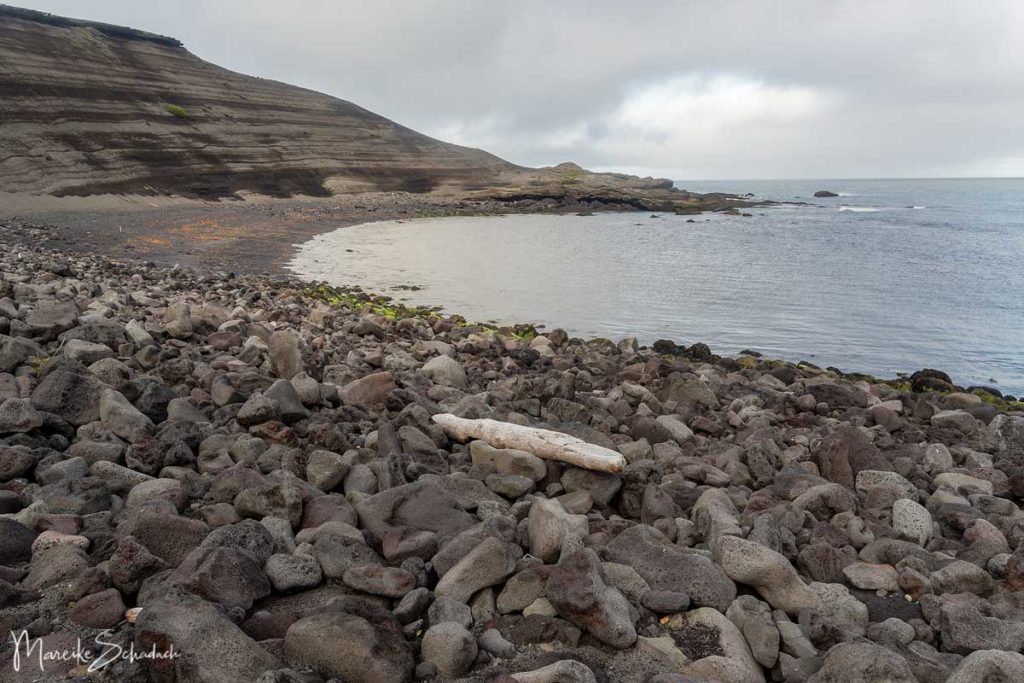 Puffin Lookout at Cape Stórhöfði
An der Bergflanke des Kap Stórhöfði nisten unzählige Puffins. Jedes Jahr kehren sie ab Mitte April zu ihren Bruthöhlen zurück. Zuerst kommen die Männchen und bereiten anschließend die Bruthöhle vor. Etwa 10 Tage später kommen die Weibchen an Land. Papageientaucher sind monogam, das heißt ein Paar bleibt sein Leben lang zusammen. Nur wenn die "Ehefrau" nicht am Brutplatz erschienen ist, sucht sich dass Männchen eine neue Partnerin.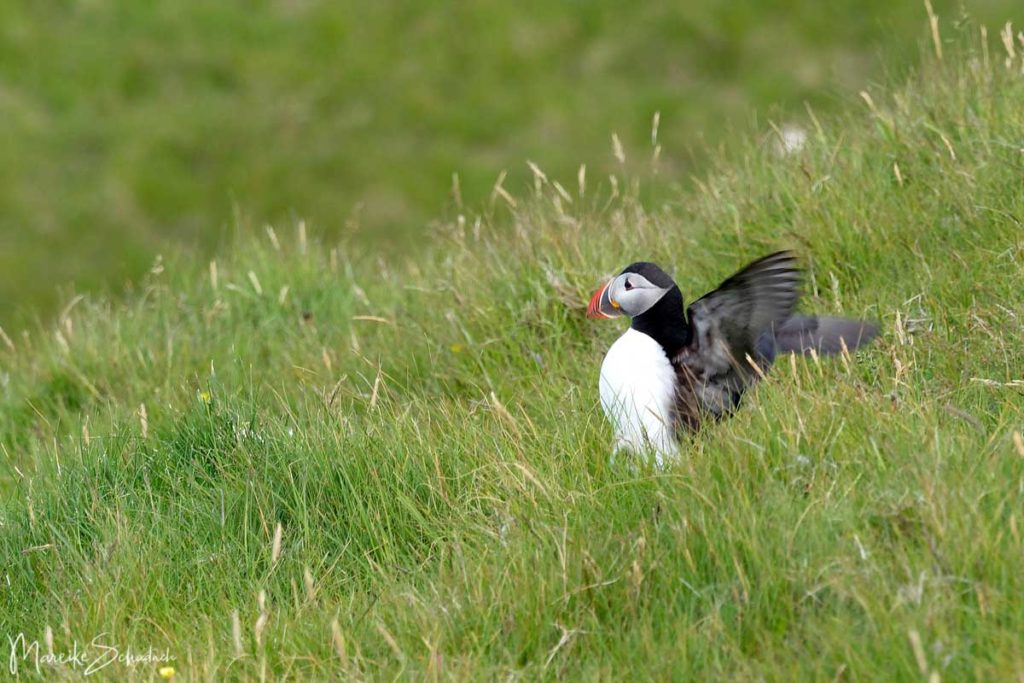 In order to observe the puffins without disturbing them, an observation hut was built here. Super practical in wind and rain. Because in such weather puffins like to stay especially gladly before its brood-caves. Besides, they are to be seen best in the evening hours. During the day, they are usually on the sea for fishing. They come then only shortly to the brood-caves in order to deliver the loot. For a break before the cave is only little time.
Cape Stórhöfði on Vestmannaeyjar - the windiest Place in Iceland.
Cape Stórhöfði was formed during a volcanic eruption about 6,000 years ago. On the highest point, 122 meters above sea level, there is the lighthouse and since 1921 a weather station. Here on Vestmannaeyjar the highest wind speed in Iceland was measured with 220 km/h. That is wind force 17 - the highest level on the Beaufort scale! It blows you away. Fortunately it was not quite as windy when I was there.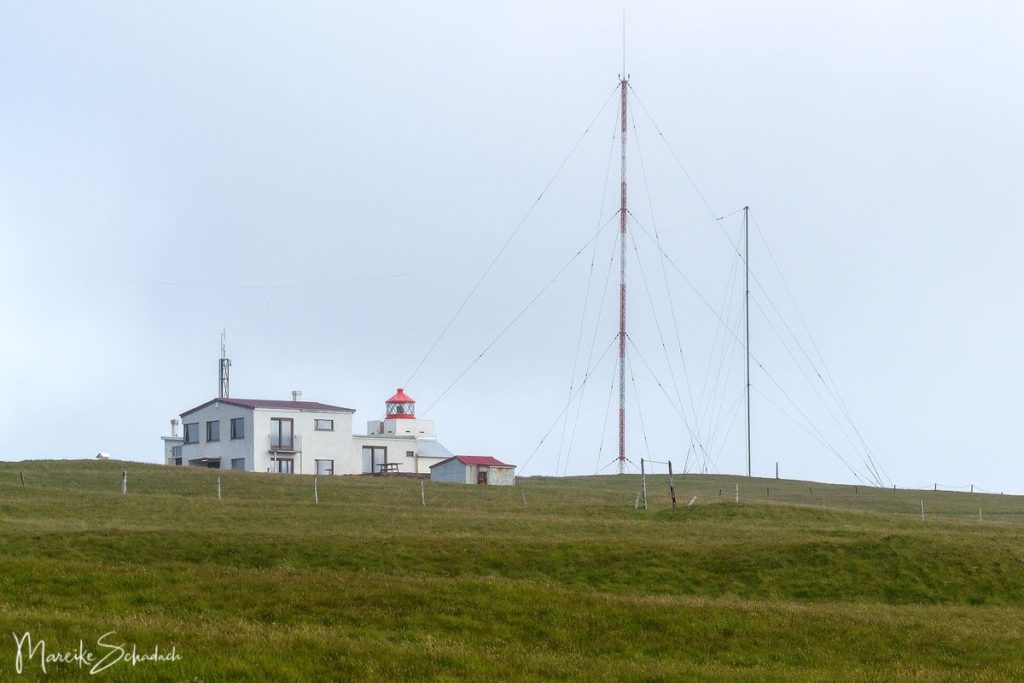 From Stórhöfði you have a beautiful view of the offshore islands. It is said that you can even see the island of Surtsey. from here, but only 20 kilometers away. Surtsey was created by a volcanic eruption in 1963-1967 and is today a UNESCO world heritage site. The island may not be entered, except by scientists.
Way back to the City along the East Coast
You can either hitchhike or walk back. For the way back you can walk along the east coast of the island. The path branches off the road at Pirate Bay. It is not marked and therefore hard to find. I followed a horse track, but it took me off the right path and I ended up back on the main road too early. I didn't want to correct my course cross-country and I walked along the road. Since it was already late in the evening, hardly any cars passed by and my attempt to hitchhike was unfortunately unsuccessful.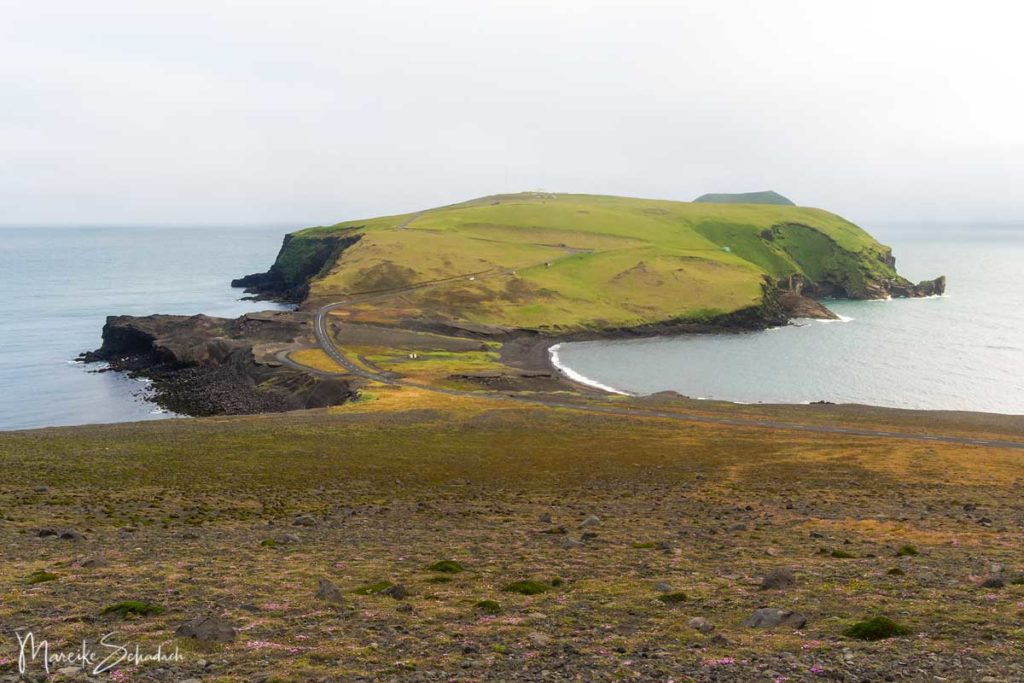 ---
Book Recommendations for Iceland
Do you want to know where the journey is going? Then I can recommend this travel guides* to you.
You can order the travel guides on Amazon by clicking on the pictures. If you buy a product via an affiliate link, I get a small commission and you help me to keep filling Fernweh-Motive with interesting articles. This does not make the product more expensive for you.
---
Do you know the stormy Cape Stórhöfði on Vestmannaeyjar in Iceland? How did you like it? Do you have any questions or suggestions regarding my article? If so, please write me a comment!
Do you want to know when there are new articles on my blog? Then follow me on Facebook, Pinterest or Instagram. I would also be very happy if you share my article with your friends.
---
Recommendations for further Reading
Do you love the Scandinavian countries as much as I do? Then you might also be interested in my articles about the Kayak Tour in the Swedish Archipelago or a Trekking Tour to the Greenlandic Ice Sheet.