Berlin. "Poor but sexy" ...and rich in street art. On Berlin's streets there is art for everyone without having to pay admission - because that is the maxim of Street Art. This is lived particularly intensively around Bülowstraße. Here you can find so much Street Art in a dense space, as only at few places. Sometimes big, sometimes small, black and white or brightly coloured, political, funny and socio-critical. Around the Urban Art Museum for Contemporary Art, various artists have designed several walls for URBAN NATION under the motto "One Wall". And since street art magically attracts other street art, there are many more pieces to discover. Come along on a Street Art walk around Bülowstraße.
"Poor but sexy!" Who said that? That was Berlin's mayor Wowereit in November 2003, when the phrase became the city's leitmotif and was often quoted.
Unassigned, unpaid advertising. The article contains affiliate links.
---
The Street Art walk around Bülowstraße at a Glance
Start and end point: Nollendorfplatz underground station
Length: about 3.2 kilometers
Duration of the walk: about 1,5 hours
Tip: Combine your walk with a visit to the Urban Art Museum for Contemporary Art,, one of Berlin's Street Art hotspots.
---
Urban Art Museum for Contemporary Art,
What is street art doing in a museum? Street art belongs on the street...
Actually, yes, but. The international network of URBAN NATION promotes artists and the acceptance of street art. Because everyone who is involved with street art knows: art polarizes. And art that is visible to everyone on the street, all the more so. Workshops, Street Art Festivals, das "One Wall" Projekt und natürlich das Museum selbst schaffen eine communication platform. A basis for the exchange and growing together of artists, artworks and the inhabitants behind the painted walls. The museum on Bülowstraße documents the history of a subculture and explores the question of what makes street art so fascinating and successful. A total of 100 works by well-known artists and newcomersawait you. And for those who can't make it to Berlin, the museum also offers a digital tour. .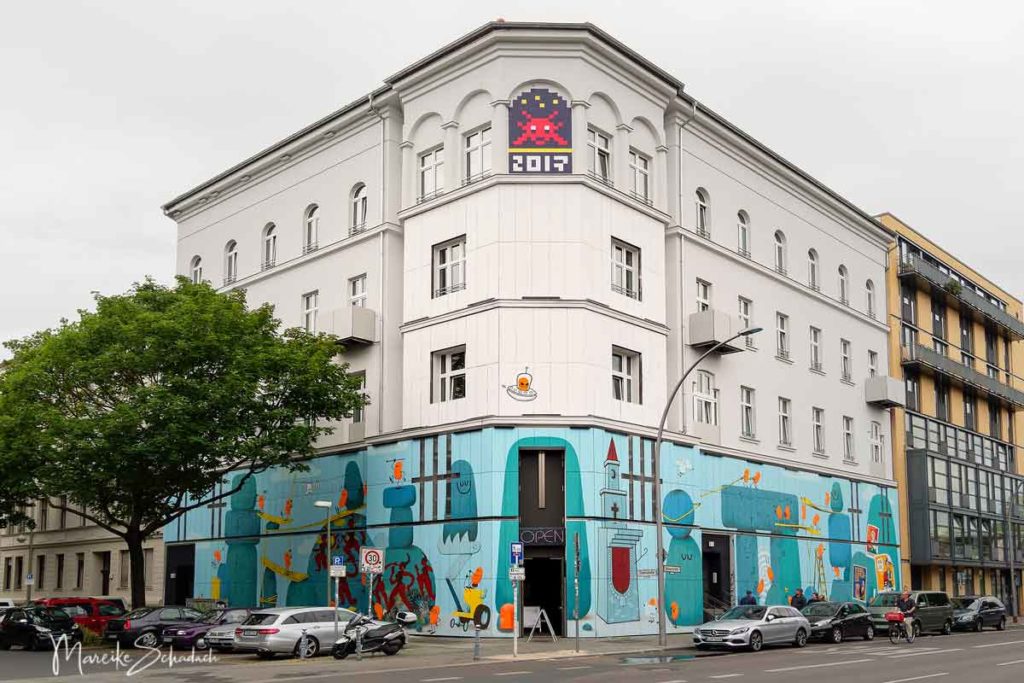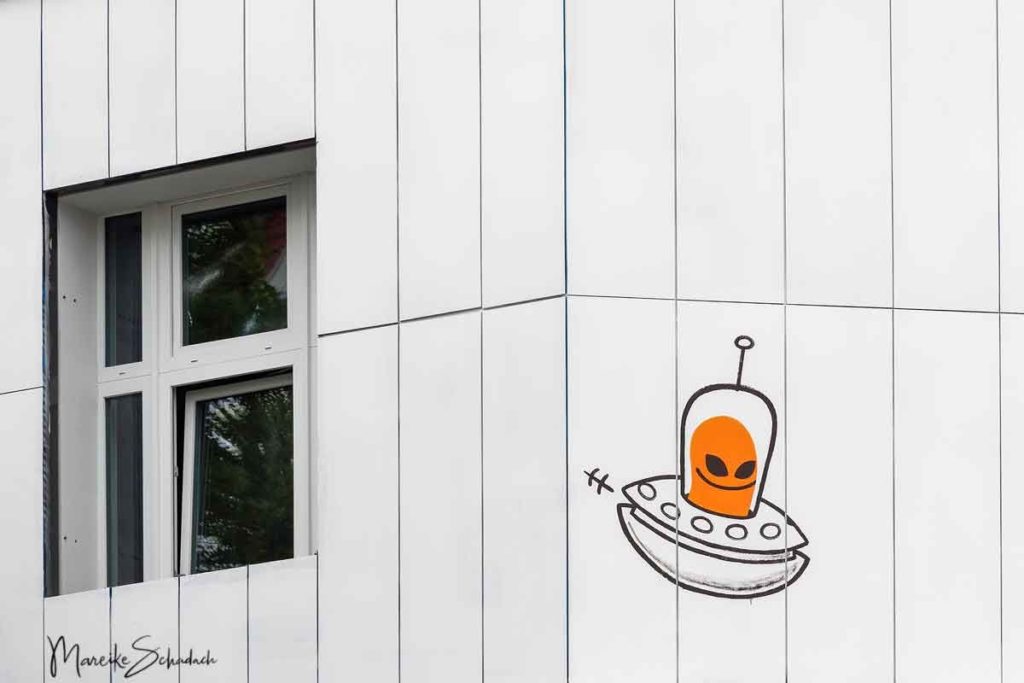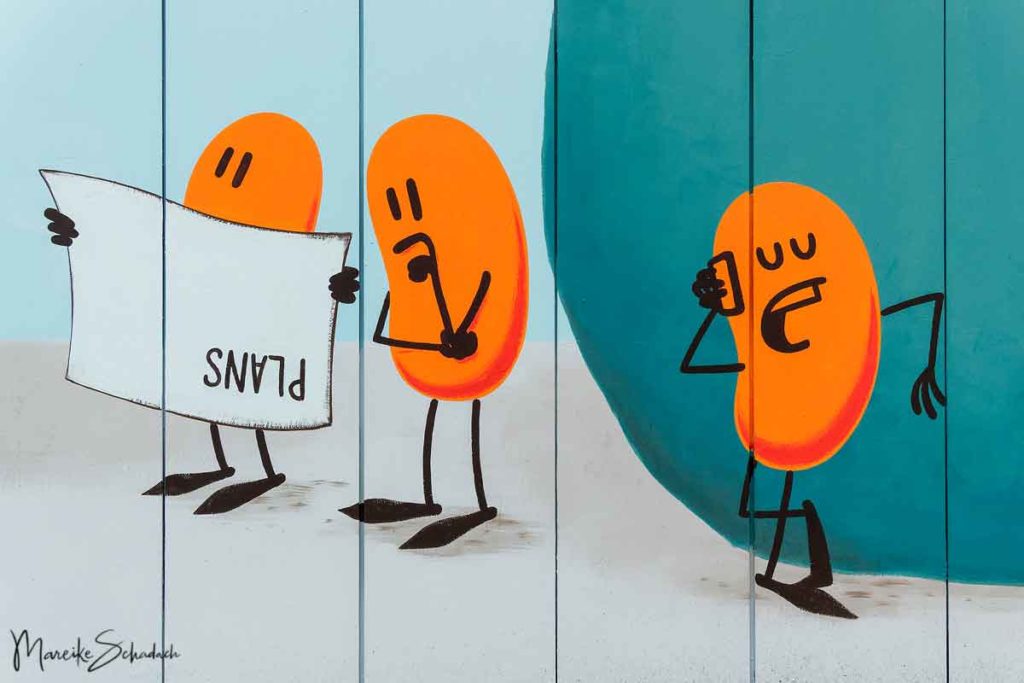 On the outer facade of the museum is a modular interchangeable facade with fibre cement panels. It was redesigned in June 2020 by Dave the Chimp & Friends . Dave is known for his orange "Human Beans". Together with Mina, Señor Schnu, Lunartik and Humble Writerz he designed the façade of the museum. The result is a picture in which so much is to be discovered that one can hardly make the jump into the actual museum. But for all the diversity, there is also an overriding theme: solidarity.
How to get there:
Bülowstraße 7; underground station Bülowstraße (U2) or Nollendorfplatz (U1, U2, U3, U4).
Admission is free, but donations are welcome.
Do you have enough memory for your photos?
Better take another SD card as a spare, because there are countless motifs on the street art walk Bülowstraße.
You can order the SD card at Amazon by clicking on the picture. If you buy a product via this affiliate link, I get a small commission and you help me to keep filling Fernweh-Motive with interesting content. The product will not be more expensive for you and you do me a huge favor.
---
Die "East Side Gallery" des Westens – Street Art rund um die Bülowstraße
Now it's off to the street, or rather to my little gallery. Some pictures have come together. But you can discover many more on your walk around the Bülowstraße. With a click on the pictureyou can see the photos in full size. The title of the picture is also shown. In the best case, you will find out the artist, the title of the work of art and the address.
---
Do you want to discover the street art scene in Berlin together with like-minded people on a guided tour? Then I can recommend this three-hour Street Art Tour* or the half-day Tour through the Alternative Berlin* . Both tours are in English. Do you love lost places as much as street art? Then the Tour to the former Listening Station at Teufelsberg* (in German) is made for you.
---
Book Recommendations for Street Art Fans
You like to browse through illustrated books for new murals or artists you don't know yet? You love to discover the street art scene of other cities? Then I can recommend these books. Click on the picture to get to Amazon, where you can order the books. If you buy something through one of these affiliate links, I get a small commission and you help me to keep filling Fernweh-Motive with interesting articles. The product will not be more expensive for you.
---
Did you like my Street Art walk around Bülowstraße? Then follow me on Facebook, Pinterest or Instagram. I would also be very happy if you share my article with your friends. Do you have any questions or suggestions? If so, please write me a comment!
---
Tips for further reading & viewing
You love street art? Then take a look at my articles about Street Art in Kiev and in La Paz. Both cities have very different murals - but both are equally impressive.