Macedonia is not situated at the sea, but instead at the second largest lake of the Balkan peninsula. Lake Ohrid. And it has a few surprises in store. When you go diving in Lake Ohrid, you will see more than just fish and aquatic plants. Well, there are many fish and some endemic species. But the main attraction of diving in Lake Ohrid are the relics from the Bronze Age, which you can discover under water. You can also dive between the wooden piles of a reconstructed pile-dwelling settlement. In my following article you can read more about the lake dwellings at Lake Ohrid and what you can see here above and below the water.
Unassigned, unpaid advertising. The article contains affiliate links*.
---
About Lake Ohrid in Macedonia
The age of Lake Ohrid is estimated at two to five million years. This makes it one of the oldest lakes in the world. Here, animal and plant species have developed that cannot be found anywhere else. Lake Ohrid is also one of the most species-rich lakes in the world. Of these, 200 species are endemic, such as the Ohrid trout. Unfortunately, it is now threatened by overfishing. However, many fish species that are typical of European waters are missing. Among other things, you won't see any real perch, pike and three-spiny sticklebacks.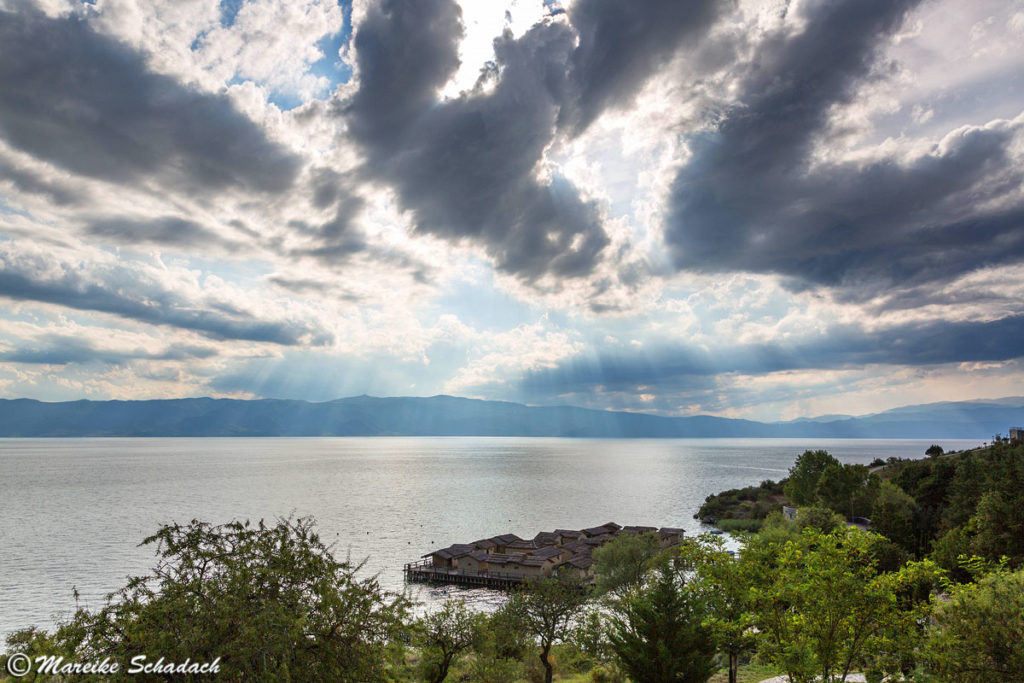 Lake Ohrid is an important nature reserve and protected as a UNESCO biosphere reserve. The lake and the old town of Ohrid are also listed as UNESCO World Heritage Sites. The shores of the lake are among the oldest settlement areas in Europe. The town of Ohrid was the centre of Christianity in the Middle Ages and is regarded as the birthplace of the Cyrillic alphabet. In addition to fishing, tourism is an important source of income.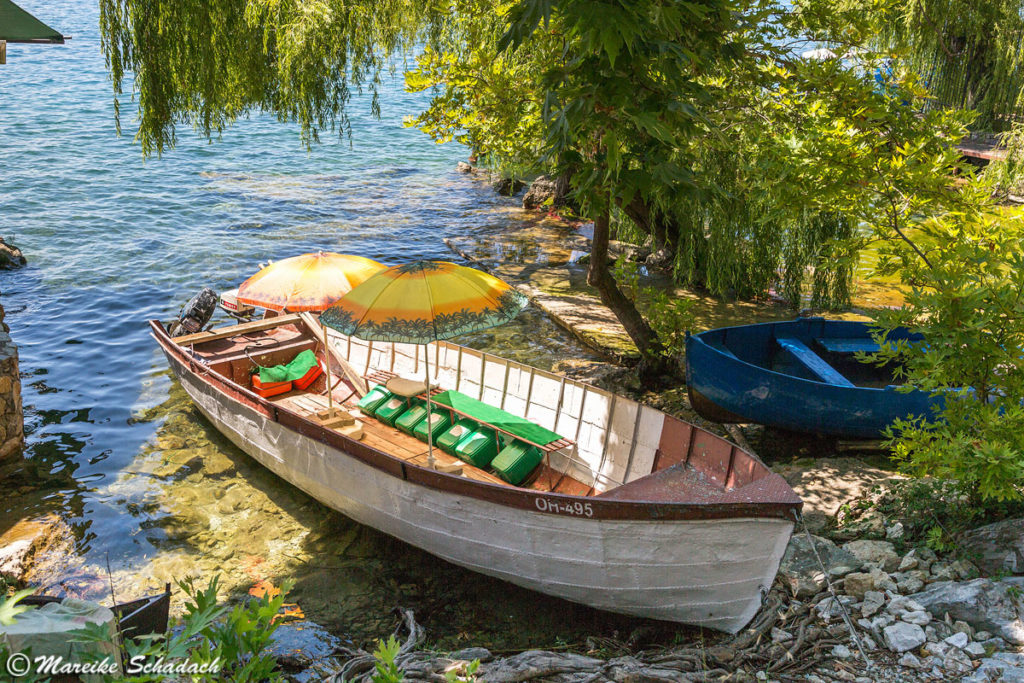 Lake Ohrid lies partly in Macedonia and partly in Albania. The deep blue lake is framed by an impressive mountain scenery with peaks of up to 2200 metres. The lake has no major tributaries. Instead, it is fed by spring streams and springs, some of which are below the surface. For this reason its water is very clear and the visibility under water is surprisingly good. The river Schwarzer Drin springs from Lake Ohrid and flows towards the Adriatic Sea.
---
Facts about the Lake Ohrid
Altitude above sea level: 695 m
Surface area: 349-362.6 km²
Length: 30,4 km
Width:14,8 km
Average depth: 115 m
Maximum depth: 288 m
Catchment area: 1414 km²
---
Bronze Age Pile Dwellings in the Bay of Bones
The Bay of Bones is located on the northeastern shore of Lake Ohrid. A diver found animal bones and prehistoric artefacts here in 1995. During subsequent archaeological investigations from 1997 to 2005, remains of 6000 wooden piles were discovered. They belonged to a prehistoric pile-dwelling settlement from the Late Bronze Age and Early Iron Age, i.e. from 1200 BC to 700 AD. In order to have protection from wild animals and hostile tribes, the settlers of that time built their huts on piles in the lake. The settlement had an area of about 8500 square meters and was therefore somewhat larger than a football field.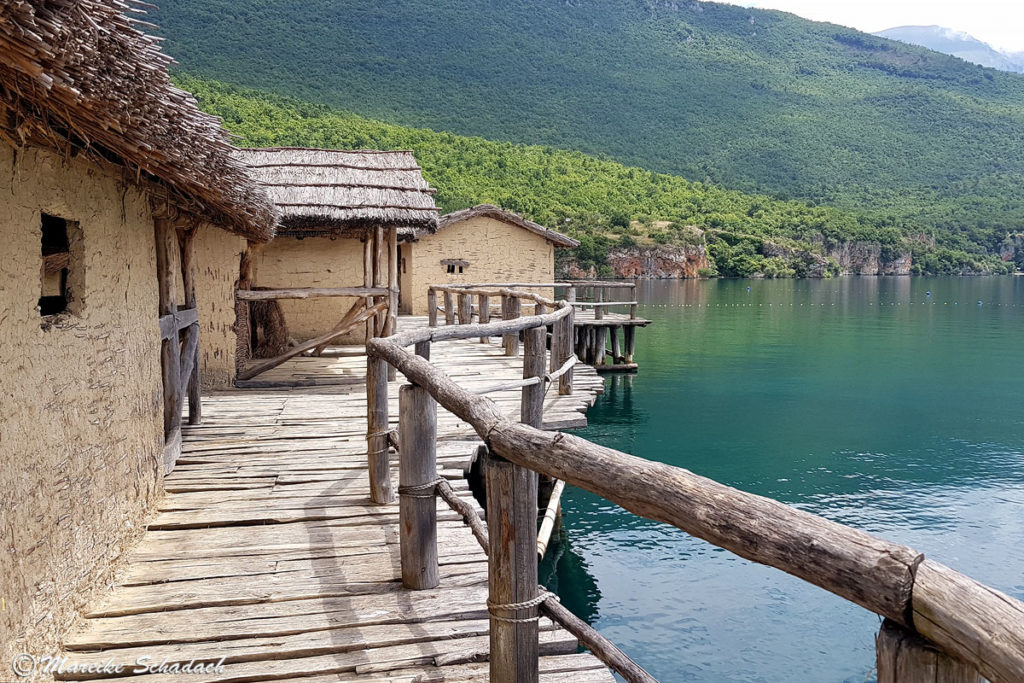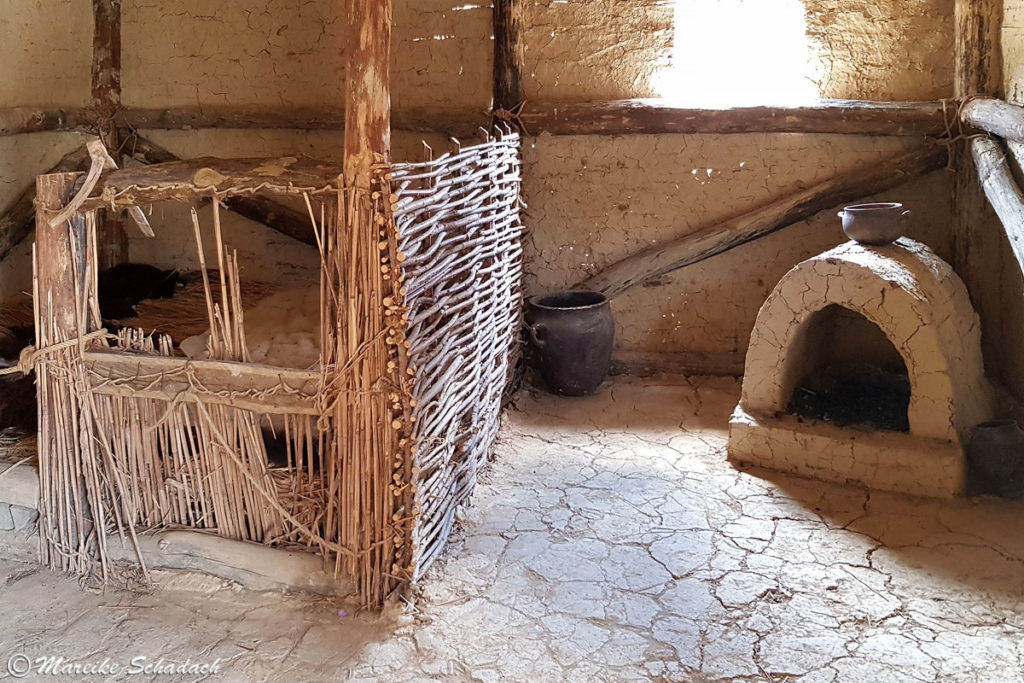 Only wooden stumps are left of this prehistoric pile-dwelling settlement today. Instead, a settlement was rebuilt on the same site between 2007 and 2008. A total of 24 simple huts made of wood, clay and reed now stand on a wooden platform supported by 6000 wooden posts. The platform is connected to the shore by a narrow wooden bridge.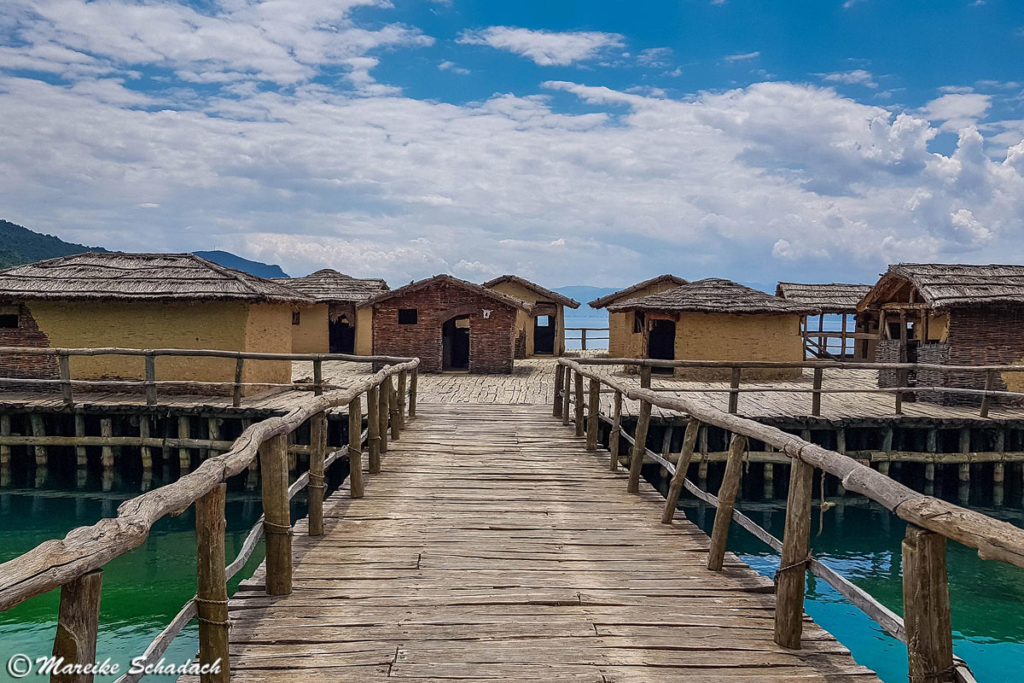 The museum complex in the Bay of Bones includes a pile-dwelling settlement, a permanent exhibition of prehistoric artefacts and a Roman fort from the 3rd century AD.
Reading Tip:
Are you up for more diving in the Balkans? Then check out my article about the Submarine Bunker in Montenegro. .
---
Highlights under water
diving through the wooden piles of the reconstructed pile-dwelling settlement
artifacts from the Bronze Age
great visibility
abundance of fish, including endemic species
freshwater snakes and snakeskins
rock walls
underwater springs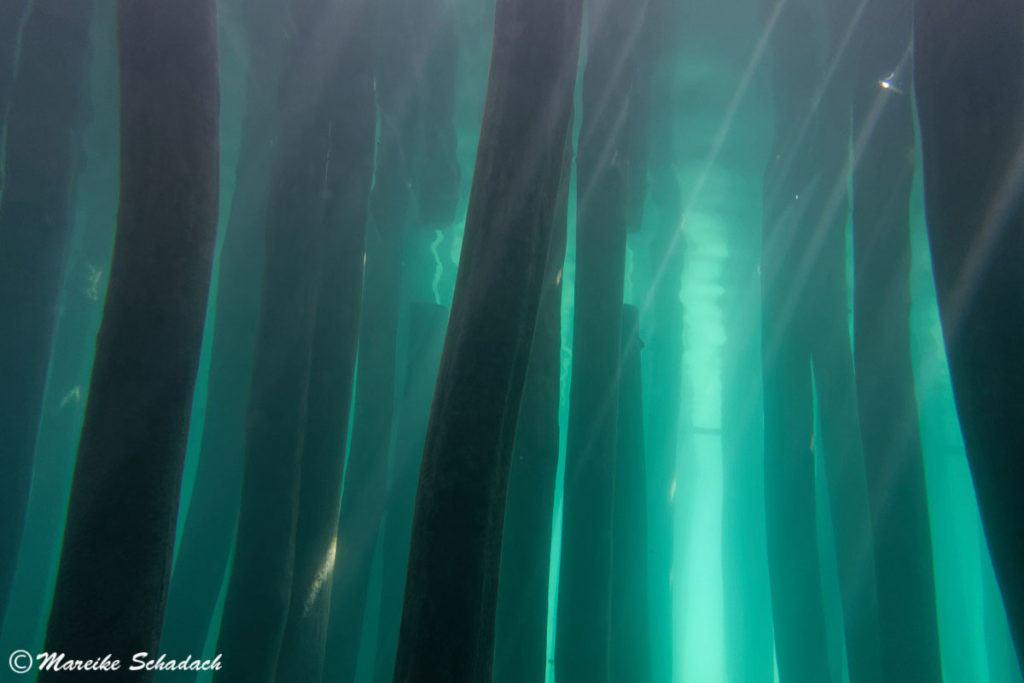 ---
Diving in Lake Ohrid under Bronze Age Lake Dwellings
Diving between the wooden piles of the pile-dwelling settlement and the search for relics from the Bronze Age are a very special underwater experience.
The distance between the piles is large enough for you to dive through them comfortably. The water depth is just 2 to 5 meters. Diving in this labyrinth of piles alone is an exciting experience. When the sun is shining, you can also see great light-shadow games under water. You'll also be able to watch a lot of fish under the pile dwellings. Because here, in the shadow of the platform, they like to gather. Besides the new wooden posts of the reconstructed settlement, you can also see the remains of the original posts.
Your guide will also be able to show you other relics. For example, fragments of ceramic vessels and plates, buttons, stone tools and animal bones.
When we were diving in Ohrid Lake in the summer of 2018, a group of underwater archaeologists was here for explorations shortly before. So we could still see their stakeouts at the bottom of the water.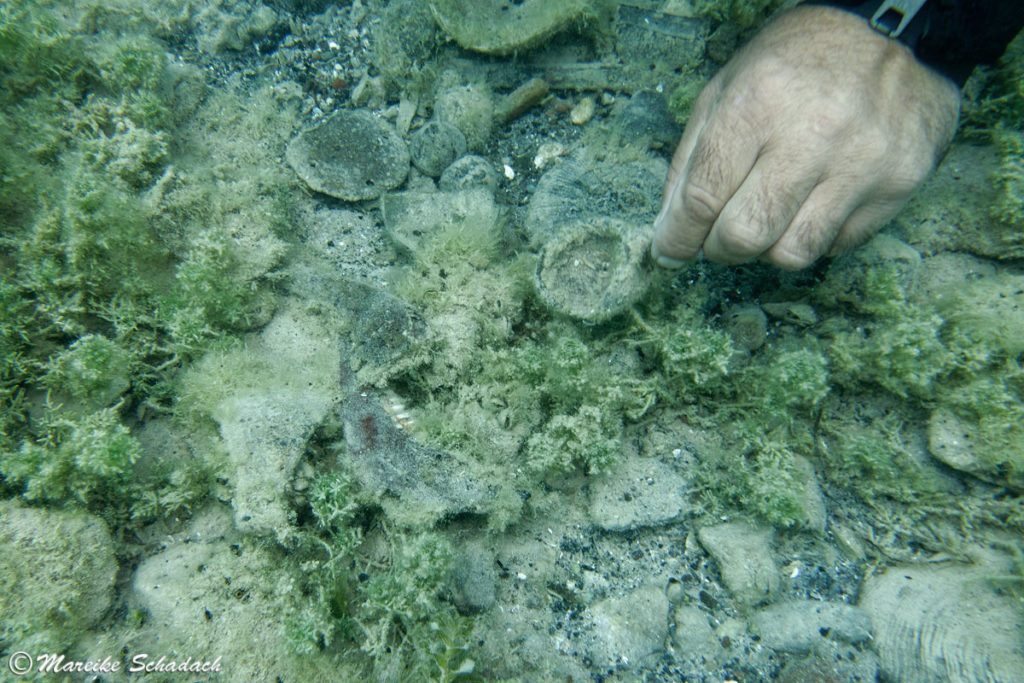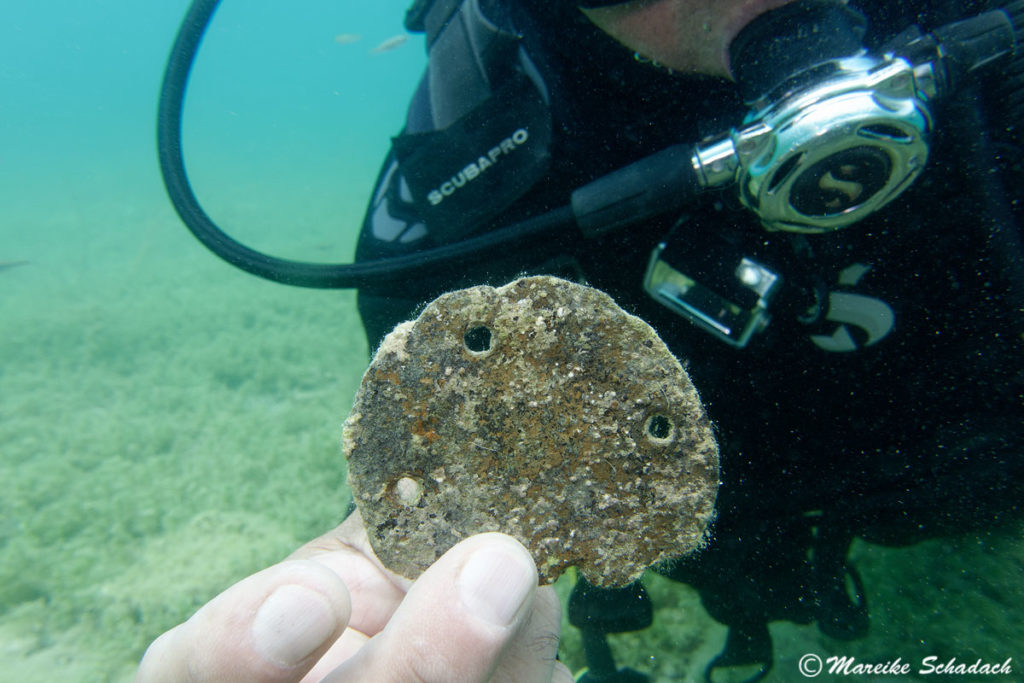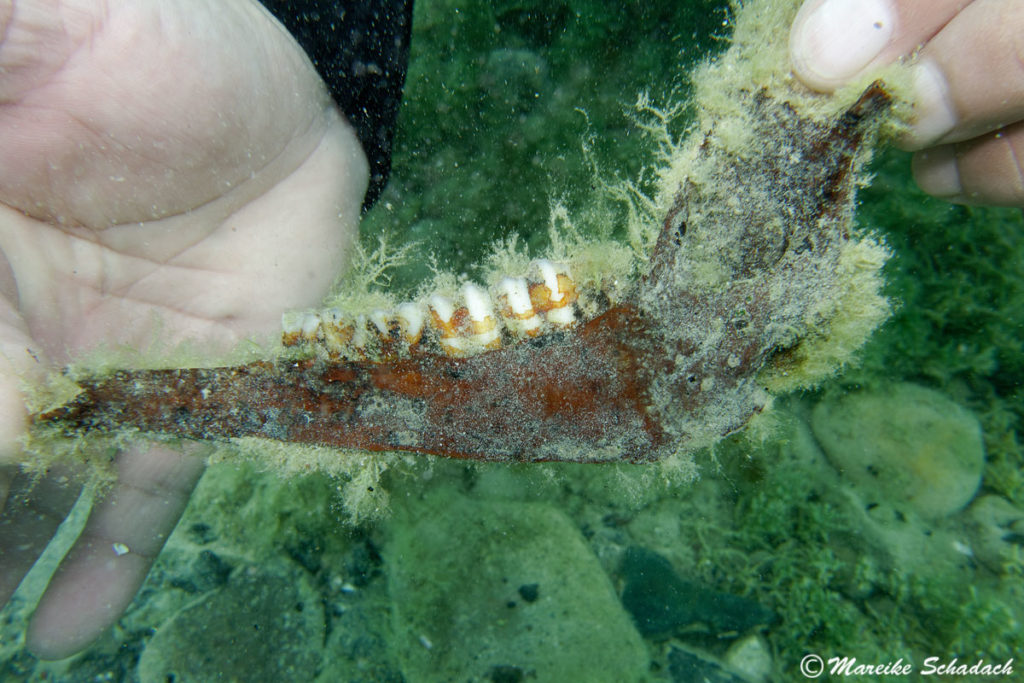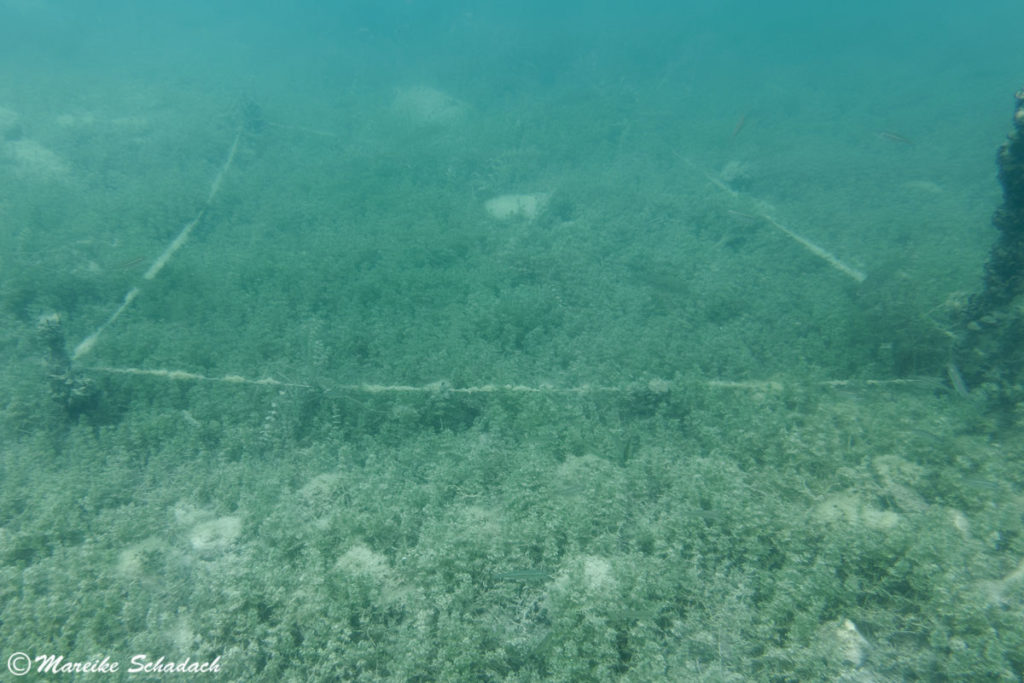 But to explore all this you need a guide. Otherwise you would miss most of it. The local dive center Amphora Diving provided us with a guide and rental equipment. Amphora Diving has its base within the museum complex in the Bay of Bones. If you say at the ticket counter that you want to go diving, you don't have to pay admission. We requested our dives about two weeks in advance by e-mail and registered.
The water temperature was between 24-15°C during our dives to 20 meters depth in July. With a 7-mm neoprene suit with gloves and hood it was pleasant with the temperatures.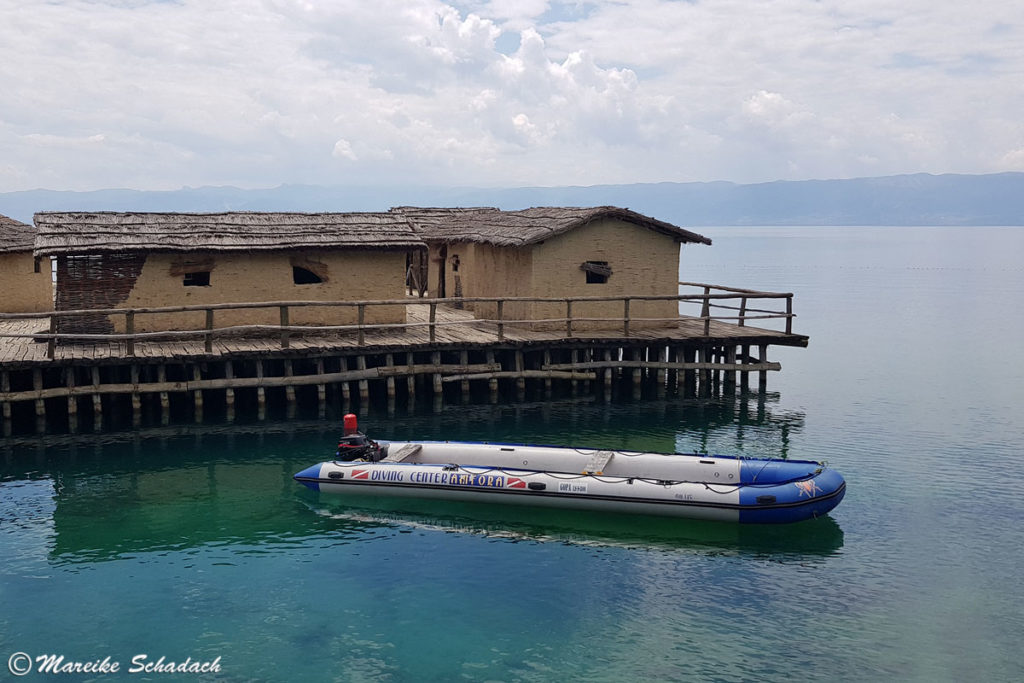 ---
Book recommendations for Macedonia
Do you want to know where the journey is going? Then I can recommend this travel guides* to you.
You can order the travel guides with a click on the pictures at Amazon. If you buy a product via an affiliate link, I get a small commission and you help me to continue to fill Fernweh-Motive with interesting articles. The product will not be more expensive for you and you do me a huge favor.
Have you ever been diving in the Ohrid Sea in Macedonia yourself? How did you like it? Do you have any questions about my article or further suggestions? If so, please write me a comment!
Do you want to know when there are new articles on my blog? Then follow me on Facebook, Pinterest or Instagram. I would also be very happy if you share my article with your friends.
---