Galapagos, Ecuador. The animal landmarks of the Galapagos National Park are the giant tortoise and the hammerhead shark. But the scenic landmark of Galapagos is the volcanic island of Bartolome with its lunar landscape and the enchanting panoramic view of Sullivan Bay. A visit to this island should not be missed on any Galapagos trip. Read on to find out why you shouldn't miss Bartolome and what makes snorkeling here so special.
Unassigned, unpaid advertising. The article contains affiliate links.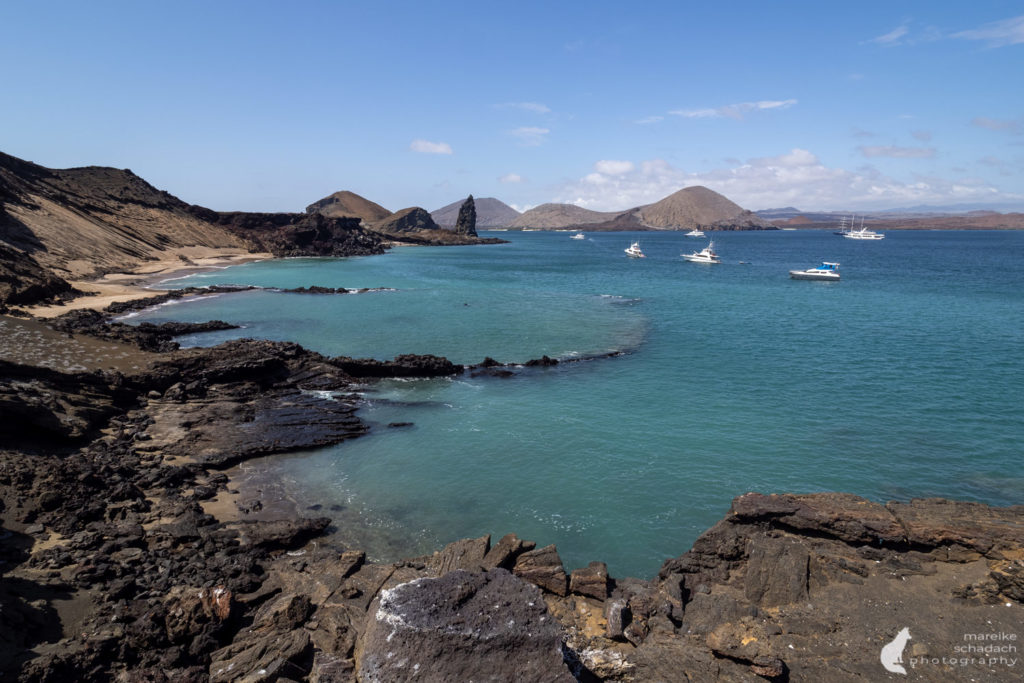 ---
Volcanic Isla Bartolome - a Surreal Lunar Landscape
Isla Bartolome is an extinct volcano and was formed 1.5 to 2 million years ago. This makes Bartolome one of the youngest islands of the Galapagos archipelago. Its volcanic origin is hard to miss: A surreal, barren lunar landscape of black, red, orange and greenish lava formations spreads over an area of 1.2 square kilometers.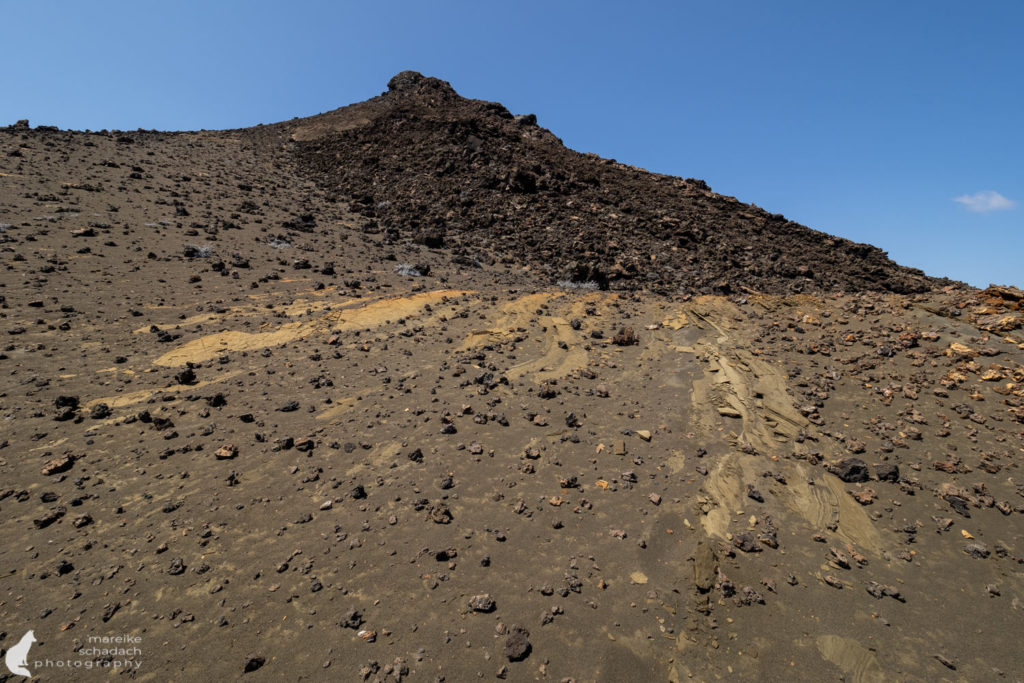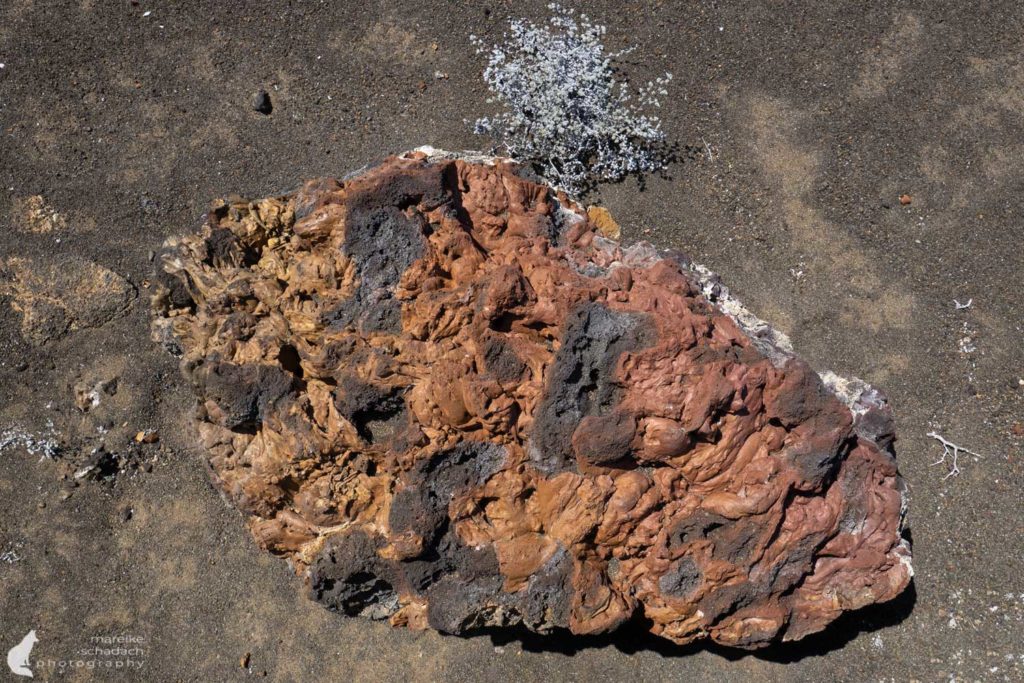 The volcanic rock is hardly weathered or overgrown. Contrast this with the bright blue sea, a golden sandy beach and a small green mangrove forest in Sullivan Bay. The icing on the cake of the scenery is the bizarre rock needle Pinnacle Rock. Today, Pinnacle Rock is a natural monument. But during the Second World War, the rock needle was the target for US Air Force exercises.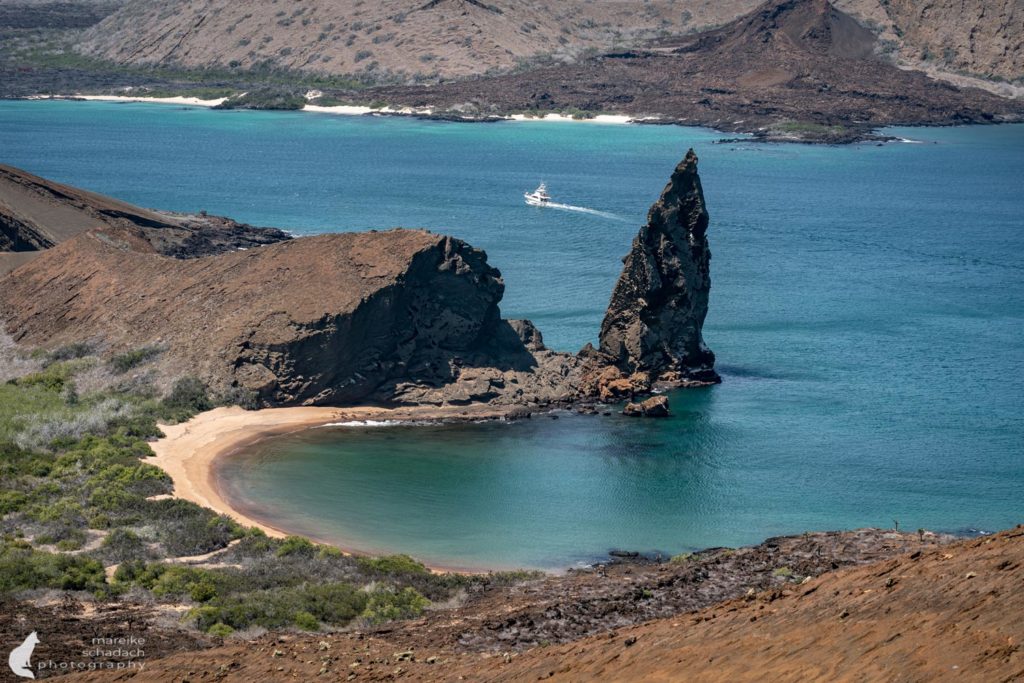 Isla Bartolome is one of the most beautiful landscapes of the archipelago and also offers interesting insights into the evolution of the islands.
The lava flows, rocks and sandy areas have long cooled down but are still extremely hostile to life. The vegetation on this dry island is accordingly sparse. Only some pioneer plants like the endemic Tiquilia nesiotica, the lava cactus and Scalesia bushes grow here. Now and then you can see a lava lizard scurrying over the stones.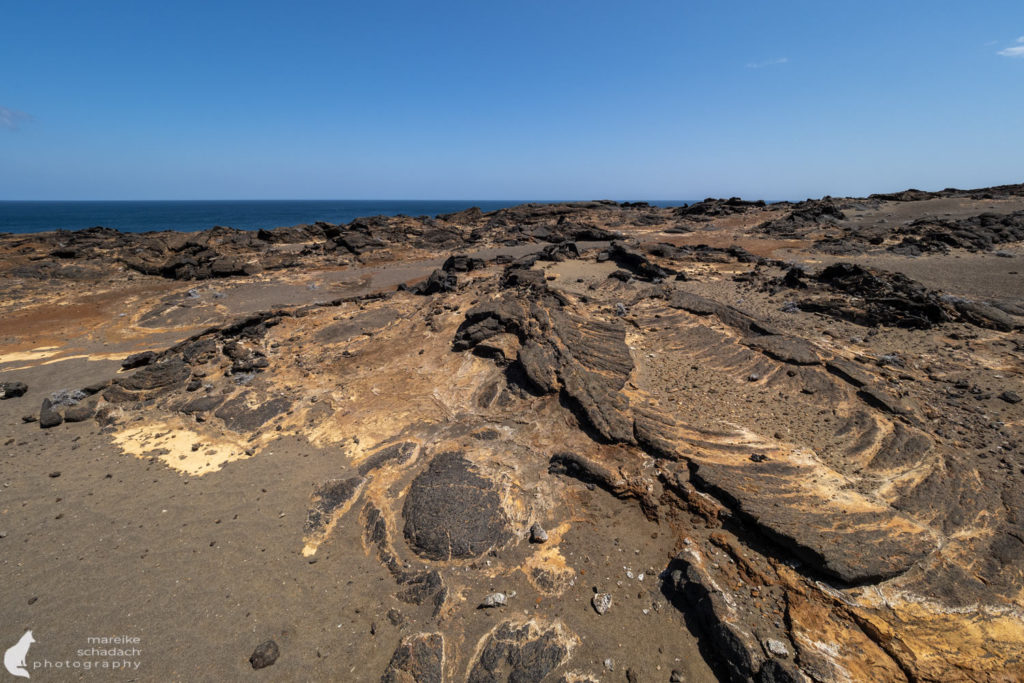 The island was named after Sir Bartholomew James Sulivan of the British Navy. He sailed with Charles Darwin on HMS Beagle in 1835 as a lieutenant and chief surveyor.
Bartolome, like most of the islands in the Galapagos archipelago, is uninhabited. It rises to 114 meters above sea level. At the highest point of the island there is a small lighthouse. From up here you have a magnificent panoramic view to the neighboring island of Santiago and over the beach and turquoise sea of Sullivan Bay.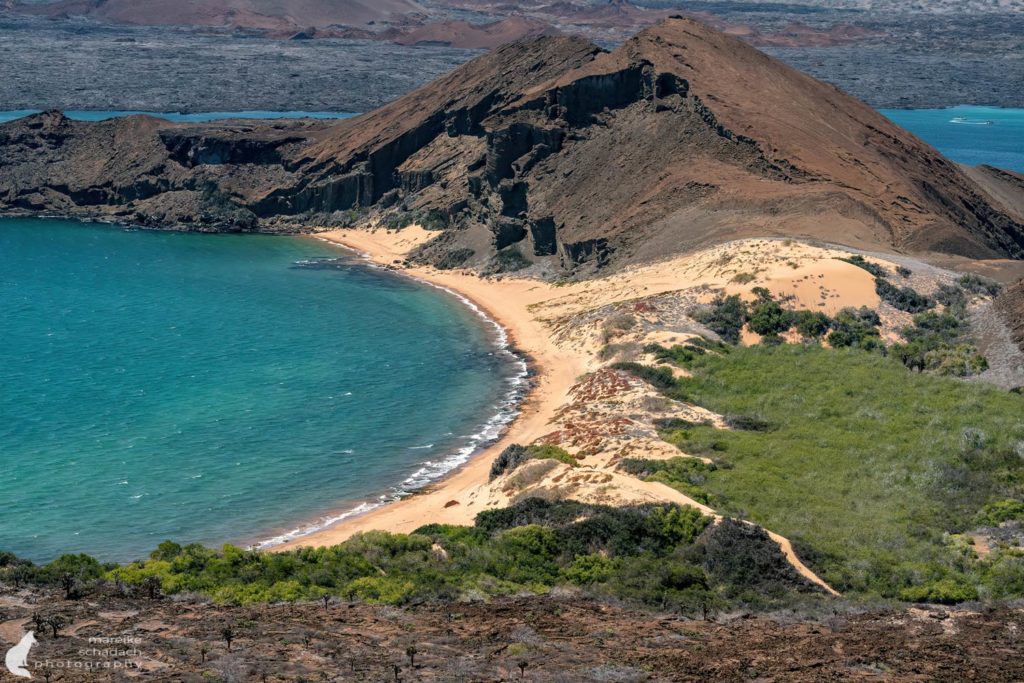 ---
Walk to the Bartolome Viewpoint
Our boat anchored in front of Pinnacle Rock. With the Zodiac we first made a small round to greet the penguins of Bartolome. Afterwards we landed at a narrow concrete dock and could enter the island on dry feet. From here a wooden path leads through the volcanic landscape all the way up to the small lighthouse. That is after all 372 steps. On the way there were always smaller viewing platforms where we stopped and our guide told us interesting facts about the island.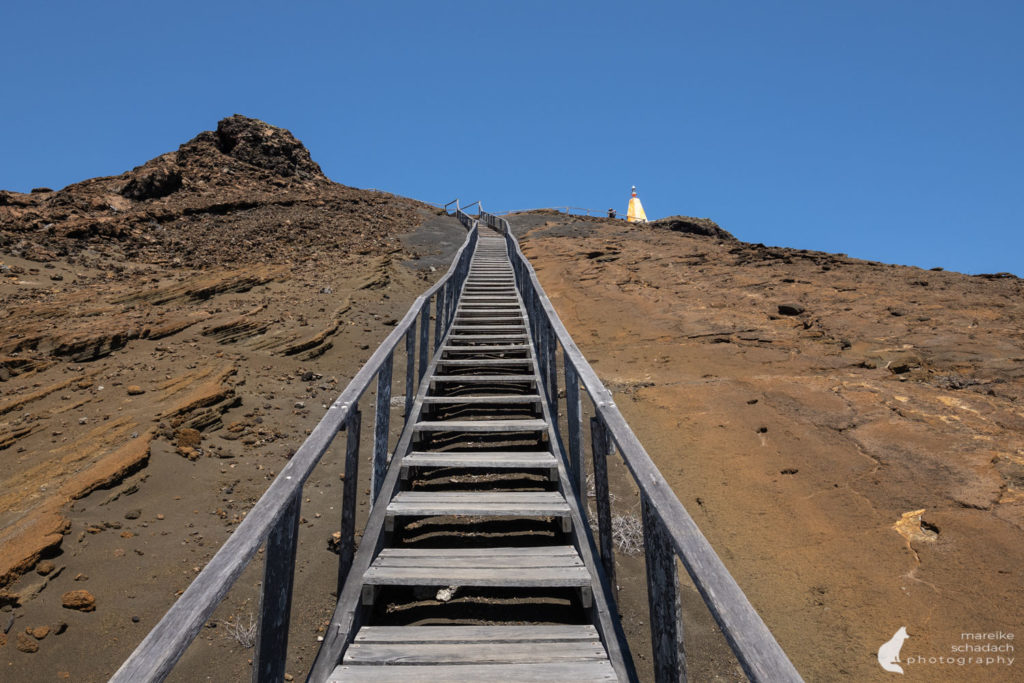 Tip: The climb takes about 45 minutes and is easy to do in sandals. So you don't need to bring sturdy shoes, as you'll be walking on the wooden path the whole time.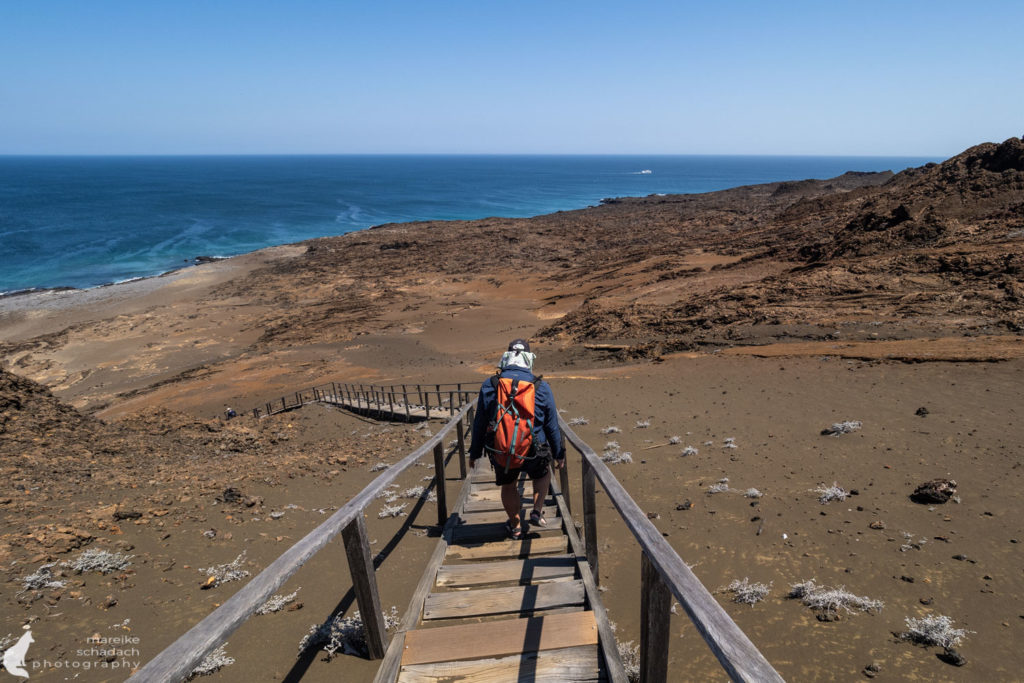 ---
Why you should not miss Bartolome Island?
Bartolome is a landmark of the Galapagos Islands and one of the most popular photo motifs of the archipelago. And not without reason. The view of the bay and Pinnacle Rock is magnificent. On a clear day, you should even be able to see up to ten other islands.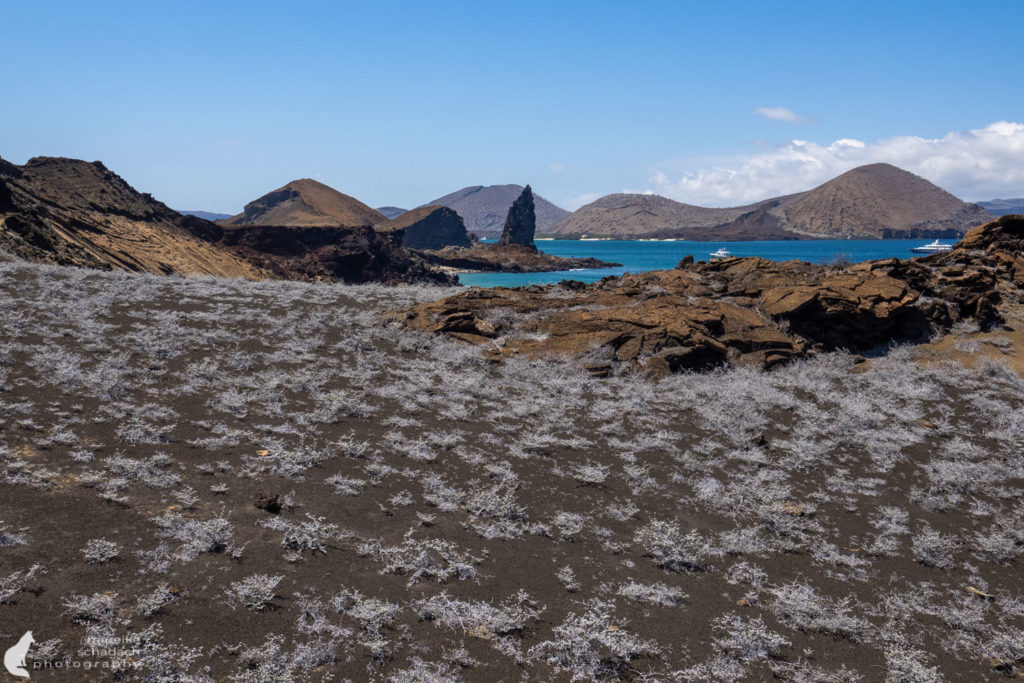 But Bartolome also has a lot to offer underwater. Upwelling deep water provides abundant nutrients, making the area particularly interesting for fish. And the small fish in turn attract larger fish, sharks, sea lions, penguins and seabirds.
What makes snorkeling here especially rewarding? With a little luck you can see Galapagos penguins underwater.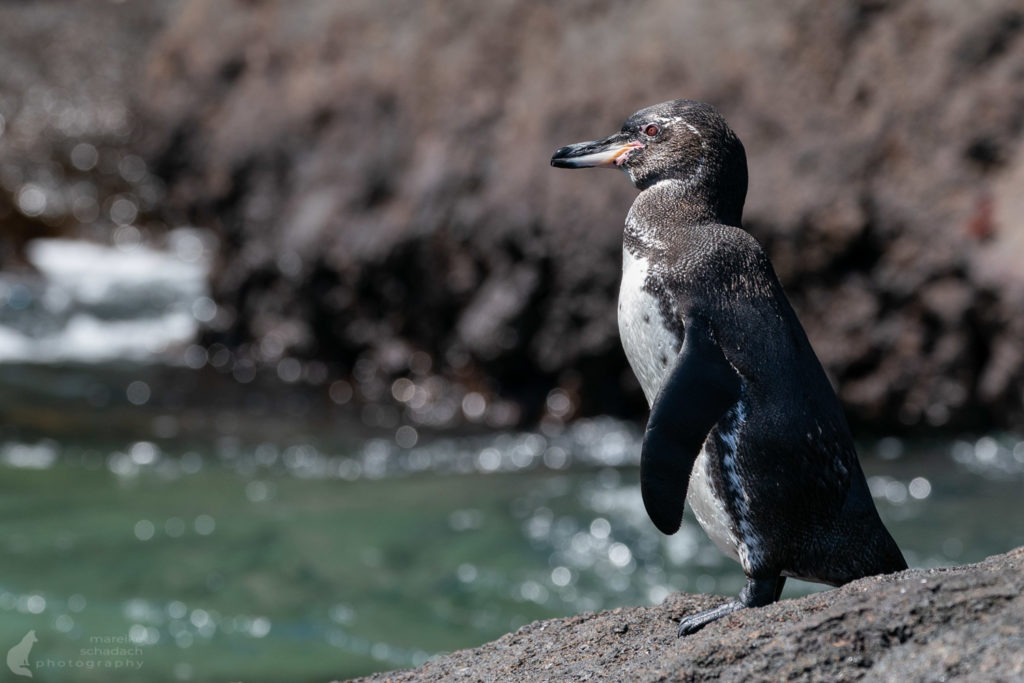 ---
Snorkeling with Galapagos Penguins
A special highlight of our day trip was snorkeling with Galapagos penguins. There is a small colony living at Pinnacle Rock and also at the surrounding islands. We went snorkeling at one of the neighboring islands, Sombrero Chino. The penguins hunt here at the rocks for fish and let us watch them. For a longer time I was all alone with the penguins, the other snorkelers of my group were just at another place. The animals swam around me, sometimes came directly to me and looked at me.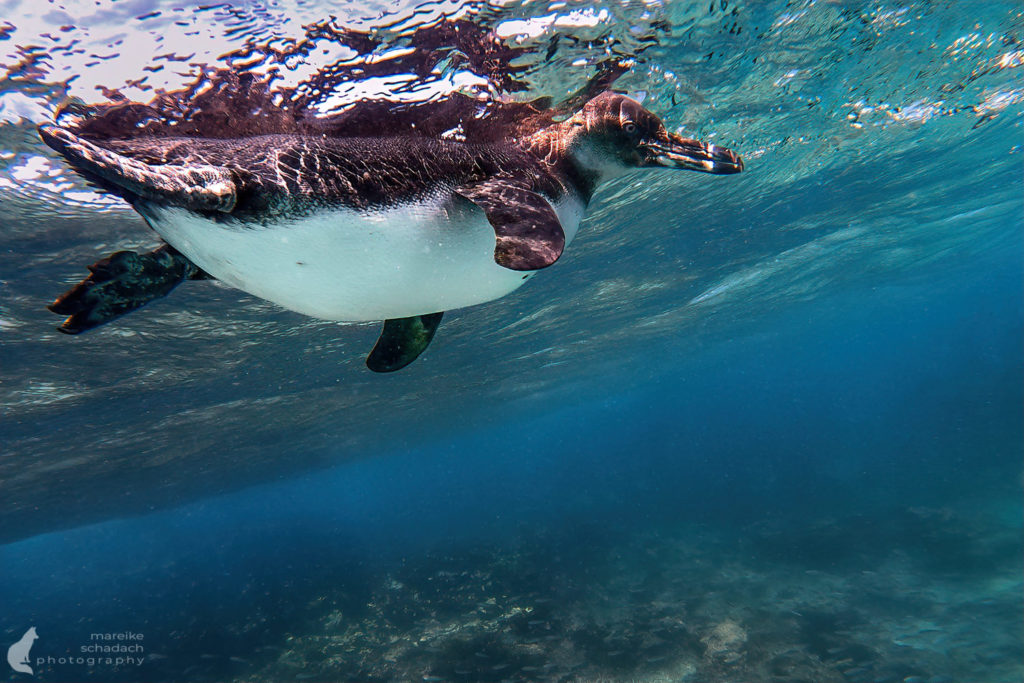 Besides the penguins, the schools of colorful fish and the sea turtle were so fascinating that I didn't even notice how cold the water was. Others in my group even encountered a whitetip reef shark.
Tip: The water at Bartolome is cold. Take at least a shorty for snorkeling.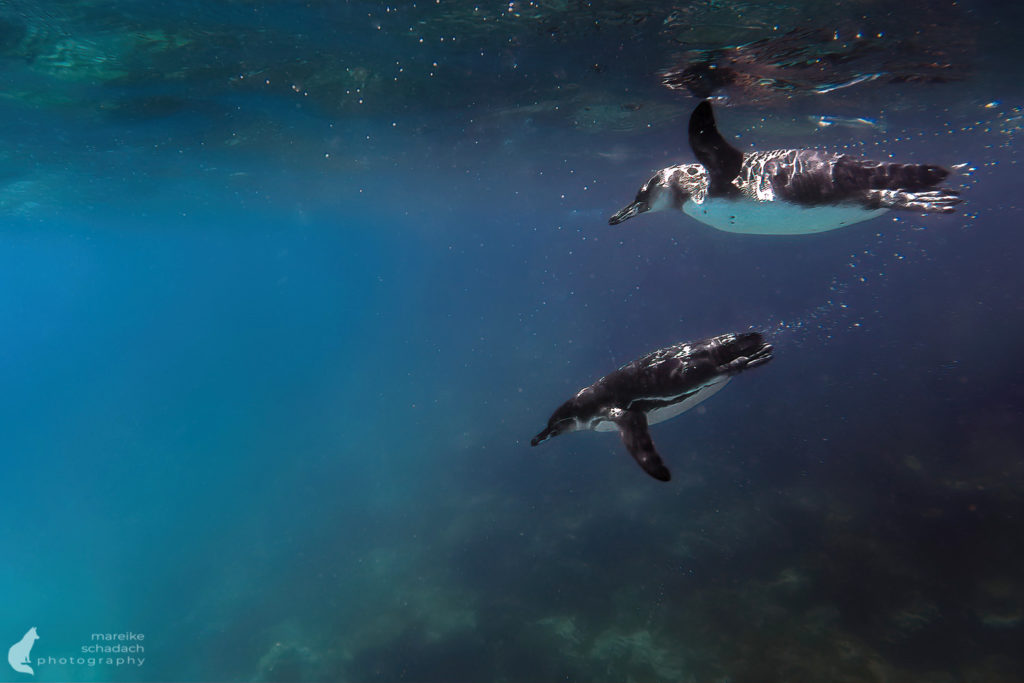 By the way, green sea turtles come to the golden sandy beach of Bartolome from January to March to lay their eggs. Maybe you will be lucky and see some.
---
How can one visit Bartolome Island?
Most cruise ships and liveaboards call at Bartolome Island. But also the tour operators on Santa Cruz have day trips to Bartholome in their program. The island, is one of the most visited places in Galápagos. Mostly the excursions are combined with snorkeling at Bartholomé or one of the smaller surrounding islands.
The boat trip to Bartolome takes about two hours. In addition, there is a bus ride of about 45 minutes from Puerto Ayora to the Itabaca Channel, where the boats start. The journey sounds awfully long, but there is a lot to see on the way. It is guaranteed not to be boring. First, the highlands of Santa Cruz are well worth seeing. The vegetation is dense and green, the trees overgrown with lichen and you can even spot giant turtles from the bus. Once you are on the boat, make sure you get a seat with a good view. With a little luck you will see jumping mantas or mobulas, dolphins and of course seabirds. Especially when you pass the island of Daphne you have a good chance to see blue footed boobies and nazca boobies.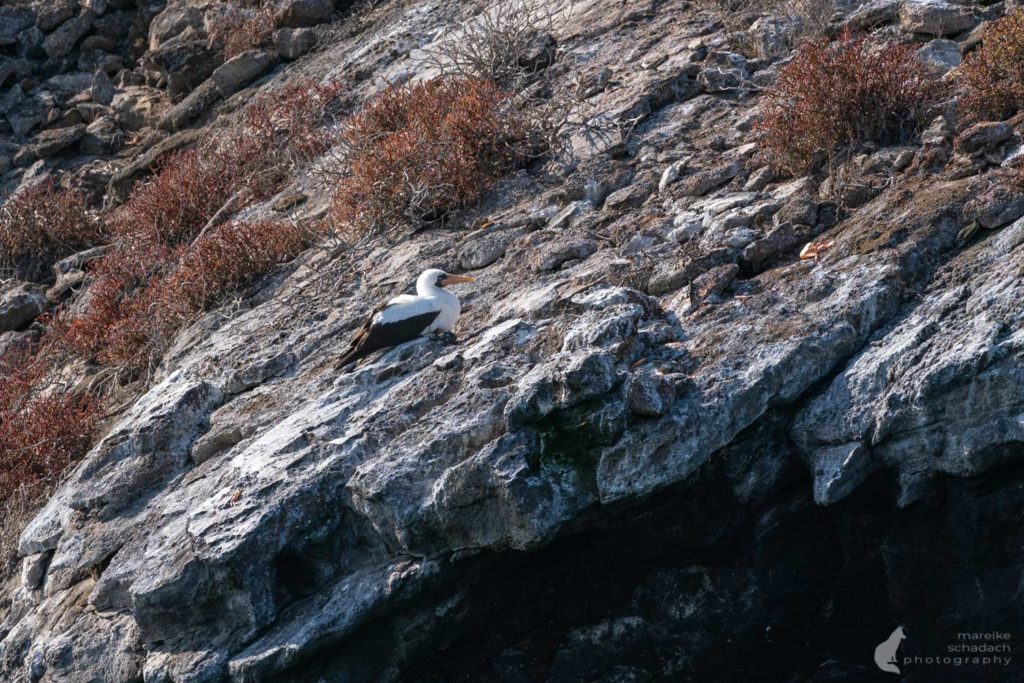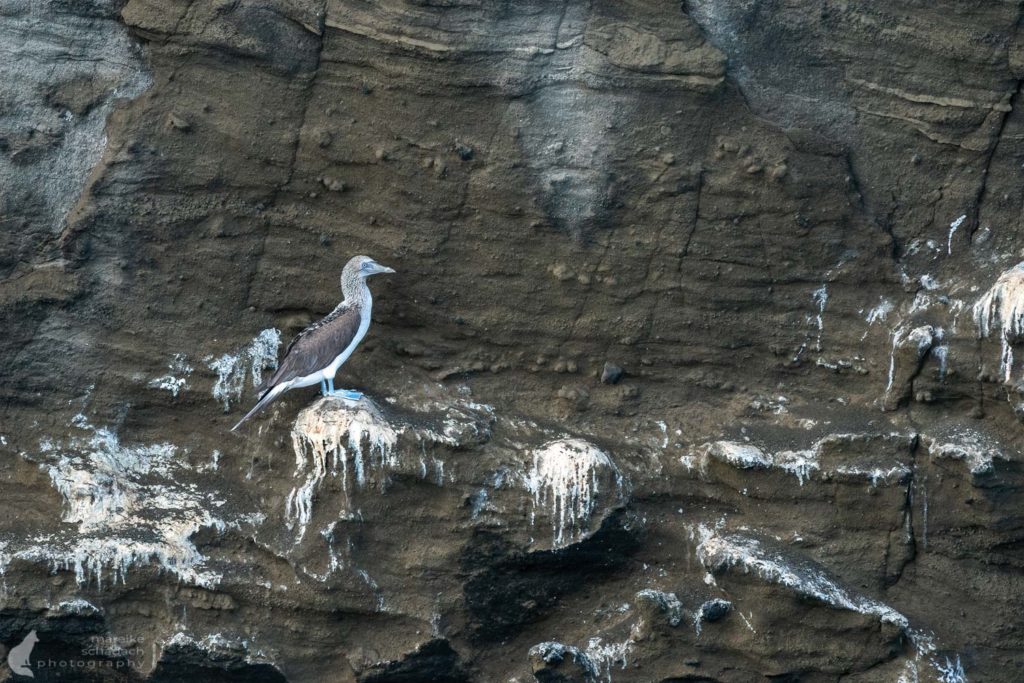 ---
You can find trekking sandals, waterproof bags, sun hats and everything else you might need for your trip to Bartolome at Bergzeit.
---
Costs
Die Tour ist zwar eine der teureren Tagestouren auf Santa Cruz, dafür aber auch ein absolut unvergessliches Erlebnis. Wir sind mit Book-ec unterwegs gewesen und haben für zwei Personen über $500 bezahlt. Die Preise des Anbieters liegen pro Person zwischen $230 und $392, je nach Yacht und Verfügbarkeit. Snacks, Lunch, Kaffee und Kuchen waren inklusive. Das Boot war groß und sehr komfortabel und unser Guide überaus engagiert. Schnorchelausrüstung war ebenfalls inklusive. Neoprenanzüge kosteten allerdings extra. Die solltet ihr auf jeden Fall haben, mindestens einen Shorty. Das Wasser war im Januar nur etwa 17 Grad warm. Klärt am besten vorab mit eurem Tourenanbieter, ob Anzüge vorhanden sind. Erforderlichenfalls müsst ihr in einem der vielen Shops in Puerto Ayora einen Anzug ausleihen (ca. 5 Euro pro Tag).
---
Conclusion. Is it worth it?
Bartolome is a very worthwhile excursion in the Galapagos Islands. The island inspires with one of the most beautiful landscapes of the archipelago and certainly the most beautiful panoramic view. And where can you go snorkeling with penguins if not on Bartolome?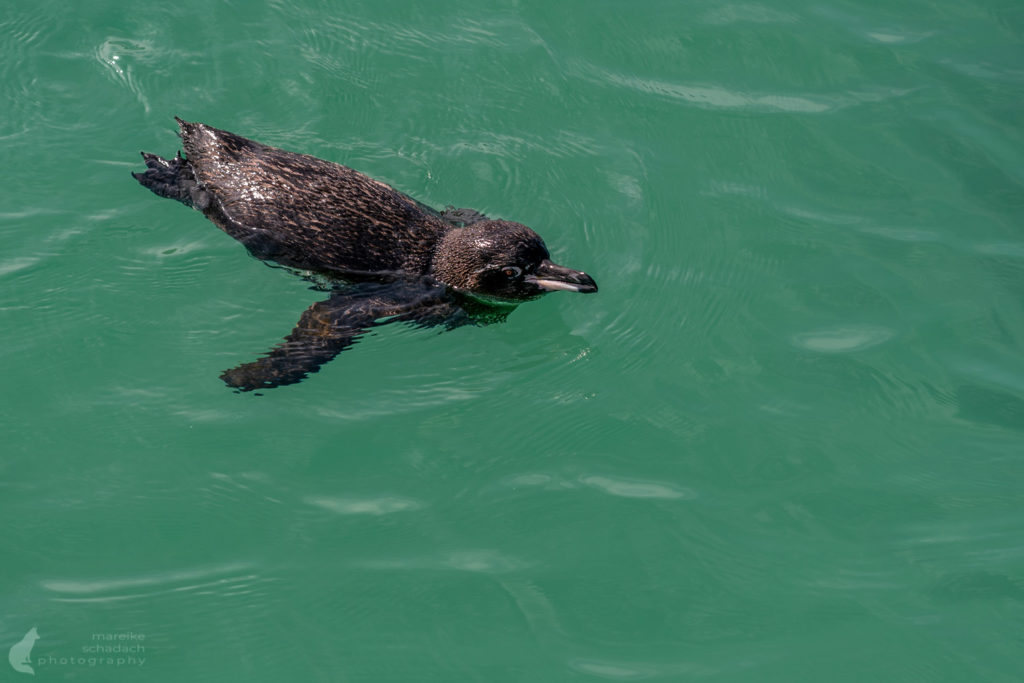 ---
Book Recommendations for Galapagos
You want to know where the journey goes? Then I can recommend these books*.
You can order the travel guides at Amazon by clicking on the pictures. If you buy a product via an affiliate link, I get a small commission and you help me to keep filling Fernweh-Motive with interesting articles. The product will not be more expensive for you and you do me a huge favor.
---
Have you ever been to Galapagos, maybe even snorkeling with the penguins at Bartolome? How did you like it? Do you have any questions about my article? If yes, then write me a comment!
Do you want to know when there are new articles on my blog? Then follow me on Facebook, Pinterest or Instagram. I would also be very happy if you share my article with your friends.
---
Recommendations for further Reading
Do you love wildlife as much as I do? Then you might also be interested in my articles about the King Penguins of Tierra del Fuego or Diving with Sea Lions near La Paz, Mexico.