Mexico. Do you feel like a good dive? For a close encounter with playful young sea lions? Then La Paz, Mexico is the place for you. Because only about 35 kilometres from the coast lies the small archipelago Los Islotes. Its bare rocks are home to up to 500 Californian sea lions. It is the largest sea lion colony in the whole Baja California. And a visit to this colony is one of the biggest highlights of La Paz. Because here you can dive or snorkel with the sea lions! The curious young animals come very close and even start to play with you. And this is an animal pleasure in the truest sense of the word. In my following article you will learn what to expect when diving with the sea lions of La Paz. I also give you some helpful tips for your tour to the sea lion colony.
---
Unassigned, unpaid advertising. The article contains affiliate links*.
---
What you will find in my Article:
The Los Islotes Dive Spot at the Isla Espíritu Santo
Curious and playful - the young Sea Lions
Rules for Diving and Snorkeling with the Sea Lions of La Paz
Helpful Tips for your Encounter with the Sea Lions
Facts about Californian Sea Lions
The neighbouring Island Isla Espíritu Santo - most beautiful Island of the Sea of Cortez
Fancy more Animal Encounters in Mexico? Recommendations for further Reading:
The Los Islotes Dive Spot at the Isla Espíritu Santo
To observe wild animals in their natural environment is one of the most beautiful experiences when travelling. When I learned that you can go diving with sea lions in La Paz, I was very excited. I had already been snorkeling with seals in Scotland and Sea Lions in California . But I never developed any interaction with the animals. But with the sea lions of Los Islotes it should be different. It is said that the curious young animals even play with the divers and snorkelers or their equipment! I could hardly wait to get into the water.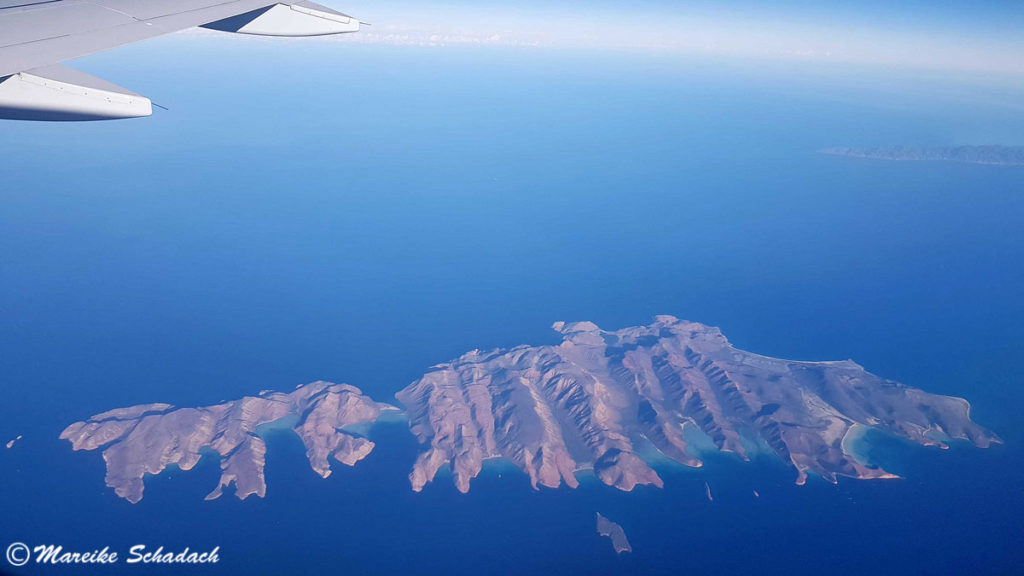 While we prepared our equipment for diving, we could see and hear the sea lions from the boat. They lay on the rocks and sunbathed themselves or watched us from the water. There were already several other diving and snorkeling boats, but under water we didn't notice anything of the other groups. First the dive started relatively unspectacular. We dived in 8 to 10 meters depth along the rocks. From time to time a sea lion shot past us, otherwise there was not much to see.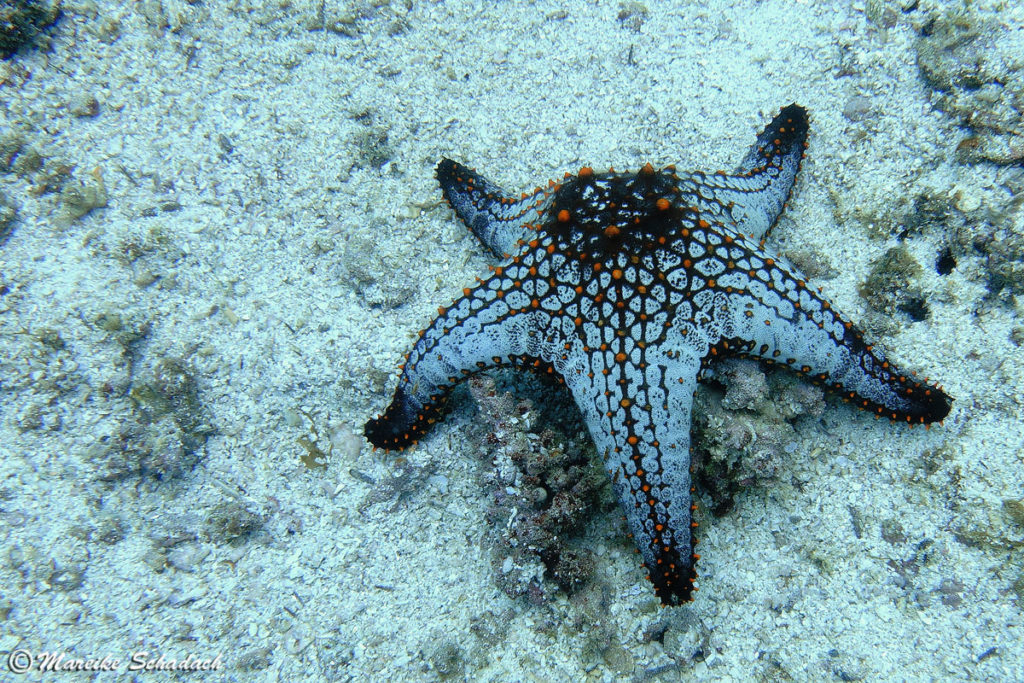 ---
Curious and playful - the young Sea Lions
The sea lions still kept their distance from us. But that changed after 10 minutes. At first I observed how a sea lion suddenly hung on the diving bottle of a fellow diver. Then other animals swam between the divers, one came directly towards me. What happened in the following minutes, I still can't really believe until today. This young sea lion clung to my legs or arms with his two fins. Meanwhile he snapped at my equipment. I just hoped he wouldn't bite too hard and damage something. Sometimes I pushed him away, but this only made him more curious. I was not wearing gloves and could feel his fur. It reminded me of a wet dog.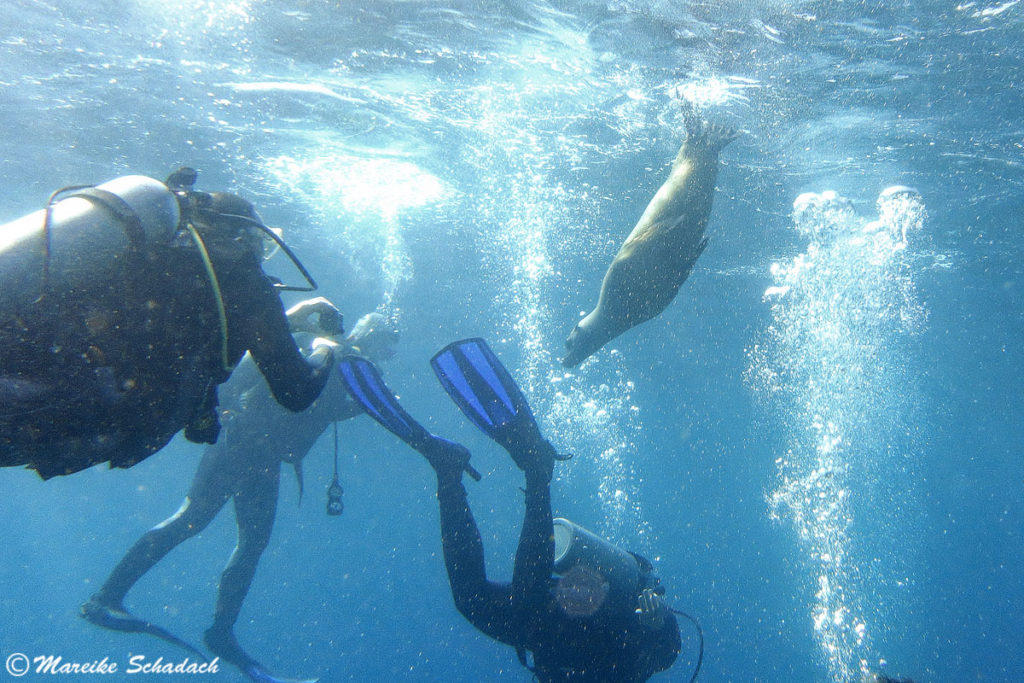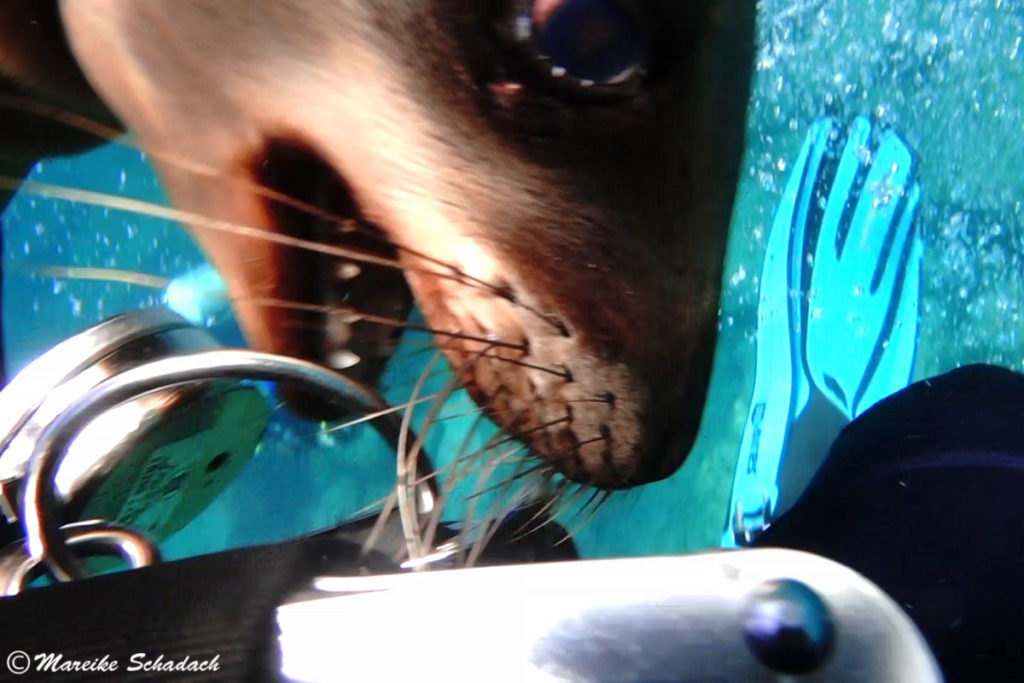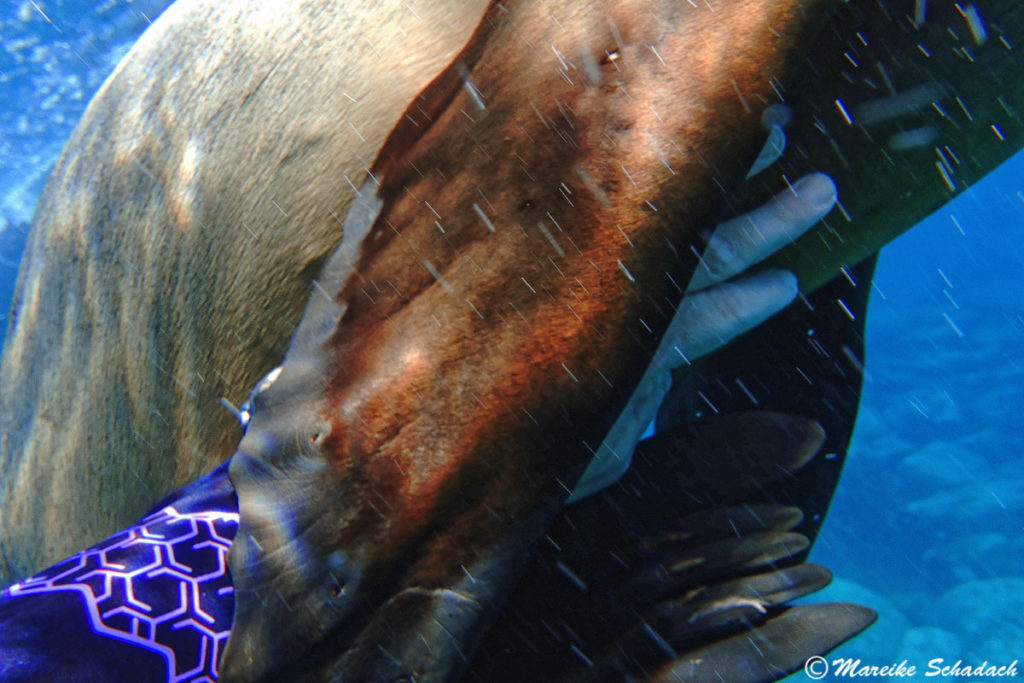 ---
Rules for Diving and Snorkeling with the Sea Lions of La Paz
Always be calm when a sea lion comes towards you
Not to hold or hunt animals
Do not stretch out your fingers, do not feed
Keep your distance from the rocks on the surface, because there are also the more territorial adult males. take the males' warnings (barking and violent expulsion of air bubbles) seriously
If one of the adult males is in the water, you have to keep your distance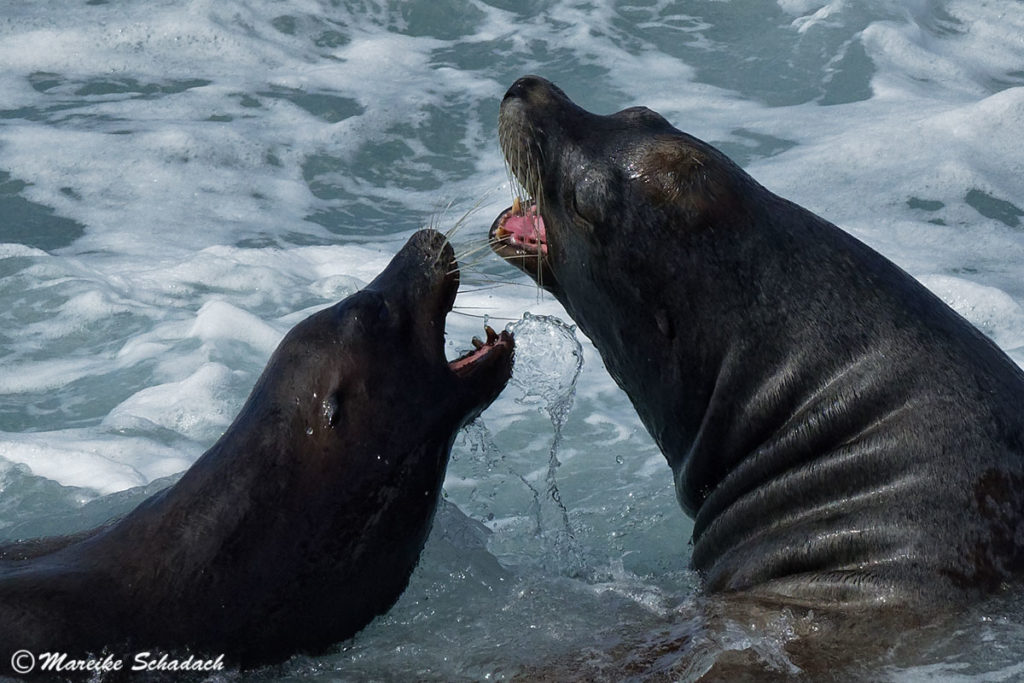 ---
Helpful Tips for your Encounter with the Sea Lions
There are numerous agencies that offer snorkeling or diving trips to the sea lions. In the following I have selected three agencies for comparison. We ourselves had two great days with Dive in La Paz and can warmly recommend the team. We booked our two diving days in advance by email and secured our place with a 10% deposit.
Dive in La Paz
What is included? Combined tour: snorkeling with whale sharks and diving with sea lions. Lunch, snacks, drinks, guide, rental equipment and the national park fee of 5 USD.
Price: 155 USD - only snorkeling with sea lions 95 USD

Sunrider Tours
What is included? What is included? 2-tank dive, lunch, snacks, drinks, guide, rental equipment and transportation in La Paz. An additional 5 USD National Park fee is charged.
Price: 150 USD

Cortez Club
What is included? What is included? 2-tank dive, air and weights, lunch, snacks, drinks, guide and national park fee of 5 USD.
Price: 200 USD. Rental equipment is charged extra (35 USD).
At which Time of the Year it is possible to dive with the Sea Lions of La Paz?
The Los Islotes dive site is located in a protected bay and is also suitable for beginners. But even if the sea lions are here all year round, it is important to have the right timing: Because the sea lion colony is closed for divers and snorkelers during the breeding season from June to August. Every year about 70 young animals are born.
How long does a Tour take?
The drive to Los Islotes takes about 90 minutes. The whole day program (2-tank-dives) takes about 6 hours.
Camera Tip!**
Are you looking for an action cam for your underwater adventure? Then I can recommend the Insta360 ONE R. It is waterproof up to 5 meters and if you want to dive deeper, there are housings that are waterproof up to 30 or 60 meters. Due to its modular design, the action cam is customizable and can be used as a 360° camera or as a video camera with a 5.3K resolution and excellent image stabilizer. Curious?
What you shouldn't forget to pack:
The sea lions are getting very close. With a wide angle lens or wide angle setting on your action camera you are well served here. Unfortunately I didn't have one with me.
Use reef friendly sunscreen, e.g. from Eco Cosmetics or Speik. You can find an interesting article about the reef-damaging effects of sunscreen at Indojunkie.
Take a refillable water bottle with you.
Do not forget a towel and something warm and windproof for the return trip .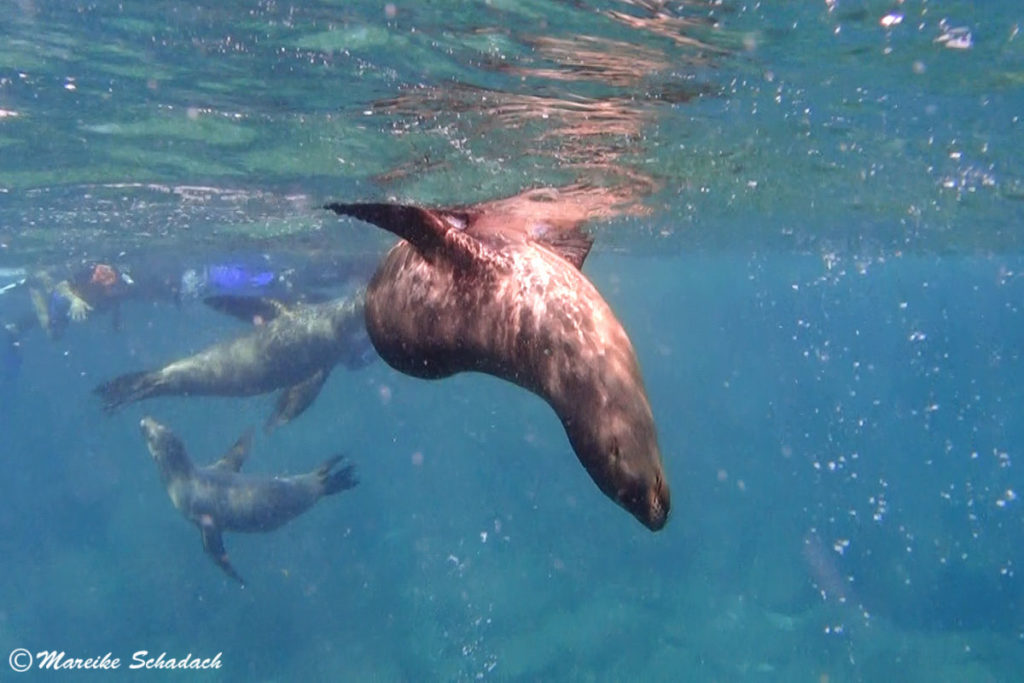 ---
Facts about Californian Sea Lions
The Californian sea lions are found on the east coast of the Pacific Ocean from Alaska to the Galapagos Islands. Since 1994 they are a protected species in Mexico.
Family: eared seals
Size: 185 to 250 cm
Weight: 120 to 300 kg
Diving depth: up to 100 m
Diving time: up to 20 minutes
Food: fish, crabs
Enemies: sharks, orcas
Age: 12 to 15 years
Gestation: 12 months, one cub
Sucking time: up to 6 months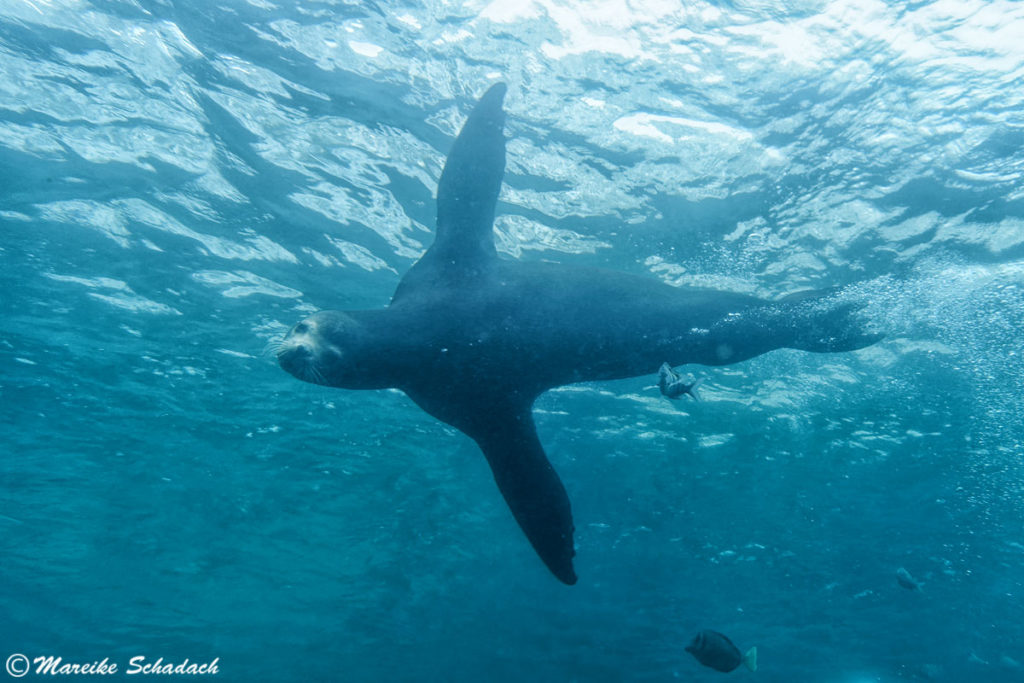 ---
The neighbouring Island Isla Espíritu Santo - most beautiful Island of the Sea of Cortez
Auch die Isla Espíritu Santo ist sehenswert und ebenso ein beliebtes Ausflugsziel. Sie ist etwa 32 Kilometer von La Paz entfernt und ein beliebter Ausflugsort. Mit ihren gelb-roten Felsen, weißen Buchten und türkisfarbenem Wasser soll sie die schönste Insel in der Sea of Cortez sein. Sie ist 24 x 8 km groß, karg, felsig und mit Kakteen bewachsen. Seit 1995 ist sie als Biospärenreservat durch die UNESCO geschützt. Die CONAP (Comisión Nacional de Àreas Naturales Protegidas) ist zuständig für den Schutz des "Espiritu Santo National Parks".
During our day trip to the whale sharks and sea lions we spent our lunch break in one of the beautiful bays of Isla Espíritu Santo.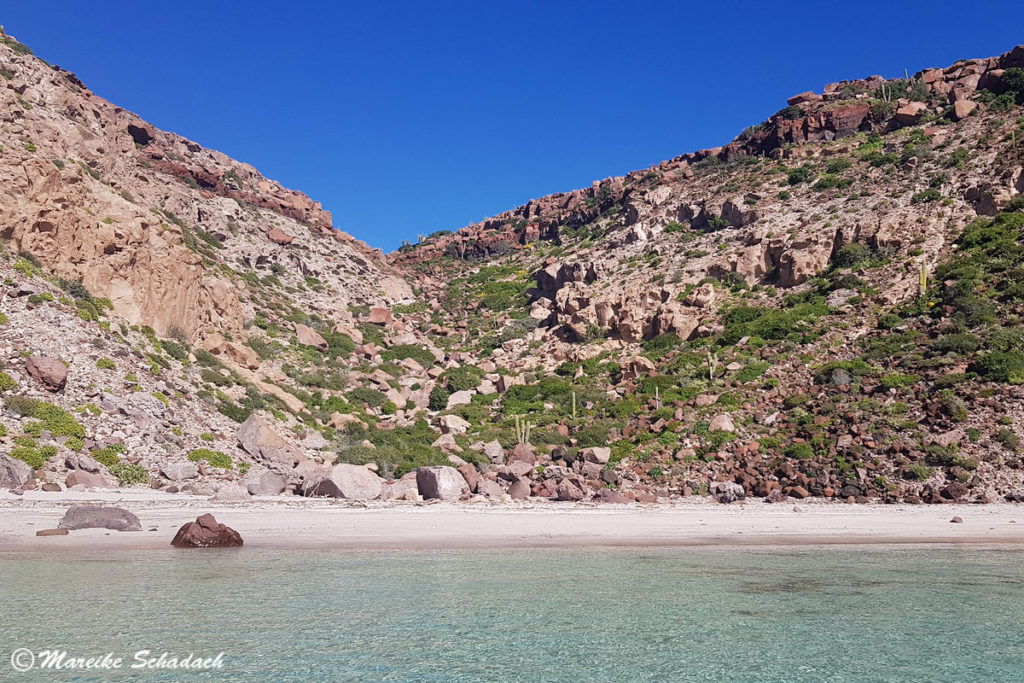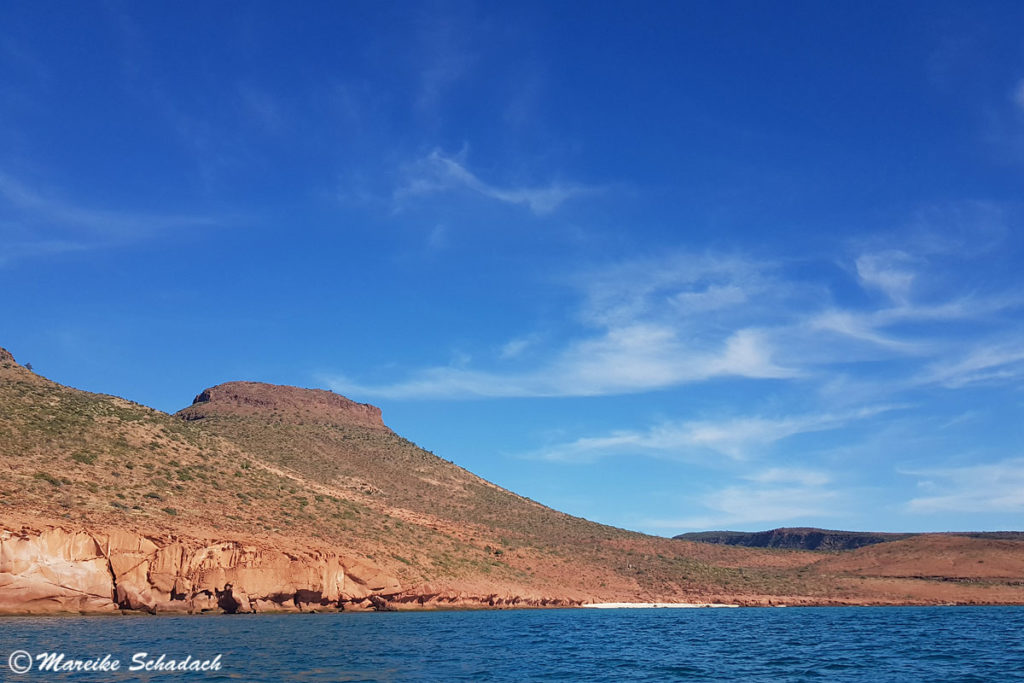 ---
Book Recommendations for Mexico
You want to know where the journey goes? Then I can recommend these books* about Mexico.
You can order the books at Amazon by clicking on the pictures. If you buy a product through one of these affiliate links, I get a small commission and you help me to keep filling Fernweh-Motive with interesting articles. The product will not be more expensive for you and you do me a huge favor.
---
Have you ever been diving with sea lions yourself, maybe even in La Paz? How did you like it? Do you have any questions about my article or suggestions? If so, please write me a comment!
Do you want to know when there are new articles on my blog? Then follow me on Facebook, Pinterest or Instagram. I would also be very happy if you share my article with your friends.
---
Fancy more Animal Encounters in Mexico? Recommendations for further Reading: