California. La Jolla - the Jewel - is a very special place. And snorkeling with playing sea lions in La Jolla Cove was an experience I will never forget. A place and an experience that made my heart beat faster and connected me with nature. The sea lions reminded me how important it is to protect nature and its inhabitants. Come with me and accompany me to the sea lions of La Jolla. Find out where you can observe the animals best and where you can experience them under water while snorkeling.
Unassigned, unpaid advertising. The article contains affiliate links.
---
Table of Contents and Quick Navigation
Where is La Jolla and how do I get to the Sea Lions?
What kinds of Pinnipeds can I see in La Jolla?
Where are the best Places to see the Seals and Sea Lions of La Jolla?
Which Times are best for the Observation?
What should I watch out for when Observing the Animals?
Where and how can I snorkel with the Animals?
What is there to consider when snorkeling?
What Protection Status do the Seals and Sea Lions of La Jolla have?
---
Where is La Jolla and how do I get to the Sea Lions?
La Jolla is a district in the north of San Diego. Coming from Los Angeles, you can reach La Jolla in about 2.5 hours via Freeway 5.Follow La Jolla Village Drive and Torrey Pines Road to Prospect Street and La Jolla Coast Boulevard. Parking is best right in front of the beach on La Jolla Coast Boulevard. Parking time is limited to 2 or 3 hours. You can also park at Prospect Street, Girard Street or one of the public parking lots.
By public transport you can travel from Los Angeles Union Station to San Diego Old Town by Pacific Surfliner 2 hours 45 minutes. From here, take bus number 30 to La Jolla and get off at Torrey Pines Road & Exchange Place for about 50 minutes. The last 800 metres to the beach are on foot.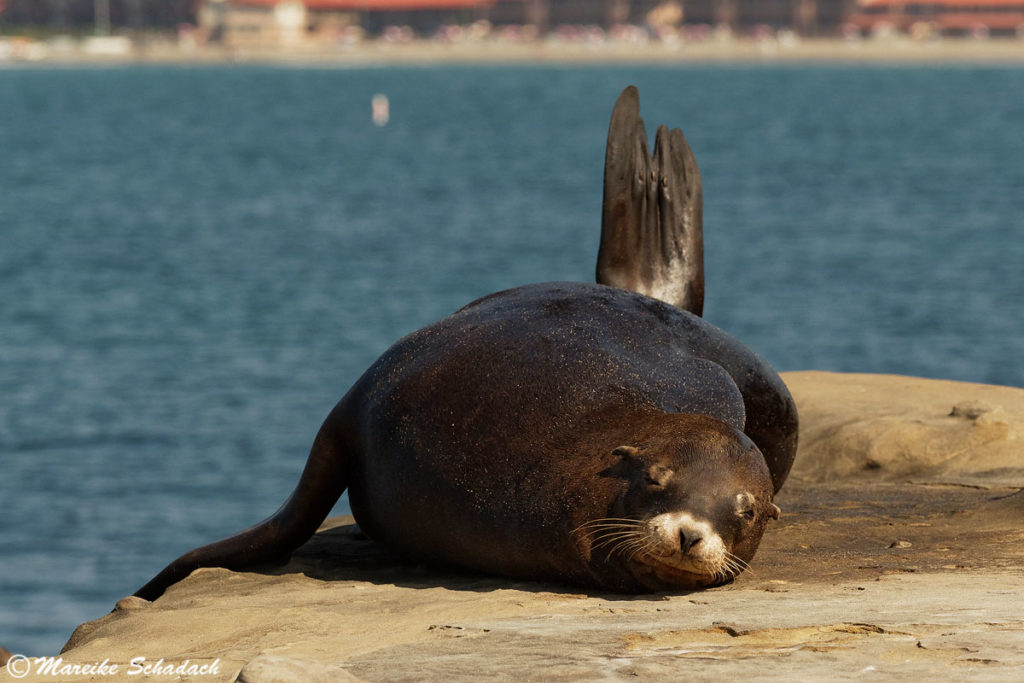 ---
What kinds of Pinnipeds can I see in La Jolla?
Both seals and sea lions live in La Jolla. seals als auch Sea LionsThey are easy to distinguish from each other: Sea lions have ears and strong, longer fins with which they can walk and climb. Seals, on the other hand, only have ear holes and move forward crawling on their belly. They only make quiet bordering sounds, while the sea lions bark loudly. So if you see seals on rocks, then these are most likely sea lions. A further distinguishing feature is the coat colour: sea lions are brown and seals are darker grey, brown or almost black with speckled coat.
Sea lions live densely packed in their colonies, lying above and below each other and touching each other. Seals, on the other hand, are not social animals and tend to react aggressively to contact by other seals. At the beach, they lie therefore mostly evenly distributed with approximately 1,5 meters of distance of each other. So you can already see from the way the seals are distributed on the beach which species they are.
More information about the seals can be found on the website of La Jolla Seal Conservancy.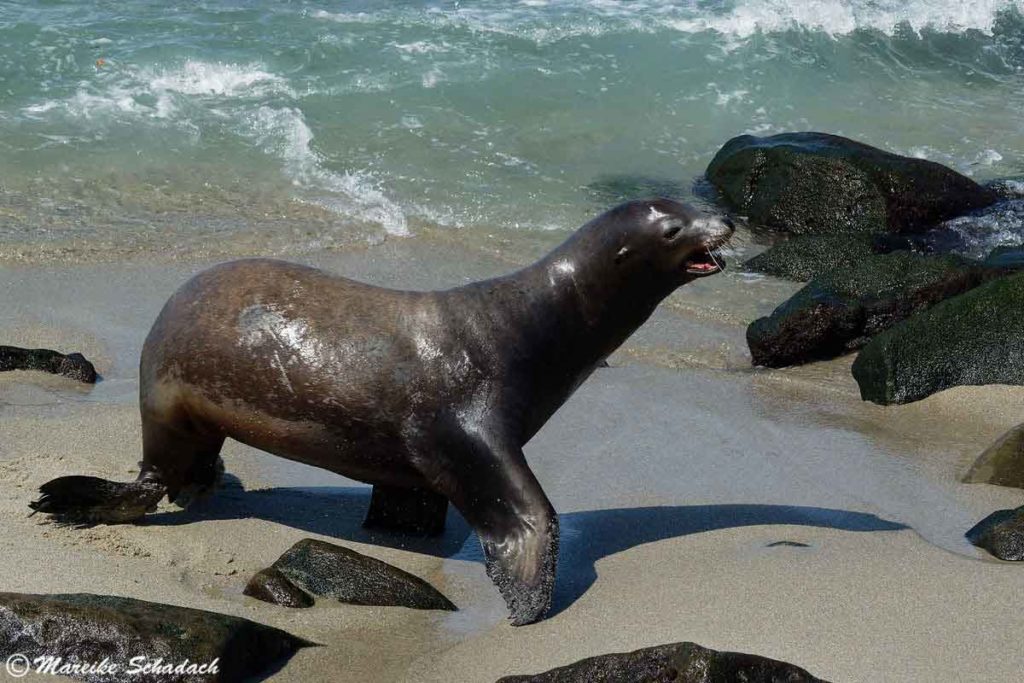 Pinnipeds reach amazing Depths and Times:
Sea lions - 100 m deep - 20 minutes
Seals - 460 m deep - 40 minutes
Facts about California Sea Lions:
Family: eared seals
Size: 185 to 250 cm
Weight: 120 to 300 kg
Food: fish, crabs
Enemies: sharks, orcas
Age: 12 to 15 years
Gestation: 12 months, one cub
Sucking time: up to 6 months
Facts about Seals:
Family: dog seals
Size: 140 to170 cm
Weight: 100 to150 kg
Food: fish, crabs
Enemies: sharks, orcas
Age: 20 to 35 years
Gestation: 12 months, a cub
Sucking time: 5 weeks
A nice compilation of all seal species you can find here.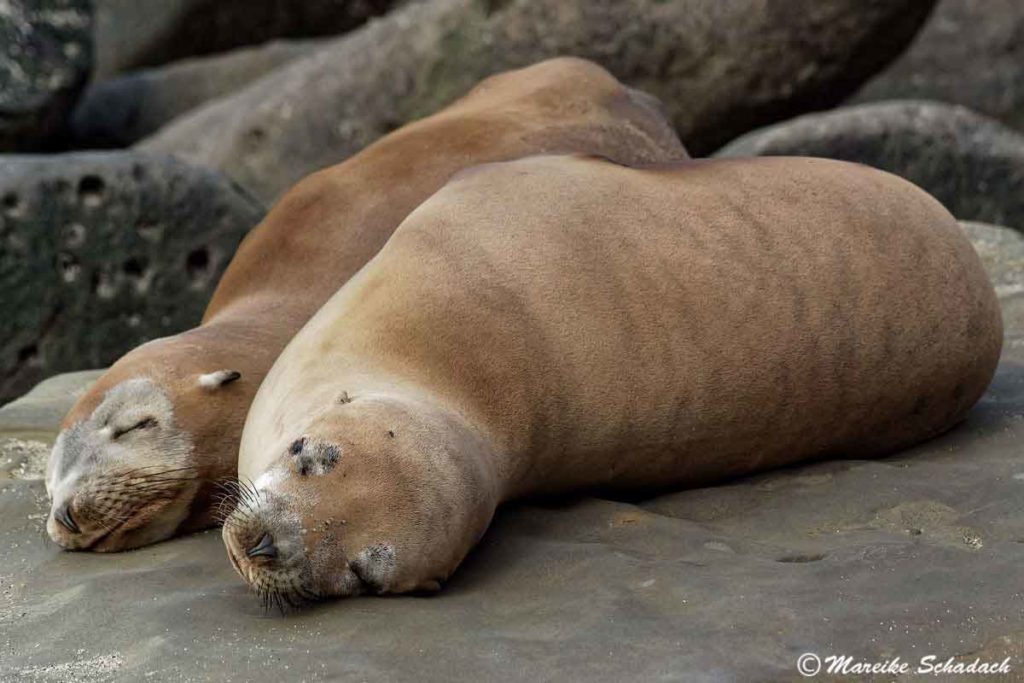 ---
Where are the best Places to see the Seals and Sea Lions of La Jolla?
Seals and sea lions can be seen all along the California coast. In La Jolla you have the best chance on the famous 1.6 km long "Sea lions path".This leads from the Cave Store on Coast Boulevard to the Children's Pool. Give enough time for the way and take your camera with you. Because along the way there are always great opportunities to take pictures of the animals. They frolic in the water, surf in the waves like dolphins, bask on the sand or fight each other.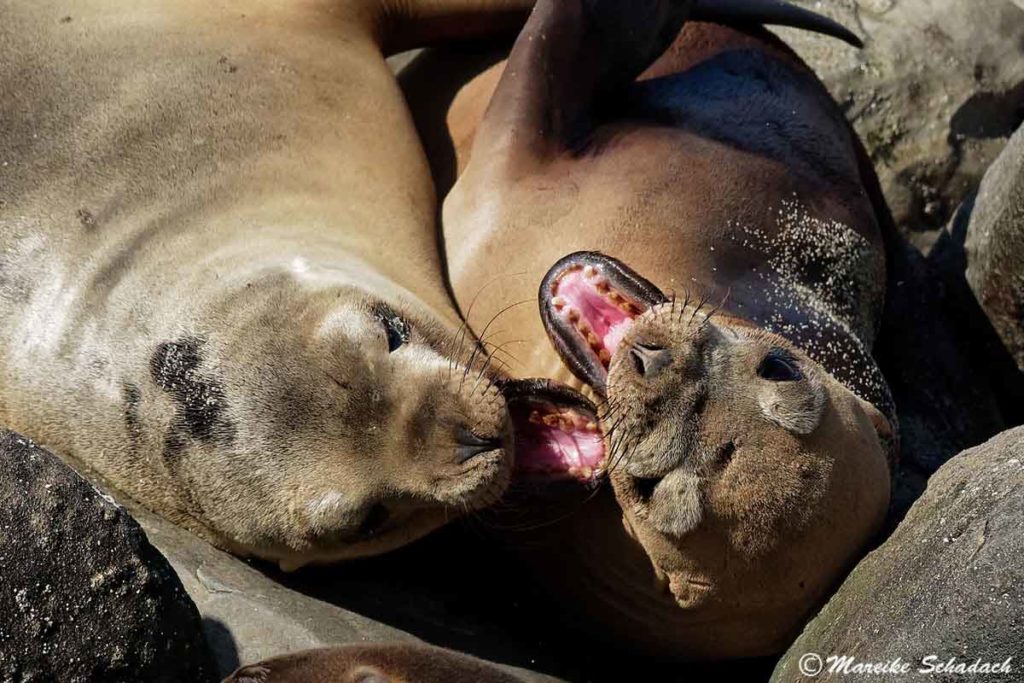 The Rocks at the Sea Caves
The sea lions like to stay on the rocks near La Jolla Caves at the northern end of Coast Boulevard. Here you can watch them from the road and from the viewing rocks.
A little tip: if you are already here, then visit Sunny Jim's Sea Cave.It is the only sea cave in San Diego that you can visit by land through a tunnel. Access is located in the Cave Store on Coast Boulevard. And maybe you are lucky and you expect some sea lions down in the cave.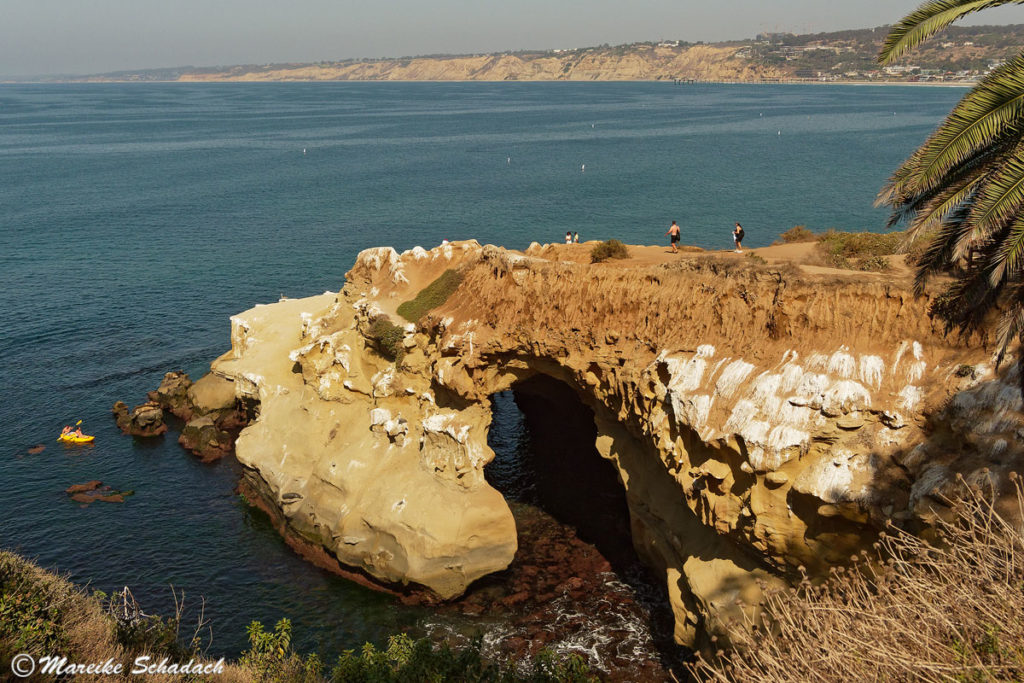 La Jolla Cove
. La Jolla Cove is a small sheltered sandy bay surrounded by rocks. Sea lions like to lie on these rocks, resting or warming up in the sun. If the beach and water of La Jolla Cove is not overcrowded, sea lions like to play in the water or lie on the beach. In La Jolla Cove you also have the best opportunity to snorkel with sea lions. But more about that later.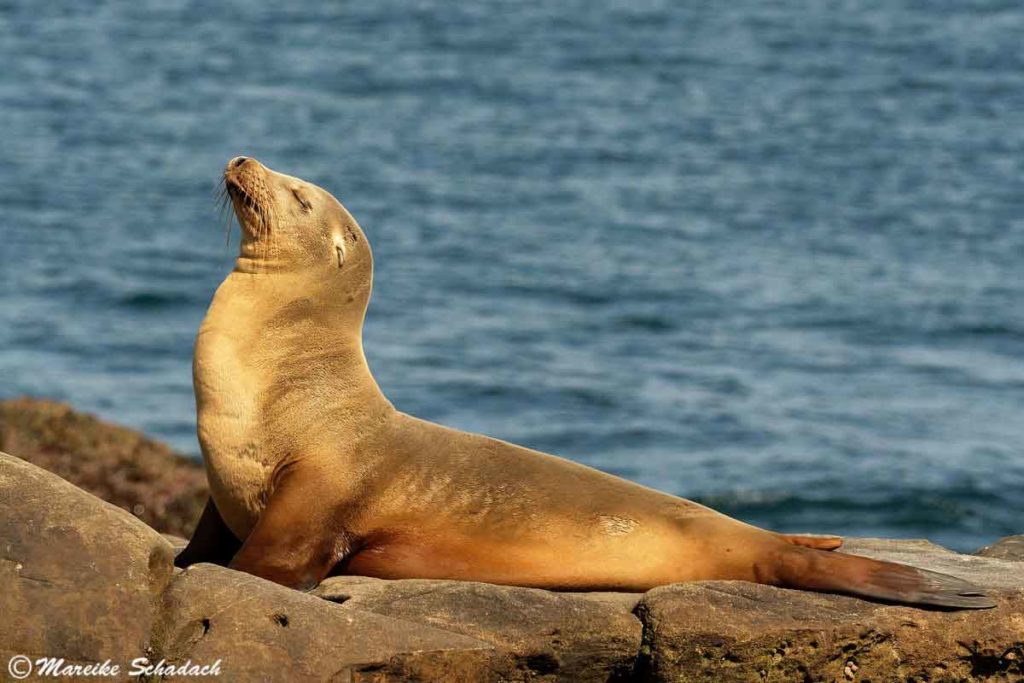 Rocks between La Jolla Cove and Boomer Beach
If you walk south from La Jolla Cove along the coastal path you will come to a longer rocky stretch of shore. During my visit to La Jolla there were many sea lions here and it was the best place of all for observing the animals. They rested, sunbathed and the mother animals suckled their young. Here I spent about two hours watching the animals. It was interesting to see how they interacted with each other or moved back and forth between water and land.
The footpath is separated from the sea lion rocks by a small wall. But many people climb over the wall to get even closer to the sea lions. Often I could observe how people came much too close to the animals and how the bigger bulls started to attack.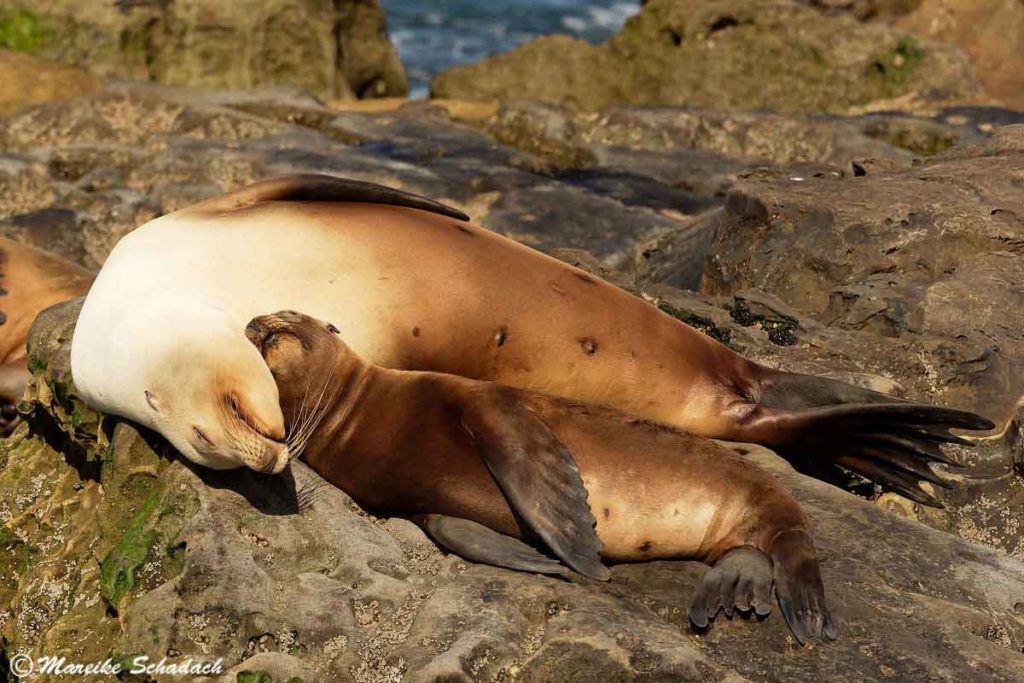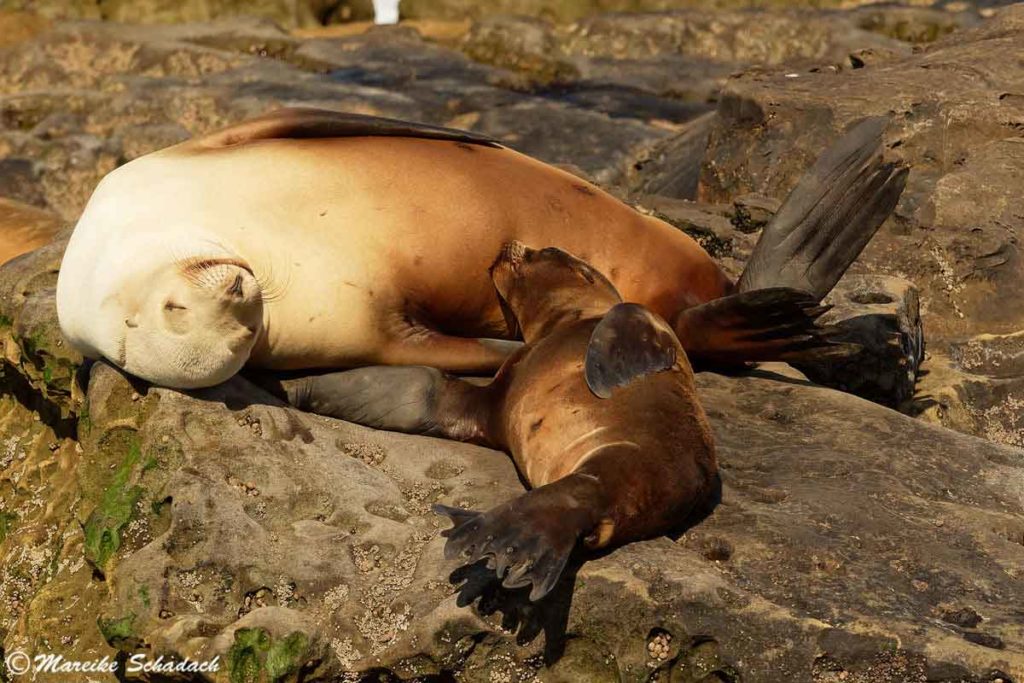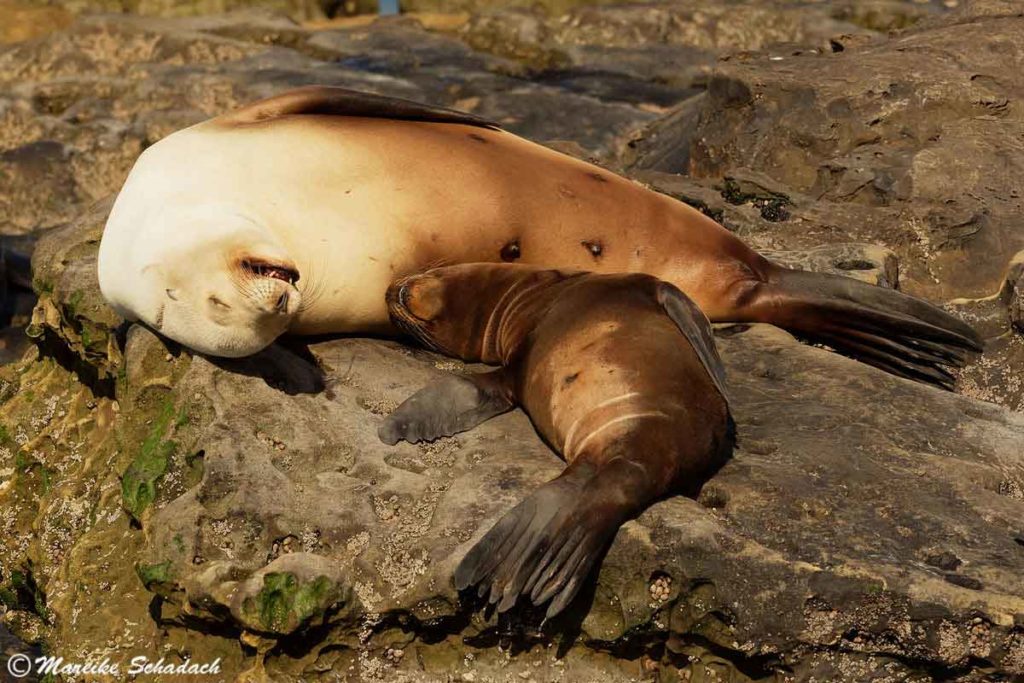 Shell Beach
As soon as the coastal road winds to the east, you will come to an access point to Shell Beach. It takes its name from the tidal pools here. At low tide there are a lot of shells and other animals that are not visible at high tide.
In the evening the waves are usually higher here than in the morning. Shortly before sunset I could observe several sea lions playing in the waves. They rode the waves like dolphins, jumped out of the water and obviously had a lot of fun.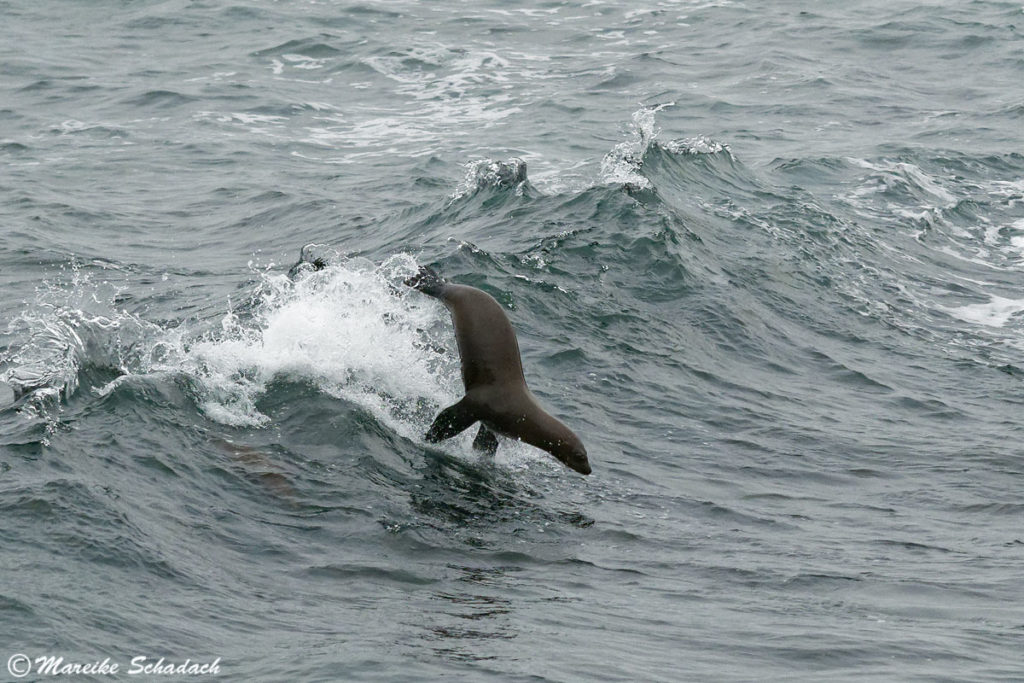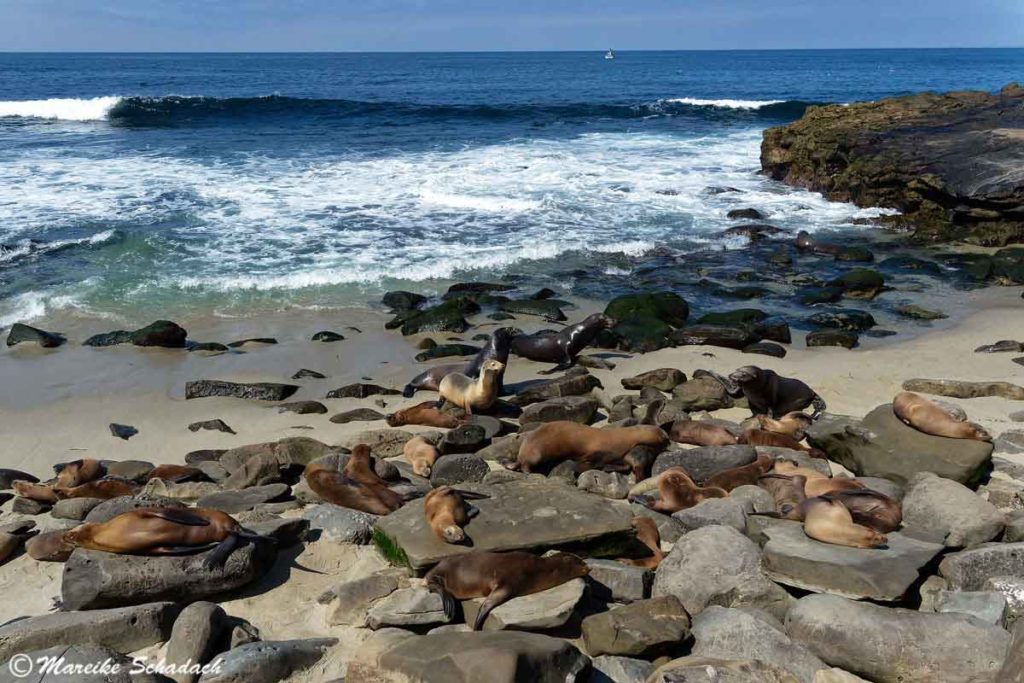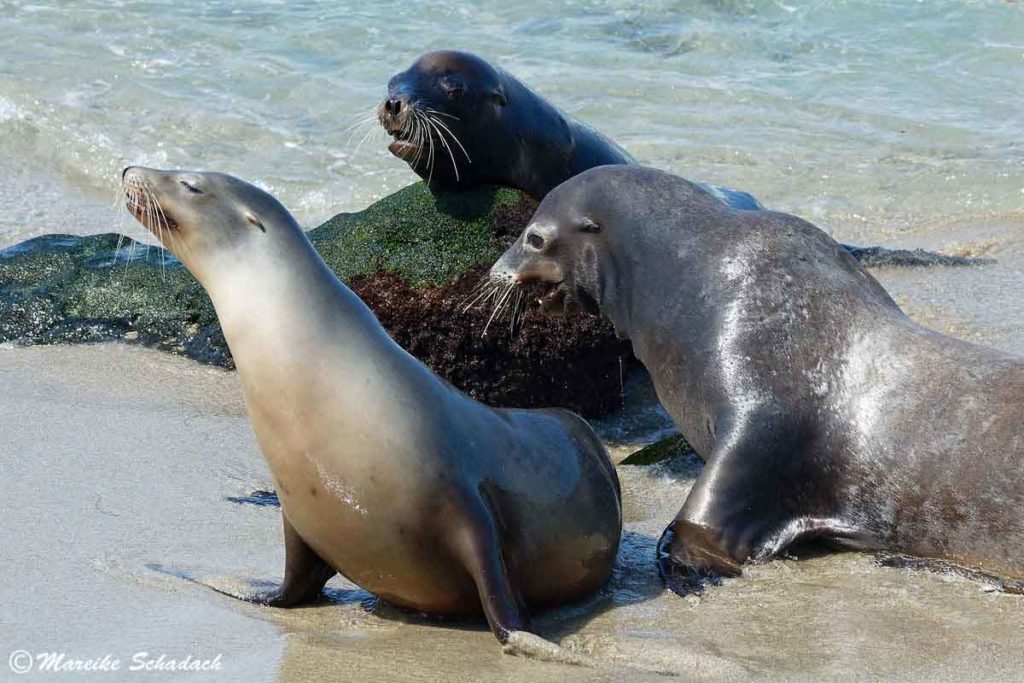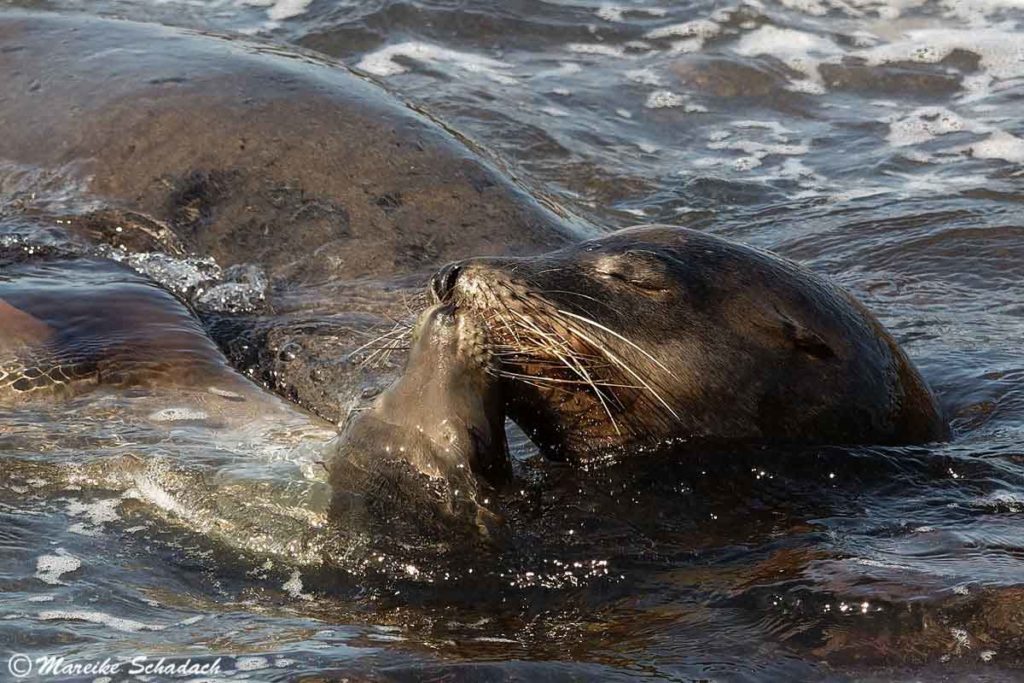 Children's Pool
The sandy bay (Casa Beach) of Children's Pool is the most famous place for seals. The stone dam was built in 1931 thanks to a donation from Ellen Browning Scripps. It should protect the small bathing bay and provide a quiet area for children to swim and snorkel. But also the seals found this bay so interesting that they took it into their own hands. The sheltered beach at Children's Pool is the best place in La Jolla to see seals. At the other observation sites, especially on the rocks, you will mainly see sea lions.
While La Jolla Cove is open all year round, the beach at Children's Pool is closed from 15 December to 15 May. This is the puppy season and the newborn seal pups should be protected. But you can still watch the animals from the shore or from the dam and with a lot of luck you can even witness a birth. The rest of the year a rope is stretched over the beach. This should not be exceeded for the observation of the animals.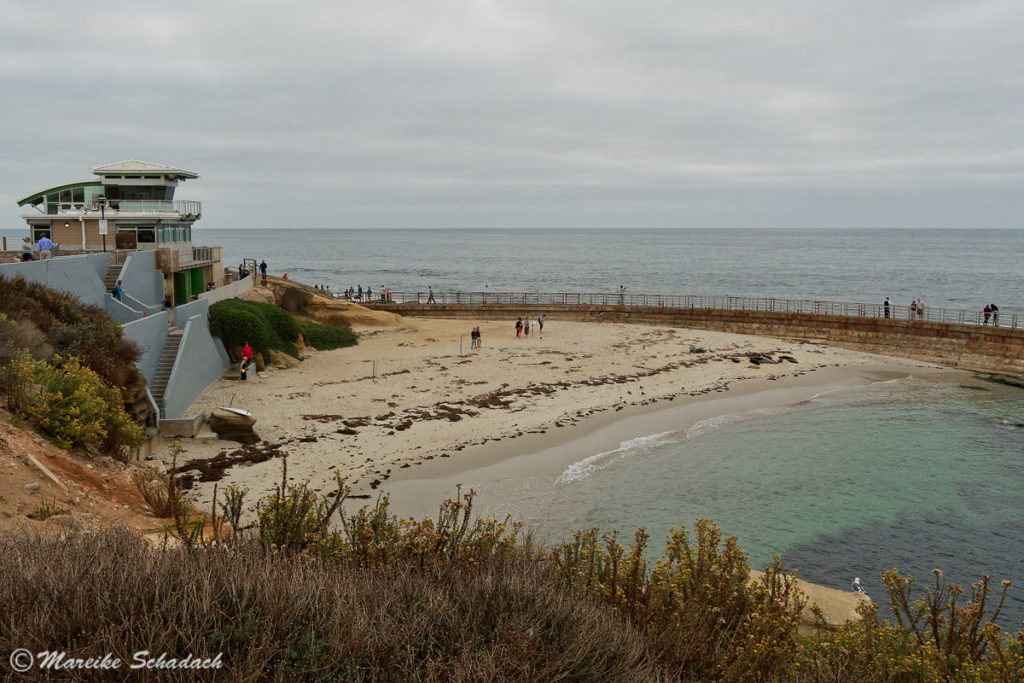 Seal Rock
If you don't see seals on the beach at Children's Pool, you might spot sea lions out on Seal Rock.
Observations from the Kayak
Another great way to see the seals and sea lions of La Jolla is from a kayak. You can either rent a kayak and go on your own or take part in a guided kayak tour.
---
Which Times are best for the Observation?
You can see seals and sea lions all year round and, if you are lucky, even have a birth. The best time for this is from early February to early March.
Most seals and sea lions will be seen from the end of April to the beginning of June. During the months of July, August and September, however, you will see fewer animals on the beach during the day. Because when it is hot and sunny, the animals leave the beach, usually every morning between 7:00 and 8:00 o'clock.
In the late afternoon or early evening they return. The sand is now cooled by the shadow or flood. At this time more and more seal heads appear in the water in front of the beach. This is a sign that they want to come ashore and rest. As long as people are on the beach or in the water, however, the animals will not dare to go to the beach. If you want to do the animals a favour, now would be a good time to leave the beach or withdraw a bit.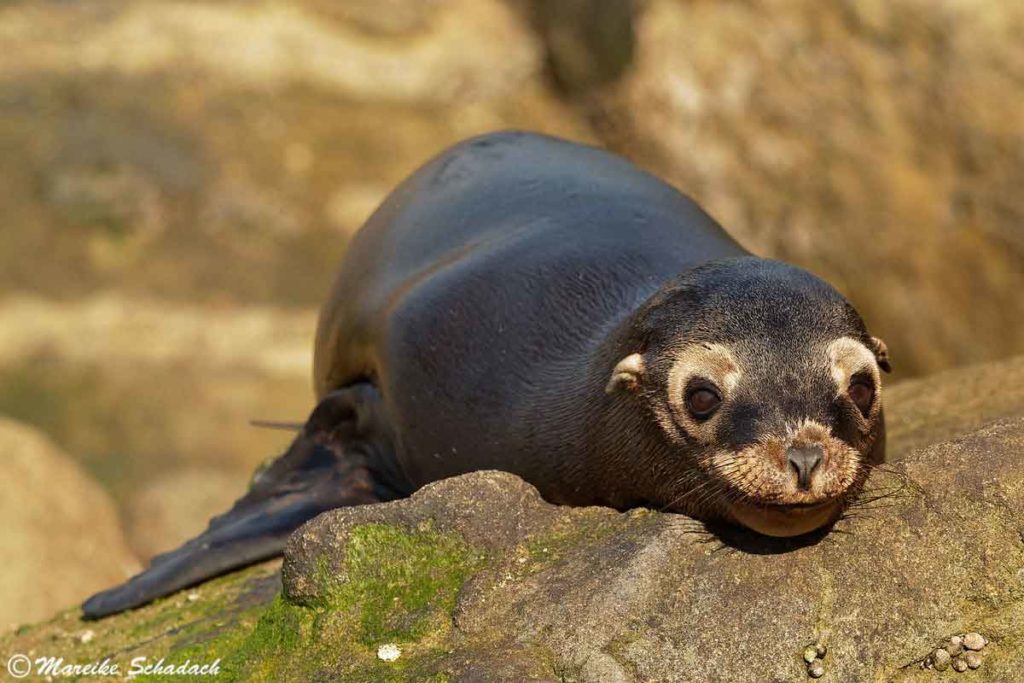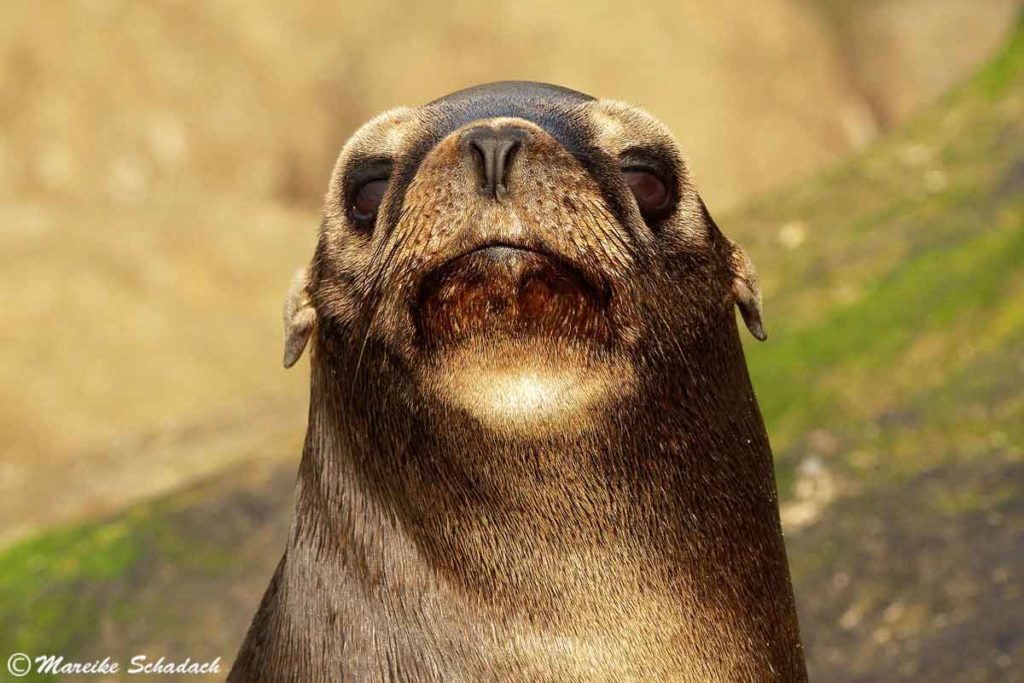 ---
What should I watch out for when Observing the Animals?
The most important hint first: Keep your distance!
The seals and sea lions living in La Jolla are wild animals. Observing the animals in their natural habitat is an impressive experience that will be remembered. But this should always be done from a safe and respectful distance. So be fair to the animals, keep your distance and take a zoom lens with you for your camera.
However, many people get too close to the animals. They stand next to the animals to make a selfie or even try to attract them with food. Children are placed next to the sea lions for a photo or a whole group poses for a family photo with sea lions. Often the animals react to these approaches and avoid them. Other times bulls gallop at humans and vehemently defend their territory. This frightens some people, others seem rather amused. But what most people certainly don't realize is that mothers can even leave their puppies in case of disturbances .
Seals and sea lions must rest for at least 10 to 14 hours a day to restore their oxygen supply and body temperature. They do this either on the beach or on the rocks. The term "flushing" now describes the process by which a seal or sea lion is intentionally or unintentionally chased from the beach into the water by humans. This can seriously jeopardize the health and safety of the animal and is associated with a fine of 500 USD .
Last but not least: Please don't leave garbage on the beach of La Jolla and don't try to feed the animals.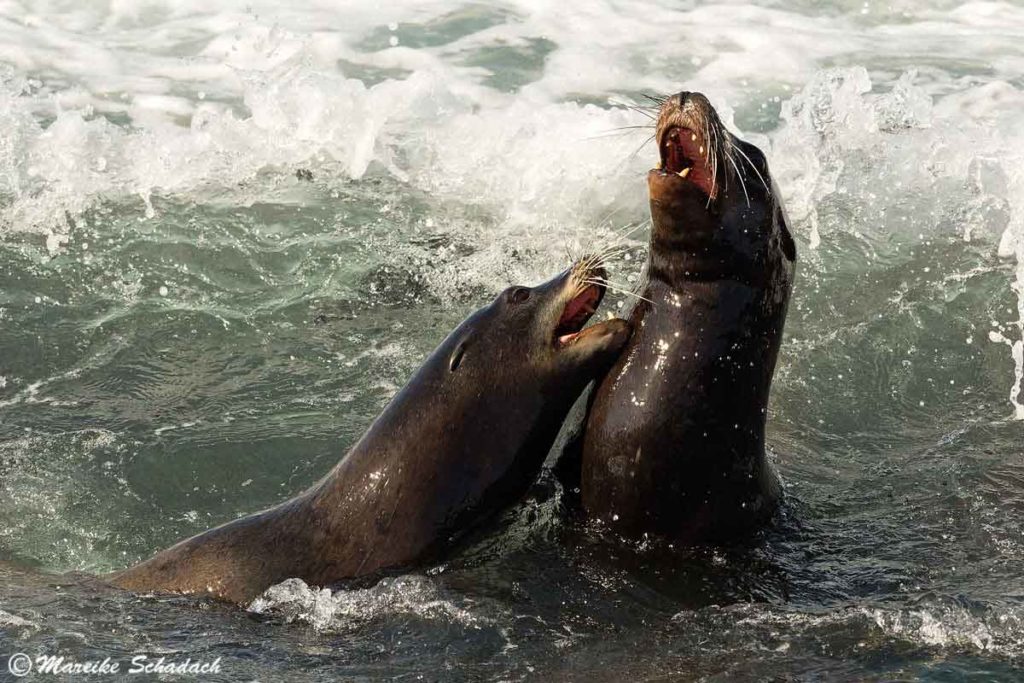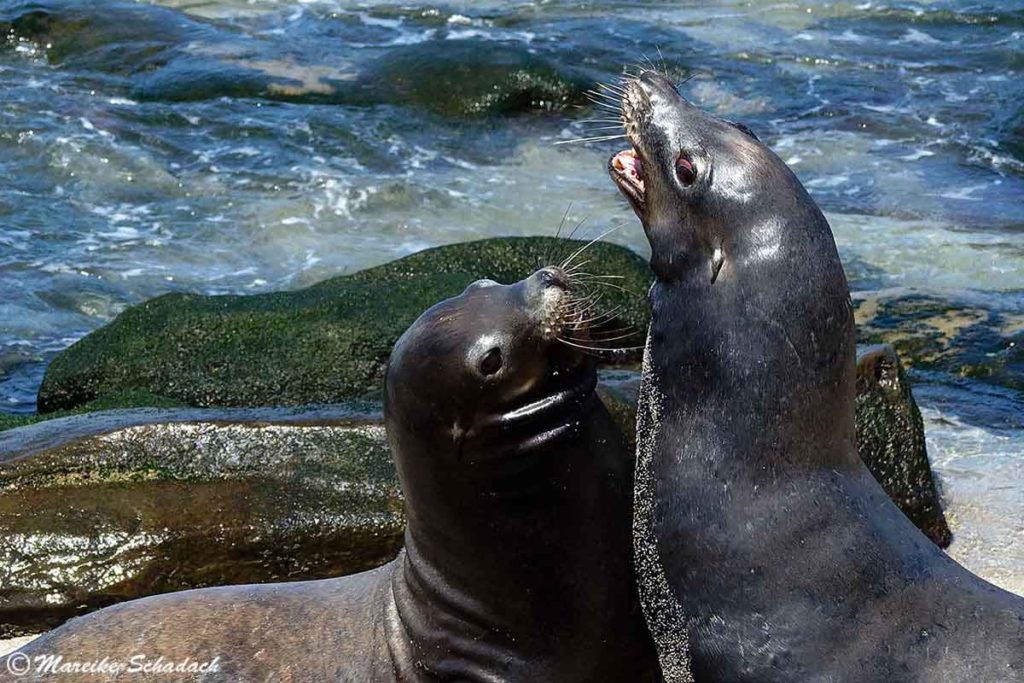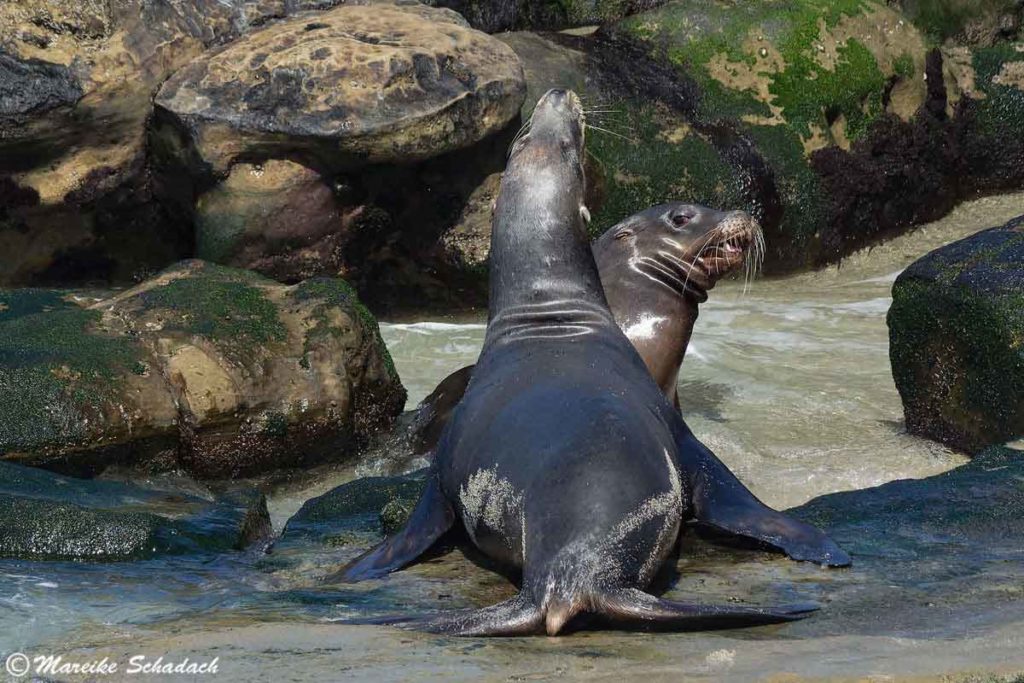 ---
Where and how can I snorkel with the Animals?
You can snorkel in La Jolla either on your own with the sea lions or at a guided snorkeling tour. The latter is recommended if you are not so sure about snorkeling. Another advantage of a guided tour is that you will be provided with the equipment.
Missing equipment can be hired on site.There are several shops with masks, snorkels, wetsuits and fins in stock.
Take an online photo course wetsuit is recommended as you will cool down quickly under water. And once you're in the water with the sea lions, you won't want to get out that quickly. A neoprene suit also protects you from abrasions. Because there are a lot of big stones and rocks in the shore area. The waves can quickly throw you against a stone. For this reason, gloves are also useful.
You have the best access to the water in the protected area of the La Jolla CoveSeals often come into the bay right up to the beach. If you're lucky, you can already experience the animals in their element here. It's fascinating how elegant and fast they move underwater. The La Jolla Cove is very suitable for snorkelling as it is relatively sheltered and monitored by lifeguards.
If there is no seal or sea lion in the bay then you can just wait a moment. Because often the animals appear quite suddenly. Or you can leave the bay to the left or right to the rocks.
Slightly more exposed are the beach accesses at the Shell Beach. Here you must first cross the surf zone. The seals love to play in the waves here. Due to the more exposed location and the waves, the visibility here is not quite as good as in La Jolla Cove.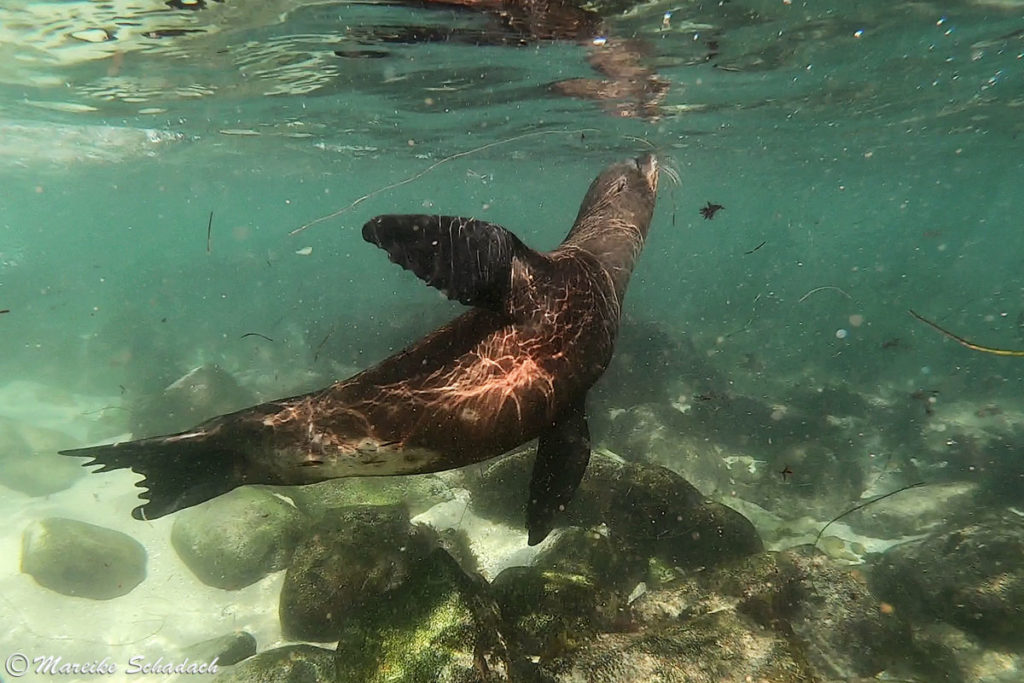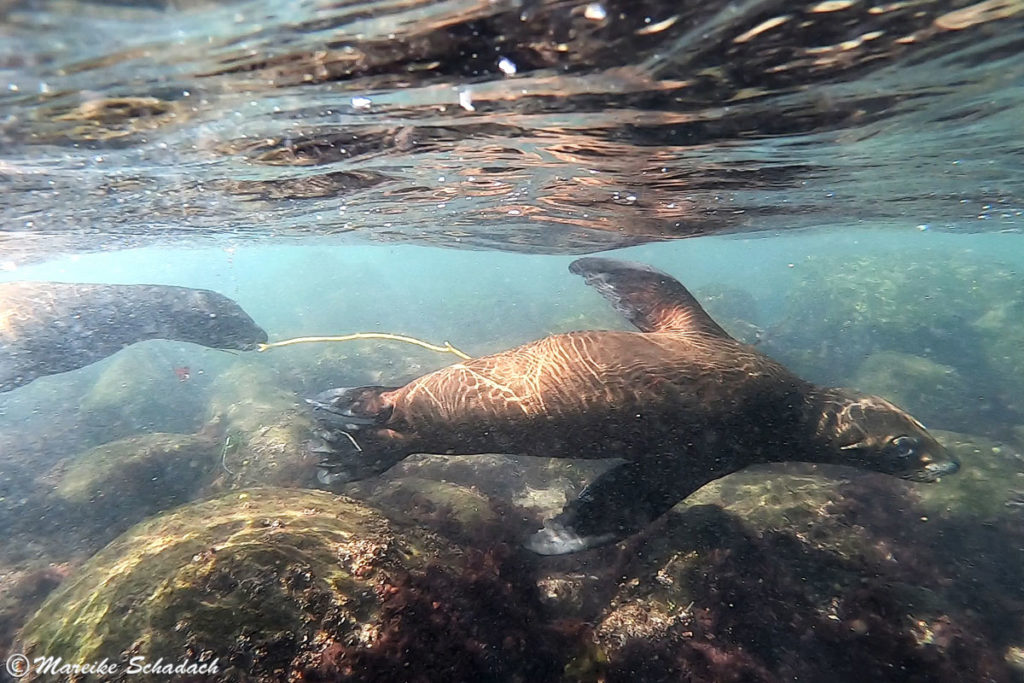 ---
What is there to consider when snorkeling?
The same applies first of all as for watching seals and sea lions: Keep your distance! Always remember, you are the visitors in their environment, not the other way round.
It is great fun to watch the young sea lions playing in the water. The best thing to do is simply drift in the water and watch the action around you. And that without getting too close to the animals or pushing them. Often they are curious and come closer on their own. Some should even start to inspect the equipment and nibble (luckily they didn't do it for me).
In any case: Do not touch! For all cuteness, there are still wild animals with sharp teeth.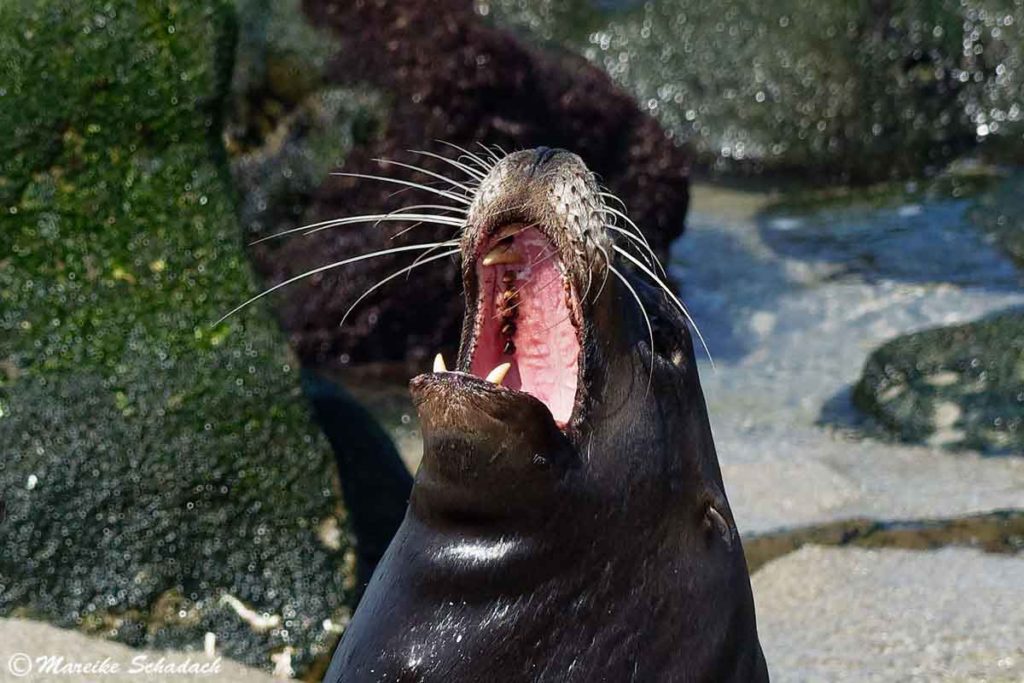 The adult sea lions can give you a bit more respect. As I drifted in the water in front of me, one came swimming to me and pretended as if he wanted to grab me. Luckily he did not do it, but it was a shock. So keep your eyes open for the parent animals as they protect their young.
---
More snorkeling tips? Then my article Snorkeling in La Jolla might interest you..
---
What Protection Status do the Seals and Sea Lions of La Jolla have?
The seals and sea lions were the main reason for me to visit La Jolla. But many other guests, residents as well as restaurant and hotel operators see the sea lions rather as a problem. They complain that the sea lions dispute the beach with the bathers, pollute the beach and the water with excrements, smell bad and bark too loudly. Demands for the expulsion of sea lions from La Jolla Cove have already been made. However, this is not so easy, as La Jolla has been an underwater park and an ecological reserve since 1929. This also includes the marine mammals that live here.
Furthermore, a disturbance of the natural behavior of the animals is seen as a violation of the Federal Act on the Protection of Marine Mammals.The seals and sea lions are also protected by state law and the San Diego City Law. If you enjoy watching seals and sea lions outside of zoos in their nature, you can visit the Seal Conservatory on sealconservatory.org and assist with a donation to the welfare of the animals.
If you see a sick or injured seal or sea lion, call Sea World Mammal Rescue under (800) 541-7325.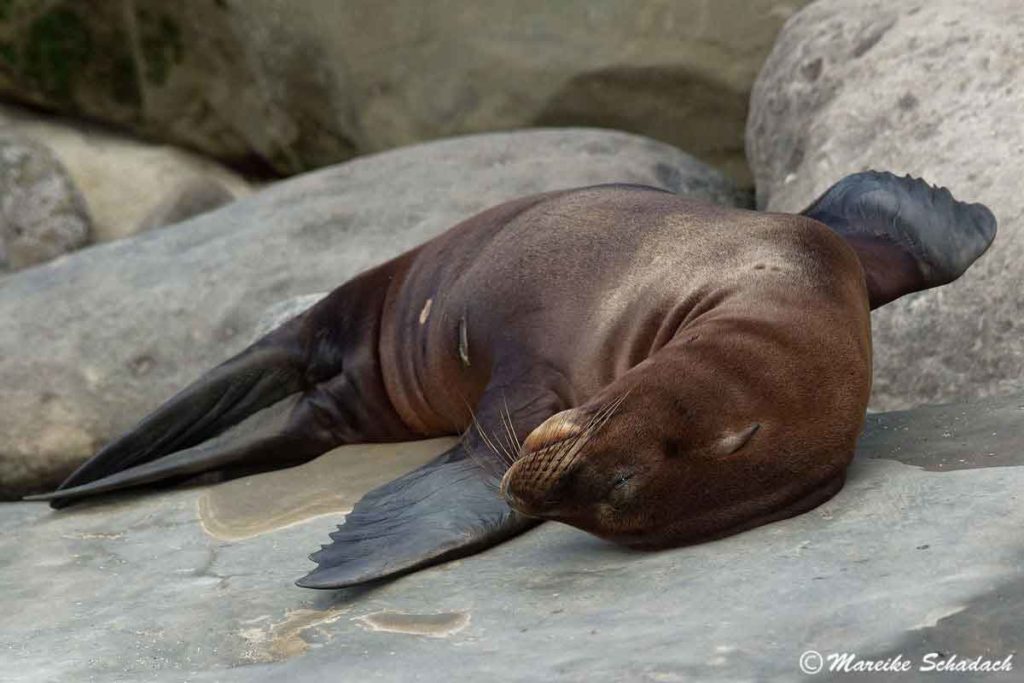 ---
Book Recommendation for California
You want to know where the journey goes? Then I can recommend these books* about California.
You can order these books at Amazon with a click on the pictures. If you buy a product via one of these affiliate links, I get a small commission and you help me to keep filling Fernweh-Motive with interesting articles. The product will not be more expensive for you.
---
Have you ever been to La Jolla yourself and watched the sea lions? How did you like it? Do you have any questions about my article or suggestions? If so, please write me a comment!
Do you want to know when there are new articles on my blog? Then follow me on Facebook, Pinterest or Instagram. I would also be very happy if you share my article with your friends.
---
Recommendations for further Reading