Iceland. The water is freezing cold. But despite the temperatures between 2 and 4 ° C, the Silfra impresses every snorkeler. Not only with the year-round good visibility, but above all with the extraordinary rock formations. Something special is also the vegetation with green "troll hair". There are also unreal appearing blue tones, which make the Silfra to a magical underwater world. And where else, except in the Silfra, can you snorkel between two continental plates?
Unassigned, unpaid advertising. The article contains affiliate links*.
---
Origin of the Silfra
Silfra bedeutet übersetzt "Silberne Frau". Sie liegt ca. 40 km von Reykjavik entfernt im Þingvellir-Nationalparks (Thingvellir). Die Silfra ist ein beliebtes Tauch- und Schnorchelgebiet und wohl auch das bekannteste in ganz Island. Manche sagen sogar, eines der bekanntesten der Welt.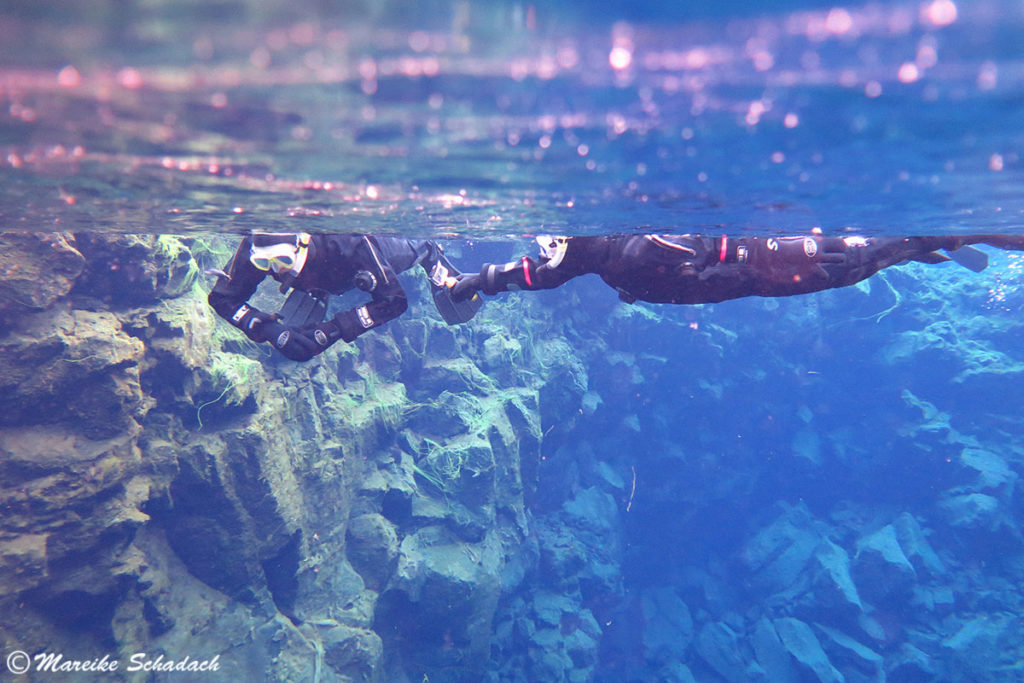 This kilometer-long rock fault was created several million years ago by the drifting apart of the Eurasian and North American continental plate. Each year, the two continental plates separate by another two centimeters from each other. The greatest depth is 63 meters. The Silfra fissure is fed by the meltwater of the glacier Langjökull, which is about 50 kilometers away. On the way, the melt water flows through porous basalt rock. At the same time, the rock filters out the turbid matter so effectively that on sunny days visibility of up to 150 meters is possible. The water reaches the Silfra after a flow time of 30 to 100 years. Finally, it flows into the lake Thingvellirvatn.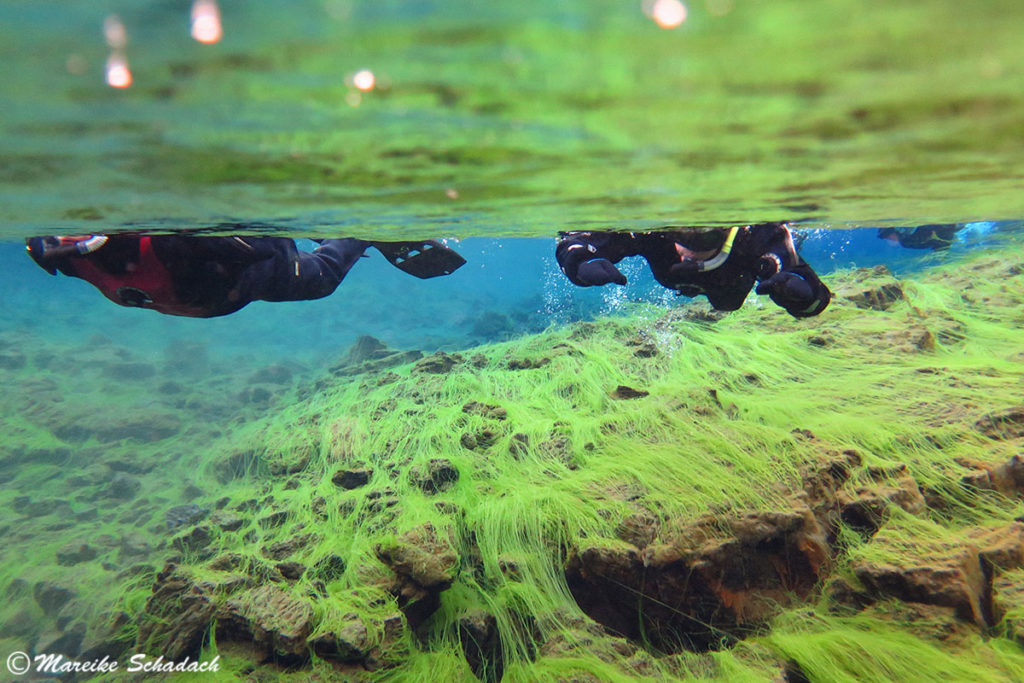 ---
Snorkling in Silfra
Warmly packed in drysuits with hood and gloves, the water temperatures between 2 and 4 ° C can be sustained for a while. Snorkelling is in small groups, always following the guide. A snorkeltour lasts about 30 minutes and ends in a convivial round with a hot cocoa.
The snorkeling between two continental plates in the Silfra is offered year round by various organizers. In addition, you can book various tour combinations, such as snorkeling + caves or snorkeling + horseback riding. Usually it goes in the minibus from Reykjavik directly to the parking lot. The prices start from about 120 euros. Self-drivers can come across locally.
You should definitely bring long thermal underwear, warm socks, a towel and a warm jacket and cap for afterwards. Everything else is provided.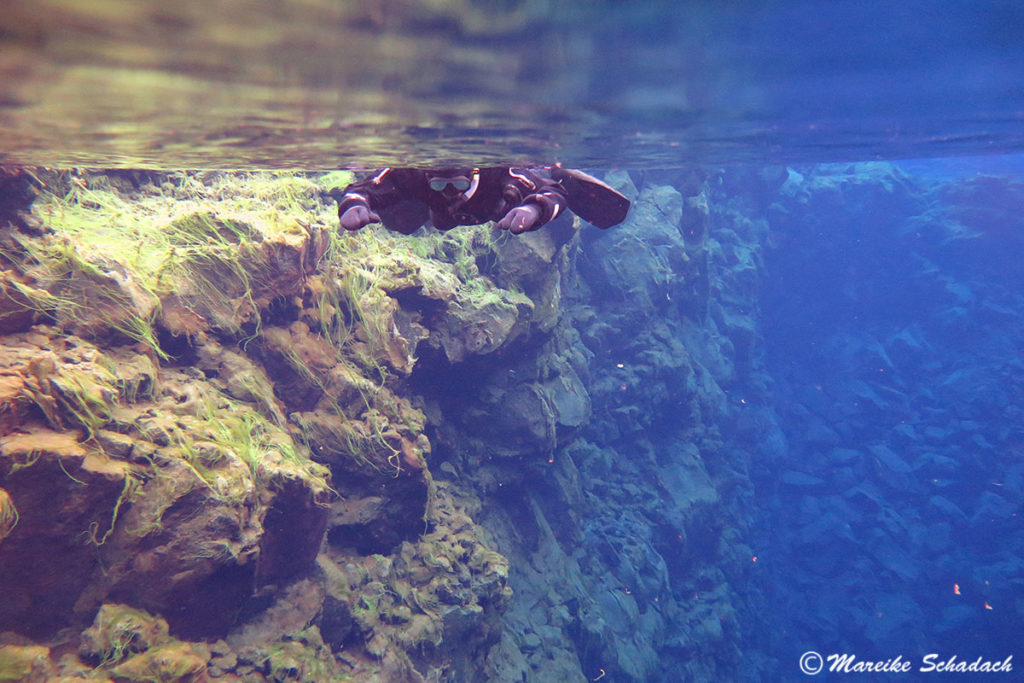 ---
Camera Tip!*
Are you looking for an action cam for your snorkeling adventure in the Silfra crevice? Then I can highly recommend the Insta360 ONE R. It is waterproof up to 5 meters. And if you want to dive even deeper, there are also housings that are waterproof up to 30 or 60 meters. Thanks to its modular design, the action cam is adaptable to different uses and can be used as a 360° camera or as a premium video camera with a 5.3K resolution and excellent image stabilizer. Curious? Click here for the Insta360 ONE R**.
---
Book Recommendations for Iceland
Do you want to know where the journey is going? Then I can recommend this travel guide * to you.
You can order the travel guides with a click on the pictures at Amazon. If you buy a product via an affiliate link, I get a small commission and you help me to continue to fill Fernweh-Motive with interesting articles. The product will not be more expensive for you and you do me a huge favor.
---
Have you ever been snorkeling in the Silfra crevice in Iceland yourself? How did you like it? Do you have any questions about my article? If so, please write me a comment!
Do you want to know when there are new articles on my blog? Then follow me on Facebook, Pinterest or Instagram. I would also be very happy if you share my article with your friends.
---
Recommendations for further Reading