Scotland Scotland is known as a paradise for hikers, scramblers and climbers. Here, climbing the so-called Munros, or Munro bagging, is practiced like a national sport. And as soon as the first snow falls in the mountains, Munro bagging continues with crampons and ice axes. But winter mountaineering in Scotland has to be learned and practiced. We took a closer look and participated in a Scottish Winter Mountaineering course in beautiful Glencoe. With crampons, ice axe and ropes we went high up and steep down. Scottish winter weather and breathtaking views included.
Unassigned, unpaid advertising. The article contains affiliate links.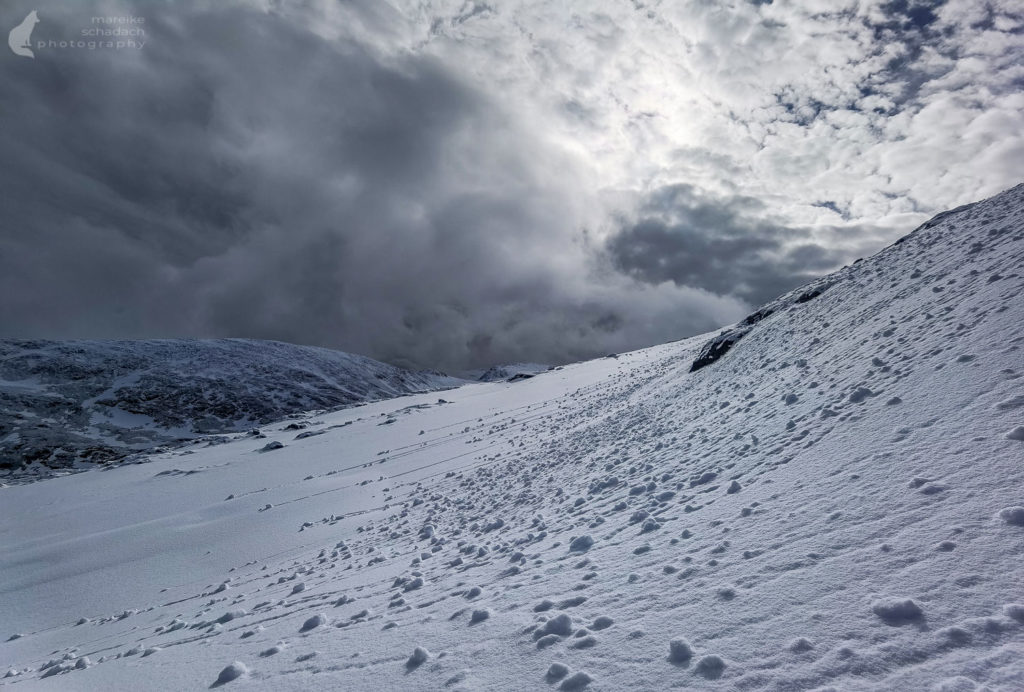 Caution: Many Munros require a bundle of special equipment and skills. Every winter, underprepared hikers and climbers experience nasty surprises, some with fatal outcomes. Scottish winter weather and snow and ice conditions should by no means be underestimated.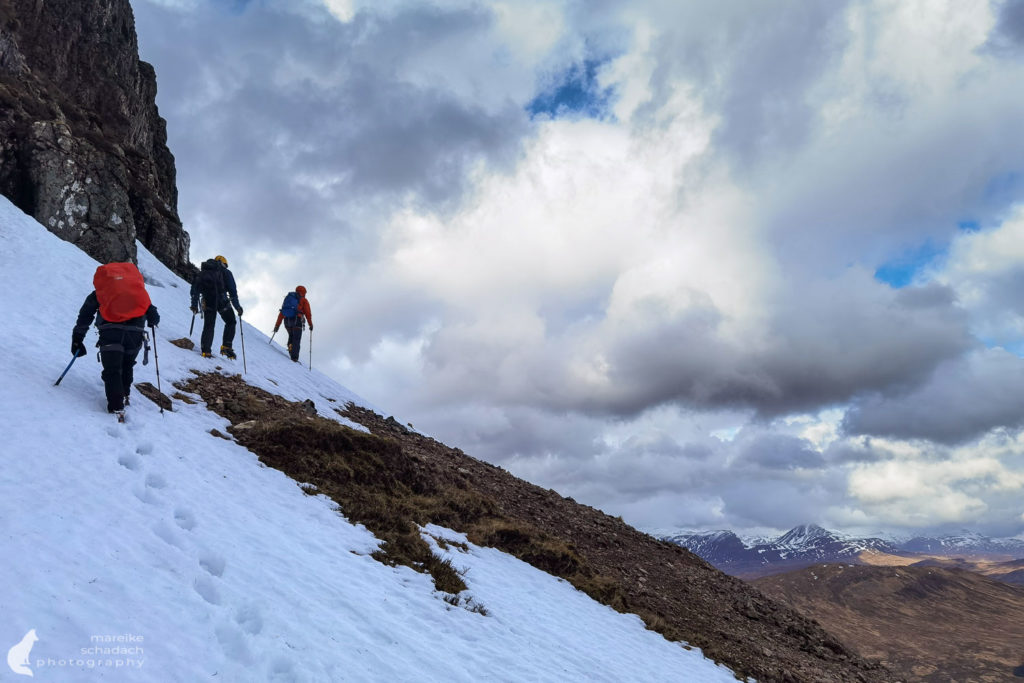 ---
What are Munros?
Munro is the name given to all the mountains in Scotland that are higher than 3000 feet (914.4 m). They are named after Sir Hugh T. Munro, who surveyed and catalogued all the Munros in 1891. The highest of the 282 Munros is Ben Nevis at 1,345 m (3,000 ft).
Climbing the Munros requires stamina and sometimes technical skills. Those who have climbed all the Munros are held in high esteem by the Scots. For me, also anyone who can remember the Gaelic names of the Munros and pronounce them is held in high esteem.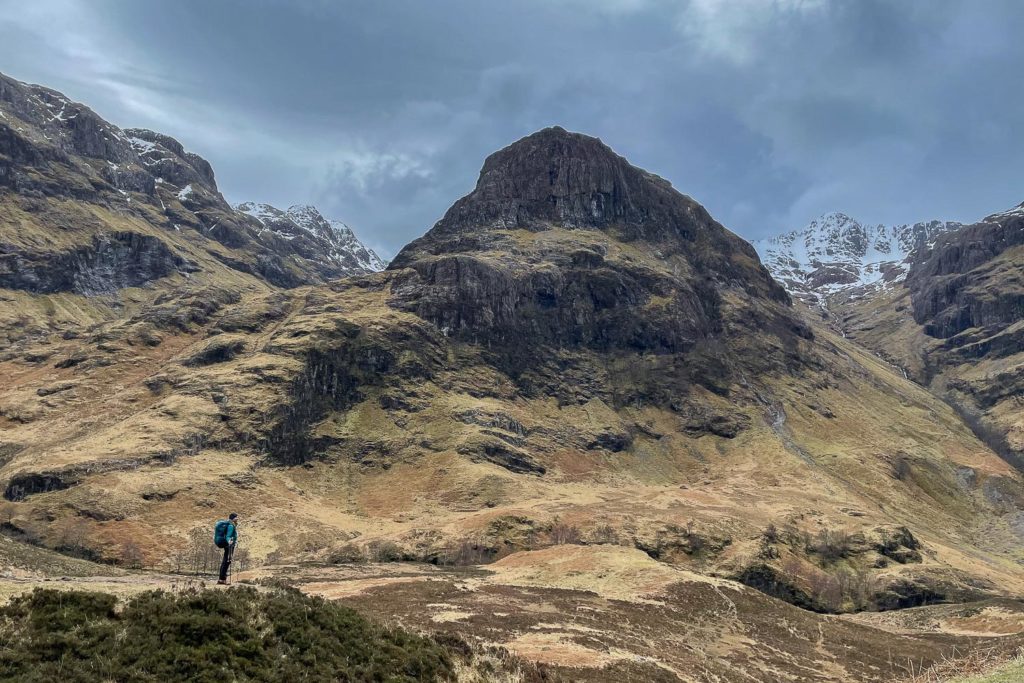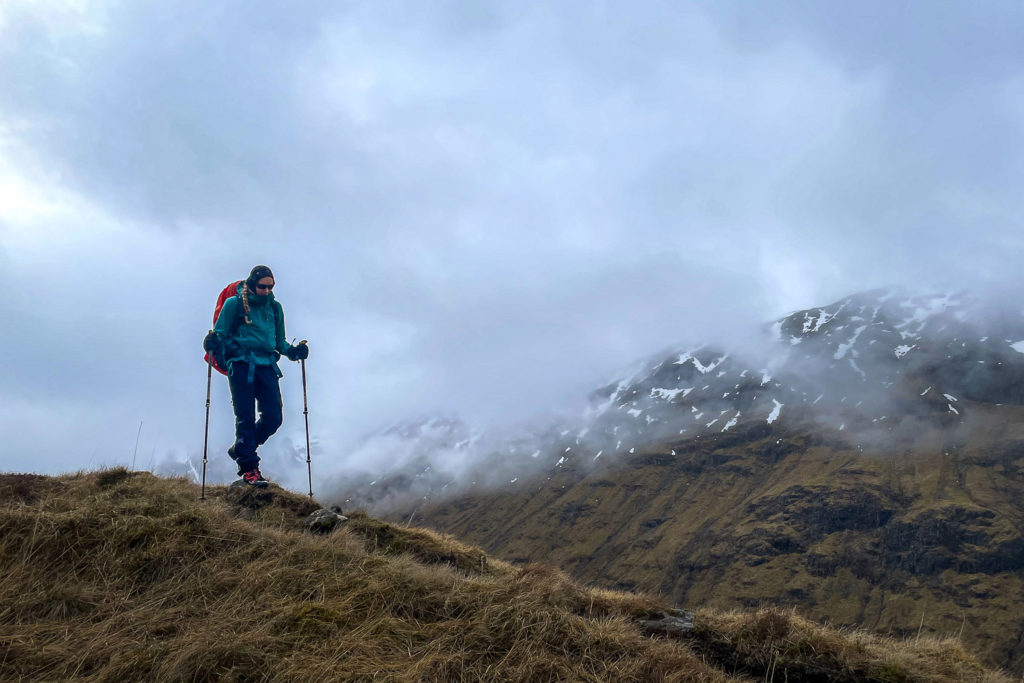 ---
First Steps to become a Scottish Winter Mountaineer
Impressions from our five-day course in beautiful Glencoe, Scotland
Crampons and ice axe
The ice axe and crampons are part of the winter mountaineer's equipment. However, it is not enough to just have them with you. You also have to know how to use them and be familiar with their use. First, however, we learned how to move on the snow slope even without crampons: always hit the lateral corners of the boots into the snow. Then our instructor Chris explained to us how to use the crampons and additionally stabilize ourselves with our trekking poles or ice axe and a trekking pole. We also learned how to climb on steps in the snow or hit some with our ice axe.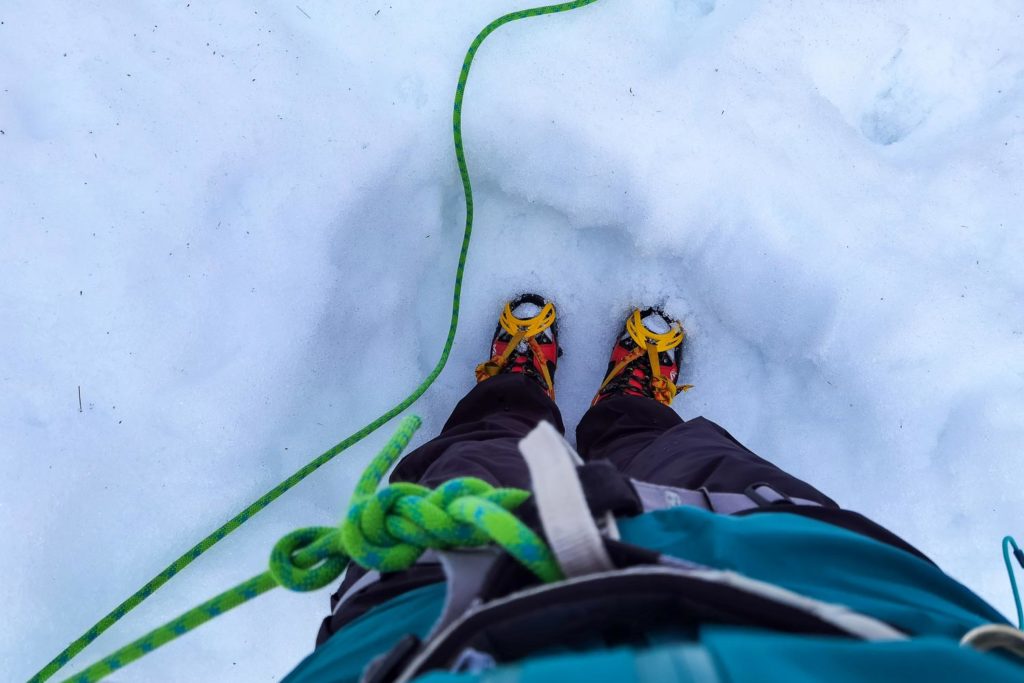 Braking with the ice axe
After learning how to walk, we moved on to falling. Braking with the ice axe after a fall is an extremely important skill. But unfortunately it doesn't work instinctively and there is also the risk of hurting yourself with the ice axe or crampons. On a gently descending slope, we practiced braking in every imaginable scenario: head first, feet first, on our backs, on our stomachs, and everything in between.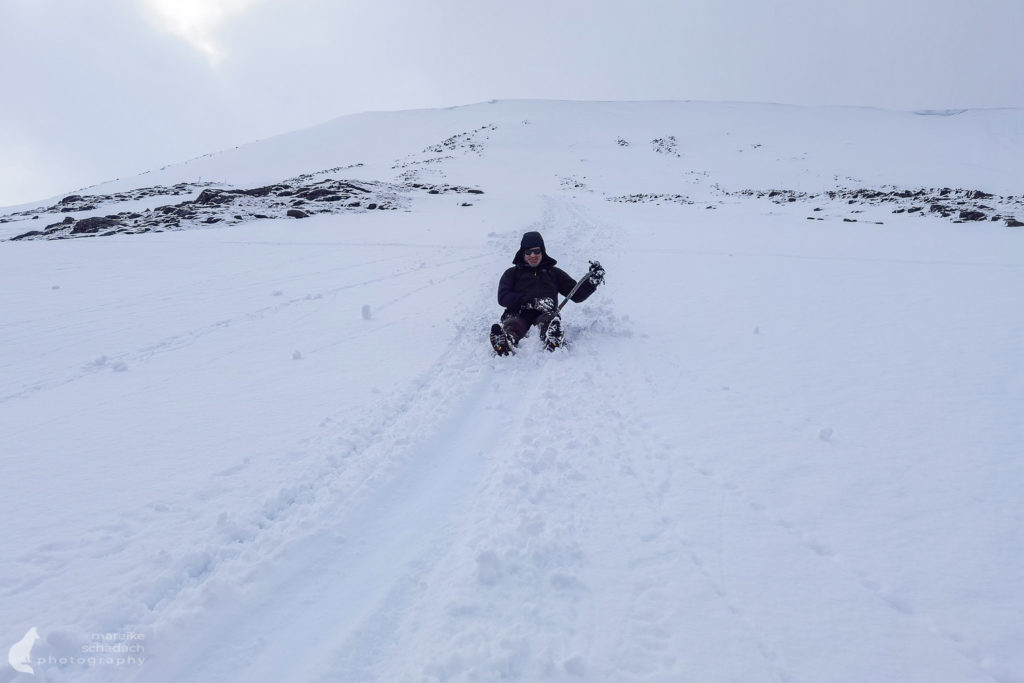 Snow anchors, roping up, belaying and abseiling
The next few days we learned knots and worked with ropes, slings and rappels. We built anchors with an ice axe buried in the snow, sat in snow holes to belay our climbing partners, or rappelled down using snow anchors. Later, we also used rocks for rappelling and belaying and moved alpine style over mixed terrain.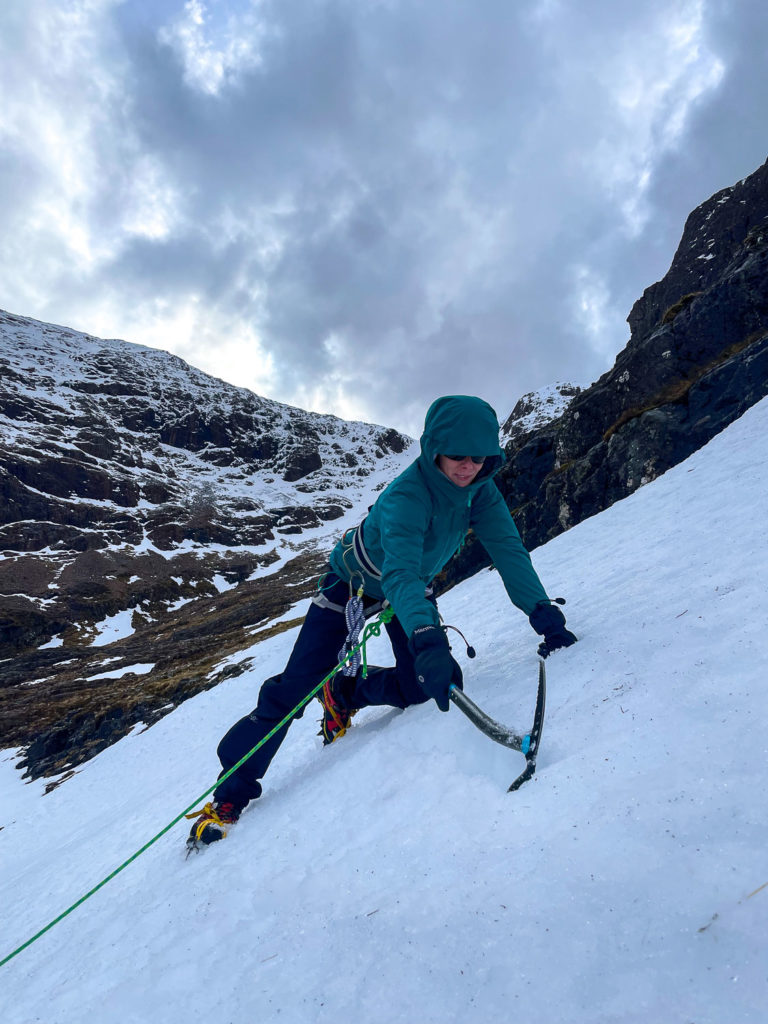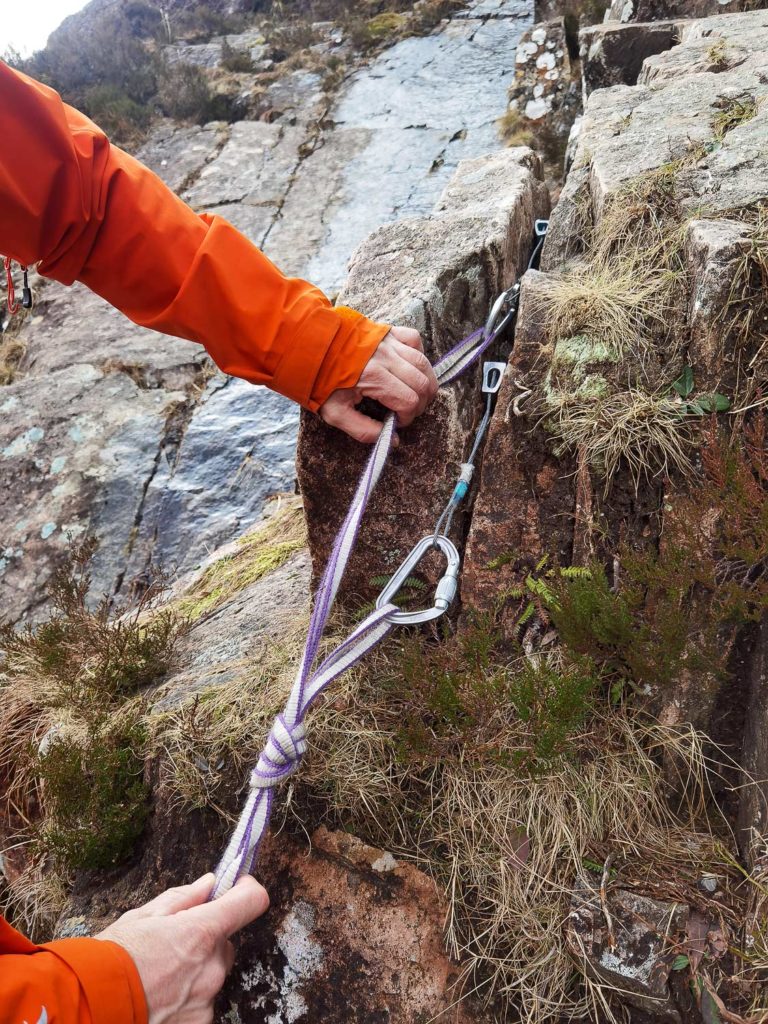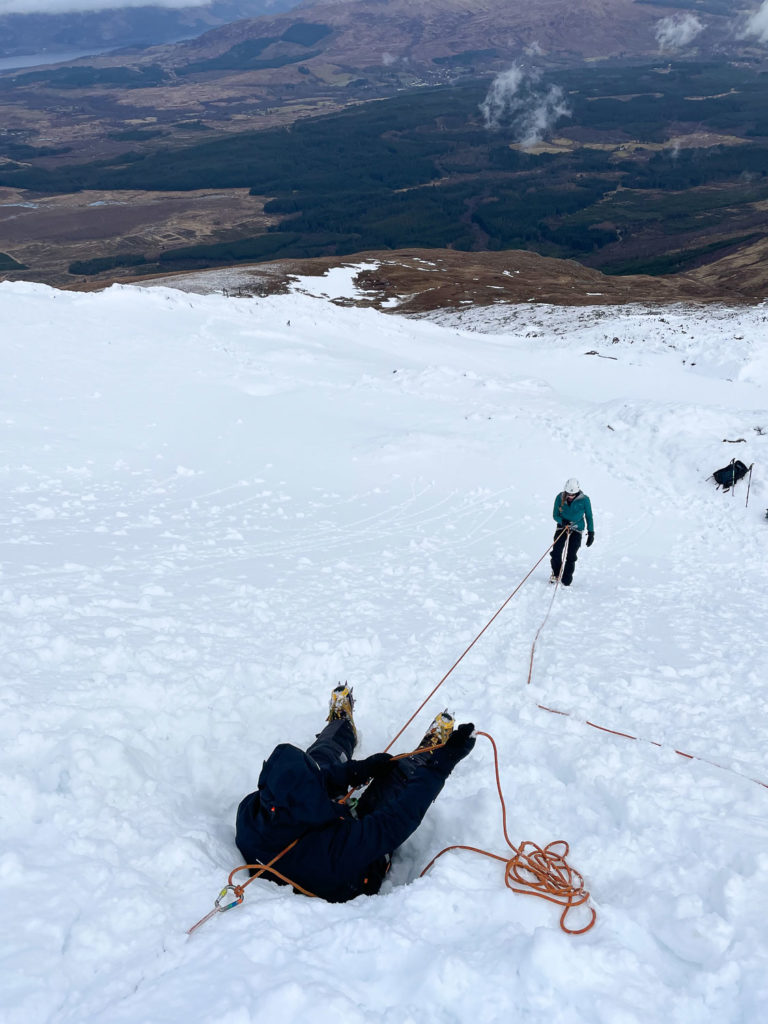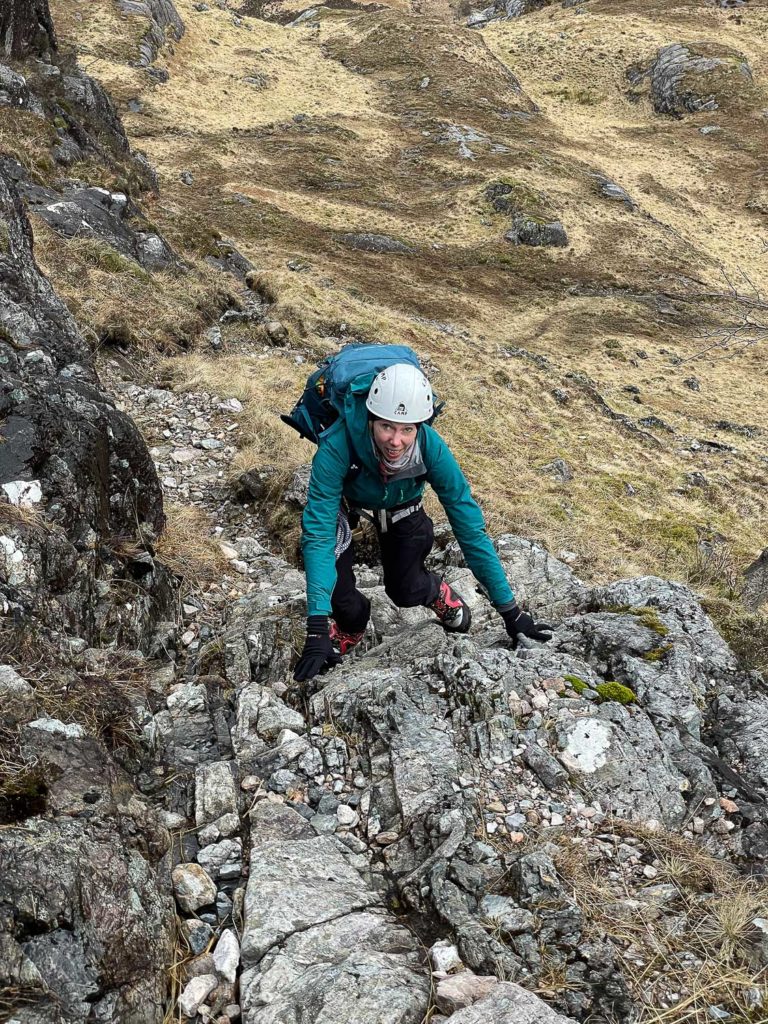 Snow and avalanche awareness
In winter mountaineering, snow and avalanche awareness must be considered. This was taken into account first by theory lessons in the evening and the following day with a detailed examination of the snow layers and strength.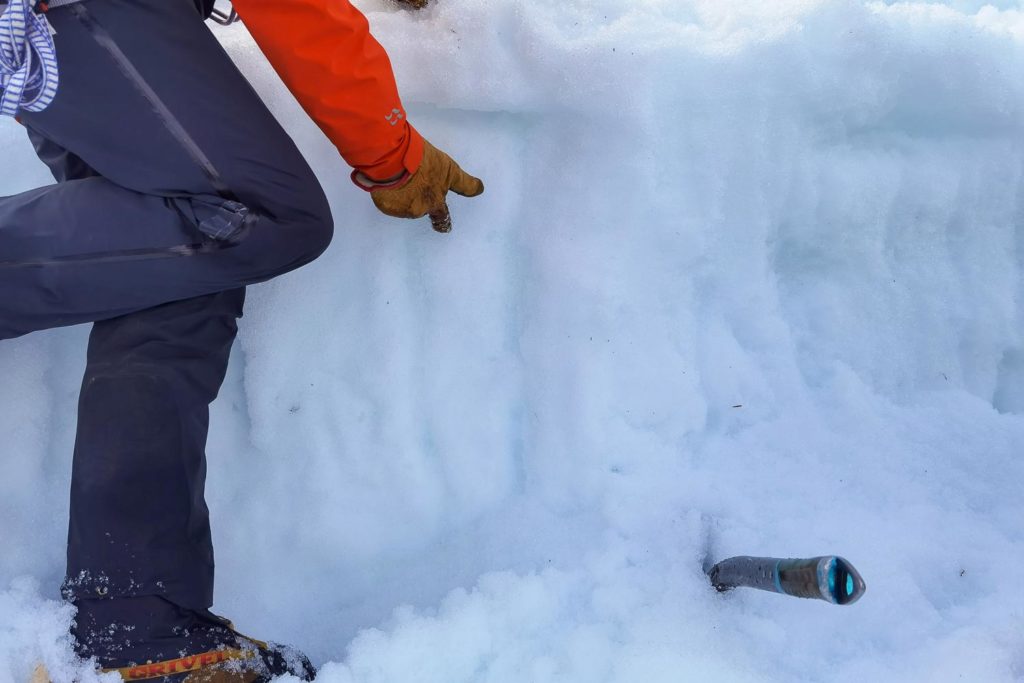 Are you interested in a mountaineering course? Then have a look at Adventure Peaks. For more information on Scottish Winter Mountaineering, visit the Mountaineering Scottland website.
---
Scottisch Winter Grades
There are different systems for grading the difficulty of a mountain route. Why does one need different ones? Well, they are adapted to the local climbing conditions. Here you can find an overview of the different scales.
Scottish winter grades apply to ice and mixed conditions. Roman numerals I through IX represent the overall grade, Arabic numerals the technical grade of the most difficult section. Our beginner course was limited to grades I and II.
Grade I: Easy ascents, snow gullies and ridges. The snow slopes are steep up to 50 degrees. One ice axe is sufficient.
Grade II: There are steeper sections with ice, which are mostly passable with an ice axe and have only minor technical difficulties. Sometimes two ice axes are required.
More about the Winter Climbing Grades.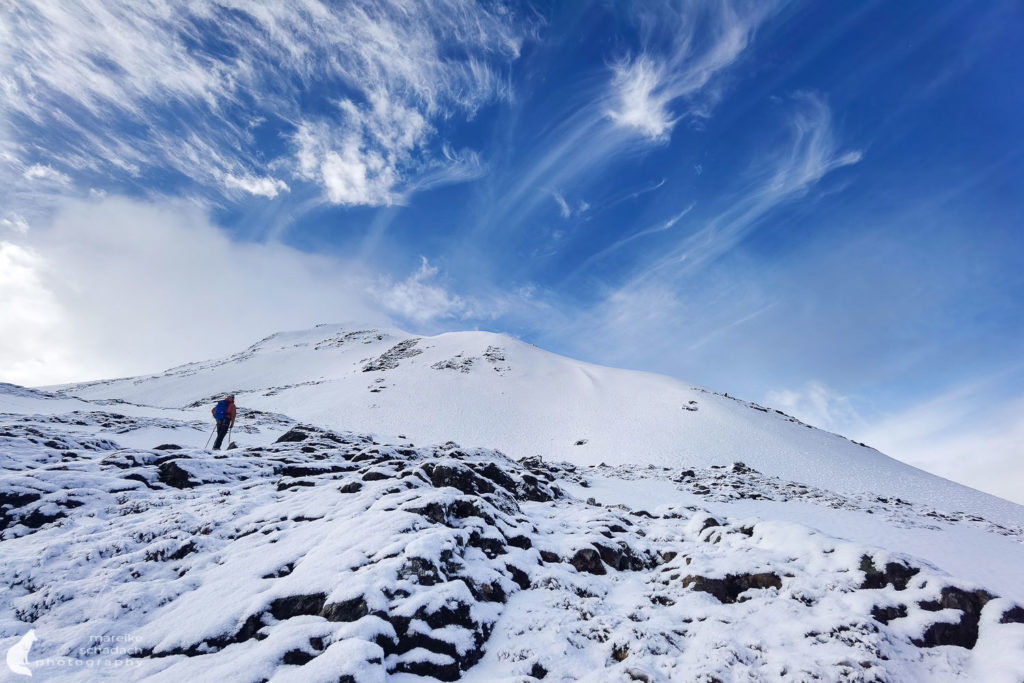 ---
Never trust the Scottish Weather!
Winter mountaineering in Scotland promises incredibly beautiful snowy landscapes and, at best, great views and blue skies. But the weather in Scotland is unpredictable. Storm and rain or even a white-out with zero visibility must always be expected. On one summit, as well as while rappelling down a snow slope, it nearly blew me away.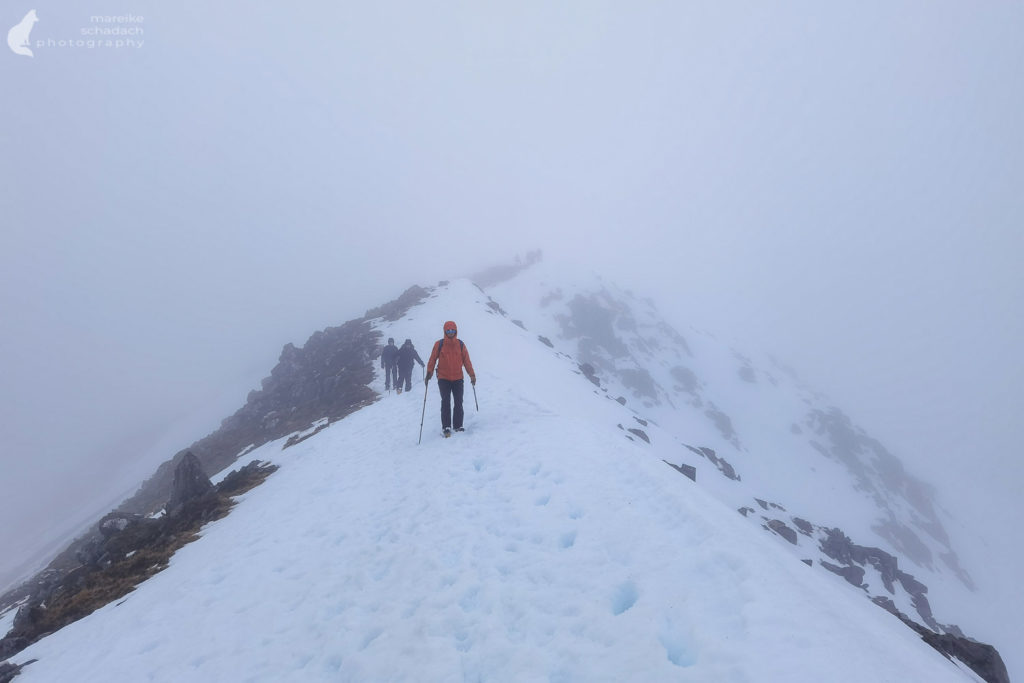 If you go to the Scottish mountains in winter, you have to be prepared for the worst of the weather and choose your equipment accordingly. On the evening before the first day of the course, Chris checked our equipment and explained exactly what we should take with us or rather leave at the hotel. Everything according to the motto: As little as possible, as much as necessary.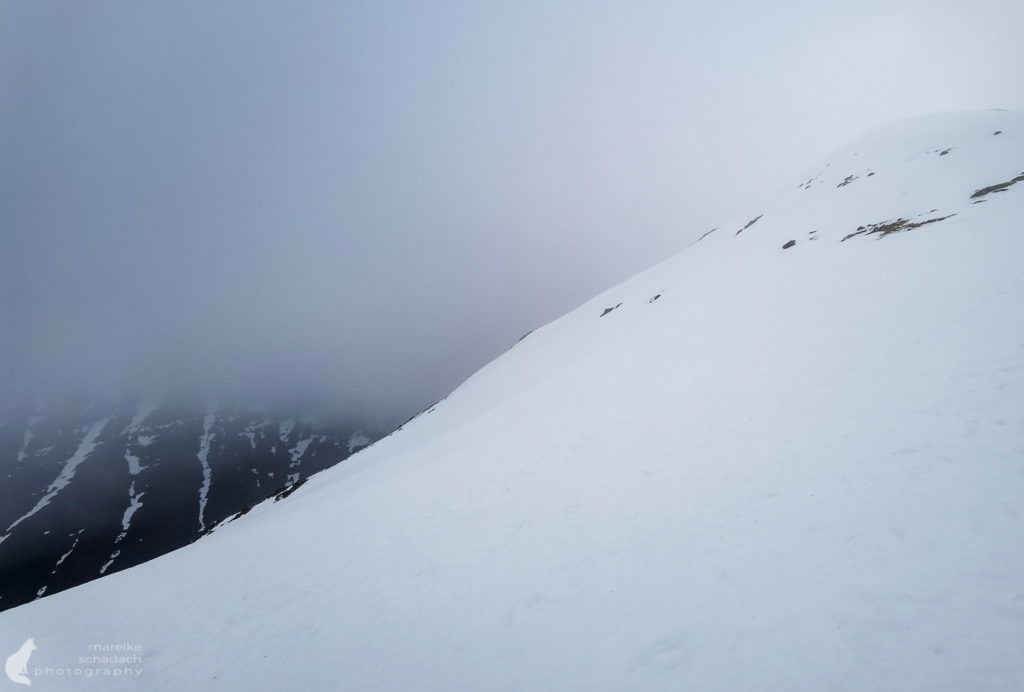 The season of Scottish Winter Mountaineering can stretch from October to April. But the actual length of the season is difficult to predict. There are no set dates, it just depends on the climbing areas being snowy and in good condition. Most courses in Scotland take place from January to March.
---
Tips for the equipment
It is important to be prepared for emergencies: an emergency bivy sack*, a well-packed outdoor First aid kitincluding a warming blanket, an extra insulating jacket, a whistle*
Indispensable are a reliable waterproof rain jacket and rain pants. If you are unlucky, it can rain all day. However, keep in mind that your rain gear can be damaged by handling the ice axe and crampons.
Tip: Duct Tape*will tape anything, including torn rain jackets.
Insulation jackets with Primaloft fill are better than down jackets in the expected wet weather. My favorite jacket has been the Arcteryx Atom*for years now. Even after 10 years of use it is still in good shape.
Don't forget the rain cover for the backpack or pack everything in the backpack in waterproof bags*.
Be prepared for the worst in terms of weather and be prepared for rapid weather changes. Take enough clothes with you to dress in the "onion layer principle" on site.
Don't forget sunglasses and ski goggles. I have had good experiences with Julbo Reactive* , as the lenses adjust their brightness to the weather.
Sturdy trekking poles, such as the Leki Sherpa XTG*, are essential for the course.
A sip of hot tea on a cold day awakens new strength. It stays warm, for example, in the thermos flask from Esbit*. It even has two cups.
Mountain boots, hiking poles, gloves and everything else you might need for your mountaineering course in Scotland can be found at Bergzeit.
These were just a few things, the list is by no means complete. To ensure that nothing would be forgotten, Adventure Peaks gave us an extra packing list for the course.
We were able to rent the special mountaineering equipment on site. That was the climbing harness, carabiners, slings, rappelling gear, helmet, ice axe, crampons and crampon proof mountain boots (e.g. the La Sportiva Nepal Cube GTX*).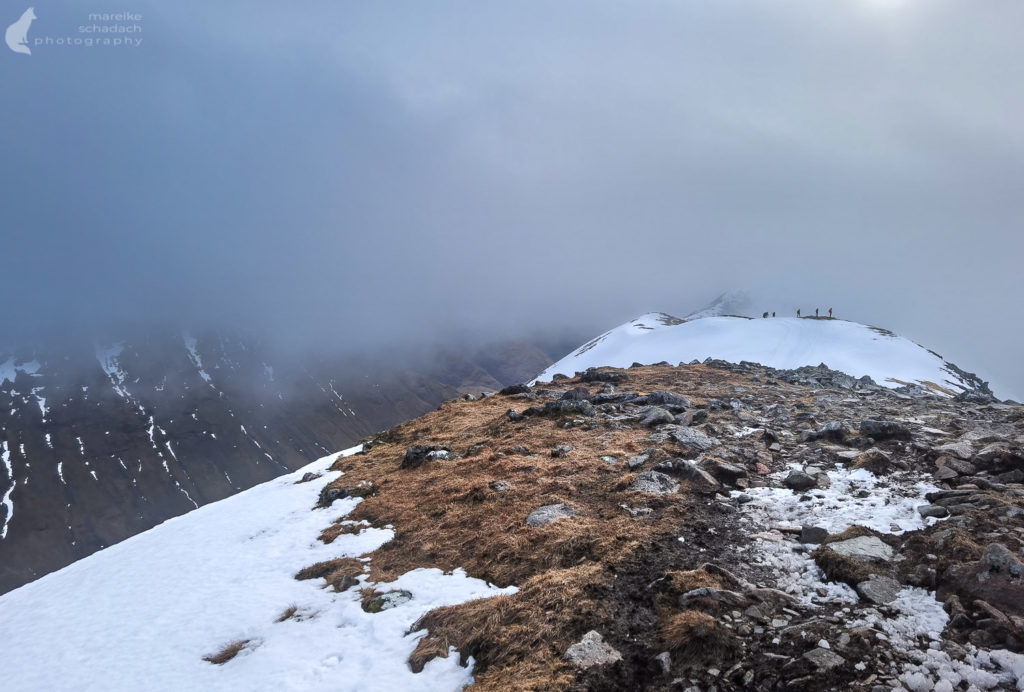 ---
And what about the camera?
I have carried my camera up the peaks of Mount Kenya and Illinizas Norte, which are about 5000 meters high. Even in the paddle boat or while trail riding, it's always handy. But here, on the Scottisch Winter Mountaineering, I left it in the hotel with a heavy heart. First, because I expected to always have my hands full during training (it was). Second, because it rained so hard for at least the first two days that I might not have unpacked them at all. I took pictures with my phone, a Huawei P40 pro, instead. I also got some more photos from my partner and from our instructor, which I was allowed to use here. Thanks again for that.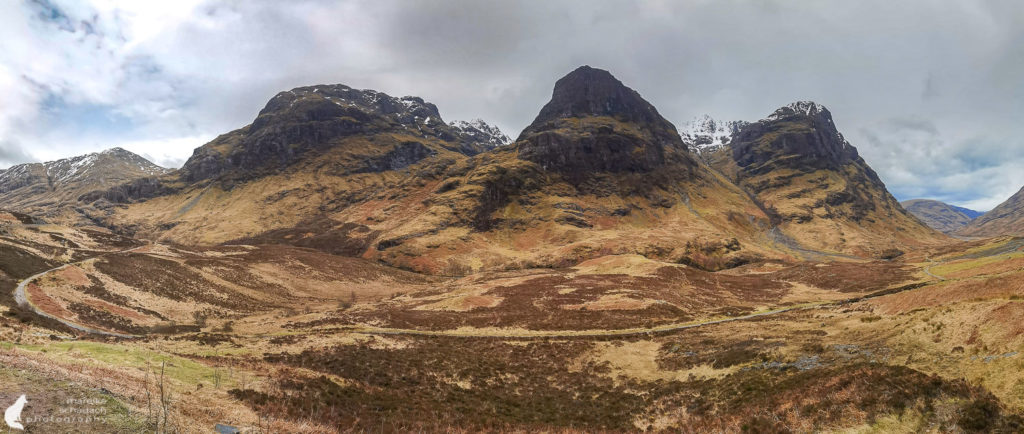 ---
Conclusion of the Scottish Winter Mountaineering Course in Glencoe
When I was struggling up a snow slope in rain and storm, I asked myself from time to time "Why am I doing this at all?" But then when the rain let up a bit and I stopped for a moment to look around, I'd ask myself "Why didn't I do this a long time ago?" Even though it can sometimes be exhausting and uncomfortable in the mountains, you are rewarded double and triple. With views over great landscapes and insights, for example, about what is important to you. For me, nature and the mountains are at the forefront. And the more confident I can be in the mountains, the further I get. During the Mountaineering course I learned a lot, had a great time with like-minded people and got a lot of desire for even more. A course couldn't be better, could it?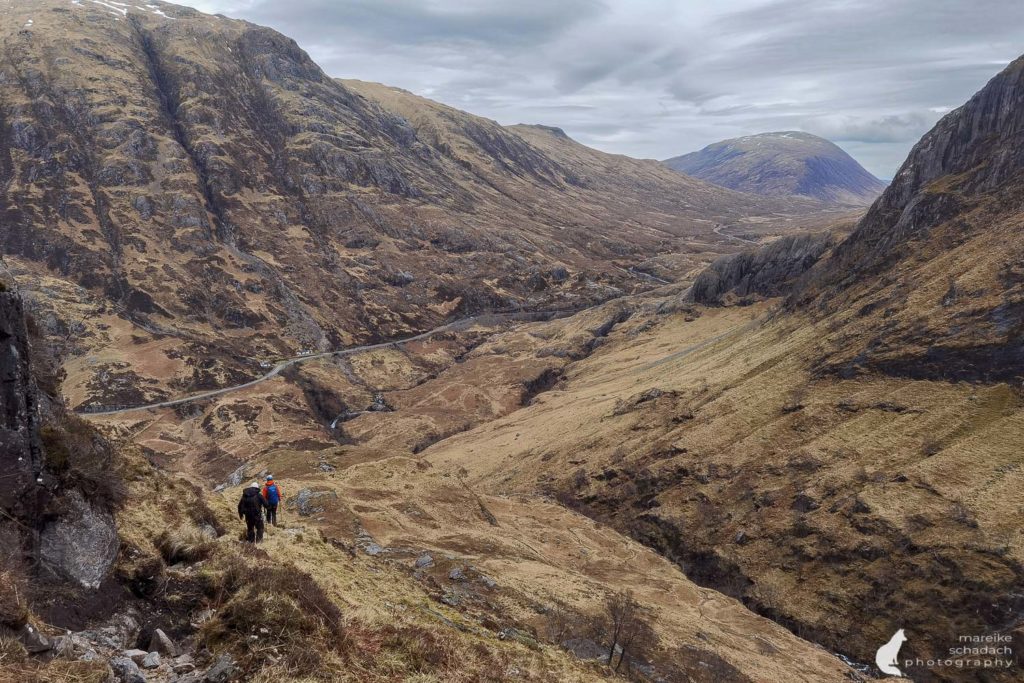 ---
Book tips for mountain lovers who love to travel
You want to know where the journey goes? Then I can recommend these books*.
You can order the books with a click on the pictures at Amazon. If you buy a product via an affiliate link, I get a small commission and you help me to keep filling Fernweh-Motive with interesting articles. The product will not be more expensive for you and you do me a huge favor.
---
Have you ever been to Scotland in winter? How did you like it? Do you have any questions about my article? If yes, then write me a comment!
Do you want to know when there are new articles on my blog? Then follow me on Facebook, Pinterest or Instagram. I would also be very happy if you share my article with your friends.
---
Recommendations for further Reading
Do you love road trips as much as I do? Then you might also be interested in my articles about a Circumnavigation of Mount Kailash in Tibet or about Climbing Mount Kenya in Kenya.