Kenya. There is snow on the equator. The three peaks of Mount Kenya are glaciated and the temperatures are well below freezing. To experience a sunrise up here and to look over the rugged mountain landscape is an unforgettable experience. In the following article I will tell you about our ascent of Point Lenana (4985 m) and the east-west crossing of the Mount Kenya massif via the Chogoria-Sirimon route. And besides the actual report, there are many practical tips.
---
Unassigned, unpaid advertising. The article contains affiliate links.
Content
Highlights of the Ascent of Point Lenana on Mount Kenya
Mount Kenya - holy Mountain with heavenly Landscape
At a Glance - Facts and Figures
Route Chogoria - Sirimon on Mount Kenya
Book recommendations for Kenya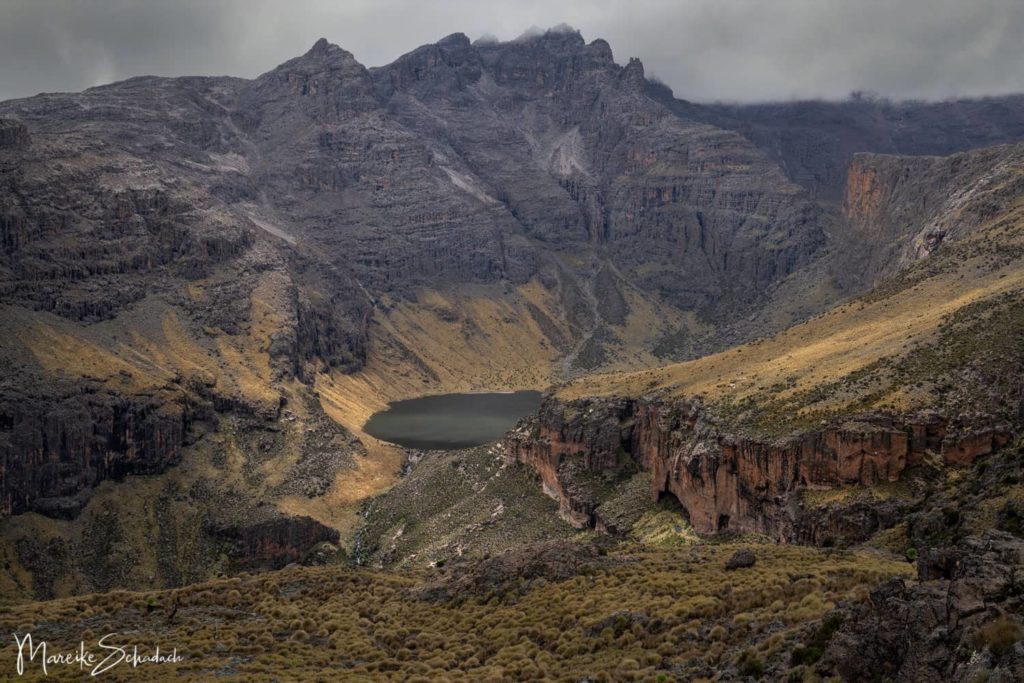 ---
Highlights of the Ascent of Point Lenana on Mount Kenya
Which moments of the mountain climb do I remember most? That's quite a few. But here I have picked out a few highlights.
Sunrise and fantastic views from the third highest peak Point Lenana at 4,985 meters - on a clear day you can see all the way to Kilimanjaro.
Spectacular scenery and changing vegetation zones during the crossing of the mountain massif make the tour varied.
The routes as well as the duration of the tour allows a good acclimatization to the altitude.
Wanderung durch bzw. mit Blick auf zwei der schönsten Täler am Mount Kenya, dem "Mackinder Valley" und dem "Gorgeous Valley".
Curious hyraxes at Camp Mintos
Surreal looking landscape, where the lobelia and the tree-greiskraut are partly covered with snow.
Last but not least: the great feeling of being back down from the mountain and enjoying breakfast at Camp Shipton (4.236 m) with a view of the just reached summit Lenana.
Come touch the sky! You want to get to the summit right away? Here is a shortcut.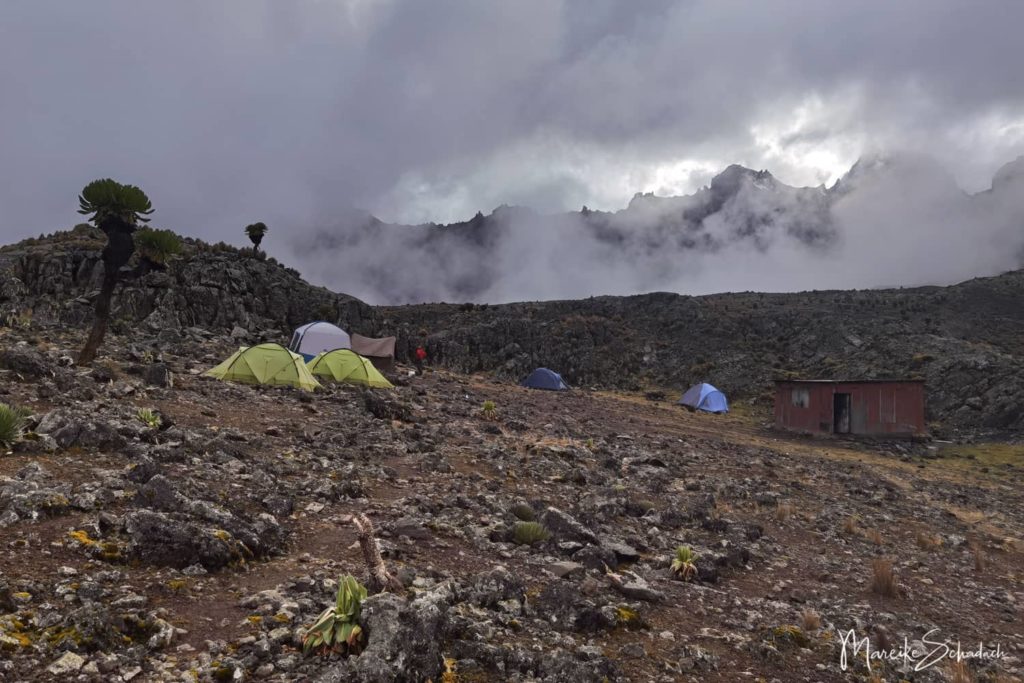 ---
Mount Kenya - holy Mountain with heavenly Landscape
In the central highlands of Kenya rises the massif of Mount Kenya. With a height of 5,199 meters, Mount Kenya is the highest mountain in the country and also the second highest elevation in all of Africa.
Snow on the Equator
The German missionary Dr. Johann Ludwig Krapf was the first European to set eyes on the mountain massif in 1849. When he reported snow on the equator after his return, this was dismissed as a sensory illusion.
But he was right: almost all the peaks of the massif are above the snow line and the areas between the highest peaks are glaciated.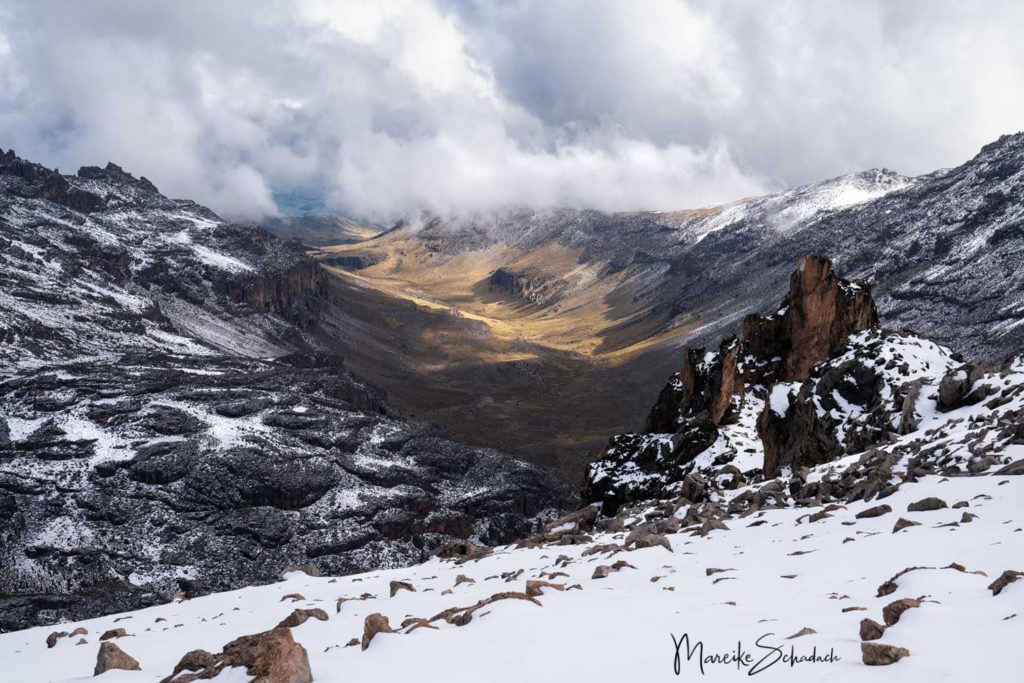 However, climate change is also evident here on Mount Kenya - the glaciers have become significantly smaller in recent decades. The reason is the warming and the decrease of precipitation.
A heavenly Landscape
Mount Kenya is a stratovolcano and was formed about 3.5 million years ago. The landscape is rugged with steep rock faces, rugged valleys, crater lakes, waterfalls and glaciers.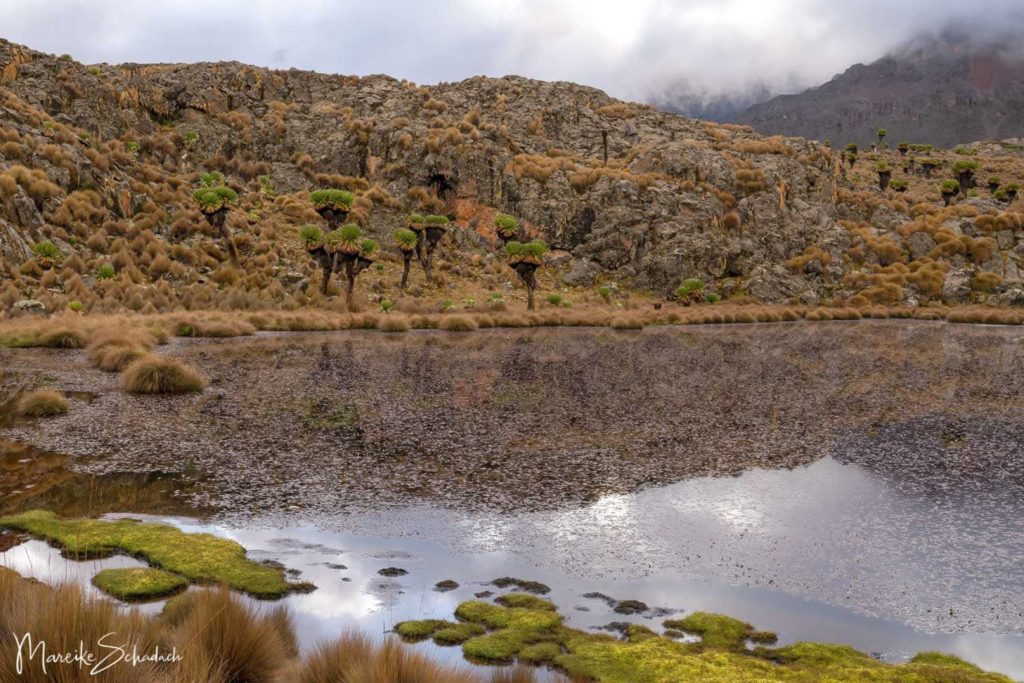 During the ascent of Point Lenana we cross several vegetation zones. First, the mountain slopes are covered with fields and forest up to about 2,000 meters above sea level. The humid mountain rainforests are replaced by evergreen cloud forests with increasing altitude. This is followed by a densely vegetated bamboo zone. The tree line is at about 3,200 meters. From here to about 4,000 meters, a lush vegetation of tall grasses, shrubs and bushes thrives. At higher elevations, marshland dominates.Here grow blueberry and bushy heather, which can grow up to 10 meters high. in the subsequent alpine zone grow only giant lobelia and giant groundsel.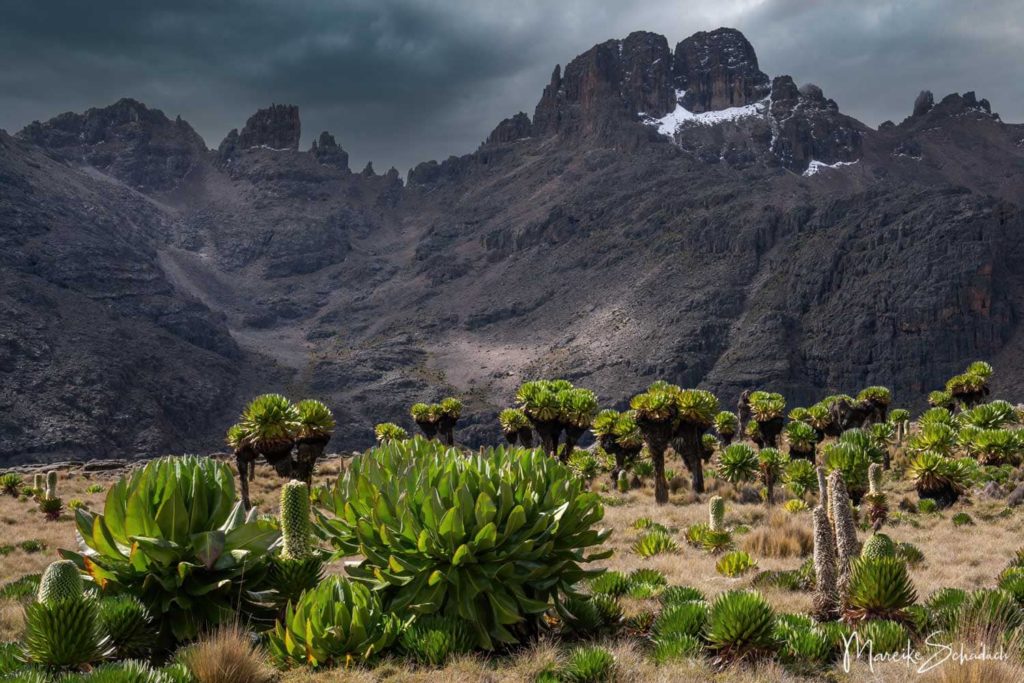 Ab etwa 4.500 Meter schließt sich die Gipfellandschaft mit mehreren Gletschern an. Die drei Hauptgipfel des Mount Kenya sind Batian (5.199 m), Nelion (5.189 m) und Lenana (4.985 m). Sie sind benannt nach drei wichtigen Massai-Häuptlingen.
Throne of God
The mountain massif of Mount Kenya is sacred because it is considered the throne of the god Ngai wa Kirinyaga (God of Kirinyaga). The legend says that after the god created the world, he divided the land among the people. He showed a man named Kikuyu from the top of Mount Kenya the land that was to be his. When Kikuyu finally returned to the foot of Mount Kenya, he met a woman. Her female children became the first mothers of the nine Kikuyu tribes.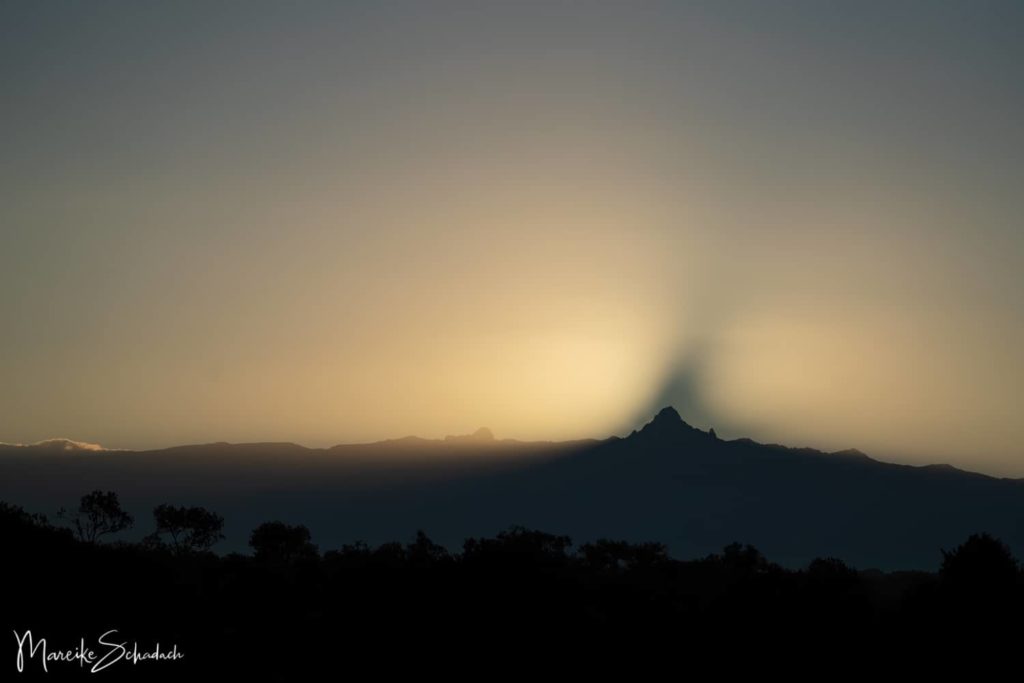 ---
At a Glance - Facts and Figures
Length: about 67 kilometers
Height difference: about 3.000 meters
Highest point: Point Lenana with 4.985 meters, third highest peak of Mount Kenya
Duration: with us 6 days, also possible in 5 days
Season: All year round. End of March to mid-May and end of October to mid-December have the highest rainfall.
Difficulty: strenuous high mountain tour of several days; no technical ascent but surefootedness, no fear of heights and normal fitness required
Tour provider: for example Go to Mount Kenya with guide, cook and porters
Accommodation: Tent and huts
Other: All visitors must sign in at the beginning of the tour and sign out at departure. Hiking alone is prohibited. Fires are not allowed. Waste must be packed and taken with you.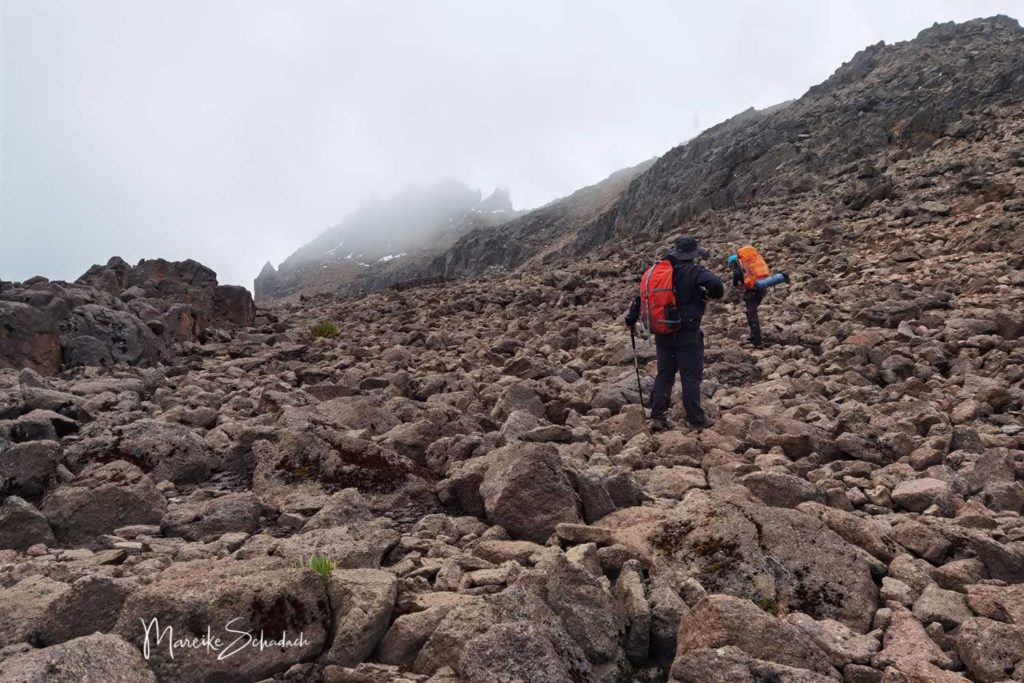 ---
Route Chogoria - Sirimon on Mount Kenya
There are several routes to Point Lenana. Two of the most beautiful and scenically spectacular are the Chogoria and Sirimon Routes. On a length of about 67 kilometers the mountain massif is crossed from east to west and there are about 3,000 meters of altitude to overcome.
Now we go into detail and to many more practical tips for the trekking tour and the adaptation to the altitude: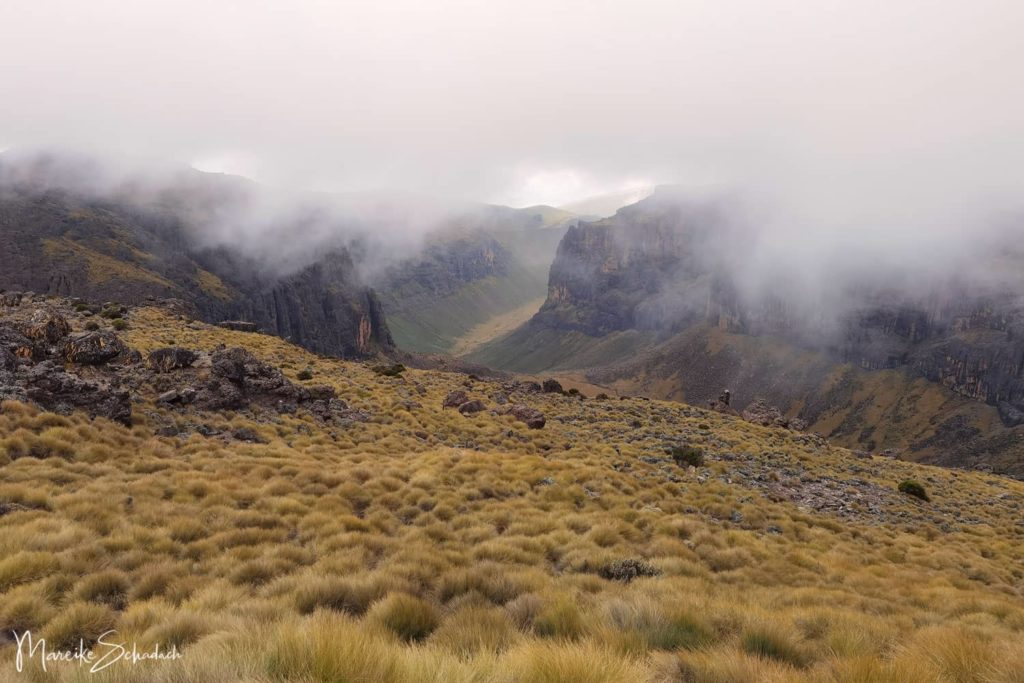 ---
Book recommendations for Kenya
You want to know where the journey goes? Then I can recommend these books* about Kenya.
You can order the books at Amazon by clicking on the pictures. If you buy a product through one of these affiliate links, I get a small commission and you help me to keep filling Fernweh-Motive with interesting articles. The product will not be more expensive for you and you do me a huge favor.
---
Do you have a favorite mountain? Which one is it? Do you have any questions or suggestions about my article? If yes, then write me a comment!
Do you want to know when there are new articles on my blog? Then follow me on Facebook, Pinterest or Instagram. I would also be very happy if you share my article with your friends.
---
Recommendations for further Reading
Do you love mountains as much as I do? Then you might also be interested in my articles about a Trekking Tour around Mount Kailash in Tibet or about Climbing the Half Dome in Yosemite National Park, California.