Scotland. Wenn es ein "Must Do" auf Orkneys Insel Hoy gibt, dann ist es ein Besuch des alten Mannes – dem "Old Man of Hoy". Denn die beliebte Küstenwanderung führt zu einem der berühmtesten Sea Stacks Schottlands. Abgerundet wird der lohnenswerte Hike von umwerfenden Aussichten entlang der schroffen roten Sandsteinklippen sowie guten Möglichkeiten für Bird Watching.
Unbeauftragte, unbezahlte Werbung. der Artikel enthält Affiliate-Links.
The Old Man of Hoy is the most popular attraction on Hoy and also its landmark.. Das fast 137 Meter hohe Sea Stack aus rotem Sandstein ist zudem eines der höchsten in Großbritannien. Einst war der Old Man of Hoy Teil der Klippen. Im Laufe der Zeit hat das Meer die Sandsteinklippen jedoch so weit erodiert, dass das Sea Stack vom Land abgetrennt wurde. Eine Zeichnung aus dem Jahr 1814 zeigt den Old Man of Hoy noch auf zwei "Beinen" stehend – ein Bogen am Fuße des Turms bildet dabei eine breite Basis.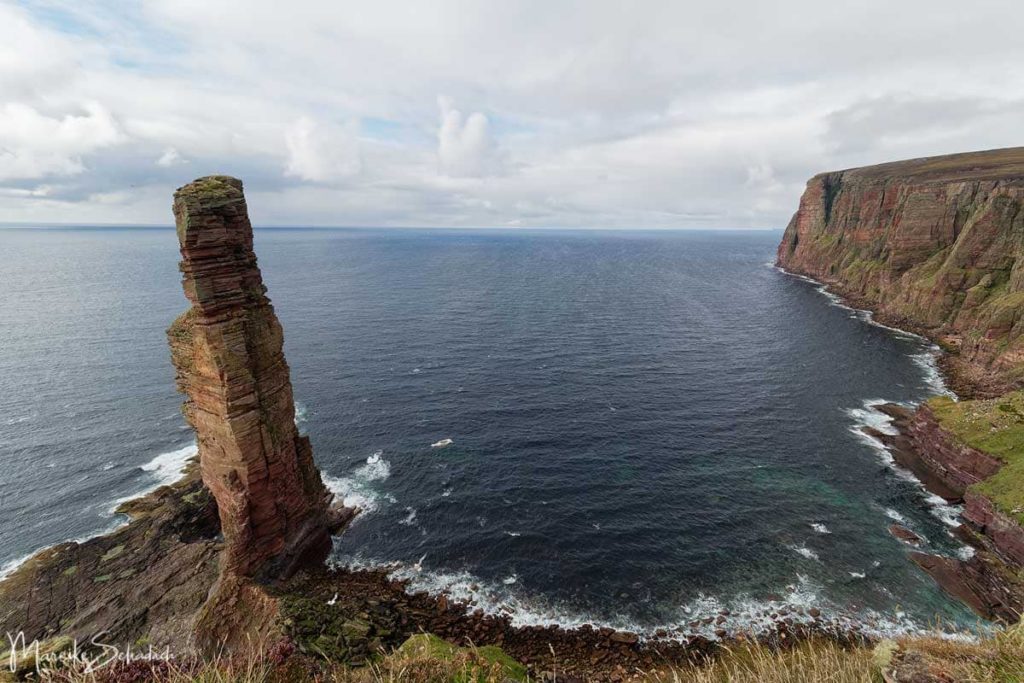 The Old Man of Hoy was first climbed in 1966 by the climbers Chris Bonington, Rusty Baillie and Tom Patey.The following year the climb was repeated for a live television broadcast. Afterwards, the rock needle truly captivated mountaineers. It is quite possible that you will see climbers during your hike.
An easier way to experience the Old Man of Hoy on the Orkneys is to walk along the coast from Rackick.
The hike to the Old Man of Hoy at a glance
Length: about 9,25 km
Height difference: about 220 m
Duration: 2,5 - 3 hours
Terrain: easily walkable and clearly visible path
Highlights:Old Man of Hoy, view of coast with red sandstone cliffs and Rackwick beach, bird watching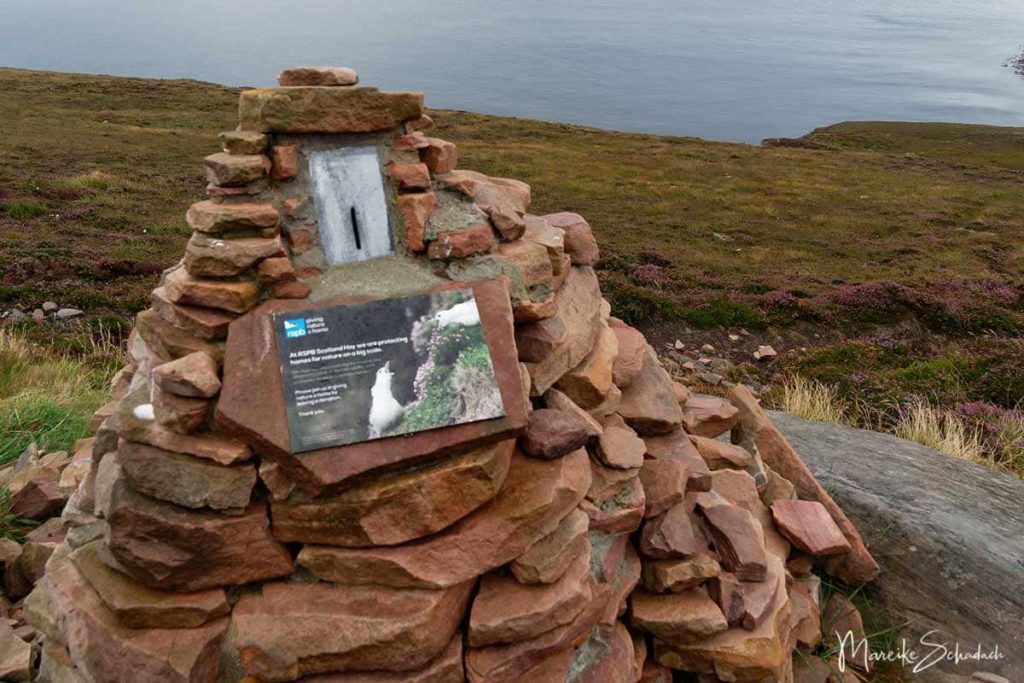 Where is the Old Man of Hoy located?
The Sea Stack Old Man of Hoy is located on the west coast of Hoy Island, one of the Orkney Islands. It can only be reached on foot. Starting point for the hike is the village of Rackwick in the south of Hoy.
Please note: The Isle of Hoy can only be reached by ferry.There are two ways to get to Hoy:
1. from Houton (Mainland Orkney) to Lyness (Hoy) - vehicles and pedestrians. For details please see Orkney Ferries.
2. from Stromness (Mainland Orkney) to Moaness (North Hoy) - pedestrians and bikes ONLY. For details please see Orkney Ferries.
For departure times and costs, please see the respective Orkney Ferries page. The booking is done by phone, an online booking is not possible.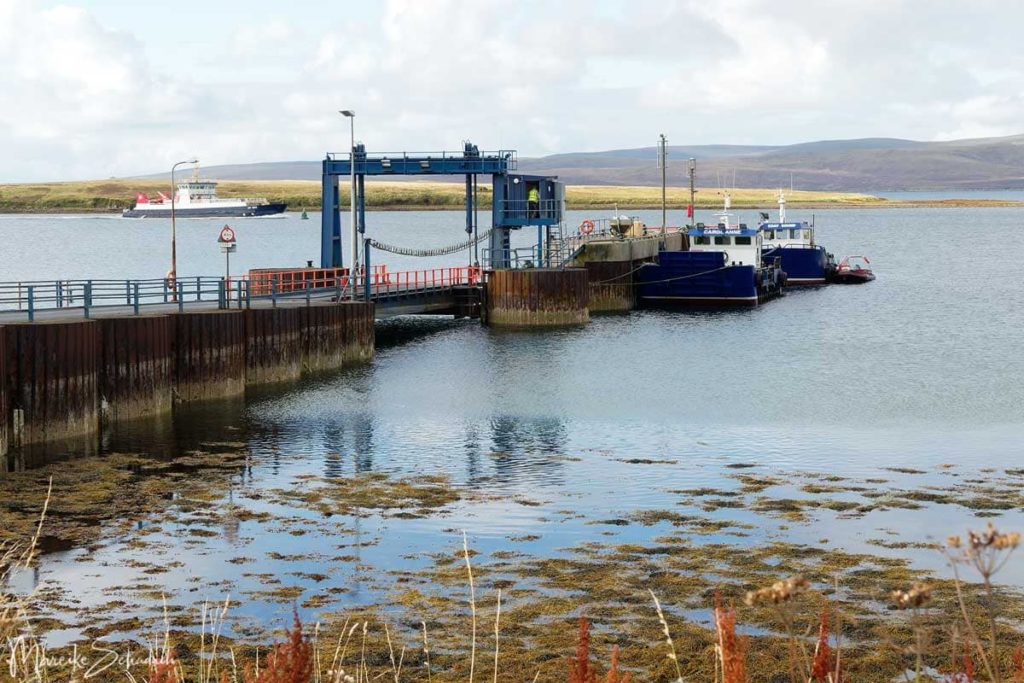 Ways to get to Rackwick
By car: From the ferry terminal in Lyness it takes about 30 minutes. However, it is best to plan a little more time for stopovers.
By bike: From the ferry terminal in Moaness you will travel 9.2 kilometers to Rackwick. You should plan a good 30 to 40 minutes for this.
On foot: From Moaness to Rackwick there is a 7.25 kilometer long hiking trail, the so-called Rackwick Glen route. You should plan about 2 hours for one way. If you only want to walk the route once, you can also book a cab.
We took the ferry from Houten to Lyness with our car. So we were flexible and could also visit other interesting places on Hoy. The ferry costs there and back for two passengers with a car was 62 pounds. To have some more time, we camped one night at the Bothy in Rackwick.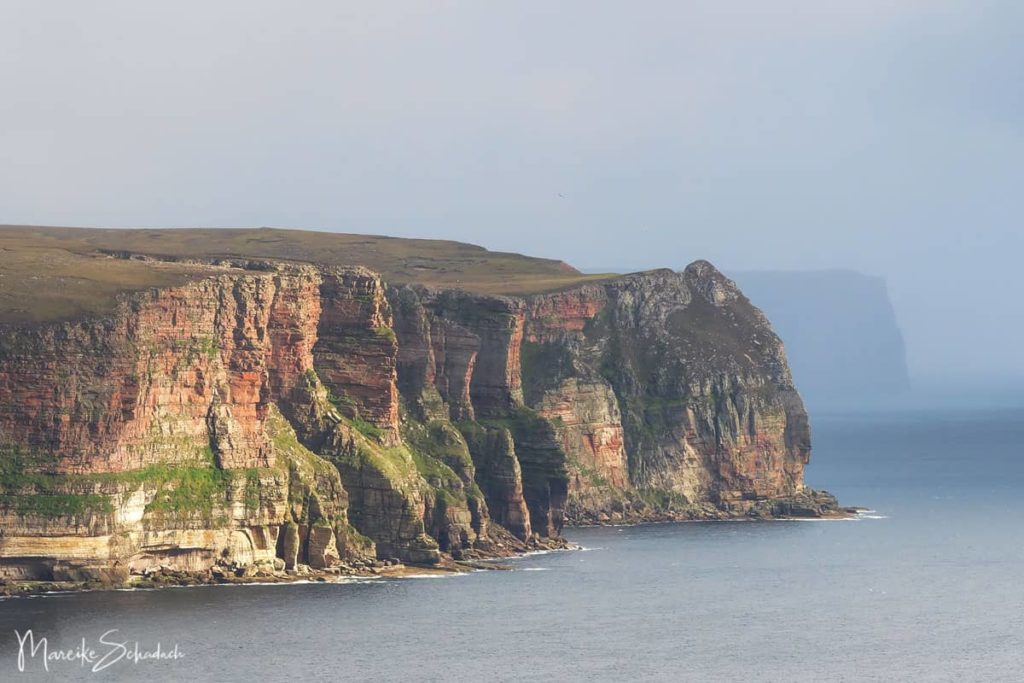 Was bedeutet der Name "Hoy"?
"Hoy" stammt von dem Altnordischen "Ha-ey" was soviel bedeutet wie "die hohe Insel". Und in der Tat: Hoy ist deutlich bergiger als der Rest der Orkneys. Die höchste Erhebung ist der Ward Hill mit 479 Metern.
Description of the Walk to the Old Man of Hoy
Starting Point Rackwick
The starting point of the hike is in the small village of Rackwick.The access to the parking lot is signposted. Two information boards give an overview of the hike and the village Rackwick. You will also find information about public toilets as well as for camping facilities at Bothy,a small hut on Rackwick beach.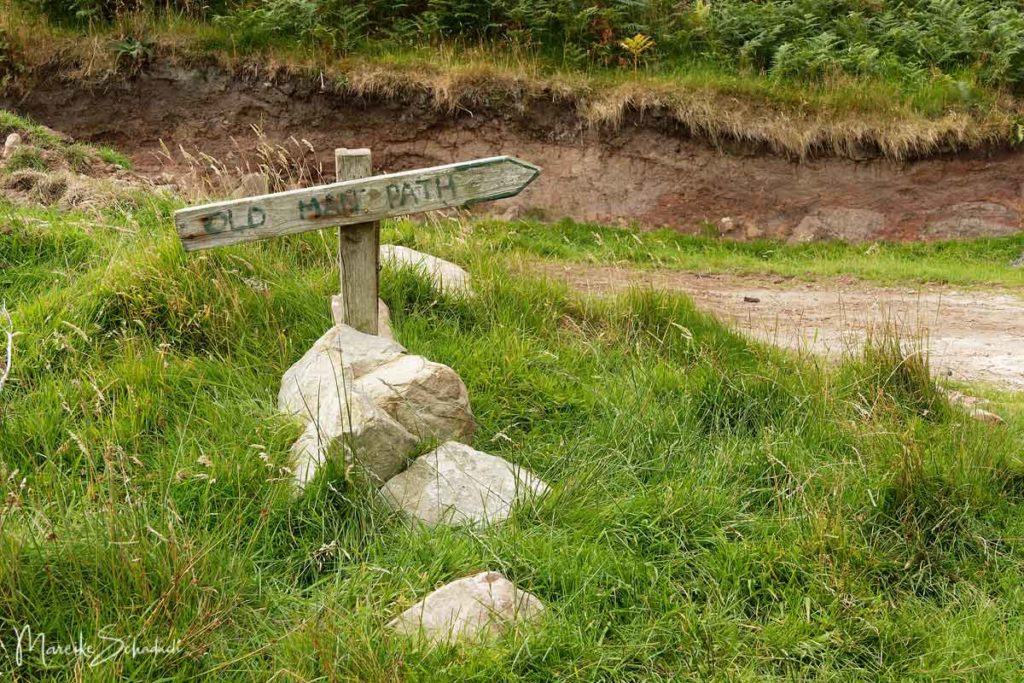 View of the most beautiful Beach of the Orkneys
From here you follow the main road through the village towards the coast. Then the signposted path bends off and zigzags up the mountain flank.With every meter of altitude the view of Rackwick Bay with its fantastic white sandy beach gets better. It is said to be the most beautiful beach of the Orkneys. That may be true, I haven't seen a more beautiful one.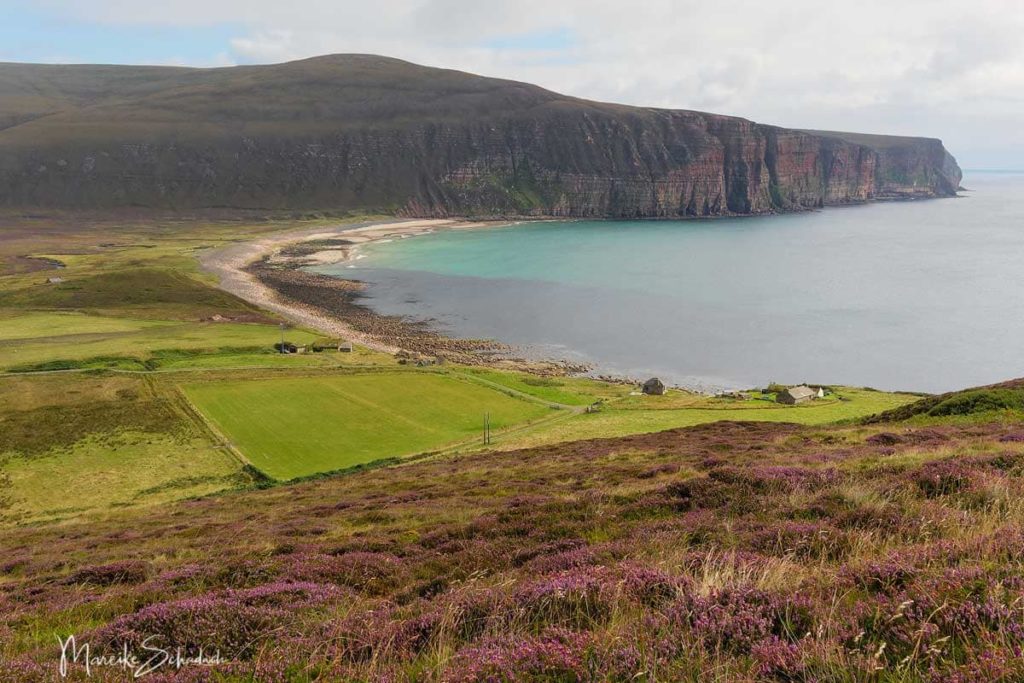 View of the Old Man of Hoy
Almost at the top, a bench with a view invites you to take a break. Then the path continues and after a bend reaches the highest point. Finally the Old Man of Hoy comes into sight.However, it is still a long way to go. Since the sea stack is with 137 meters higher than the coast, it towers above it and the top of the Old Man of Hoy is already visible.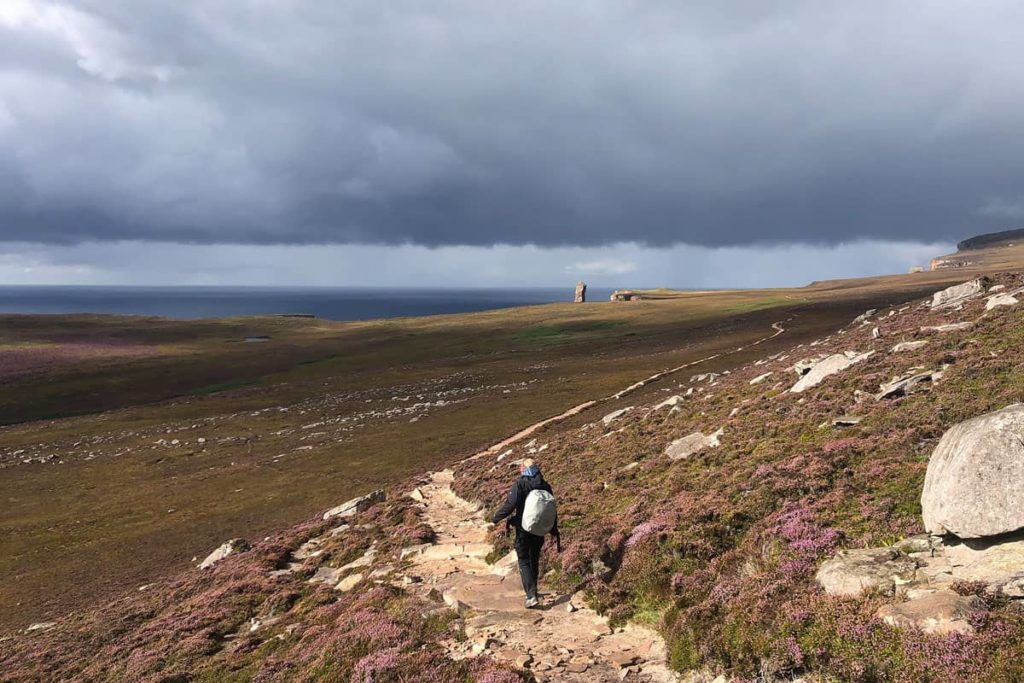 Now the trail goes slightly downhill for quite a while. However, we could not enjoy this part of the hike as much as we had hoped because it was raining cats and dogs. Shortly before the viewpoint on the Old Man of Hoy it luckily cleared up again.
What a sight! Proudly the Old Man of Hoy stands in front of the coast and defies wind and waves. But the forces of nature change the rocky coast and will probably not stop at the Old Man of Hoy any time in the future. There is a stony path down to the foot of the rock needle.But we did not go down.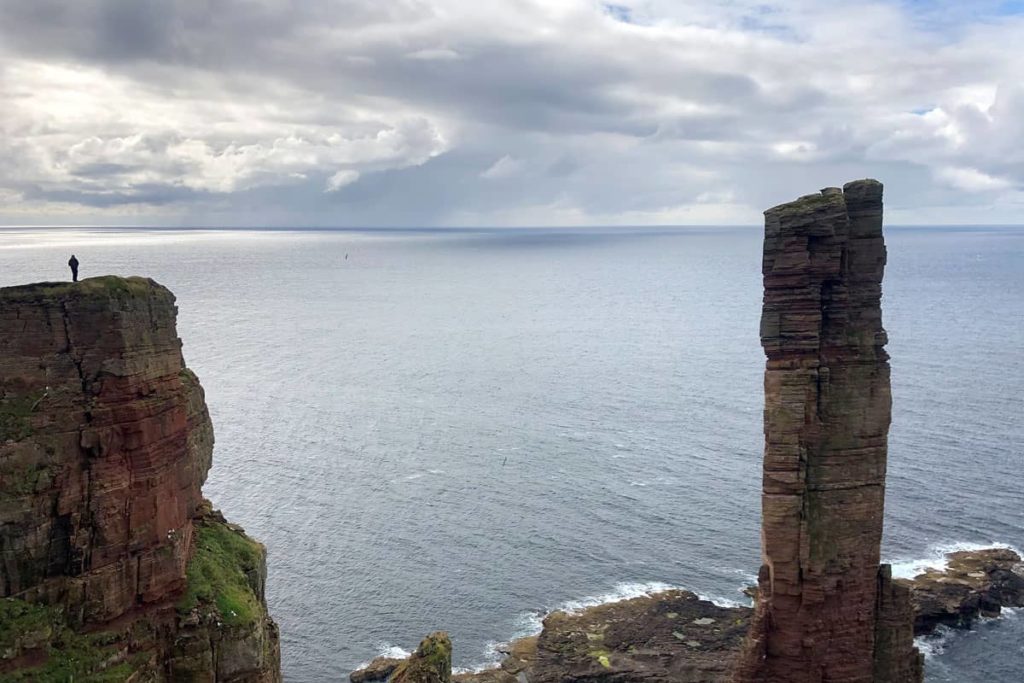 After I photographed the Old Man of Hoy from all sides and we shared our picnic with a fearless herring gull, we set off again. It goes the same way back.
If you want to, you can hike further along the coast to the impressive cliffs at St. John's Head. For the way there and back you should plan about two additional hours.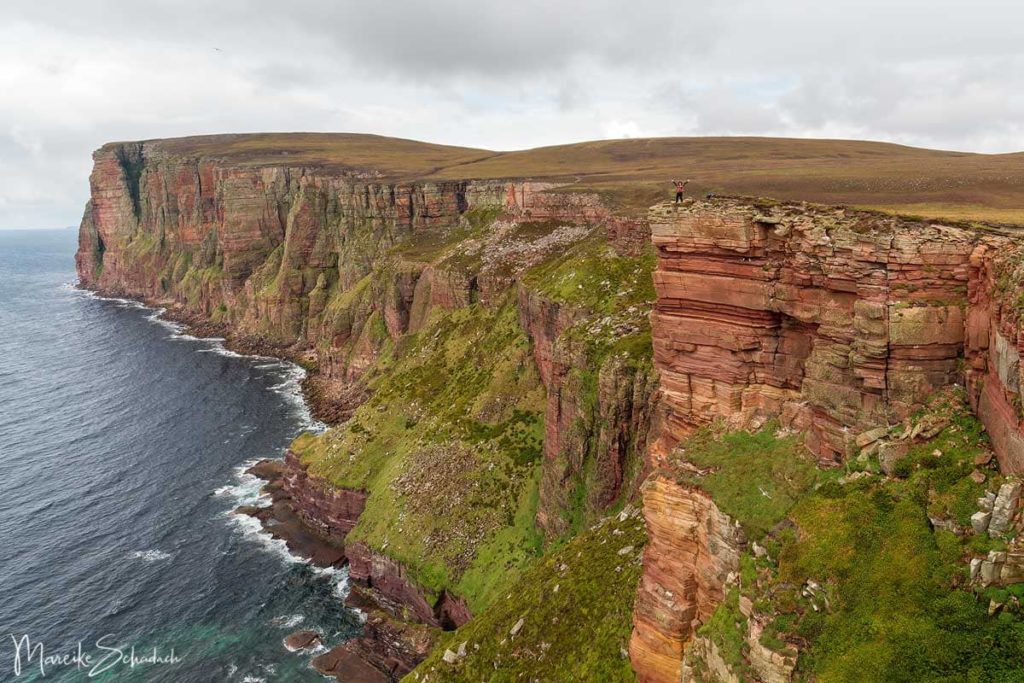 Tip: Better take some more provisions to the island of Hoy. There are hardly any possibilities to buy more.
Here Comes the Rain Again
Hoy was the filming location for the music video of the song Here Comes the Rain Again by British pop duo Eurythmics.My partner had played the song to get me in the mood for the hike. Afterwards the song went into an endless loop in my ears. And as almost expected: during our tour it started to rain several times. Magical!
Tip: Never leave your rain pants in the car!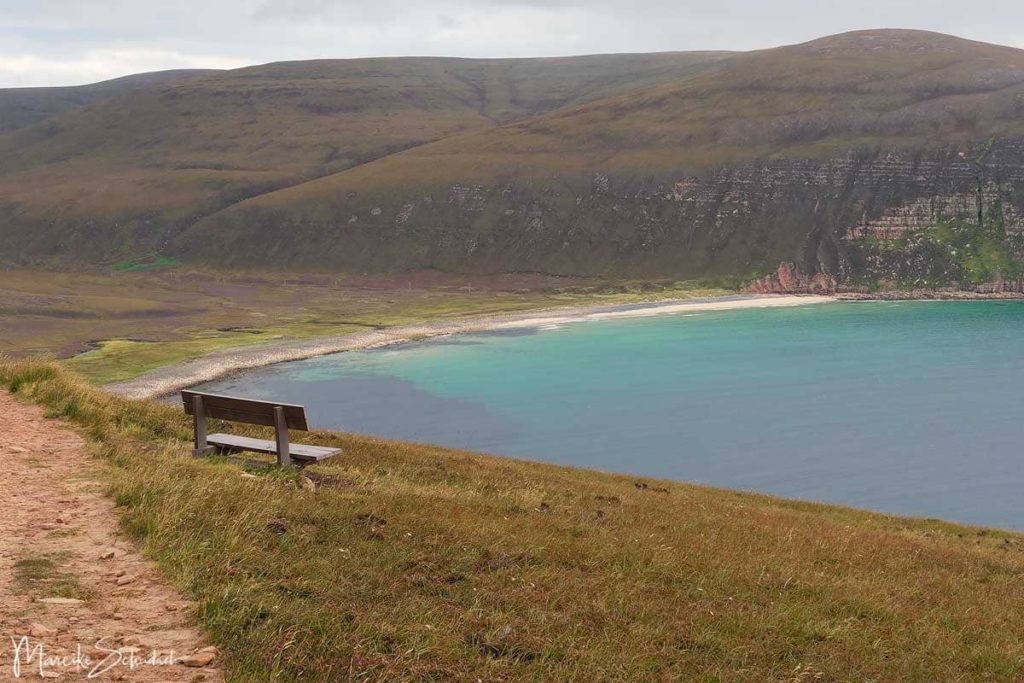 ---
Book Recommendations for Scotland
You want to know where the journey goes? Then I recommend the following travel guides, which have proven themselves on my trip:
---
Kennt ihr den "Old Man of Hoy" von den Orkneys? Wie hat er euch die Küstenwanderung dorthin gefallen? Habt ihr noch Fragen oder Anregungen zu meinem Artikel? Wenn ja, dann schreibt mir doch einen Kommentar!
Do you want to know when there are new articles on my blog? Then follow me on Facebook, Pinterest or Instagram. I would also be very happy if you share my article with your friends.
---
Recommendations for further Reading
Do you love wild coasts and lonely landscapes as much as I do? Then you might also be interested in my articles about a Kayak Tour in the Swedish Archipelago or a Trekking Tour to the Greenlandic Ice Sheet.