Mývatn is not only known for its billions of mosquitoes, but also for its rich bird life. Many hobby ornithologists come here during the summer months to discover new species for themselves. And also all those who love spectacular volcanic landscapes get their own reward here. Pseudo-craters and surreal lava labyrinths as well as high-temperature areas and a geothermal bath provide variety. In this article you will find out everything you need to know for your visit to Mývatn. I will tell you the "must do's" and you will also get lots of practical tips for birdwatching and hiking at Mývatn.
---
Unassigned, unpaid advertising. The article contains affiliate links.
---
Why visit the Lake Mývatn? Is it worth it?
The 4 most beautiful Walks and Hikes at Mývatn
Birdwatching at Mývatn and Sigurgeir's Bird Museum
Geothermal Bath Mývatn Nature Baths
When is the best Time of Year to visit Mývatn?
How to get there?
Camping at Mývatn
What else is there to discover nearby?
---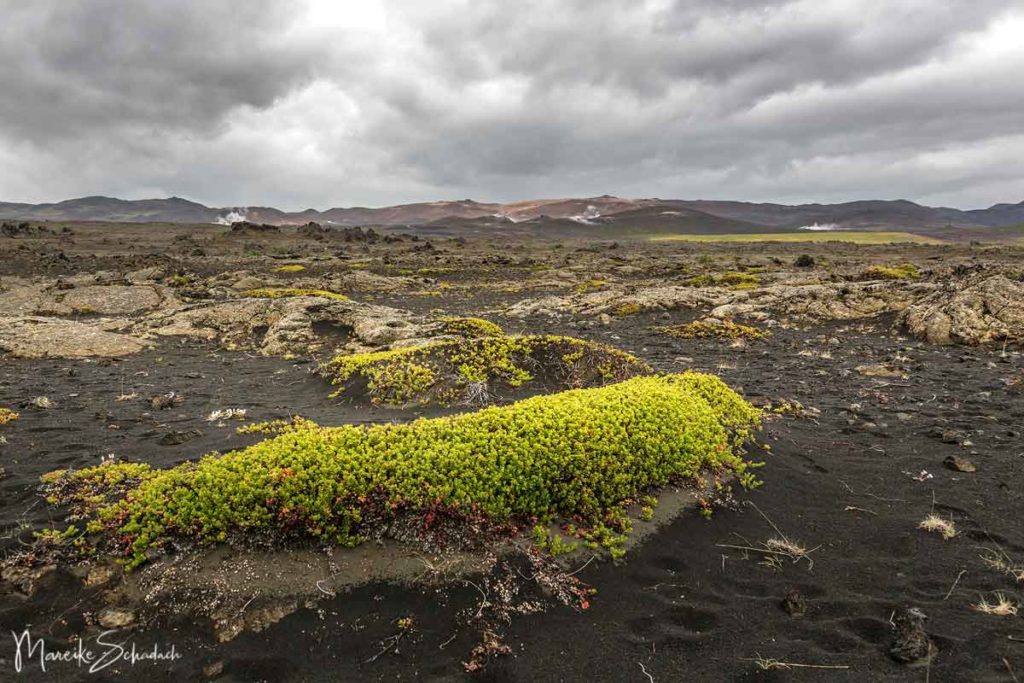 Why visit the Lake Mývatn? Is it worth it?
Lake Mývatn is notorious for its thousands and thousands of mosquitoes. The reason for the numerous insects is that Mývatn is very shallow and is also fed by hot underground springs. Why you should visit it anyway? Well, also because of the mosquitoes, Mývatn is one of the best birdwatching destinations in Iceland.
Mývatn is part of the approximately 40 kilometre long volcanic system of the central volcano Krafla. It is embedded in a beautiful volcanic landscape with many interesting and varied hiking possibilities. By the way: the last eruptions in the area took place from 1975 to 1984.
Die "Must-Do's" am Mývatn
Hikes or walks through breathtaking volcanic landscapes
Birdwatching and a visit to Sigurgeir's bird museum on the west bank of Mývatn
Relaxation in Mývatn Nature Bath
---
The 4 most beautiful Walks and Hikes at Mývatn
#1 In Teufels Küche - High temperature area Hverarönd
Hverarönd is one of Iceland's most famous high temperature areas. It lies at the foot of the mountain Námafjall, in the east of Mývatn. The boiling mud holes, the rising columns of steam and above all the strong smell of sulphur guarantee you an unforgettable experience. You can first take a tour of the hot spring area on given paths. Afterwards a yellow marker will lead you up to the top of Námafjall. All in all you will walk about 3 kilometres. As you will probably stop frequently to take pictures, you should plan enough time for this.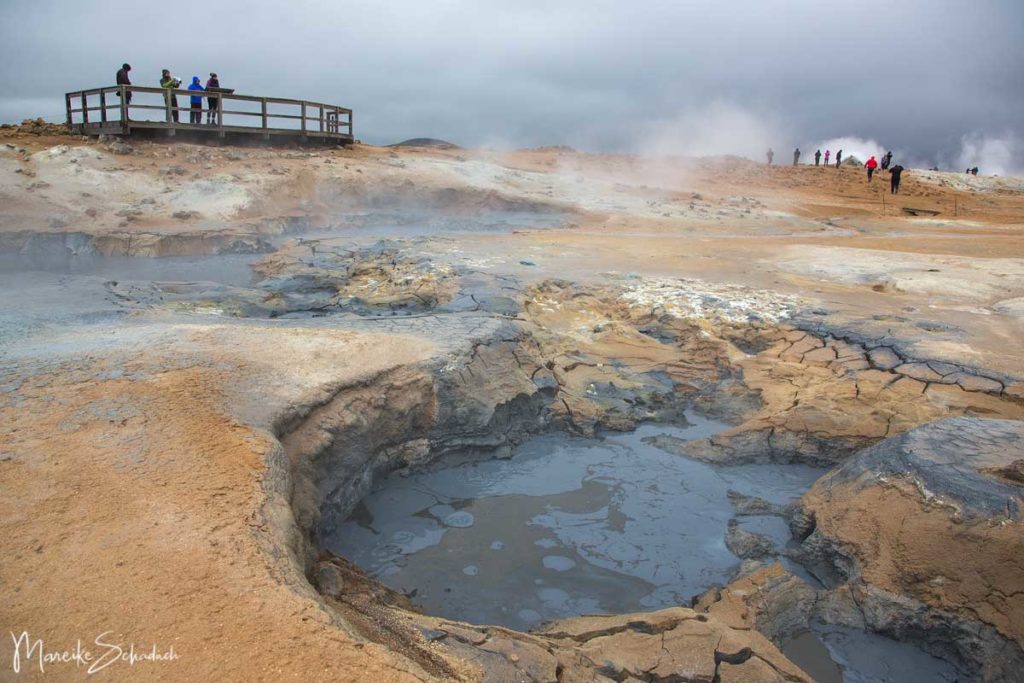 TipTake change shoes with you! Because the yellow mud from the paths is quite persistent.
#2 Over the Lava Field Vogahraun to the Hot Fissure Grjótagjá
During this round hike you will pass the lava field Vogahraun and through a birch grove to the hot fissure Grjótagjá. The total distance is about 5.4 kilometres. The landscape on this short hike is very varied. You will walk over black lava and ash fields with padded vegetation and through a small forest of crippled birches. At the end you will come to an area with water-filled hot crevices, like the Grjótagjá. If you want to bathe in the Grjótagjá yourself, it is best to find out the current temperature beforehand. This can change due to changing inflows.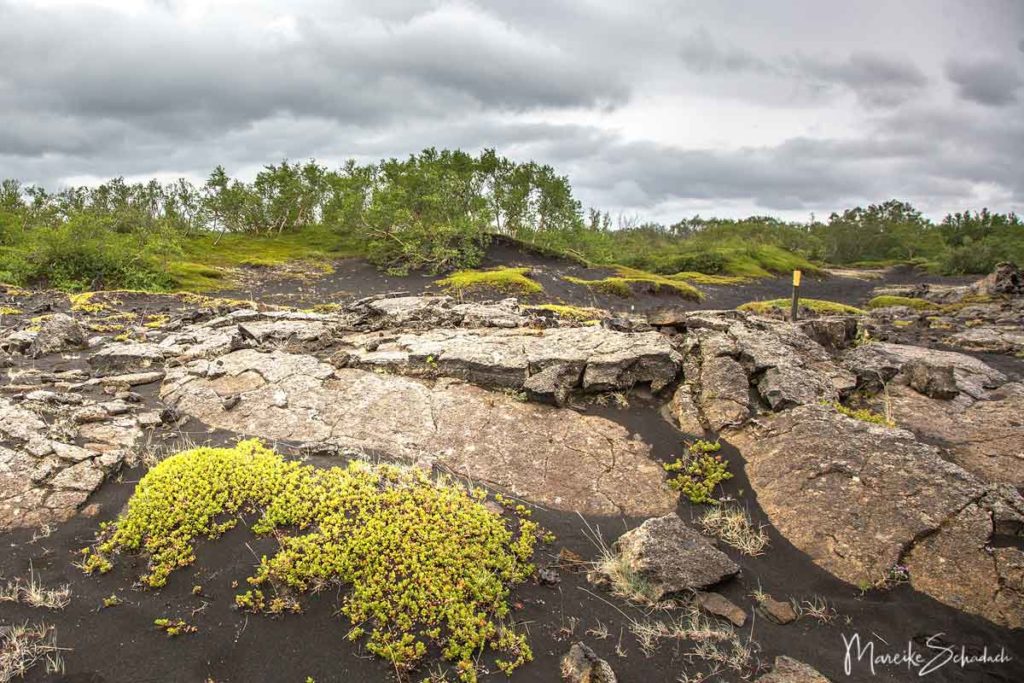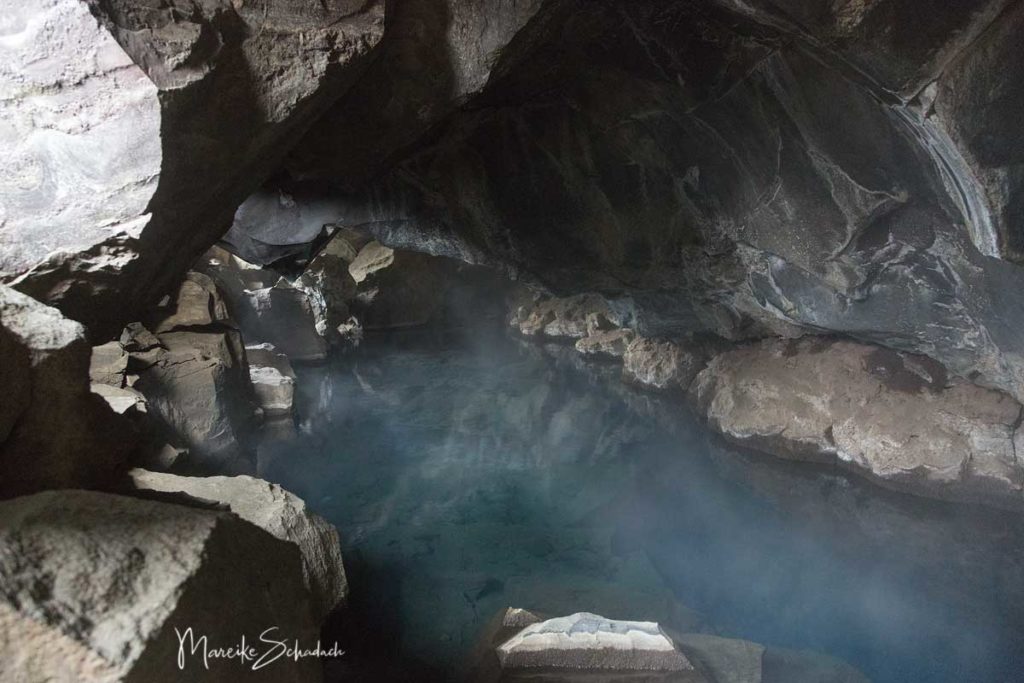 #3 The "Black Castles" of Dimmuborgir
It is a place where elves and trolls could live. The "Black Castles" of Dimmuborgir look like ruins of fortresses and towers. I quickly had the feeling of wandering in another world.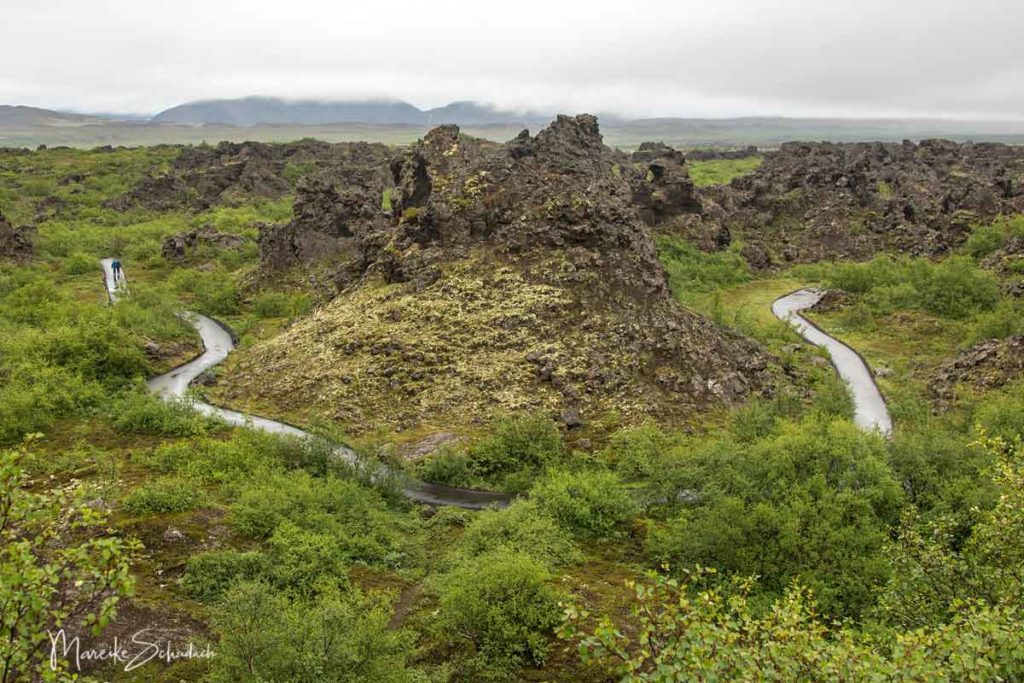 The bizarre lava landscape Dimmuborgir consists of a collapsed lava lake. It was formed about 2300 years ago, when after an eruption the lava pushed itself over a lake or swamp. The water under the lava was heated until it started to boil. Then the water vapour made its way through lava vents to the surface. Meanwhile, the lava continued to flow under the already solidified crust and cavities were formed. These collapsed over time and made the wild landscape even wilder.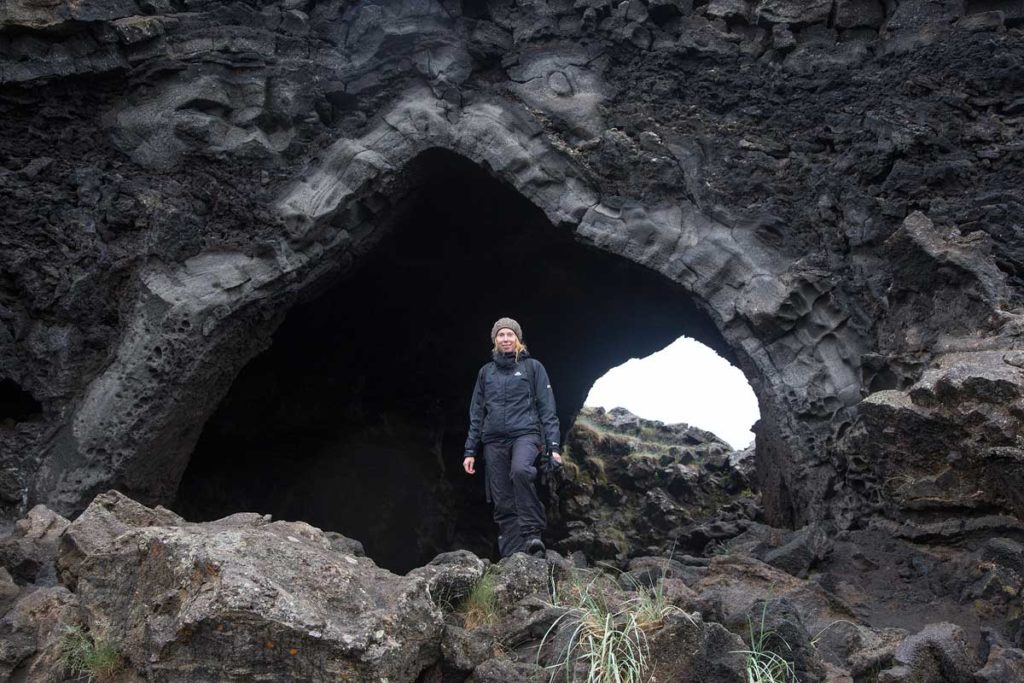 A well-developed network of paths leads you through this surreal volcanic landscape. A round tour measures about 4 kilometres. If you want to hike a little more, you can climb the 450 meter high crater Hverfjell from here. At the top you have a great panoramic view.
Tip Tip for all those who can't get enough: You can also combine hikes 1, 2 and 3 to a day trip and then take a taxi back to the starting point.
#4 Pseudo crater Skútustaðagígar
I can also recommend a walk in the area of the pseudo-craters Skútustaðagígar. They are located in the south of Mývatn near the village Skútustaðir. The craters belong to the Krafla volcanic system. They were formed thousands of years ago when liquid magma flowed over water and the water below escaped explosively. At the parking lot you can read the formation of the craters in detail on a sign. A three kilometre long circular path leads you past the craters and up to some of them. There are also good birdwatching opportunities along the way.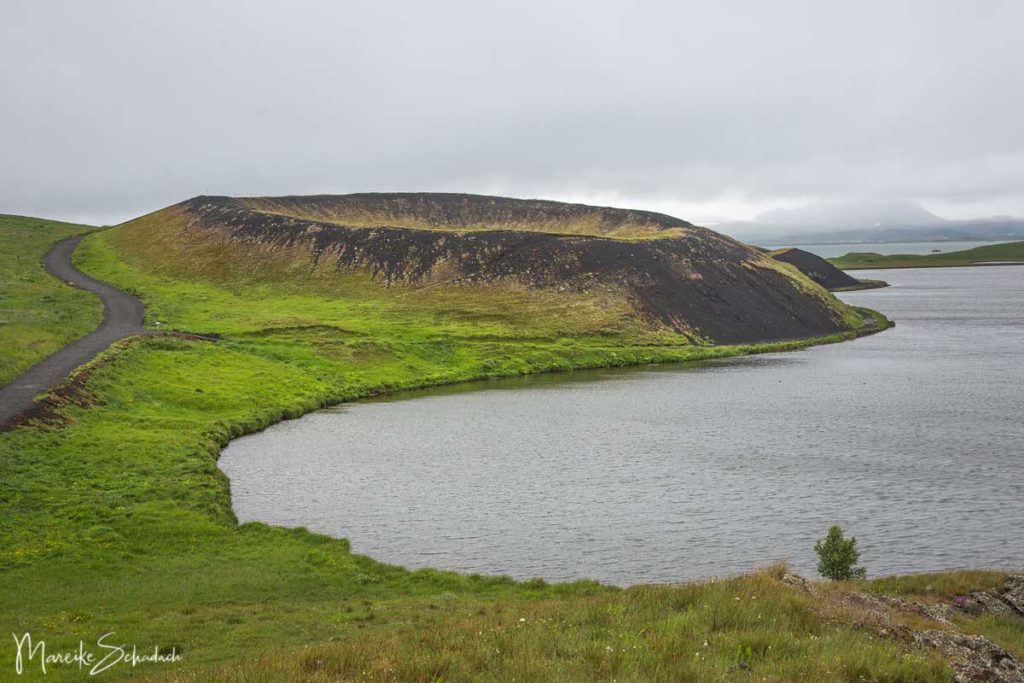 ---
Birdwatching at Mývatn and Sigurgeir's Bird Museum
You came to Mývatn for birdwatching ? Then you will find good opportunities to watch birds on the Höfði peninsula, at Skútustaðir, on the banks of the river Laxá and around Sigurgeir's bird museum in Neslandavík bay. Telescopes have been set up here and you can watch most of the breeding birds of Mývatn with a little luck right here on our doorstep. The Bird Museum also operates three observation cabins. Two of the cabins are located in Neslandavík bay. One is better suited for morning observations, the other for evening observations (Raufarhóll). The third hut is located on the shore of Kálfstjörn (Calf Pond), on the eastern shore of the lake. It is especially suitable for evening observations. The huts are not open to the public, you must book them in advance (e-mail: fuglasafn@fuglasafn.is) and pick up the key to the Bird Museum.
At Sigurgeir's Bird Museum At Sigurgeir's Bird Museum you can learn about the nature of Mývatn and its inhabitants. Here you can see 280 bird preparations and 300 bird eggs. The exhibition shows almost all Icelandic bird species. Only two are missing. This way you can see up close how big the birds are. Impressive! Besides a small shop there is a cosy caféin the museum. Here you can warm up with a warm soup after birdwatching.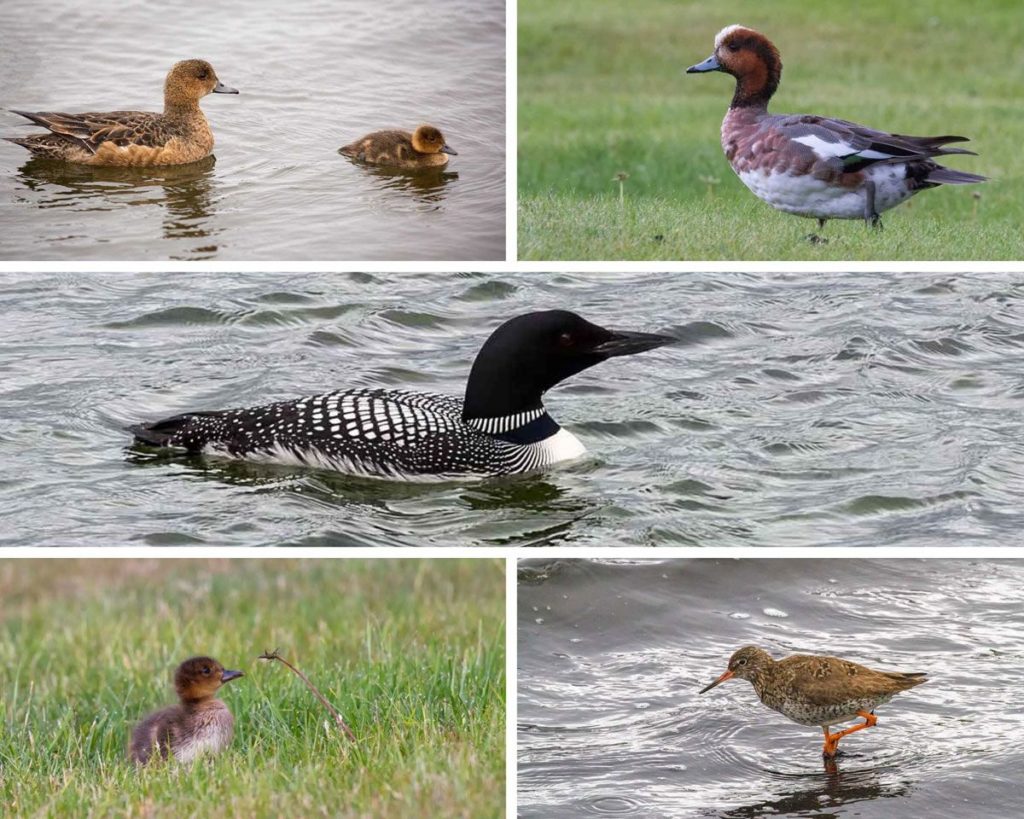 Which bird species live on Mývatn? Here is just a selection - there are even more!
Heron ducks, spade ducks, mountain ducks, wigeons, teals, red-breasted merganser, hooded ducks, pintail ducks, whooper swans, greylag geese, short-billed geese, great red-throated divers, red-throated divers, red-breasted divers, black-headed gulls, arctic terns, ptarmigans, falcons, short-eared owls, merlins as well as various species of waders (e.g. curlew, redshank, snipe) and passerines.
Tip: If you want to observe certain species, it is best to ask at the museum for the best observation places for the respective species. A report book is also on display there, where you can enter sightings. Fancy a little professional talk? Hobby ornithologists meet daily at 14:00 h in the museum to exchange ideas.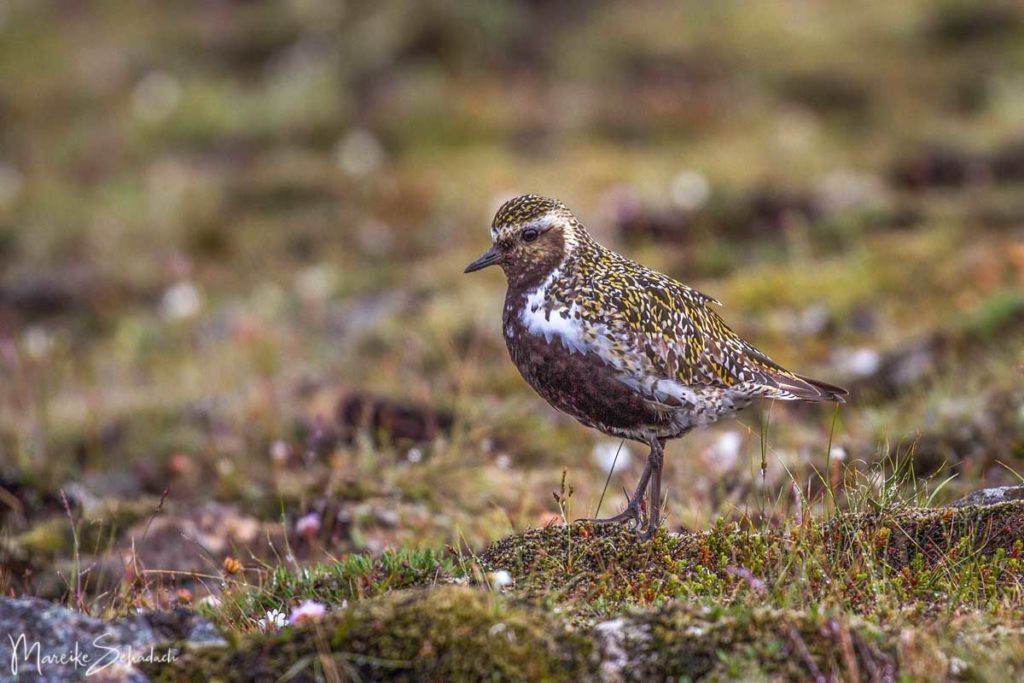 ---
Geothermal Bath Mývatn Nature Baths
Relax after your hikes on Mývatn with a warm bath. Water temperatures of 38°C to 40°C will soften your muscles even when the outside temperature is cold. The opening hours of Mývatn Nature Baths are in the summer until midnight, in the winter until 22 o'clock. A cafe offers snacks.
TipGeothermal water in Iceland usually contains some sulfur. Before you enter the water, you should therefore remove jewelry made of brass or silver. If not, it can turn black.
A few facts about Mývatn:
Lake Mývatn is the fourth largest lake in Iceland. It has 40 islands.
Area: 37 km²
Maximum depth: 4.2 m
Average depth: 2.3 m
Age of the lake: about 2000 years
---
When is the best Time of Year to visit Mývatn?
The lake Myvatn is a great destination in summer. But what does it look like here in winter? Since the lake does not freeze completely in winter due to the hot springs, you can watch birds at Mývatn in winter too . There are not so many species left, but you have a chance to see whooper swans, sparrow-eyed ducks, goosanders and mallards. In April the first migratory birds arrive. The best times for birdwatching on Mývatn are May and June. But you can also watch many species throughout the summer. During the breeding season (May 15 to July 15), however, access to the north-western shore of the lake and the adjacent wetlands is not permitted.
Hikes are also possible in winter. The snow-covered lava landscape has its special charm. The geothermal bath is also open in winter. So you can warm up after a winter hike.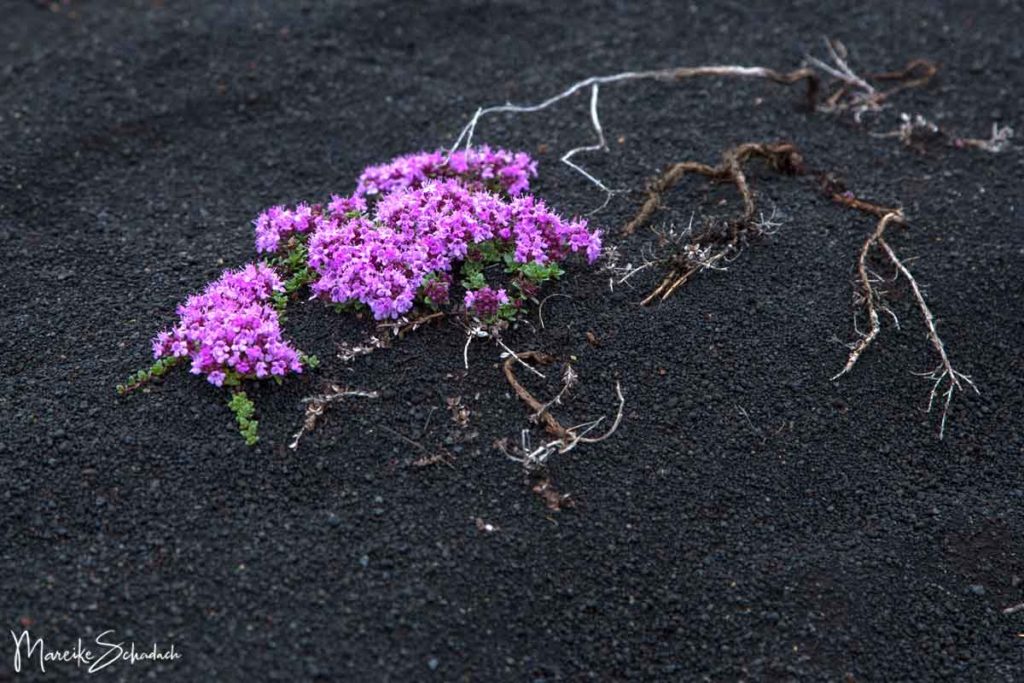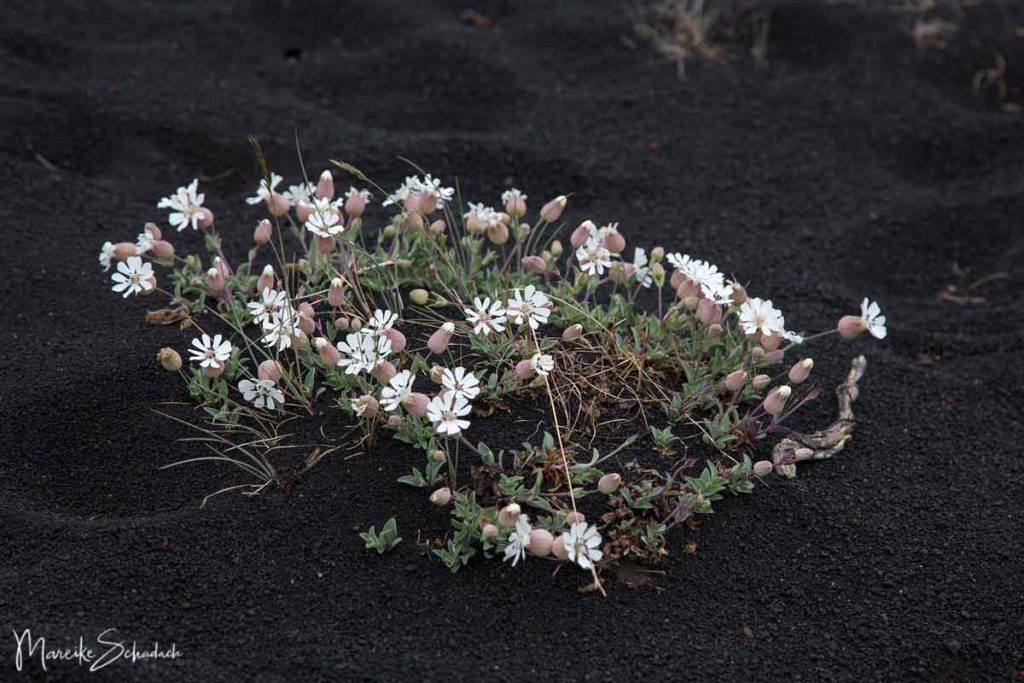 How to get there?
Mývatn is located on the ring road. If you drive around Iceland, you will "stumble" over the lake. The distance from Reykjavik is 470 kilometres. From Akureyri, it's only 83 kilometres.
You can also drive around the lake. This is a great mini-roadtripwhere you pass many highlights of the region. The distance is about 36.2 kilometres and is good and easy to drive.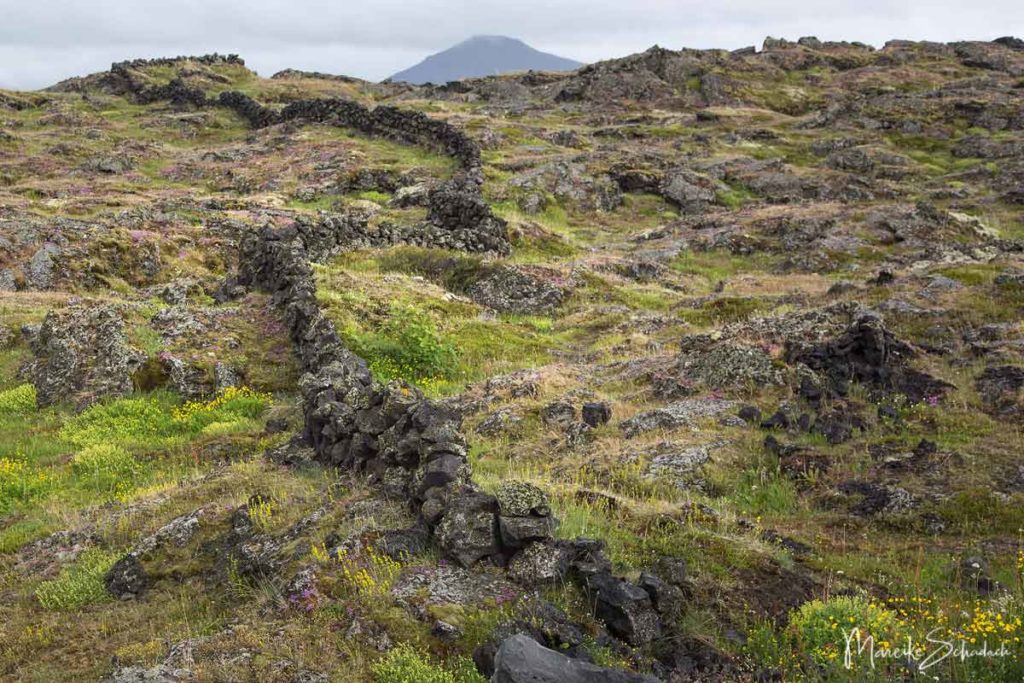 ---
Camping at Mývatn
At Mývatn you will find three campsites. Unfortunately none of them takes part in the Camping Card programme. They are all located on the north-east shore of the lake, in or near the village of Reykjahlíð. Here, in the main village on Mývatn, there is also a supermarket, a petrol station and a tourist information centre equipped with computers.
We pitched our tent for three nights at the campsite Mývatn We pitched our tent for three nights at the camping site Mývatn. We got a great spot for our tepee with a clear view of the lake shore. While we waited in the tent until the rain stopped, we could watch the ducks from the open entrance. A perfect place for birdwatching at Mývatn.
A bit further south you will find the campingsite VogarNorth of Reykjahlíð there is also the campground Hlid . The small campsite is a bit elevated and offers a great view over the lake.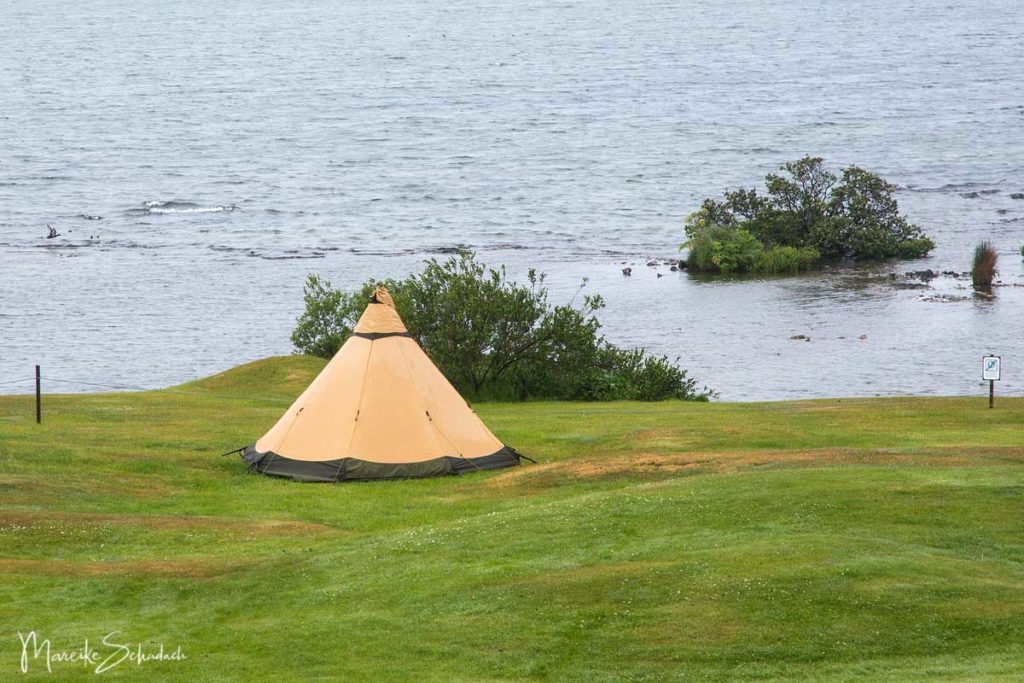 Mosquito alarm!
Mývatn is known for its abundance of mosquitoes. Here, there is sometimes a mass appearance of the mosquitoes. But fortunately these mosquitoes do not bite. But when they buzz around your face in thick clouds, entering your eyes, mouth and nose, they quickly become a nuisance. Then you need a good mosquito spray and maybe even a mosquito net for your head. Make sure that the mosquito net is coloured black. It offers a better view than light-coloured nets. You can buy the mosquito net for example at petrol stations.
And remember: Always close the mosquito net from the tent!
What else is there to discover nearby?
Mývatn is a station of the so-called "Diamond-Circle", a circuit in the north of Iceland. The route takes you on about 260 kilometres past some of the most beautiful and impressive landscapes in Iceland. Due to its rather remote location in the north-east of the island, this route is much less frequented than the famous Golden Circle in the south-west. In my separate article The Diamond Circle - Islands Highlights in the North you will learn more about the other stations you can explore.
---
Book Recommendations for Iceland
Do you want to know where the journey is going? Then I can recommend this travel guides* to you.
You can order the travel guides on Amazon by clicking on the pictures. If you buy a product via an affiliate link, I get a small commission and you help me to keep filling Fernweh-Motive with interesting articles. This does not make the product more expensive for you.
---
Did you like my recommendations for your visit to Mývatn? Then follow me on Facebook, Pinterest or Instagram. I would also be very happy if you share my article with your friends. Do you have any questions or suggestions? If so, please write me a comment!
---