Washington State, USA. The hike to the Fire Lookout on Mount Pilchuck in Washington State leads through an enchanting forest and over semi-open, rocky sections. At the end of the steep climb, on a clear day, the Fire Lookout offers a 360° panorama of the Cascades, the Olympics and Puget Sound. The hike is considered one of the most challenging but rewarding hikes in Washington State. But is the trail worth it on a cloudy, foggy day?
Unassigned, unpaid advertising. The article contains affiliate links.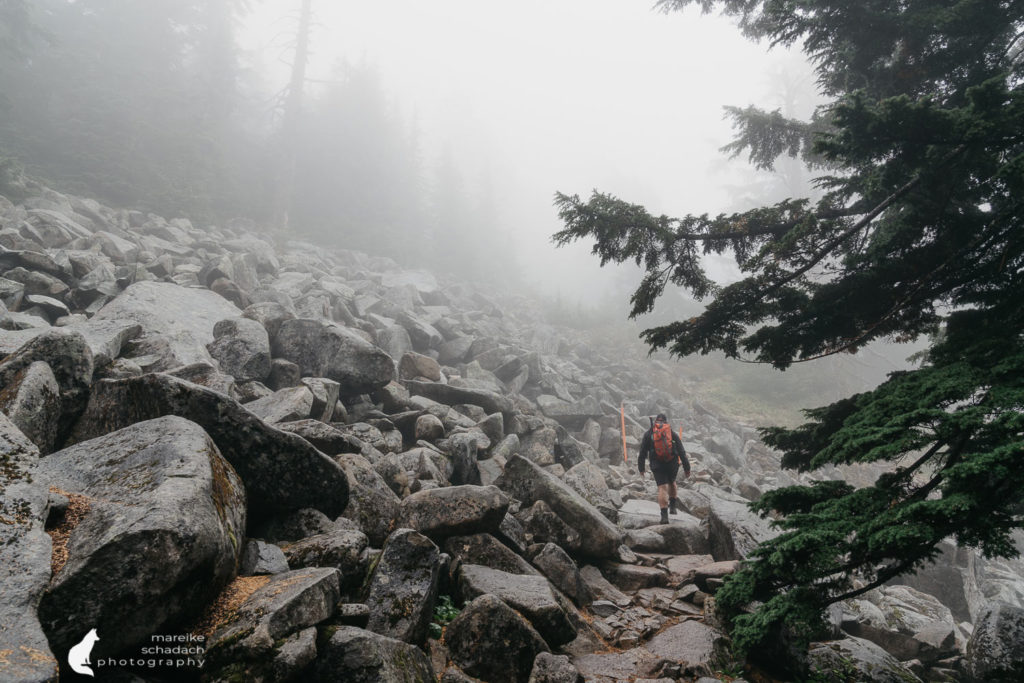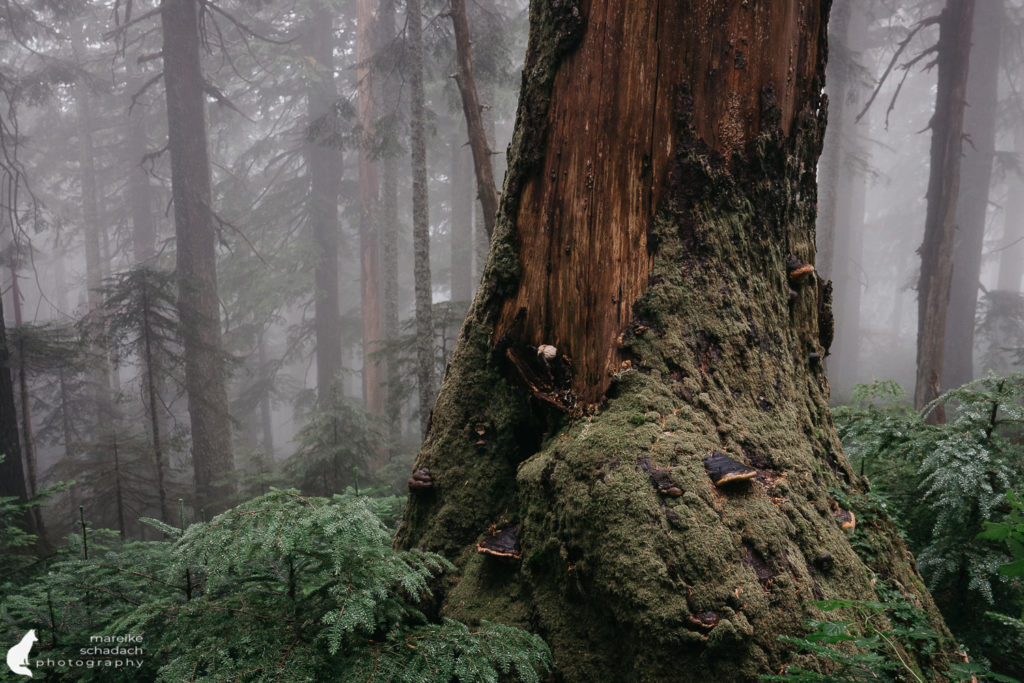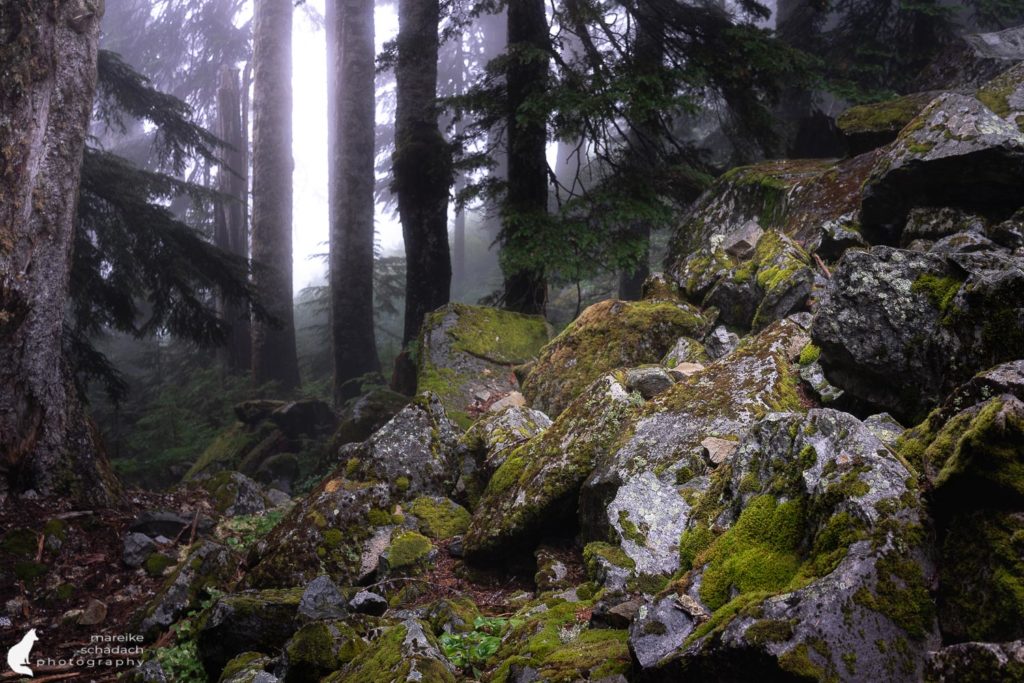 ---
Where is Mount Pilchuck located?
Mount Pilchuck is located in the Mt. Baker-Snoqualmie National Forest, about a three to four hour drive from Seattle. The Mt. Baker-Snoqualmie National Forest extends from the Canadian border west of North Cascades National Park and the Okanogan-Wenatchee National Forest to Mount Rainier National Park. It is one of the most visited forests in the country. Covering nearly 7,000 square miles, it is home to glacier-covered peaks, spectacular mountain meadows and ancient, enchanted forests.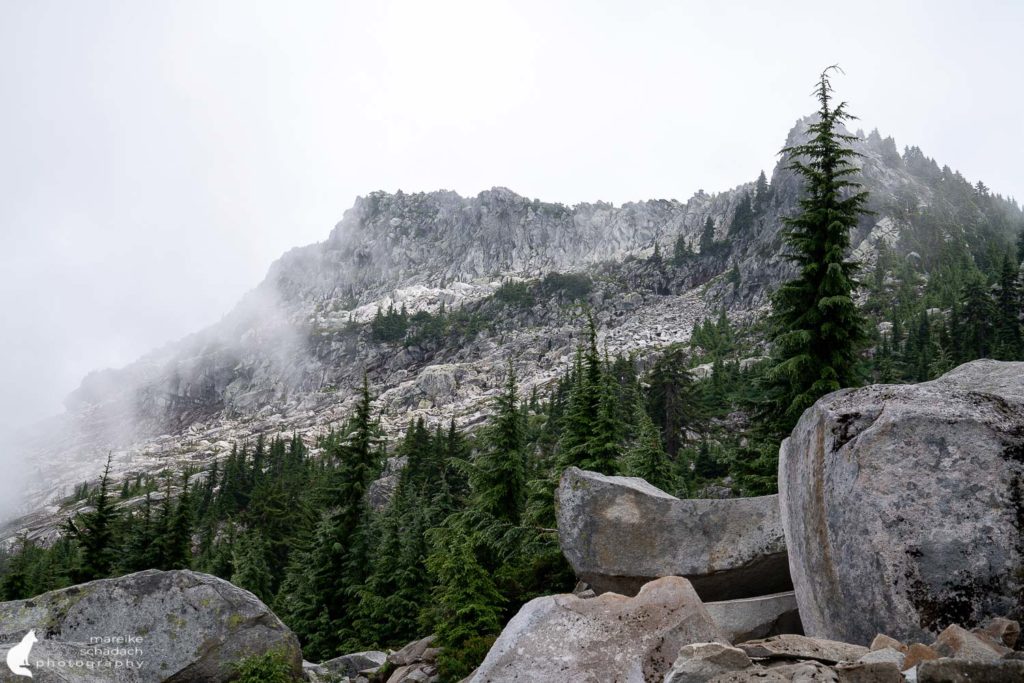 ---
Mount Pilchuck Hike at a Glance
Length: 8.4 kilometers (there and back)
Height difference: 647 meters
Difficulty: strenuous, steep trail with many rocks and large boulders, some meters of boulder climbing at the end. When the trail is partially snow covered well into June, route finding can be difficult.
Drinking water: there is a small stream at the beginning of the trail
Parking: there is a parking lot with restroom at the trailhead. No water. Best to come early as the trail is busy.
Highlights: 360° panoramic view in clear weather of the Cascades, Olympics and Puget Sound. On cloudy days, the moody atmosphere in the forest is another highlight.
Best time: July to October, often still snow in June
Nearest town: Granite Falls, Washington
Dogs: Dogs are allowed, but must be kept on a leash.
The first section of the trail leads us through dense forest. Soon we cross a small stream and then it goes further continuously uphill. The gradient here is still moderate. But the further we get, the steeper it gets.
In fog, which is common here, the moss-covered trees look mystical and mysterious. There are many great photo motifs to discover here.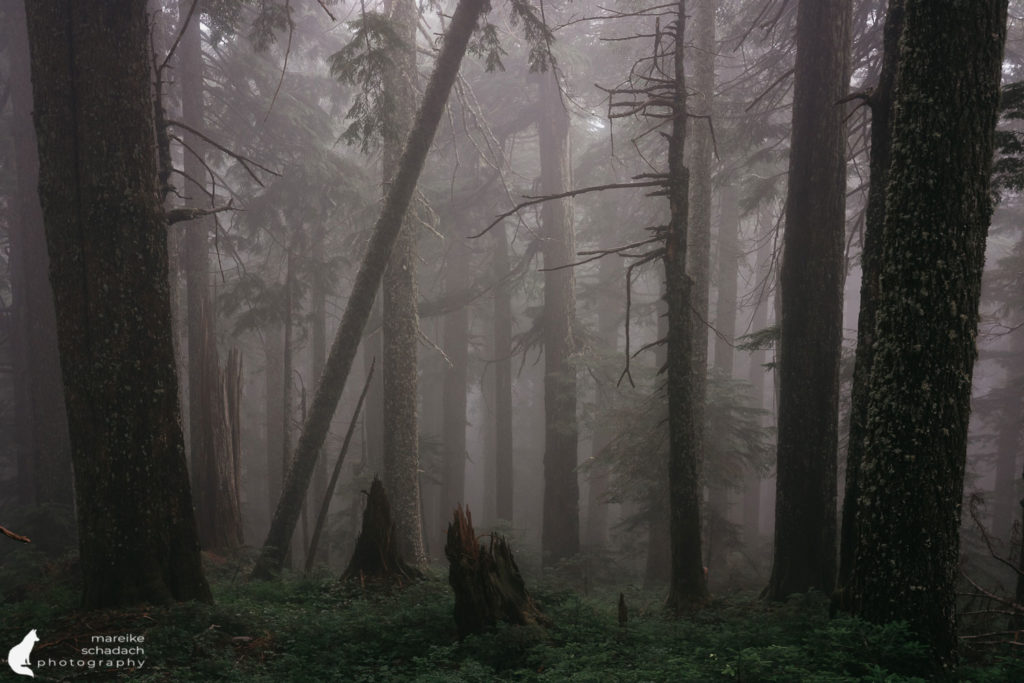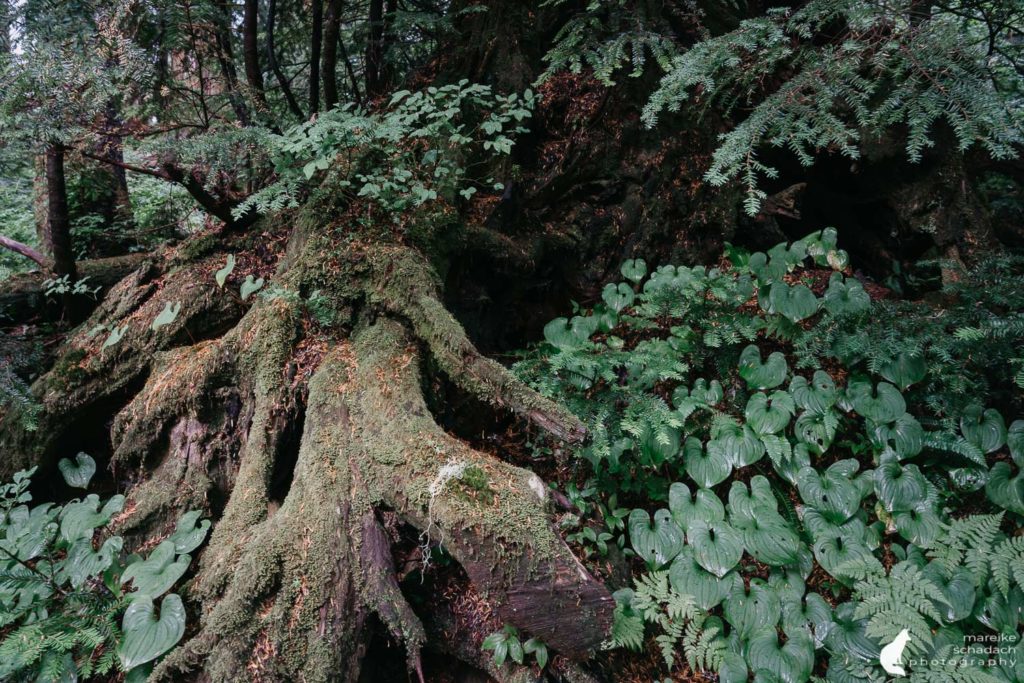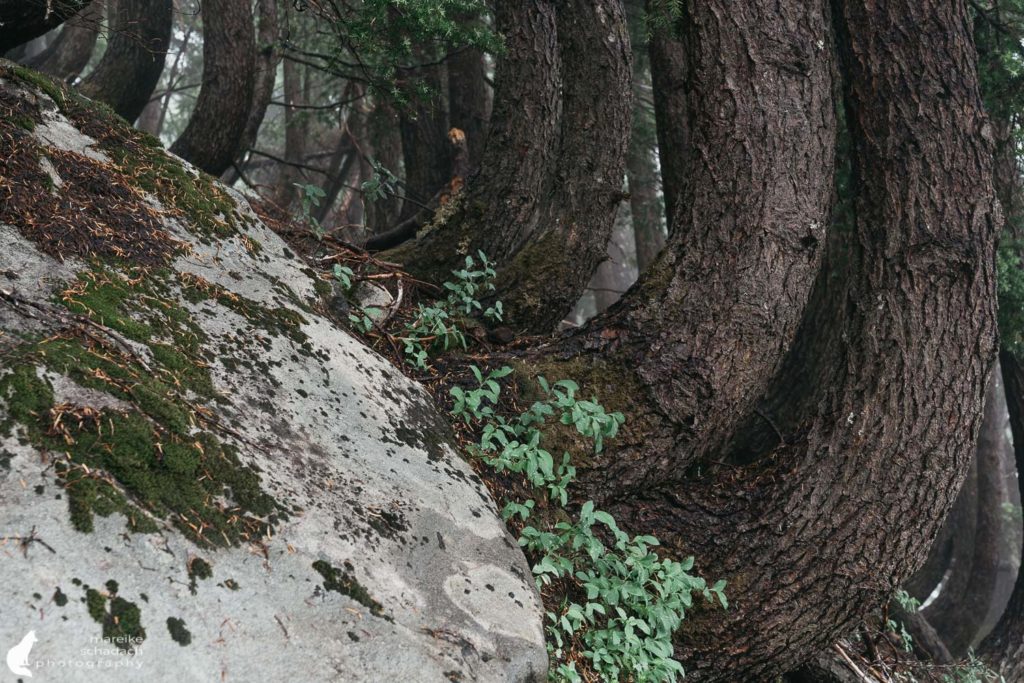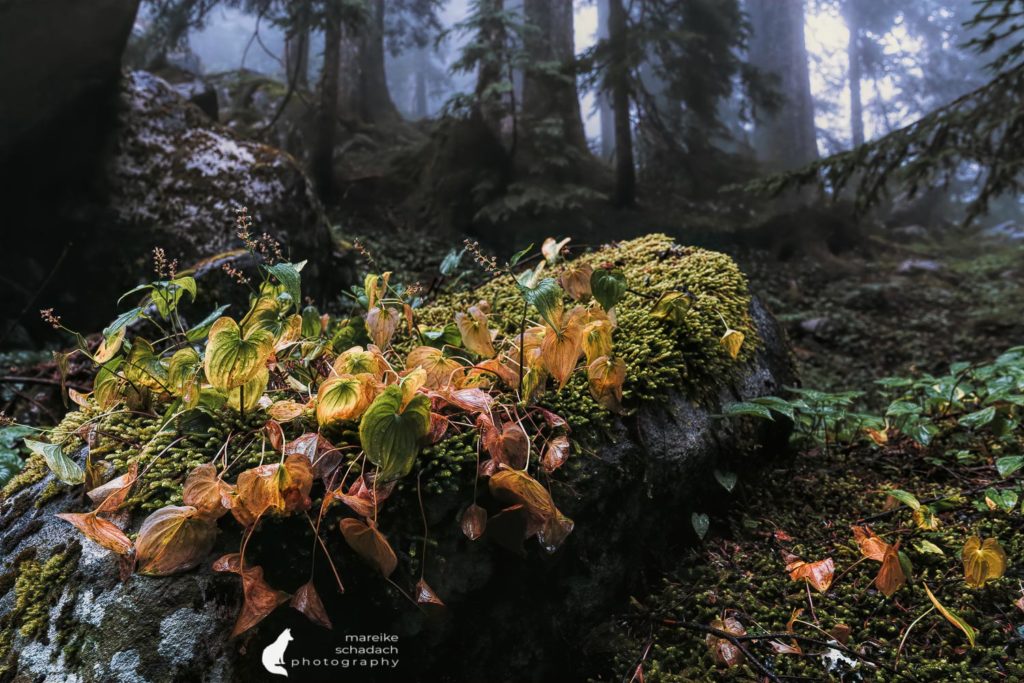 At some point the trees become a little smaller and we cross the first scree field. Here we also hear the first marmot whistle. Unfortunately, we don't see it, but later we will be able to see them.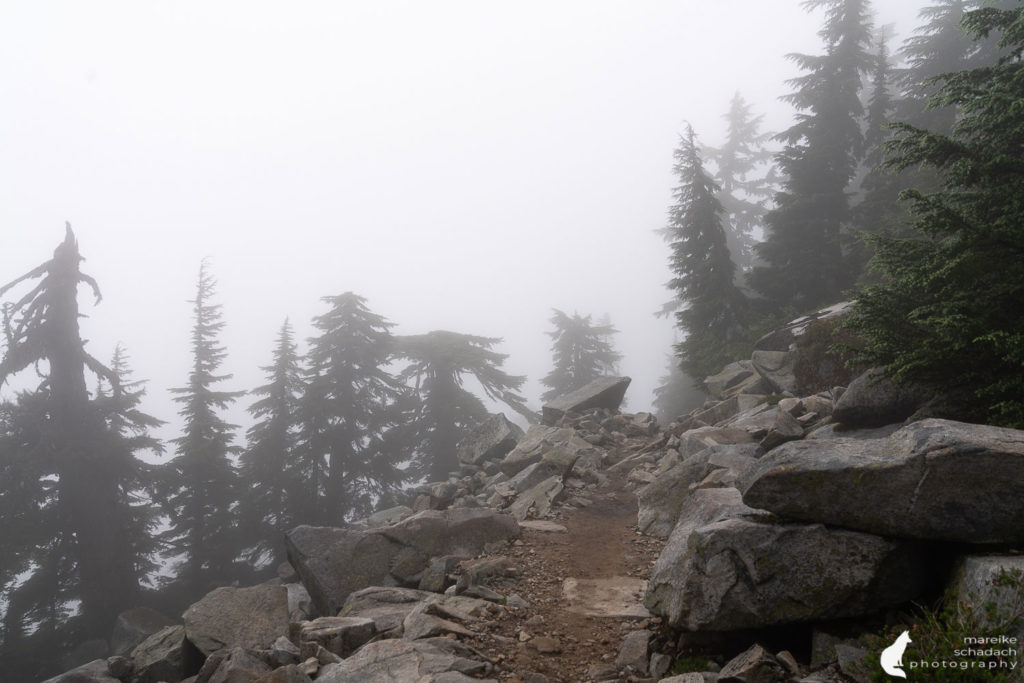 The trail is sporadically marked with orange slats. Since there is no snow, we can easily follow the trail. The last about 1.5 kilometers consist mainly of boulders. Surefootedness is required here. Finally, Fire Lookout, shrouded by mist, emerges from between the trees. Unfortunately, contrary to the weather forecast, the clouds have not cleared.
To get to the Fire Lookout we have to climb the last few meters over big rocks and up a ladder. The view from up here is supposed to be fantastic. But we see here only a 360° panorama of dense fog. But even so, the little wooden house is a nice destination. Inside, info boards explain which mountains you could see in which direction, including Mount Baker and Mount Rainier. There is also more information about the history of the Fire Lookout at Mount Pilchuck.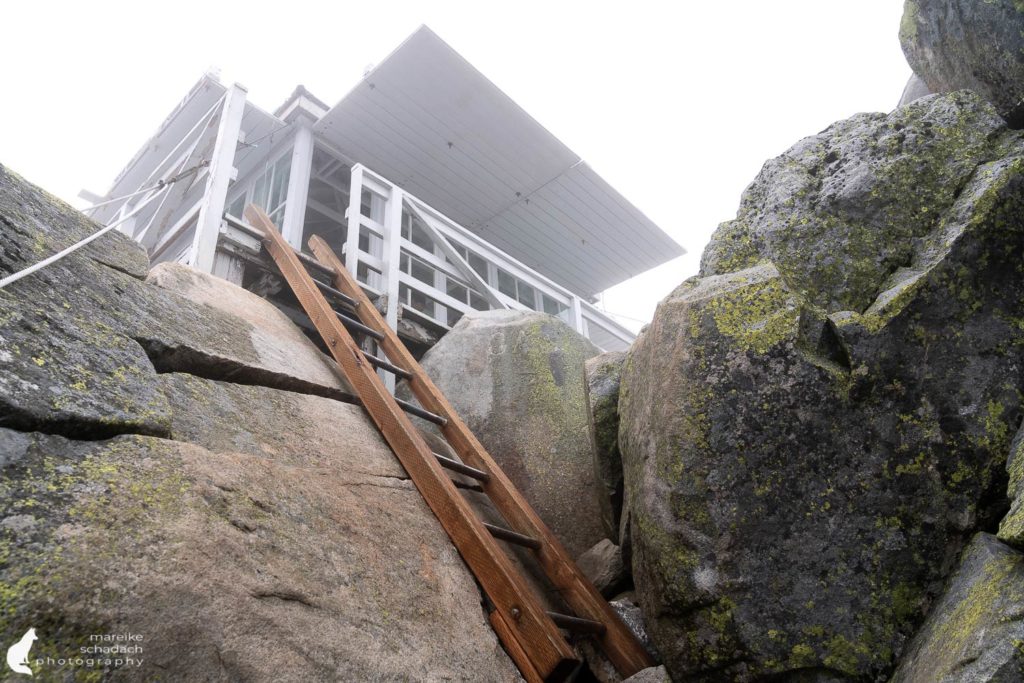 ---
A handful of little ideas* on how to make your hike a bit more enjoyable:
---
Fire Lookouts
In the 20th century, Fire Lookouts were built after a series of wildfires in Washington State. They were located at vantage points with particularly good all-around views. Of the 750 Fire Lookouts that once existed, only 93 remain today. They are extremely popular with hikers and are among the most beautiful hiking destinations in Washington.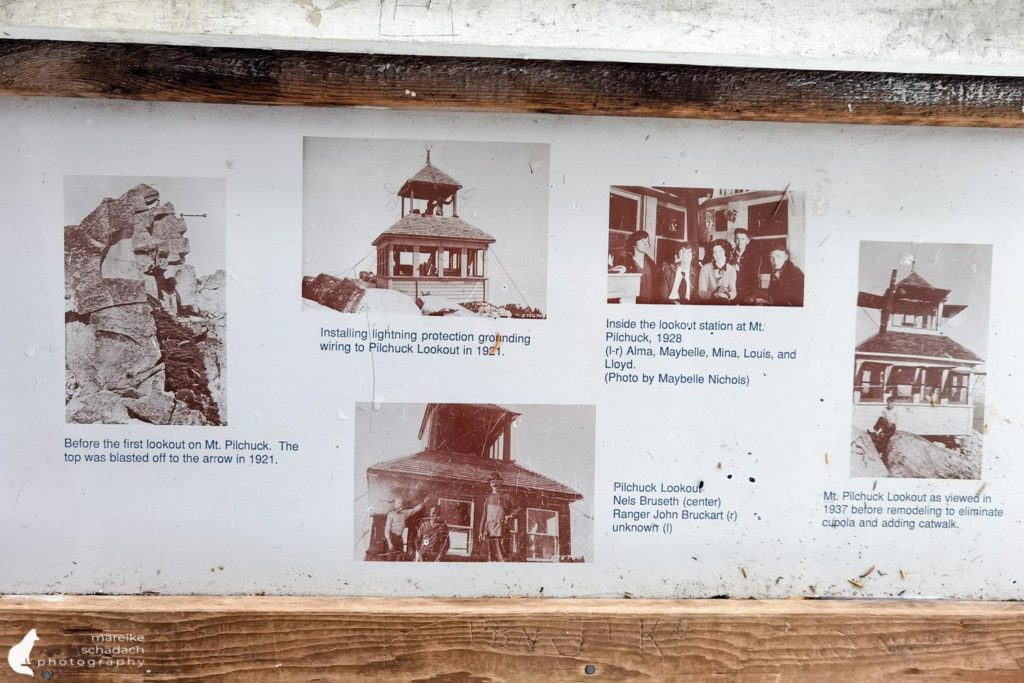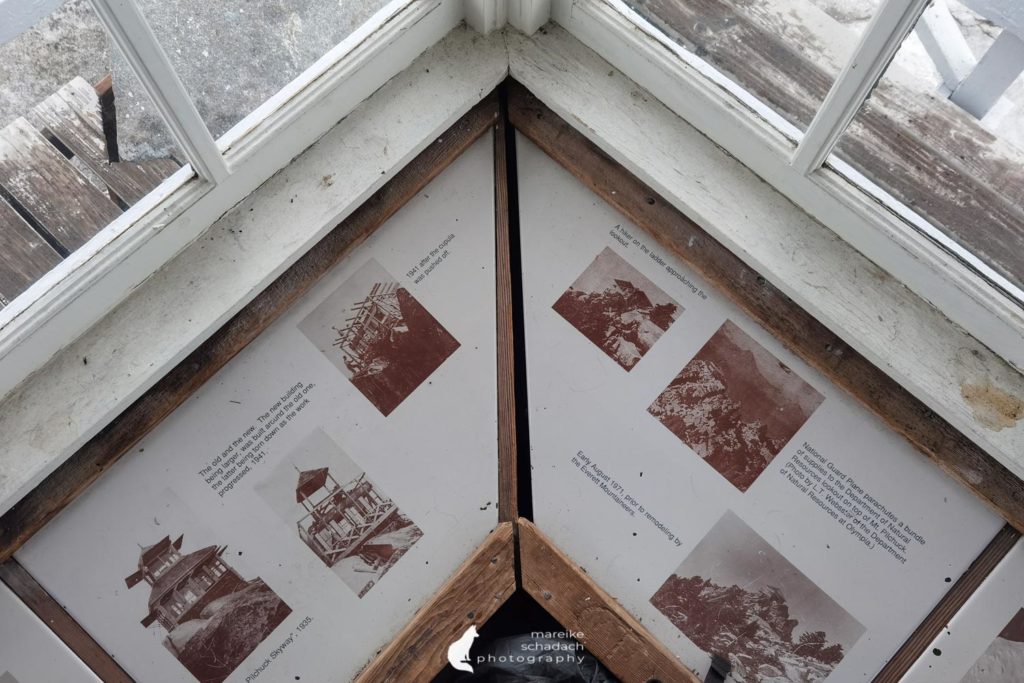 ---
The Road to Mount Pilchuck
Coming from Seattle, you will first drive about 1 to 1.5 hours on I-5 North to the town of Granite Falls. From here, drive another 45 minutes on the Mountain Loop Highway until you reach the trailhead. And now it gets fun. The last kilometers on the Mount Pilchuck Access Road require a lot of patience and skill. The 11-kilometer gravel road has countless potholes, most of them in the first few kilometers to just past the parking lot at the Heather Lake Trailhead. If you have a vehicle with high ground clearance, you have a clear advantage. But even with a normal car, the route is quite doable with a little patience. The last 2 kilometers are paved again. At the end you will reach a large parking lot with toilet and information board.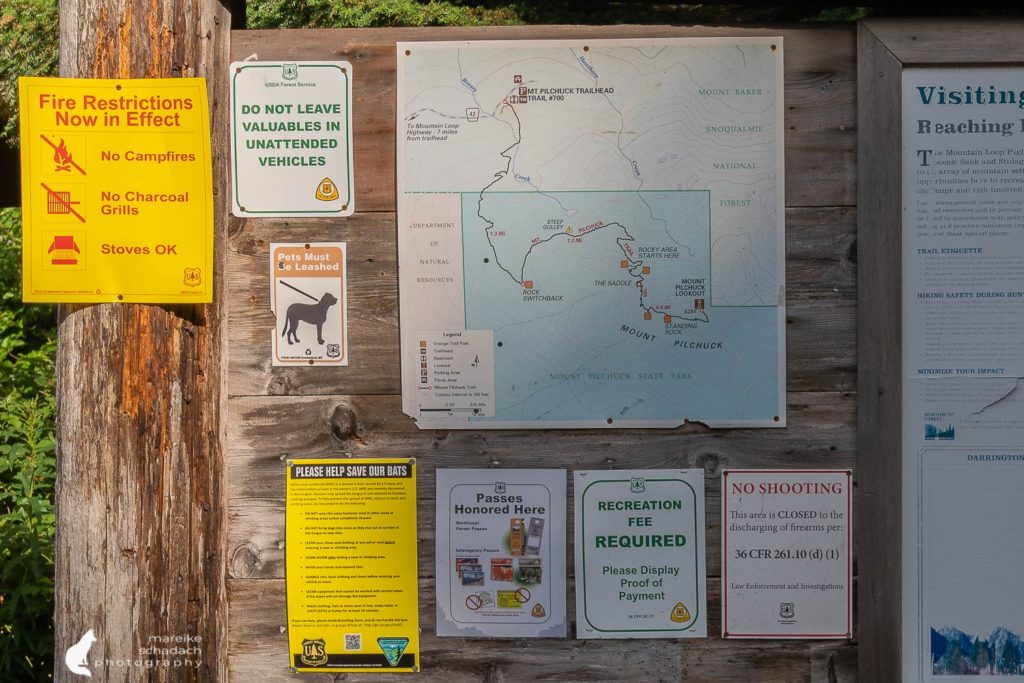 To visit Mount Pilchuck you must pay a Recreation Fee and place the receipt behind the windshield of your car. Among other things, the Discovery Pass is recognized. This costs $10 for a one-day pass or $30 for an annual Discovery Pass. If you're traveling longer and want to visit more than three state parks, the latter is worth it.
Hiking boots, daypacks and everything else you might need for a hike on the Maple Pass Loop can be found at Bergzeit*.
Tip: Due to the many rocks and tree roots, I recommend sturdy, ankle-high hiking boots. For the descent trekking poles can be helpful. Take also something warmer to wear for the descent.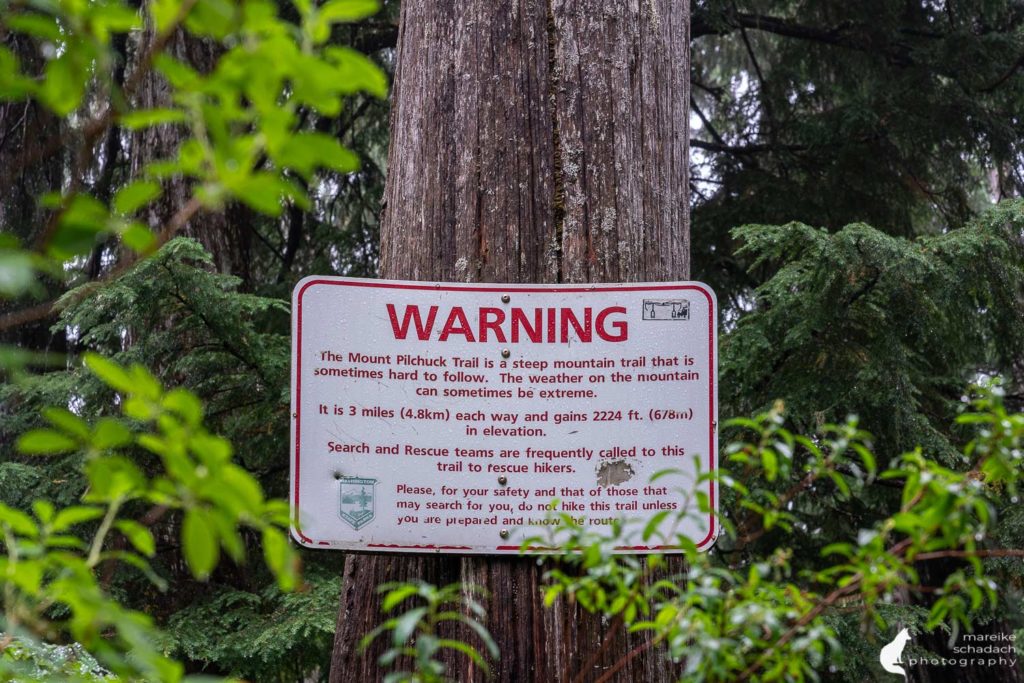 ---
Conclusion about the Hike to Mount Pilchuk Fire Lookout
Even when the panoramic view from Fire Lookout is obscured by fog, the hike to Mount Pilchuck is well worth it. The mist creates a particularly atmospheric, mystical scenery, which one would never perceive in sunshine.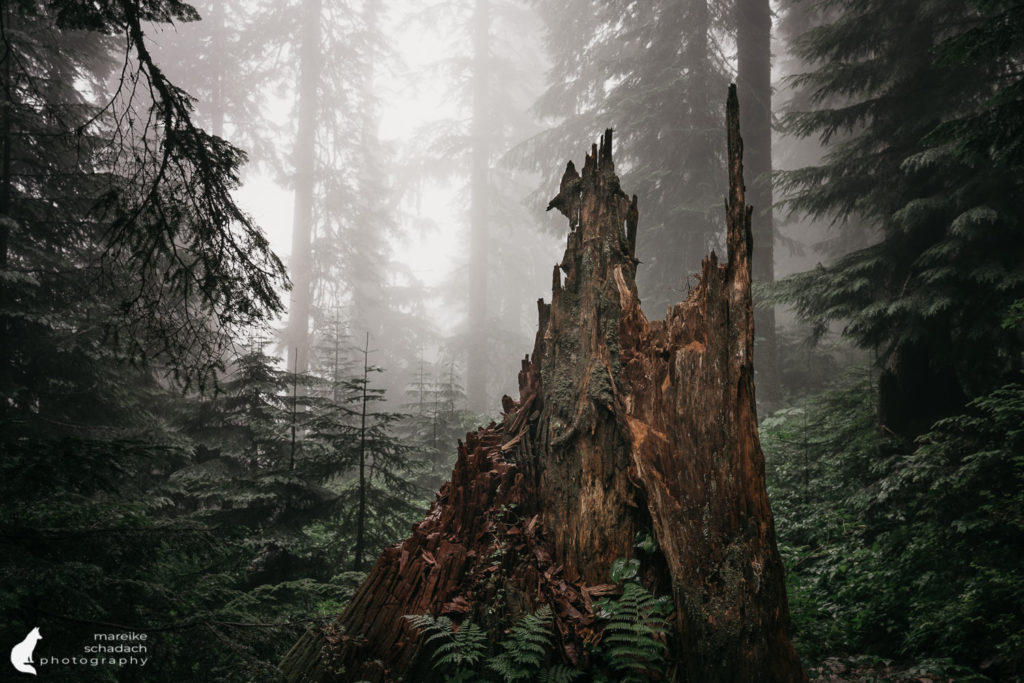 ---
Book Recommendations for Washington State
Do you want to know where the journey is going? Then I can recommend this travel guides* to you.
You can order the travel guides at Amazon by clicking on the pictures. If you buy a product via an affiliate link, I get a small commission and you help me to keep filling Fernweh-Motive with interesting articles. The product will not be more expensive for you and you do me a huge favor.
---
Have you ever been to one of the Fire Lookouts, maybe even Mount Pilchuck? Do you have any questions about my article? If yes, then write me a comment!
Do you want to know when there are new articles on my blog? Then follow me on Facebook, Pinterest or Instagram. I would also be very happy if you share my article with your friends.
---
Recommendations for further Reading
Do you love being outdoors and hiking as much as I do? Then you might also be interested in my articles about Giant Sequoias im Mariposa Grove or about Ascent of the Half Dome.