San Juan Islands, Washington State, USA. Paddling with Orcas! What a dreamlike imagination! In the Salish Sea, on the northwest coast of the USA this dream could come true. We put our luck to the test and went on a three-day paddling trip in the realm of the orcas. In the following article I will tell you about our experiences and share my most memorable impressions with you. Furthermore, you will get many practical tips for your Kayak Tour at the Orcas of the San Juan Islands.
Non-solicited, unpaid advertising. This article contains affiliate links*, marked with an asterisk.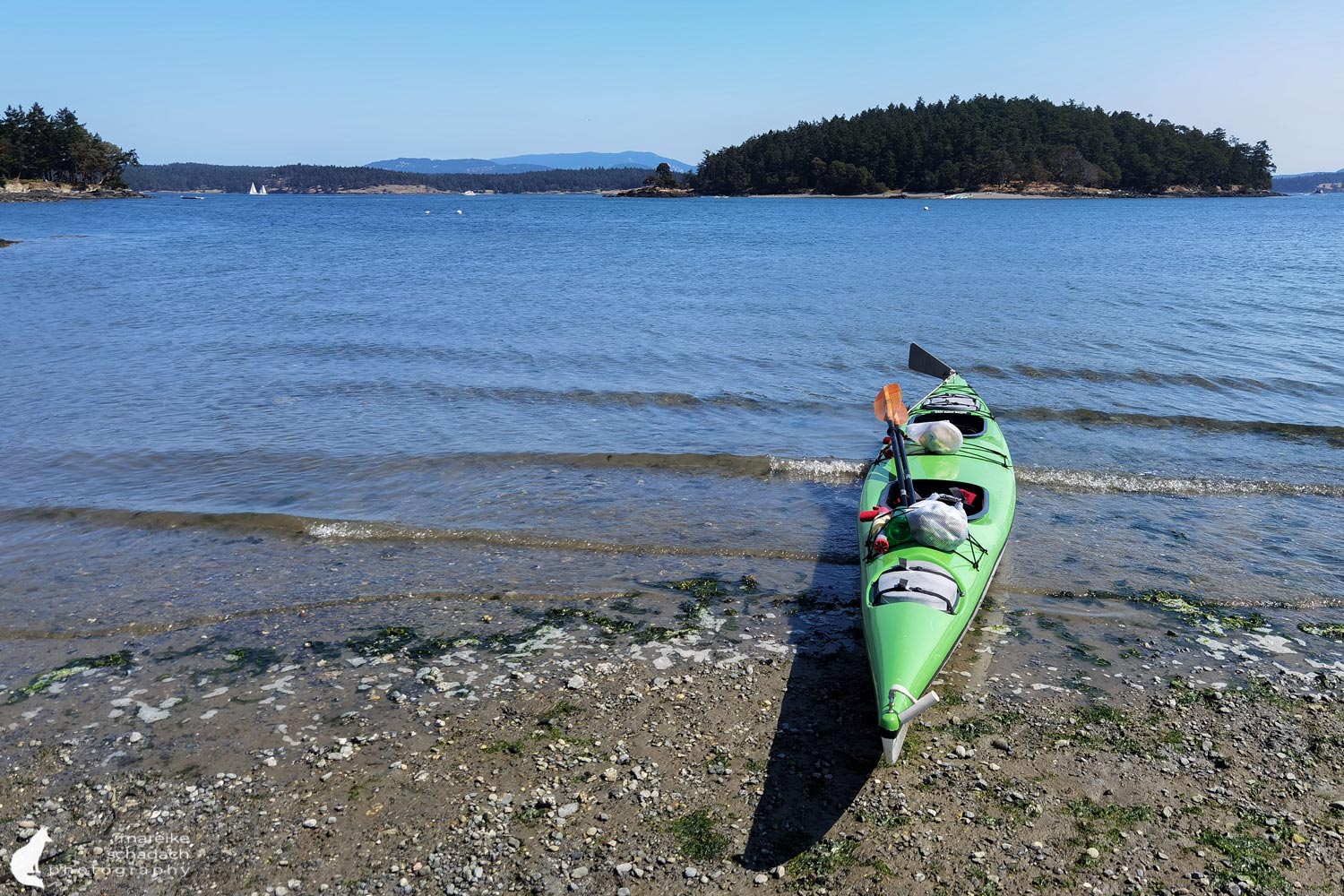 What to expect in this Article
The San Juan Islands in the Salish Sea
Details of our Kayak Tour at the Orcas of the San Juan Islands
Highlights of our Kayak Tour Kayak Tours
Day by Day - the Route of our Kayak Tour at the Orcas of San Juan Island San Juan Island
How to get to the San Juan Islands
Packing list for your Kayak Tour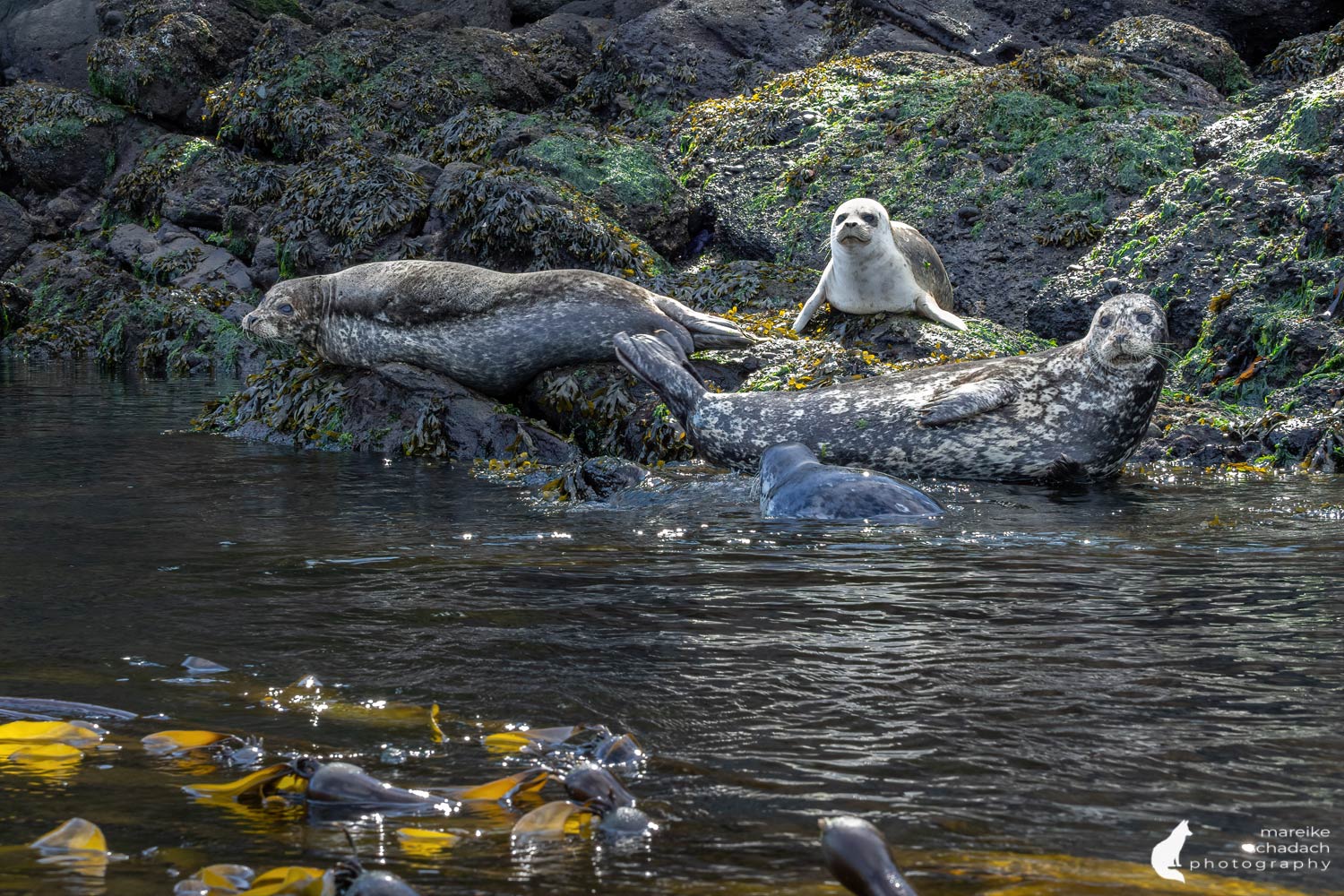 ---
The San Juan Islands in the Salish Sea
The San Juan Islands are a group of several hundred islands in the Salish Sea off the coast of Washington State. Most of them are uninhabited, some of them are very tiny. San Juan is also the name of one of the largest islands in the archipelago. The main town of San Juan is Friday Harbor. This is where the ferry from Anacortes arrives, where most of the whale watching trips start, and where we meet for our three-day kayak tour with San Juan Kayak Expeditions.
The San Juan Islands are shielded from the waves and storms of the open Pacific Ocean by elongated Vancouver Island to the northwest. On the land side, they are framed by the high mountains of the Olympic Mountains, the Cascade Range and the British Columbia Coast Range.
Due to the location of the islands in the rain shadow of the Olympic Mountains, dry, sunny weather is predominant here. This is also the reason why the San Juan Islands are often called the Banana Belt. Even though no bananas grow here at all. But due to the protected location and the rich wildlife, the San Juan Islands are best suited for a kayak tour of several days.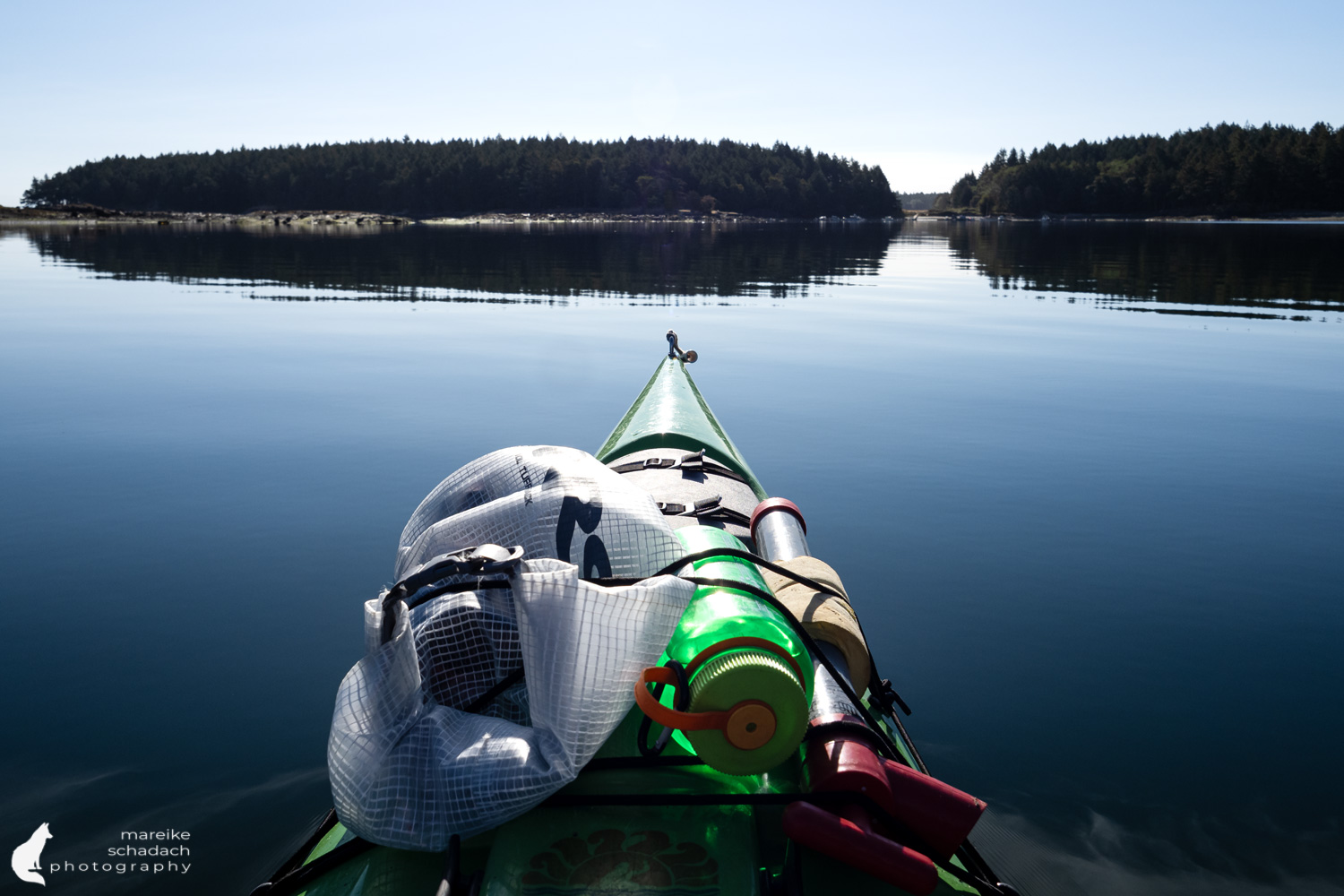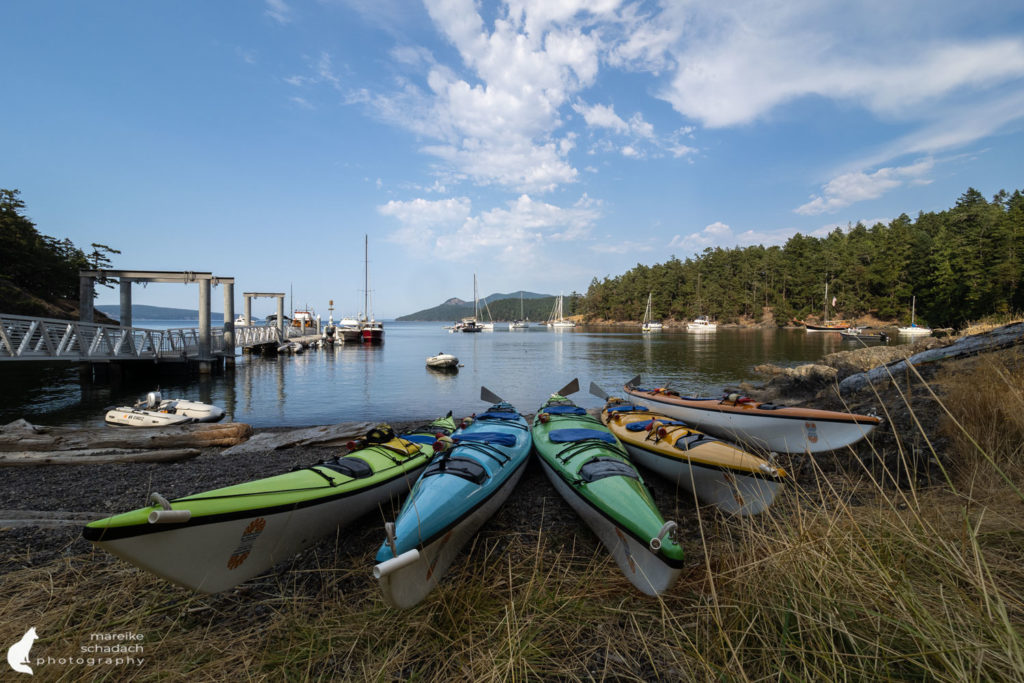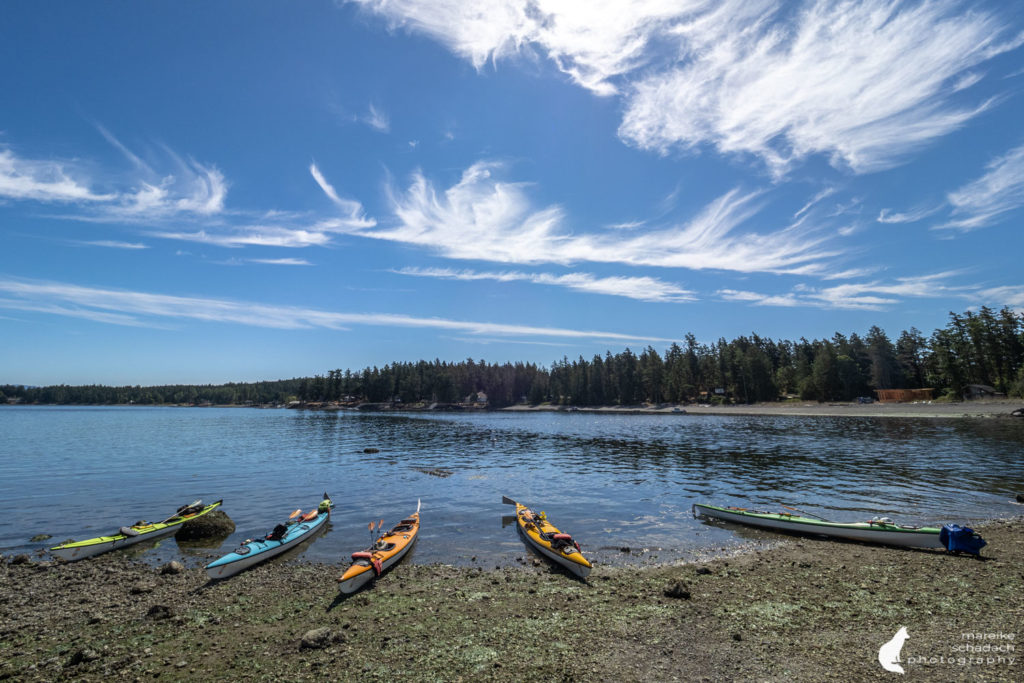 ---
Details of our Kayak Tour at the Orcas of the San Juan Islands
Duration: Our tour lasted three days. One, two, four or five day tours are also available.
Travel period: May through September
Orcas: The best chances to see orcas during a kayak tour at the San Juan Islands are in July and August, because that's when Southern Resident orcas frequent the Salish Sea. Transient orcas, on the other hand, can be seen year-round.
Distances: 25 miles total (10 miles, 9 miles, 6 miles).
Difficulty: You should have some paddling experience and you should be able to paddle for extended periods of time. Longer crossings are required in two places.
Costs: three day trip for $679.00 per person (2021)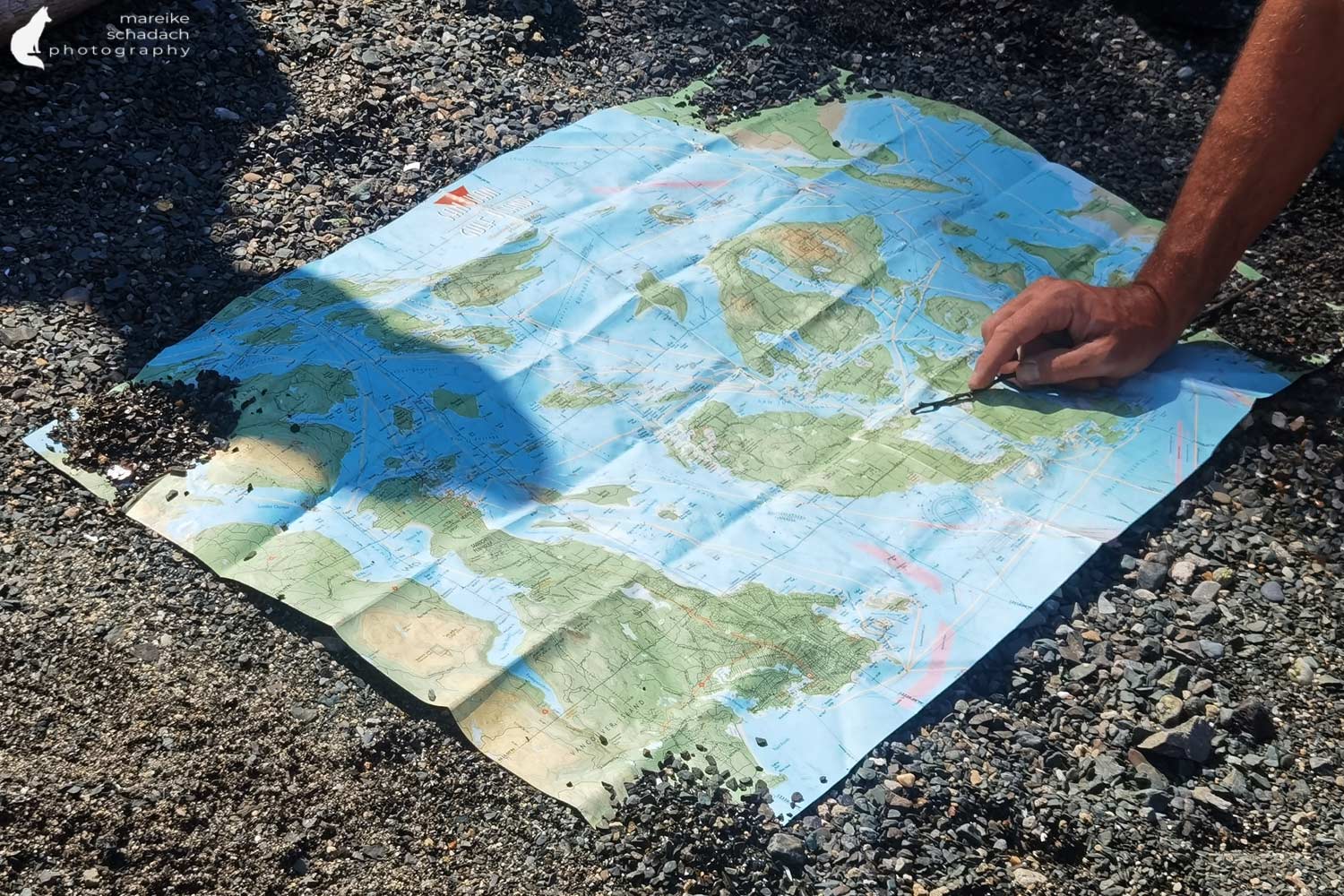 ---
Highlights of our Kayak Tour
Orcas
The highlight of every kayak tour in the Salish Sea is without a doubt the sighting of orcas or other whales. But such encounters are not predictable and you need a lot of luck. Unfortunately, we did not see any orcas during our paddle tour. However, when I was out later with a whale watching boat, I was able to observe orcas right on the shores where we paddled along.
Do you want to know more about the orcas at the Sun Juan Islands? Then check out my article about the Southern Resident Orcas on my photo website.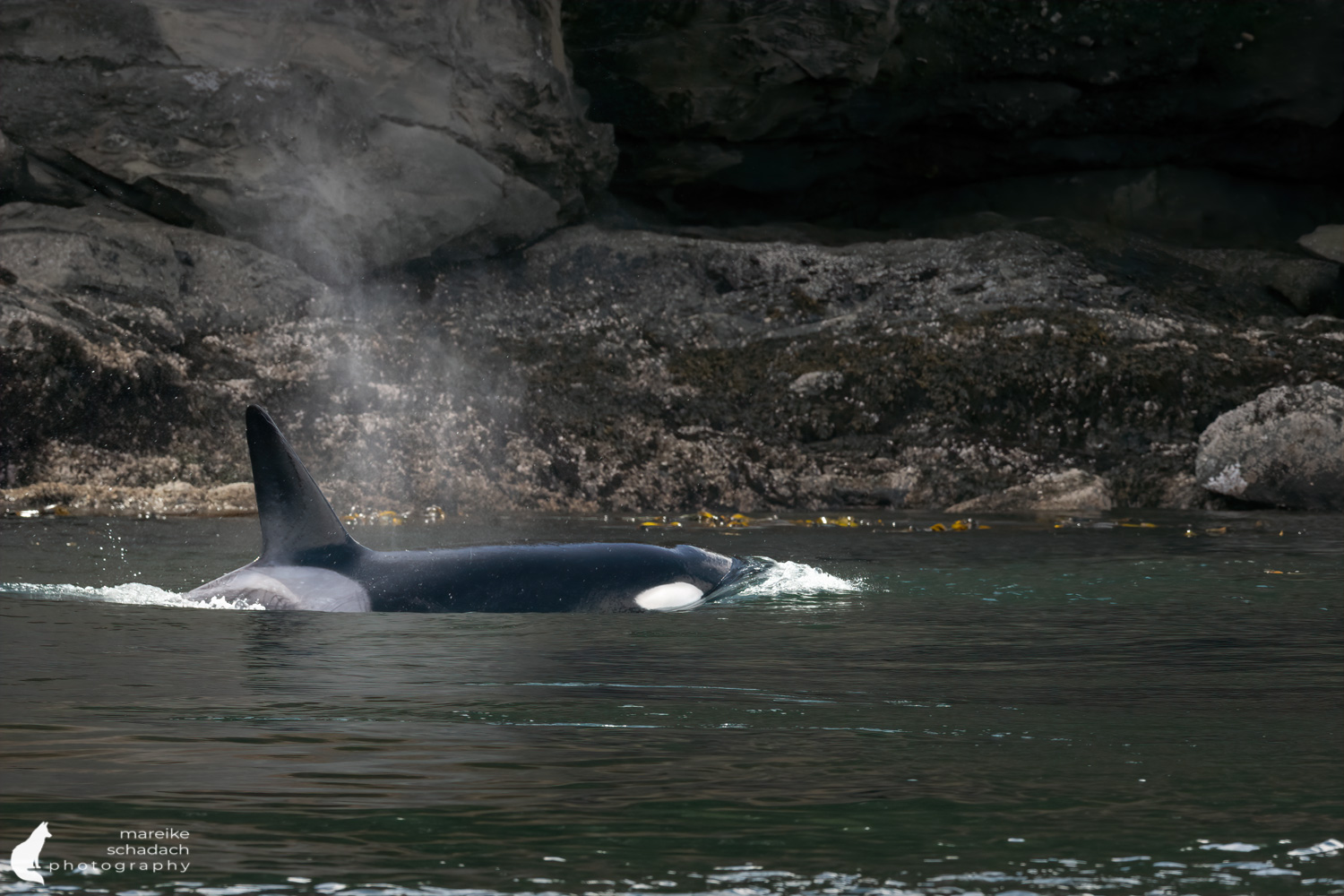 Wildlife
The Salish Sea is famous for its orcas. But of course there are many other animals that make the region an Eldorado for wildlife viewing. During our paddle tour we could observe many harbor seals and bald eagles. In addition to various gulls, we also saw kingfishers, cormorants, Canada geese, ravens and a peregrine falcon. Also of particular interest were the imported bighorn sheep, sitka deer and prickly horned antelope on Spiden Island. More about this later.
There are also chances to see the following species: Dall's and harbor porpoises, humpback whales, minke whales, gray whales, elephant seals, Steller's and California sea lions, river otters, mink, raccoons, foxes, as well as ospreys and many other bird species.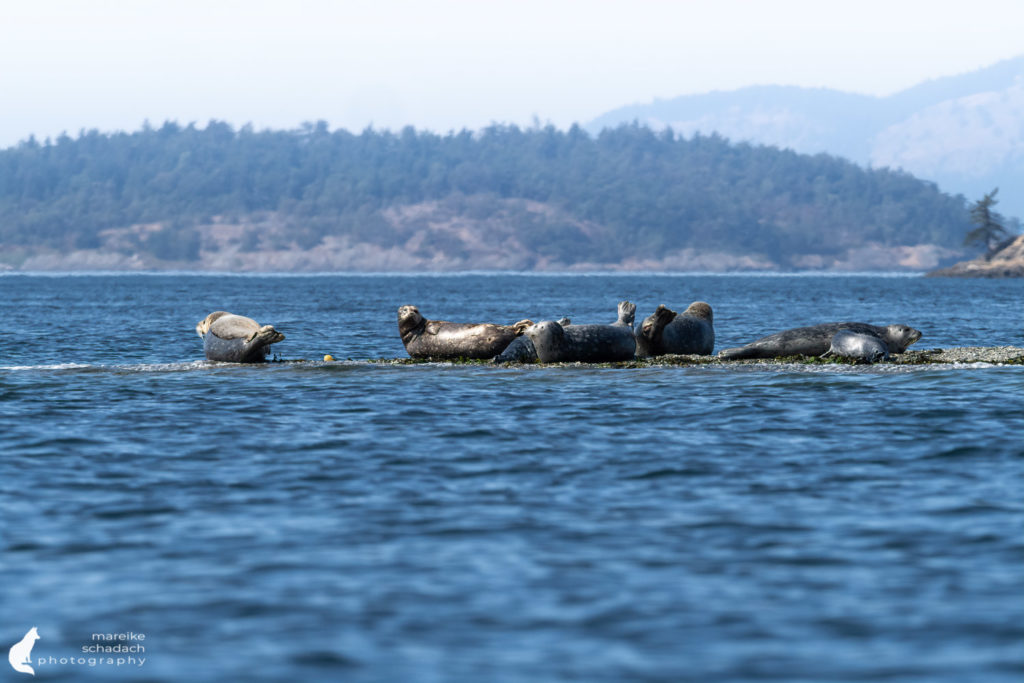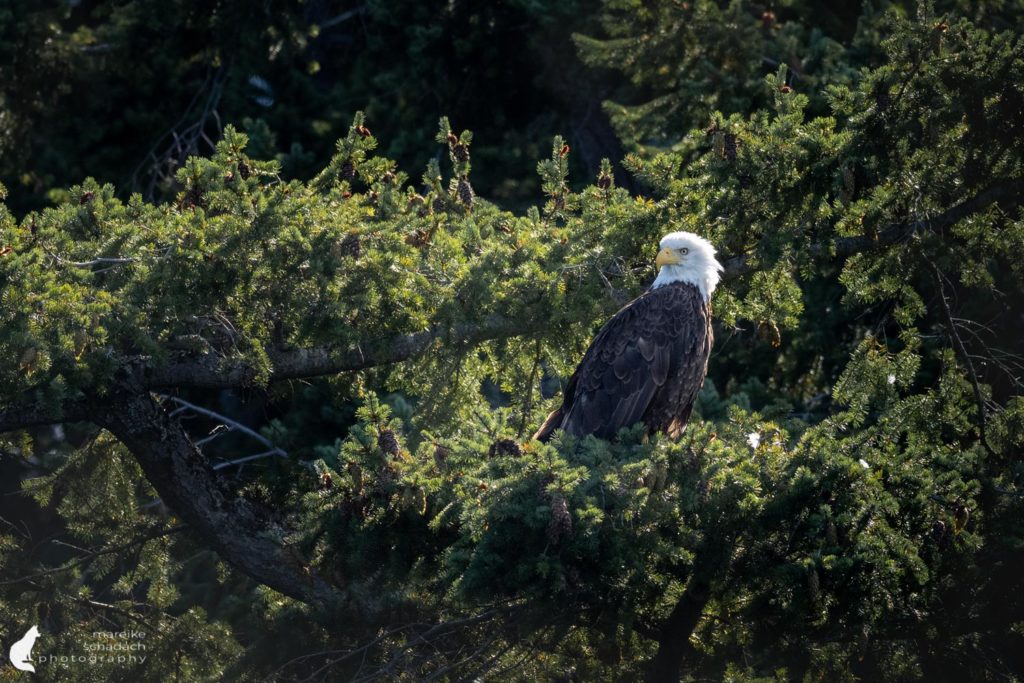 Landscape
In addition to animal observations, there are many other impressive experiences that I will remember for a long time. First of all, there is the scenic beauty of the islands with their rugged coasts and secluded bays. The campsites are idyllic and the sunsets over the neighboring islands are a dream.
I just love it when I am so close to the water in a kayak. Then I feel especially connected to nature. When I can also make out the kelp forest and purple starfish below me, it's time for a little paddle break. At some places, however, it is also worthwhile to let your gaze wander into the distance. If the weather is clear, you can see the ice-covered peak of Mt. Baker (3286 m) from the kayak .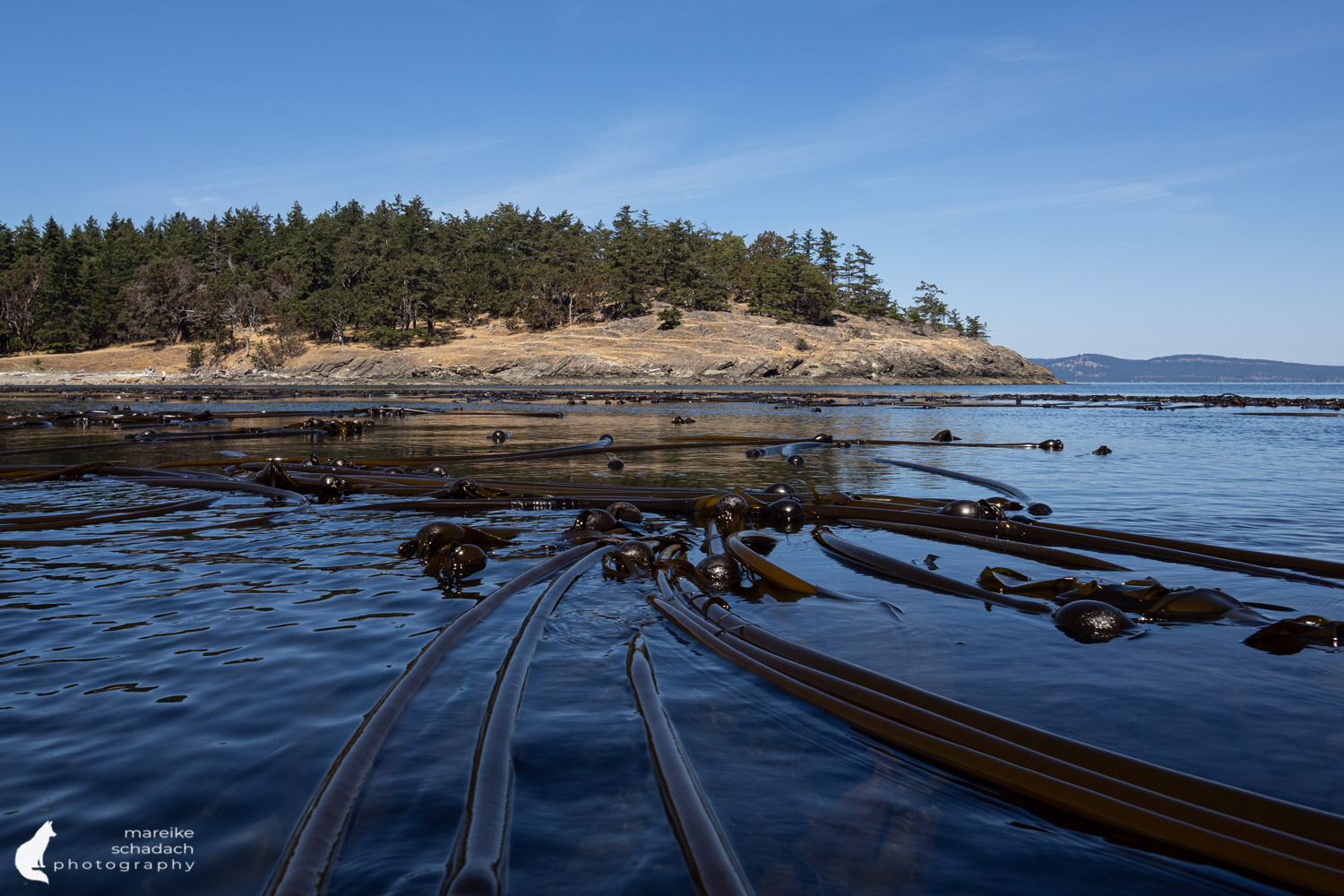 Night Paddling with Bioluminescence
The highlight of the day is hidden in the dark: night paddling with bioluminescence. No, actually this are two highlights: First, paddling at night (when do you ever do that?) and then bioluminescence. That was really something special. I'll write more about it later and you'll also learn which little critters are responsible for it.
---
Day by Day - the Route of our Kayak Tour at the Orcas of San Juan Island
The first Day of Paddling
Even though I've limited myself to the bare essentials, my luggage seems like way too much, as usual. With waterproof bags, dangling Nalgene bottles and a bundle of rain gear in my arms, I greet the other fellow paddlers. After loading all the luggage into the van, we head for Griffin Bay. Here our kayaks are waiting for us: four tandem kayaks and one for our guide Jury.
First we listen to Jury's detailed briefing. Among other things, we learn how to climb back into the boat after a capsize on the open water. I look out at the water suspiciously, wondering how quickly this might happen. Fortunately, the water is relatively calm, the sun is shining and it's warm. Wonderful paddling weather, who thinks about capsizing? What I don't know yet: the water will change and become a bit choppy on the longer crossings.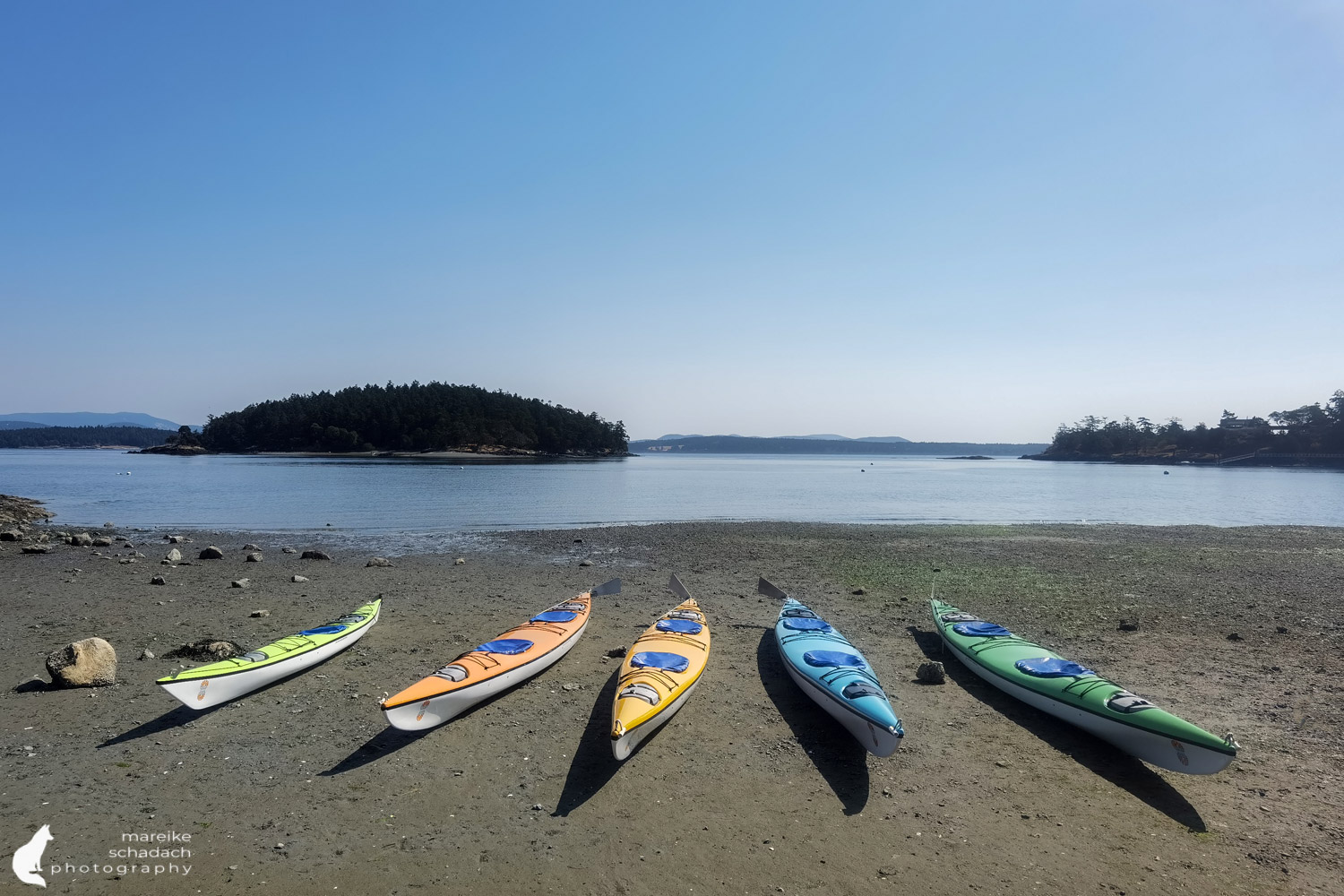 After everything is packed and life jackets and spray blankets are put on, we are ready to go. To warm up, we paddle a short distance to Turn Island and take a lunch break. Chopped vegetables, hummus, bars and salted nuts. Jury also shows us our route for today on the map. We will paddle about 10 miles to our camp on Jones Island. Much of the route will take us along the Shaw Island shoreline. Our next stop is Yellow Island. A trail runs once around the small island and we are glad to be able to move our legs a bit.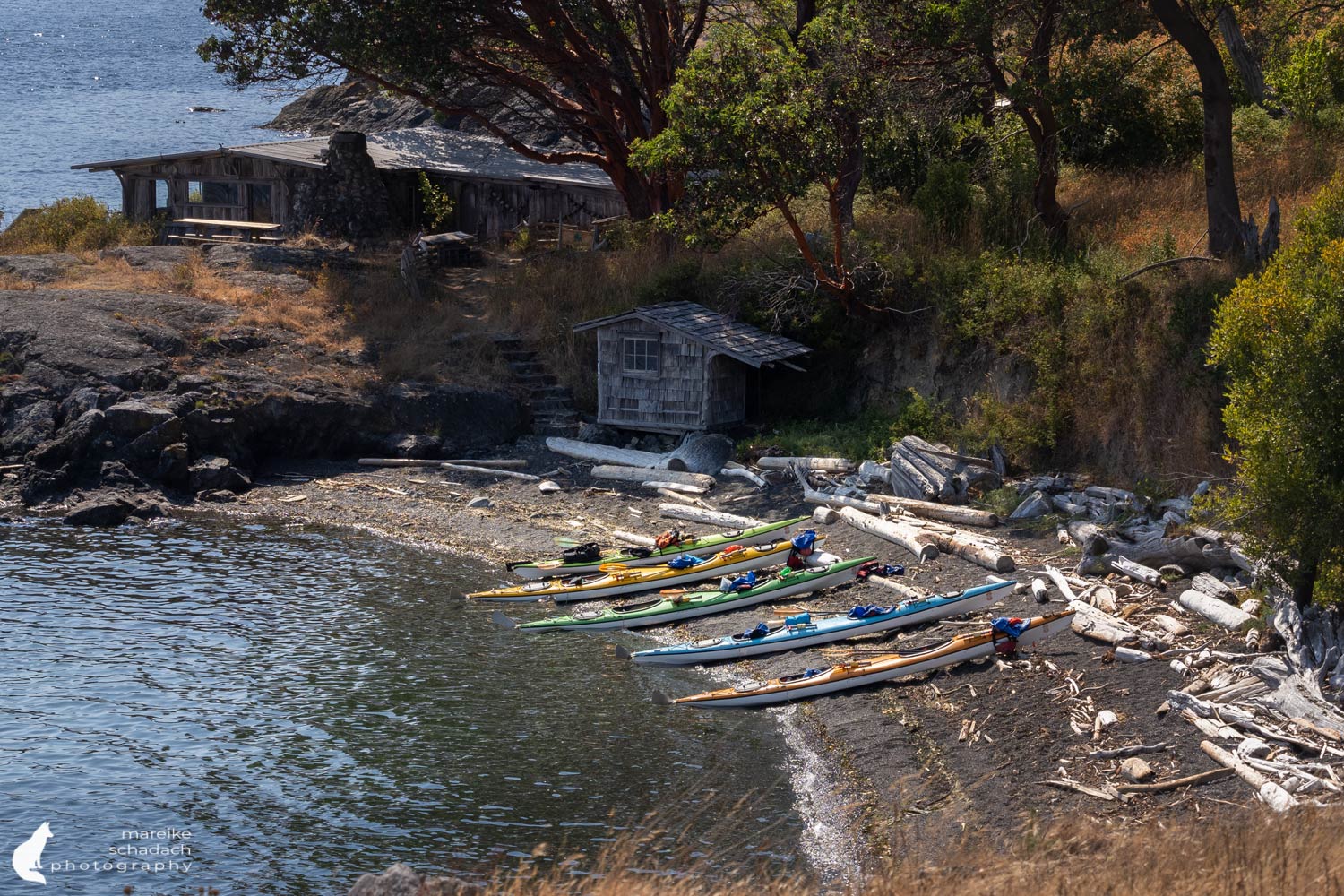 It is not far to our camp on Jones Island. After setting up the tents and having a delicious dinner, we take a short hike to the opposite side of the island. Here we end the evening with a sunset and a sip of wine.
We were not the only paddlers on the water. But I have to say: we had the most beautiful boats. Yellow, orange, green, blue, and neon yellow. Each tandem kayak was a different color, roomy, and very docile to paddle. We also received lightweight paddles from Werner (I have one of these for my kayak at home), life jackets, splash guards, seat cushions, bilge pump, waterproof bags, and a tent. On the way, large water canisters always provided enough drinking water and in the evening Jury spoiled us with delicious hot food. Except for a few granola bars or snacks for the road, we didn't have to worry about food. And even for me as a vegan was taken care of. Simply fantastic and sooo delicious.
---
Tip: Little treasures* that make paddler's life easier:
---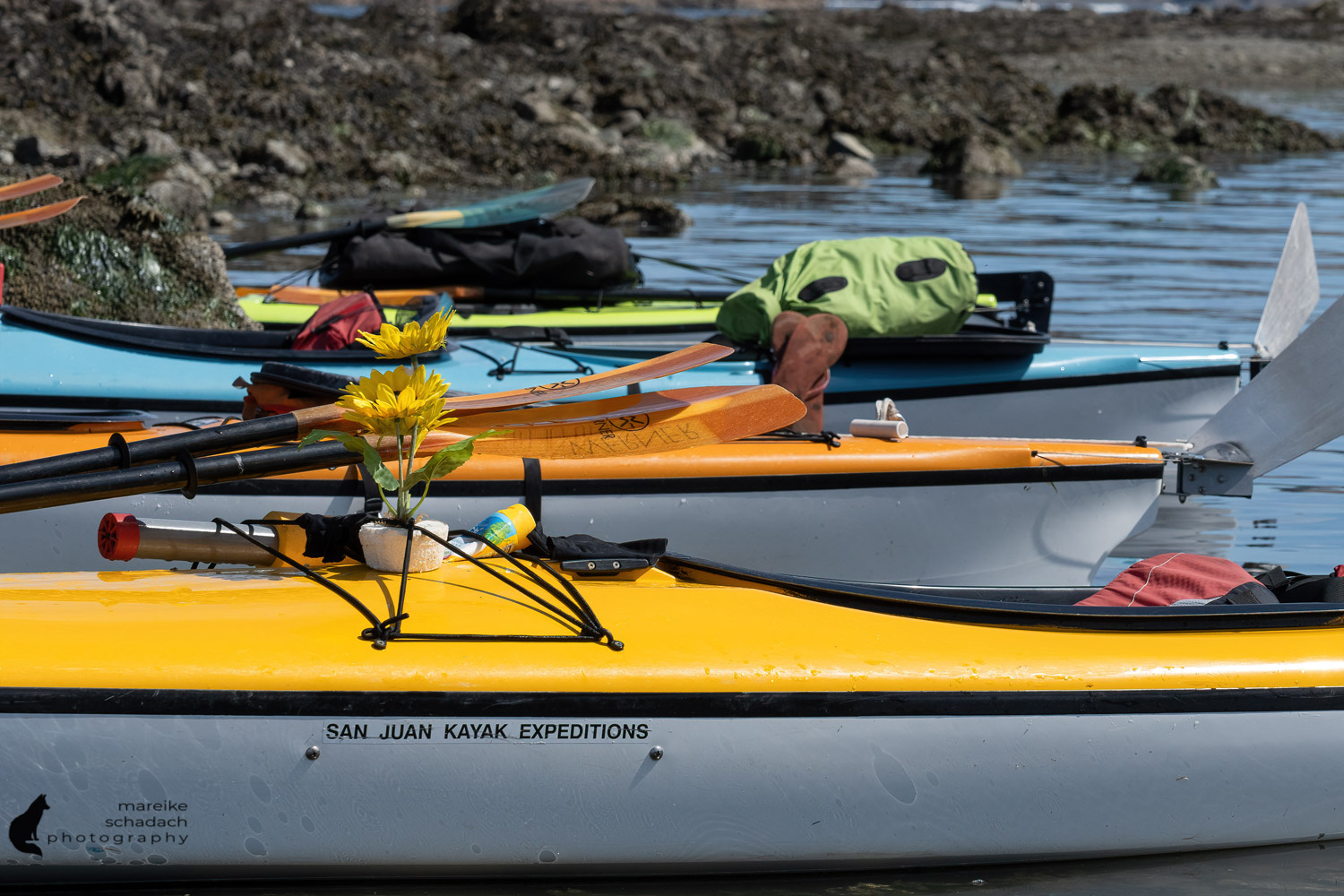 ---
The second Day of Paddling
The next morning we wait for the right start time. This depends on the tides. After all, we don't want to have to paddle against the current. So we have a very relaxed start into the day and first of all an extensive breakfast. After packing, we even have time to circle the west side of Jones Island on a narrow trail.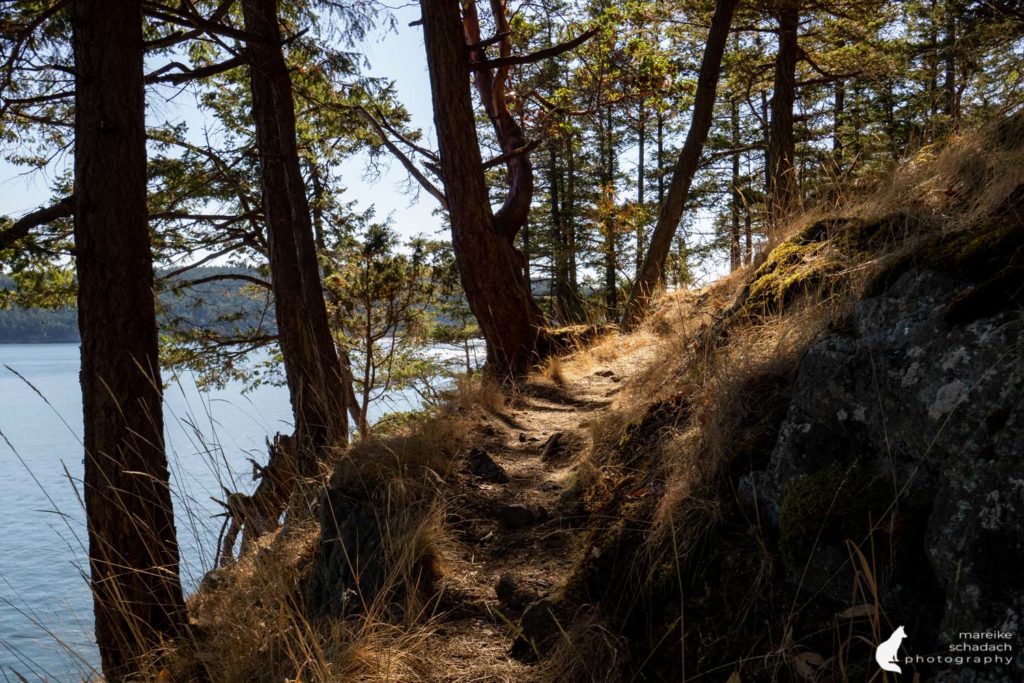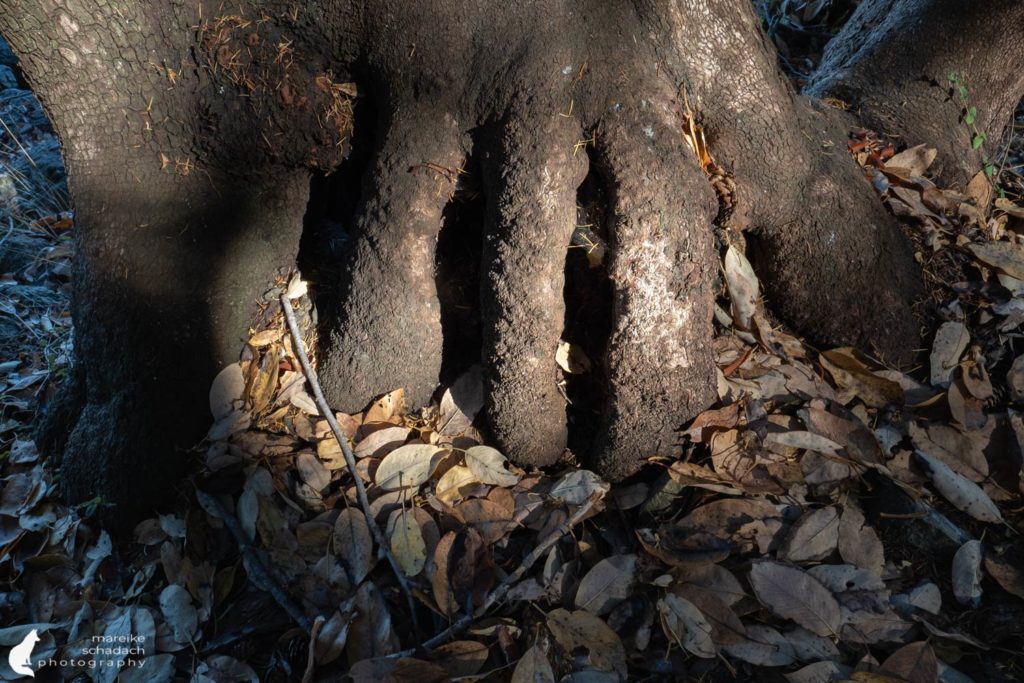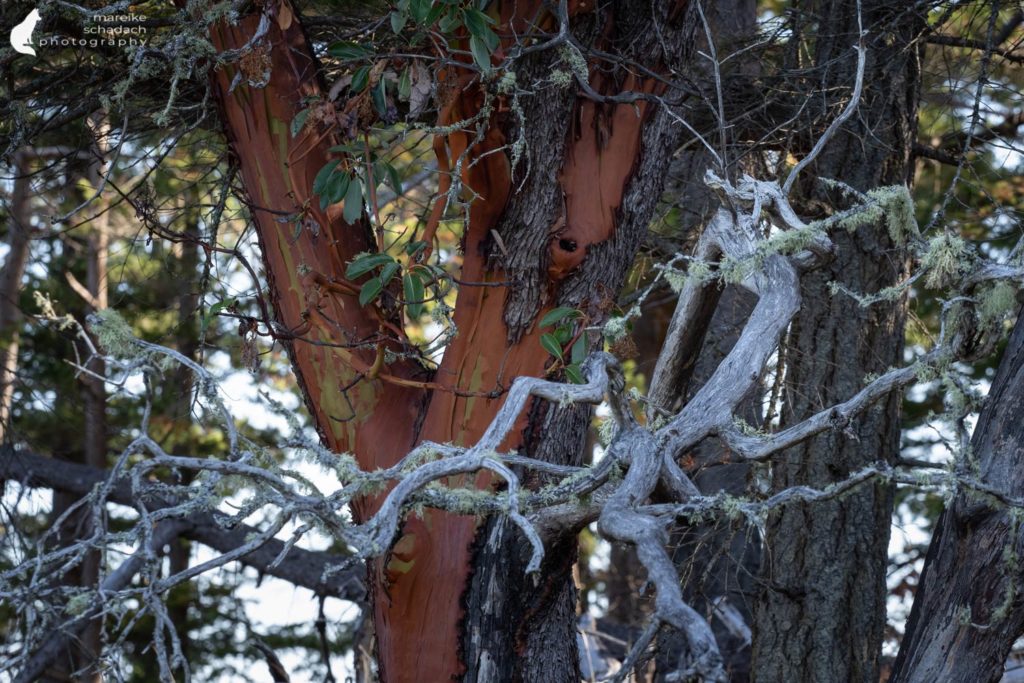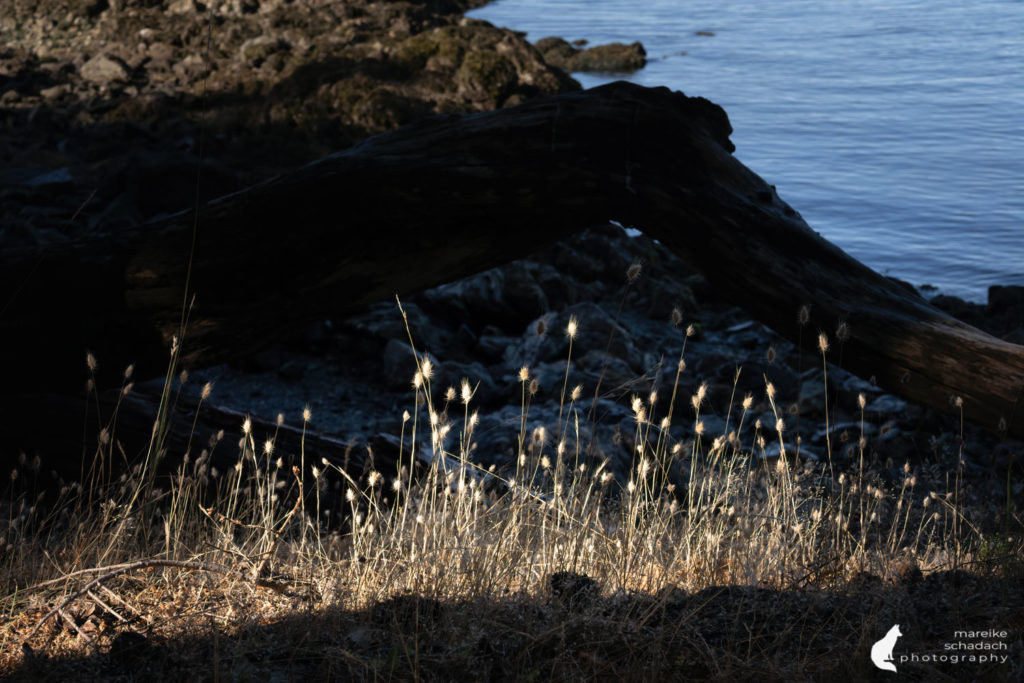 But after the relaxed start soon comes the challenge of the day: the crossing to Spieden Island. The crossing is about five kilometers over open water. But on the second day of the paddle tour we are almost professionals and master this challenge with flying colors.
Spieden Island was bought in 1997 by James Jannard, the founder and main shareholder of Oakley. It is located about a mile north of San Juan Island and separated from it by the Spieden Channel. The north side of the island is densely forested, while the south side is a barren open landscape. We paddle along the north side. In the tall trees we spot several bald eagles. They seem to love the island. On the other side of the island, which we won't see until the next day, live bighorn sheep, sitka deer and prickly horn antelope. How did these exotic animals get to the island? They were imported in the 1970s and 1980s for hunting. There was a hunting lodge, airstrip and hangar. But due to environmental concerns, as well as the risk that errant shots could injure other watermen, hunting operations were discontinued. The imported animals remained on the island, surviving and reproducing.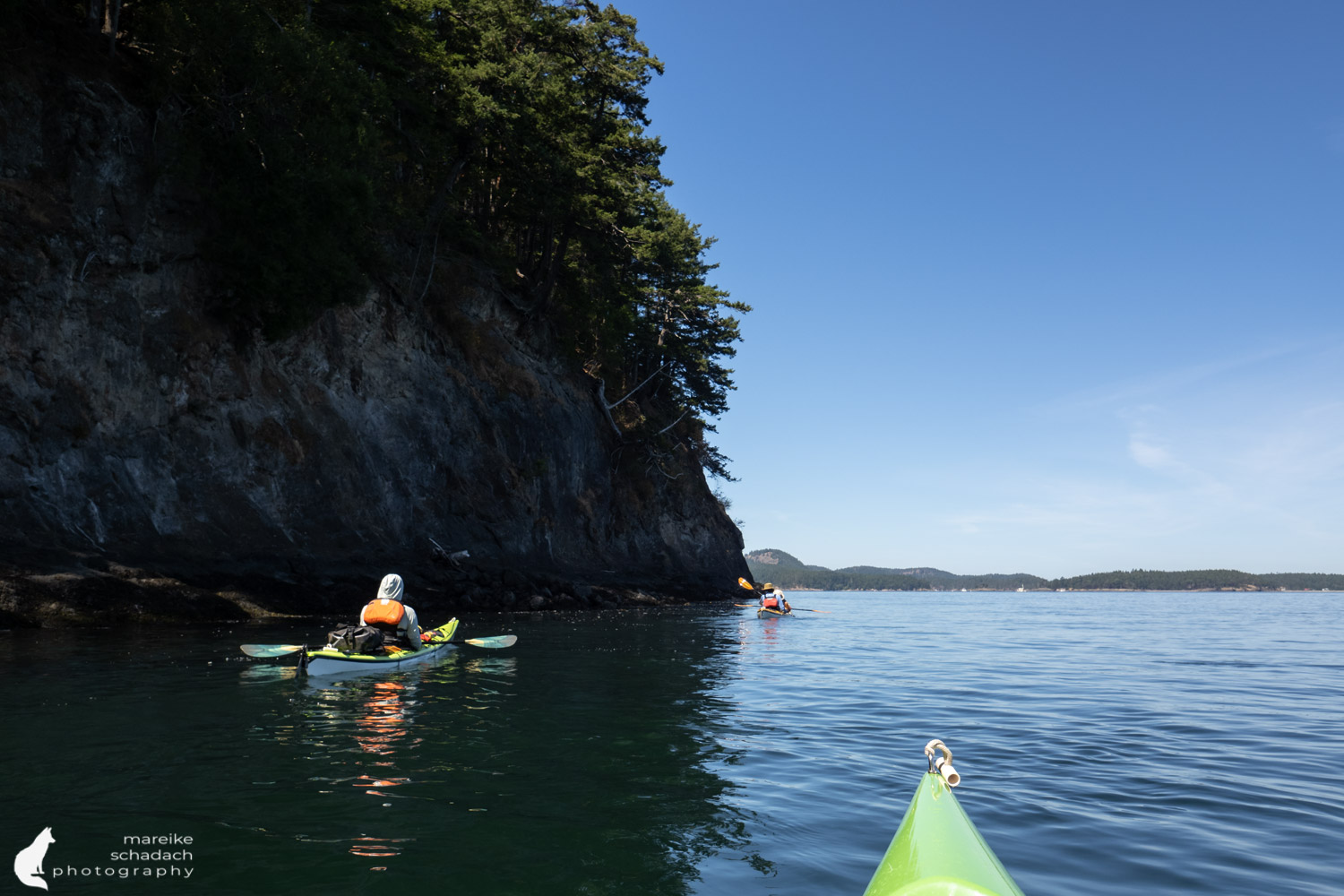 We paddle along the pristine north side of Spieden Island and then cross over to Cactus Island and Johns Island. We finally set up camp at the Kristiansen Campground on Stuart Island. After settling in and having a delicious vegetable curry, we launch our kayaks into the water again. Our destination is the . Turn Point LighthouseFrom here you can watch the sunset .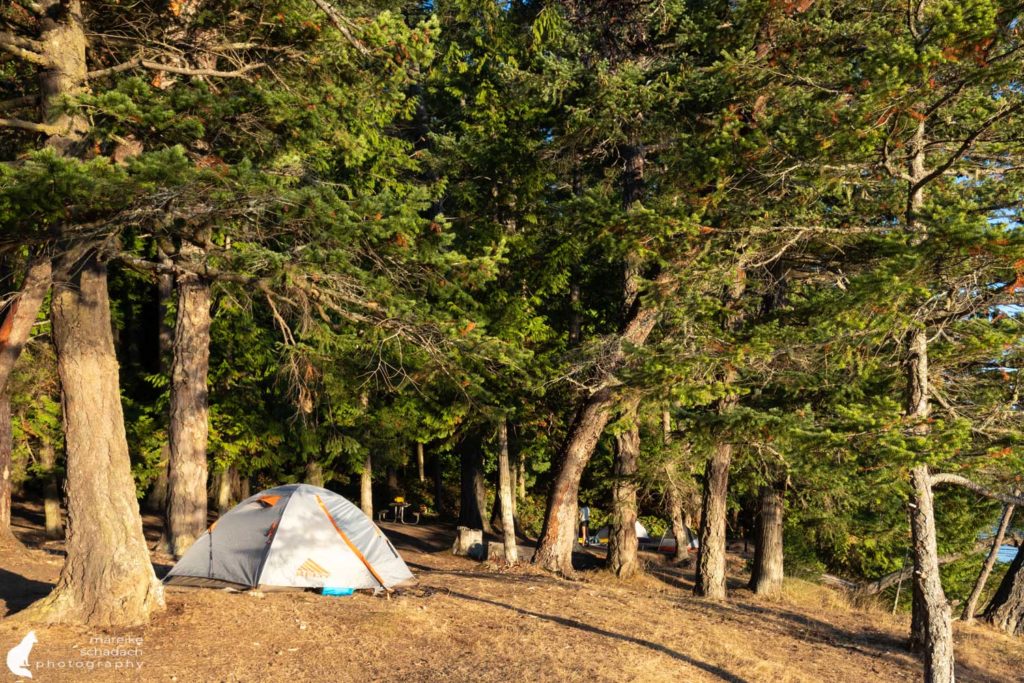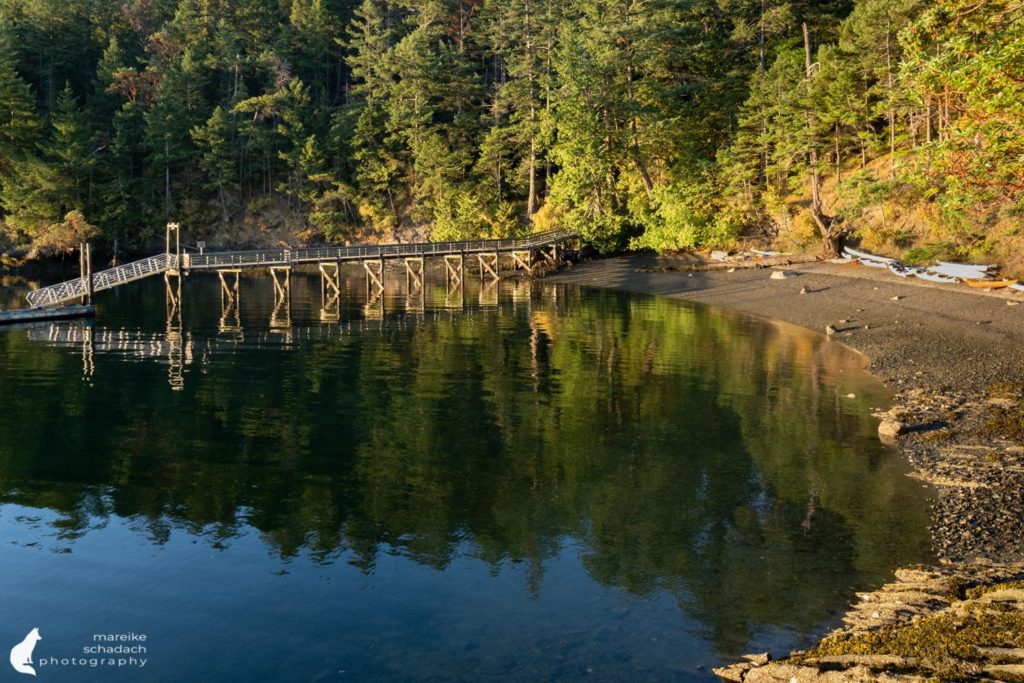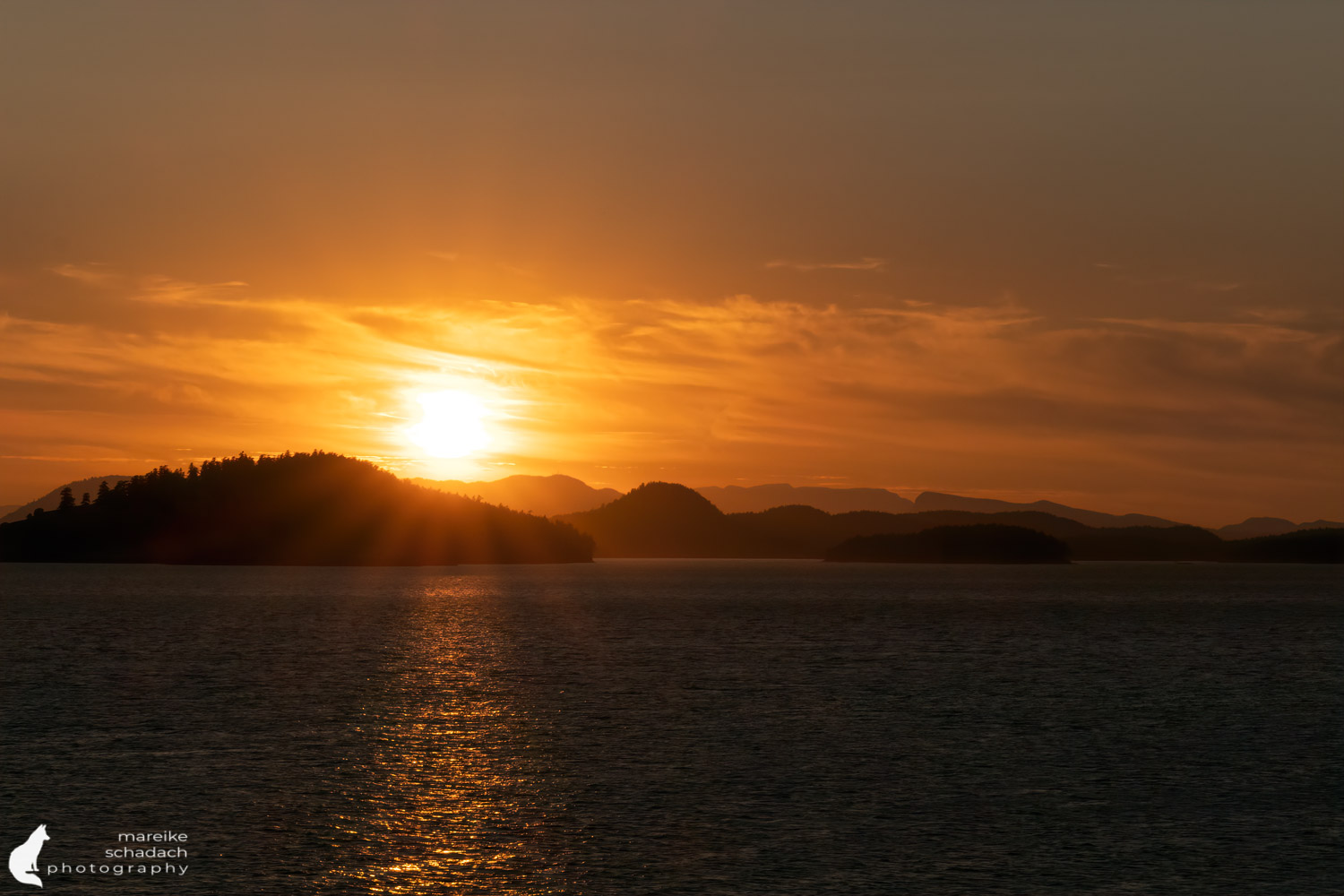 But the real highlight of the evening awaits in the dark of night: Night Paddling with Bioluminescence. The darker it is, the better the blue glow of the plankton can be seen. We turn off our headlamps. With every paddle stroke it glows next to me. The bow wave of our kayak is also surrounded by a blue glow. It is so beautiful to see that I would have loved to continue paddling deep into the night. But unfortunately the distance to our camp is not that far. We can already hear the waves rolling in the bay towards the shore and the bottom of our kayak touching the gravel.
What is Bioluminescence?
This mysterious blue-green light comes from billions of microscopic algae that are found here in particularly high concentrations. When they are mechanically stimulated by waves, by a paddle, or while swimming, they briefly light up. The algae responsible for this are called dinoflagellates. Weltweit werden 2400 Arten unterschieden. Aber nur einige von ihnen sind zur Biolumineszenz fähig, wie beispielsweise "Noctiluca miliaris" was auf deutsch "Nachtlaternchen" bedeutet. Wie bei fast allen Arten der Biolumineszenz ist das Leuchten auf eine chemische Reaktion von Luciferin mit dem Enzym Luciferase zurückzuführen.
Experiments have shown that species capable of bioluminescence are less likely to become prey. Presumably, predators are deterred by the luminescence. Other theories suggest that the glow illuminates other organisms, which the predator then grabs instead.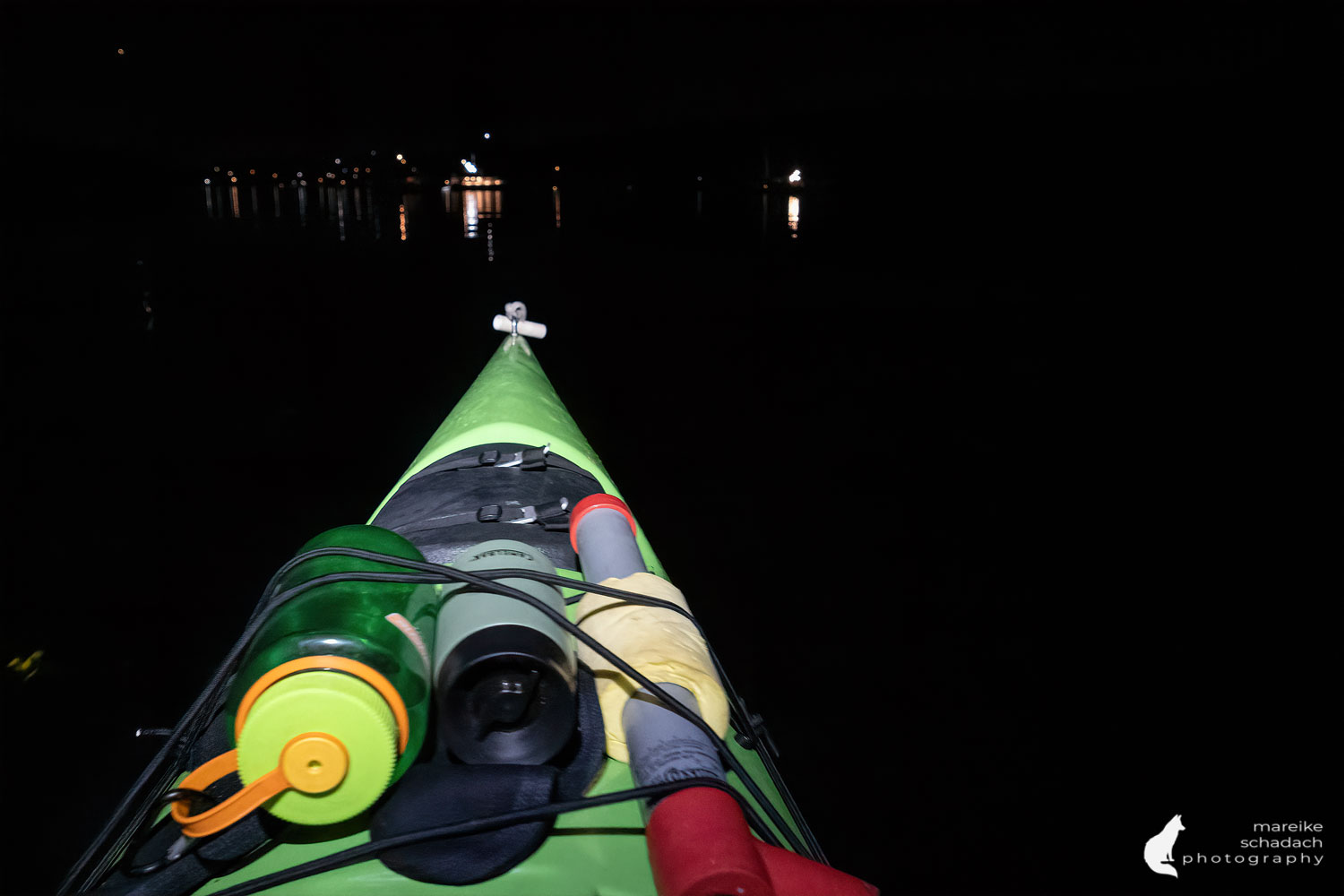 ---
The third Paddling Day
Today we paddle from our camp on Stuart Island back to Spieden Islandwhich we circle on the west side. This puts us in a good position to observe the exotic bighorn sheep, sitka deer and prickly horn antelope that live here. On the open south side of the island these animals can be seen very well. We paddle along the shore to about the height of Sentinel Island. Here we prepare ourselves mentally for the crossing of the Spieden Channel. This time even with some wind and waves. We stay close together as a group and paddle briskly across the channel. While I concentrate on the waves and the paddle movement, my eyes search the water surface not less concentrated for Orcas. But the whales still don't want to show themselves. Instead, a seal appears diagonally in front of us and looks at us with its big eyes.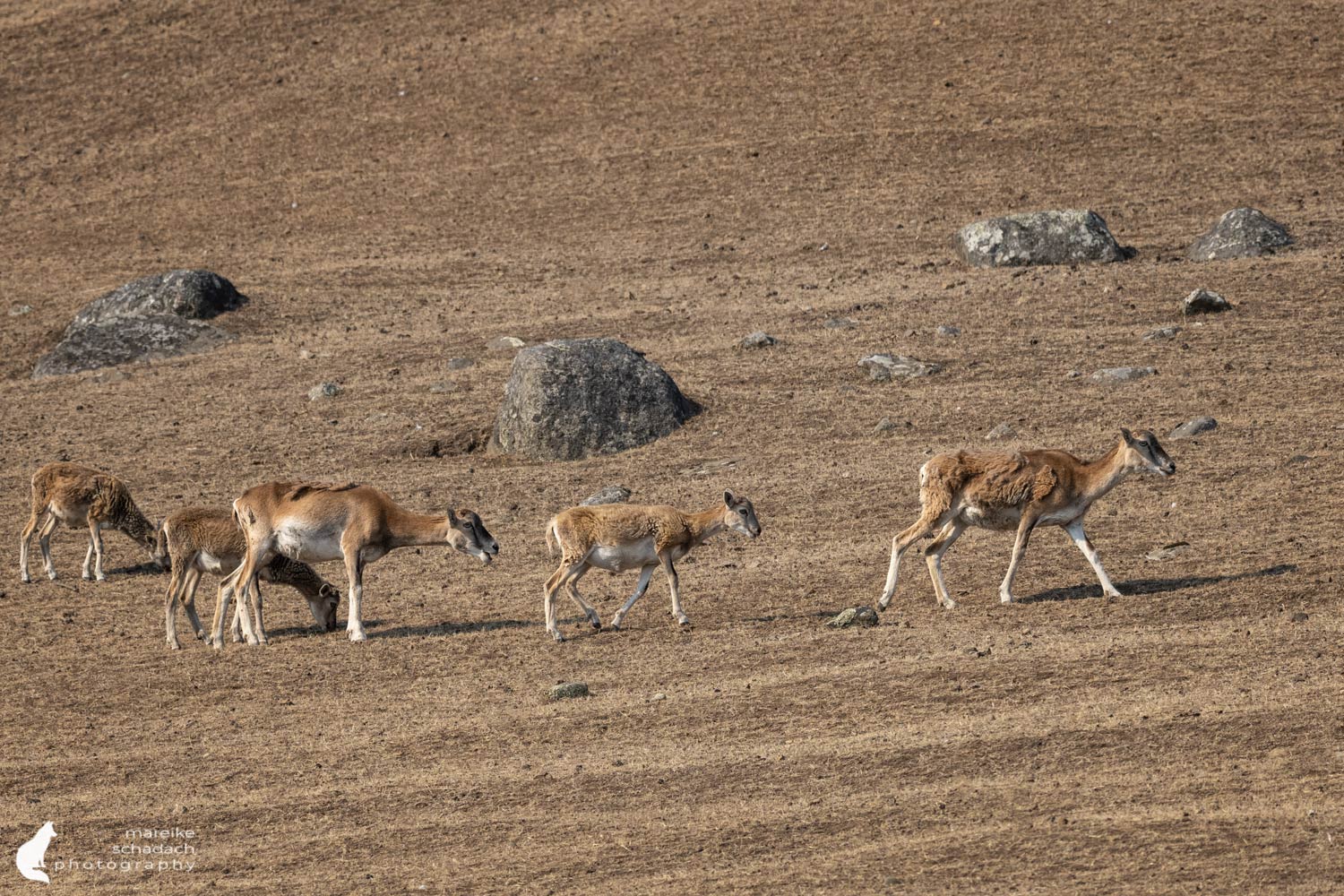 Our next destination is Posey Island, the second smallest state park in America. Perfect for a quick stop and delicious burritos for lunch. The camp is idyllic. Those who stay here have an island almost to themselves (or their group). But if you want to camp here, you have to make a reservation in advance, like at almost all state parks.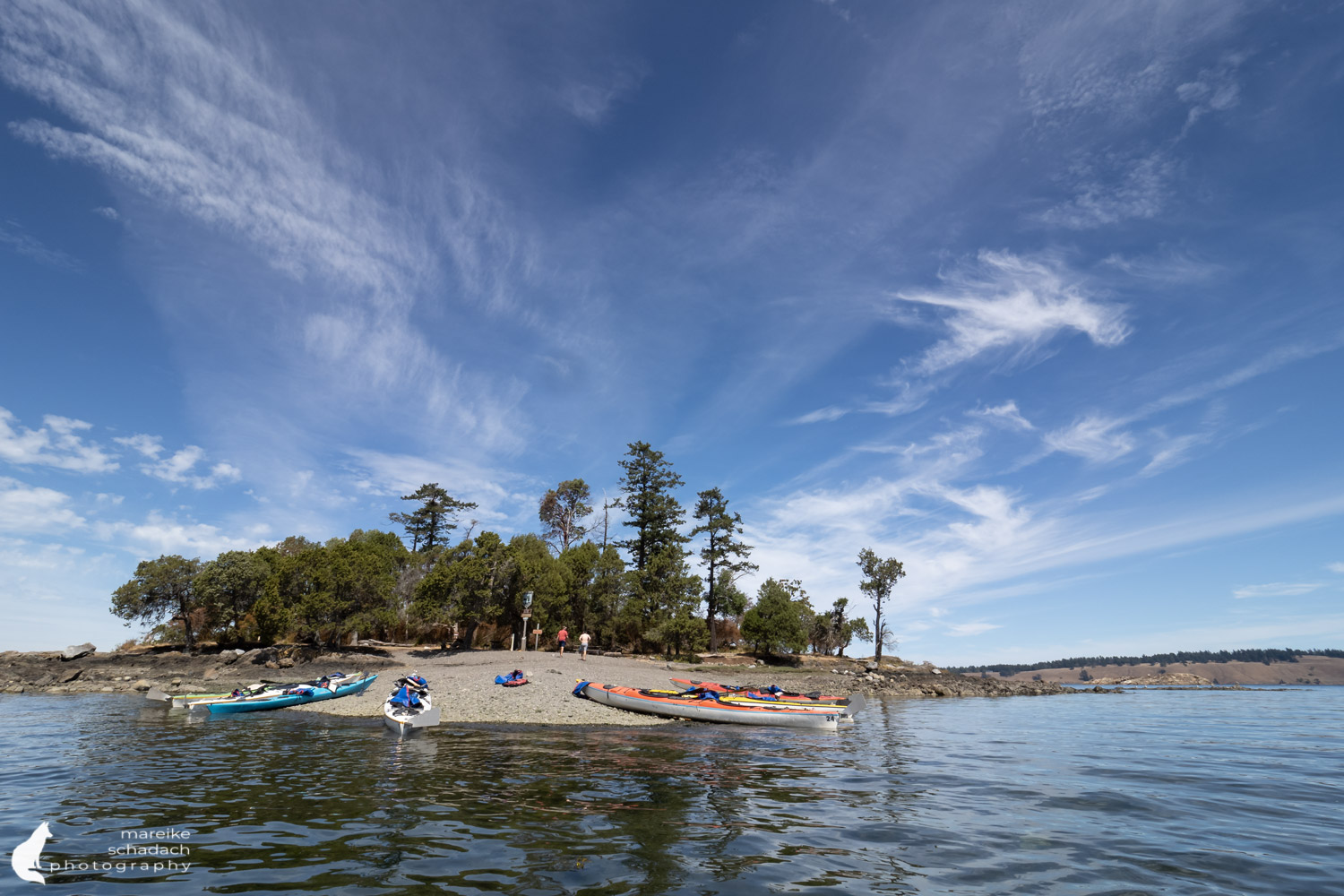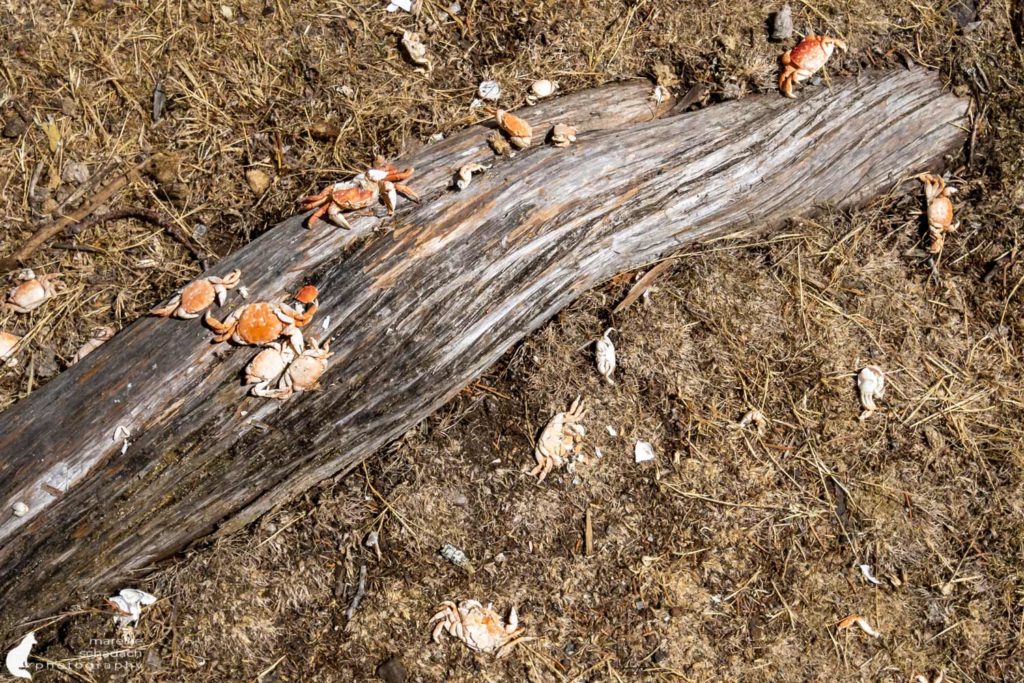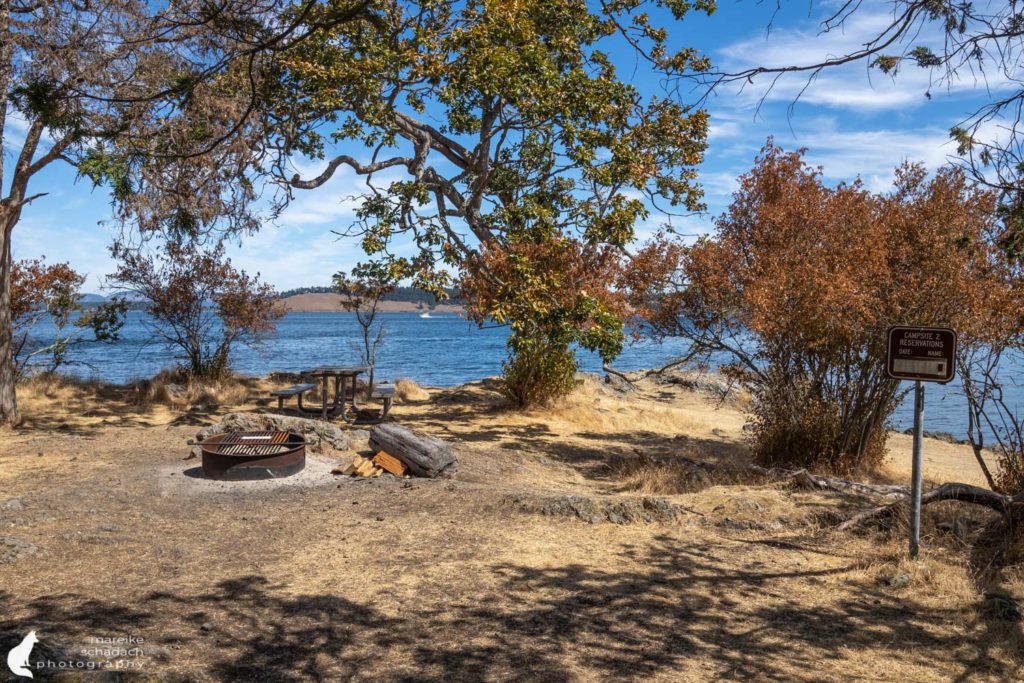 We continue along the east side of Henry Island. To our left is San Juan Island with picturesque bays and some luxurious estates. I enjoy our las stretch on the water and try to soak up as much of this beautiful stretch as possible. Finally we paddle into Westcott Bay where we bring our kayaks ashore. Here the van with trailer of San Juan Kayak Expeditions is already waiting for us.
We unpack our stuff from our green kayak. At this moment I regret that I did not book the five-day tour. I would have loved to paddle even further.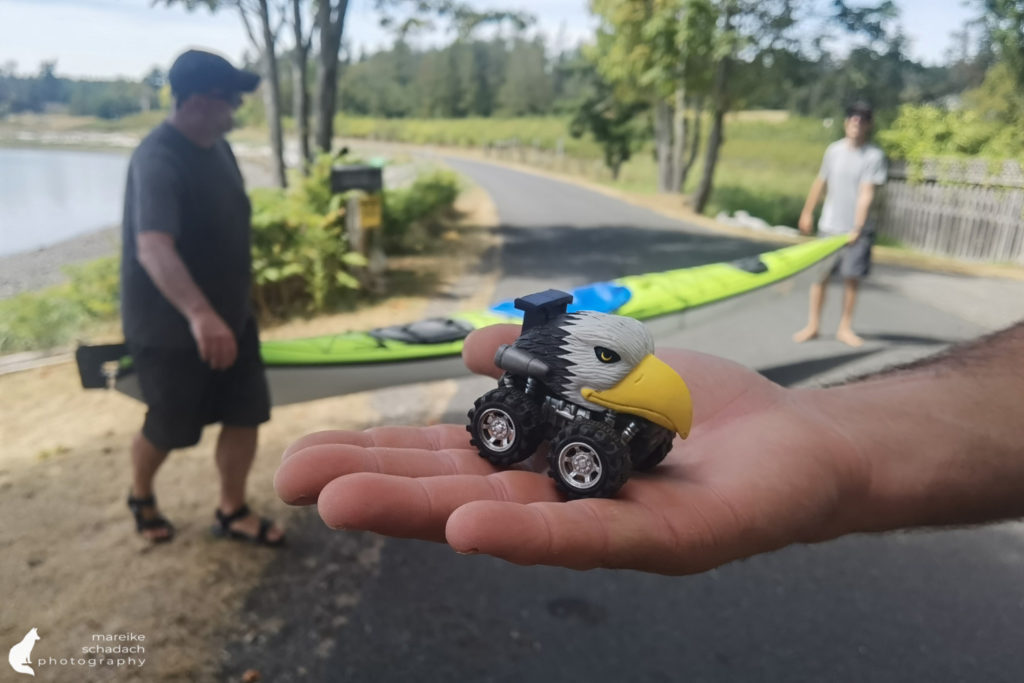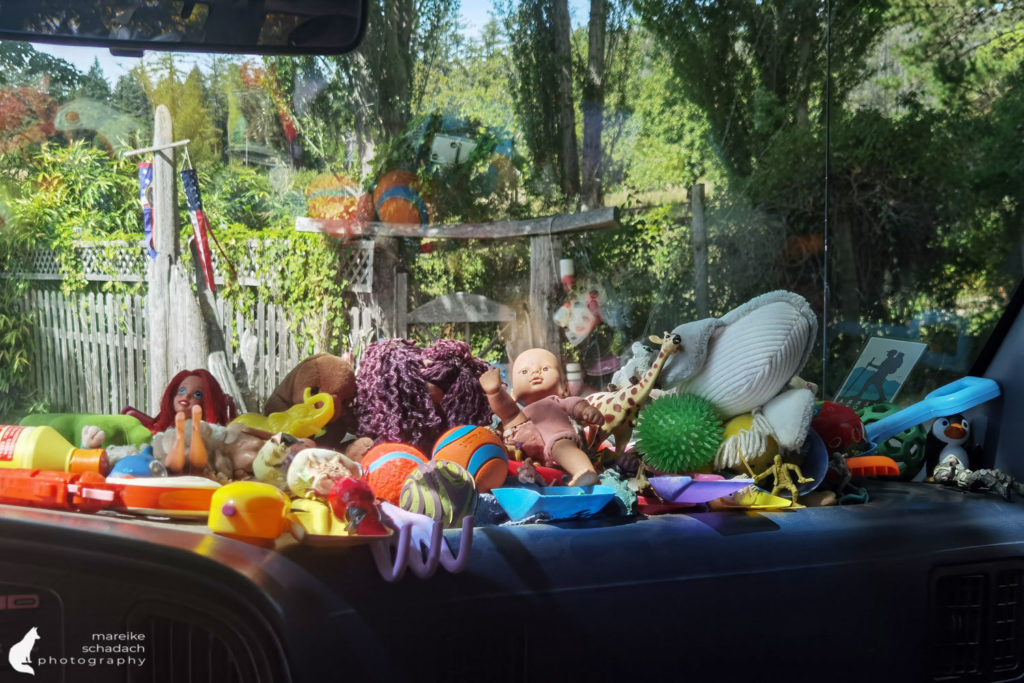 ---
How to get to the San Juan Islands
Friday Harbor, the main town of San Juan Island, is accessible by air or sea.
Tip: It is best to arrive one day before the start of the kayak tour. This is much less stressful. Plus, you may have an opportunity for a first whale watching tour or land-based orca watching at Lime Klin State Park.
By ferry:
Washington State Ferries run daily from Anacortes to Friday Harbor. If you are traveling by car, make a reservation in advance. You pay when you check in. If you want to cross without a car, you don't need a reservation. You don't really need a car in Friday Harbor, because many things can be reached on foot.
We stayed in Friday Harbor for a few days before and after the kayak tour. The only thing we needed a car for was the whale watching tour from Mayas Legacy. This starts in Mitchell Bay in the northwest of the island. Also, we always went to the west coast of San Juan for picnics in the evenings. This is where you get the most amazing sunsets as well as good chances of orca sightings from land.
During the kayak tour we could leave our car in the parking lot of our hotel, the Orcas Inn. If you want to leave your car in Anacortes, you can do so for a fee in the night parking lot of the Anacortes terminal.
By plane:
Friday Harbour Sea Planes offers several seaplane flights daily. Flights by regular aircraft are also offered by San Juan Airlines, Point to Point Air, and Kenmore Air. However, I think the ferry is a better choice.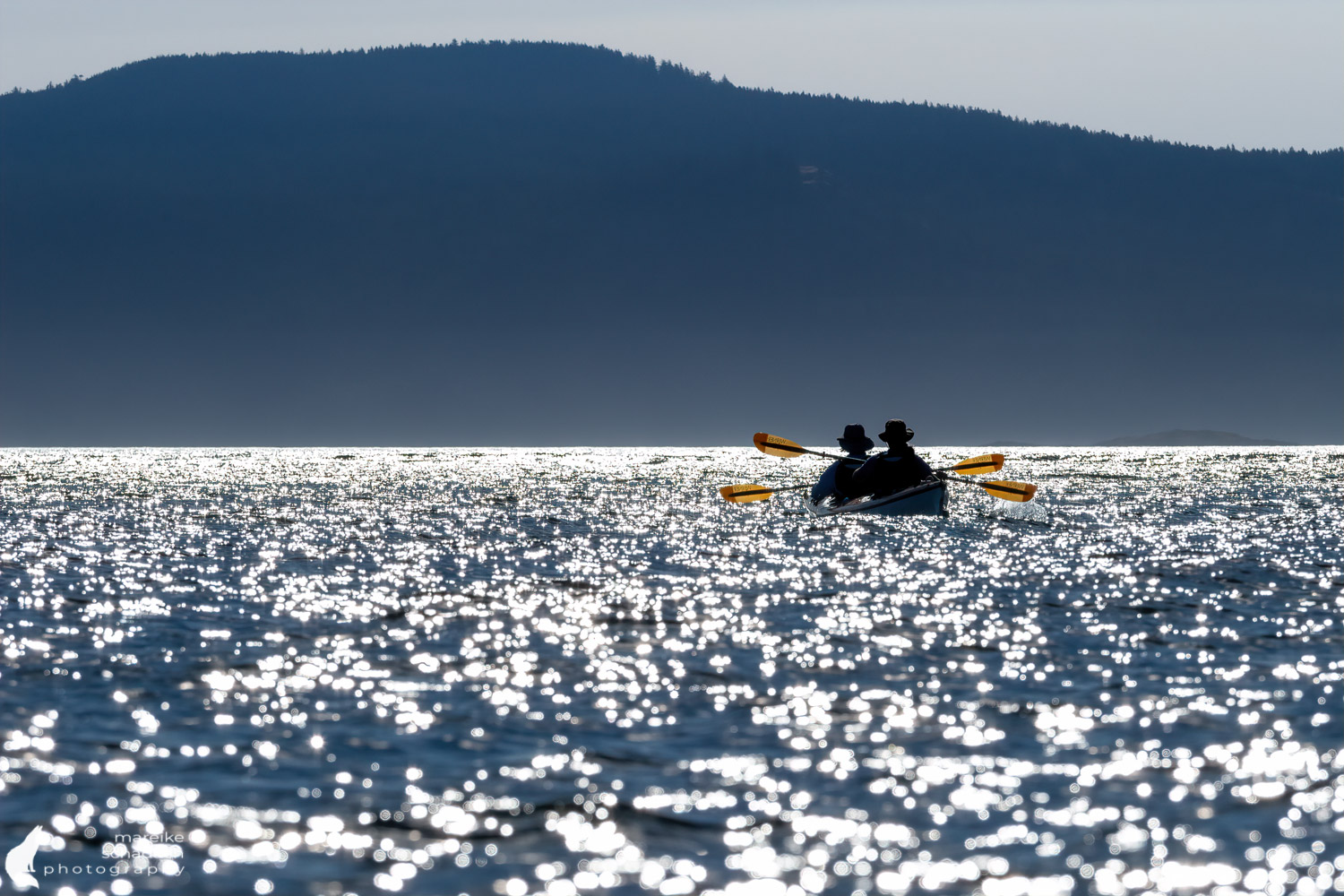 ---
Packing list for your Kayak Tour
In addition to the kayaks and paddles, life jackets, splash guards, seat cushions, bilge pump, waterproof bags and a tent are provided by the organizer.
Sleeping bag and sleeping mat
Head lamp
Clothing in several layers (quick-drying material)
Rain jacket and rain trousers
Outside the high summer: cap, scarf, gloves.
Cup, plate, bowl, cutlery
Drinking bottle, e.g. Nalgene (at least one 1-liter bottle for refilling, better two)
Snacks for the trip
Personal hygiene utensils
Water sandals, if necessary socks for the boat
Sneakers for the camp
Binoculars and camera
Maybe a power bank or solar panel
Sun cream, sun hat and sun glasses
---
Book Recommendations for Kayak Enthusiasts
Looking for more great paddling destinations or want to refine your paddling technique? Then I can recommend these books*.
You can order the books with a click on the pictures at Amazon. If you buy a product via an affiliate link, I get a small commission and you help me to keep filling Fernweh-Motive with interesting articles. The product will not be more expensive for you and you do me a huge favor.
---
Have you ever been on a kayak tour for several days and seen orcas or other whales? Where was it? Do you have any questions about my article? If yes, then write me a comment!
Do you want to know when there are new articles on my blog? Then follow me on Facebook, Pinterest or Instagram. I would also be very happy if you share my article with your friends.
---
Recommendations for further Reading
Do you like paddling as much as I do? Then you might also be interested in my articles about a Paddling tour in Patagonia or about a Kayak Tour in the Swedish Archipelago.