Ecuador. On the way to the summit of Iliniza Norte it was cold, windy and quite steep. I often needed both my hands to get a stable footing with the trekking poles or to climb over the rocks. My camera was safely packed in my backpack most of the time. The first time I took it out was when we were climbing over one ridge and a fantastic view opened up with Cotopaxi in the background. It was like being in another world, just magical. I could have stood there forever. But the wind and the cold drove us on.
Unassigned, unpaid advertising. The article contains affiliate links.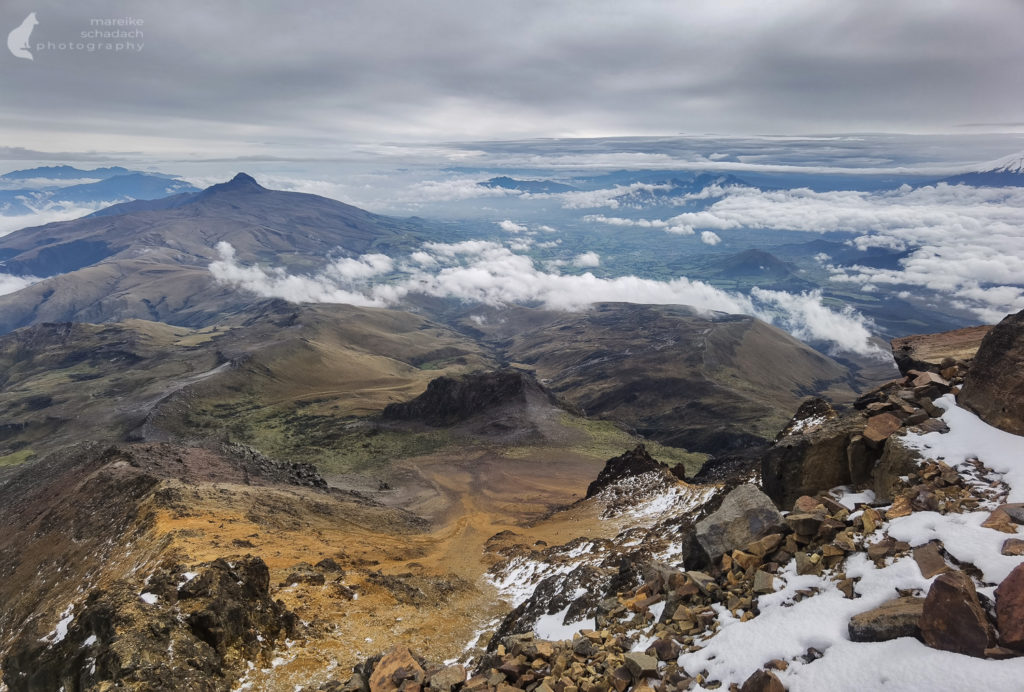 ---
Stratovolcano Illiniza Norte and Illiniza Sur
Illiniza is a no longer active stratovolcano in Ecuador. It is located about 60 km southwest of Quito in the Western Cordillera of the Andes. Of its two peaks, the southern one, Iliniza Sur, is 5245 meters high and covered by a glacier. The northern peak, Illiniza Norte, at 5126 meters high, is a pure rocky peak. Both peaks are separated by a saddle about one kilometer long.
The Illiniza volcanoes are located in the middle of the Reserva Ecológica Los Ilinizas. This ecological reserve is 1342.33 km² in size and was established in 1996. In addition to the Illinizas, it also includes El Corazón volcano and Quilotoa crater lake. To access the Ilinizas Ecological Reserve, one must register at the office at the park entrance.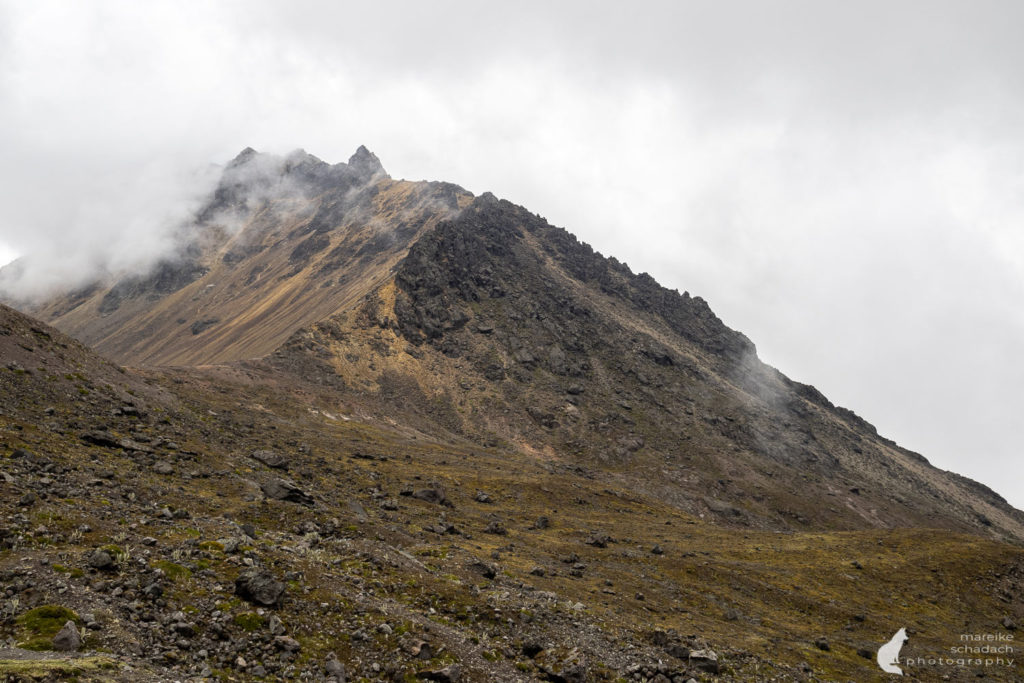 ---
Ascent of Illiniza Norte
Illiniza Norte is considered one of the best acclimatization mountains in Ecuador. It is often climbed in preparation for the higher peaks such as Cotopaxi, Chimborazo or Cayambe. Moreover, the route is remarkably beautiful. Illiniza Norte is technically relatively easy, since there is no glacier. The rock climbing ranges up to difficulty level 2 or I/PD on the normal route. This means mostly easy walking terrain (scree, easy boulder ridge), but increased surefootedness is necessary. The climbing sections are clear and problem-free. Combined with cold, wind and altitude, however, it is already a good reason for helmet, climbing harness and rope. Crampons and ice axe are usually not necessary. However, it depends on the weather conditions and the snow or icing.
Important!
If you have little own experience on mountains, go with a certified guide! The route to the summit is difficult to find in the last 200-300 meters of altitude. Again and again people who have lost their way have to be rescued from the mountain. Add to that the altitude and rapid weather changes. Train for the climb and make sure you have enough altitude acclimation for you.
By the way, Illiniza Sur is technically much more difficult than Norte and can only be climbed with glacier equipment.
The ascent of the Iliniza Norte was supposed to be a preparation for our Cotopaxi ascent. But it turned out differently: a kidney stone at my partne confused the planning of our acclimatization tours a little bit. We climbed the Illiniza only after our Cotopaxi attempt. There the flexibility of our tour provider Gulliver helped us a lot!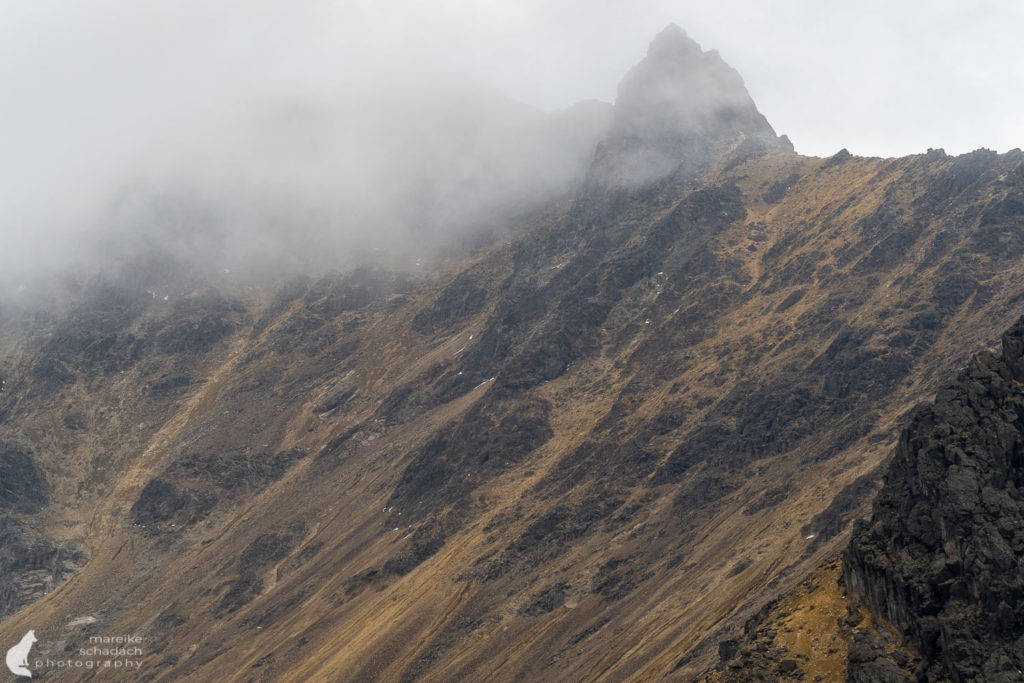 The Climb of Illiniza Norte at a Glance
Total distance: 14 km
Height difference: 1.176 m
Time: 2 days with overnight stay in the mountain hut. Some climbers also do the tour in one day.
Difficulty: medium; in rock climbing the normal route goes up to difficulty level 2 ( I/PD)
Maximum altitude: 5.126 m
Best season: June to September and November to February
The Sections of the Route
La Virgen parking lot (3,950 m) to Nuevos Horizontes mountain hut ( 4,750 m): 3-4 hours
Mountain hut Nuevos Horizontes ( 4.750 m) to summit Illiniza Norte (5.126 m): 3-4 hours
Descent from 5.126 m to 3.950 m: 2-3 hours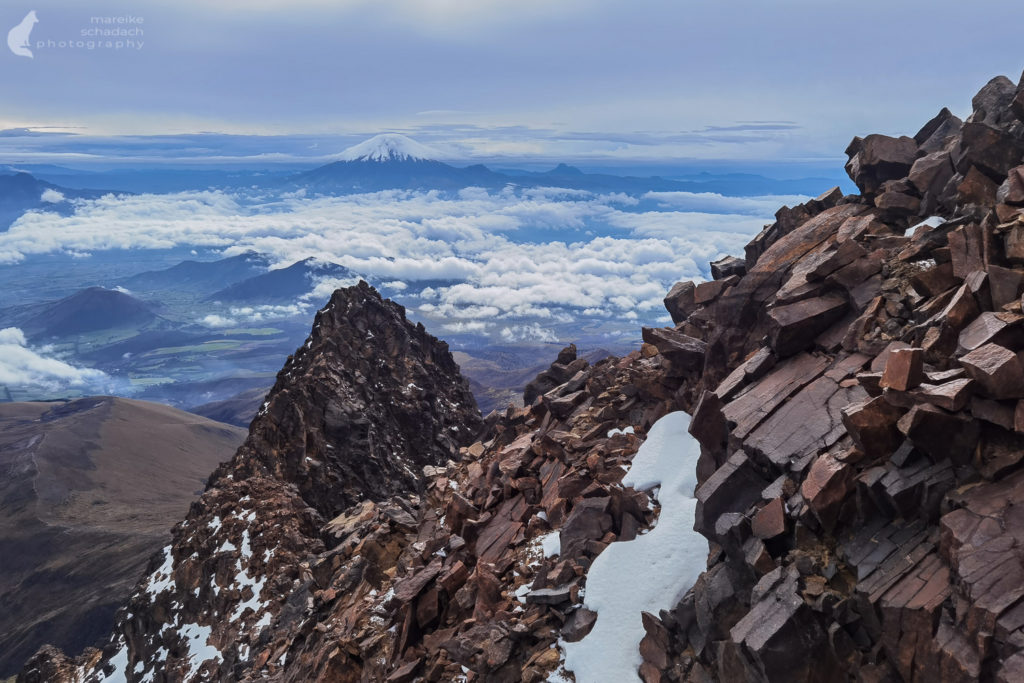 ---
Acclimatization to the Altitude
It is recommended to spend at least two days at around 3,000 m for acclimatization. Personally, that would not be enough for me. I recommend you to sleep at least four days at this altitude and to do two other summit hikes before, for example on Quito's "local mountain" Pichincha (4.776 m), Pasochoa (4.200 m) or Corazón (4.790 m).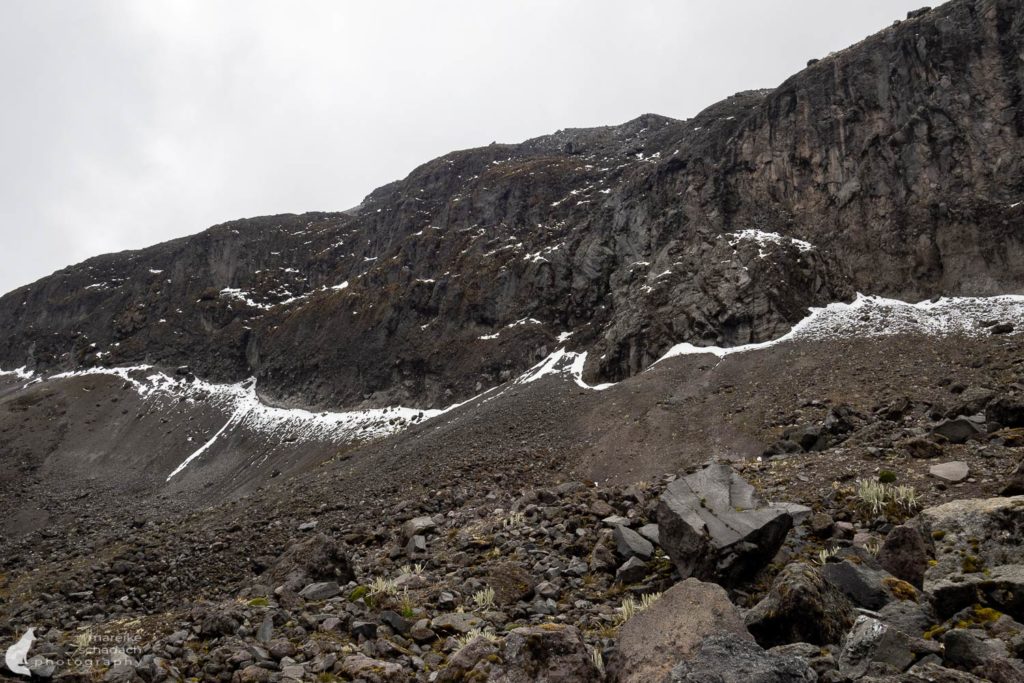 ---
From the Parking Lot "La Virgen" to the Mountain Hut Nuevos Horizontes
The trailhead to Illiniza is at the "virgin" at the parking lot "La Virgen" at about 3,950 meters above sea level. Here the locals worship the mountain and the earth gods. We load our backpack on the horse and then grab only our daypacks. The sleeping bags, additional warm clothes and everything we need on the summit day brings the rider with his horse to the mountain hut. Super practical. And I willingly pay the additional 50 dollars for the round trip transport.
There are two trails at the beginning: a wider one that the rider takes and a narrower one that we walk. The latter is heavily washed out from the rain. It goes steadily uphill and with some visibility we have a nice view of the neighboring Corazón and the two peaks of Illiniza. At first, the mountain is still covered with the panamo vegetation usual for these heights. But the higher it goes, the more barren the landscape becomes. Soon there are only stones, rocks and boulders around us. The path becomes steeper again, until it then turns largely flat on the last few meters before the mountain hut at an altitude of about 4,750 meters.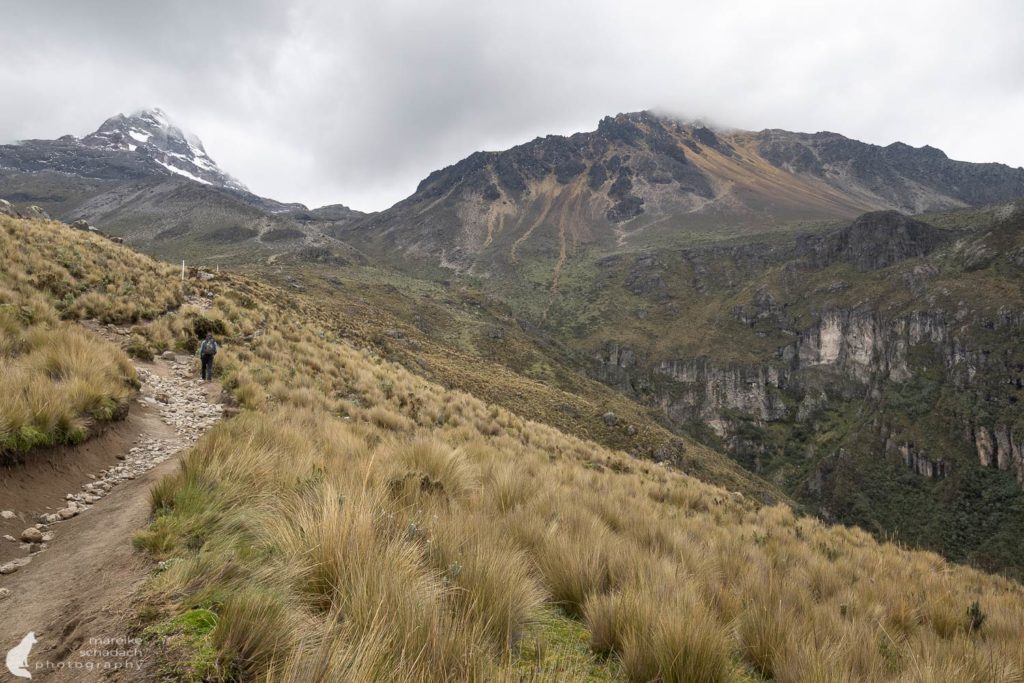 ---
Mountain Hut Nuevos Horizontes
The hut is located in the middle of the saddle between the two peaks Illiniza Norte and Illiniza Sur. The saddle is more or less flat and there is a mountain lake. The hut can accommodate about 12 people. Next to the hut there is also space for tents. Next to the sleeping room there is a small kitchen with a dining table. Everything is very simple, but perfectly adequate. There is even electricity to charge cell phones. Drinking water is boiled. Outside there are two flush toilets. And the leftovers are taken care of by a family of Andean foxes that live near the hut.
After I have rested for a while and eaten something I go in search of the foxes. Before I had already seen one out of the kitchen window. But I had no luck. I walked the path towards the summit for a while and was looking forward to the next day.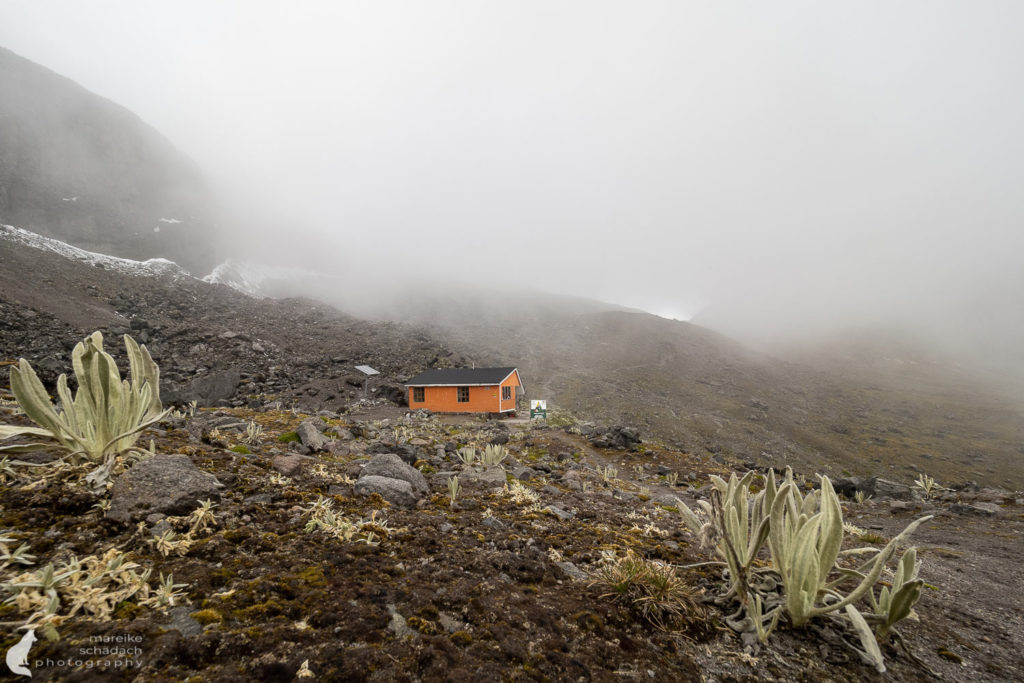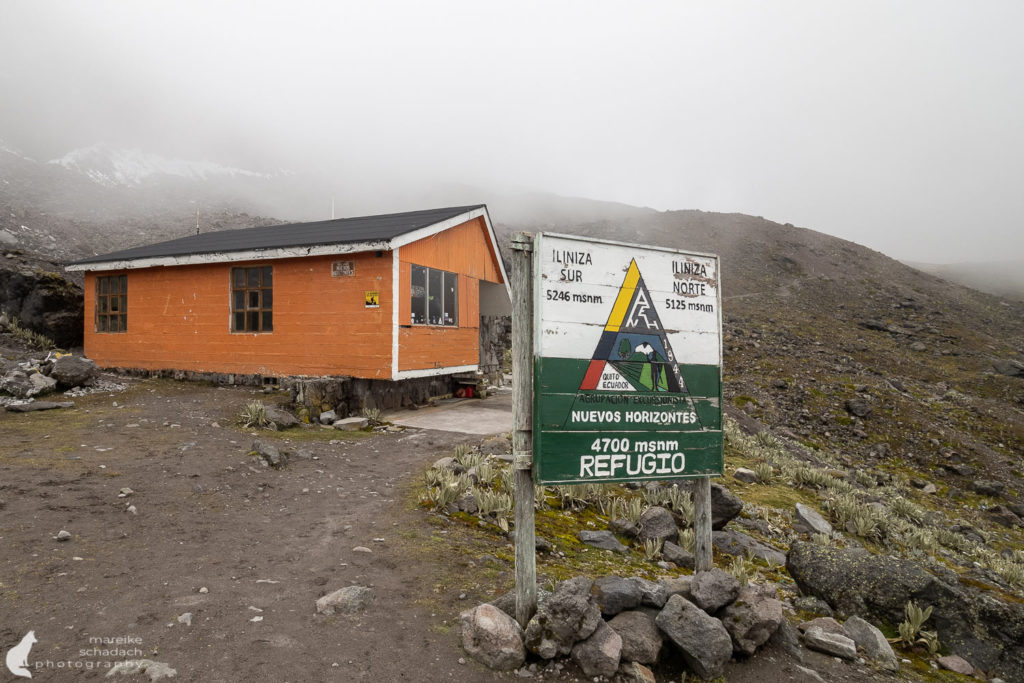 ---
Summit Day
The First Meters
After a few hours of sleep, our alarm clock rang at 4 am. I was already awake. Around 2 o'clock another group has already left for Illiniza Sur. This does not go unnoticed despite earplugs. There is no kitchen door. And the group unfortunately did not try to be quiet in any way. Good thing there is coffee here.
After an incredibly sumptuous breakfast for this time of day, we set off. The backpack with everything we don't need anymore is ready to be picked up by the rider. We carry our climbing harness, helmet, headlamp and the daypack with some provisions and 1.5 liters of water.
When we leave the hut, it does not go unobserved. Two eyes follow us in the dark. In the light of my forehead lame they shine orange. They belong to one of the Andean foxes, which has its night camp on a large stone next to the hut. I am happy about the encounter and continue to keep a lookout.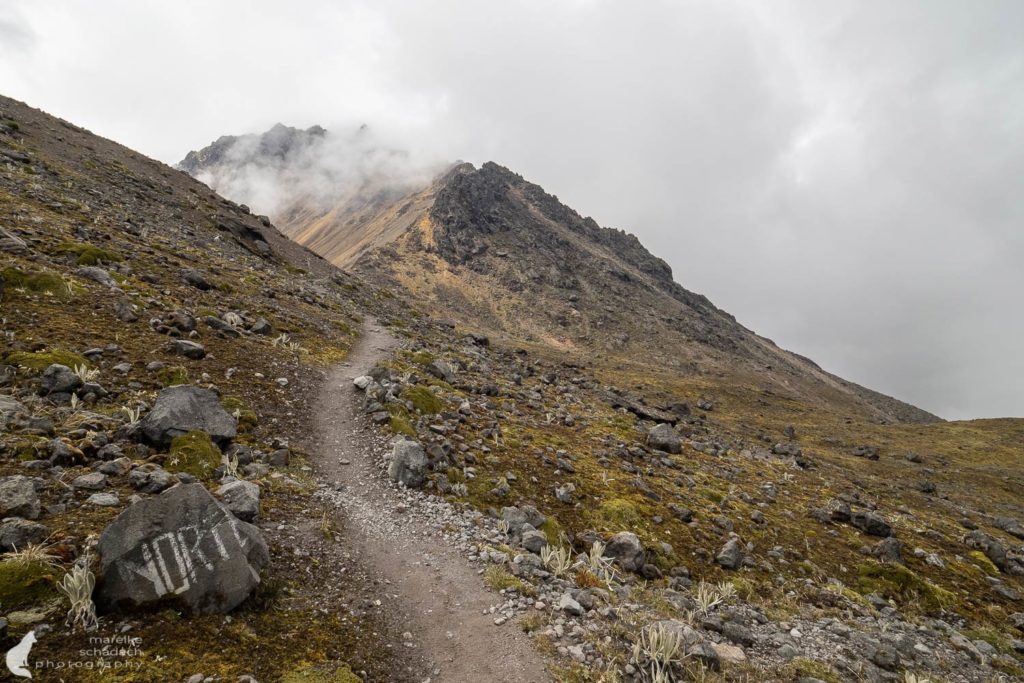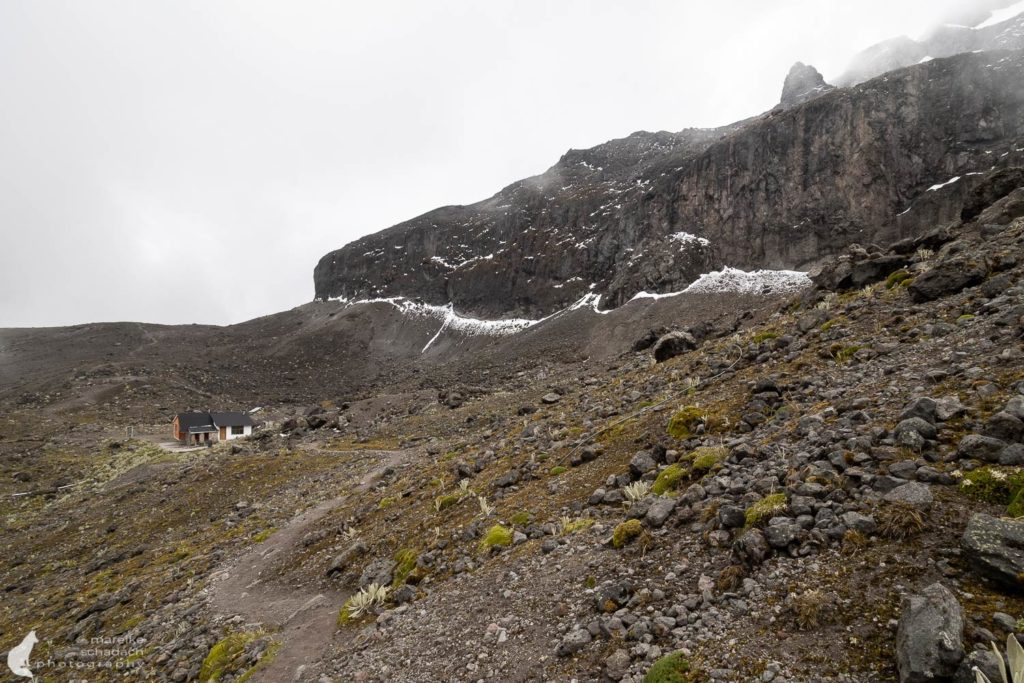 It is shortly after 5 o'clock, the route is still reasonably flat. Only when it is already slightly dusk, it becomes steeper and rockier. It is always nice to watch the world waking up. At first you can only see shadows and outlines. Then slowly colors come into play. First in the sky and then also in the surroundings. The dawn from up here is just fantastic. It is a mostly clear day and we can look up to the Cotopaxi and later also to the Chimborazo.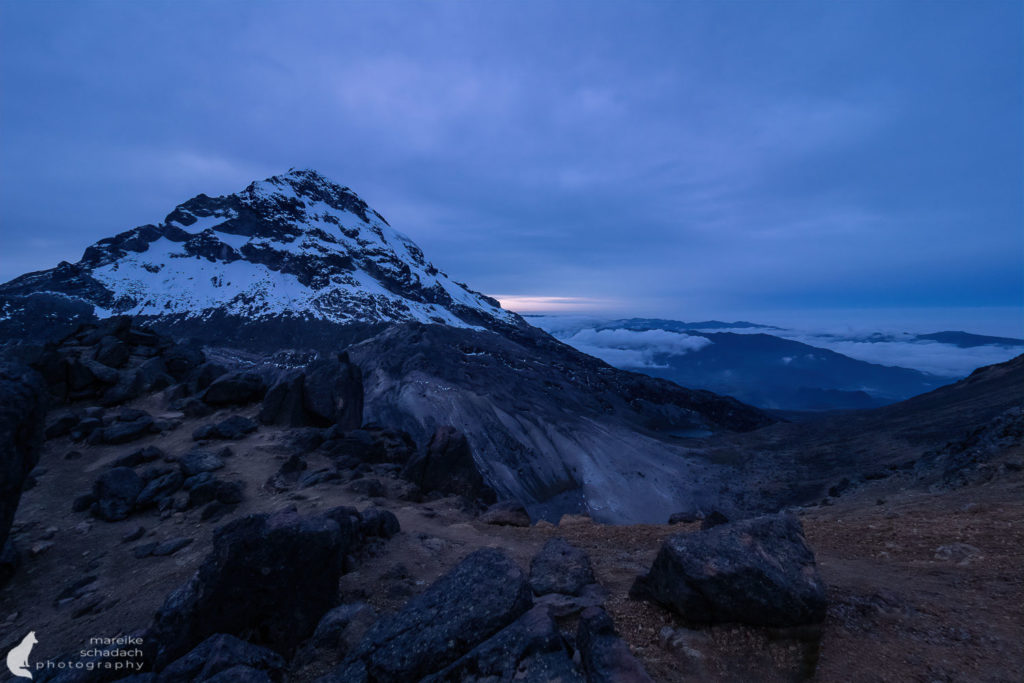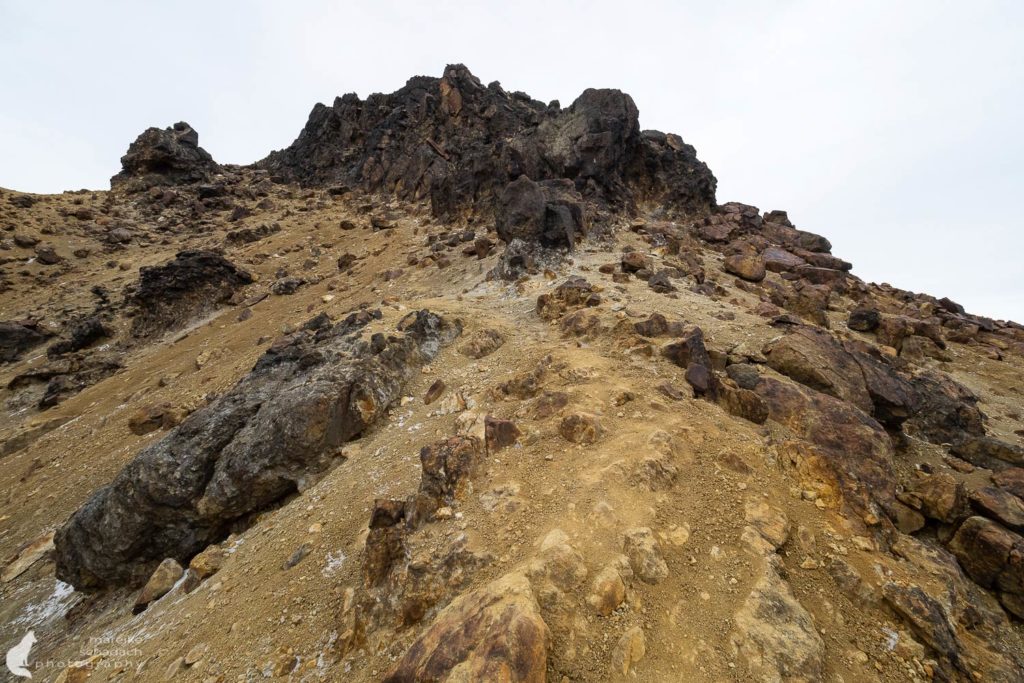 The last few Meters
The last section on the mountain is steep and rocky. Here climbing is the order of the day. We use the rope and deposit our trekking poles on a rock. In this section we have to use our hands for climbing. It goes further and further up and it gets windier and windier. The summit is marked by a small metal summit cross. There is not much space up here and it goes steeply down the sides. I enjoy the view and the small rest. Before it goes down again is still time for a summit photo. Why does one always look so incredibly beat up on these pictures?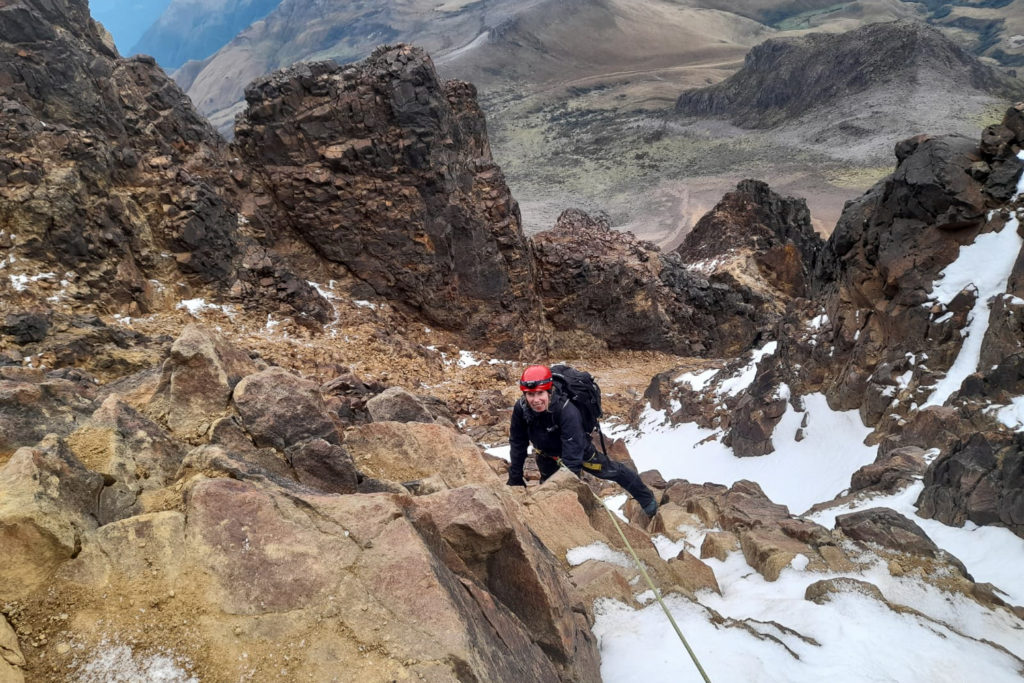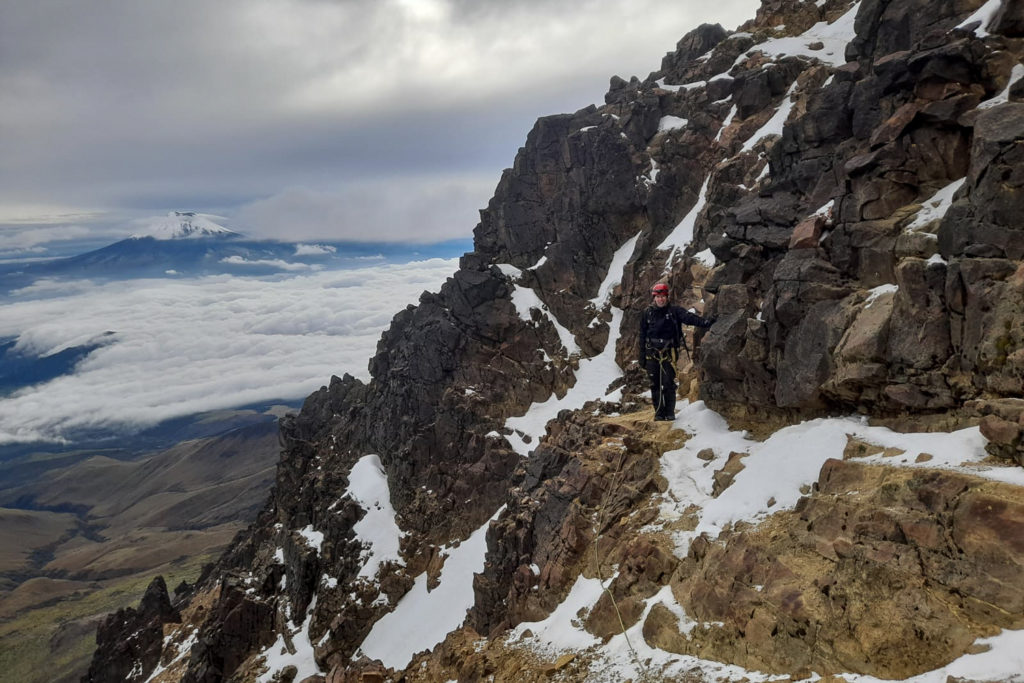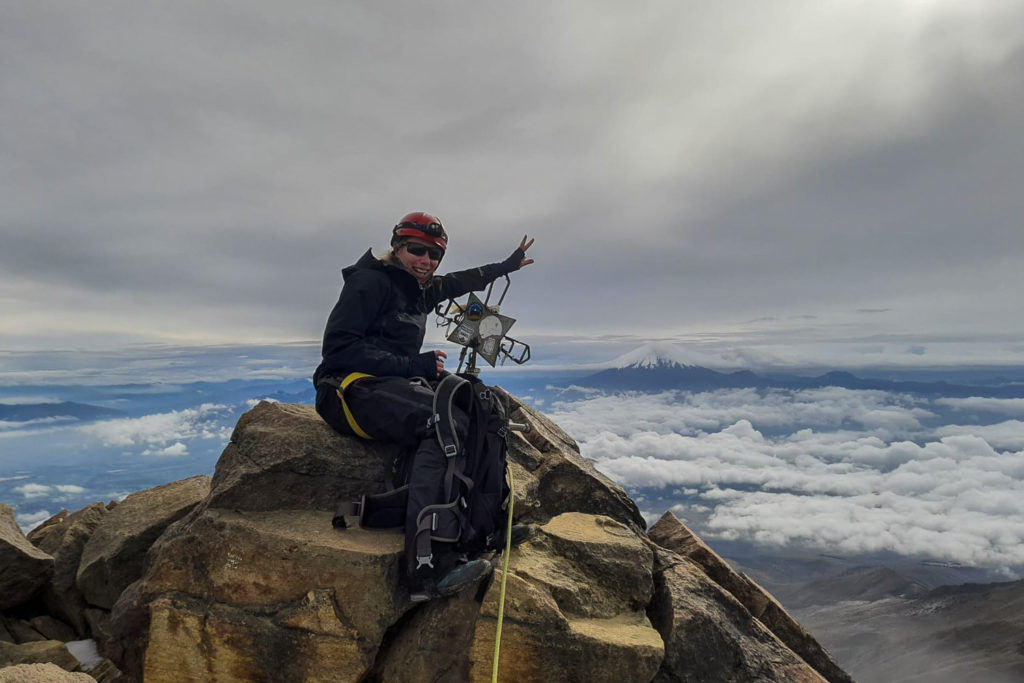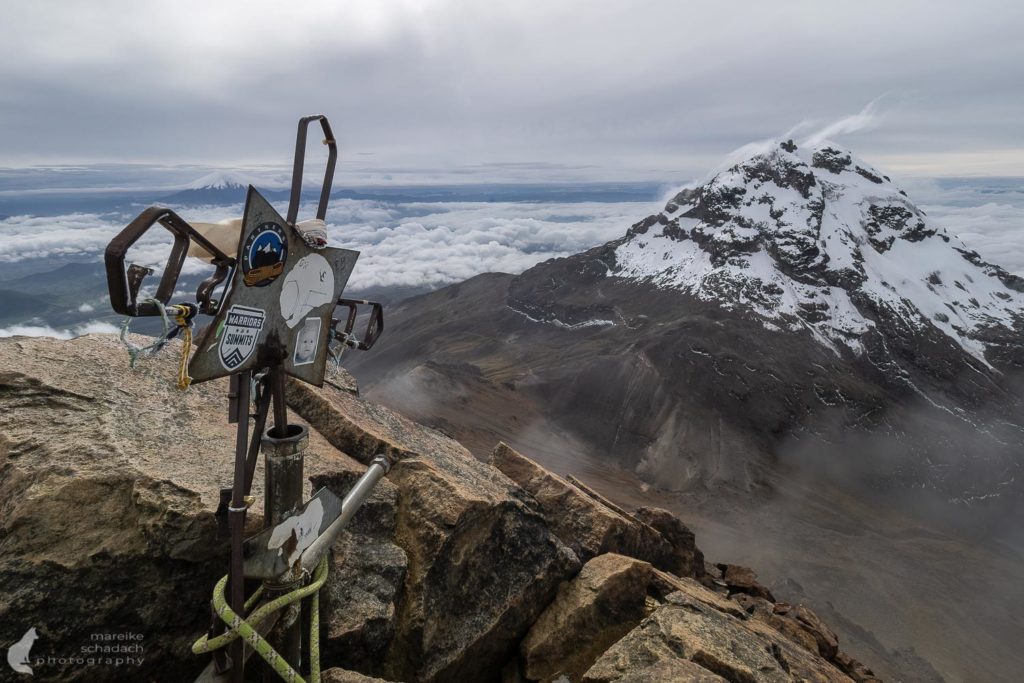 ---
Who goes up must also go down again - the Descent
We have to hurry, because it looks like rain. Gray clouds are gathering on the horizon and mountains are getting covered by clouds. We climb down the rocks amazingly fast, in some places we continue with rappelling. Finally, after a while, we reach the mountain flank, which consists of loose scree and gravel. We almost slide down and have vegetation around us again within a very short time. I am always amazed at how strenuously and slowly one struggles up the mountain and then how quickly one is back down again.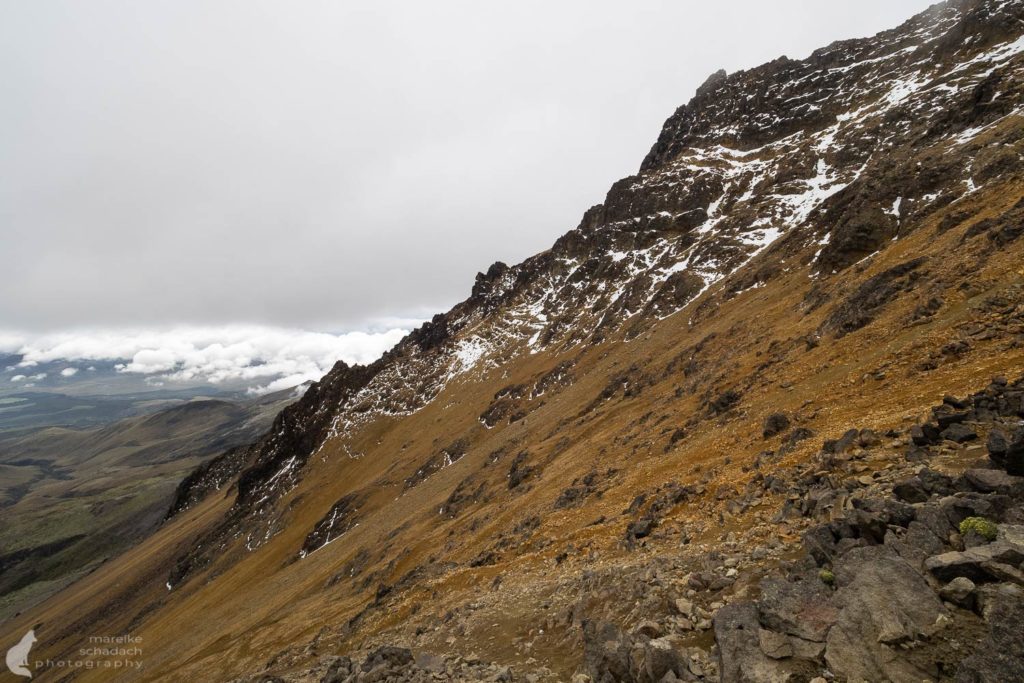 ---
Conclusion: Is the Ascent of Illiniza Norte worth it?
A clear yes! I would do this mountain tour again at any time. Scenically, the area and the view of the surrounding mountains are a real highlight. And also the climbing over the rocks was just great.
For acclimatization and in preparation for a higher mountain, this tour is ideally suited. But also as a single peak of an Ecuador trip I can highly recommend the Illiniza Norte.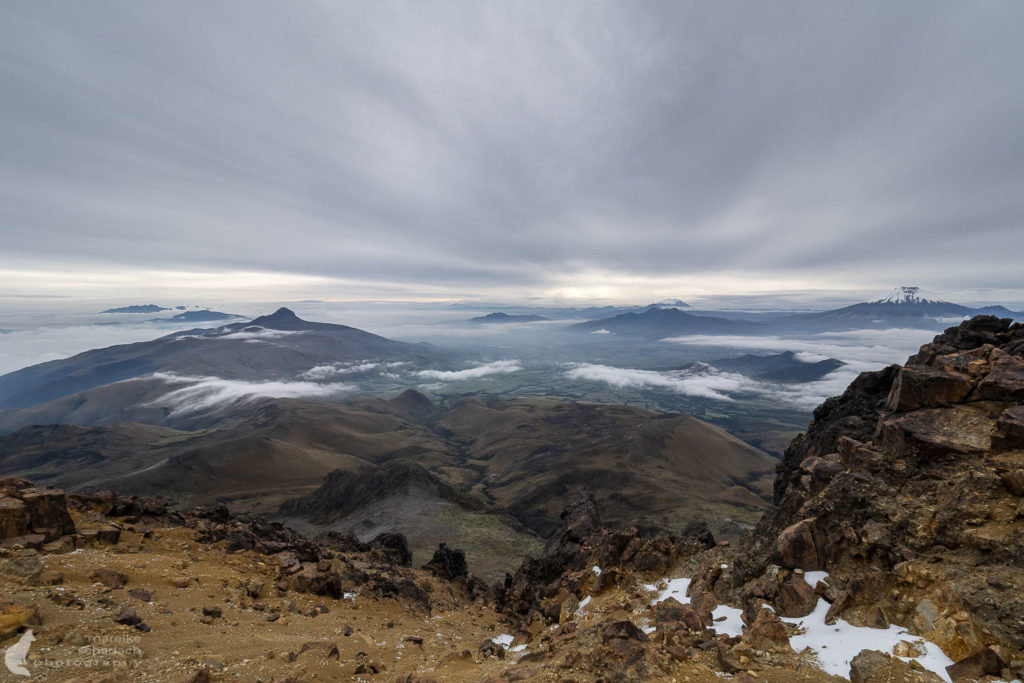 ---
What do I need for the tour?
For the ascent you should definitely have a certified guide. You will also need a harness, trekking poles, helmet and headlamp. Your guide will also have a rope and other small items to set up a belay if necessary. We did not need crampons or ice axe, because there was only little snow or ice and we could simply kick small steps into it with our boots. We walked with normal trekking boots, which was sufficient in our case and was also warm enough. The temperatures were between -2 and 5 degrees Celsius. In other weather, of course, it can be different.
Trekking boots, hiking poles, gloves and everything else you might need for your climb up Illiniza Norte in Ecuador can be found at Bergzeit.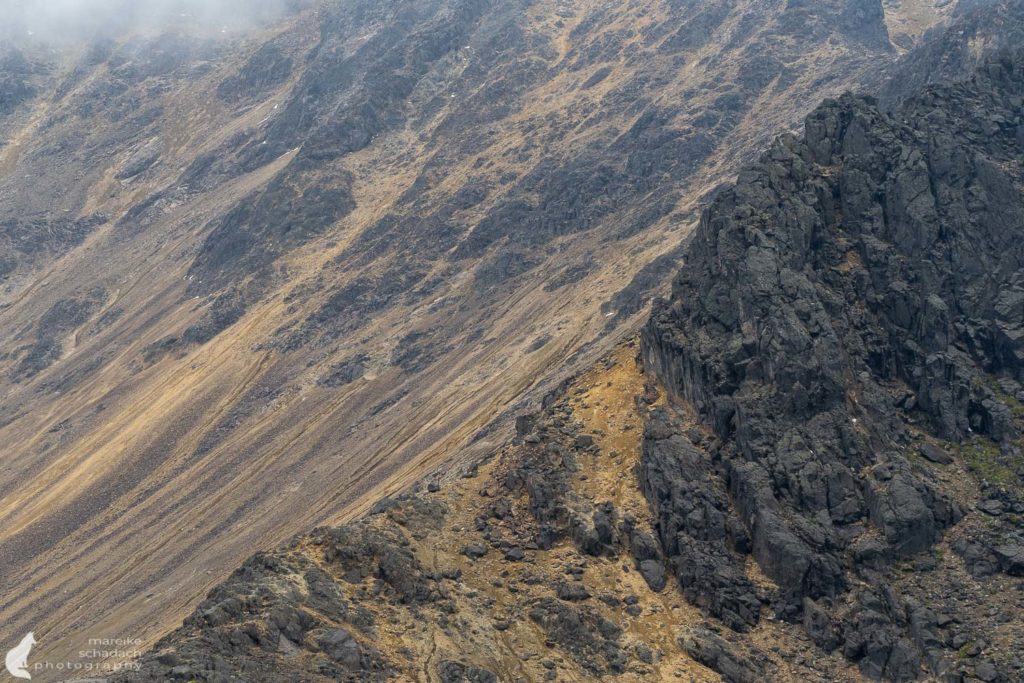 ---
Book Recommendations for Ecuador
You want to know where the journey goes? Then I can recommend these books*.
You can order the travel guides at Amazon by clicking on the pictures. If you buy a product via an affiliate link, I get a small commission and you help me to keep filling Fernweh-Motive with interesting articles. The product will not be more expensive for you and you do me a huge favor.
---
Have you ever been to Ecuador, maybe even to the Illiniza Norte volcano? How did you like it? Do you have any questions about my article? If yes, please write me a comment!
Do you want to know when there are new articles on my blog? Then follow me on Facebook, Pinterest or Instagram. I would also be very happy if you share my article with your friends.
---
Recommendations for further Reading
Do you love South America as much as I do? Then you might also be interested in my articles about a Kayak Trip in Patagonia or about a trip to the Tierra del Fuego National Park in Argentina.