Scotland. Scary stories are told about the Greyfriars Kirkyard in the old town of Edinburgh. Some of them are true. Others may not be. Stories about body snatching, prisoners and the most loyal dog in the world. And, of course, a poltergeist must not be missing either. The Greyfriars Kirkyard attracts visitors from all over the world with a touch of spookiness. Especially fearless ones even come at night. Here you can find out what to expect when you visit Greyfriars Kirkyard.
Unassigned, unpaid advertising. The article contains affiliate links.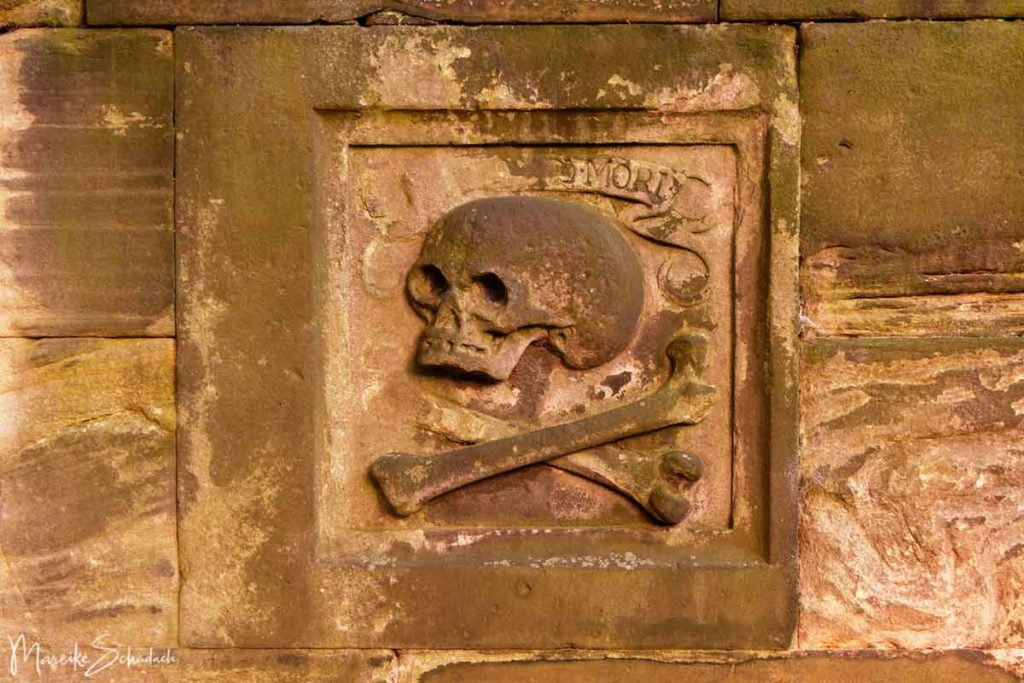 Unsolicited, unpaid advertising.
---
Here is where the Dog is buried - Greyfriars Bobby
History of the Cemetery Greyfriars Kirkyard
Overview of Greyfriar's Graveyard
Grave Ornaments and Symbolism
The Cemetery Church and the King of Terror
Mortsafe - a Safe for the Dead
The Flodden Wall
Covenanters' Prison
Mackenzie's Poltergeist
Inspiration for Harry Potter
A Herb Garden in the Cemetery
Location and Opening Hours of the Greyfriars Cemetery in Edinburgh
---
Here is where the Dog is buried - Greyfriars Bobby
Gleich am Eingang zum Friedhof steht ein Grabstein aus rosa Granit. Davor stapeln sich Stöckchen. Keine Blumen, keine Engelsfiguren – nur trockene Stöckchen. Ein bisschen ungewöhnlich ist das schon, oder? Der Grabstein wurde zudem von der "Dog Aid Society of Scotland" aufgestellt. So there is a dog buried here - and a very special one: the little Skye Terrier Bobby.
"Let his loyality & devotion be a lesson to us all"

Inscription on the gravestone of Bobby Greyfriar
Even after the death of his master, the policeman John Gray, Bobby did not leave his side. It is even said that the dog lived for 14 years on the cemetery. When he finally died in January 1872, he was buried at Greyfriars Kirkyard. So the faithful dog could be near his master even after his own death.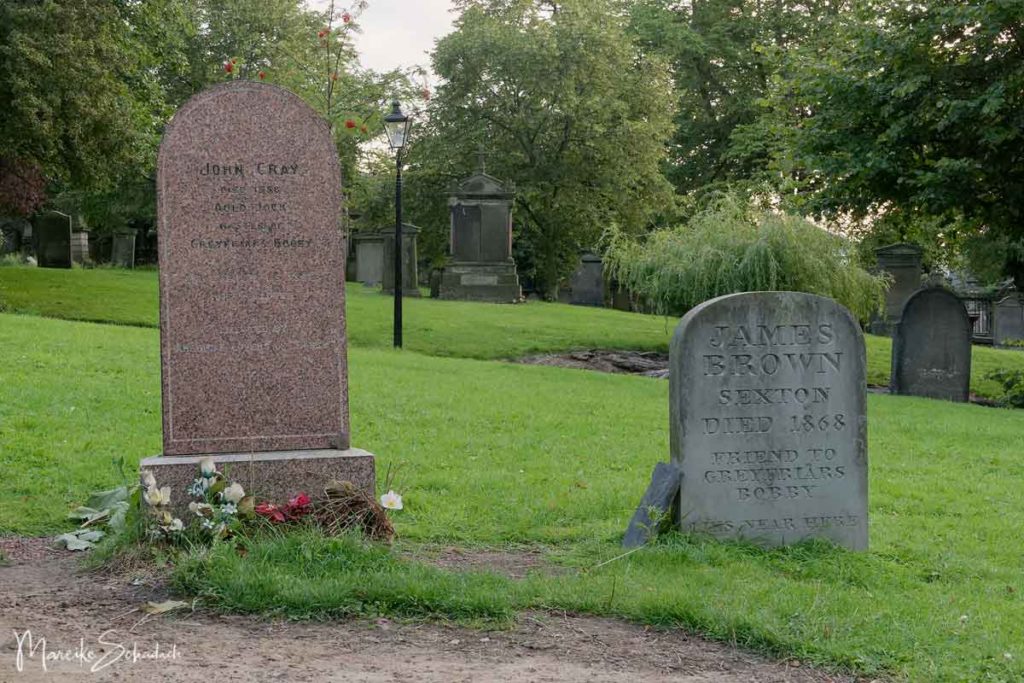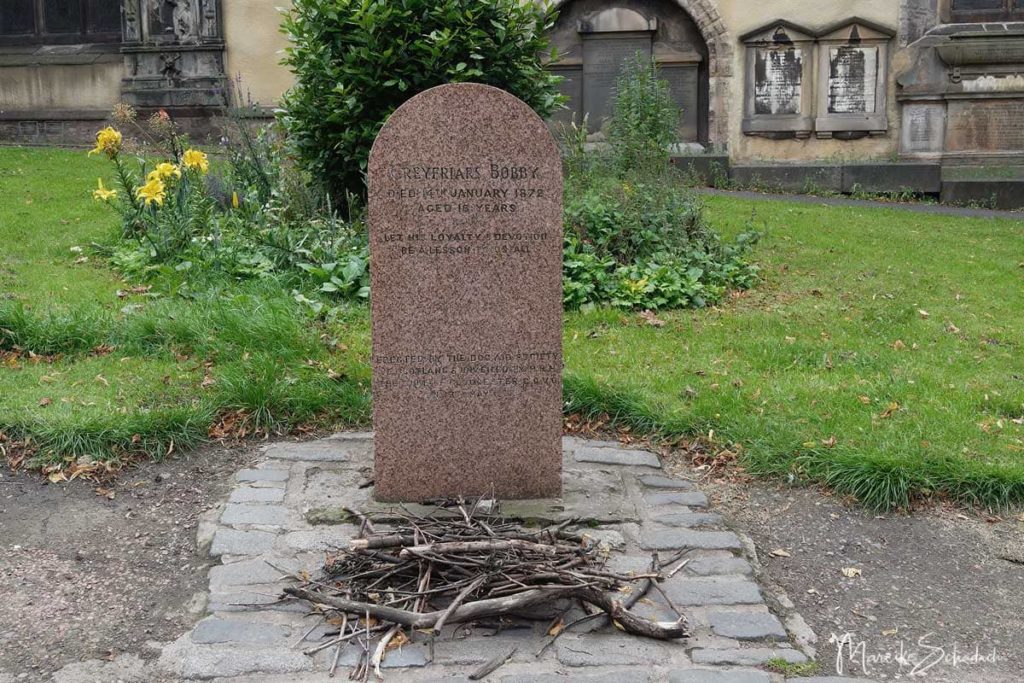 Whether the story is true or not is doubted by some people. Maybe it was just different dogs of the cemetery guard, who recognized the marketing effect early on? But I love the first story, it is so touching. And of course I also looked for a little stick for Bobby and put it in front of the gravestone.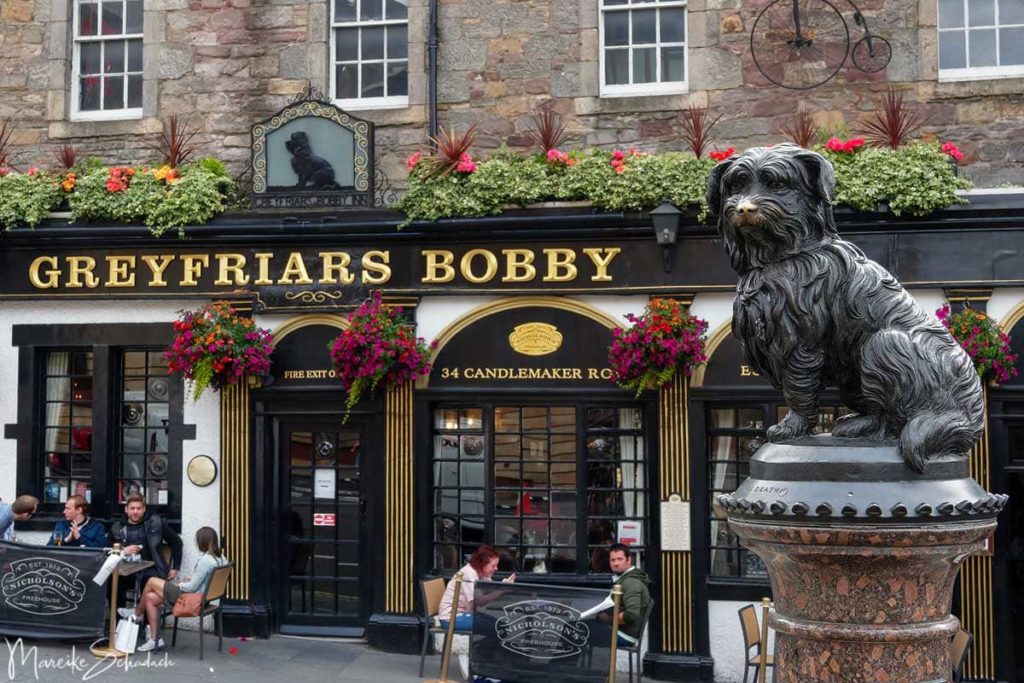 Maybe you have seen Bobby before at the entrance of the cemetery? Not as a ghost but as a bronze figurewhich the inhabitants of Edinburgh have put up in memory of the loyal dog. It is said that it brings luck if you touch Bobby's snout.
Directly opposite the bronze statue and next to the cemetery there is also a pubof the same name where you can end your visit to the cemetery with an ale.
---
History of the Cemetery Greyfriars Kirkyard
But first a little bit of history: Until 1559 there was a Franciscan monastery. Nach der Reformation wurde das katholische Kloster jedoch aufgelöst. Seitdem war das Gelände Eigentum von Mary Queen of Scots. Da der bisherige Friedhof der St. Giles' Cathedral zu klein wurde und die Anwohner zunehmend mit üblem Geruch belästigte, stellte die Queen monastery grounds available for a new cemetery in 1562. zu Verfügung. Die grauen Roben der "Graubrüder" – wie die Franziskaner auch genannt wurden – gaben dem neuen Friedhof den Namen Greyfriars. Einige prominente Einwohner der Stadt fanden hier auf Greyfriars Kirkyard ihre letzte Ruhestätte.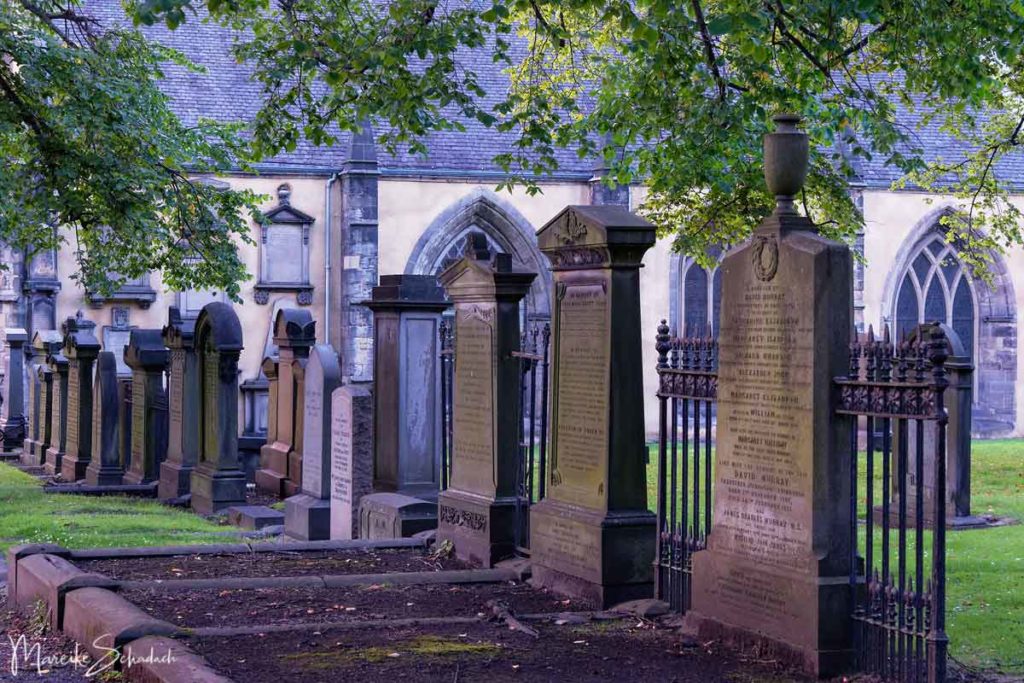 ---
Overview of Greyfriar's Graveyard
To the right of Bobby's grave you can start by getting an overview of the cemetery. A map shows the different areas as well as the location of the gravesites of several prominent inhabitants of Edinburgh. All graves are numbered on the map. I photographed the map with my cell phone, so I could easily find my way around.
The cemetery area can be divided into four parts, die nacheinander genutzt wurden. Der älteste Bereich befindet sich rechts vom Eingang, wo einst das Kloster stand. Die Gräber hier sind aus dem frühen 17. Jahrhundert. Danach fanden auch Bestattungen auf der Fläche links von der Kirche statt. Auf dem dritten Abschnitt, dem "Covenanters Prison" im Südwesten, gab es dann ab 1705 die ersten Beisetzungen. Der jüngste Abschnitt des Friedhofs liegt hinter dem Rest der "Flooden Wall". Hier erfolgte die erste Beisetzung im Jahr 1800.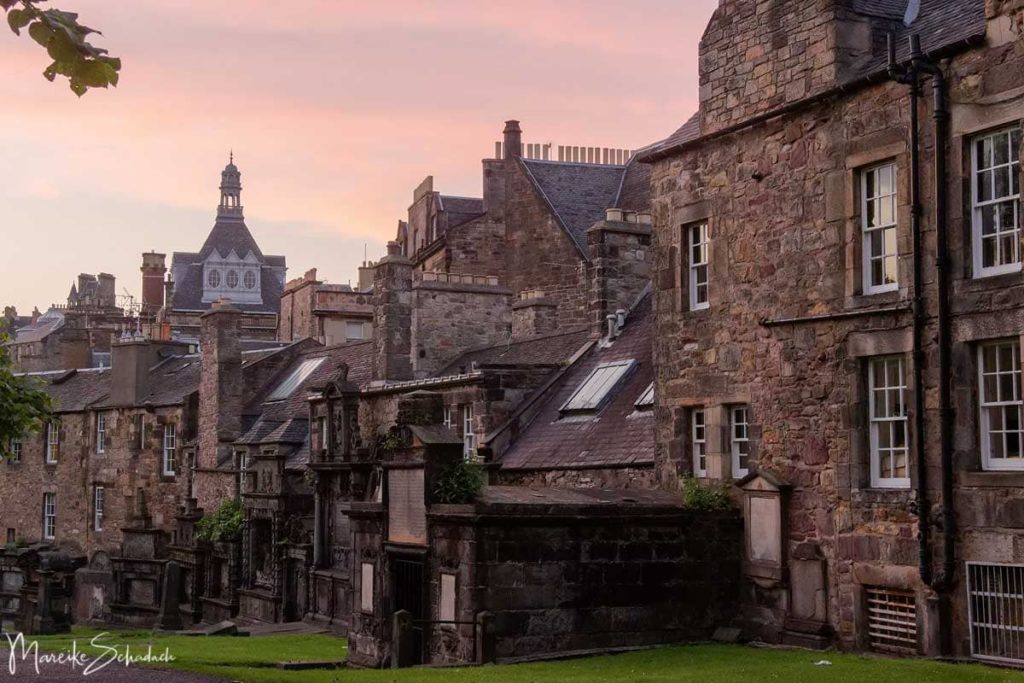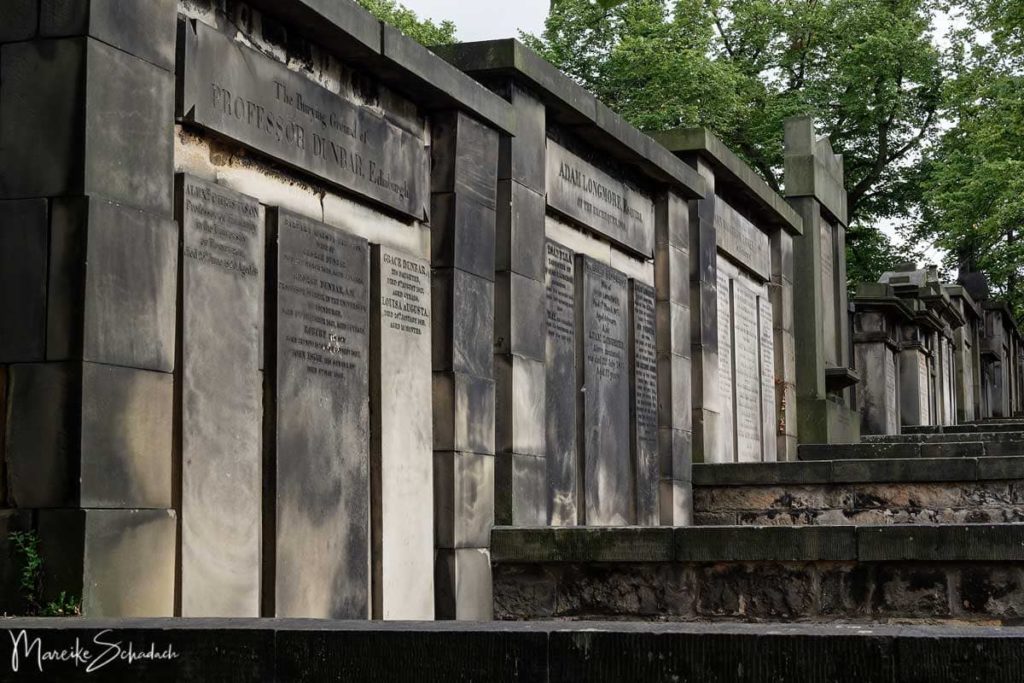 ---
Grave Ornaments and Symbolism
On the Greyfriars Kirkyard you can see a variety of different tomb monuments.Among them are mausoleums or tombs with small walls or metal fences. There are also lying and standing flat stones, crosses, as well as head- and footstones, obelisks, monuments and sarcophagi. A special kind of burial place are the mortsafes - but more about this later.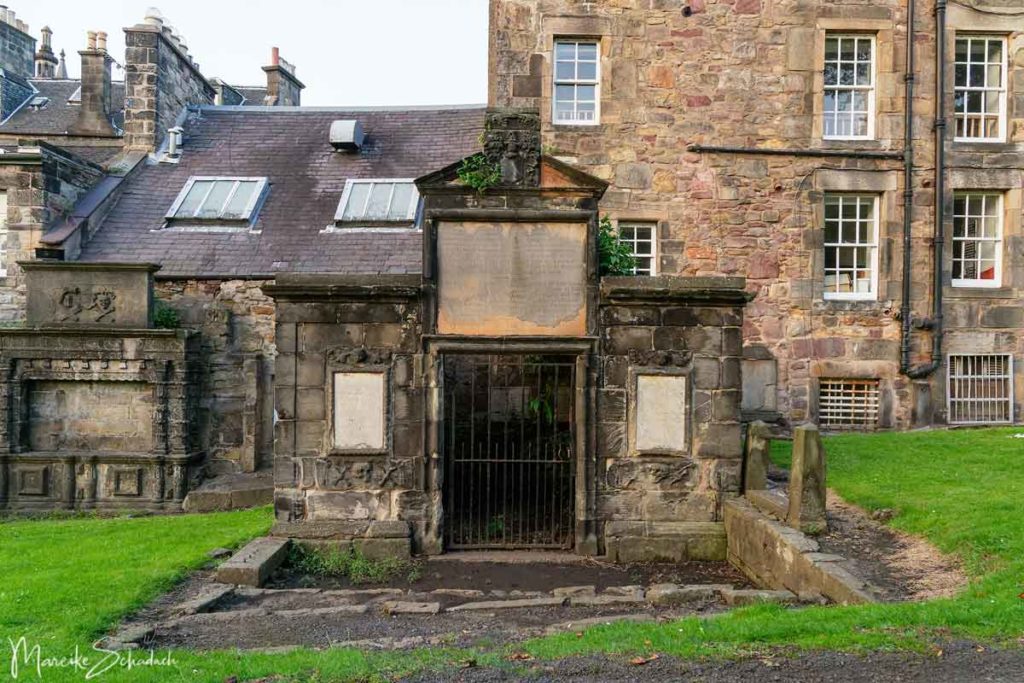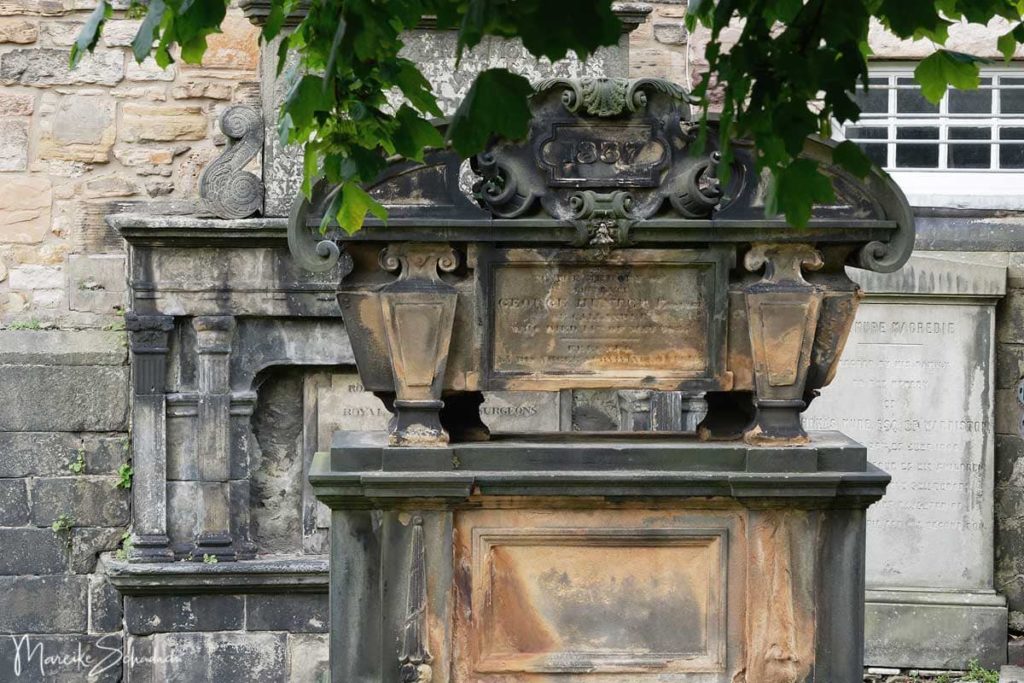 Interesting: Many burial sites were once surrounded by metal cages or fences. In the 1940s, however, these were often removed - the raw material was needed for the steel industry during the war.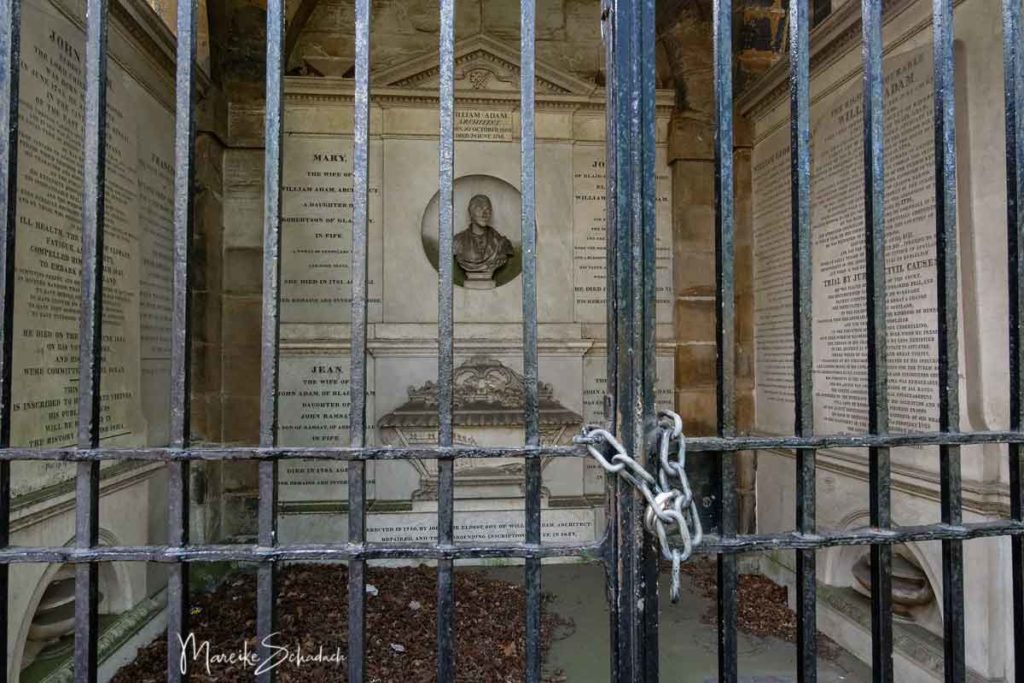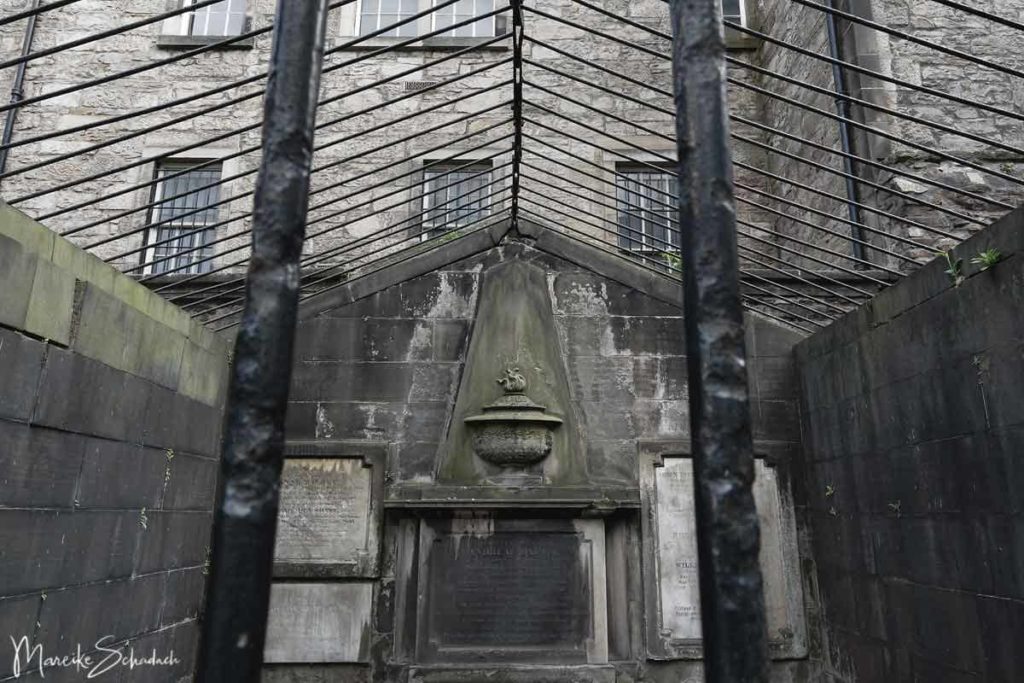 The gravestones on Greyfriars are often artistically decorated with grave symbols. Three themes are frequently encountered: Mortality, immortality through resurrection and the means of rescue.
Examples of symbols of mortality are images of coffins, deathbeds, skulls with and without wings, hourglasses, torches and the so-called Green Man. For immortality, on the other hand, there are angel figures, hearts, crowns, lamps, trumpets, winged souls. In addition, Animals are often carved on gravestones - either because of a personal connection to the animal or as a symbol. These include lions, lambs, cranes, horses, doves, snakes, peacocks and more. The profession of the deceased was also often depicted on the gravestones, for example by the tools used in the respective profession. In addition, plants often decorate the gravestones. They also usually have a symbolic meaning. For example, the flower forget-me-not stands for a deep love, which even death cannot end. Beautiful, right?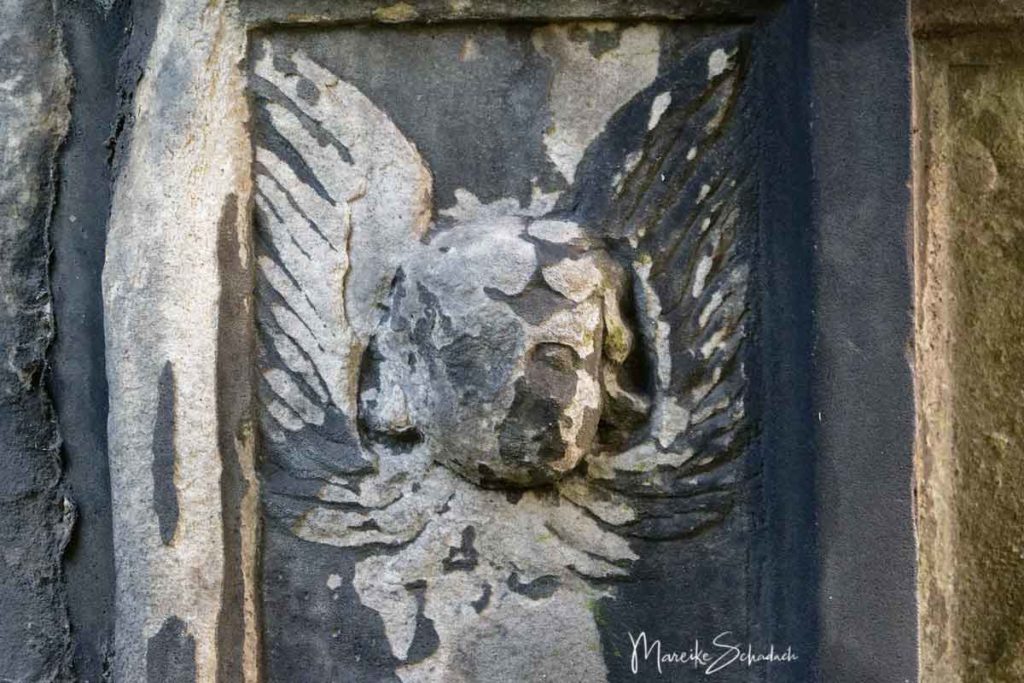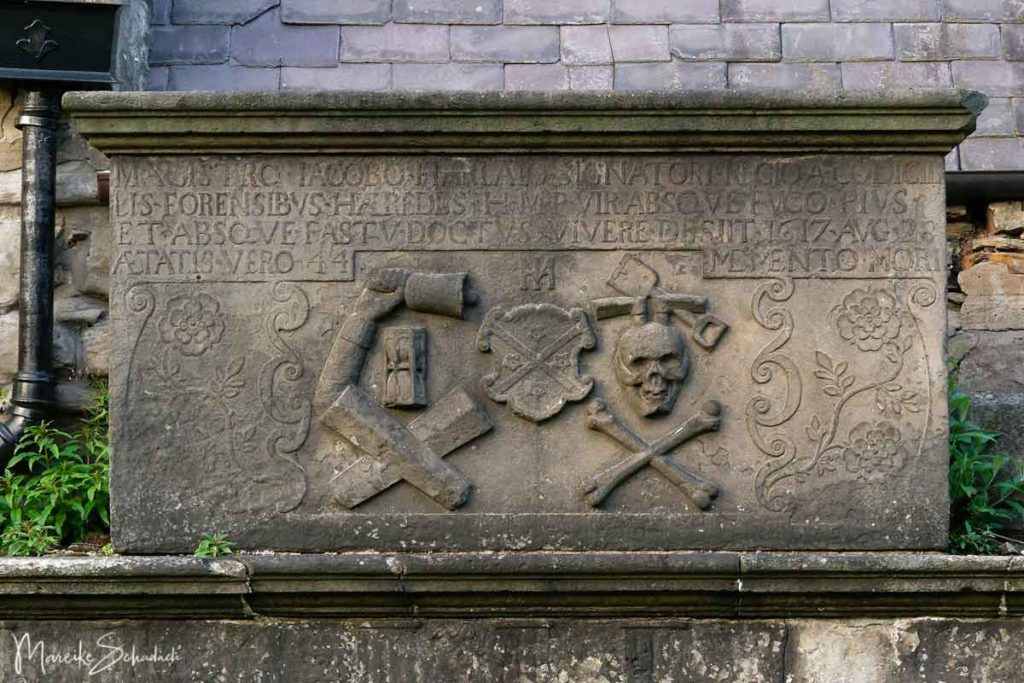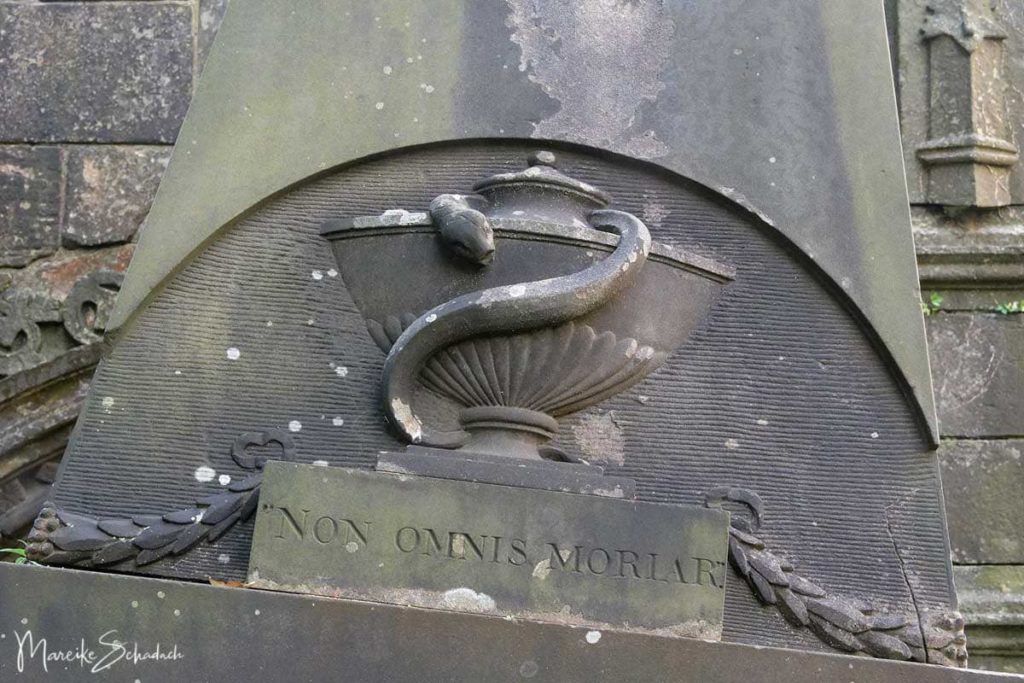 ---
The Cemetery Church and the King of Terror
The church at Greyfriars Cemetery was the first church built after the Reformation. It was consecrated in 1620. Its official name is Greyfriars Tolbooth and Highland Kirk.It is the center of an active community and can even be visited. Unfortunately it was closed during my visit due to Covid-19 and I could only view it from the outside.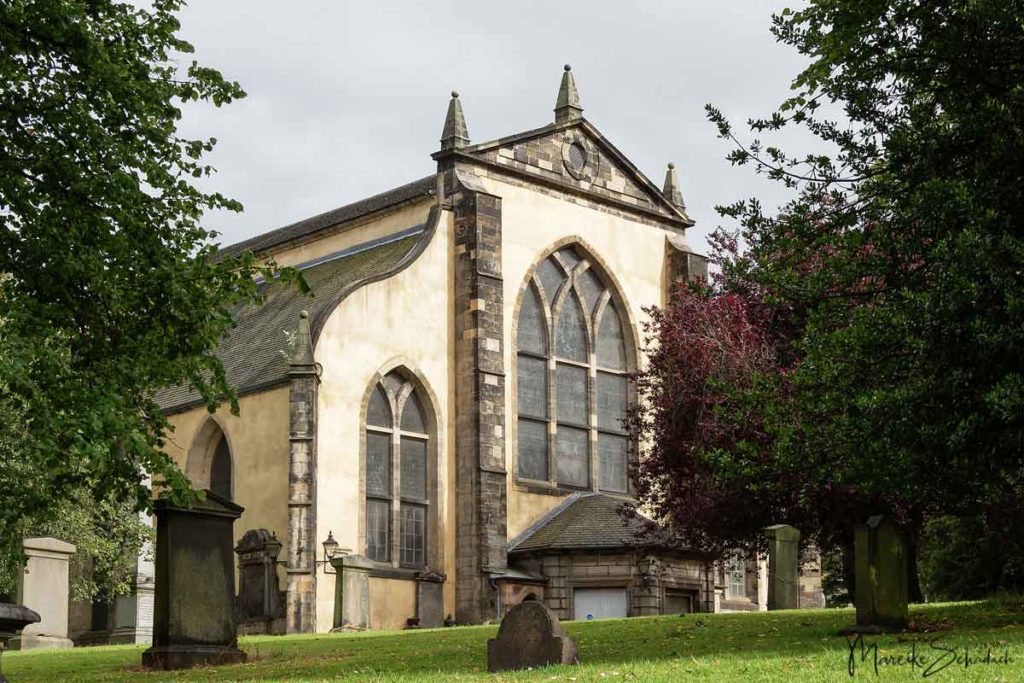 The outer facade of the church bears several grave reliefs. One of them is particularly striking: the "King of Terror"With a scythe in his hand, the grinning skeleton is clearly a symbol of mortality. Or more clearly: it is death in person.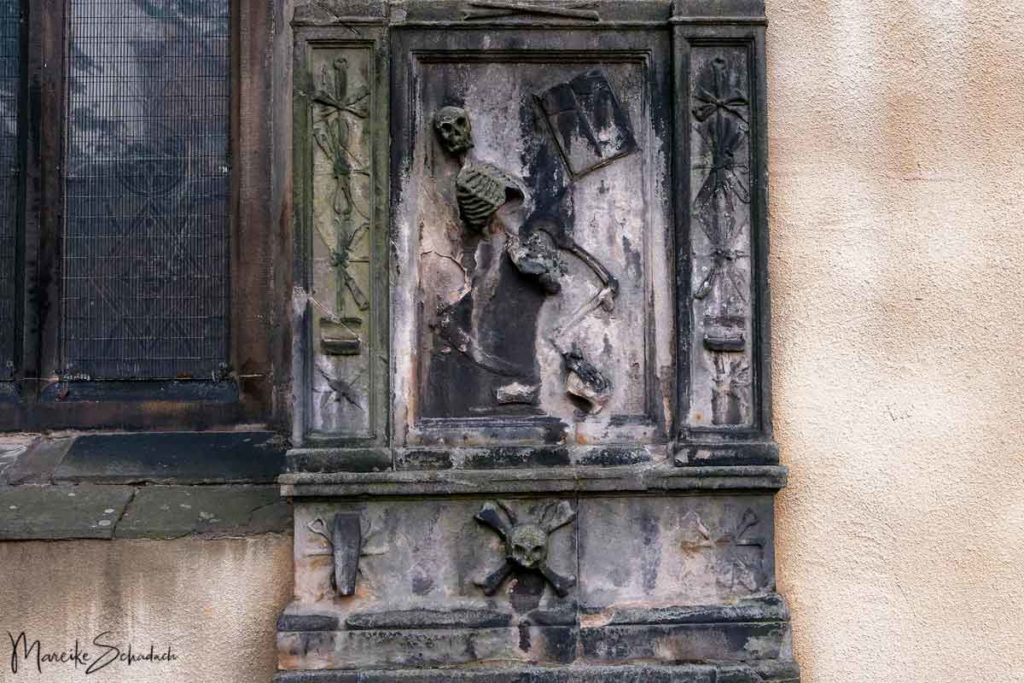 ---
Mortsafe - a Safe for the Dead
Im frühen 19. Jahrhundert war die Neugier der Mediziner im "Royal College of Surgeons" nicht zu bremsen. Offiziell wurde dem 1505 gegründeten College jedoch nur eine Leiche eines Hingerichteten für anatomical examinations. More corpses had to be brought in. No matter how, the physicians - above all the well-known Dr. Robert Knox - turned a blind eye to this. Grave robbers began to plunder fresh gravesites. Clothes or jewelry were left behind in the grave. The naked corpses were then often transported away hidden in beer barrels. It did not take long and the sale of stolen corpses became a lucrative business.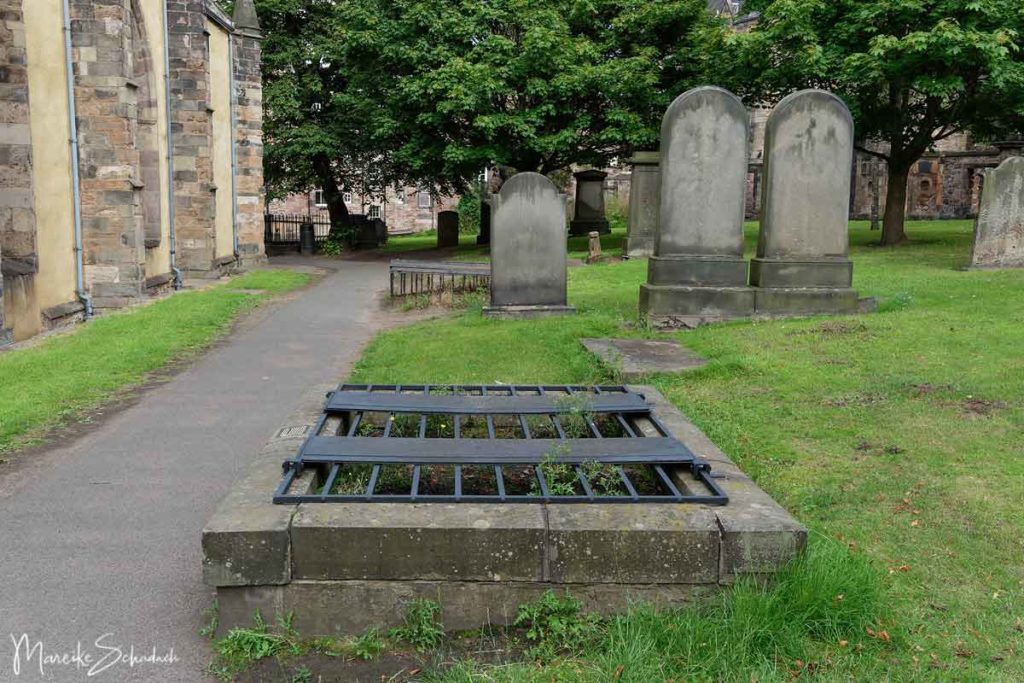 Countermeasures were taken to prevent the robbery of the corpses: the mortsafe - a metal cage - was placed over the freshly buried bodyuntil the corpse had decomposed to such an extent that it was no longer of interest for medicine. In addition to the mortsafes, burial sites were also closed with walls and iron bars. Examples of this can be found to the left of the church.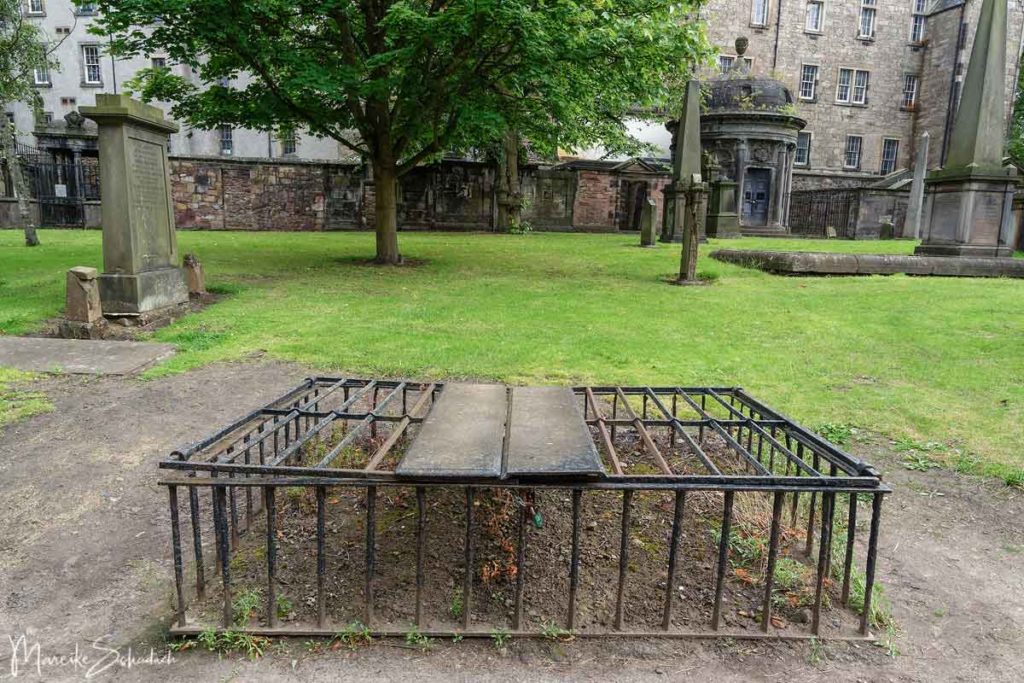 Concerned relatives tied bracelets around the deceased, which were connected to a bell by a rope. When the body was moved, the bell sounded the alarm. In addition, they guarded the cemeteries in guard groups day and night. For this purpose, a small guard house was erected at the entrance of the cemetery. Only the Anatomy Law of 1832,which regulated the legal use of corpses, put an end to the robbery of corpses.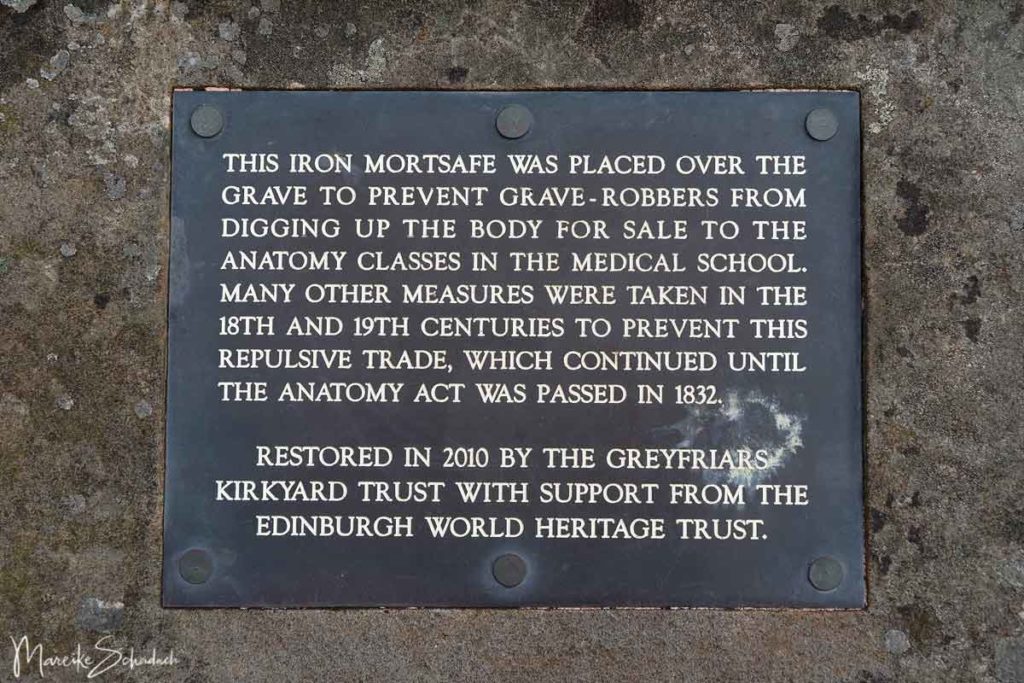 William Burke and William Hare made it a little easier for themselves. They lured lodgers into their house and murdered them. In the period 1827-1828 they supplied the anatomy school with 16 fresh corpses. But the two murderers were caught and Hare betrayed his partner Burke afterwards. He was finally charged with the total debt, whereupon he was executed in 1829. His death mask and skeleton as well as a book bound in his skin can be seen today in the Surgeon's Hall Museum. very well.
---
The Flodden Wall
On the west side of the cemetery, the remains of the 16th century defense wall an turbulente Zeiten. Die "Flodden Wall" wurde im Jahr 1560 fertiggestellt. Anlass dafür war die Niederlage Schottlands in der Schlacht von Flodden gegen die Engländer im Jahr 1513. Hinter der etwa 7,3 Meter hohen und 1,3 Meter dicken Mauer lebten damals rund 10.000 Menschen auf einer Fläche von 57 Hektar. Sechs Tore gaben den Weg in die Stadt frei. Zur Abschreckung von Verbrechern wurde an den heads and limbs of executed criminals were displayed at the city gates. zur Schau gestellt.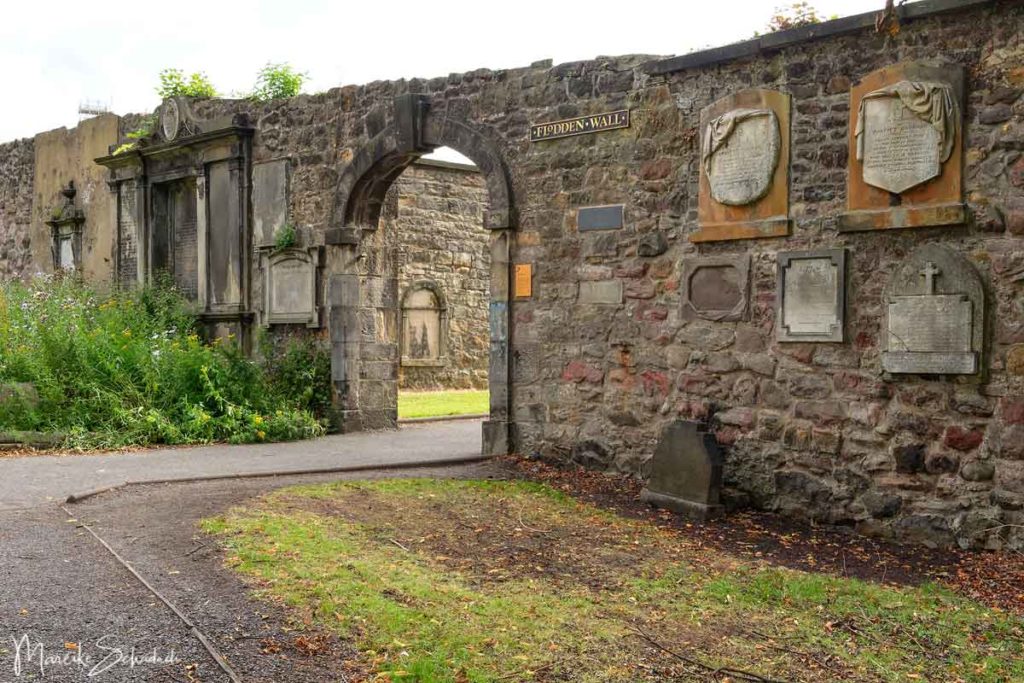 The wall was supposed to protect Edinburgh from an English invasion. But this never took place. Probably the wall would not have helped much. It was much more suitable for controlling trade and preventing smuggling.
In the middle of the 18th century, the city walls became more of an obstacle for the growing city. Parts of the walls were therefore torn down. Today there are only a few remains of Edinburgh's protective wall, the most famous being the one at Greyfriars Kirkyard. Other sections can also be seen at the Vennel and Drummond Street.
---
Covenanters' Prison
During the reign of Charles II in the 17th century a religious battle ausgefochten. Denn Charles wollte die schottische Kirche an die englische Kirche angleichen. Die gläubigen Schotten widersetzten sich dem neuen "Common Book of Prayer", es kam zu riots and protests in churches.. Die sogenannten "Covenanters" vereinten daraufhin den Widerstand und unterzeichneten 1638 den "Nationalen Pakt". Wo? Auf dem Greyfriars Kirkyard in Edinburgh. Eine Tafel links vom Eingang erinnert heute an die Unterzeichner des Dokumentes, das die religiösen Änderungen von Charles vehement ablehnt.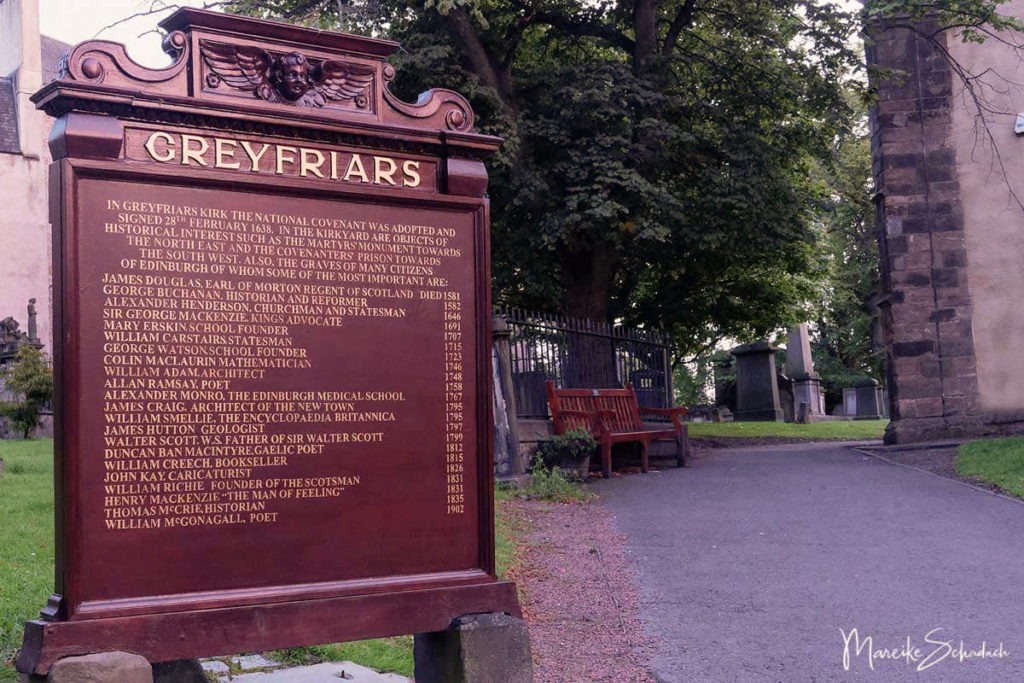 The following year the conflict had escalated into a war between Charles II and the Covenanters. Finally, around 1,200 Covenanters were captured at the Battle of Bothwell Bridge in 1679. They were locked in a field south of the churchyard for five months. The prisoners were beaten and tortured by the guards, and some died of starvation and harsh conditions. After declaring that they would never again use a weapon against the crown, the majority of the prisoners were finally released. But 380 prisoners did not take this oath. They should then be brought to the colonies by ship. But they never got there. The ship got caught in a storm and sank near the Orkneys.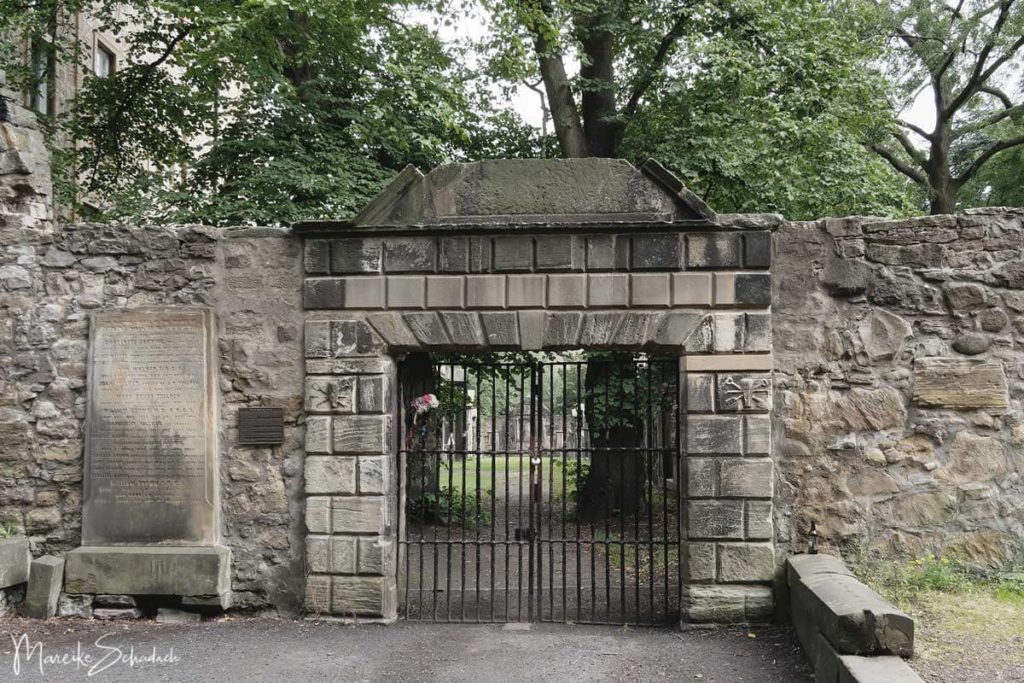 Später, im 18. Jahrhundert, wurde dieses Feld Teil des Greyfriars Friedhofs und wird "Covenanters Prison" genannt. Der Bereich ist heute nur im Rahmen von geführten Touren zugänglich. Denn hier soll es spuken!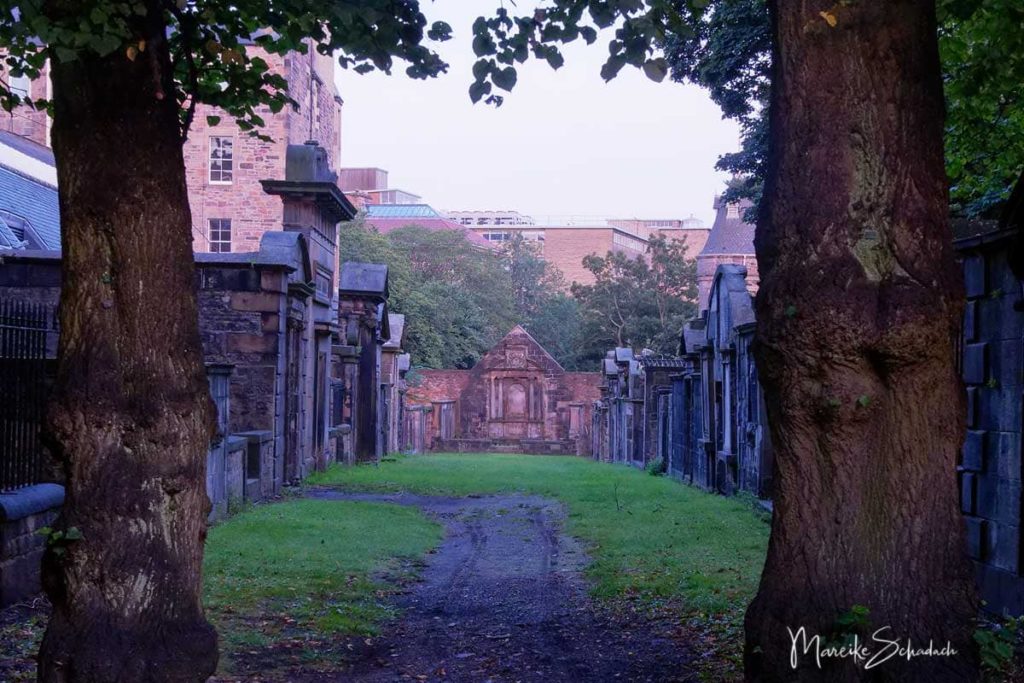 ---
Mackenzie's Poltergeist in Greyfriars Cemetery
The attorney George Mackenzie was prosecuting the Covenanters and was known for its cruelty. After his death he was buried in Greyfriars Kirkyard - not far from Covenanters Prison. His pretty mausoleum with the blue doors has repeatedly been the target of tomb desecrations.In 1999 a homeless man even took up residence in the mausoleum. Since then, reports of ghost encounters and attackshave increased. Nocturnal visitors to Greyfriars suddenly had abrasions, scratches or bruises after their stay at the said grave site. Where would these come from if not from the Mackenzie Poltergeist? The mind is even blamed for broken fingers and death. In addition, an exorcist is said to have sensed evil forces in the cemetery that were after his life. He died shortly after of a heart attack.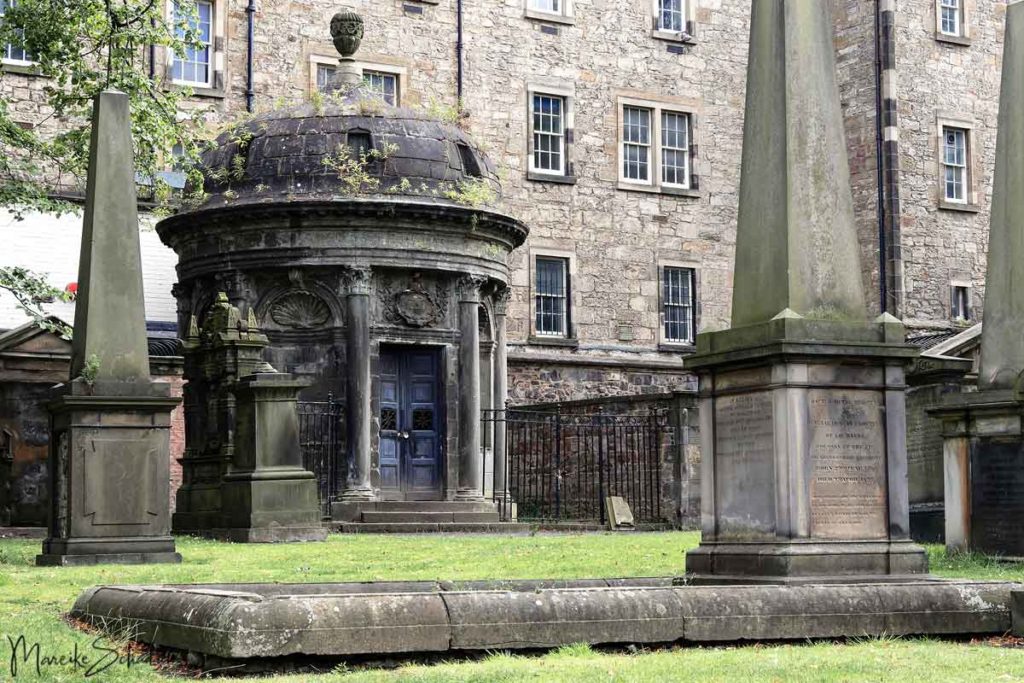 Spooky! But I can't really believe in it. But my curiosity was aroused. And so I finally booked an evening cemetery tour with City of the Dead Tours. When I was back in my hotel room afterwards, I immediately checked for bruises and scratches. Nothing.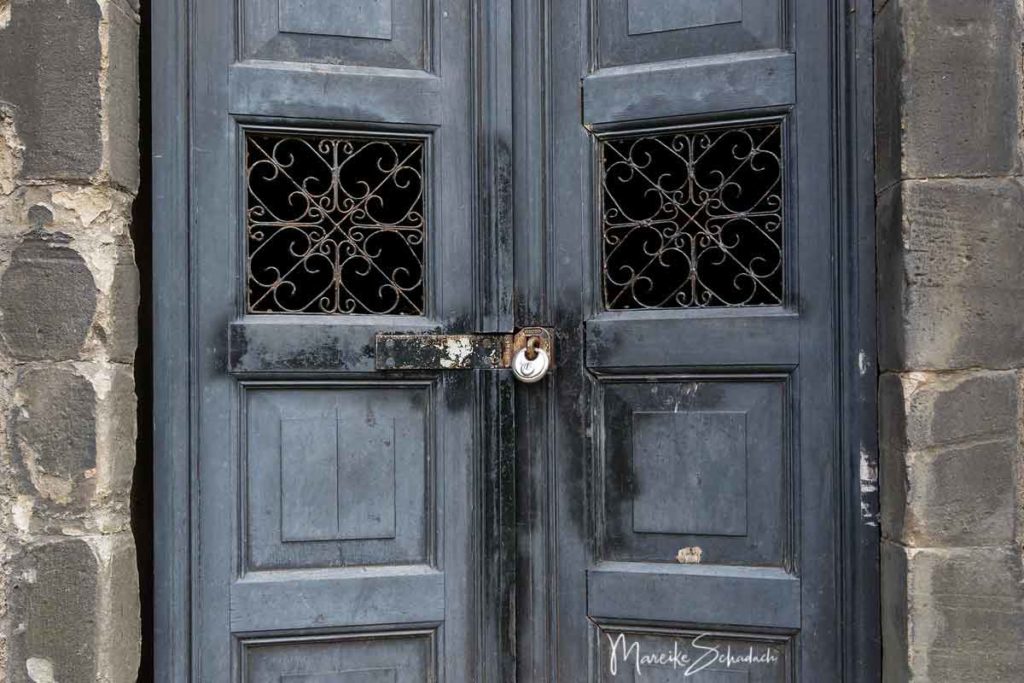 ---
Inspiration for Harry Potter
Also the author of the Harry Potter novels - J.K. Rowling - was drawn to the flair of Greyfriars Cemetery in Edinburgh. And more: she also found inspiration for her novels on walks between the tombstones. Some of the names carved on the tombstones here even reappear in their books. Best known is certainly Thomas Riddle, who found his way into Rowling's stories as Tom Riddle. It is the name of the boy who later became the dreaded Lord Voldemort.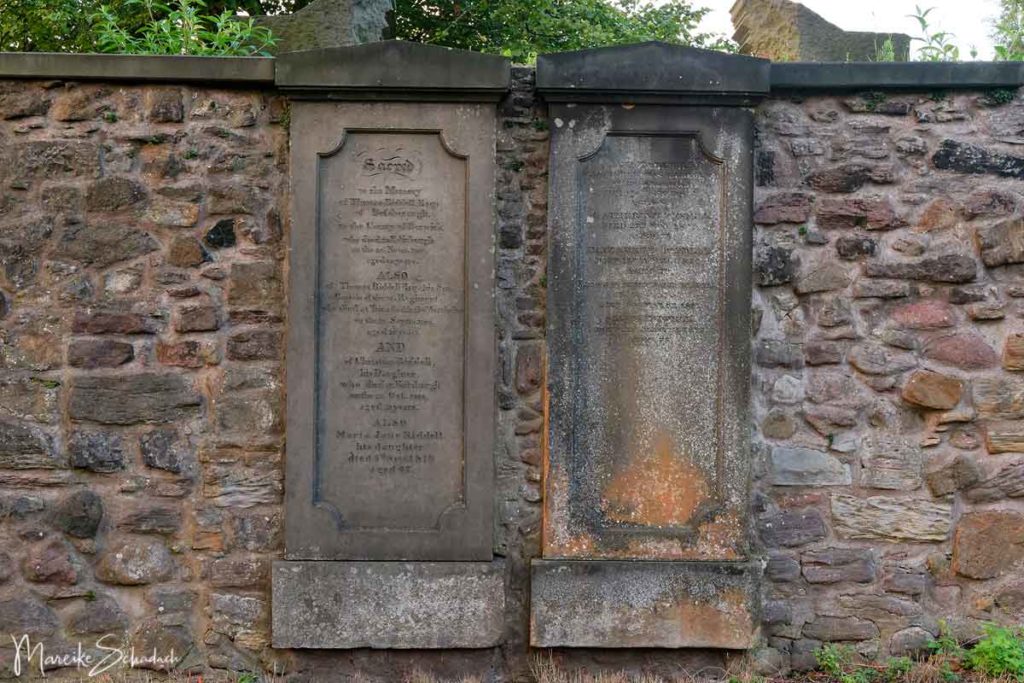 ---
A Herb Garden in the Cemetery
But the dog Bobby and the Mackenzie poltergeist are not the only unusual things in Greyfriars Cemetery. Every now and then you come across small wooden signs in front of lush flower beds. What can be read on the wooden signs? One says "Kitchen Herbs" (Küchenkräuter)and another says "Medical Herbs" (Medizinkräuter)There are a few more. Have you seen this before? That herbs are grown in a cemetery? I think it's great. Reminds me a bit of a personal story: we planted a tomato plant for my beloved Grandma on her grave - she loved tomatoes.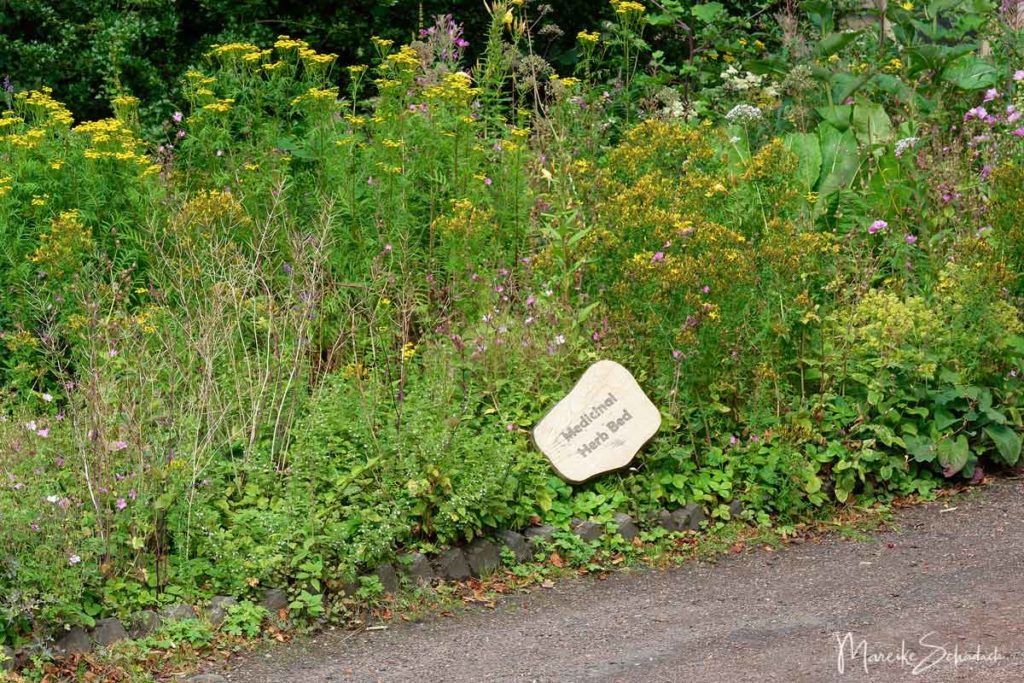 ---
Location and Opening Hours of the Greyfriars Cemetery in Edinburgh
Greyfriars Kirkyard is on the edge of historic Edinburgh, just a five minute walk from the Grassmarket. entfernt.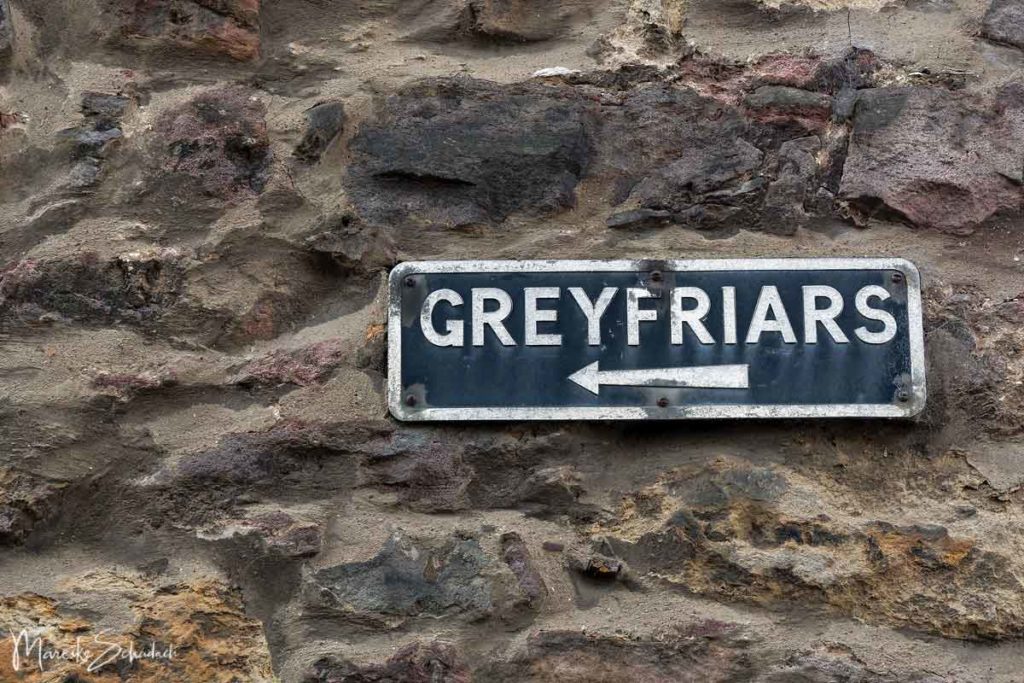 There are two entrances to the cemetery. Both are on Candlemaker Row, east of Grassmarket. The entrance further above is directly opposite the National Museum. There is also the statue of Greyfriars Bobby here.
Like most cemeteries in Scotland, Greyfriars Kirkyard is open 24 hours a day.You can therefore visit it at any time for free on your own. There are also guided tours that take you to the otherwise locked area of the cemetery.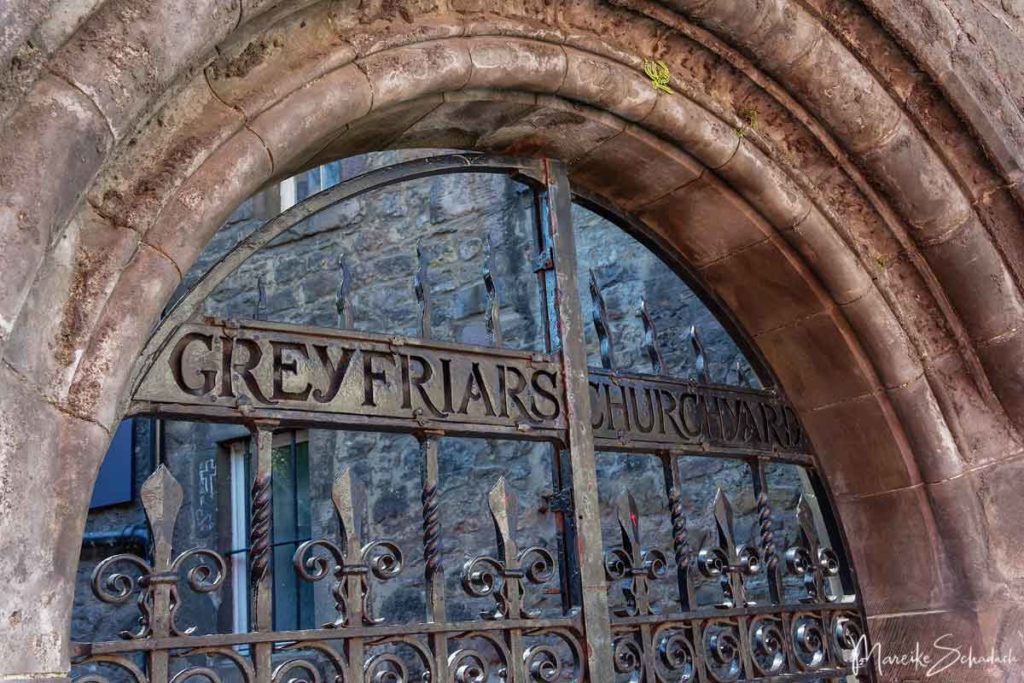 ---
Book Recommendations for Scotland
You want to know where the journey goes? Then I recommend the following travel guides, which have proven themselves on my trip:
---
Do you know Greyfriars Kirkyard cemetery in Edinburgh? Scary beautiful, isn't it? Write me a comment and tell me how you liked it!
Do you want to know when there are new articles on my blog? Then follow me on Facebook, Pinterest or Instagram. I would also be very happy if you share my article with your friends.
---
Recommendations for further Reading
You will find more mystical places on Iceland: I would like to show you two very special caves. The first is an Ice Cave at the Volcano Katla and the second one is the extinct Volcano Thrihnukagigur, which you can visit from inside.