Antarctica. It looks like the winter sales in Berlin. They flow in masses from left to right. Then from right to left. Then they stop, form small groups and seem to talk. They look curiously over at me. Are they talking about me? From the side a brave fellow approaches. He stops a few metres in front of me, looks at me steadfastly and then begins to clean his plumage. The courageous little fellow belongs to a colony of Adelie penguins. Together with the gentoo penguins, they have the bay firmly under control at Brown's Bluff. There are thousands of them. In my next article I'll tell you my best tips on how to take great penguin photos.
Unassigned, unpaid advertising. The article contains affiliate links.
---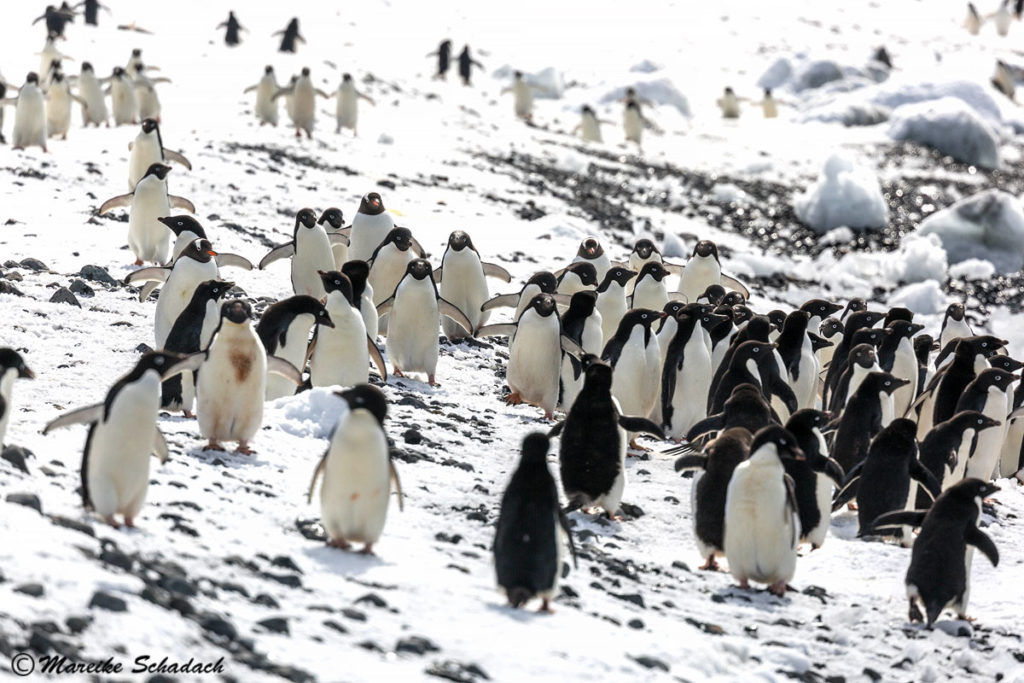 ---
Table of Contents and Quick Navigation
Penguins - Love at first Sight
Tips for Penguin Photos
Rules for Penguin Encounters
The Penguin Calendar: When do you see what?
Gallery Penguins - Tips for great Penguin Photos
---
Here you can find an overview of all reports from my Antarctic trip.
---
Penguins - Love at first Sight
Penguins make you happy. I already suspected it before my trip to Antarctica and Patagonia. But I had no idea how much the cute animals fascinate me. My first penguins were the King Penguins of Tierra del Fuego in Parque Pingüino Rey website. Majestically they stood around in small groups and balanced their eggs between their feet and stomach fold. But then I came much closer to the Magellan and gentoo penguins of Isla Martillo near Ushuaia. Because there we were led on marked paths through the breeding colonies. Here you can learn more about my walk with the penguins of Isla Martillo in the Beagle Channel.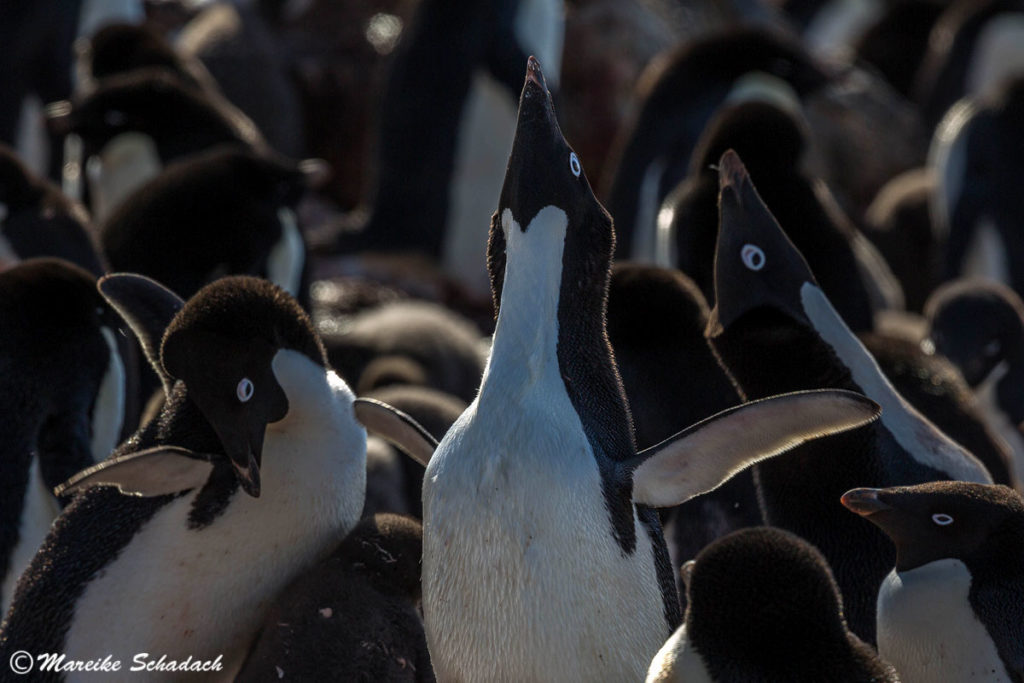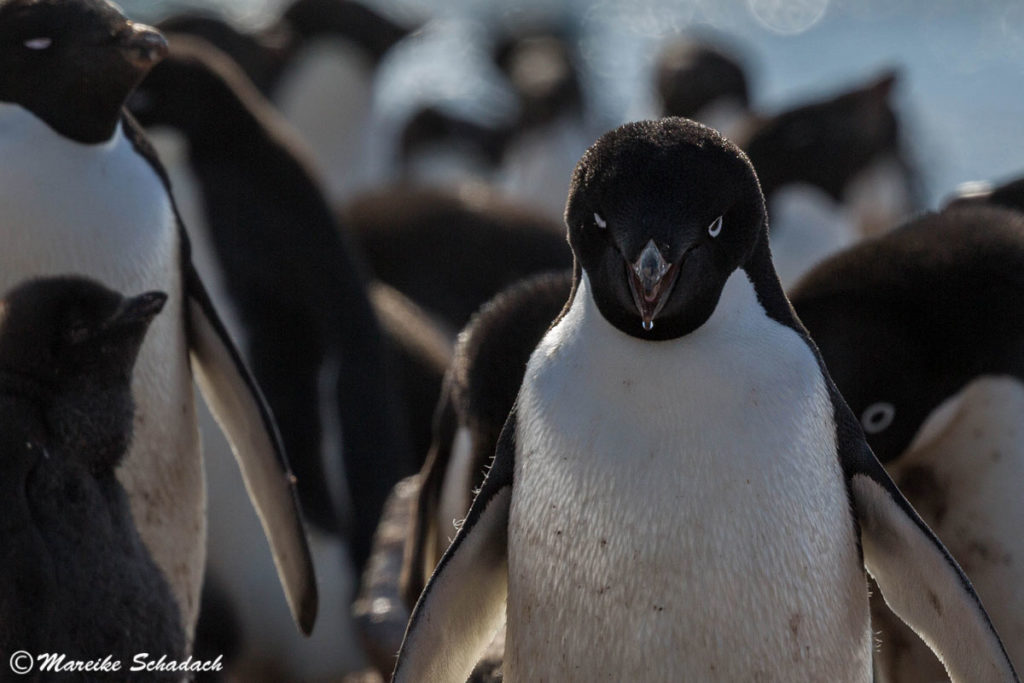 Already these first encounters with penguins have enchanted me. While observing and photographing I started to forget the time. But what is it that makes penguins so fascinating? And what exactly did I try to capture with my over 3,000 penguin photos?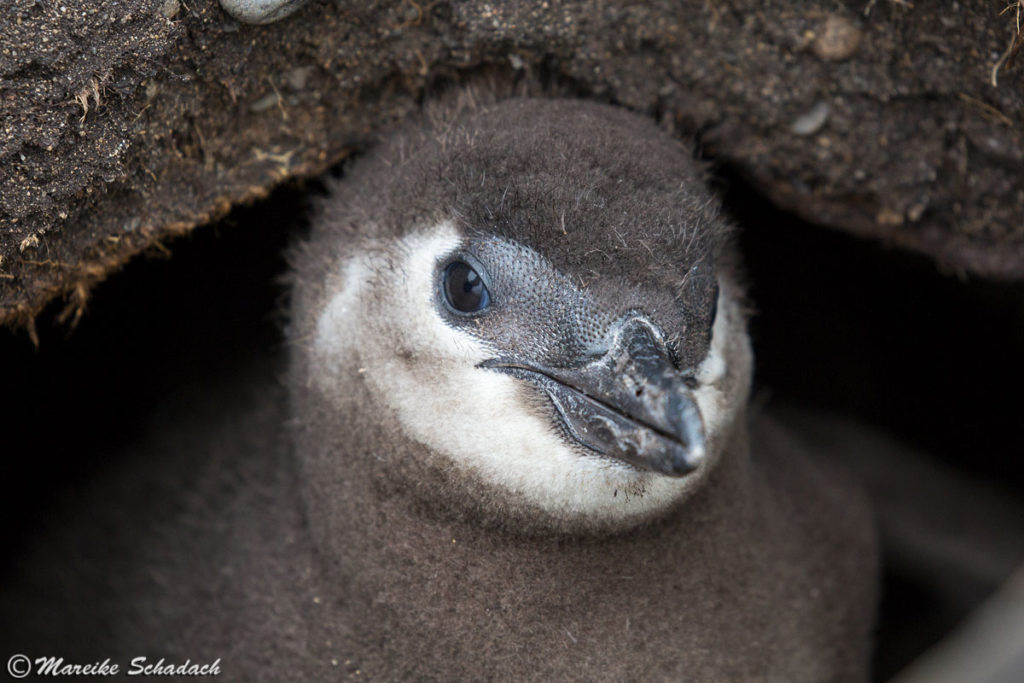 First of all they look cute with their roundish shapes. Secondly, they look worthy of protection. Because as soon as they run ashore with their small wings and short legs, they are clumsy. Thirdly, I thought I saw human behaviour in the penguins. Because obviously they were holding coffee klatsch, they argued or were tender with each other. They also eyed their chicks with critical parental eyes. They showed different facial expressions that gave them a personality. So even after a long time it never got boring to watch them. Again and again I was able to capture their uniqueness visually. In short: I was looking forward to each individual.
---
Tips for great Penguin Photos
So that you have great souvenir photos after your trip to the penguins, I'll now tell you my best tips for penguin photos.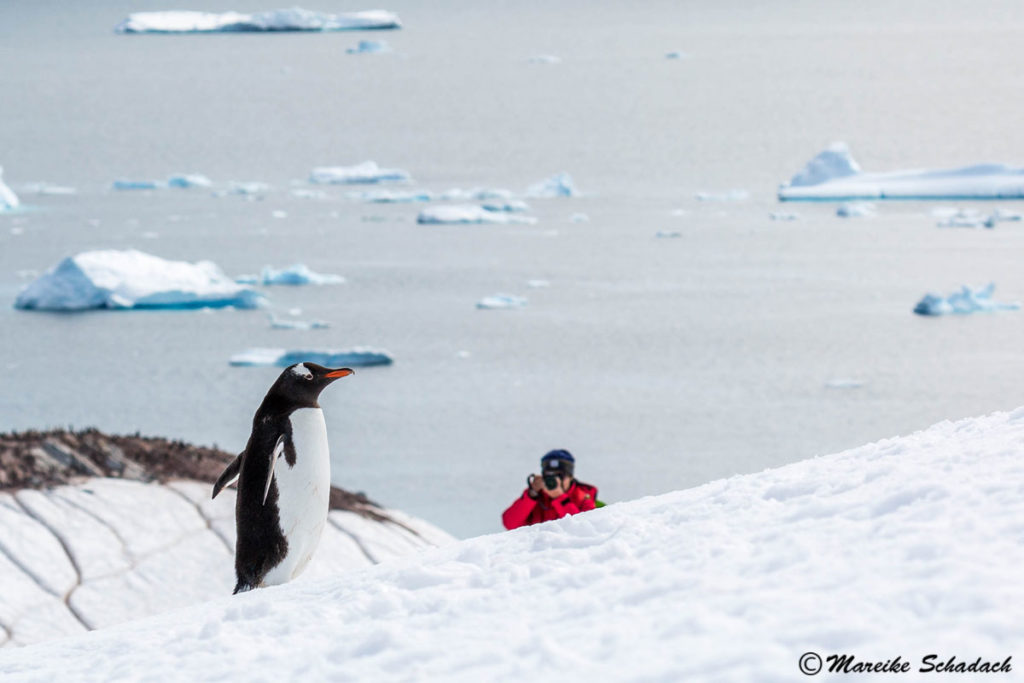 ---
Tip 1: Exposure Compensation
Fotografieren in Eis und Schnee ist stets eine Herausforderung für die Einstellung der Belichtung. Denn sobald der Pinguin von Schnee und Eis umgeben ist, wird bis zu 90% des Lichtes reflektiert. Und diese viel höhere Reflexion ist auszugleichen. Andernfalls entstehen unterbelichtete Bilder. Oder genauer gesagt: die Einstellung der Blende muss korrigiert werden. Experimentiert mit eurer Blende und nehmt dabei am besten verschiedene Einstellungen bei demselben Motiv vor. Viele Kameras bieten zudem sogenannte "Bracketings". Bei diesen könnt ihr vorher eingestellte Belichtungsreihen aufnehmen.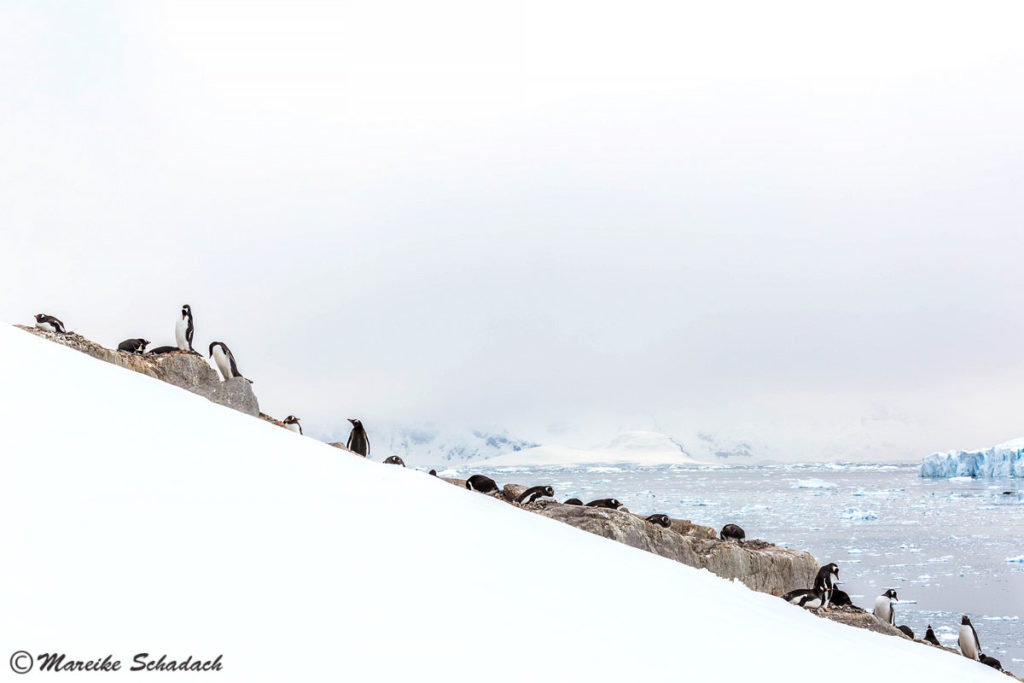 ---
Tip 2: Be Patient
Sit down for a while, be patient and let the animals come towards you. Penguins are usually very curious. Passing animals also stop in front of you and look at you. But you shouldn't stay in the way but release it with enough distance for the penguin.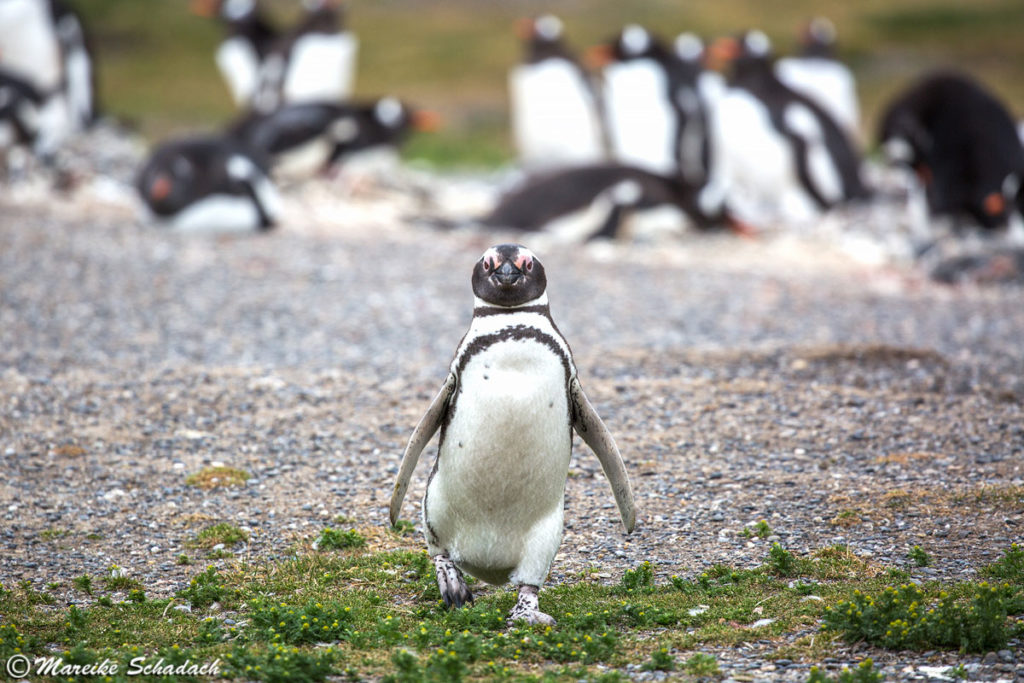 ---
Tip 3: Take a close Look
There is always something new to discover in a penguin colony. Take a close look and you will discover different penguin behaviors depending on the season. And in the best case you can capture it with your camera: Breeding animals, chicks, feedings, nest building, defence of the nest and the building material (stones), plumage care, socialising, heat regulation, mating. In the case of larger breeding colonies, first get an overview of the events and possible motives. That's better than taking wild pictures. Often it also helps if you stay in contact with the guides and let them tell you special features about the colony.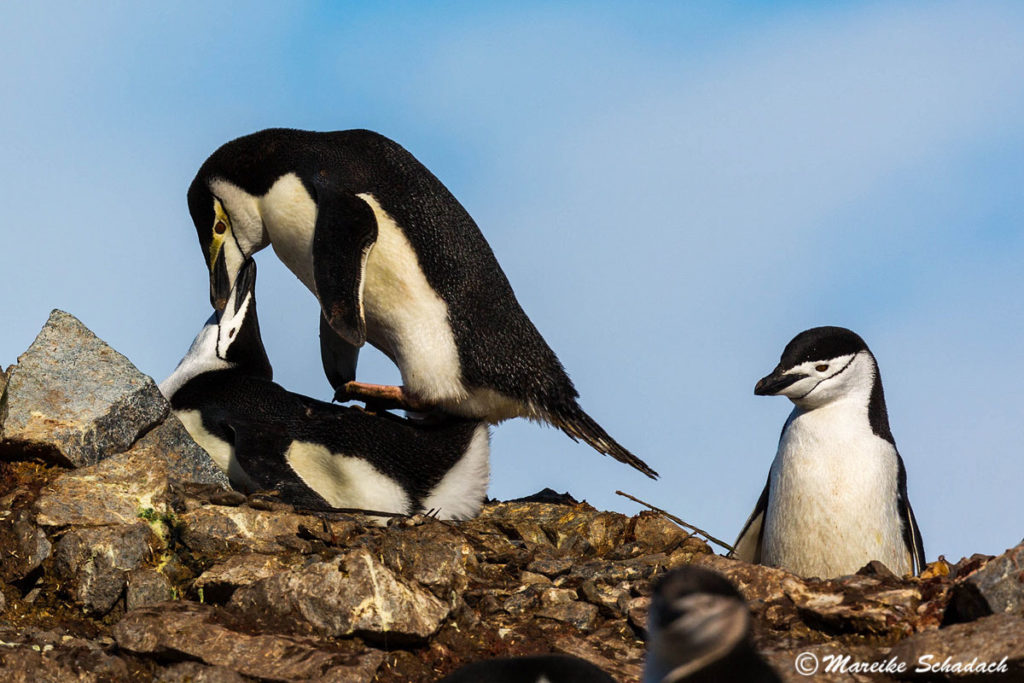 ---
Tip 4: Perspective
Get at eye level with the penguins. So off into the snow, kneel down or lay on your stomach. But be careful not to lie down in penguin dirt lengthwise. You'll have to remove it carefully before you board.
A single penguin in the white expanse of the ice fields is also a great motif.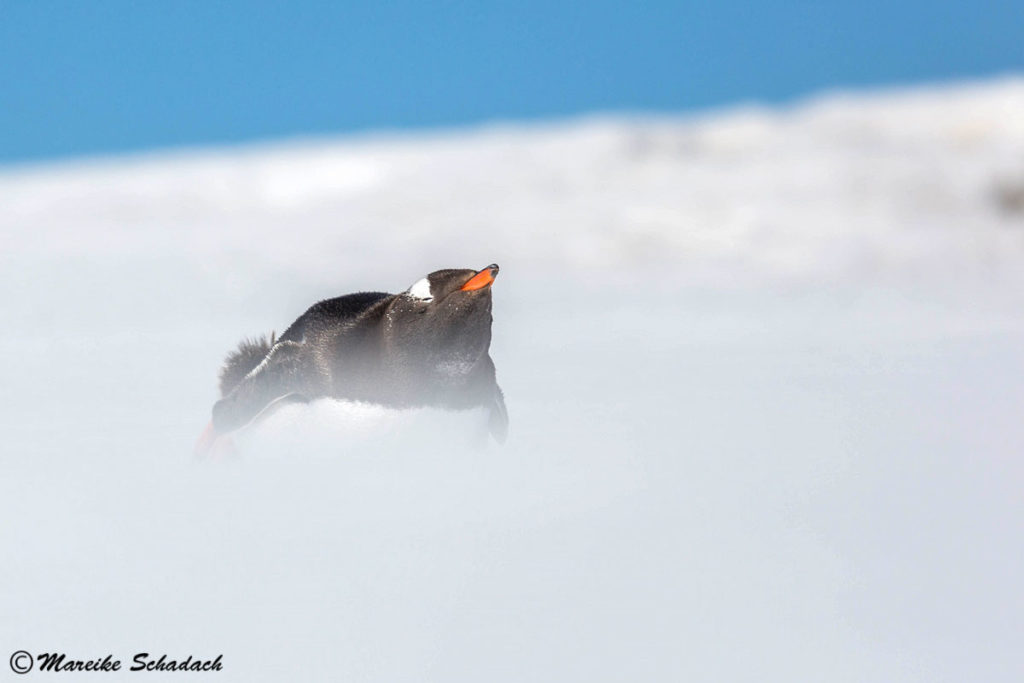 ---
Tip 5: Use the natural Light
The penguin colonies and routes to them are in most cases determined by the guides. Therefore you are somewhat restricted in your choice of photo position. Look from which direction the light comes. If possible, choose a colony for your penguin photos that is shined by the sun.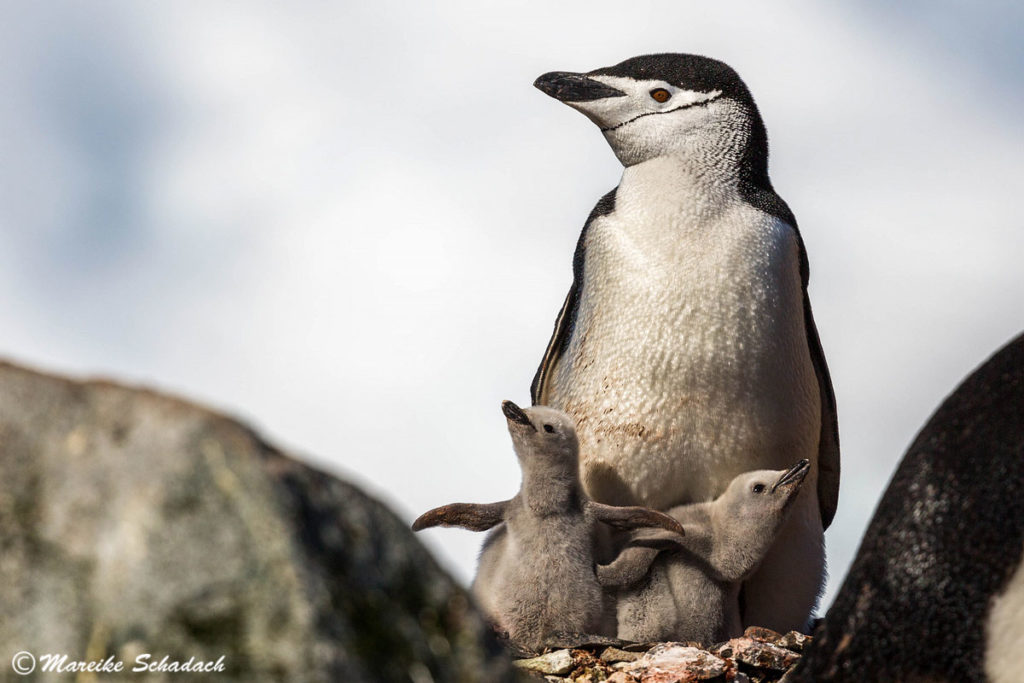 ---
Tip 6: Search for Details
This is one of my favourite tips for great penguin photos. Because sometimes the opportunity arises for great portraits of penguins. Try to take detailed pictures. For example of the eyes or the beak with its small "teeth" on the tongue and on the upper jaw.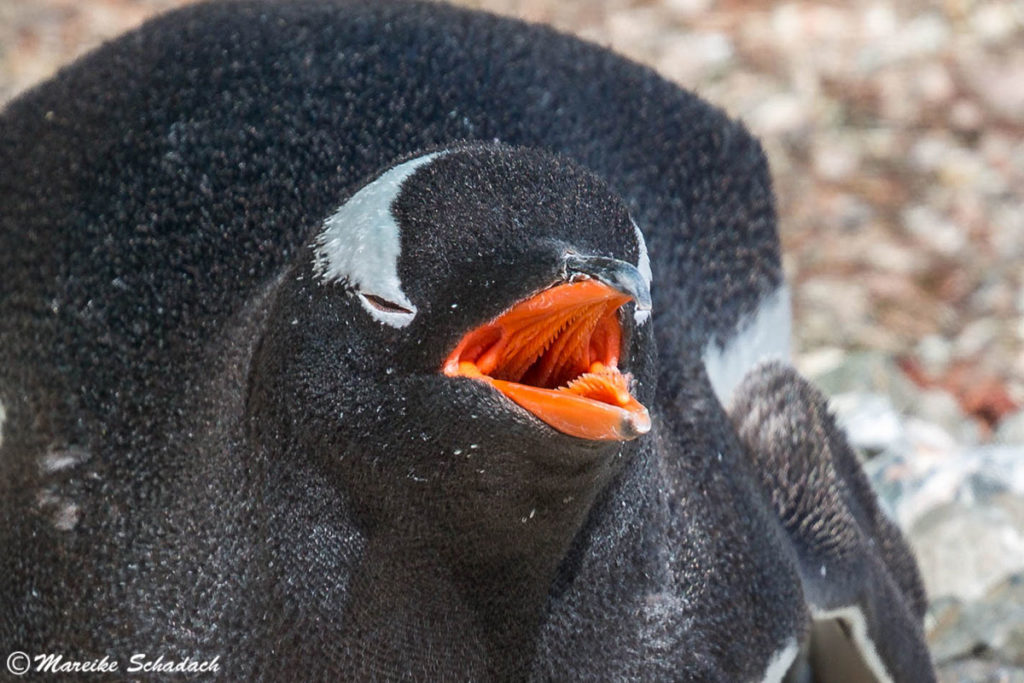 ---
Tip 7: Photos of the ship / boat
Es ist nicht einfach, die Pinguine vom Schiff aus zu fotografieren. Aber es ergeben sich dabei tolle neue Perspektiven. Mit etwas Glück, könnt ihr einen Pinguin im "Schwimmflug" erwischen. Eine ruhige Hand, ein guter Bildstabilisator und eine kurze Verschlusszeit helfen dabei. Achtet darauf, immer einen wasserdichten Beutel oder sonstigen Schutz im Zodiac dabei zu haben. Denn eine Zodiac Fahrt kann auch bei Sonnenschein ziemlich nass werden.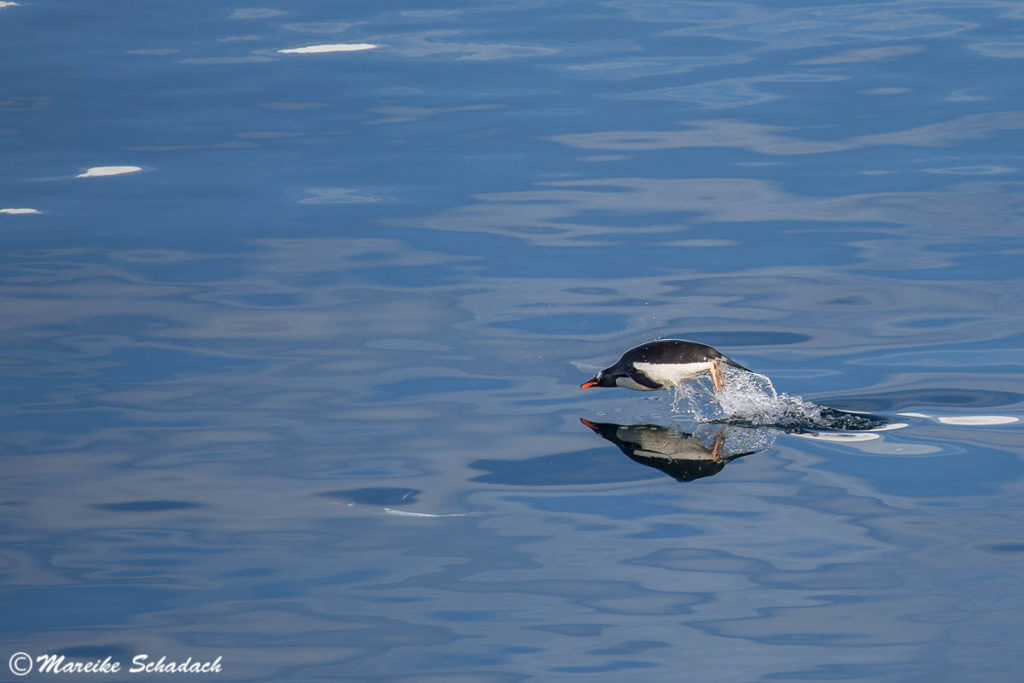 ---
Tip 8: Telephoto Lens with/without Tripod
Mit einem Teleobjektiv kommt ihr auch mit ausreichendem Abstand "nah ran" an die Tiere. Darüber hinaus könnt ihr so auch eine schöne Hintergrundunschärfe erreichen. Aber überlegt vorher, ob ihr bei dem jeweiligen Landgang wirklich ein Stativ braucht. Denn oft ist es auch hinderlich. Viele Kameras und Objektive haben bereits einen sehr guten Bildstabilisator, so dass ihr oft auf ein Stativ verzichten könnt.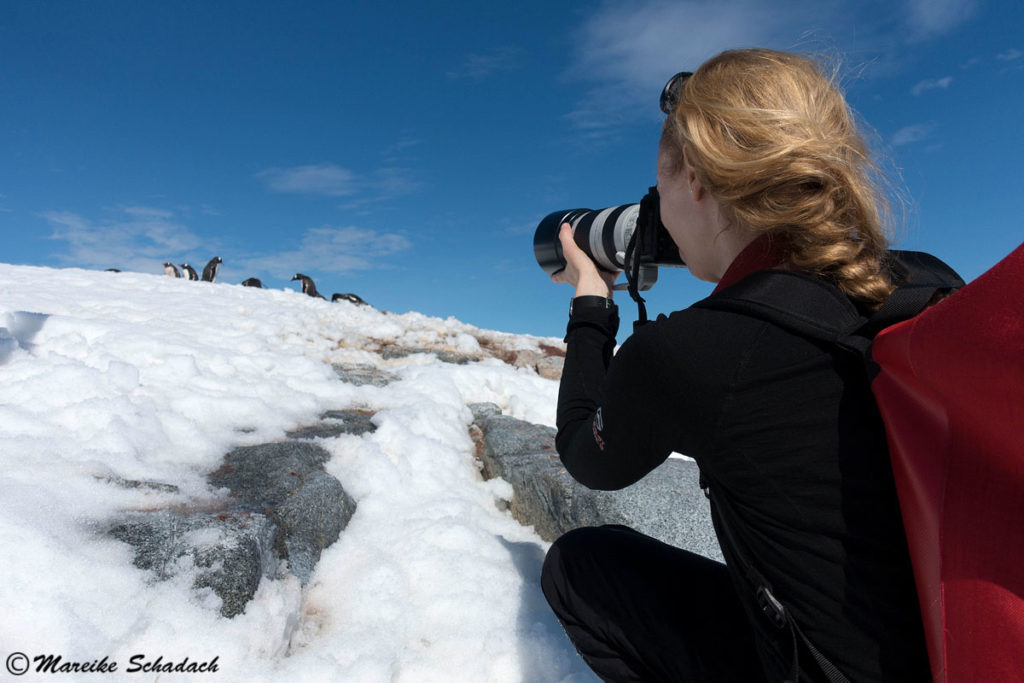 ---
Tip 9: Follow examples
Most ships that sail to Antarctica are equipped with a comprehensive ship library. Take a look at the illustrated books there. I'm sure you'll be able to put one or two of these suggestions into practice when you next go ashore.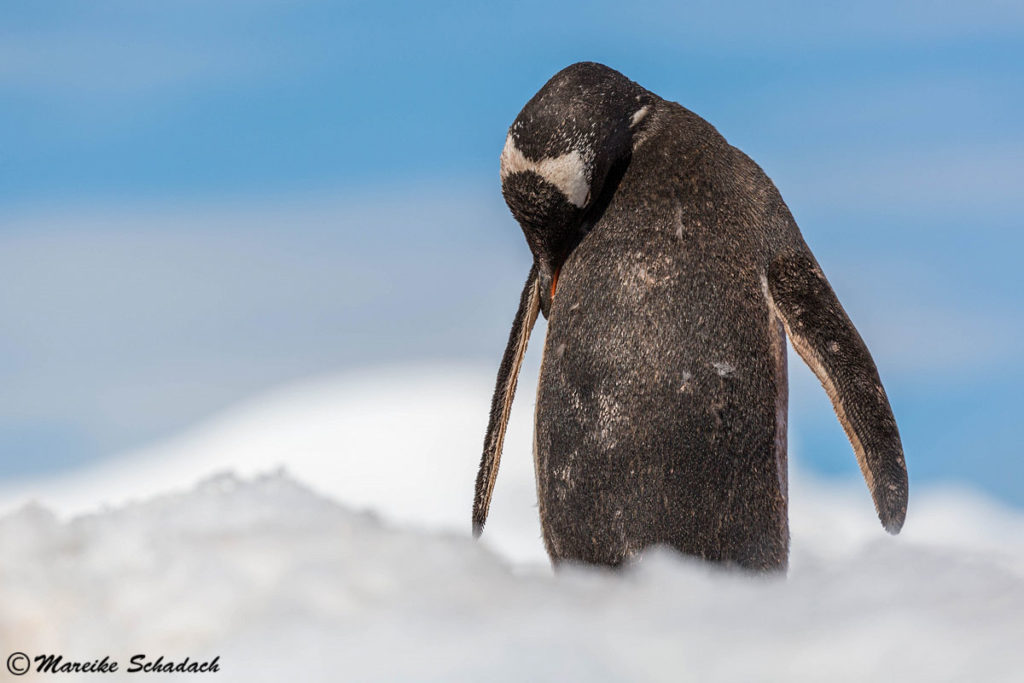 ---
Rules for Penguin Encounters
But despite all the enthusiasm, I would like to point out a few rules of conduct here. These are even more important than all my tips for penguin photos. Surely you will get these rules explained so similarly by your guides:
Always pay attention not to bring the animals by your approach to a change of their natural behavior.
Never run, scream, touch or feed them.
Haltet immer die vorgegebenen Abstände ein, in der Regel 5 Meter. Umringt die Tiere nicht und versperrt niemals den Fluchtweg in Richtung Wasser. Pinguine haben immer "Vorfahrt". Bleibt zudem hinter eventuell eingerichteten Absperrungen bzw. auf Pfaden.
A sufficient distance also serves your own safety. An injury by a penguin beak can sometimes lead to serious infections.
Do not take feathers, eggshells or stones with you. The penguins need the small stones to build their nests.
Footprints can become a deadly trap for penguins. So try not to leave any. If you have deep footprints, you can simply fill them with snow or widen them so that the penguins can climb out again.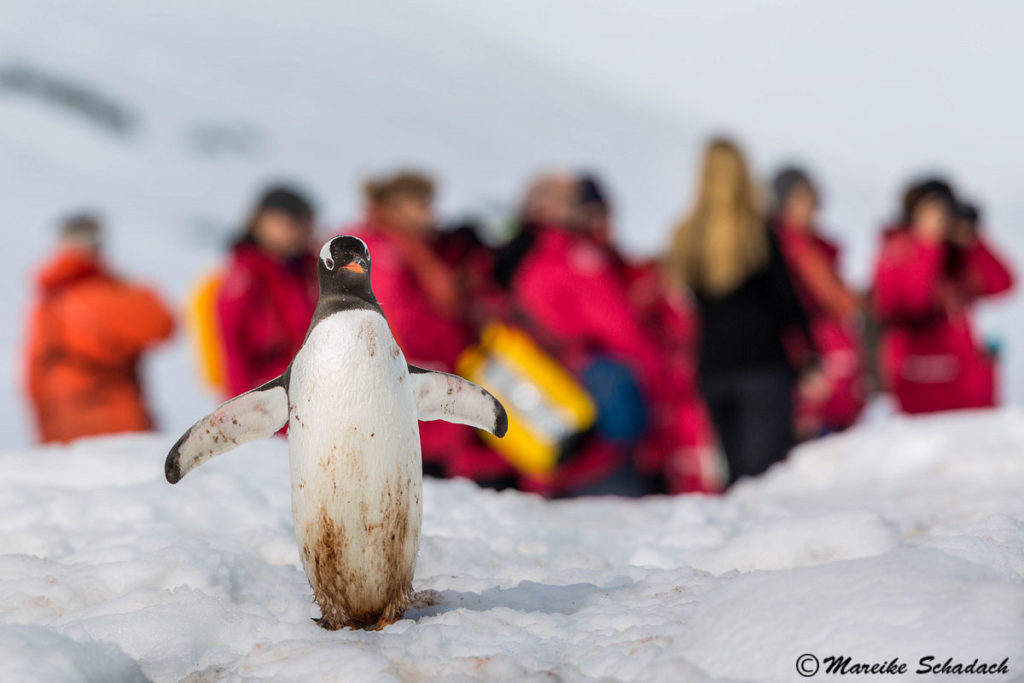 ---
The Penguin Calendar: When do you see what?
Depending on when you travel to Antarctica, you can see penguins behaving in different ways: mating, nesting, breeding or raising chicks. The breeding cycle of three frequently seen penguin species usually follows the scheme below. However, deviations may occur due to weather conditions. If the breeding rocks are covered with snow for too long, the nests cannot be built. Thereby, the incubation then shifts somewhat to the rear. On our journey we saw the first chicks of the gentoo penguins on 29 December.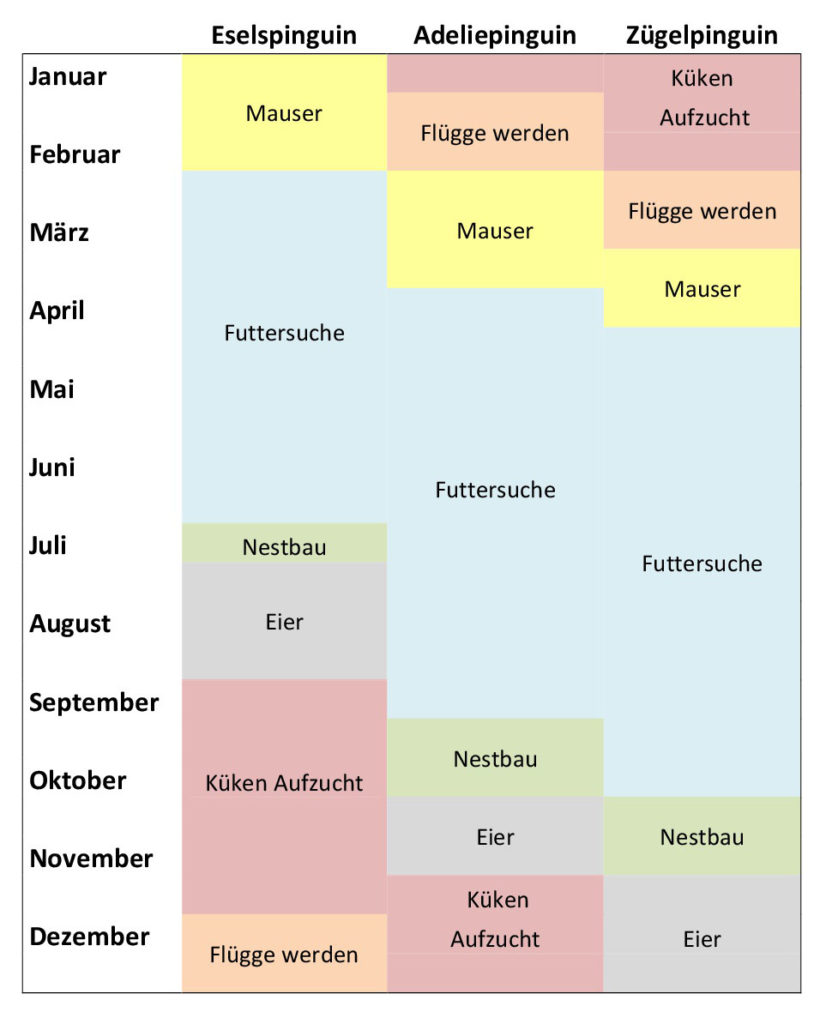 ---
Gallery Penguins - Tips for great penguin photos
In my Gallery I have more penguin photos for you. The pictures were taken during my trip to the Antarctic Peninsula in winter 2018/2019. All photos were taken with the Canon 5d Mark III, most of them with the Telezoom EF 100-400mm f/4.5-5.6L IS II USM without tripod. You can read more about my photo equipment here .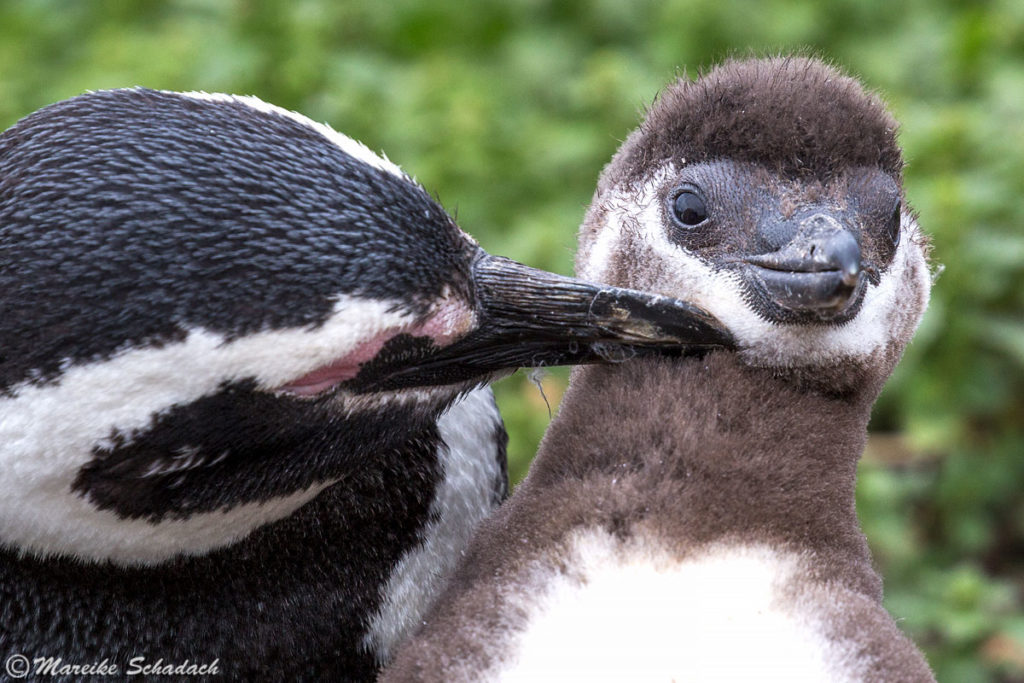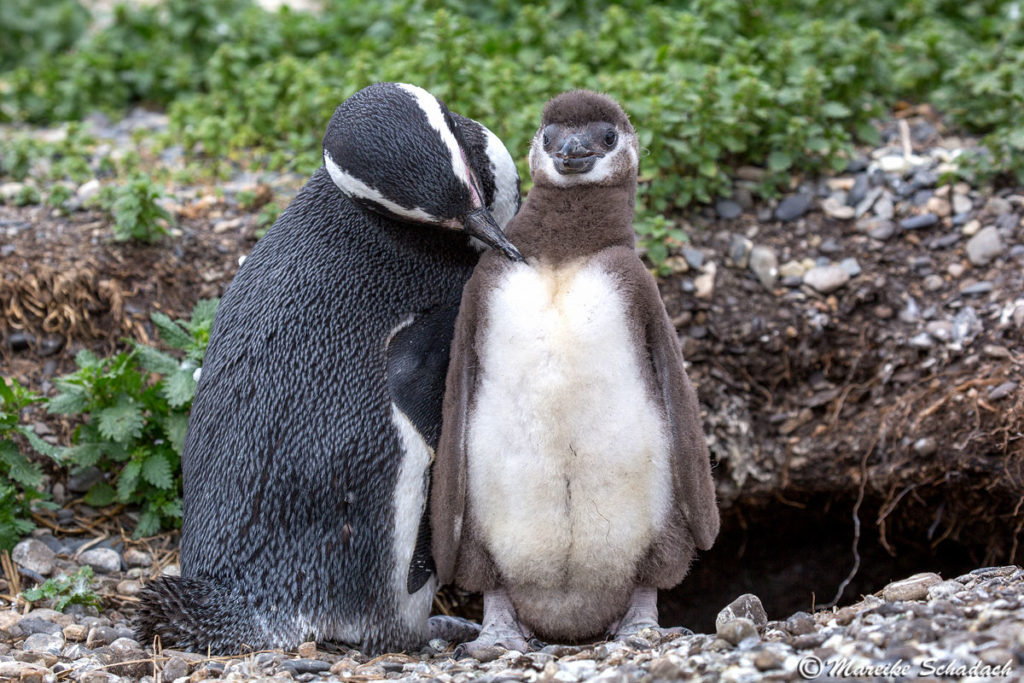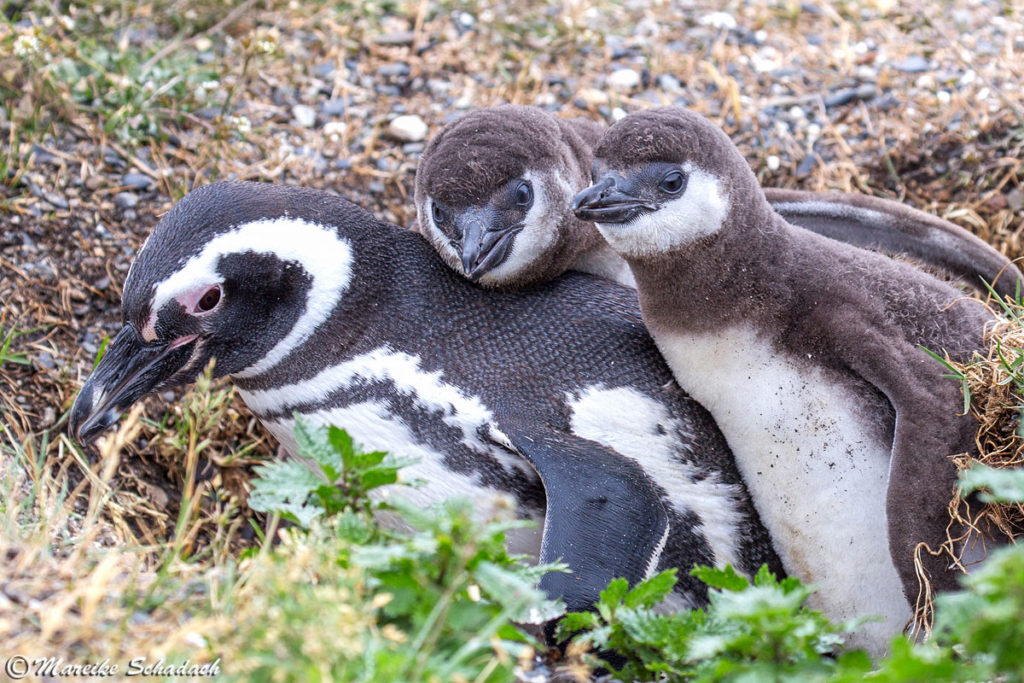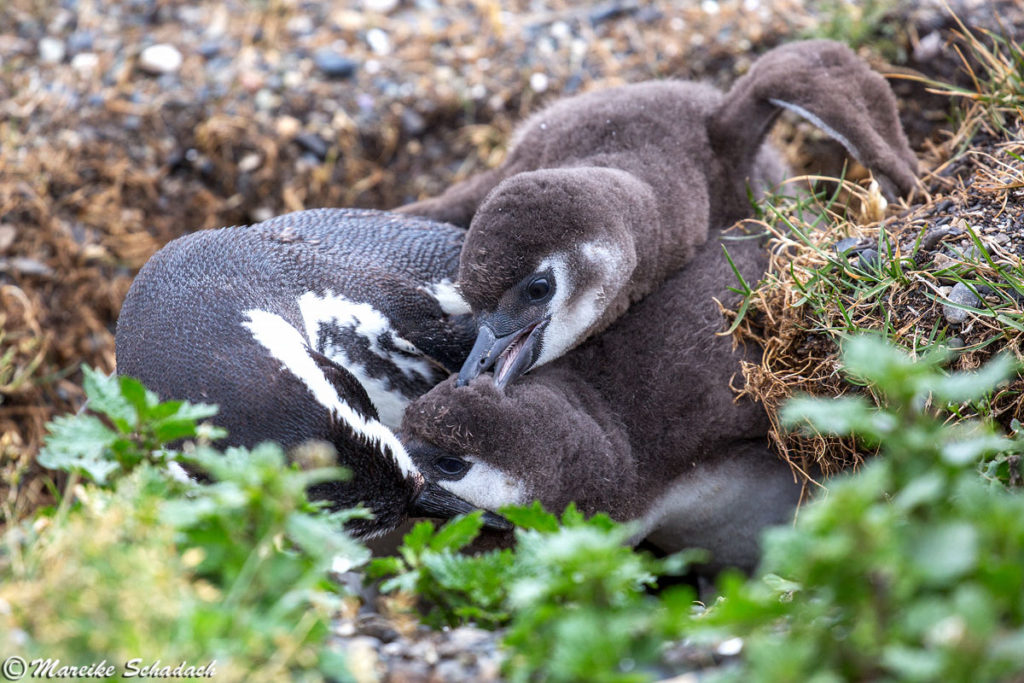 ---
Book Recommendations for Antarctica
Do you want to know where the journey is going? Then I can recommend this travel books* to you.
You can order the travel guides on Amazon by clicking on the pictures. If you buy a product via an affiliate link, I get a small commission and you help me to keep filling Fernweh-Motive with interesting articles. This does not make the product more expensive for you.
---
Have you ever seen penguins in the wild? Where was it and which are your favourites? Do you have any questions about my article or any other tips for great penguin photos? If so, please write me a comment!
Do you want to know when there are new articles on my blog? Then follow me on Facebook, Pinterest or Instagram. I would also be very happy if you share my article with your friends.
---
Recommendations for further Reading