North Cascades, Washington State, USA. The Maple Pass Loop is said to be the most beautiful trail in the North Cascades. Is that true? We hiked it and were absolutely thrilled. Find out what to expect on the trail and why it's so worthwhile here.
Unassigned, unpaid advertising. The article contains affiliate links.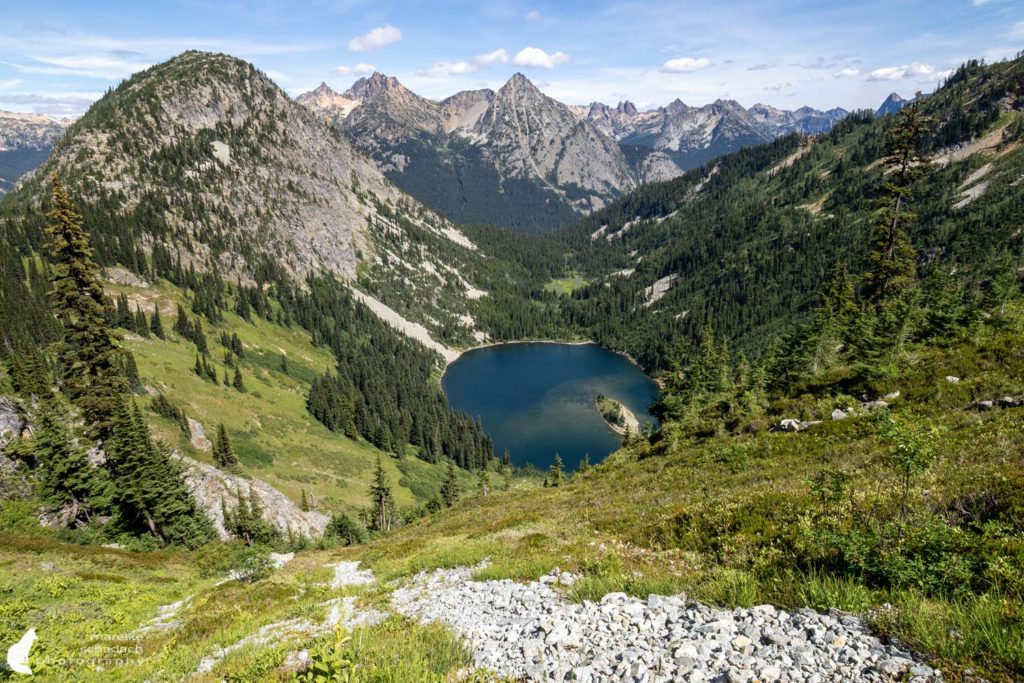 The North Cascades are known for their wide variety of trails. These lead through dense forests or over breezy mountain passes usually to fantastic views. But what if you have limited time and need to decide on a hike? Then it should already be a particularly beautiful route. Like the Maple Pass Loop, for example.

The Maple Pass Loop is a loop trail and leads on 11.6 kilometers around the mountain lake Ann Lake. Along almost the entire length, the trail offers fantastic views. The ascent of about 600 meters in altitude can be a bit strenuous, but is easily doable. And since you are rewarded with a new great view every few meters, the climb is much easier.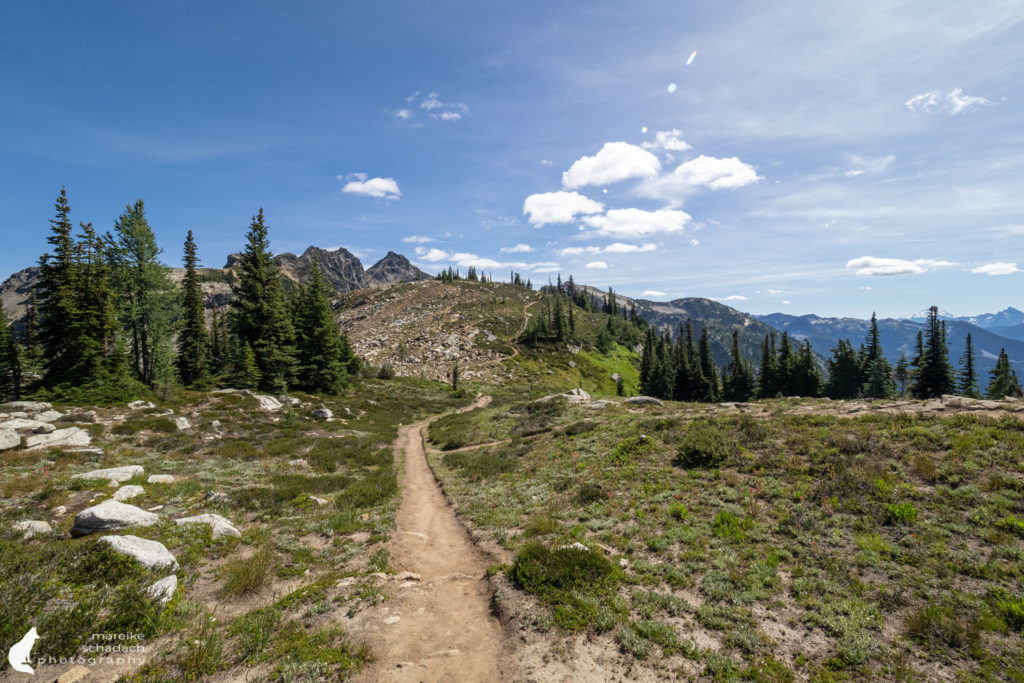 Tip: The Maple Pass Loop is popular and easy to reach via the North Cascades Scenic Highway. On summer days, especially on weekends, there are a correspondingly large number of hikers. It's best to start early.
The trail is located on the edge of North Cascades National Park. In fact, only the highest section of the Maple Pass Loop is within the national park. Most of it is in the Okanogan-Wenatchee National Forest.
---
---
Quick Facts: Maple Pass Loop
Length: 11.6 kilometers round trip
Height difference: 610 meters
Difficulty: Moderately strenuous hike with little shade
Drinking water: Bring along! At the parking lot and during the hike there is no chance to fill up your water bottles. We each drank two liters on a sunny summer day.
Parking: At the Rainy Pass trailhead just off the North Cascades Scenic Highway (MP 158).
Highlights: diverse vegetation, breathtaking views and chances for wildlife viewing.
Tip: Don't forget a sun hat or basecap. There is hardly any shade.
Tip: Hike the round tour best counterclockwise. Then you have step by step better and better views and also the more moderate climb.
Hiking boots, daypacks and everything else you might need for a hike on the Maple Pass Loop can be found at Bergzeit*.
The trail over the Maple Pass leads you first through dense forest always uphill. After a while, a view of Ann Lake opens up and the forest thins out. The trail zigzags higher and higher, and views of the lake and surrounding mountains follow one another seamlessly.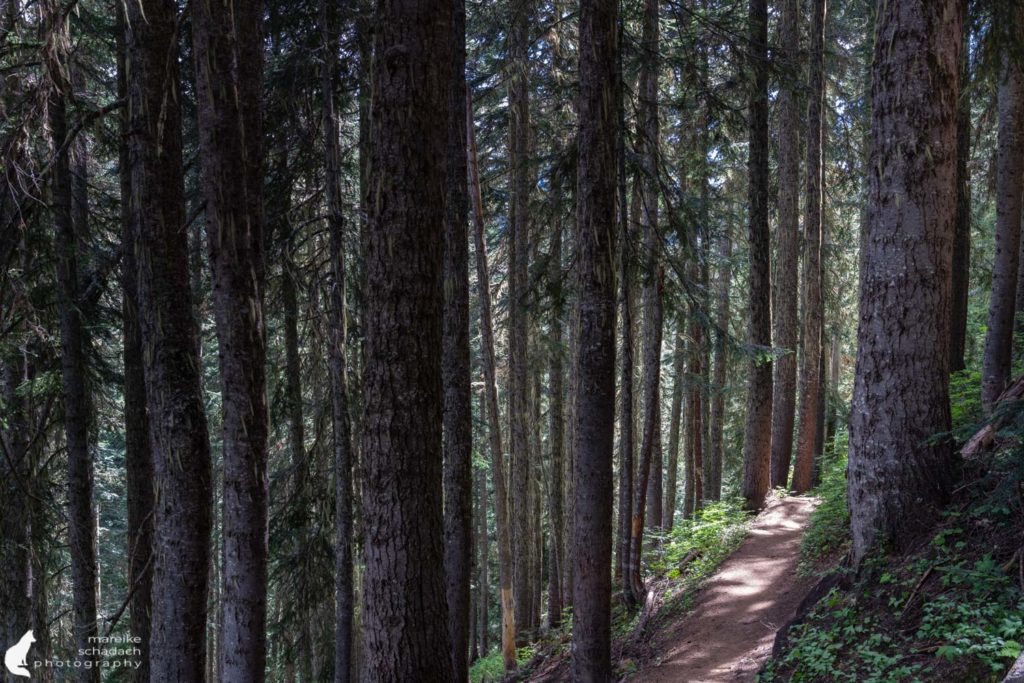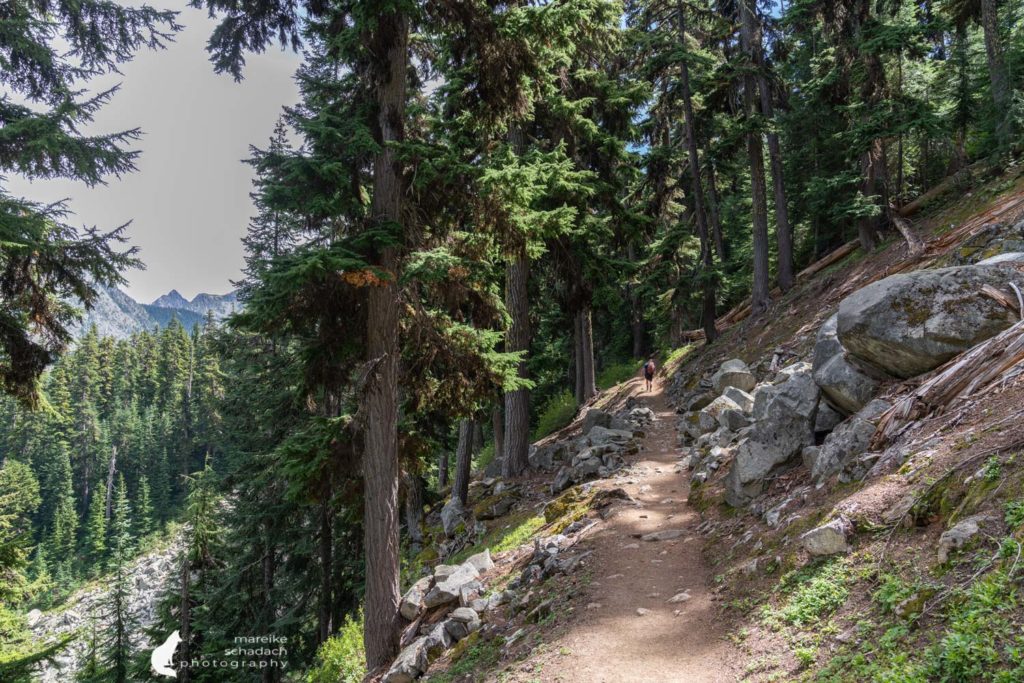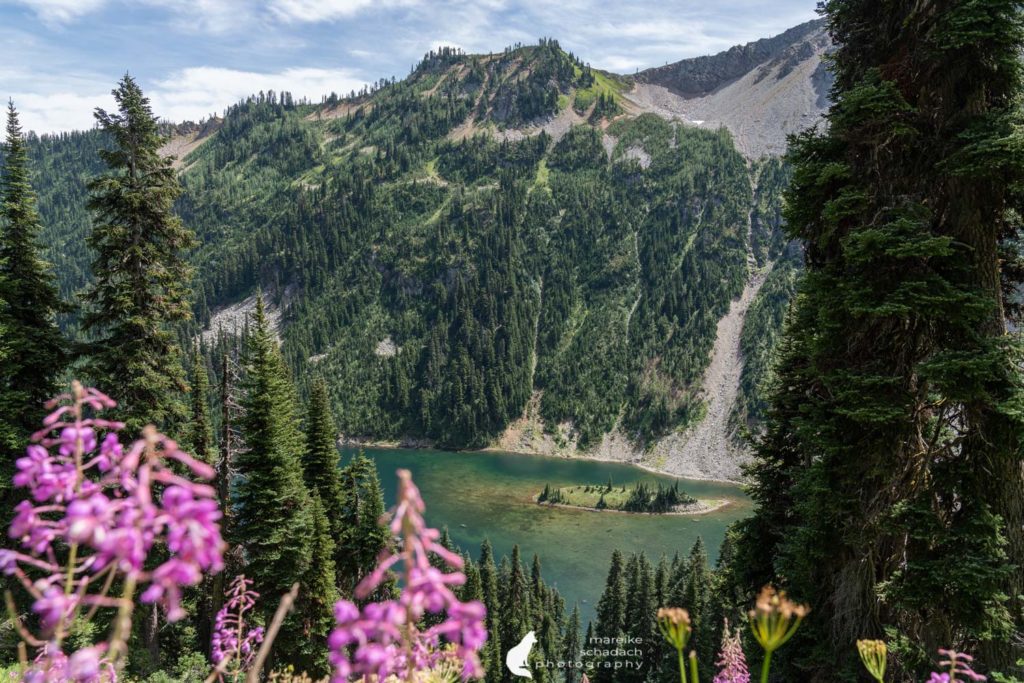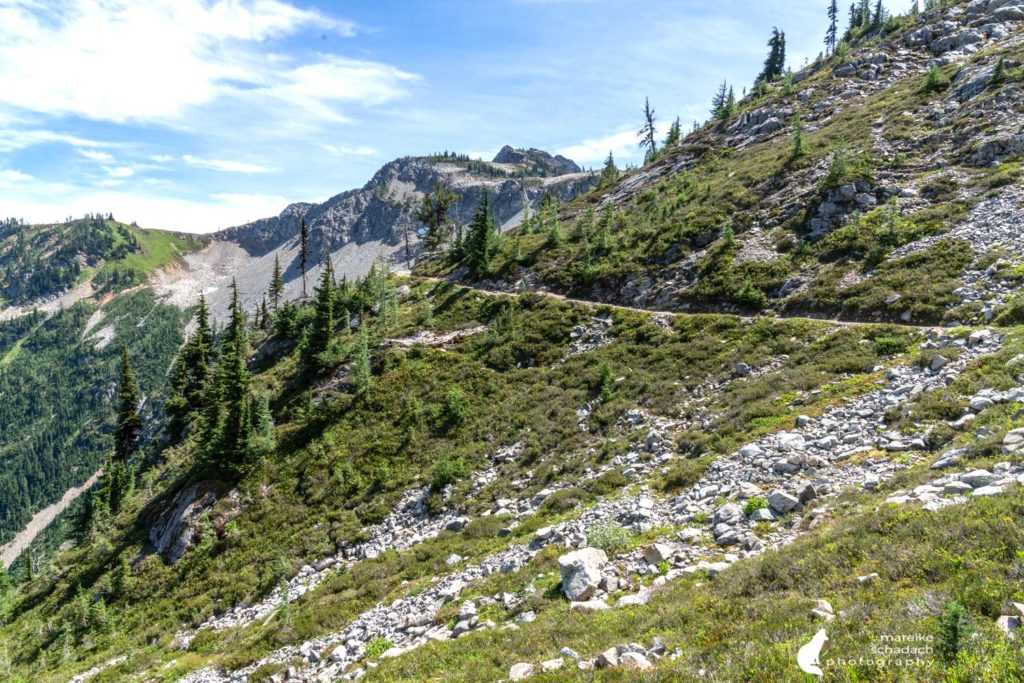 But you don't have to look that far to see the beauty. Wildflowers grow to the left and right of Maple Pass Loop, and with a little luck, you might see one of the cute chipmunks or a rock ptarmigan. Even mountain goats are said to exist here. But unfortunately we have seen none.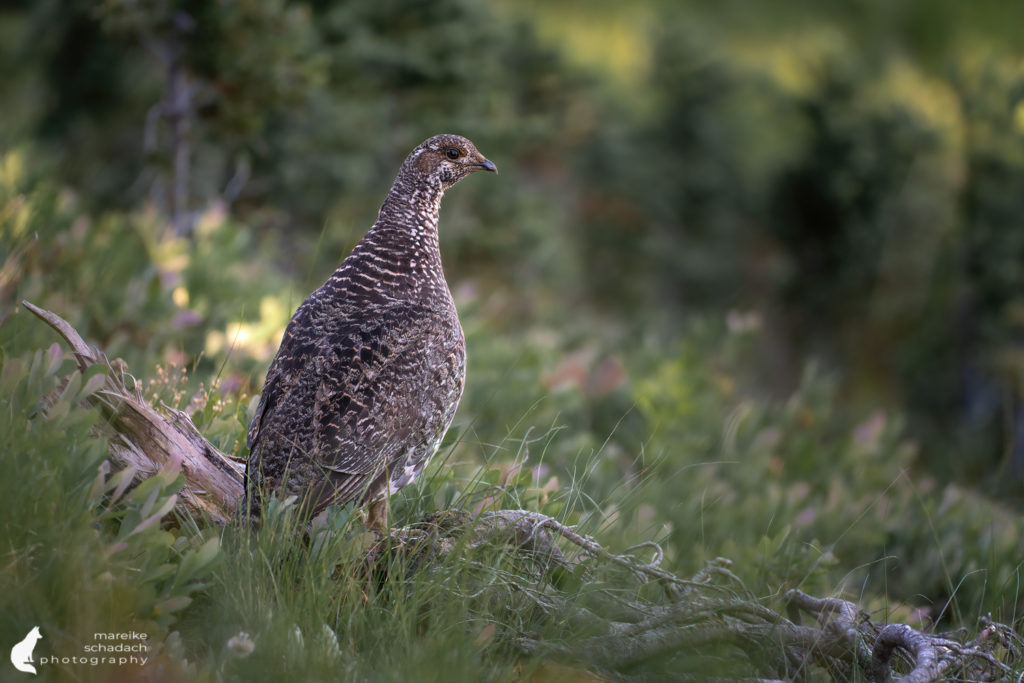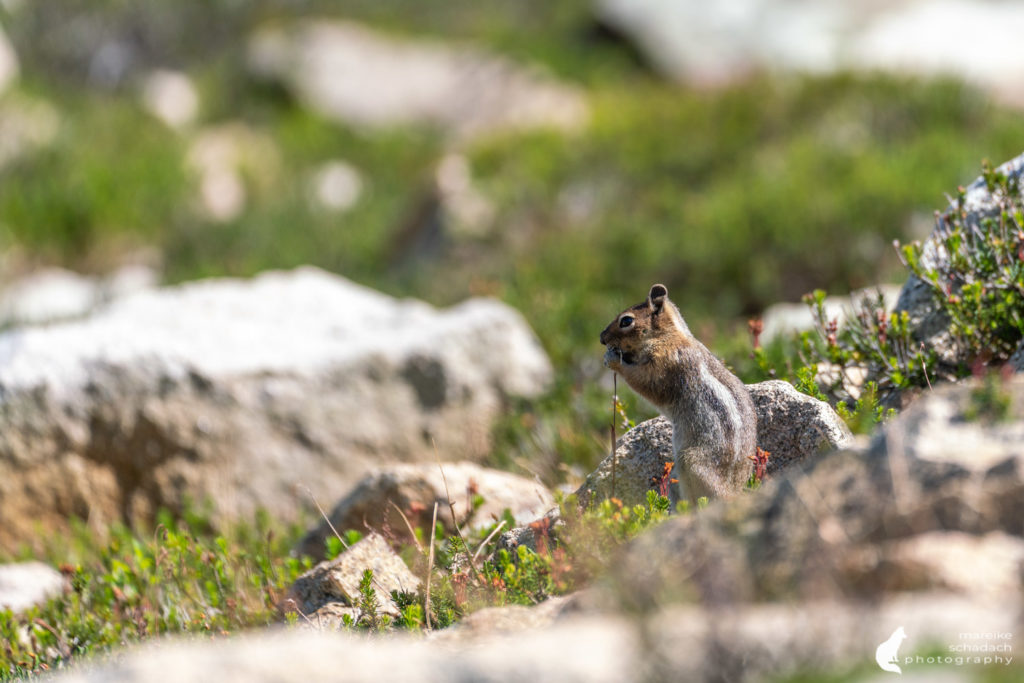 TIP: A hike is especially enjoyable when you can see animals up close. Instead of getting up close to the animals, it's best to take a pair of binoculars with you. For example, the handy and even waterproof Zeiss Terra ED 8×42*. Maybe you'll get lucky and see mountain goats at Maple Pass Loop.
The pass is of course the highlight of the hike and perfect for a longer break. But also the way downhill has a lot to offer. Here, however, a little more surefootedness and a head for heights is required. Trekking poles are helpful here.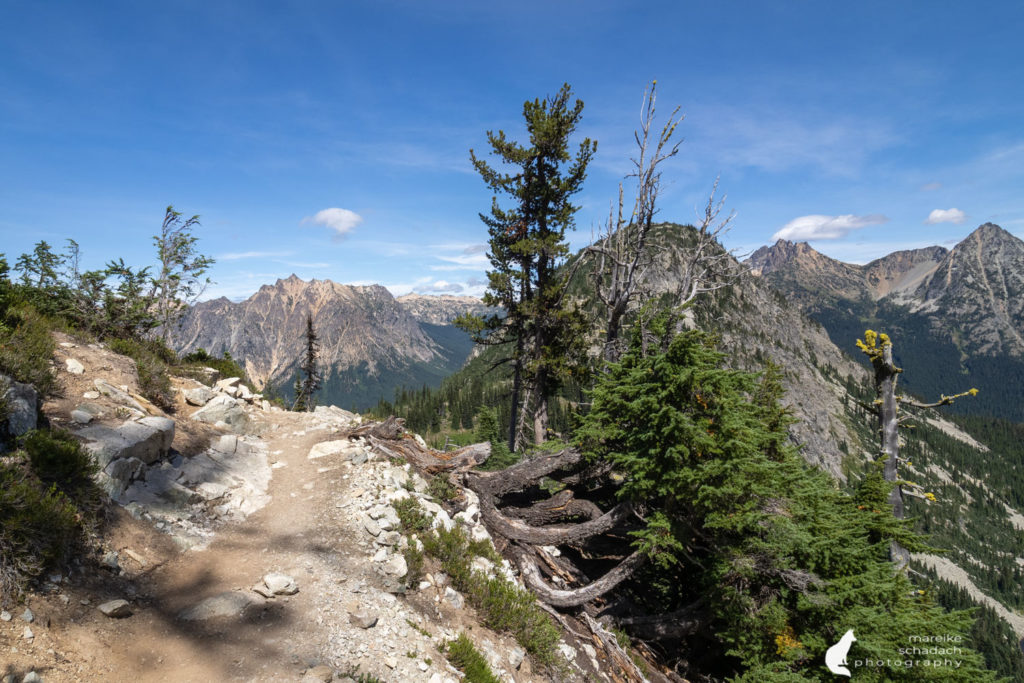 Tip: The Maple Pass Loop must be especially beautiful during the heather bloom in mid-August to mid-September.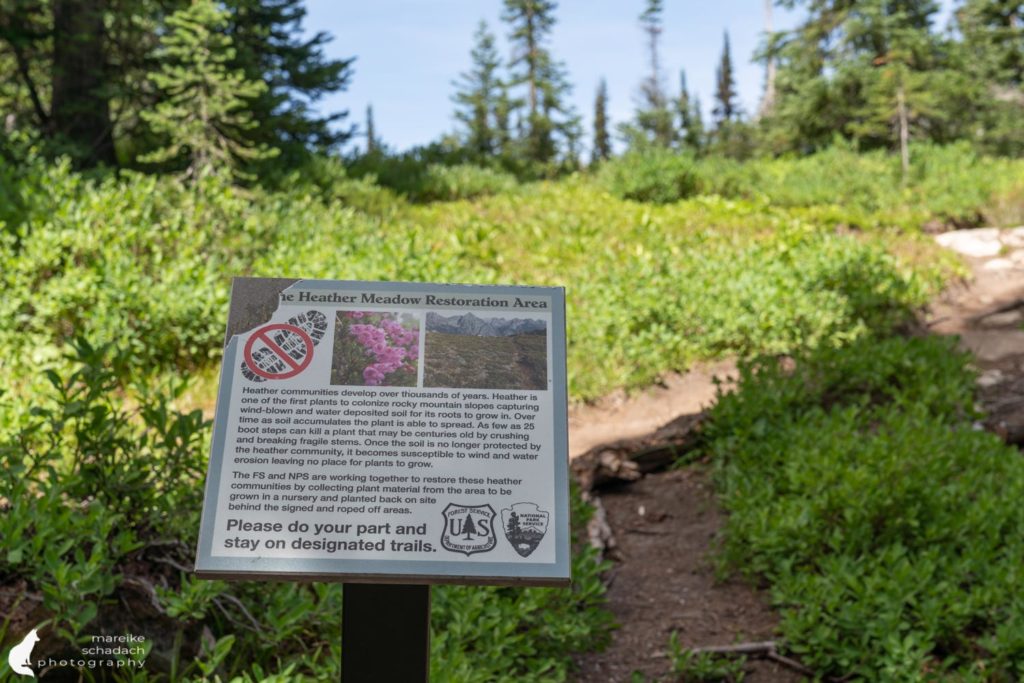 ---
What else is in the area?
Do you have a little more time for the Northern Cascades? Then you'll find information on many more hiking trails at the North Cascades Visitor Center in Newhalem . In addition, you'll pass many other places of interest on North Cascades Scenic Highway 20 and the Cascade Loop , including:
Skagit River with the dam Gorge
Gorge Lake, Diablo Lake, Ross Lake
Diablo Lake Viewpoint
Washington Pass Viewpoint
Western town of Wintrop with museum
Colorado River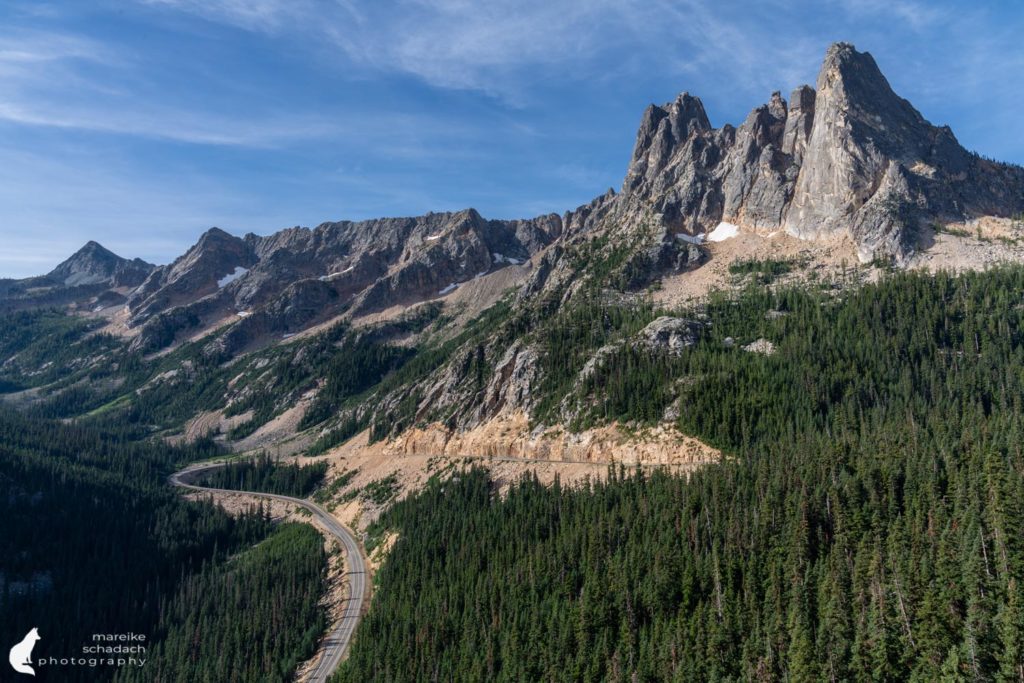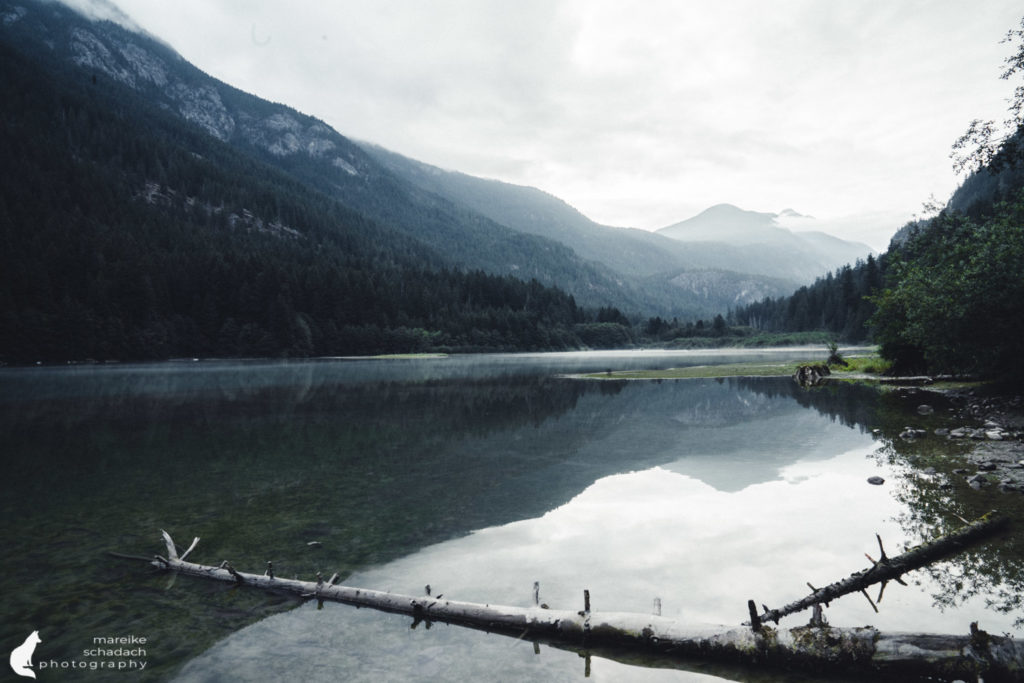 ---
My overnight tips
The Colonial Creek Campground is beautifully located at Diablo Lake. If you book in time and are lucky, you might even get a spot right on the water.
We drove the Cascade Loop and had our next overnight stay at the Idle a while Motel in Twisp*. For a reasonable price, you get an extremely cozy room here.
---
Book Recommendations for Washington State
Do you want to know where the journey is going? Then I can recommend this travel guides* to you.
You can order the travel guides at Amazon by clicking on the pictures. If you buy a product via an affiliate link, I get a small commission and you help me to keep filling Fernweh-Motive with interesting articles. The product will not be more expensive for you and you do me a huge favor.
---
Which hike in or near the North Cascades do you like best? Also the Maple Pass Loop? Do you have any questions about my article? If yes, then write me a comment!
Do you want to know when there are new articles on my blog? Then follow me on Facebook, Pinterest or Instagram. I would also be very happy if you share my article with your friends.
---
Recommendations for further Reading
Do you love being outdoors and hiking as much as I do? Then you might also be interested in my articles about Giant Sequoias im Mariposa Grove or about Ascent of the Half Dome.