Antarctica. There are places that change you forever. There are also encounters that change you forever. One of those places was Antarctica for me. And one of those encounters for me was meeting other travelers there. A place and an encounter that made my heart beat faster. Antarctica is a wonderful world of white, grey and blue. Of such beauty that tears of joy came to my eyes every day. I can hardly find words to describe this beauty. But maybe my photos can give a small impression of the most beautiful part of the earth I have visited so far. But nevertheless I have of course written about my Antarctic trip. This is the introduction with an overview of all my Antarctic articles and many general tips for your trip. From choosing the right ship and travel time, recommendations for the packing list to tips for landing and photographing in Antarctica. Have fun browsing.
---
Table of Contents and Quick Navigation
Overview of my Antarctic Articles
Prologue - picture book Antarctica Antarctica
When does a journey begin?
What do you want in Antarctica?
A cruise? - Never!
And what does it all cost?
When is the right time?
Our Itinerary - Penguin Colonies, Views and Insights
Tips for shore excursions in Antarctica
Packing list for the Antarctic trip
Tips for photographers
Travel literature
---
Advertising, unsolicited. The article contains affiliate links*.
---
Overview of my Antarctic Articles
Port Lockroy - the southernmost Museum and Postal Station in the World
Neumayerkanal - A dream comes true
Brown Bluff - Penguins at the Table Volcano
Deception Island - Lost Place in Antarctica
Penguins - Tips for great penguin photos
Polar Literature - Favourite Books of the Arctic and Antarctic
---
Prologue - picture book Antarctica
When I saw the ice landscapes of Antarctica, I thought I was in the middle of one of these impressive nature documentaries. It was one of those documentaries that fascinated me again and again and made my desire to travel to Antarctica more and more urgent. At that moment I stared at the ice with tears of joy in my eyes. What did I feel at that moment? Difficult to put into words, but I would describe it as a mixture of awe and wishless happiness in the here and now.
Many thanks to the team of G-Expeditions and to all fellow travellers who made the trip so unique and unforgettable.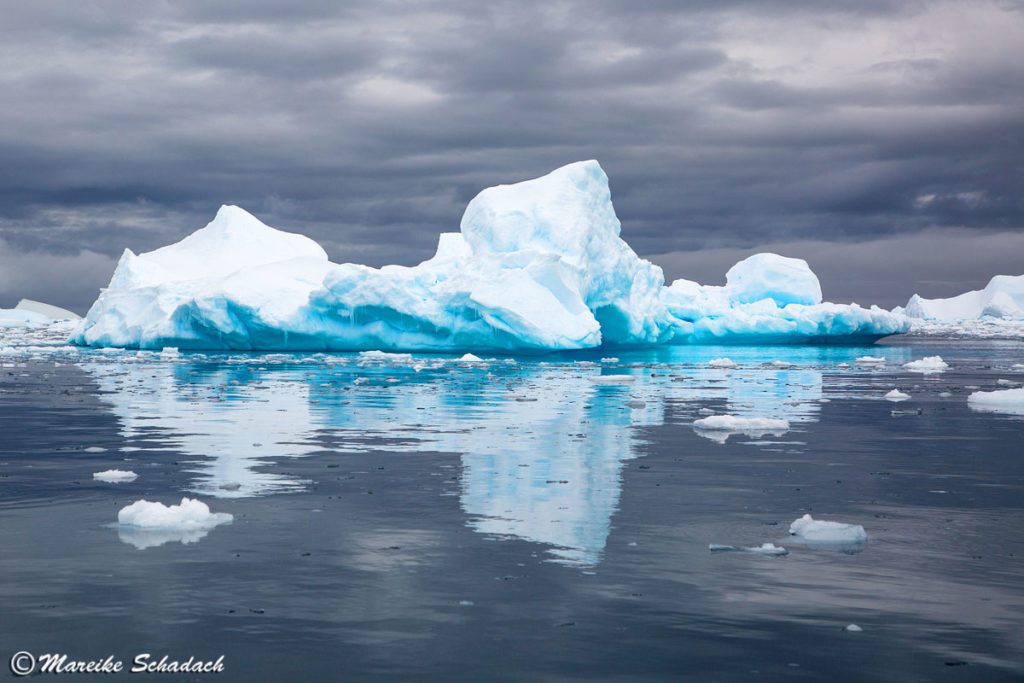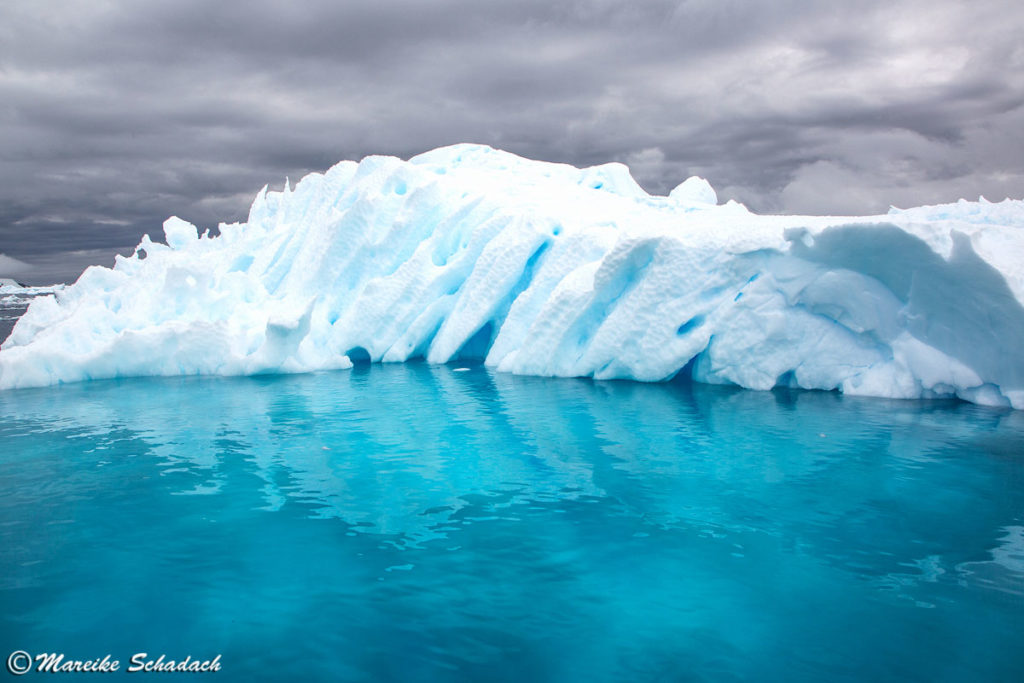 ---
When does a journey begin?
For years I have dreamed of a trip to Antarctica and I knew that sooner or later I would go to Antarctica. Exactly. Sooner or later. This trip had become a dream and made me comfortable in the far distance. And with every year that passed, my dream moved one more year into the future. But I should know better: That you can't put off dreams that are important to you.
Frank Wild is the name of Shakleton's closest confidant during the Endurance Expedition. "Wild" is the title of Reinhold Messner's lecture to which friends took me. I enjoyed the story of the Shakleton expedition, which I love so much, the pictures of the Antarctic, the leafing through the travel brochures and the whole atmosphere of the event. Three days later I had booked the last place on the converted Swedish ferry MS-Expedition. Along the Antarctic peninsula the journey should go up to the southern polar circle depending upon ice conditions. Three weeks after my booking the planned departure of the expedition to the Antarctic Circle was G-Expedition. And for the whole three weeks I had a tingling sensation in my stomach, as if I was freshly in love.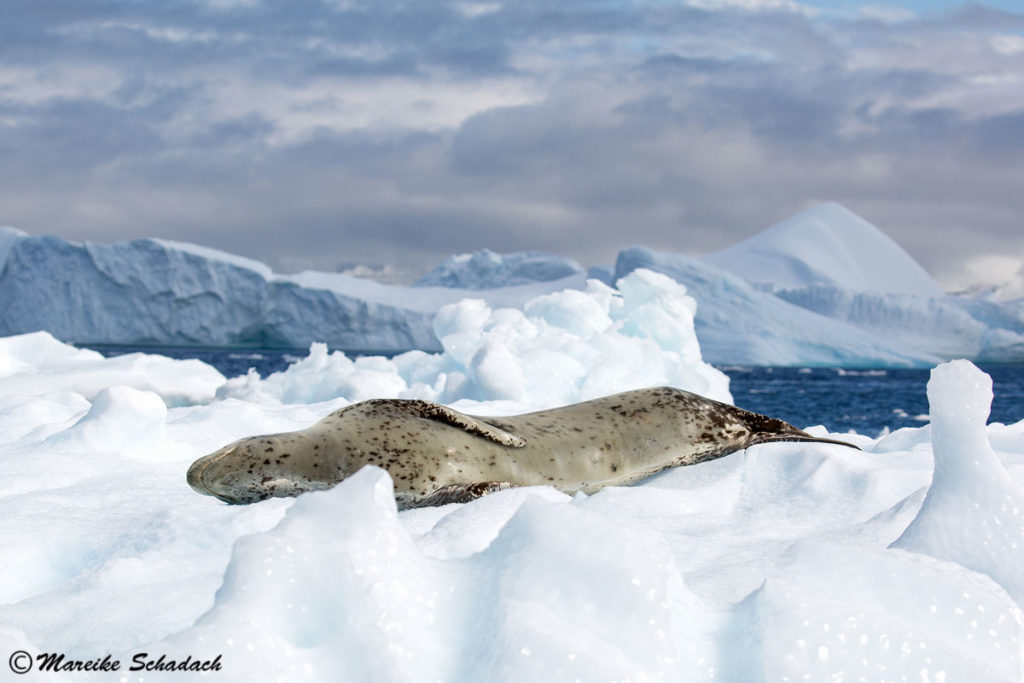 ---
What do you want in Antarctica?
Many of my friends and colleagues asked me why I travel to Antarctica. It would be cold there and there would only be ice and snow. "That's exactly why" I replied and finally started to describe Antarctica and to rave about ice, snow and everything else there is.
The vastness and the emptiness of the landscape are one thing. Uncompromising, wild and inaccessible. Only a few visible traces of man can be found. The variety of forms of the landscape and the in some places overbrooding animal life are the other. And then, of course, there is the spirit of adventure. Awakened and fanned up by all the reports about the expeditions of Amundsens, Scott and Shakleton.
After the trip I showed my colleagues my photos from Antarctica. Now nobody asked why I went to Antarctica anymore. As a passionate photographer, I was naturally absorbed in observing and photographing nature. Icebergs, penguins, whales, light and shadow held me captive at the moment. Photography and mindfulness combined and made me feel the uniqueness of Antarctica even deeper.
But what else is there? Does the Antarctic leave traces in us? What's behind the advertising slogan that repeatedly attracted my attention in the lounge of the MS Expedition?
"Life changing Journeys."
from the lounge of the MS Expedition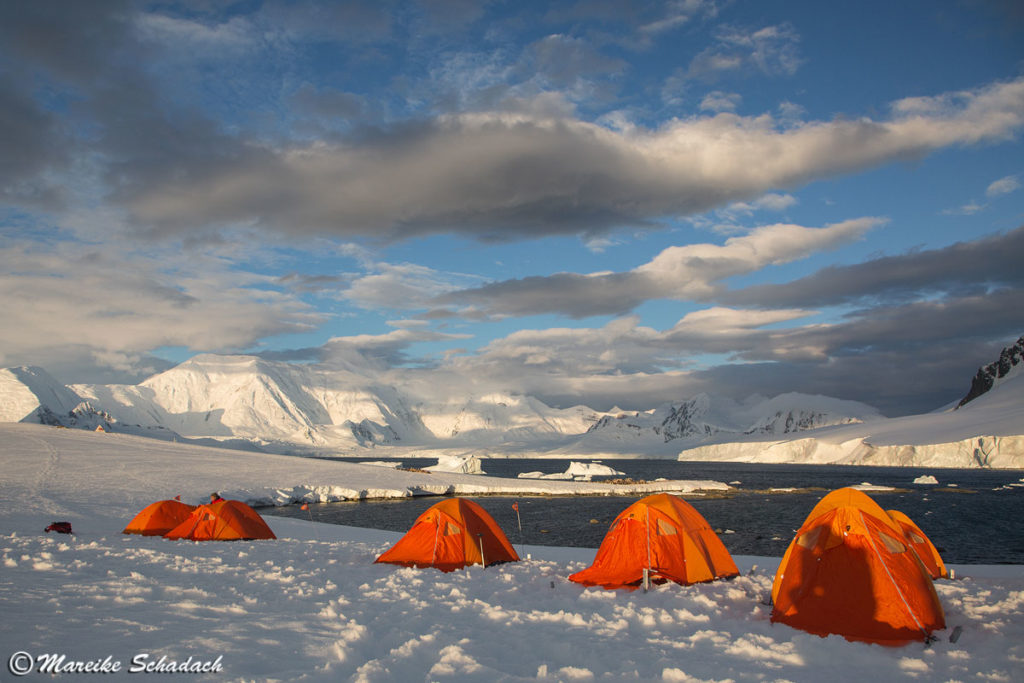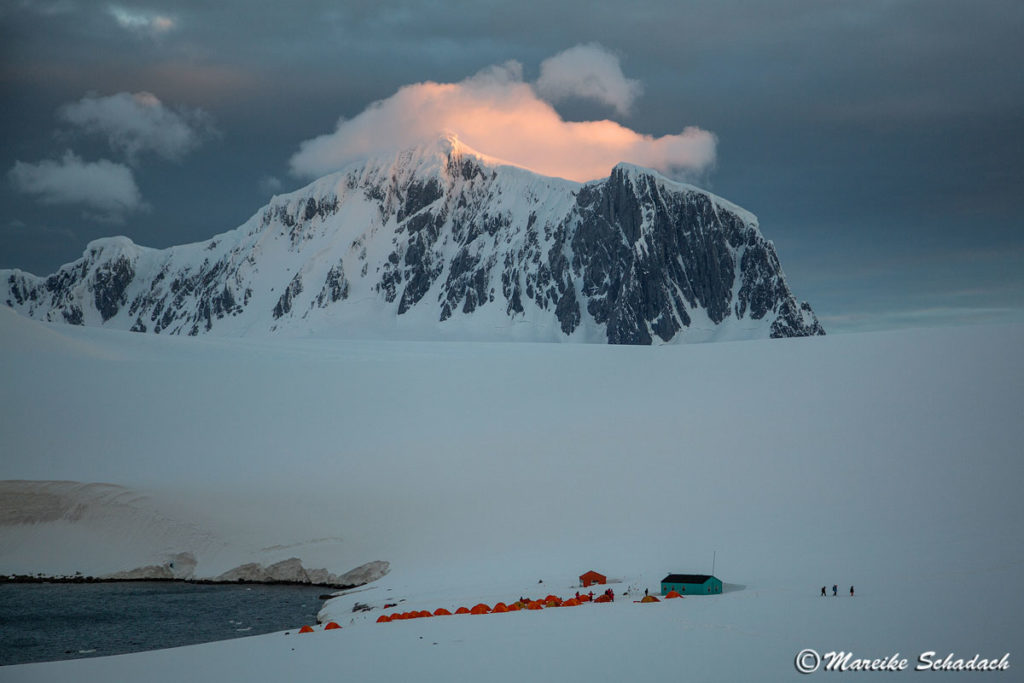 ---
A cruise? - Never!
Most Antarctic travellers will explore Antarctica by ship. But is a cruise the right thing for me? As a seasoned individual traveller, I had a hard time at the beginning with the idea of boarding a cruise ship. If you feel similar, I can reassure you. The ships and tours to Antarctica are something completely different than an Aida cruise in the Mediterranean. After all, they also call themselves expedition cruises. A small but fine difference in the name and a big difference for the traveller.
The most important of my travel tips for Antarctica first: First choose a suitable ship size. There are different categories here:
Sailboats with about 8-12 passengers. For this you should bring good sailing experience and be washed with all waters. Everybody will be involved and will also be assigned for night watches. The costs are not necessarily more expensive than on the big ships.
Approx. 50 passengers - a nice size, familiar but relatively expensive
About 130 passengers - from my point of view a good size. Small enough so that all passengers can go to shore leave and Zodiac trips at the same time. Big enough to have some rest and time alone. The MS Expedition holds 134 passengers.
Approx. 300 passengers - there are waiting times. Shore excursions are usually limited to 100 people at a time. When the last group has arrived, the weather can already have changed.
Approx. 1000 passengers - They often do not offer any landings at all. Antarctica becomes a mere backdrop for the traveller. Moreover, ships are no longer so manoeuvrable and cannot sail everywhere.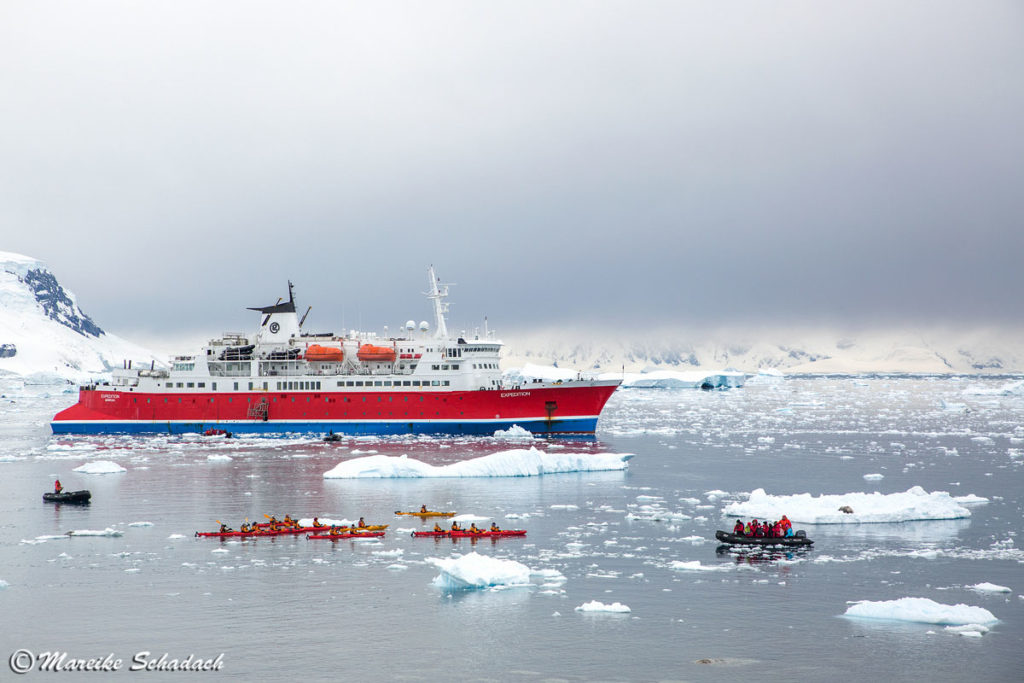 Schedules at least one buffer day before the trip. In case of flight delays you are on the safe side. Ushuaia has a lot to offer. Tips for a stopover in Ushuaia can be found here.
---
And what does it all cost?
A price comparison is worth it. Early bookers and last minute travellers can save money. But you will also often find several agencies that offer the same trip at the same time, but have different prices. Depending on the type of trip, duration and cabin category, the prices for the cruise range from around 5,000 euros to 25,000 euros. In addition then still the costs come for the flight, for additional days before or after the journey as well as for alcoholic beverages on board and tips.
For last-minute travellers there are various travel agencies in Ushuaia that offer remaining seats. You will find many suppliers in the main shopping street Av. San Martín. To what extent these are really cheaper I have not checked.
You don't have to buy all the equipment or have it with you (if you are travelling longer in South America and Antarctica is only one stage on a longer journey). You can rent missing equipment in Ushuaia.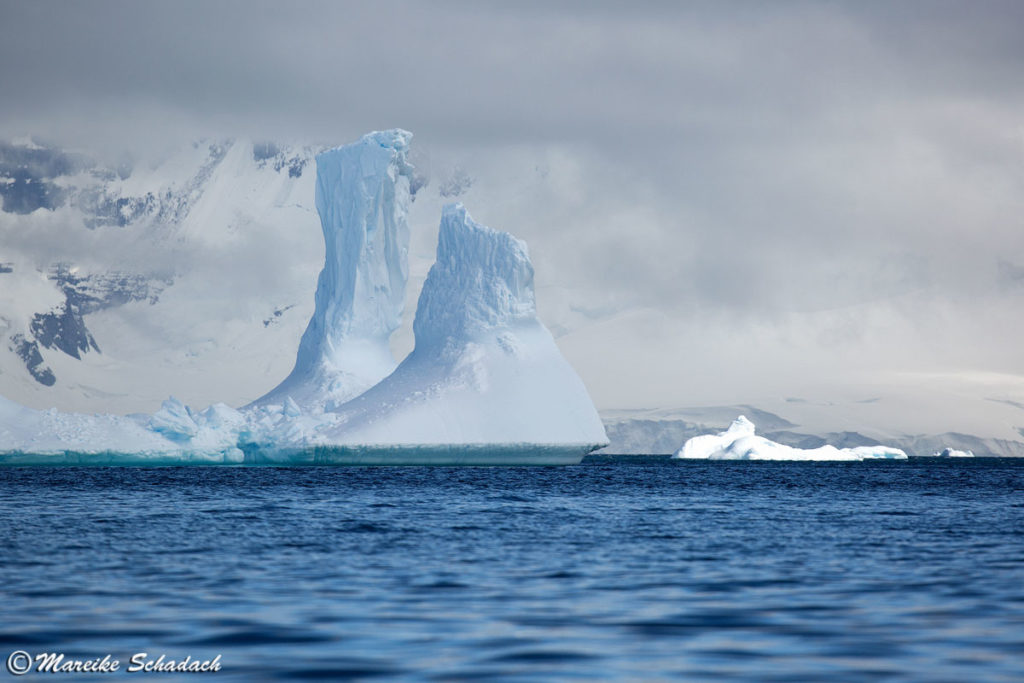 ---
When is the right time?
Travelling to Antarctica is offered during the Antarctic summer, i.e. from November to February. When is the right time for a trip to Antarctica, however, depends on which nature experience is most important to you: Do you want to see penguin chicks? Or would you rather see young seals? Would you rather have lots of ice? Or rather many whales? The choice of the right travel period can be decisive for the fulfilment of your desired nature experience.
November: a trip in early summer is impressive. The sea is still covered with ice and the coasts are snow-covered. The feeling of being in Antarctica is strongest in early summer. However, due to the ice, not all planned landings may be possible and the itinerary is strongly dependent on ice and weather. The penguins come to their colonies and start building nests. The seals have already given birth to their young in Antarctic spring: the Weddel and Krabbenffresser seals are born on the ice in September/October. Between September and January, the only young of the leopard seals is born on the pack ice. The young elephant seals are born in August/September.
December to January: midsummer is the most pleasant time to travel, as it is relatively warm for Antarctica and the weather is more stable. The sun shines almost around the clock. The first penguin chicks hatch at the end of December.
February to March: late summer is the best time for whale watching. The ice has largely retreated and Zodiac landings are now possible further south. The penguin colonies empty slowly, because the penguin chicks become fledged. They are easy prey and attract predators (orcas). Also many fur seals appear now also at the Antarctic peninsula. The Antarctic season is already over in mid-March and the Antarctic winter begins.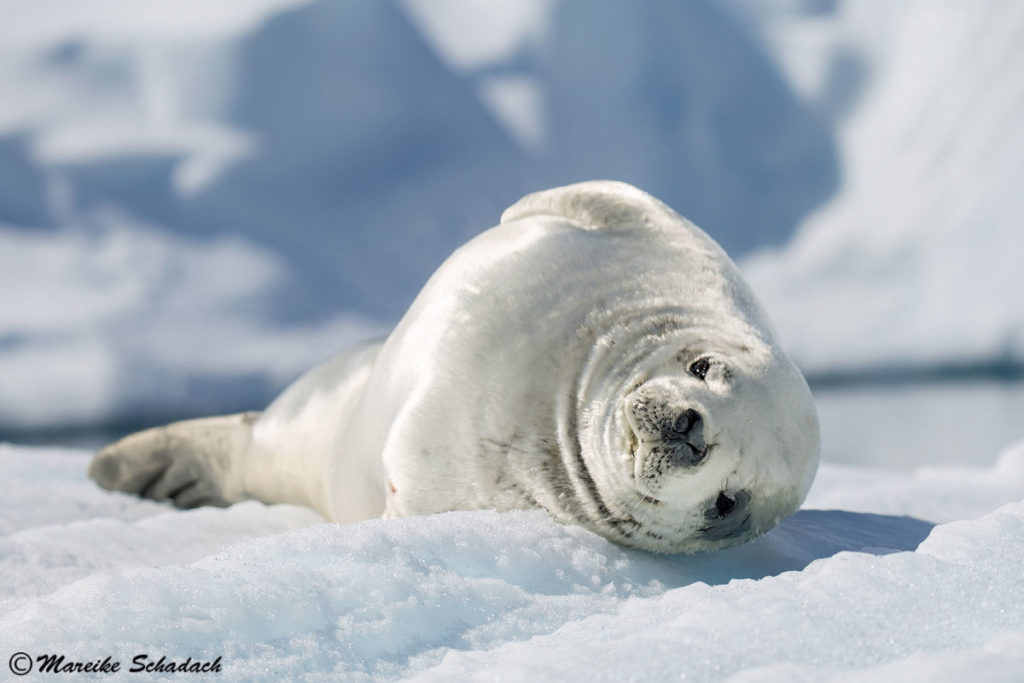 ---
Expedition to the Antarctic Circle - our itinerary
"We've got a young elephant seal changing coat at the landing site. He has made himself comfortable on our emergency equipment." Our guide prepared us for our first shore leave. It was Christmas, the 24.12.2018. I felt like in a dream and was on my way to believe in Santa Claus again. Already during the trip with the Zodiac we were accompanied by penguins, which swam elegantly like mini dolphins beside our boat. Their plumage was covered with a film of water and shone in the sun. At the landing we were greeted by curious donkey penguins. A short briefing by our guides followed, the Do's and Dont's were repeated again and then I made my first steps on Antarctic soil. I will never forget this moment.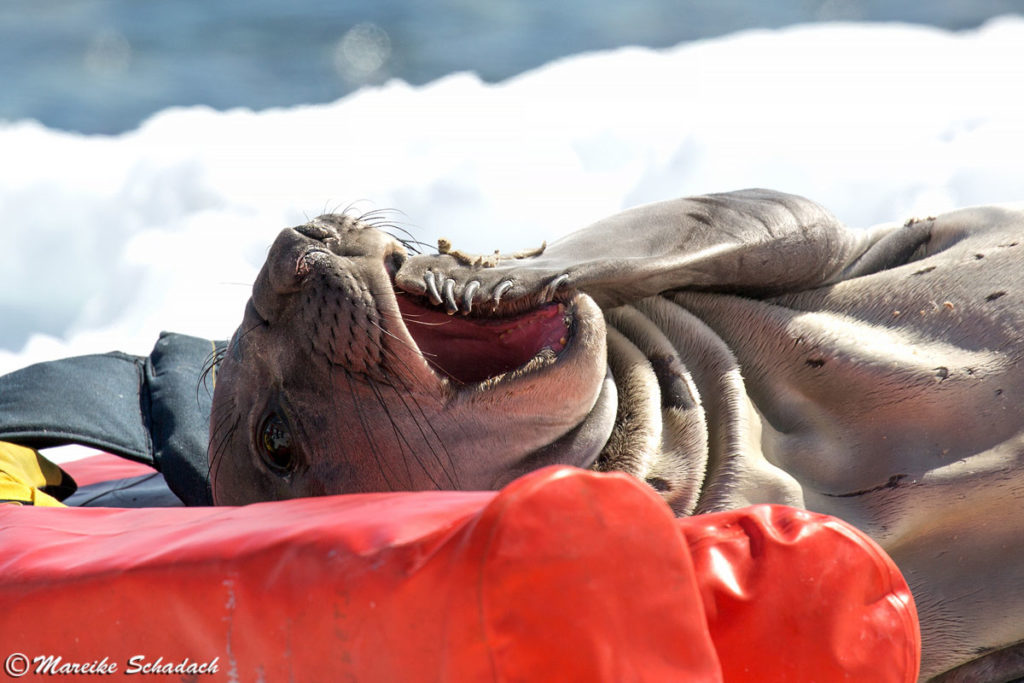 All Zodiac trips during the Antarctic Tour are weather dependent. In the travel description it was even explicitly mentioned and only "possible" landing places were described. In abbreviated form this means "journey with expedition character". We were very lucky with the weather and were able to make a total of 14 landings on seven days. On the way to the Antarctic Circle we visited bays, penguin colonies, viewpoints and research stations. In addition, Zodiac excursions between the icebergs were offered.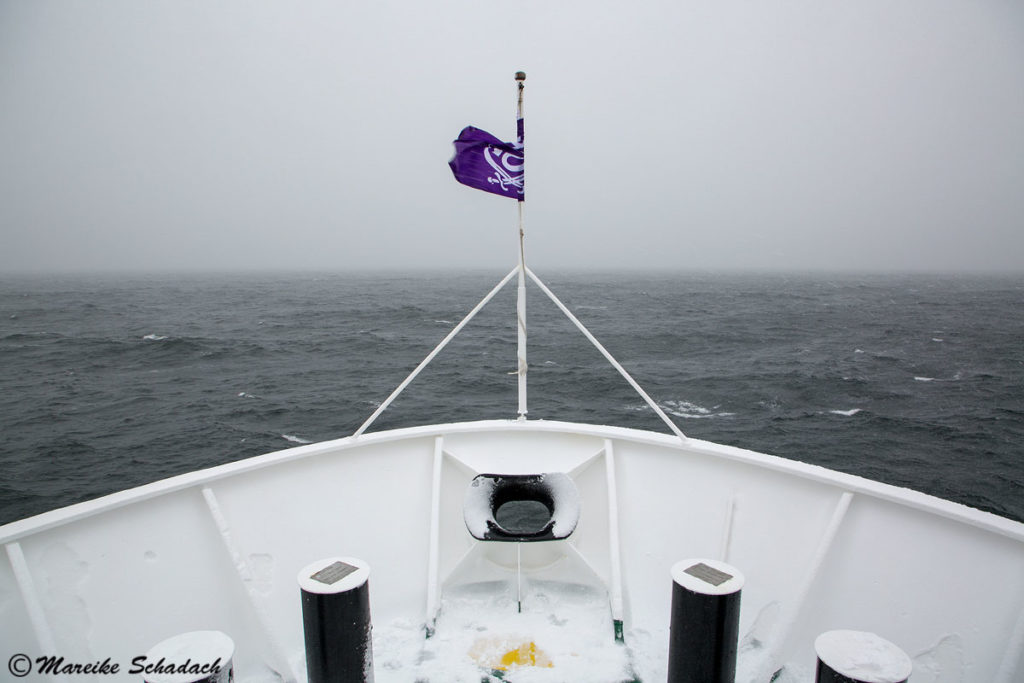 Our landing sites were:
Cuverville Island in the Errera Channel: large colony of gentoo penguins with about 5,000 breeding pairs, viewpoint
Base Brown in Paradise Harbour: Argentinean research station, viewpoint, gentoo penguins, blue-eyed scabbards
Antarctic Circle: Sparkling wine at the southern polar circle at 66°33'44'' south latitude.
Damoy Point, Wiencke Island: Gentoo penguins - the first chicks
Goudier Island (Port Lockroy Base A), Jougla Point: Gentoo penguins with chicks, research station, museum and post office. Click here to read the article.
Damoy Point: Gentoo penguins with chicks
Gerlache Strait and Neumayer Canal: lots of ice, whales, breathtaking scenery. Click here to read the article.
Neko Harbour, Anovord Bay: approx. 500 breeding pairs of gentoo penguins with chicks, remains of an Argentine shelter, Weddel seals.
Curtis Bay: icebergs, glaciers
Mikkelsen Harbour, Trinity Island: Gentoo penguins with chicks
Kinnes Cove, Joinville Island: Zodiac Cruise without Landing, Adelie Penguins
Brown Bluff: Adelie penguins with chicks, gentoo penguins with chicks, volcanic landscape. Click here to read the article.
Half Moon Island, South Shetlands: Chinstrap Penguins with Chicks
Whalers Bay, Deception Island: Viewpoint "The Nipple", Lost Place Whaling Station, Volcanic Landscape. Click here to read the article..
Drake Passage + Beagle Channel: Bird- and Whalewatching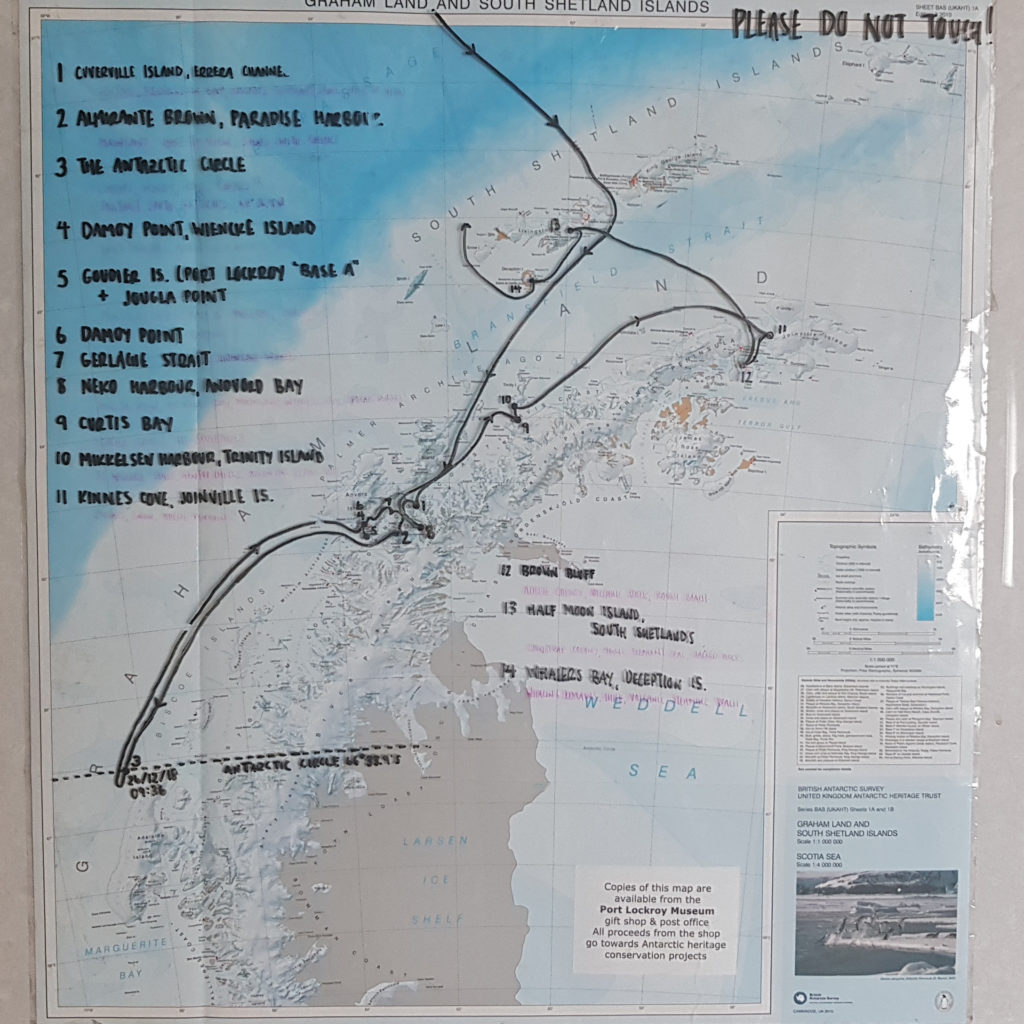 ---
Best tips for shore excursions in Antarctica
Every shore leave in Antarctica is unique and exciting. So that you can enjoy each and every one of them, I have compiled my best tips for your shore excursions in Antarctica:
What do I wear?
Better to dress too warm than too cold (onion skin principle). The weather in Antarctica can change at any time.
At many landing sites you can climb up to viewpoints - it quickly gets too warm. Take off your clothes before you sweat.
Be prepared to stand for long periods of time as you watch the penguins - warm socks in the rubber boots are a must.
Pull the Rain pants

over

the rubber boots, so no water can run into the boots.
Don't forget your gloves
What am I taking?
Take sunglasses with you and apply sunscreen beforehand.
Don't forget the camera. Is the battery charged? If necessary, take a spare battery with you. Is there enough space on the memory card?
A bottle of drinking water is allowed. Biscuits, chocolate bars or other food must not be taken along.
How do I behave?
Don't forget to check out and check in on board.
Run in the footsteps of the others and do not leave deep kicks that can become traps for the penguins. If you have sunk deeper, pour in the footprints or kick the edges lower.
There are a number of rules for encountering penguins. You can read them here .
Wherever you run, keep in mind that you will need to clean and disinfect your shoes and clothes when you return aboard. This is necessary to minimize the exchange of pathogens between colonies.
One last tip: Don't drink too much beforehand. The only way to make shore leave easier is to return to the ship's toilet . We offered a shuttle, but it's a shame about the lost time on land.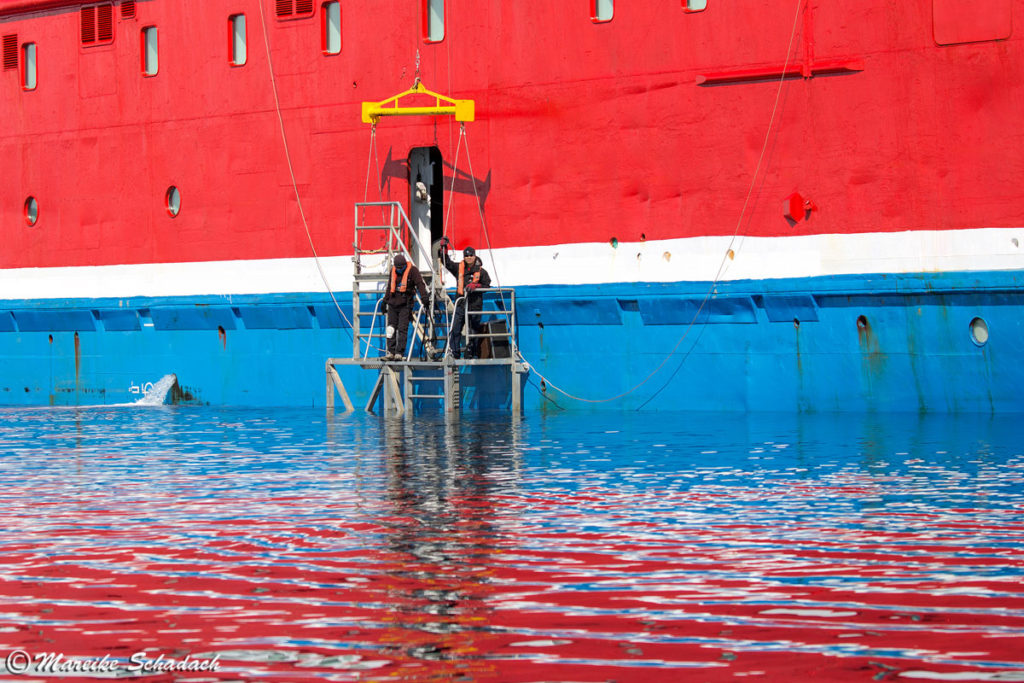 ---
Packing list for the Antarctic trip
I pack my suitcase and take with me....
I have not written down a complete packing list here. Instead, I limit myself to a few essential things that are either absolutely essential or are often forgotten.
Take clothes for all four seasons with you and dress according to the proven onion layer principle. In case of need you can buy missing equipment in the mostly available shop on board. However, these are usually very expensive. In the sun it can get very warm in wind-protected areas.
Glacier goggles with side wind protection
Sun cream and lip protection
Two pairs of gloves, so one can always dry
Extra thick socks for the rubber boots
Swimsuits for jumping into ice water
Be prepared for the Drake Passage to become uncomfortable. Tablets or plasters against seasickness, which must be taken in good time before, have proved their worth. The Kaudragees are in my opinion too weakly dosed. The ship's doctor will help out if necessary.
There is no dress code on the expedition cruises. You also don't have to dress up for Christmas and New Year's Eve. But you can. I was very happy about a pair of tights, a black skirt with a black T-shirt and light sneakers, because there was a lot of dancing.
Many ships have a sports room, so pack sports things . The trips are mostly very motionless and full of food, so a small workout is really good.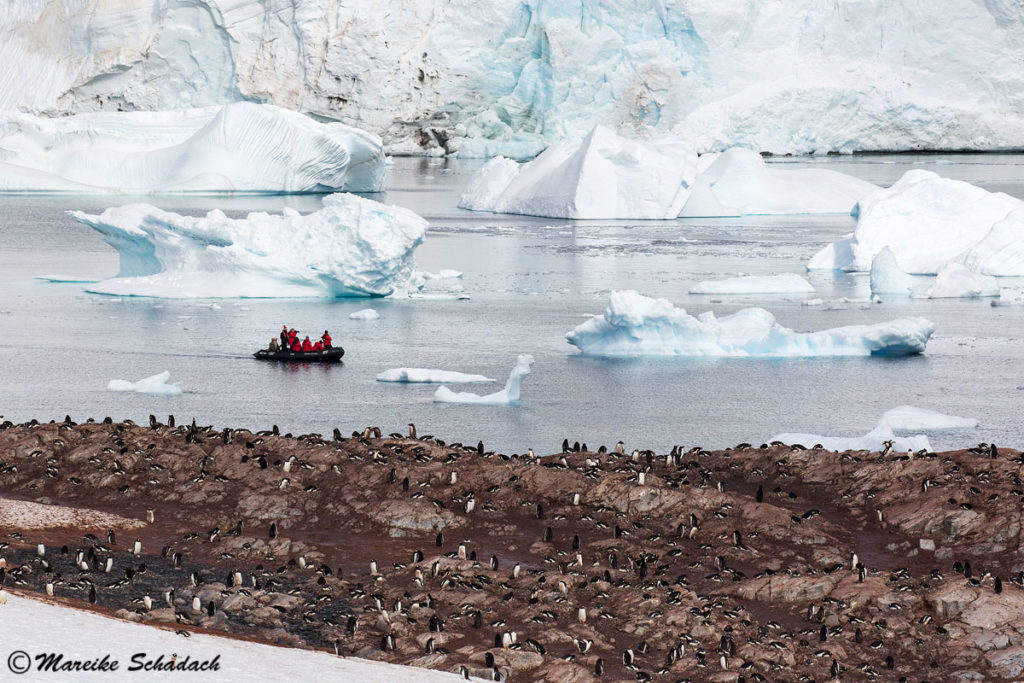 ---
Tips for photographers
In the following I have compiled my best tips for photographing in Antarctica. On the one hand they are important additions for your packing list, on the other hand some helpful tips for travelling. But the most important thing first: Even if it's hard, let the camera be a camera and just enjoy what nature has to offer.
General information:
If you have, take a spare camera with you. It would be too bad if the camera fails here and you can't take any more pictures.
Another advantage of two cameras is that you can mount a lens with a different focal length on each camera. Especially in wet weather it is hardly possible to change the lenses.
At the customs declaration at the entry to Argentina and Chile states that one camera and one device for video recording is allowed per person. I had more: a SLR, a compact camera and a GoPro. My camera backpack was X-rayed several times, but I didn't get any problems. I think there is more search for fruit and other food at the border.
Clean camera and lenses carefully after use so that no salt water leaves traces.
Watch for condensation when you come back from the cold to the warm.
Keep your camera handy even on the Zodiac. Whales can suddenly appear next to the boat.
Shoot in RAW or RAW+JPEG format. This way you can correct the exposure or white balance later if necessary.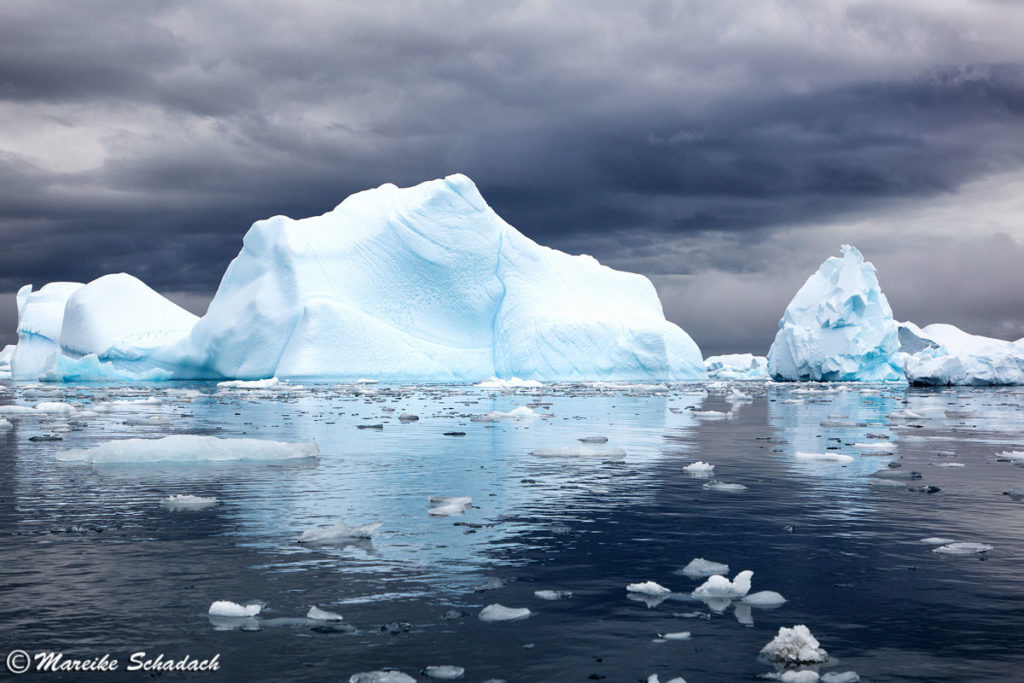 Accessories:
The most important thing is the rain cover for the camera. Especially against splashing water and entering waves during the Zodiac rides.
Replacement batteries, because the batteries don't last that long in the cold.
About twice as many memory cards as originally planned. Possibly an external hard disk to back up. There are often computers on board that you can use.
The best thing, of course, is to bring your own laptop with the appropriate image editing software.
Cleaning cloths
tripod
binoculars
Possibly a UV filter to protect the objective lens.
Polarization filterto reduce water reflections. So you can take some pictures of the icebergs in the water.
Have a look at my tips for great penguin photos.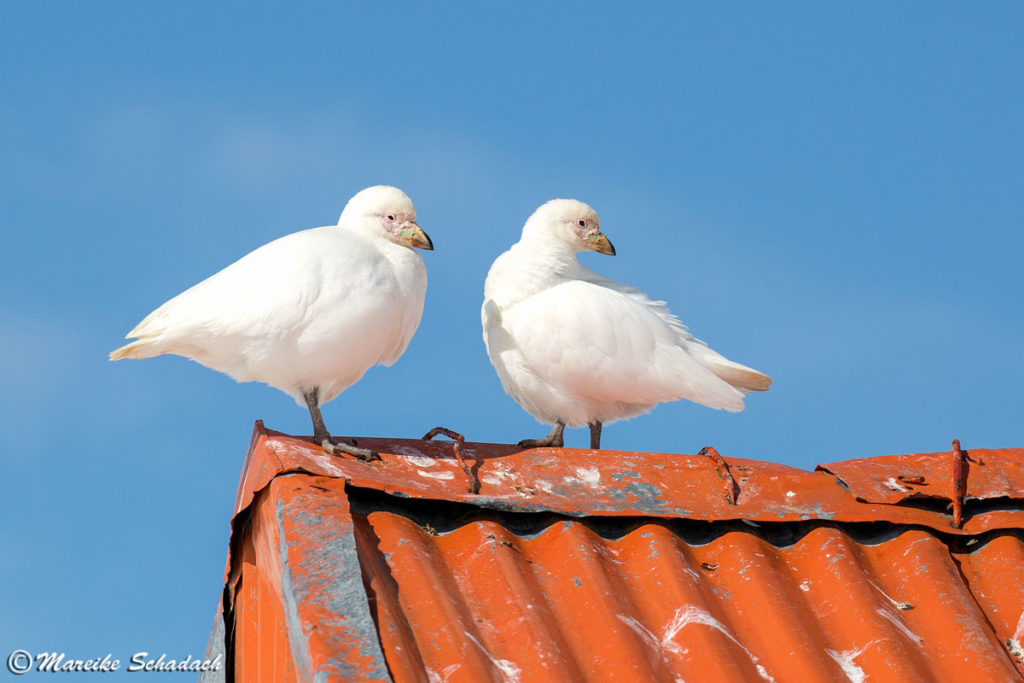 ---
Travel literature
For the long flight as well as for free times on the ship there is of course hardly anything more beautiful, than the suitable book to the journey. Be it a thrilling report about the expeditions of Amundsen, Scott or Shakleton or a book about the adventures of courageous sailors who want to spend the winter on their sailing boat in Antarctica and everything comes differently than planned. For those interested in nature there are informative travel guides and the hobby ornithologist can prepare for the encounters with various seabirds with the help of identification books.
Here you can find my favourite books of polar literature - Arctic and Antarctica.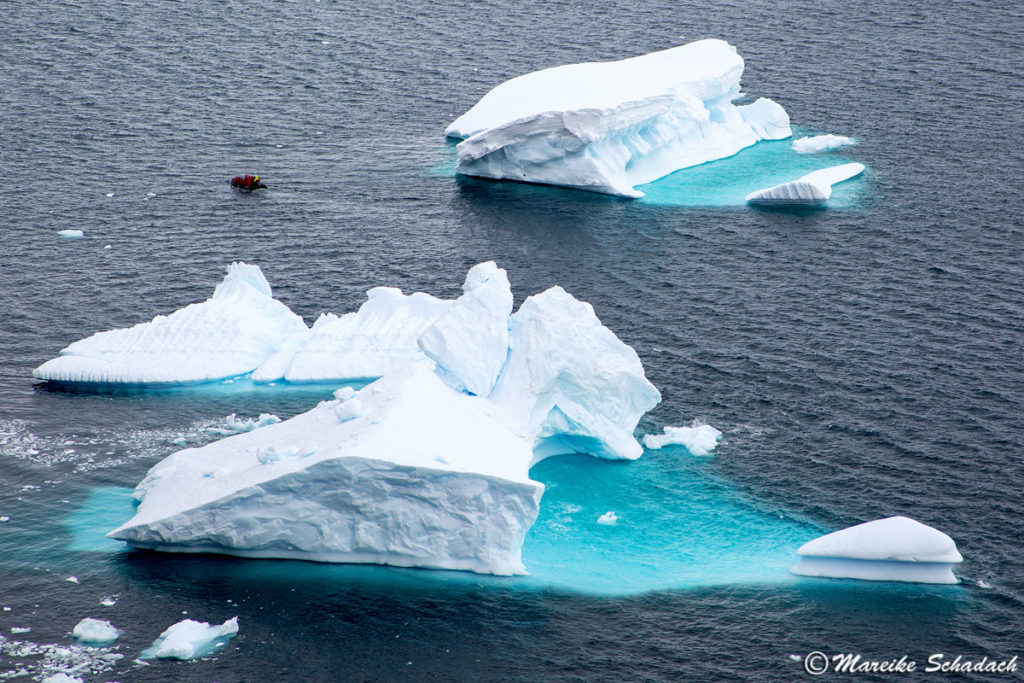 ---
Book Recommendations for Antarctica
Do you want to know where the journey is going? Then I can recommend this travel books* to you.
You can order the travel guides on Amazon by clicking on the pictures. If you buy a product via an affiliate link, I get a small commission and you help me to keep filling Fernweh-Motive with interesting articles. This does not make the product more expensive for you.
---
Have you ever been to Antarctica in a ship yourself? How did you like it and what were your highlights? Do you have any questions about my article or any other tips for a trip to Antarctica? If so, please write me a comment!
Do you want to know when there are new articles on my blog? Then follow me on Facebook, Pinterest or Instagram. I would also be very happy if you share my article with your friends.
---
Recommendations for further Reading